India prepares for impact of major cyclone sweeping through Bay of Bengal
By The Associated Press | The Canadian Press – 2 hours 11 minutes ago
The Canadian Press – This image provided by the U.S. Naval Research Lab shows Indian Cyclone Phailin taken Friday Oct. 11, 2013 at 6:32 a.m. EDT (10:32 GMT). Officials ordered tens of thousands of coastal villagers  BHUBANESHWAR, India – Officials ordered tens of thousands of coastal villagers to flee their homes Friday as a massive cyclone — so large it filled nearly the entire Bay of Bengal — gathered strength and headed toward India's eastern seaboard.Officials cancelled holy day celebrations and stockpiled emergency supplies in coastal Orissa and Andhra Pradesh states, with forecasters saying Cyclone Phailin will hit the region Saturday evening.The Indian Meteorological Department warned that Phailin was a "very severe cyclonic storm" that was expected to hit with maximum sustained winds of 210-220 kilometres (130-135 miles) per hour. If the storm continues on its current path without weakening, it is expected to cause large-scale power and communications outages and shut down road and rail links, officials said. There would also be extensive damage to crops.Satellite images of the storm showed its spinning tails reaching nearly 1,600 kilometres (1,000 miles) from the east coast of India to the west coast of Myanmar, an area roughly the size of France.Using trucks and buses, authorities evacuated 40,000 people from 40 villages to government-run shelters, schools and buildings in five districts of Orissa state, said Surya Narayan Patra, the state revenue and disaster management minister.Patra said authorities plan to take another 100,000 people to safer areas before the cyclone hits."No one will be allowed to stay in mud and thatched houses in the coastal areas," he said.Authorities also began evacuating 64,000 people from the low-lying areas of three vulnerable districts in neighbouring Andhra Pradesh state, said state Revenue Minister N. Raghuveera Reddy.Officials have been stockpiling emergency food supplies, and setting up shelters for people expected to flee the heavy winds and rains. The Indian air force said four transport planes and 18 helicopters were being kept ready for relief operations in the region.Weather forecasters had been predicting waves up to 2 metres (7 feet), but warned that the storm has been gaining strength and its impact could be severe.The Bay of Bengal has been the scene of the some of the deadliest storms in recent history. A 1999 Orissa cyclone killed 10,000 people. Chinese mock official for blaming cooking fumes for pollution
Reuters – 4 hours ago
BEIJING (Reuters) – A Chinese official's remarks that cooking fumes must share the blame for Beijing's choking pollution drew ridicule from many microbloggers, who mocked the government for not addressing the root causes of smog that can blanket the city for days on end.The government has announced a series of plans over the years to tackle pollution in its cities that has been blamed for a series of health crises, generating widespread public anger, but none has worked.The head of Beijing's Foreign Affairs office, Zhao Huimin, stunned Internet users when he said "Chinese people's cooking actually makes no small contribution to PM2.5″, referring to the tiny particulate matter that is most hazardous to health."I hope residents can do more to cooperate with government efforts to clean the air," Zhao said at a press conference, according to a video report from CCTV, China's state broadcaster.Chinese microbloggers pounced on the comments, generating over 150,000 posts on Sina Weibo, China's Twitter-like microblogging service.One Beijing-based user demanded to know why the government "did not say that farting also makes no small contribution to PM2.5?"One user in the southern city of Shenzhen suggested people just eat cold food.Local media responded to the outrage by pointing out that cooking fumes were in fact responsible for up to 20 percent of the particulate matter in Beijing's air, citing a report published by the Chinese Academy of Science.Smog over northern cities in January generated a public outcry, as did the discovery in March of thousands of rotting pig carcasses in a river that supplies Shanghai's water.(Reporting By Adam Rose; Editing by Sui-Lee Wee and Nick Macfie) Watch the biggest solar flare in nearly two months erupt from the sun
By Scott Sutherland | Geekquinox – 20 hours ago
While the Draconid meteor shower was sending a light show across the northern sky, the sun set off its own fireworks on Tuesday night. An M-class solar flare — the strongest flare that's been seen since mid-August — erupted from the sun's surface.NASA may be shut down, but its satellites are still keeping a careful watch over the sun, and the Solar Dynamics Observatory captured these images between 8 p.m. and 10:30 p.m. Eastern Time on Oct. 8.The eruption registered as magnitude M2.8, which is a medium-strength flare and included what's known as 'oscillation phenomenon.' You can clearly see this in the second and third loops of the video, as the arches of solar plasma wave back and forth in the wake of the explosion.[ More Geekquinox: Astronomy time-lapse video looks like epic space battle ]This flare wasn't aimed in our direction, but it did cause a weak geomagnetic storm earlier today as particles from the eruption bounced off the Earth's magnetic field. According to the Space Weather Prediction Center, these storms can cause electric currents to form in some power grids, possibly causing some minor power fluctuations. These aren't dangerous, but the information is useful for power companies as they handle the electricity on their grid. The biggest and most spectacular effect of the storms can be seen when the Aurora Borealis kick into overdrive.The region this flare erupted from is currently tracking across the face of the sun and it's expected to catch up to us soon. If another flare goes off while its pointing this way, it's doubtful we'd have anything to worry about, but it would lead to more amazing auroras.Geek out with the latest in science and weather.Follow @ygeekquinox on Twitter! Mercury astronaut Scott Carpenter dies at age 88
By Scott Sutherland | Geekquinox – 16 hours ago Scott Carpenter, Mercury astronaut and the second American to ever orbit the Earth, passed away today, Oct. 10, in Denver. He was 88 years old.Born on May 1, 1925, in Boulder, Colorado, Malcolm Scott Carpenter moved towards his career as an astronaut right out of high school, when he joined the V-12 Navy College Training Program and trained as a pilot throughout World War II. It wasn't until several years later, though, during the Korean War, that he was able to put his training to use. After the war, he continued to serve in various ways, including as a test pilot and air intelligence officer, until he was selected for NASA's Mercury program in 1959. As one of the seven men selected for the program, Carpenter was the fourth American to fly into space, following the sub-orbital flights of Alan Shepard and Gus Grissom in 1961, and the full-orbital flight of John Glenn in February 1962.Carpenter's Mercury spacecraft — named Aurora 7 — launched into Earth orbit on May 24, 1962. Although the mission started out quite well, due to a malfunction in one of the on-board instruments, Carpenter had to guide his own re-entry into Earth's atmosphere manually. This hitch in the mission plan caused him to overshoot his intended destination and he splashed down around 400 kilometres away. After he was recovered and debriefed, his reports "led, in turn, to important changes in capsule design and flight plans," he wrote in a letter to the New York Times in 2001.[ More Geekquinox: Astronomy time-lapse video looks like epic space battle ]
Scott Carpenter stands in his Mercury spacesuit in this 1962 NASA photo.Although he never went back into space, due to a motorcycle injury he sustained in 1964, he went on afterwards to make the change from astronaut to aquanaut — spending nearly a month living in SEALAB II, on the floor of the Pacific Ocean, off the coast of California. Retiring from NASA in 1967, he continued to work in ocean research and contributed to improvements in the design of breathing apparatus, propulsion systems and submersibles.Roughly two weeks ago Carpenter suffered a stroke and was recovering in a rehabilitation centre. According to collectSPACE, he passed away at 5:30 a.m. MDT, with his wife, Patty Barrett, at his side. He is also survived by his seven children, two stepchildren and six grandchildren.He only spent just shy of five hours in orbit, but his contributions to human spaceflight were invaluable, and he will always be remembered. Godspeed, Scott Carpenter.Astronaut Scott CarpenterUS astronaut M. Scott Carpenter looking into his Mercury-Atlas 7 spacecraft, the Aurora 7, before being inserted to begin the launch, May 24, 1962. A total of 50 years ago, Scott Carpenter flew the second American manned orbital flight on 24 May 1962. He piloted his Aurora 7 spacecraft through three revolutions of the earth. (EPA/NASA) less (Photo courtesy NASA)Geek out with the latest in science and weather.Follow @ygeekquinox on Twitter!
Ancient European Farmers and Hunter-Gatherers Coexisted, Sans Sex
By By Tia Ghose, Staff Writer | LiveScience.com – 19 hours ago
Neolithic hunter-gatherers and farmers lived side by side without having sex for more than 2,000 years, new research suggests.Analysis of fossil skeletons unearthed in a cave in Germany revealed that the two populations remained mostly separate for two millennia, despite living in the same region."We thought up till now that shortly after the introduction of farming in central Europe all hunter-gatherers kind of vanished," said study co-author Ruth Bollongino, an archaeogeneticist at the Johannes Gutenberg University in Germany. "This is mainly because we hardly find any artifacts. We have absolutely no ongoing proof of a hunter-gatherer lifestyle after the early Neolithic," around the time when farmers were first migrating from the Middle East.The findings were published today (Oct. 10) in the journal Science. In a separate study in the same issue of Science, researchers found that by 3,500 years ago, all of the genetic makeup of modern Europe was mostly in place. [History's 10 Most Overlooked Mysteries]Cave discovery-In 2004, archaeologists first discovered the Blätterhöhle, a long, narrow cave in Hagen, Germany, filled with more than 450 skeletal fragments that belonged to at least 29 individuals. Carbon isotope dating revealed the cave had been used in the Mesolithic period, between 9210 and 8340 B.C., and in the Neolithic period, between 3986 and 2918 B.C. The cool, dry environment provided perfect preservation conditions for the delicate DNA housed within the bones. [See Images of the Excavations]Bollongino and her colleagues analyzed the fossils' mitochondrial DNA, genetic information carried in the cytoplasm of the cell that is only passed on from the mother, finding usable information in 25 of the individuals.Separately, the researchers also analyzed carbon and nitrogen isotopes, or variants of the same elements with different molecular weights. Because different foods contain different ratios of heavy and light isotopes, the team was able to pinpoint the diets of the ancient people.Fishers and farmers-Of the skeletons they analyzed, all five of the most ancient samples came from a genetic lineage associated with pre-farming hunter-gatherers. Of the Neolithic skeletons, eight had genetics consistent with farming, whereas 12 of the more modern samples had genetic lineages more consistent with belonging to a hunter-gatherer group.Isotope analysis also revealed the latter group subsisted on a diet of mainly freshwater fish, while the farmers ate more domesticated animals. In addition, the analysis suggested people across the two groups rarely had sex with each other over a period spanning about 2,000 years.The farmers and fishers shared the same burial place, so they must have had some contact, Bollongino said."I think it's very unlikely they did not know of each other or trade, but for some reason, they stayed amongst themselves," Bollongino told LiveScience.Genetic melting pot-In the second study, researchers analyzed the mitochondrial DNA from more than 364 fossil remains found at more than 20 sites within the Saxony-Anhalt region of Germany, which dated to between 5500 and 1550 B.C.The team concluded that the modern maternal genetic makeup of Europe was mostly in place by about 3,500 years ago, study co-author Wolfgang Haak, a molecular archaeologist at the University of Adelaide in Australia, wrote in an email. The hunter-gatherers may have died out by that time or stuck around for a little while longer in isolation, but they did not contribute much of a genetic legacy to modern Europe.Neolithic farmers were dominant for 2,500 years after the introduction of farming from the Middle East, though the new data can't reveal whether ancient Europeans truly vanished, or simply migrated to more isolated areas."In all likelihood [hunter-gatherers] must have retreated to areas that were less suitable for farming and where a [hunter-gatherer] subsistence could be sustained despite the (occasional) disturbance by farmers," Haak wrote.Later, Scandinavian hunter-gatherers gradually assimilated into Neolithic farming culture, probably because the nomadic way of life became too difficult to sustain as farmers continued their expansion. Climate fluctuations may have also played a role, Haak said.Follow Tia Ghose on Twitter and Google+. Follow LiveScience @livescience, Facebook & Google+. Original article on LiveScience.
New Jersey Shore braces for coastal storm 
News Home
Streets flood as storm hits shore communities Play video .
Katherine Scott reports from Atlantic City on the coastal … Play video .
Cloudy, periods of rain today Play video .
Firm to get $4.7M to clean up Seaside Park boardwalk … Play video 2 hrs 50 mins ago 0:51
Reuters Videos
Victims of Hurricane Sandy anxiously watch for signs of flooding and damage from new storm. Linda So reports.
Cyclone Phailin: India Braces for Major Impact Published: Oct 11, 2013, 7:43 AM EDT Associated Press
AP Photo/Biswaranjan RoutIn this Thursday Oct. 10, 2013 photo, fishing boats are pulled off to the shore following a cyclone alert on the Bay of Bengal coast at Puri, Odisha state, India.BHUBANESHWAR, India — Officials ordered tens of thousands of coastal villagers to flee their homes Friday as a massive cyclone – so large it filled nearly the entire Bay of Bengal – gathered strength and headed toward India's eastern seaboard.Officials canceled holy day celebrations and stockpiled emergency supplies in coastal Odisha and Andhra Pradesh states, with forecasters saying Cyclone Phailin will hit the region Saturday evening.The Indian Meteorological Department warned that Phailin was a "very severe cyclonic storm." If the storm continues on its current path without weakening, it is expected to cause large-scale power and communications outages and shut down road and rail links, officials said. There would also be extensive damage to crops.
(MORE: The Latest Forecast for Phailin)
Play Video
Deadly Cyclone Takes Aim
Autoplay Satellite images of the storm showed its spinning tails reaching nearly 1,600 kilometers (1,000 miles) from the east coast of India to the west coast of Myanmar, an area roughly the size of France.Using trucks and buses, authorities evacuated 40,000 people from 40 villages to government-run shelters, schools and buildings in five districts of Orissa state, said Surya Narayan Patra, the state revenue and disaster management minister.Patra said authorities plan to take another 100,000 people to safer areas before the cyclone hits."No one will be allowed to stay in mud and thatched houses in the coastal areas," he said.
(MORE: Tornadoes Damage These Prized Weather Possessions)
Authorities also began evacuating 64,000 people from the low-lying areas of three vulnerable districts in neighboring Andhra Pradesh state, said state Revenue Minister N. Raghuveera Reddy.Officials have been stockpiling emergency food supplies, and setting up shelters for people expected to flee the heavy winds and rains. The Indian air force said four transport planes and 18 helicopters were being kept ready for relief operations in the region.The Bay of Bengal has been the scene of the some of the deadliest storms in recent history. A 1999 Orissa cyclone killed 10,000 people.MORE ON WEATHER.COM: September Flooding Hits India
Vehicles drive along a water-logged road during heavy rain in New Delhi on September 26, 2013. (PRAKASH SINGH/AFP/Getty Images)
Nor'easter Hits East Coast: Soaking Rainfall Expected to Continue Through the Weekend Published: Oct 11, 2013, 7:36 AM EDT weather.com1/12Buxton, N.C.
 Rough seas in Buxton, N.C. (iWitness/wrb13@me.com)
TRENTON, N.J. — Forecasters say minor to moderate coastal flooding is possible from a slow-moving nor'easter that's bringing periods of wind-driven heavy rain to New Jersey."The area of low pressure will linger along the Middle Atlantic coast into Saturday," said weather.com meteorologist
Chris Dolce
. "As a result, scattered showers and breezy winds will continue across the region. In addition, coastal locations will see lingering minor to locally moderate coastal flooding, high surf and some beach erosion."Play Video
Deadly Cyclone Takes Aim
Autoplay
(MORE: Nor'easter Formed from Tropical Storm Karen's Ghost?)
Rough surf could cause beach erosion along the shore that's still rebuilding nearly one year after Superstorm Sandy.A coastal flood advisory is in effect through Friday afternoon in parts of the Virginia, Maryland, Delaware and New Jersey coasts.Forecasters are predicting moderate to widespread minor flooding during high tide fueled by onshore winds on Friday that could continue through Sunday. Heavy rain could also contribute to flooding along the roads.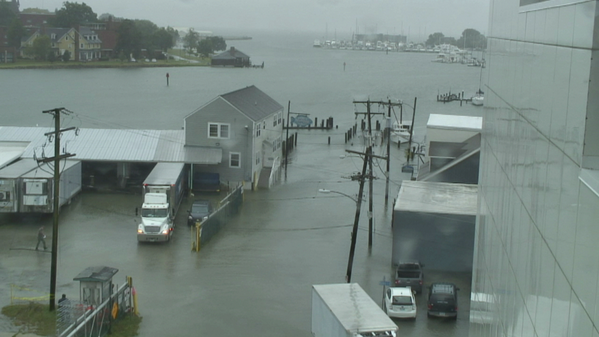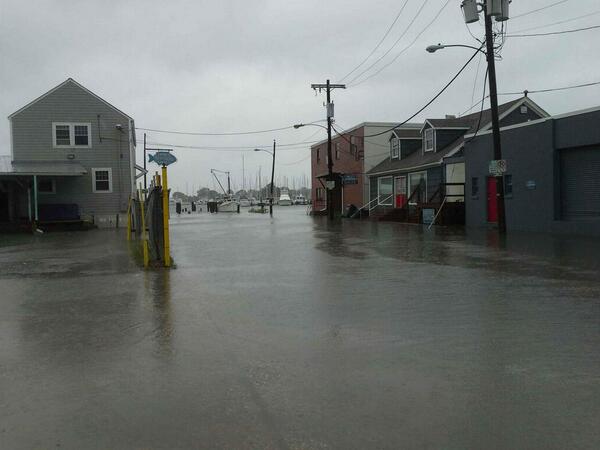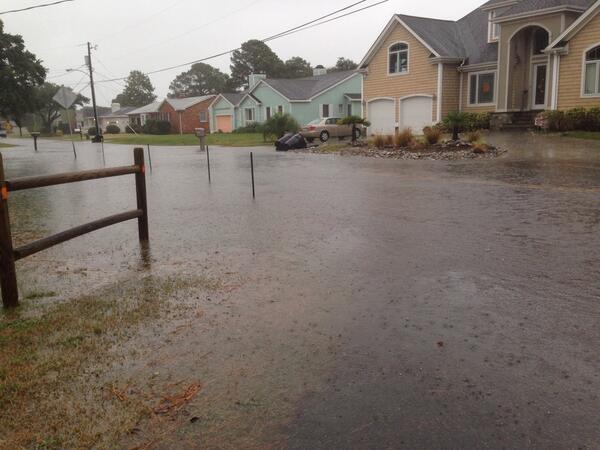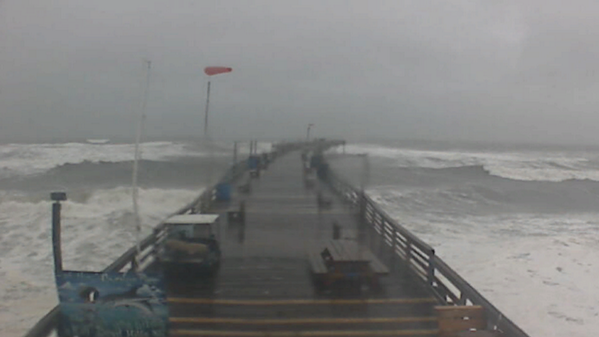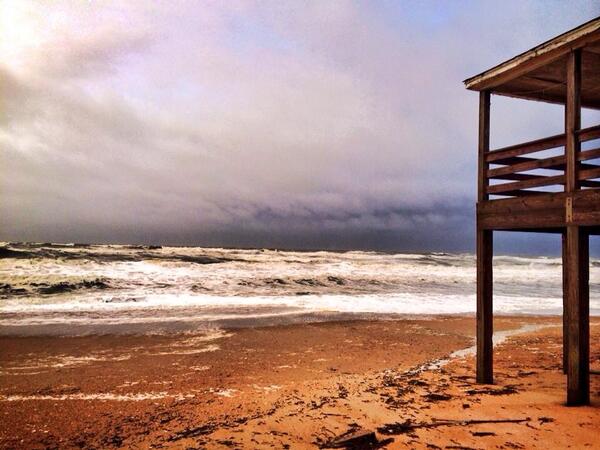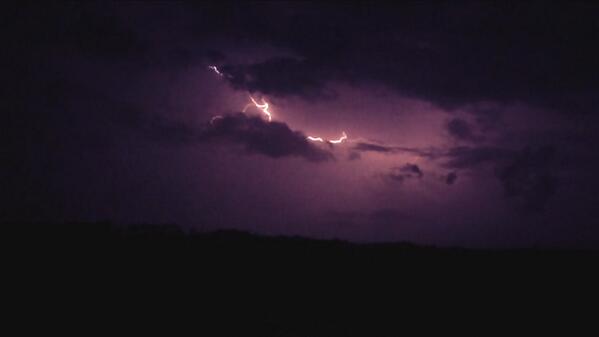 Cavemen Started the Recycling Phenomenon
Ariel David Published: Oct 11, 2013, 9:17 AM EDT Associated Press 0
AP Photo/Dan BaliltyThis Wednesday, Oct. 9, 2013 photo shows the stone age recycling site cave at the north of Israel next to the city of Zichron Yaakov.TEL AVIV, Israel — If you thought recycling was just a modern phenomenon championed by environmentalists and concerned urbanites – think again.There is mounting evidence that hundreds of thousands of years ago, our prehistoric ancestors learned to recycle the objects they used in their daily lives, say researchers gathered at an international conference in Israel."For the first time we are revealing the extent of this phenomenon, both in terms of the amount of recycling that went on and the different methods used," said Ran Barkai, an archaeologist and one of the organizers of the four-day gathering at Tel Aviv University that ended Thursday.(MORE: See Why a Georgia School Canceled Classes)Play Video
THIS Can Eat a Sheep?
Autoplay
Just as today we recycle materials such as paper and plastic to manufacture new items, early hominids would collect discarded or broken tools made of flint and bone to create new utensils, Barkai said.The behavior "appeared at different times, in different places, with different methods according to the context and the availability of raw materials," he told The Associated Press.From caves in Spain and North Africa to sites in Italy and Israel, archaeologists have been finding such recycled tools in recent years. The conference, titled "The Origins of Recycling," gathered nearly 50 scholars from about 10 countries to compare notes and figure out what the phenomenon meant for our ancestors.Recycling was widespread not only among early humans but among our evolutionary predecessors such as Homo erectus, Neanderthals and other species of hominids that have not yet even been named, Barkai said.Avi Gopher, a Tel Aviv University archaeologist, said the early appearance of recycling highlights its role as a basic survival strategy. While they may not have been driven by concerns over pollution and the environment, hominids shared some of our motivations, he said."Why do we recycle plastic? To conserve energy and raw materials," Gopher said. "In the same way, if you recycled flint you didn't have to go all the way to the quarry to get more, so you conserved your energy and saved on the material."
(PHOTOS: 7 Places You Have to Visit at Low Tide)
Some cases may date as far back as 1.3 million years ago, according to finds in Fuente Nueva, on the shores of a prehistoric lake in southern Spain, said Deborah Barsky, an archaeologist with the University of Tarragona. Here there was only basic reworking of flint and it was hard to tell whether this was really recycling, she said."I think it was just something you picked up unconsciously and used to make something else," Barsky said. "Only after years and years does this become systematic."That started happening about half a million years ago or later, scholars said.For example, a dry pond in Castel di Guido, near Rome, has yielded bone tools used some 300,000 years ago by Neanderthals who hunted or scavenged elephant carcasses there, said Giovanni Boschian, a geologist from the University of Pisa."We find several levels of reuse and recycling," he said. "The bones were shattered to extract the marrow, then the fragments were shaped into tools, abandoned, and finally reworked to be used again."At other sites, stone hand-axes and discarded flint flakes would often function as core material to create smaller tools like blades and scrapers. Sometimes hominids found a use even for the tiny flakes that flew off the stone during the knapping process.At Qesem cave, a site near Tel Aviv dating back to between 200,000 and 420,000 years ago, Gopher and Barkai uncovered flint chips that had been reshaped into small blades to cut meat – a primitive form of cutlery.
(MORE: How Did This Moon Disappear and Reappear?)
Some 10 percent of the tools found at the site were recycled in some way, Gopher said. "It was not an occasional behavior; it was part of the way they did things, part of their way of life," he said.He said scientists have various ways to determine if a tool was recycled. They can find direct evidence of retouching and reuse, or they can look at the object's patina – a progressive discoloration that occurs once stone is exposed to the elements. Differences in the patina indicate that a fresh layer of material was exposed hundreds or thousands of years after the tool's first incarnation.Some participants argued that scholars should be cautious to draw parallels between this ancient behavior and the current forms of systematic recycling, driven by mass production and environmental concerns."It is very useful to think about prehistoric recycling," said Daniel Amick, a professor of anthropology at Chicago's Loyola University. "But I think that when they recycled they did so on an `ad hoc' basis, when the need arose."Participants in the conference plan to submit papers to be published next year in a special volume of Quaternary International, a peer-reviewed journal focusing on the study of the last 2.6 million years of Earth's history.Norm Catto, the journal's editor in chief and a geography professor at Memorial University in St John's, Canada, said that while prehistoric recycling had come up in past studies, this was the first time experts met to discuss the issue in such depth.Catto, who was not at the conference, said in an email that studying prehistoric recycling could give clues on trading links and how much time people spent at one site.Above all, he wrote, the phenomenon reflects how despite living millennia apart and in completely different environments, humans appear to display "similar responses to the challenges and opportunities presented by life over thousands of years."MORE ON WEATHER.COM: Locusts Swarm Israel
 An Israeli man runs through a swarm of locusts arriving over the Negev desert near the Egyptian border on March 6, 2013 in Kmehin, Israel. (Uriel Sinai/Getty Images)
Over 20,000 Barrels Of Oil Spill In North Dakota James MacPherson Published: Oct 11, 2013, 9:27 AM EDT Associated Press 9
KAREN BLEIER/AFP/Getty Images An oil well near Tioga, N.D., taken in August 2013.BISMARCK, N.D. — It was 12 days after a North Dakota farmer reported a spill of 20,600 barrels of oil before state officials told the public what had happened, raising questions about how North Dakota, in the midst of an oil boom, reports such incidents.Farmer Steve Jensen says he smelled the crude for days before the tires on his combines were coated in it. At the apparent break in the Tesoro Corp.'s underground pipeline, the oil was "spewing and bubbling 6 inches high," he said in a telephone interview Thursday.What Jensen had found on Sept. 29 was one of the largest spills recorded in the state. At 20,600 barrels it was four times the size of a pipeline rupture in late March that forced the evacuation of more than 20 homes in Arkansas.Gov. Jack Dalrymple, who says he wasn't even told about what happened until Wednesday night, said the state is now investigating its procedures for reporting spills."There are many questions to be answered on how it occurred and how it was detected and if there was anything that could have been done that could have made a difference," Dalrymple said Thursday, when questioned at a news conference on a separate topic."Initially, it was felt that the spill was not overly large," Dalrymple said. "When they realized it was a fairly sizable spill, they began to contact more people about it."The spill happened in a remote area in the northwest corner of the state. The nearest home is a half-mile away, and Tesoro says no water sources were contaminated, no wildlife was hurt and no one was injured.The release of oil has been stopped, state environment geologist Kris Roberts said Thursday. And the spill — spread out over 7.3 acres, or about the size of seven football fields — has been contained.Jacob Wiedmer, who was helping Jensen harvest his wheat crop, likened the Sept. 29 discovery to the theme song from "The Beverly Hillbillies" television show."It was just like Jed Clampett shooting at some food …" he said of the oil coming from the ground. "Except we weren't hunting, we were harvesting."Jensen said he had harvested most of his wheat before the spill, but the land is no longer usable for planting."We expect not to be able to farm that ground for several years," he said.Tesoro Logistics, a subsidiary of the San Antonio, Texas-based company that owns and operates parts of Tesoro's oil infrastructure, said in a statement that the affected portion of the pipeline has been shut down."Protection and care of the environment are fundamental to our core values, and we deeply regret any impact to the landowner," Tesoro CEO Greg Goff said in a statement. "We will continue to work tirelessly to fully remediate the release area."Play VideoHow will growers feed the world?AutoplayWayde Schafer, a North Dakota spokesman for the Sierra Club, said the spill is an example of the lack of oversight in a state that has exploded with oil development in recent years."We need more inspectors and more transparency," Schafer said. "Not only is the public not informed, but agencies don't appear to be aware of what's going on and that's not good."Eric Haugstad, Tesoro's director of contingency planning and emergency response, said the hole in the 20-year-old pipeline was a quarter-inch in diameter. Tesoro officials were investigating what caused the hole in the 6-inch-diameter steel pipeline that runs underground about 35 miles from Tioga to a rail facility outside of Columbus, near the Canadian border.Roberts said state and federal regulators are monitoring the cleanup, and Tesoro estimated it would cost $4 million.A natural layer of clay more than 40 feet thick underlies the spill site and has "held the oil up" so that it does not spread to underground water sources, Roberts said."It is completely contained and under control," Roberts said Thursday. "They got very lucky."MORE ON WEATHER.COM: BP Gulf of Mexico Oil Spill1 / 11
Getty ImagesA dead crab is seen in a piece of marsh in Ocean Springs, Miss. The marsh was covered in oil after the BP oil spill of April, 2010. Photo by Mario Tama/Getty Images)
Typhoon Nari Barrels Toward Northern Philippines Hrvoje Hranjski Published: Oct 11, 2013, 9:47 AM EDT Associated Press 2
Super Cyclone Takes Aim
Autoplay
MANILA, Philippines — A tropical storm barreling toward the northern Philippines on Friday intensified into a typhoon with destructive winds and flooding rains threatening farmlands and populated areas, including the capital Manila.Typhoon Nari forced U.S. Secretary of State John Kerry to call off Friday's trip to the Philippines. Kerry, who was visiting Southeast Asia for regional summits, said in Brunei on Thursday he was advised by his pilots to postpone the trip.Authorities placed 14 provinces and metropolitan Manila under storm alert, closed schools and put emergency services on notice.
(MORE: Cyclone Nears India, Experts Fear Major Disaster)
Play Video
Super Cyclone Takes Aim
Autoplay
The typhoon is forecast to slam ashore in northeastern Aurora province later Friday or early Saturday with winds over 100 mph. Rainfall will exceed 4 to 8 inches with up to 12 inches in mountainous areas – about a month's average in 24 hours.The national disaster agency said it was ready to evacuate thousands of residents from coastal towns.Aurora Gov. Gerardo Noveras said that mayors were busy calling on people living along rivers to seek shelter and stock up on relief goods, including rice and canned food.After hitting land, Nari is expect to pound the mountains and rice growing plains of central Luzon Island and exit into the South China Sea, heading for Vietnam early next week.
(MORE: Nor'easter Continues to Batter East Coast)
The center of the typhoon is forecast to pass just north of Manila, dumping more rain in the sprawling capital. Manila has been hit hard by floods because of poor infrastructure and clogged drainage and water canals – most of them blocked by densely populated slums – that are supposed to channel excess water into the sea.
About 30 people died last month in flash floods triggered by monsoon rains. Another 20 died this past week alone, most of them in the southern Philippines.MORE ON WEATHER.COM: Philippines Flooding in August
A Filipino boy cleans dishes at a temporary evacuation center as rain pours in suburban San Mateo, east of Manila, Philippines on Aug. 21, 2013. (AP Photo/Aaron Favila)