Weather Worries after North Dakota Train Derailment and Fiery Explosion Dave Kolpack Published: Dec 31, 2013, 6:26 AM EST Associated Press
INSANE Explosions in Train Derailment 
CASSELTON, N.D. — A shift in the weather could heighten the risk of potential health hazards after a mile-long train carrying crude oil derailed in North Dakota and set off explosions, authorities said, urging residents of a nearby town evacuate.
(MORE: Snowstorm to Hit Plains, Upper Midwest)
About 2,400 people live in Casselton, about a mile from Monday's fiery derailment. The Cass County Sheriff's Office called on residents there and those living five miles to the south and east to leave their homes because of the weather shift, which it said the National Weather Service was forecasting."That's going to put the plume right over the top of Casselton," Sheriff Paul Laney said.Play Video
Major Storm to Welcome 2014No one was hurt, and the cause was still being investigated.Sheriff's officials said that the evacuation unfolded in calm and orderly fashion in recent hours, with the majority of nearby residents heeding a strong recommendation by authoriites to leave.The derailment happened amid heightened concerns about the United States' increased reliance on rail to carry crude oil. Fears of catastrophic derailments were particularly stoked after last summer's crash in Quebec of a train carrying crude from North Dakota's Bakken oil patch. Forty-seven people died in the ensuing fire.The explosions Monday afternoon sent flames and black smoke skyward outside of Casselton, about 25 miles west of Fargo. Investigators couldn't get close to the blaze and official estimates of how many train cars caught fire varied.BNSF Railway Co. said it believed about 20 cars caught fire after its oil train left the tracks about 2:10 p.m. Monday. The sheriff's office said it thought 10 cars were on fire.The cars continued to burn past sunset, and authorities said they would be allowed to burn out.Authorities hadn't yet been able to untangle exactly how the derailment happened, but a second train carrying grain was involved. BNSF spokeswoman Amy McBeth said the train carrying grain derailed first, then knocked several cars of the oil train off adjoining tracks.BNSF said both trains had more than 100 cars each.Play Video
Fiery Train AccidentThe National Transportation Safety Board said Monday night it has launched a "go-team" to investigate the accident.Ryan Toop, who lives about a half-mile away, said he heard explosions and drove as close as about two city blocks to the fire, which erupted on a day when temperatures were below zero."I rolled down the window, and you could literally keep your hands warm," Toop said.The tracks that the train was on pass through the middle of Casselton, and Cass County Sheriff's Sgt. Tara Morris said it was "a blessing it didn't happen within the city."Morris said it could take up to 12 hours before authorities could get close to the fire. About 80 of the cars were moved from the site. Jeff Zent, a spokesman for Gov. Jack Dalrymple, said the National Guard was on alert if needed.Temperatures were forecast to drop to minus 20 in Cass County overnight."Of course, Mother Nature, being North Dakota, it has to be one of the coldest nights of the year. It's deadly cold out there tonight," Laney said.A shelter has been set up in Fargo. Casselton Mayor Ed McConnell said he didn't want any residents sleeping in their vehicles."All the experts say it can be a hazardous situation to their health," McConnell said. "We're going to try to get everybody out of the town."In the initial hours, authorities told residents to stay indoors to avoid the smoke.The North Dakota Department of Health had warned in an advisory that exposure to burning crude could cause shortness of breath, coughing and itching and watery eyes. It had said those in the vicinity with respiratory conditions such as asthma, bronchitis or emphysema should minimize outdoor activity."All of a sudden the train car tipped over and the whole thing was engulfed in flames and it just exploded."
Hannah Linnard, Witnessed Train DerailmentHannah Linnard, 13, said she was in the bedroom of her friend's house about half a mile from the derailment, wrapping late Christmas presents."I looked out the window and all of a sudden the train car tipped over and the whole thing was engulfed in flames and it just exploded. The oil car tipped over onto the grain car," she said. Hannah said she could feel the warmth even inside the house.Terry Johnson, the manager of a grain dealer less than a mile from the derailment, said he heard at least six explosions in the two hours following the incident."It shook our building and there was a huge fireball," he said.
(WATCH: America Burning: The Yarnell Wildfire Tragedy)
North Dakota is the No. 2 oil-producing state in the U.S., trailing only Texas, and a growing amount of that is being shipped by rail. The state's top oil regulator said earlier this month that he expected as much as 90 percent of North Dakota's oil would be carried by train in 2014, up from the current 60 percent.The number of crude oil carloads hauled by U.S. railroads surged from 10,840 in 2009 to a projected 400,000 this year. Despite the increase, the rate of accidents has stayed relatively steady. Railroads say 99.997 percent of percent of hazardous materials shipments reach destinations safely.
Associated Press writers James MacPherson in Bismarck, N.D., and Dirk Lammers in Sioux Falls, S.D., contributed.
MORE ON WEATHER.COM: Photos from the North Dakota Train Derailment
1 / 5
This photo provided by Cass County Commissioner Ken Pawluk shows a train derailment and fire west of Casselton, N.D., Monday, Dec. 30, 2013. (AP Photo/Ken Pawluk)
Mount Sinabung Volcano: New Eruptions from Indonesia Volcano
Published: Dec 31, 2013, 8:11 AM EST Associated Press1 / 29
Mount Sinabung sinabung spews volcanic material as seen from Karo, North Sumatra, Indonesia, Sunday, Nov. 24, 2013. Officials raised the alert status of Sinabung to the highest level after a series of overnight eruptions. (AP Photo/Dedy Zulkifli)
KARO, Indonesia — A rumbling volcano in western Indonesia that has been spewing lava and clouds of gas high into the sky let out a new, powerful burst Tuesday, prompting warnings for airplanes and triggering panic among villagers, officials said.(MORE: 20 Most Amazing Volcanoes)Nine eruptions Tuesday sent lava and searing gas tumbling out of Mount Sinabung in North Sumatra province, said Indonesia's disaster mitigation agency spokesman Sutopo Purwo Nugroho. The volcano started spitting clouds of gas and lava as high as 7,000 meters (23,000 feet) in the air late Monday, but no casualties were reported.Play Video
Living in Shadow of a VolcanoHe said more than 19,000 people have been evacuated from villages in a danger zone 5 kilometers (3 miles) around the crater to temporary shelters since authorities raised the alert status for Sinabung to the highest level in November.Gray ash covered villages, farms and trees as far as 70 kilometers (43 miles) southeast of the mountain.The 2,600-meter (8,530-foot) Mount Sinabung has sporadically erupted since September. An eruption in 2010 killed two people and caught scientists off guard because the volcano had been quiet for four centuries.Transportation Ministry spokesman Bambang Ervan said airlines had been notified to avoid routes near the mountain.(WATCH: Volcano In Space)Mount Sinabung is among about 130 active volcanoes in Indonesia, which is prone to seismic upheaval due to its location on the Pacific "Ring of Fire," an arc of volcanoes and fault lines encircling the Pacific Basin.MORE ON WEATHER.COM: Photographer Gets Up Close and Personal with Volcanoes1 / 26
Pu'u O'o vent summit cone of Kilauea in Hawaii Volcanoes National Park. © G. Brad Lewis
Florida's Mangrove Forests Expand with Climate Change
Tia Ghose, LiveScience.com Published: Dec 31, 2013, 7:25 AM EST From our partners0
Matt Stock/U.S. Department of the InteriorMangrove forests typically grow in tidal regions in tropical and subtropical climates.Fewer deep freezes, attributable to Earth's warming climate, have caused mangrove forests to expand northward in Florida over the past three decades, new research suggests."Mangroves showed the largest increases in regions where cold snaps became less frequent over the past 30 years," study co-author Kyle Cavanaugh, an ecologist at the Smithsonian Environmental Research Center in Maryland, wrote in an email.The findings, published today (Dec. 30) in the journal Proceedings of the National Academy of Sciences, suggest that climate change could alter ecosystems even more dramatically in the years to come.(MORE: Major News for Electricity in U.S. Homes)Play Video
NYC Greenhouse Gas Emissions Drop Mangrove forests typically grow in tidal regions in tropical and subtropical climates. They serve a vital ecological function: The trees and shrubs that live in these regions can thrive in salty water, shifting sands and hot temperatures, and tree roots trap sediments, slowing the lapping of water and allowing other life to flourish.To see how climate changes have affected Florida's mangrove forests, Cavanaugh and his colleagues looked at 28 years of satellite data from Florida's East Coast. They found that the area taken up by mangrove forests in the northernmost latitudes had doubled over the last few decades, while the southern stretches changed little.This expansion wasn't connected to changes in average temperature, sea level rise, rain or land use. Instead, the regions with expanding mangroves experienced fewer cold snaps – periods when the temperature dips below 25 degrees Fahrenheit (minus 4 degrees Celsius).(WATCH: Highway Crumbles Into Pieces)The new results imply that mangrove forests may expand quickly with global warming in the coming decades. Though what this means for surrounding communities and the life that depends on the forests isn't yet clear."Right now we don't have enough information to determine if this is good or bad for humans," Cavanaugh said. "As mangroves expand they displace salt marsh. Both of these habitats are important ecologically and economically, and both are threatened by rising sea levels and coastal development."With further global warming, mangrove expansion probably won't be confined to Florida."There is evidence that the ranges of mangroves in other parts of the world are also restricted by cold temperatures," Cavanaugh said.And because water-dispersed plants can often travel farther than those dispersed by wind or plants, the mangrove expansion could be very rapid, the authors write in their paper.MORE ON WEATHER.COM: Fantastic Florida Sunsets1 / 13
Sunset at Naples, Florida (eleephotography/Flickr)
Crop Circle Appears in Salinas, Calif. Field By Sean Breslin Published: Dec 31, 2013, 8:18 AM EST weather.com1 / 3
A very intricate crop circle appeared in a field in Salinas, Calif. on Monday, Dec. 30, 2013, as seen from above. Nobody knows who created it or why. (Photo courtesy of 111th Aerial Photography Video)
Residents of Salinas, Calif. were baffled and amazed by a mysterious crop circle discovered in a field Monday morning.
(MORE: Did Weather Cause a Train to Derail and Erupt?)Play Video
Amazing Designs in the Snow!As seen in the photos above, the design is highly detailed, but the locals still have no idea who created the masterpiece, according to a Sky News report.The crop circle was carved into a barley field just east of Salinas, and the Monterey Herald reports the creation spanned nearly an acre of the field. The report also mentioned the owners of the farm hired security guards to monitor the property, but reporters were escorted to see the masterpiece up-close."I don't know what it is supposed to be … but it is beautiful," said Julie Belanger, who spoke to NBC News after flying over the design to take pictures.Whether created by human or extraterrestrial, weather conditions for the circle-carving were nearly ideal, with clear skies and cool temperatures, according to weather.com senior meteorologist Jon Erdman.MORE ON WEATHER.COM: Beautiful Fields of the World1 / 64
Wild poppies are covering meadows and fields near the northern Slovakian village of Matiasovce 11 June 2007. (JOE KLAMAR/AFP/Getty Images)
Power Outages Linger in New England, Michigan As States Prepare for New Storm Published: Dec 31, 2013, 7:23 AM EST Associated Press
Major Storm to Welcome 2014 PORTLAND, Maine  — With frigid temperatures descending upon the region, cold and weary utility crews worked Monday to finish restoring electricity for customers who've been in the dark for more than a week as another winter storm takes aim at the region.For John Phillips, an Ellsworth resident who has been living without electricity since Winter Storm Gemini hit the weekend before Christmas, the novelty of living like "Little House on the Prairie" wore off long ago.(MORE: Snowstorm Targets Northeast, Midwest)"Being without lights makes it pioneer-like," Phillips said Monday. "It gets old after a day or two, I can assure you."A Sunday snowstorm caused an additional 6,000 power outages in Maine and brought the month's snow total in Portland to 26.2 inches, more than double the snowfall in the typical December.Play Video
Driving Tips in the WinterAnd the new year could start the way the old one ended, with another snowstorm projected for Thursday and Friday.The anticipated snowstorm brought the possibility of still more power outages for utility crews who've been run ragged since an ice storm that started the weekend before Christmas caused a slow-moving disaster. Subzero and single-digit temperatures Monday night were going to add to the misery."We're concerned about our crews. A lot of these guys are tired. They're away from their families. They're getting as much rest as they can but it takes a toll," said Bob Potts from Bangor Hydro Electric Co.More than 100,000 utility customers lost power during the ice storm.In Michigan, angry residents packed a Lansing City Council meeting Monday night to slam the municipal power company's handling of widespread outages from an ice storm nine days earlier.The Lansing Board of Water & Light said about 800 homes and businesses remained offline Monday in the aftermath of the Dec. 21 storm. In all, about 40,000 of its customers, or 40 percent, lost power at one point or another.Play Video
Rating Winter from 1 to 10Residents lined up to give short, angry speeches accusing the power system's management of failing to communicate and lagging in its response to the outages."Let's hold them accountable for their incompetence," said Kyle Shumaker, 28.Consumers Energy Corp. and DTE Energy Co., the state's largest utilities, say they have fully restored power to those affected by the storm. In all, 666,000 Michigan homes and businesses were blacked out and at least five people died in the storm.Over the weekend, Lansing Mayor Virg Bernero directed police and fire personnel to conduct door-to-door welfare checks in areas without power. They're expected to continue until service is restored, MLive.com reported.(MORE: Arctic Blast for Midwest)"As this crisis continues, please help us reach out to your neighbors, especially senior citizens, disabled citizens and families with young children, who may still be trying to stay in a cold home," Bernero said.Michigan authorities blame the storm for three crash deaths and the deaths of two people from carbon monoxide fumes emitted by emergency generators.In eastern Maine, nearly 400 customers remained in the dark Monday night and Bangor Hydro expected to finish its restoration work by New Year's Day — 10 days after the power outages began.Central Maine Power had restored power to all of those that lost it in last week's ice storm, but another 5,000 customers lost electricity Sunday night. All but about 700 customers had their power back by Monday night.Phillips, who serves as mayor in Ellsworth, wasn't immune to the power outages that left the entire city in the dark for a time.Play Video
Stay Warm AND SAFE This Winter!"It's very frustrating to see everyone get their power back, but we're still out," said Phillips, whose generator went kaput on Christmas Eve.He brought in a portable unit to run a furnace to keep his house warm and prevent pipes from breaking and said he was spending $50 to $60 a day in generator fuel.Andrew Sankey, director of the Hancock County Emergency Management Agency, said that utility crews have done their best under tough circumstances to restore power and emergency management officials have done their best to provide shelter for those who need it."These circumstances have the potential to bring out the best in people," he said Monday. "Communities come together. Neighbors check on each other."The ice has caused other problems, including closing a major bridge across the Penobscot River.(WATCH: How to Avoid Frostbite)The Maine Department of Transportation closed the Penobscot Narrows Bridge Sunday after one vehicle was destroyed and four to five sustained damage by ice chunks falling 300 feet from above. No one was hurt.Crews weren't able to knock off the ice from the cables using a crane Monday, but transportation officials determined that the remaining ice will stay there because of the low temperatures and the bridge reopened Monday night, said spokesman Ted Talbot. The bridge will be closed again sometime this weekend to attempt to clear the remaining ice.MORE ON WEATHER.COM: Winter Storm Gemini Photos1 / 80
Jim Ridley uses a flashlight to get his mail Thursday, Dec. 26, 2013, in Litchfield, Maine, where he has been without electricity since Monday's ice storm. (AP Photo/Robert F. Bukaty)
NHL Winter Classic: Will Snow Blanket the Ice in Ann Arbor? By Jon Erdman Published: Dec 31, 2013, 7:15 AM EST weather.com
Eric King floods the ice during the 2014 Bridgestone NHL Winter Classic Build-Out on December 29, 2013 at Michigan Stadium in Ann Arbor, Michigan. (Photo by Dave Sandford/NHL via Getty Images)A potential record-breaking crowd for an outdoor hockey game will pack Michigan Stadium in Ann Arbor, Mich. for the sixth edition of the National Hockey League's Winter Classic on New Year's Day.Current ConditionsClick on city for more forecast detailsAnn Arbor, MI
15°FCloudyUnlike the past few iterations of the Winter Classic, slushy ice from temperatures hovering near or above freezing will not be an issue this year – but frigid temperatures will.High pressure centered over southern Canada will keep a fresh supply of Arctic air in place over southern Michigan on New Year's Day. Afternoon high temperatures may not rise out of the teens, with a northeast breeze producing wind chills possibly into the single digits.In short, this could be the coldest of the six NHL Winter Classics played so far.It's not just about the cold this year.A band of light snow should spread into southern Michigan New Year's Eve into New Year's Day.Therefore, don't be surprised to see light accumulations of snow during the game itself New Year's Day. (WATCH: Midwest Forecast | Detroit's 60-Second Forecast)At a minimum, falling snow at Michigan Stadium during the NHL's signature outdoor game should be a spectacle to watch (1 p.m. ET on NBC).This isn't the first outdoor hockey game at Michigan Stadium. In December 2010, in-state rivals Michigan and Michigan State faced off in "The Big Chill at the Big House".Last year's Winter Classic was canceled due to the NHL's lockout.Faceoff of the 2012 game in Philadelphia was pushed back a few hours due to concern over warm temperatures, as highs surged into the middle 40s. One year earlier, it was rain, not snow, that shifted the 2011 Winter Classic to a night game at Pittsburgh's Heinz Field.This Winter Classic won't be the single coldest outdoor regular-season NHL game, however.Ten years ago, the 2003 Heritage Classic was played just before Thanksgiving in Edmonton, Alberta between the host Edmonton Oilers and Montreal Canadiens. Despite wind chills in the 20s below zero, over 57,000 fans turned out at Edmonton's Commonwealth Stadium.MORE ON WEATHER.COM: Snowy NFL Games Dec. 8, 20131 / 13
(Left to right) Tackle Michael Oher, guard Marshal Yanda and center Gino Gradkowski of the Baltimore Ravens stand on the snow-covered field during the national anthem before playing the Minnesota Vikings at M&T Bank Stadium on Dec. 8, 2013 in Baltimore, Md. (Patrick Smith/Getty Images)
First Snowstorm of 2014 to Target Midwest, Northeast By Nick Wiltgen,By Jon Erdman Published: Dec 31, 2013, 6:29 AM EST weather.com
Major Storm to Welcome 2014
Major Storm to Welcome 2014
What to Expect for New Years Celebrations
Winter Storm Kicks Off 2014We won't get far into 2014 before the year's first snowstorm takes aim on parts of the Midwest and Northeast. And while this storm is still a few days away, there are already some indications that this could pack quite a punch.
New Year's Day
Midwest Snow Forecast
Midwest ImpactsThis long-duration snow event begins Tuesday, as an expansive swath of light snow spreads from the northern Rockies and northern Plains into the southern Great Lakes New Year's Eve night as we shift from 2013 into 2014.As the upper-air system digs southeastward, this will continue to sustain a broad east-west oriented zone of light to moderate snow from parts of eastern Kansas into the southern Great Lakes as far east as central New York and northern Pennsylvania Wednesday and Wednesday night. (
FORECAST:
Chicago
|
St. Louis
|
Cleveland
)Snow will continue in the Ohio Valley Thursday morning, possibly as far south as parts of northern Tennessee, before ending later in the day.At this time, a narrow swath of six inches or more of snow appears likely across parts of the Upper Mississippi Valley and southern Great Lakes New Year's Eve into New Year's Day and Thursday. Keep this in mind if you'll be coming or going to New Year's festivities in this area.Lighter amounts of generally one to four inches are expected from Kansas into the mid-Mississippi Valley and Ohio Valley. Accumulations of at least one inch are also possible over much of Kentucky and northern Tennessee.Meanwhile, the subtropical branch of the jet stream will start to become active over the Gulf of Mexico with an area of rain expanding along the Gulf Coast through mid-week. This should help to trigger the development of a weak coastal low near or just east of the Carolinas Thursday or Thursday night, just as the Midwestern system spreads into the Northeast.
Thursday
Friday
Coastal Storm EmergesThursday into early Friday these two systems are expected to join forces to form a single – and much more powerful – low-pressure system.This is where details become especially important. The exact timing of the northern and southern pieces of this system will determine the ultimate timing and location of the resulting coastal storm. This, in turn, will determine where the rain-snow line sets up – and just as importantly, when and where the heaviest snow will fall.At this time, still two to three days out, there are some differences in the location, intensity, and especially the
timing
of the coastal low amongst the various computer models we use for guidance. These differences are typical for any snowstorm, and will be reconciled over the next few days. That said, there are enough similarities among the majority of computer forecasts that some portion of the Northeast appears to be at risk for a significant snowstorm from this setup.Depending on the exact timing and track of the coastal low, a large portion of the Northeast – including, potentially, even coastal areas of New England – could experience a period of snow and strong north to northeast winds Thursday into early Friday. Given widespread temperatures in the teens and 20s, this could be a relatively dry, powdery snow with an added "fluff factor" – meaning deeper snow accumulations than you'd see from a wetter, gloppier snow.(
FORECAST:
Boston
|
New York
 |
Albany, N.Y.
)And with the coastal low whipping up the wind, we could be talking about blowing and drifting snow and poor visibility, particularly across New England, but possibly for areas farther west into New York state as well.While it's too early to be specific about snowfall amounts in particular areas, the potential for at least six inches of total snowfall looks highest along the Interstate 90 corridor from northern Ohio into New York state and southern New England. Confidence is now increasing that the Mid-Atlantic region from
Philadelphia
to
Washington, D.C.
 and points east to the Jersey shore and Delaware beaches should at least see some snow, as well.This winter storm is expected to exit the East Coast by Friday afternoon. Expect significant flight delays at the major Northeast hubs from late Thursday into early Friday, and challenging winter driving conditions from Thursday into Friday.In addition to the snow threat, there could be at least some minor coastal flooding for eastern New England due to strong onshore winds late in the week. As with everything else, the details will depend on the exact track, forward speed, and strength of the coastal low pressure center.Stay with The Weather Channel and weather.com as we continue to update the forecast on this first winter storm of 2014.
MORE ON WEATHER.COM: Winter Storm Gandolf (first named winter storm of 2013)
1 / 10Salt Lake City, Utah
Max and Shaina Richardson walk their dog through the snow. (AP Photo/Rick Bowmer)
Caterpillar Uses Nicotine to Ward Off Danger 
Joseph Brownstein, LiveScience.com Published: Dec 31, 2013, 7:08 AM EST From our partners
Public Domain PhotoIn Lewis Carroll's 'Alice in Wonderland,' a hookah-smoking caterpillar puffs out colorful words and boasts 'a very good height,' at just 3 inches tall.Ripped from the pages of Lewis Carroll's "Alice in Wonderland," scientists have discovered a smoking caterpillar of sorts.While this find may not push Alice's hookah-smoking insect from its psychedelic pedestal, this caterpillar is pretty snazzy, as it can use 
nicotine
 to ward off hungry 
wolf spiders
.The researchers found a gene in hornworm caterpillars that allows them to puff nicotine out through their spiracles (tiny holes in their sides), from the tobacco they consume, as a warning to their would-be predators. Researchers called this tactic "defensive halitosis." [
Video – See the Smoking Caterpillars in Action
]"It's really a story about how an insect that eats a plant co-opts the plant for its own defense," said study researcher Ian Baldwin, a professor at the Max Planck Institute for Chemical Ecology in Germany.
(MORE: Volcano Erupts AGAIN)
Play Video
Dolphins Get 'High' onPuffer Fish ToxinsBut, said Baldwin, it's also an example of the importance of studying animals in a natural habitat rather than just in the lab."We never would have discovered the function of this gene if the spider hadn't told us," he told LiveScience.The researchers discovered the odd halitosis when trying to find out how hornworm caterpillars could consume tobacco plants despite the toxic nicotine within the plant's tissues. In fact, these caterpillars are hundreds of times more resistant than humans who smoke are to the toxic effects of nicotine.By feeding 
hornworm caterpillars
 tobacco plants with and without nicotine, researchers identified the gene that was activated when the caterpillars consumed nicotine-containing tobacco plants. The scientists then placed so-called interference RNA matching that gene in 
tobacco plants
 grown in the lab. The 
interference RNA
 targeted that gene, preventing the caterpillars from using their defense.When caterpillars consumed the gene-altered tobacco, they lost their ability to produce the tobacco halitosis and thus their ability to ward off the spiders. As a result, they were consumed at a higher rate by wolf spiders, a rate similar to that found for caterpillars consuming nicotine-depleted tobacco plants.
(WATCH: Are These the Cleanest Animals on Earth?)
This RNA-interference technique might someday be used in genetically modified crops produced with specific nutritional goals in mind, as interference RNA targets a specific gene. Early trials of medications using a similar principle to treat a rare disease called transthyretin amyloidosis in humans were published earlier this year."A very intriguing aspect of this study is the really state-of-the-art methodology that was used to determine the fate of nicotine," said May Berenbaum, a professor and head of the department of entomology at the University of Illinois at Urbana-Champaign, who edited the study for the journal.While the study involved wolf spiders, the nicotine halitosis does not necessarily turn away other predators. This defense, Berenbaum noted, has the advantage of warning a predator of a prey's toxicity without requiring the prey to lose a limb.Scientists may also want to determine whether hornworm caterpillars have other defenses against predators. For instance, the caterpillars also consume plants, such as tomatoes, which contain alkaloids that are not volatile like nicotine is. If a compound is not volatile, it isn't easily vaporized and so couldn't be emitted from tiny pores.
The study is being published today (Dec. 30) in the Proceedings of the National Academy of Sciences.
Indonesia's Mount Sinabung Unleashes Fresh Burst 
Binsar Bakkara Published: Dec 30, 2013, 10:49 PM EST Associated Press
Mount Sinabung sinabung spews volcanic material as seen from Karo, North Sumatra, Indonesia, Sunday, Nov. 24, 2013. Officials raised the alert status of Sinabung to the highest level after a series of overnight eruptions. (AP Photo/Dedy Zulkifli)
KARO, Indonesia — Authorities say a volcano in western Indonesia that has been spewing lava and clouds of gas high into the sky has let out a new burst, triggering panic.Indonesia's disaster mitigation agency spokesman Sutopo Purwo Nugroho says nine new eruptions Tuesday sent lava and searing gas tumbling up to 3.5 kilometers (2.2 miles) down the slopes of Mount Sinabung in North Sumatra province, but no casualties were reported.Play Video
Crater Turns Out to Be a Supervolcano
(MORE: World's 20 Most Amazing Volcanoes)
It started spitting gas and lava up to 7,000 meters (23,000 feet) in the air late Monday.Nugroho says about 19,000 villagers have been evacuated from a danger zone 5 kilometers (3 miles) around the crater.The 2,600-meter (8,530-foot) volcano has sporadically erupted since September. An eruption in 2010 caught scientists off guard because it had been quiet for four centuries.Mount Sinabung is among around 129 active volcanoes in Indonesia, which is prone to seismic upheaval due to its location on the Pacific "Ring of Fire," an arc of volcanoes and fault lines encircling the Pacific Basin.
MORE ON WEATHER.COM: Lightning in Volcanoes
1 / 9Sakurajima Erupts in Japan
From our partnersPhoto courtesy Martin Rietze.
Storms Cause Floods, Sinkhole in Hawaii 
By Becky Kellogg Published: Dec 31, 2013, 8:44 AM EST weather.com
Hawaii Vacation ForecastHILO, Hawaii  — A storm moving across Hawaii is bringing torrential rains, floods, and even a sinkhole to the island state.Hawaii authorities say a pickup fell into a giant hole Monday on the Big Island after heavy rains caused the road to collapse.
(MORE: Hilo, Hi. Forecast)
Hawaii County Civil Defense said the driver of the truck had minor injuries.Officials say the rain caused a culvert to shift, causing the road to give way.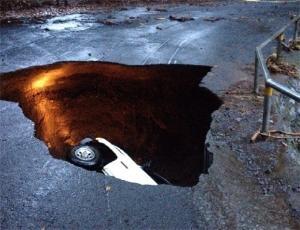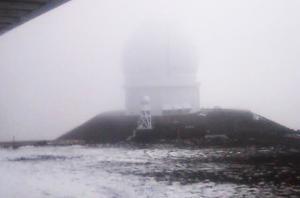 Craig Gima @CraigGima
Follow Storm brought snow to Mauna Kea and set new rain record in Hilo. That's a lot of rain.
Robert Ballard @firebomb56
El Salvador volcano spews more ash, gases
SAN SALVADOR (Reuters) – A volcano in eastern El Salvador belched more ash and gases on Monday after a big eruption on Sunday that drove more than 1,600 people into emergency shelters. No major injuries or damage were reported.The Chaparrastique volcano, which is about 140 km (87 miles) east of San Salvador, the capital, spewed ash over a wide area known for its coffee plantations on Sunday."The Chaparrastique volcano is still producing gases combined with small emissions of ash, which is normal after an eruption," El Salvador's environment ministry said on its Twitter page.In all, 1,635 people are in seven temporary shelters, emergency services said. Some people on the volcano's slopes have refused to leave, emergency services said.It was not clear to what extent El Salvador's coffee crop, already blighted by an outbreak of leaf rust, might be affected by the eruption. Coffee officials said they were meeting on Monday to evaluate the damage.El Salvador's international airport was operating normally on Monday, although more than 36 international flights into and out of the country had been suspended on Sunday because of the eruption, the airport and airlines said.El Salvador has 23 active volcanoes. Chaparrastique is considered one of the most active, with 26 eruptions in the last 500 years, the environment ministry said.In a 1976 eruption, lava gushed from the volcano. Chaparrastique shook violently in another event in 2010.(Additional reporting by Ulises Rodriguez; Editing by Jonathan Oatis)View gallery
A family gathers at a school being used as a shelter for residents evacuated from the surrounding ar …View gallery
A child is embraced by his father who covers his face with a mask, for protection from the ashes spe …View gallery
A girl covers her face with a mask for protection from the ashes spewed by the Chaparrastique volcan …View gallery
Rescue workers monitor the activity of the Chaparrastique volcano in the municipality of San Miguel  …View gallery
The Chaparrastique volcano spews ash in the municipality of San Miguel December 29, 2013. REUTERS/St …View gallery
A dead cat lies on a road covered with ash near the Chaparrastique volcano in the municipality of Sa …View gallery
A soldier stands guard as the Chaparrastique volcano spews ash in the municipality of San Miguel Dec …
Train collision in North Dakota sets oil rail cars ablaze
FARGO, North Dakota (Reuters) – A BNSF train carrying crude oil in North Dakota collided with another train on Monday setting off a series of explosions that left at least 10 cars ablaze, the latest in a string of incidents that have raised alarms over growing oil-by-rail traffic.Local residents heard five powerful explosions just a mile outside of the small town of Casselton after a westbound train carrying soybeans derailed, and an eastbound 104-car train hauling crude oil ran into it just after 2 p.m. CST (2000 GMT), local officials said. There were no reports of any injuries.Half of the oil cars have been separated from the train, but another 56 cars remain in danger, said Cecily Fong, the public information officer with the North Dakota Department of Emergency Services. The collision destroyed both engines on the oil train. Both trains were operated by BNSF Railway Co, which is owned by Warren Buffett's Bershire Hathaway Inc.The incident threatens to stoke concerns about the safety of carrying increasing volumes of crude oil by rail, a trend that emerged from the unexpected burst of shale oil production out of North Dakota's Bakken fields. Over two-thirds of the state's oil production is currently shipped by rail."Approximately 10 cars are fully engulfed resulting in heavy smoke in the area," the Cass County sheriff said in a statement, adding that local fire and hazardous material teams are battling the blaze. The sheriff said it was not yet clear how the collision had occurred.View gallery
A plume of smoke rises from scene of a derailed train near Casselton, North Dakota December 30, 2013 …City officials said they had heard a series of explosions following the collision, including one as recently as 3:40 p.m. CST, more than an hour after the incident. Residents within 10 miles were asked to remain indoors to avoid contact with the smoke.The derailment occurred about a mile west of Casselton, a small town just west of Fargo, between an ethanol plant and the Casselton Reservoir, Fong said.RAIL CROSSROADSNorth Dakota is home to a raging shale oil boom that produced nearly 950,000 barrels of oil a day in October. It is also a major grain producer and long accustomed to a high volume of rail traffic.But shipments of oil have surged lately, most of it the light, sweet Bakken variety that experts say is particularly flammable.Trains carried nearly 700,000 barrels a day of North Dakota oil to market in October, a 67 percent jump from a year earlier, according to the state Pipeline Authority.This summer, a runaway oil train carrying Bakken crude derailed and exploded in the center of the Quebec town of Lac-Megantic, killing 47 people. The incident fueled a drive for tougher standards for such shipments, including potentially costly retrofits to improve the safety of tank cars that regulators have cited as prone to puncture.In early November, two dozen cars on another 90-car oil train derailed in rural Alabama, erupting into flames that took several days to fully extinguish.The Association of American Railroads recently proposed costly fixes to older tank cars that do not meet its latest standards but continue to carry hazardous fuels such as oil.The fixes include protective steel jackets, thermal protection and pressure relief valves, which could cost billions of dollars. Oil shippers, likely to be saddled with the costs of retrofits, oppose some of the changes proposed by the association.(Additional reporting by Jeanine Prezioso and Selam Gebrekidan in New York; Editing by Gary Hill, Jonathan Leff, Bob Burgdorfer and Lisa Shumaker)
New Year on ice as weather stalls Antarctic air-sea rescue
View gallery
Sydney (AFP) – An icebound Russian research vessel prepared to ring in the New Year in Antarctica Tuesday as blizzards delayed a helicopter rescue planned after several icebreaking attempts failed.Related Stories
The MV Akademik Shokalskiy has been stranded 100 nautical miles east of the French base Dumont d'Urville for a week, hemmed in by impenetrable pack ice that three separate breakers have been unable to breach.The Australian government's supply ship Aurora Australis on Monday came within 10 nautical miles of the marooned vessel — which has 74 research scientists, tourists and crew on board — but was forced to turn back by snow showers and freezing winds.Russia's foreign ministry said a decision had been reached overnight to evacuate all 52 passengers by a helicopter on board the Chinese icebreaker Xue Long, which remains nearby after its own aborted bid to reach the Akademik Shokalskiy.The Australian Maritime Safety Authority (AMSA), which is coordinating operations, said severe weather continued to block efforts Tuesday."This rescue will be a complex operation involving a number of steps and subject to factors such as weather," AMSA said."The helicopter is unable to fly in the current weather conditions, and will hold off on the rescue until conditions improve. Weather conditions are unlikely to start improving until tomorrow and decisions related to carrying out the rescue may be made at short notice."AMSA said a landing site had been marked on the ice beside the Russian ship, adding that only passengers and none of the ship's 22 crew would be evacuated.View gallery
Map showing the area in the Antarctic where a Russian research vessel carrying 74 people has been tr …"The passengers are expected to be rescued by helicopter in groups of 12 and will be initially transported to the Xue Long," AMSA said."The Aurora Australis will then use its barge to transfer all 52 passengers on board their vessel. The barge can take up to 22 people at a time."It would be "a couple of weeks" before they were returned to land, with the Aurora Australis needing to head to Australia's Casey Antarctic base to refuel before heading to Hobart with the passengers, AMSA said.Ship's doctor Andrew Peacock said the passengers were frustrated but "resigned to keep waiting" and trying to keep their spirits high, with a New Year party planned in the ship's bar."(We're) passing the time reading, preparing for a possible helicopter evacuation, continuing ocean studies dropping probes beneath the ice, (watching) movies in the auditorium and working on a new song for New Year's Eve celebrations, which will be a nice dinner and time at the bar," Peacock told AFP."We know this is a serious event and we are inconveniencing others. We are not morose or upset, just frustrated and we have no option but to settle in and keep morale high."The ship is stocked with two weeks' worth of fresh food and another fortnight of dehydrated rations. But Peacock said drinks were running low, with "just enough alcohol left to celebrate" the arrival of 2014."We are preparing for evacuation to a dry ship so a few drinks seems reasonable, but we also have to be ready at a moment's notice for the helicopter arrival so staying sober is important," he said.Peacock said passengers had been upset by speculation on social media that they were not on a "serious science-based" expedition or had been negligent in some way, which he said could "not be further from the truth"."We were caught as we left to go north en route to home by a new breakout of ice dragged across to this area by strong southeasterly winds. This was a fairly rare event in this specific location," he said."The scientists and passengers are very unhappy about the way this has played out but we can't be expected to just sit and be sad or unhappy," he added, defending upbeat photo and video posts from the ship.Oceanographer Erik Van Sebille recorded one such log from his cabin Tuesday where he was preparing for evacuation."It's really a concept of hurry up and wait. Everything must be ready to go as soon as possible, but in the meantime it's a long, long wait ahead."
Browse Weather Reports
Light Rain

Partly Cloudy

Partly Cloudy
Partly Cloudy
Showers in the Vicinity
Rain Shower/Windy
Dublin
7°C H8° L7°
Further flooding fears for new year
Press Association – 22 minutes ago
View Photo
The new year will be heralded by a new bout of severe weather, forecasters warn.Heavy rain could bring more floods at the start of 2014, the Environment Agency (EA) has warned.Thousands of people across the UK are still recovering after storms last week caused widespread misery, with power cuts and flooding ruining Christmas for scores of families.Forecasters say there is more bad weather to come, with the Met Office issuing a severe weather warning for rain on New Year's Day, affecting southern England and western Scotland.An EA spokeswoman said: "On New Year's Day, heavy rain is expected which could cause flooding to communities in the south east and south west of England."There is a heightened flood risk for parts of south east, southern and south west England and Cumbria."Counties at increased risk of flooding are Cornwall, Devon, Somerset, Dorset, Wiltshire, Hampshire, Gloucestershire, Berkshire, Sussex, Surrey, Kent and Cumbria.The EA has eight flood warnings in place in England and Wales, meaning flooding is expected, and 112 flood alerts, where flooding is possible.The Met Office has said that as much as 40mm (1.6in) of rain could fall on higher ground or coastal areas, and there are likely to be gales of 50-60mph.The latest bad weather is set to push in from the Atlantic, crossing the UK from west to east. With the ground already saturated, some minor flooding is likely, the Met Office said.Councils are preparing for the worst, with emergency accommodation lined up in case people are forced to leave their homes, and the Local Government Association is urging people to look on council websites to keep updated with information.The EA spokeswoman said: "The Environment Agency is urging communities to prepare in advance by signing up for free flood warnings and to take action if they receive one. A flood warning indicates that flooding is expected."Environment Agency teams have continued to work around the clock on the ground operating pumping stations, issuing flood warnings and checking that flood banks, walls and barriers are working effectively."Advice on what to do before, during and after flooding is available on the Environment Agency website or by calling Floodline on 0845 9881188."People travelling this week are also reminded to check the latest flood updates ahead of making journeys and should not drive through dangerous floodwater."To date, there have been 1,300 properties flooded across England. Environment Agency flood defences have protected more than 80,000 properties from flooding."Seven people were airlifted to safety on Monday after heavy rain caused flooding in Scotland.The group, which included four children, were rescued from a farmhouse near Closeburn in Thornhill, Dumfries and Galloway, by a Royal Navy helicopter after rain forced families to be evacuated from dozens of homes and caused major road disruption.Around 40 houses in Kirkconnel, Dumfries and Galloway, were evacuated, as were 25 in Dumfries after the River Nith burst its banks, flooding the Whitesands area.The heavy rain also caused problems on the roads, with the A76 at Kirkconnel closed and flooding on the A74 and A75, and a landslide on the A7 just south of Langholm closed the road for a short while.
Weather: Navy Chopper In Flooded Farm Rescue
Sky News – 11 hours ago
View Photo
Weather: Navy Chopper In Flooded Farm Rescue Seven people and two dogs have been airlifted to safety by a Royal Navy helicopter after a farm was flooded during ongoing bad weather in Scotland.The group – which included four children – were rescued from a farm in Closeburn, near Thornhill, by a helicopter team working with night vision goggles."We winched Petty Officer (Taff) Ashman down to the ground about 50 yards from a barn," said Lieutenant Commander Rob Suckling from the helicopter crew."We then moved away to find a good landing spot while PO Ashman made his way to the farm."No one was hurt and all seemed to be in pretty good spirits … Apart from some low cloud on our way down to Dumfriesshire, conditions were benign and we managed to get the job done quickly."The rescue came as Britain prepares for further storms. The Met Office has issued a severe weather warning for rain on New Year's Day in southern England and western Scotland.There are fears of localised flooding in the southwest and southeast of England as a storm blows in from the Atlantic today.Flood warnings have been issued by the Environment Agency (EA) as areas yet to recover from Christmas storms are expected to struggle to cope with further rain.Met Office spokesman Dan Williams said: "It won't be on a par with the winds we've seen in some of the recent storms, but exposed areas of the western coast and some of the south coast will see speeds of 50 to 60mph."There could be a fair amount of rain in the south and south west of England, with 10-20mm falling fairly widely, and up to 40mm in coast areas."Some 1,300 properties have been flooded during poor weather across England. EA flood defences have protected more than 80,000 other properties from damage.The Local Government Association has urged people to look on council websites to keep updated with information.