Massive pileup on I-94 kills 3, more than 20 hurt
View gallery
MICHIGAN CITY, Ind. (AP) — Work continued Friday morning to remove wreckage on a busy interstate that connects Chicago to Detroit that was blocked by a massive pileup involving more than 40 vehicles, many of them semitrailers.Related Stories
Three people died and more than 20 were injured — including one critically — in the crash Thursday on a snowy stretch of eastbound Interstate 94 in northwestern Indiana. At least one person was trapped in a vehicle for hours before authorities could come to the rescue, Indiana State Police said.Snow and whiteout conditions were contributing factors, state police said. A band of heavy lake-effect snow was reported Thursday afternoon when the pileup began, dropping 1 to 2 inches of snow per hour and reducing visibility to a quarter-mile or less, National Weather Service meteorologist Evan Bentley said.The eastbound lanes of I-94 were closed through the night as cranes and wreckers helped clear the scene. State police Cpl. Daniel Becker said the eastbound lanes remained closed Friday morning and it could be several more hours before the numerous semitrailers and other vehicles would be cleared.State police scheduled a news conference later Friday morning during which officials expected to release identities of the victims.Photos showed semitrailers and mangled passenger vehicles jammed together the width of the highway near an overpass. Some passenger cars were sandwiched in the wreckage. I-94 is a main highway heading east from Chicago to Michigan and Indiana, and the crash happened near Michigan City, about 60 miles from Chicago.Raw: 3 Dead, at Least 20 Hurt in Indiana Pileup Play video
Drivers stuck in the backup could only wait and try to stay warm as temperatures hovered around 10 degrees.Stacey Johnson, 37, had a family emergency and was traveling from western Michigan to Tennessee with her three sons, ages 3, 9 and 10. She told The Associated Press she'd researched road conditions before leaving because she was worried about the weather. She didn't know about the accident until traffic started crawling and then stopped.Nearly five hours later, long after she'd planned to stop for dinner, her car was still sitting on the westbound side of the highway. A woman in the car next to hers noticed she had children with her and offered cereal, popcorn and fruit to tide them over.Scott Collins, 17, of Chesterton, Ind., was riding in a car with three other teens and saw the crash happen just behind them."One of the semis started sliding and I think it jackknifed in the middle of the road" and collided with another semi, he said. "After that happened, multiple semis locked up. … We were pretty nervous."Indiana State Police Sgt. Ann Wojas said 20 to 30 people were injured, including one with life-threatening injuries and another who was flown by medical helicopter to a hospital.Franciscan St. Anthony Health in Michigan City had received at least 10 patients, hospital president Dr. Jim Callaghan said. Six people were taken to IU Health LaPorte Hospital, a nursing supervisor said. Porter Regional Hospital also received patients, Wojas said.Police said city buses were brought in to warm stranded motorists and transport the injured, though Johnson said she hadn't seen them. But she felt fortunate that she'd gotten gas before leaving Michigan."If it weren't for the fact that I have a full tank and a safe car, this could be a really dangerous situation," she said.
Snowy Super Bowl? Too Early to Make the Call
View gallery Today's winter storm (Jan. 21) as seen from space.The winter storm that barreled across the Northeast yesterday (Jan. 21) may have football fans anxious to know the weather forecast for this year's Super Bowl, scheduled for Feb. 2 at New Jersey's open-air MetLife Stadium. But, try as they might, fans will struggle to find accurate game-day forecasts until later this week and into early next week.Despite recent advancements in weather modeling and a steady increase in weather data from satellites over the past several decades, meteorologists still struggle to
accurately predict weather conditions
two or more weeks in advance. This is due, in part, to lingering computational limitations, but more so to the chaotic nature of global weather patterns, Mitch Moncrieff, a researcher at the University Corporation for Atmospheric Research (UCAR) in Boulder, Colo., told LiveScience.
Whereas near-term weather predictions
within a few days can be made based on local or regional weather patterns, longer-term predictions must take into account weather patterns occurring across the planet, along with all the different ways those conditions may interact with one another and change through time, Moncrieff said. They must also factor in how oceanic conditions may change and affect weather patterns through time.Moncrieff is currently working with colleagues around the world to improve
long-term weather forecasts
by studying the nature of certain types of weather conditions and tweaking weather models, but says that, to a certain extent, such forecasts will always pose inherent challenges."Getting reasonably reliable weather forecasts two weeks or more ahead as a general principle will be very difficult," Moncrieff said. "But there are certain weather scenarios where there is more likelihood for success."These relatively easier-to-predict weather scenarios include those that last for prolonged periods of time, such as the north-south excursion of the jet stream that caused the infamous "polar vortex" cold snap earlier this month, Moncrieff said. (The polar vortex is actually a long-standing winter weather pattern that spins from west to east around the Arctic and traps cold air in the high latitudes. That
cold air can leak farther south, as it is currently doing
and did so more severely earlier this month, when the spinning weakens.) Since such conditions stay put for several days at a time, they delay the ripple effects they have on other global weather conditions, buying time for models to predict further out into the future.When forecasters can't predict into the future, they can turn to historic data to assess the relative likelihood of certain weather patterns occurring based on past events. According to data collected at Newark Liberty International Airport — about 13 miles (21 kilometers) from MetLife Stadium — since 1931, the likelihood of at least 0.1 inches (0.25 centimeters) of snow falling during the week of this year's Super Bowl game (Jan. 30 to Feb. 5) is about 15 percent, according to the Office of the New Jersey State Climatologist. The likelihood of 1 inch (2.54 cm) or more is only 6 percent, and the likelihood of 6 inches (15.2 cm) or more is only 1 percent, UCAR meteorologist Bob Henson wrote in a
recent article on long-term weather prediction
.As game-day approaches, forecasts will become ever-more reliable, and could allow the National Football League to change plans accordingly, as needed. Until then, fans will have to wait out this current snowstorm and remember that it has little bearing on the weather conditions just under two weeks from today.  
Follow Laura Poppick on
Twitter
. Follow us
@livescience
,
Facebook
&
Google+
. Original article on LiveScience.
Canada, US regulators urge safer rail transport of oil
View galleryScorched oil tankers remain on July 10, 2013 at the train derailment site in Lac-Megantic, Quebec (AFP Photo/Steeve Duguay)Ottawa (AFP) – Canadian and US transportation safety agencies Thursday called for stricter rules for moving oil by rail, following an eight-month probe of a Quebec derailment that left 47 people dead.Related Stories
Large swathes of the picturesque town of Lac-Megantic, Quebec, were reduced to rubble after a runaway freight train carrying crude oil crashed and derailed in July last year."In the course of our Lac-Megantic investigation, we found three critical weaknesses in the North American rail system which must be urgently addressed," said Wendy Tadros, chair of Canada's Transportation Safety Board (TSB)."Today we are making three recommendations — calling for tougher standards for Class 111 tank cars; route planning and analysis; and emergency response assistance plans."The statement was jointly issued by the US National Transportation Safety Board (NTSB).Their recommendations on tanker cars have been sent to Transport Canada and the US Pipeline and Hazardous Materials Safety Administration, for consideration.The structural integrity of so-called DOT 111 tank cars involved in the Lac-Megantic tragedy came under scrutiny following the accident, after it emerged the US Department of Transportation had identified safety flaws in the early 1990s.A large number remain in service throughout the continent.Tadros acknowledged that tanker car upgrades are already underway, and tougher standards are now in place for new models.But she added, "a long and gradual phaseout of older model cars simply isn't good enough."It leaves too much risk in the system," she told a nationally televised press conference.The TSB also urged Canadian railways to identify and choose routes "with the least risk" when transporting dangerous goods.This means "changing how the trains are operated and lines are maintained, asking questions like how much product is being shipped? Are the tracks appropriate? Can populated areas be avoided? And are there environmental sensitivities?" Tadros said.Finally, the TSB urged better emergency response planning in Canada.According to rail industry figures cited by the TSB and NTSB, the number of carloads of crude oil shipped by rail in Canada has increased from 500 in 2009 to 160,000 last year.In the United States, the number rose from 10,800 to 400,000 during the same period.
Snow days in New York City
Gordon Donovan/Yahoo News January 22, 2014 3:00 PM
View gallery45 photos
.A winter storm packing snow and Arctic cold slammed the northeastern United States on Tuesday, grounding 3,000 flights, shutting down government offices and schools and making travel a potential nightmare for millions.States across the northeast declared emergencies and warned residents not to travel during the fast-moving storm, which packed a potentially lethal combination of snow and wind, backed by temperatures up to 30 degrees Fahrenheit below normal.This storm presented an opportunity for many, including Yahoo News photographer Gordon Donovan, to capture moments shared among people trying to get to work — and those who wanted to enjoy the snow despite the freezing cold. (Yahoo News)
Find more news related pictures in our photo galleries and follow us on Tumblr.
U.S. propane shortage affect millions in brutal freeze
View galleryPeople stand on a heated section of pavement as it snows in Times Square in New York, January 3, 2014. …By Sabina Zawadzki and Edward McAllister NEW YORK (Reuters) – A propane shortage is affecting millions of Americans this week as brutal cold exposes the vulnerabilities of a network responsible for heating homes, schools and businesses across wide swathes of the United States.Prices of the fuel have rocketed to all-time highs in some regions, distributors are rationing supplies, and some schools have shut due to a lack of fuel during this year's second bout of Arctic weather.The National Propane Gas Association said on Thursday the states of Wisconsin, Minnesota and Missouri are worst hit and that it has heard that some retailers have run out of supplies.But as record cold coincides with pipeline outages and low inventories, the crisis has spread further. Most households are not connected directly to propane pipelines, and the system relies on truck fleets now running at full capacity to get emergency supplies to states across the Midwest, Northeast and Southeast.The U.S. Department of Transportation has issued emergency orders suspending the limits on the amount of time truck drivers can spend on the road for 10 Midwestern states and 12 Northeastern states, a rare regional order.A spokesman for Pennsylvania-based AmeriGas Propane, the largest U.S. propane retailer, said it was rationing deliveries to "small pockets" of Alabama, Georgia and Tennessee on Thursday, reducing supplies to 100 gallons per customer from the standard delivery of some 250 gallons."Supply is very tight. There is propane to be had out there, but there are supply and transport issues across the country," spokesman Simon Bowman said.
RATIONING, PRICE SPIKES–
U.S. propane production has actually grown thanks to the shale oil and gas boom in recent years, but because of the higher supply, domestic prices sank to below global levels which has encouraged exports of the fuel from the U.S. Gulf Coast to Japan and other Asian countries.The current shortage in the Midwest comes at a confluence of events. A record-breaking cold snap hit at the start of January when stocks were already low after large amounts of propane was used to dry out a bumper corn harvest in the fall.A pipeline outage during most of December exacerbated the situation and this week's freezing weather, which is expected to last to the end of the month, has heightened the situation.All the while prices have soared. Propane heading for the Midwest is priced against supplies in the hub in Conway, Kansas. Prices there touched almost $5 a gallon on Thursday, compared with Friday's pre-freeze price of around $1.75.Texas has lifted the need for out-of-state trucks to be registered with the state to allow other trucks to come and pick up supplies."Long lines have formed at Mont Belvieu," said one Houston-based broker, referring to the largest propane supply hub in the country. "Lots of out-of-state trucks are showing up."
LOW SUPPLIES-
In northern Tennessee, the Stewart County School System opted to close on Thursday and Friday because of warnings from suppliers they were focused on deliveries to residences of up to 150 gallons, said Leta Joiner, assistant schools director."We're not sure how long this is going to last," Joiner said. "We decided to err on the side of caution."One propane supplier in Northern Indiana said customers pleaded for more fuel when he did his rounds on Thursday. Other customers were more hostile, accusing his company of exploiting the shortage to rack up prices.Few are willing to predict how long this supply squeeze will last."We certainly hope that there is a break in the weather," said Roy Willis, president and chief executive officer of the Propane Education and Research Council."It could be days or it could be weeks. It really depends on the weather and the logistics of moving the propone."
(Reporting by Sabina Zawadzki, Edward McAllister, Robert Gibbons and Julia Edwards in New York, Tim Ghianni in Nashville; Editing by Lisa Shumaker)
Winter storm hits the northeastern U.S.
Gordon Donovan/Yahoo News January 22, 2014 3:00 PM
View gallery28 photos
Residents of the northeastern United States on Wednesday looked to dig themselves out from a storm that has dumped over a foot of snow in many places, snarling traffic and forcing the Philadelphia school system to shut down.The weather system packing snow and Arctic cold forced the cancellation of over 3,000 flights.Before the end of Tuesday, parts of Pennsylvania and New Jersey had seen about 15 inches of snow, said Stephen Corfidi with the National Weather Service. (Reuters)
Find more news related pictures in our photo galleries and follow us on Tumblr.
4 Deserts Race: Running Through the Worst Weather in the World
By Becky Kellogg Published: Jan 23, 2014, 11:05 AM EST weather.com1 / 10
A documentary film 'Desert Runners' follows four people as they try to run ultramarathons through four of the most extreme deserts on earth. (Courtesy: Desert Runners movie)
 It's day 4 of a race through one of the harshest deserts on earth. Runners are passing out from heat and exhaustion. They trek across a desert so barren they haven't seen shade in hours.At base camp, runners peel off their shoes and socks to check the status of blisters that are several inches wide. One runner's answer to the blister problem? A thick layer of super glue over his wounds. He hopes the super glue will enable him to rejoin the race in the morning and finish this five-day, 250-mile trek across one of the harshest deserts on earth.This is a scene chronicled in
Desert Runner,
a new documentary that follows four ultramarathoners as they compete in the hardest endurance in the world:
The 4 Deserts
race. Runners have one year to run four separate 250-kilometer races across four of the most extreme deserts on earth."I set out on a journey to find out what these people are made of, what makes them tick, and why they would want to do things like this, what drives them," said Jennifer Steinman, director of
Desert Runners
.Play Video
Running an Ultra MarathonThe four runners  in the documentary come from all walks of life: young and middle-aged, male and female, married and single. None of them are professional athletes and all of them had to juggle "normal" lives with their quest to run 1,000 kilometers in four deserts."I wondered why a regular human would decide to do something like this."Steinman found the reasons are varied. For Tremaine, a 41-year-old Brit, it was the loss of his wife to cancer that fueled his drive. At home with two school-aged children, Tremaine found that pushing himself to the extreme limits of human endurance was a way to honor his wife's memory and, perhaps, work through his grief."For me that was one of the greatest surprises," said Steinman. "(They are) Just ordinary people who've decided, for a variety of reasons, that this is a goal they want to see if they can attain. I was taken by that."Tremaine's story is just one of many. Each runner struggled through the challenges of life and training for an ultramarathon each day."I couldn't believe there were people out there who did things like this," said Steinman. "And I kind of just wanted to know why."
Tremaine, a 41-year-old Brit, who is one of the stars of 'Desert Runners.' He chose to run the extreme 4 Deserts race to honor the memory of his wife, who lost her battle with cancer. (Courtesy Desert Runners)The 4 Deserts race consists of some of the hottest, driest coldest, and windiest climates in the world: the
Atacama Desert
in Argentina, the Sahara Desert in northern Africa, the Gobi Desert in China, and the
Antarctica Desert
. Running 250-kilometers across any one of those deserts is a dangerous undertaking. Running all four in one year is downright crazy."Every desert had its own challenge, due to weather or terrain or climate," said Steinman.In
Desert Runners
, you watch as the racers run past the point of physical and mental exhaustion. What you don't see is Steinman and her cameraman, suffering through the same brutal desert weather."The environments were so harsh we were worried about our equipment," said Steinman. "We were out there for seven days at a time, sleeping on the ground, in tents, not showering for seven days. Running up and down the course."Steinman is quick to point out that they didn't run the entire 1,000 kilometers like the ultramarathoners. But they experienced enough of the deserts to understand the extreme climates and the pain the runners had to endure."The Atacama Desert is the driest place on earth," said Steinman. "You were dehydrated the minute you got off the plane. You couldn't drink enough water."
(MORE: Rare Snow Falls in the Atacama Desert)
Which desert was the worst?Play Video
Raw and Powerful Desert Beauty"For me the Sahara Desert was the hardest," said Steinman. "It was so hot and we were so dirty. And you would sweat, then the wind would blow and the sand would stick to you. There was no shade, no trees, you're just out in the heat and sun for hours and hours every day."The Antarctica Desert was the final race. Many don't realize a desert lies within this frozen tundra. At 5 million square miles, the Antarctica Desert gets less than 2 inches of precipitation a year. It's also the site of the
coldest recorded temperature
(-128 degrees F) on earth. "It was freezing and you're bundled up in so much clothing every day," said Steinman. "Just the process of putting it on and getting out there. You feel like a marshmallow in these big, massive snowsuits. It's awkward and difficult to get around with so much clothing on."Just the act of getting to Antarctica sounds like an extreme sport.
(MORE: 7 Strange Deserts)
"You fly to the tip of Argentina and then you take a boat through Drake's Passage, which are basically the roughest waters on earth," said Steinman. "We were on this boat for 12 days, hiding out in the bottom of the boat because that's where it rocks the least. It was unbearably brutal."Throughout
Desert Runners
, the racers push themselves to the limits of mental and physical exhaustion. Steinman found the reason they're able to push through the world's most extreme deserts is by drawing on something very deep in their hearts and psyche."Everybody out there has a very different reason for being out there and wanting to attempt this," said Steinman. "They all have one thing in common. Their reason (for running 4 Deserts) is incredibly powerful and strong."For more on how you can get the full documentary, check out
desertrunnersmovie.com
.
MORE ON WEATHER.COM: Photos from the Atacama Desert
1 / 70The Driest Place in the World
Spanning some 41,000 square miles across four South American countries, the Atacama Desert is considered the driest place in the world. In Chile, the desert receives just 0.004 inches of rain per year, though snowmelt from the nearby Andes Mountains fills lakes and rivers that support wildlife. (Ross Huggett/flickr)
Winter Storm Kronos: Snow, Sleet, Ice Reports from Texas, Louisiana and Mississippi
Published: Jan 24, 2014, 7:19 AM EST weather.com
Winter Storm Kronos
On Jan. 23-24, 2014, Winter Storm Kronos brought snow, sleet and freezing rain into parts of central and east Texas, Louisiana and Mississippi. We have the storm reports, photos and video from this storm.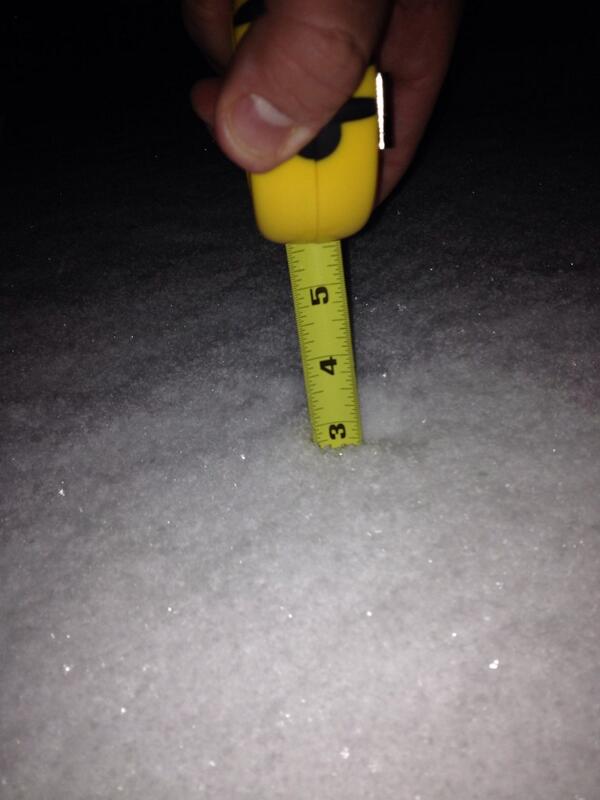 Follow#Kronos RT @staledogtears: @weatherchannel Approaching 3″ in Alexandria LA!
These twin girls were outside at 5 a.m. playing in their first snow in Rosepine, La. Thanks to Facebook friend Ashley Yielding Lyons in Leesville, La.
My 4 year old twin girls playing in the snow at
Ice Notable ice reports: "Thick layer of sleet" on roads in Bryan/College Station; Icing on bridges/overpasses in Victoria; I-10, I-210 bridges were closed due to accidents in Lake Charles, La.; Multiple roads were shut down on the north side of Austin, Texas; I-37 was closed due to ice in Live Oak County, Texas
Follow
Ice is not nice in Austin. Take it slow, folks.
Winter Storm Kronos Forecast: Snow, Sleet, Freezing Rain in Texas and Louisiana
Alan Raymond and Jon Erdman Published: Jan 24, 2014, 7:06 AM EST weather.com
Wintry Mess Texas and Louisiana
Winter Storm Kronos
 will continue to impact parts of Texas and Louisiana on Friday. Kronos is the
eleventh named storm of the 2013-14 winter storm season.
(
MORE:
Why We Name Winter Storms
|
Science Behind Naming Winter Storms
)
Current Radar
INTERACTIVE RADAR
Current Winter Weather Alerts
Current Temperatures
Friday's Forecast
A 
shot of cold Arctic air
 is combining with a weak disturbance to produce a wintry mix of snow, freezing rain and sleet across parts of central, south, and southeast Texas and parts of southern Louisiana. This includes areas from 
San Antonio
 to 
Houston
 and
Lake Charles, La.
 At least some ice is expected to build up particularly on bridges, overpasses, and elevated freeways. This will lead to a
dangerous commute Friday morning
in these areas. Portions of I-10 in Fayette County, Texas (west of Houston) were reported to be iced over early Friday morning. Icing was also reported on bridges and overpasses near Victoria, Texas.Sleet and ice accumulations of one-tenth to one-quarter of an inch are possible in these areas, with peak icing occurring in trees, powerlines, and on vehicle tops. Widespread power outages are not anticipated, though some sagging tree limbs are possible, in a few spots. Up to a quarter inch of ice has been reported in Seguin, Texas.(
MORE:
Ice Storm Impacts
)As far as snowfall accumulations, parts of central and east Texas, as well as parts of central/southern Louisiana may pick up a dusting to an inch or two of snow (locally higher amounts possible). Early Friday morning, 3 to 4 inches of snow was reported north of Houston in Polk County, Texas.(
MORE:
10 Shocking Snow Cities
)The light wintry mix is expected to shut off by Friday afternoon in most areas.This weekend, much warmer air will return to the region. That should preclude any long-lasting impacts from this quick shot of wintry weather.
MORE FROM WEATHER.COM: Winter Storm Janus
1 / 389