New index confirms it: This winter is miserable

By SETH BORENSTEIN and JEFF KAROUB 16 hours ago
Wicked Winter Weather Strikes AgainDETROIT (AP) — A new winter misery index confirms what many Americans in the Midwest and East know in their all-too-chilled bones: This has been one of the harshest winters of our lifetimes.
And nowhere has been hit harder, relatively, than Detroit.
Sure Chicago, Indianapolis and Philadelphia and Moline, Ill., are in the midst of their third most extreme winters in more than 60 years. But Detroit, a city that is trying to crawl out of bankruptcy, is also slogging through what so far is the most extreme winter it has had since Harry Truman was president, at least, according to a winter extremity index created by a National Weather Service meteorologist Barbara Mayes Boustead.The index is based on cold temperatures and snowfall. And so far Detroit has had more than 6 1/2 feet of snow and 100 days when the thermometer plunged below the freezing mark. Of two dozen cities studied, Detroit alone is in the middle of its harshest winter since 1950.In better weather, downtown Detroit's riverfront walk bustles with bicyclists, runners, walkers and people watchers. Lunchtime on Tuesday wasn't better weather. With temperatures in the low 20s and a biting wind, Paul Welch was practically alone on his 2-mile trek. He was mostly dressed for the weather, with a fleece pullover, ski jacket and gloves — but no hat. Consequently, his face was pink."My ears are freezing," said Welch, 52, who works nearby at Blue Cross Blue Shield of Michigan's headquarters. "I didn't think it was going to be quite this windy when I got out here but … I found out, yeah, it's pretty bad."Boustead, a former Detroit-area resident who now works in Omaha, Neb., created the index a couple years ago to judge the severity of winters. Omaha, by the way, is the only city in two dozen metro areas that Boustead examined that is not having an "extreme" or "severe" winter. It's merely average.Boustead uses daily high and low temperatures and daily and accumulated snowfall to come up with a winter index that's equivalent to the way meteorologists categorize hurricanes and tornadoes. Officially, it is called the Accumulated Winter Season Severity Index.View gallery
FILE – This Feb. 11, 2014 file photo shows work crews clearing ice off the road as water continues t …"I personally would call this a misery index," said Boustead.But to co-creator Steve Hilberg, the index measures "awesomeness.""I embrace winter rather than hating it," said Hilberg, a meteorologist who works at the Midwest Regional Climate Center in Champaign, Ill.New York, Milwaukee and Duluth are in the midst of their fourth harshest winters. Also having top-10 harshest winters are Minneapolis-St. Paul in Minnesota; Louisville, Ky.; Sault Ste. Marie, Mich., and Cheyenne, Wyo.The idea is to put winter in context. This winter seems unusually harsh because it has been a while since the late 1970s and early 1980s when severe winters were far more frequent. People have short memories.Plus, for almost three-quarters of the places studied the winter of 2011-2012 was the mildest on record, Boustead said.
But why Detroit?
Just bad geography and luck. Much of the cold and snow this winter is because of a change in the jet stream that has funneled frigid air south from the Arctic "right down the alley" through Detroit, Hilberg said.The winter index keeps going, until the cold, snowy weather stops. And that's at least a couple weeks away, according to forecasts."We're going to push that index a little bit higher," Boustead said. "Let's see how much higher we can go."_Borenstein reported from Washington._Seth Borenstein can be followed at http://twitter.com/borenbears . Follow Jeff Karoub at https://twitter.com/jeffkaroub
Fukushima's Radioactive Ocean Water Arrives At West Coast

By By Becky Oskin, Staff Writer 22 hours ago
UC Berkeley Professor Tests Claims Of Fukushima Radiation In Bay AreaRadiation from Japan's leaking Fukushima nuclear power plant has reached waters offshore Canada, researchers said today at the annual American Geophysical Union's Ocean Sciences Meeting in Honolulu.Two radioactive cesium isotopes, cesium-134 and cesium-137, have been detected offshore of Vancouver, British Columbia, researchers said at a news conference. The detected concentrations are much lower than the Canadian safety limit for cesium levels in drinking water, said John Smith, a research scientist at Canada's Bedford Institute of Oceanography in Dartmouth, Nova Scotia.Tests conducted at U.S. beaches indicate that
Fukushima radioactivity
has not yet reached Washington, California or Hawaii, said Ken Buesseler, a senior scientist at the Woods Hole Oceanographic Institute in Woods Hole, Mass."We have results from eight locations, and they all have cesium-137, but no cesium-134 yet," Buesseler said. (Isotopes are atoms of the same element that have different numbers of neutrons in their nuclei. In this case, cesium-137 has more neutrons than cesium-134.)The scientists are tracking a radioactive plume from Japan's Fukushima Daiichi nuclear power plant. Three nuclear reactors at the power plant melted down after the March 11, 2011, Tohoku earthquake. The meltdown was triggered by the massive tsunami that followed the quake. [
Fukushima Radiation Leak: 5 Things You Should Know
]
Cesium signals–
The initial nuclear accident from the Fukushima reactors released several radioactive isotopes, such as iodine-131,
cesium-134 and cesium-137
. Cesium-137 has a half-life of 30 years and remains in the environment for decades. Cesium-134, with a half-life of only two years, is an unequivocal marker of Fukushima ocean contamination, Smith said."The only cesium-134 in the North Pacific is there from Fukushima," he said. Cesium-137, on the other hand, is also present from nuclear weapons tests and discharge from nuclear power plants.View gallery
This Tuesday, Aug. 20, 2013 aerial photo shows the Fukushima Dai-ichi nuclear plant at Okuma in Fuku …Smith and his colleagues tracked rising levels of cesium-134 at several ocean monitoring stations west of Vancouver in the North Pacific beginning in 2011. By June 2013, the concentration reached 0.9 Becquerels per cubic meter, Smith said. All of the cesium-134 was concentrated in the upper 325 feet (100 m) of the ocean, he said. They are awaiting results from a February 2014 sampling trip.The U.S. safety limit for cesium levels in drinking water is about 28 Becquerels, the number of radioactive decay events per second, per gallon (or 7,400 Becquerels per cubic meter). For comparison, uncontaminated seawater contains only a few Becquerels per cubic meter of cesium.Cesium-137 levels at U.S. beaches were 1.3 to 1.7 Becquerels per cubic meter, Buesseler said. That's similar to background levels in the ocean from nuclear weapons testing, suggesting the Fukushima plume has not reached the U.S. coastline yet, he said.The new monitoring data does not show which of two competing models best predicts the future concentration of Fukushima radiation along the U.S. West Coast, Smith said. These models suggest that radionuclides from Fukushima will begin to
arrive on the West Coast in early 2014
and peak in 2016. However, the models differ in their predictions of the peak concentration of cesium — from a low of 2 to a maximum of 27 Becquerels per cubic meter. Both peaks are well below the highest level recorded in the Baltic Sea after Chernobyl, which was 1,000 Becquerels per cubic meter."It's still a little too early to know which one is correct," Smith said.
Safety concerns–
The impending arrival of radioactive contaminants from Fukushima has raised concerns among coastal residents in the United States and Canada. But oceanographers and radiation experts say the radiation levels will be too low to threaten human health."These levels are clearly not a human or biological threat in Canada," Smith said.Fukushima's radiation reached coastal Canada first because of the powerful Kuroshio Current, which flows from Japan across the Pacific. The plume will then flow down the coast of North America and circle back toward Hawaii, models predict.But Buesseler thinks even
low levels of contamination merit monitoring
, both for human health information and for the wealth of data about Pacific Ocean currents such monitoring could provide. On Jan. 14, he launched a website called "
How Radioactive is Our Ocean?
", where the public can make tax-deductible donations to support the analysis of existing water samples, or propose and fund new sampling locations along the West Coast.And at Fukushima, radioactive water continues to escape from the damaged power plant into the ocean. A
new leak was reported last week
, although that one did not empty into the ocean.Email
Becky Oskin
 or follow her
@beckyoskin
. Follow us
@livescience
,
Facebook
 &
Google+
. Original article on 
Live Science
.
California's Springtime Wonders Struck by Drought
View galleryEach year from mid- to late February, Yosemite National Park's Horsetail Fall is lit up by the sun's …California springtime usually brings spectacular, fiery displays of flowers and flowing waterfalls, but this year's drought is putting a damper on the state's natural wonders.At
Yosemite National Park
, the ongoing drought dried up waterfalls earlier this month, including flaming Horsetail Fall. Photographers travel from around the world to the park in February to try and capture Horsetail Fall glowing in the setting sun.Horsetail Fall only flows in the winter and early spring, fed by sun-warmed snowmelt. As the narrow waterfall drops over El Capitan, the sun's last rays, called alpenglow, appear to light the water on fire. The angle of the sun only creates these "firefall" conditions for about two weeks at the end of February. [
8 Amazing National Park Structures
]The good news for shutterbugs is the atmospheric pattern that has California locked in a terrific drought meant clear skies over Yosemite during the peak firefall conditions. The bad news? The mountain snowpack is so low this year that Horsetail Fall and even Yosemite Falls went dry for most of February.A series of storms brought the waterfall back to life in late February, in time for photographers to capture the yearly phenomenon starting Feb. 16, albeit at low flow. But when the water is low, the
firefall's amazing light show
is harder to see."In order for the light to hit the water to get that glowing, burning effect, more water is needed, so it's definitely not as good as it's been in years past," said Scott Gediman, a Yosemite National Park ranger. "The drought has definitely affected the waterfall."View gallery
Upper Yosemite Falls creates a rainbow at about 12 p.m. on Feb. 22.Two more storms are forecast to bring more rain and snow to Yosemite this weekend, just before the firefall disappears again until next year."The window is closing," Gediman said.Further south, flower lovers are concerned that this year's poppy bloom will be hard hit by the
California drought
. Every spring, California poppies — the state flower — carpet rolling hills and roadways throughout the state. But at the Antelope Valley California Poppy Reserve outside of Los Angeles, one of the most reliable poppy-growing spots in the state, the grassy hills are brown and dry. The reserve received less than an inch of rain (about 1.5 centimeters) this year, just 10 percent of its annual rainfall.Preserve officials think 2014 will not be a good bloom year, they said in their most recent bloom update. "There are a few sprouts coming up, but without additional precipitation they won't survive to flower," the statement said.Email
Becky Oskin
 or follow her
@beckyoskin
.
Follow us 
@OAPlanet
,
Facebook
 and
Google+
. Original article at 
Live Science's Our Amazing Planet
.
Astronaut's Near-Drowning Could Have Been Avoided
Feb. 26, 2014

By GINA SUNSERI via
World News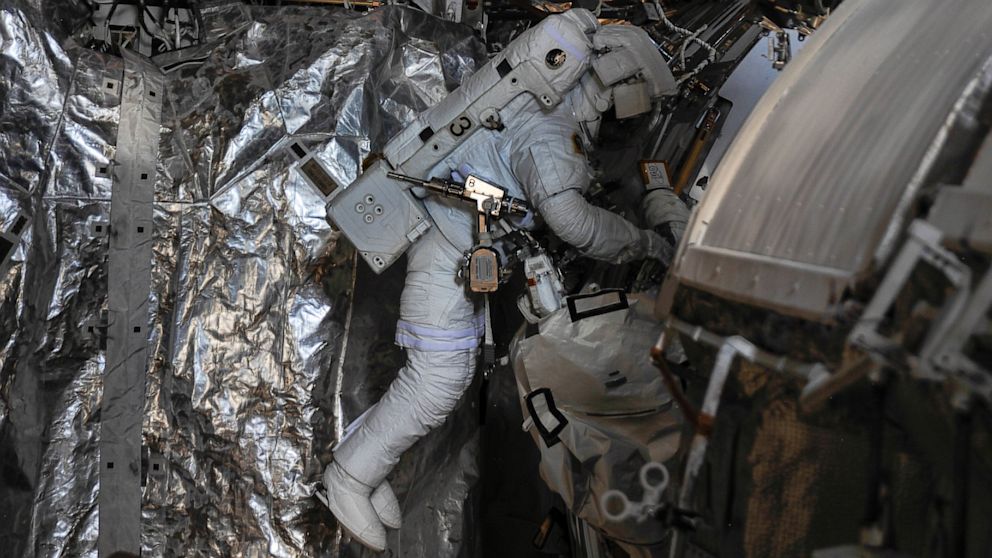 Astronaut Conducts Spacesuit Analysis
Next Video Spacewalk Aborted Over Water in Astronaut's Helmet
Auto Start: On |
Off
-NASA will admit on Wednesday that Luca Parmitano's spacesuit leaked on two space walks in July, after details on the initial incident were not properly disseminated, ABC News has learned.The Mishap Board appointed to investigate the spacesuit accident is releasing its report online at 11 a.m. EST, with a teleconference scheduled for 2 p.m.The question for investigators is familiar: How often does a system have to fail before it is acknowledged as a problem? The Space Shuttle Columbia accident, which killed seven astronauts in 2003, was blamed on NASA's repeated failure to understand the potential damage caused when insulating foam breaks off during launch.
Italian Astronaut Describes the Petrifying Experience of Almost Drowning in Space
Parmitano came dangerously close to drowning during the second spacewalk of his career on July 16. His helmet filled with several liters of water, giving him no way of clearing his eyes, nose or mouth.Chris Cassidy, his spacewalking partner for that event, called down to a stunned Mission Control: "It's a lot of water. His head is saturated, it's in his eyes, as well as his nose and mouth … squeeze my hand if you're fine, Luca."Flight Directors in a follow-up press conference said they were surprised by the accident. However, the same spacesuit had a leak on July 9. The report will say that information did not work its way up the chain of command.The design of the spacesuits used by the astronauts is 35 years old, and the agency is down to just 12 in use – two were lost in the space shuttle Columbia accident.While NASA is in the middle of designing new spacesuits, the agency remains in search of its next mission – with hopes of capturing an asteroid, going back to the Moon, or that perennial favorite, Mars.
March to Come In Like A Lion As Cold Keeps Roaring in Midwest
By Nick Wiltgen Published: Feb 25, 2014, 7:56 AM EST weather.com
Share
Tweet
March Lion Ready to Pounce
Next
Another Blast of Bitter Arctic Cold
Another Blast of Bitter Arctic Cold
Another Blast of Bitter Arctic Cold
 The old saying goes, "March comes in like a lion and goes out like a lamb."That's not always true, but in 2014 it will be for millions of Americans. The reasons will vary by region, but for many Midwesterners the March lion will bear an icy breath – keeping temperatures well below zero locked in for much of the north-central U.S.(
MORE:
Bitterly Cold Finish to February
)By March we typically expect the most extreme cold to ease up a bit, even near the Canadian border. So as the ongoing cold snap spills over into a new month, we start to wonder: Will any major cold-weather records be broken?On the next few pages we'll take you to some of the coldest cities in the March portion of this cold snap to see how this late-season arctic blast may stack up against history. We've included the raw forecast data from the last several runs of the American GFS computer model to give you some idea of the range of uncertainty with this medium-range forecast.
Winter Won't Give Up: Bitterly Cold Finish to February and Start to March
By Chris Dolce Published: Feb 26, 2014, 7:34 AM EST weather.com
Share
Tweet

Another Blast of Bitter Arctic Cold
Another Blast of Bitter Arctic Cold
Winter is Not Over Yet!
 The start of March is just a couple of days away, so visions of shedding your heavy coat and placing it into storage might be entering your mind.Unfortunately, the weather pattern for the final days of February and the start of March won't cooperate with that thought process, particularly if you live along the northern tier of the United States.(
MORE:
March to Roar In With More Cold
)Winter's Frigid Temperatures Hang On
Where: Temperatures will be 10 to 35 degrees colder than late-February averages across most of the Midwest and parts of the Northeast into Friday. This weekend, portions of the northern and central Plains and Upper Midwest will be 20 to more than 40 degrees below average. Some daily record low temperatures will be threatened each morning through the weekend. Near three dozen locations from the Midwest to the Northeast and Mid-South will threaten daily record lows on Friday morning.
Midwest Region Details: High temperatures in the single digits, teens and low 20s will dominate from the northern Plains to the Upper Midwest and parts of the Great Lakes. Subzero highs will make an appearance in the northern Plains and Upper Midwest at times, especially Thursday and Saturday. Lows will be in the single digits and teens below zero from the northern Plains to the Upper Mississippi Valley and western Great Lakes. Some 20s below zero are possible near the Canadian border (North Dakota, northern Minnesota and northern Wisconsin). Wind chills at times this week will be in the 20s, 30s and even 40s below zero from the northern Plains to the Upper Mississippi Valley and western Great Lakes.
Midwest Notables: If the high temperature in Chicago stays below 8 degrees on Thursday, it would be the coldest high temperature so late in the season. Milwaukee could do the same if the high temperature stays below 5 degrees on Thursday. In Minneapolis, the high temperature on Thursday could fail to reach zero. This would join only three other times in history where a subzero high temperature has been recorded on Feb. 27 or later.
City Forecasts: Chicago | Detroit | Fargo, N.D. | Minneapolis | St. Louis | Your Location
Northeast Region Details: Highs will be in the 20s and 30s along the I-95 corridor from Boston to Philadelphia much of this week. Lows may fall into the teens Thursday through Saturday. Elsewhere, highs in the teens and 20s will take over locations from northern New England to western New York and western Pennsylvania.
City Forecasts: Burlington, Vt. | Boston | Buffalo | New York | Philadelphia | Your Location
South Region Details: Highs in the 40s and 50s will take over a large part of the South on Wednesday. Some 30s are possible in the Mid-South and southern Appalachians. Widespread lows in the 20s and 30s in much of the South Thursday morning, lingering into Friday morning in the Southeast. Near-freezing low temperatures may reach the Gulf Coast of Mississippi and Alabama Thursday morning. Temperatures 10 to 15 degrees below average will briefly dip as far south as central Florida Thursday, bringing highs in the low to mid 60s.
City Forecasts: Atlanta | Charlotte | Dallas | Little Rock | Nashville | Your Location
How Cold Has this Winter Been?According to NOAA, the overall temperature for the Lower 48 in January was near average. This is because we had above-average warmth in the West balancing out the well below-average temperatures east of the Rockies. A total of 18 states from Michigan and Wisconsin to the Southeast recorded a top 15 coldest January.
But Labour leader Ed Miliband accused him of using "phoney figures".Environment Secretary Owen Paterson went further, saying the Government is "providing more than any previous government in this spending review".The discrepancy stems from the Government including money spent by private firms and other third parties in its figures.Flood defence spending was £2.37bn between 2007 and 2011, according to House of Commons library figures.Between 2011 and 2015 it will be £2.34bn – a £247m cut in real terms.Sir Andrew believes the House of Commons numbers are more credible than those being stated by Mr Cameron and his colleagues.He said: "We agree with their finding that, as of January 2014, government funding for flood defences was expected to be lower in both nominal and real terms during the current spending period than during the last spending period."Our analysis also supports the conclusion that the statement 'over the current spending review period, more is being spent than ever before' is supported by the statistics if the comparison is made in nominal terms and includes external funding, but is not supported by the statistics if the comparison is made in real terms or if external funding is excluded."Labour and Friends of the Earth say the cuts contributed to the damage endured across swathes of the country this winter – and the issue will be debated by MPs on Wednesday.Mr Paterson has already apologised for "any offence" caused by his flood defence spending claims, but denied there had been any "manipulation of figures".A spokesperson for the Department for Environment, Food and Rural Affairs said: "Figures on flood defence spending are published. The Government is spending £2.4bn on flood management and protection from coastal erosion which is more than ever before."The Prime Minister also recently announced £130m extra for flood defence repairs following the extreme weather."All this comes as the Institution of Civil Engineers called on Chancellor George Osborne to use next month's  Budget to return spending on flood risk management to pre-2010 levels.
Browse Weather Reports
Partly Cloudy

Partly Cloudy

Partly Cloudy
Partly Cloudy
Showers in the Vicinity
Mostly Cloudy/Windy