Hurricane Amanda: Strongest May Hurricane on Record in the Eastern Pacific
weather.com
Latest on Hurricane Amanda
Latest on Hurricane Amanda
Can Sharks Predict Hurricanes?
New Surge Maps and More from Hurricane ConferenceHurricane Amanda became the strongest eastern Pacific hurricane on record in the month of May on Sunday after a period of rapid intensification.Amanda's estimated maximum sustained winds reached 155 mph late Sunday morning, putting it at the top end of the Category 4 range on the five-category Saffir-Simpson Hurricane Wind Scale. It has now surpassed 2001's Hurricane Adolph, which was previously the eastern Pacific's strongest May hurricane on record. (Incidentally, the strongest Atlantic May hurricane of record was Category 3 Hurricane Able with peak winds of 115 mph off North Carolina's Outer Banks on May 21, 1951.)Amanda, the first named storm and first hurricane of the eastern Pacific hurricane season, formed Thursday afternoon as a tropical depression about 635 miles south-southwest of Manzanillo, Mexico. It is now drifting slowly to the north-northwest; this motion is expected to continue through Tuesday. Other than a few minor islands well offshore such as Socorro Island, it is no threat to land.Amanda is expected to weaken quickly soon. Its slow motion is stirring up the waters beneath it, allowing colder water to come to the surface. Additionally, increasing vertical wind shear and dry air will start to disrupt its circulation. By later this week, if not sooner, Amanda will have weakened to a tropical depression, then remnant low.Again, to reemphasize, this system is not expected to threaten the North American mainland. However, it is possible some of Amanda's remnant mid-and upper-level moisture may get pulled northward into parts of the Desert Southwest and Rockies later in the week.(MORE: Analysis from The Weather Channel Hurricane Specialists)
Projected Path
Projected PathThe latest forecast path and wind speeds from the National Hurricane Center.
Storm Information
Current InformationSo, where exactly is the cyclone's center located now? If you're plotting the storm along with us, the information depicted in the map above provides the latitude/longitude coordinates, distance away from the nearest land location, maximum sustained winds and central pressure (measured in millibars).  
Infrared Satellite
INTERACTIVE SATELLITEInfrared SatelliteThis infrared satellite image shows how cold (and therefore how high) the cloud tops are. Brighter orange and red shadings concentrated near the center of circulation signify a healthy tropical cyclone.
Visible Satellite
INTERACTIVE SATELLITEVisible Satellite (only during daylight hours)This visible satellite image helps meteorologists pinpoint the low-level circulation center during daylight hours. In cases of strong wind shear (stronger winds aloft than near the surface, sometimes from different directions), one can spot an exposed circulation center, with convection blown downstream. This is an indication of a weakening tropical cyclone.MORE ON WEATHER.COM: Hurricanes From Space1 / 69
Hurricane Igor is featured in this Sept. 14, 2010, image photographed by an Expedition 24 crew member on the International Space Station. (NASA)
Colorado Mudslide: No Sign of Three Missing Men in Three-Mile-Wide Slide
Published: May 26, 2014, 9:08 PM EDT weather.com
Three Missing After MudslideThree men are missing in rural Colorado after a massive mudslide struck near the small mountain town of Colbran at around 6:15 p.m. local time Sunday, but the search has been hampered because the area of the slide is unstable.Fifty-one-year-old county road worker Clancy Nichols, his 24-year-old son Danny and 46-year-old Wes Hawkins have been missing since Sunday after rain-saturated ridge collapsed.Searchers looked for the men Monday at the lower end of the slide. The upper portion is considered too unstable and is at risk of sliding again.The search is scheduled to resume Tuesday.The slide is estimated to be 2 miles wide, 4 miles long and up to 250 feet deep in places, the Mesa County Sheriff's Department said. No damage was reported to any structures or roads, but gas wells in the area were shut off under the threat of encroaching mud."This slide is unbelievably big," Lt. Phil Stratton of the Mesa County Sheriff's Office, said. Authorities added that the site of the mudslide was extremely unstable and that the entire ridge was likely moving for much of the day Sunday.According to weather.com meteorologist Jon Erdman, the area didn't see substantial rainfall amounts, but what little rain did fall may have contributed to the slide."Nearby Grand Junction did pick up 0.42 inches of rain Sunday," said Erdman. "Another 1.05 inches of rain fell from May 10 to May 12. Higher totals atop Grand Mesa likely contributed to the slide."Search and rescue efforts began almost immediately for three men, all locals, reported missing after the mudslide was reported Sunday night. A county road worker, his son and another man went to check on damage Sunday from an initial slide near the edge of Grand Mesa, one of the world's largest flat-topped mountains, after a rancher reported that his irrigation ditch had stopped flowing, Mesa County Sheriff Stan Hilkey said.Hilkey said no signs of the men or their truck have been found. Their names haven't been released."Everyone on this mountain is praying for a miracle right now," he said.Deputies estimate that the entire ridge had been moving for most of Sunday before someone called to report the slide at 6:15 p.m., describing it as sounding like a freight train. Hilkey believes runoff from Grand Mesa from recent rain triggered the slide. A hydrologist from the Natural Weather Service and a geologist from the U.S. Geological Survey were helping authorities assess the situation.Bill Clark, a cousin of one of the missing men, visited the canyon where the slide struck and said it was completely filled with mud. He said the slide struck with so much force that some also spilled over into the neighboring draw."I've never seen so much earth move like that in my life," he said.From a distance of about 10 miles, the slide looked like a funnel, running from a ridgeline at or next to the flat-topped Grand Mesa and narrowing into a culvert below. It cut a giant channel through trees. Roads in the area, where some cattle grazed, were muddy from rain.Collbran resident Lloyd Power was on the side of a road Monday, gazing out at the slide."How in the devil could this happen?" Power said.He said residents were praying for the missing. "That's all we can do," Power said.A sheriff's helicopter was surveying the slide area Monday. Authorities erected a roadblock to keep onlookers from the slide area outside Collbran, a ranching town of about 700 people that also serves as a gateway to outdoor recreation like hiking and fishing. The slide is near Salt Creek Road and Vega Reservoir, which is in a state park.The area is part of the Piceance Basin, one of Colorado's largest natural gas producing areas. Mud came up to the edge of three wells owned by the Occidental Petroleum Corp. and workers manually shut down the wells and connecting pipelines Sunday in case the slide continued to spread, said David Ludlam, executive director of the West Slope Colorado Oil & Gas Association, a trade group.No spills have been reported. Other operators are also monitoring wells, he said.The Associated Press contributed to this report.MORE ON WEATHER.COM: Oslo, Washington Mudslide1 / 462
Alaska Kenai Peninsula Wildfire: Funny River Fire Continues to Grow, Prompts More Evacuations
Published: May 26, 2014, 10:33 PM EDT weather.com
Alaska Wildfire Continues to GrowA massive wildfire in Alaska's Kenai Peninsula grew to nearly 159,000 acres on Monday, leading to mandatory evacuations of 1,000 structures and threatening hundreds of cabins, vacation homes and year-round residences. The wildfire, which was only 30 percent contained by Monday morning, covered more than 248 square miles.No injuries or structure damage has been reported, officials said.Though the fire continues to grow, feeding off the foliage in Alaska's 1.9-million acre Kenai Wildlife Refuge, weather conditions should provide relief in the coming days, according to weather.com meteorologist Jon Erdman."Relief is ahead this week," said Erdman. "Rain returns to southern Alaska Tuesday. Heavier rain is possible Thursday into Friday, along with cooler temperatures."(MORE: Check the Forecast)Still, the growth of the fire, located south of Anchorage, Alaska pushed more people from their homes Sunday afternoon, the exact number of which is unknown, according to Michelle Weston, spokeswoman with the Alaska Interagency Management Team.The human-caused fire was sparked May 19 dubbed the "Funny River Fire" after a nearby road where all residents are being evacuated. Alaska State Troopers went door to door, evacuating an area that's mostly second homes and is home to many retirees. Two Red Cross shelters have been set up. Many of the displaced residents are staying with friends and relatives, and others are staying in campers in the parking lot of an elementary school where one of the shelters was opened.The Funny River Fire grew rapidly over the weekend, pushed by high winds and warm dry conditions. Hundreds of firefighters from Alaska, Oregon, Canada and Montana, as well as the Alaska Air National Guard, are battling the week old blaze from the ground and from the air, Reuters reports.(MORE: Northern Arizona Wildfire Grows)Though large wildfires aren't unusual for Alaska, the state does not usually see such massive fires this early in the season Weston told the Associated Press.Wildfires in Alaska's remote areas are not unusual during the summer months, with an average of a million acres burned each fire season, Weston said.The Associated Press contributed to this report.MORE ON WEATHER.COM: Alaska Glaciers Recede1 / 47Muir Glacier and Inlet (1895)
In the photo above, the west shoreline of Muir Inlet in Alaska's Glacier Bay National Park & Preserve is shown as it appeared in 1895. Notice the lack of vegetation on the slopes of the mountains, and the glacier that stands more than 300 feet high. See the glacier as it looked in 2005 on the next page. (USGS/Bruce Molnia)
Lake Superior Still Has Ice Despite Air Temperatures In the 80s on Memorial Day Weekend
By Jon Erdman Published: May 26, 2014, 2:16 PM EDT weather.com
The Weather Channel Facebook friend Ben Ellison sent us this photo standing on a chunk of ice in Lake Superior on May 25, 2014. The temperature at the time in Duluth was 80 degrees.The first 80s since the week after Labor Day induced a full-blown case of summer fever in the northern Great Lakes on Memorial Day weekend.This led to the odd spectacle of folks heading to the Lake Superior shore to enjoy the holiday weekend, only to see chunks of ice still floating in the lake.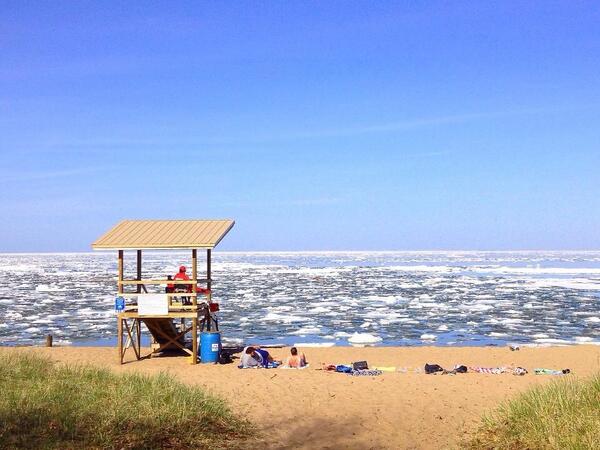 TGLBP @GreatLakesBookFollowPeople laying on the beach in Marquette. Oh yeah, and a lake full of ice practically in June.
As you can see above, it was hot enough to lay out a beach towel and work on your tan (or perhaps simply start one) in Marquette, Michigan, on Sunday, May 25.Swimming, not so much. I'm sure the lifeguard in the photo above was praying he wouldn't have to rescue anyone crazy enough to swim in that dangerously cold water.
High-resolution visible satellite image on May 25, 2014 indicating areas of lingering ice over parts of southern Lake Superior. (NASA/MODIS via UW-SSEC)According to NOAA's Great Lakes Environmental Research Laboratory, just under five percent of Lake Superior still contained chunks of ice as of May 26. A separate analysis from Environment Canada found Lake Superior ice cover to be the largest for late May in records dating to 1980-81. Environment Canada warned of "rotten very thick lake ice" near Duluth, east of the Apostle Islands and other locations in far southern Lake Superior, in what it deemed "an unusual presence of ice over the lake."Given last winter and early spring, it's no wonder there's still ice to deal with.
Photo of lingering ice in Lake Superior from Pictured Rocks National Lakeshore near Munising, Michigan, on May 25, 2014. (Joel Nordin via Facebook)December through March was the coldest such period on record in Marquette and Hancock, Michigan. High temperatures at the National Weather Service near Marquette failed to rise above freezing from December 6 through February 18, a record 75-day streak. There were a record 65 days of subzero cold lows at NWS-Marquette, including a record latest subzero cold low on April 16 (-5 degrees). (RECAP: One of Coldest Winters)By March 5, just under 96 percent of Lake Superior was ice covered. That same week, Lake Michigan (93.29 percent) and Lake Huron (96.3 percent) also reached their maximum ice cover. On May 15, the U.S. Coast Guard wrapped up what it said was the nation's largest domestic ice operation after over five months of ice-breaking operations in the northern Great Lakes. One eastbound crossing of ice-choked Lake Superior by the Coast Guard Cutter Mackinaw took nine days. Normally, this is a one-day voyage.National Weather Services offices in Sullivan, Wisconsin, and Grand Rapids, Michigan, warned those headed to Lake Michigan beaches during the holiday weekend to stay out of the cold water.While Lake Michigan water temperatures are typically chilly in late May, given the cold winter and late ice melt, water temperatures were running 1 to 3 degrees colder than average.We would love to see any cool photos of the lingering lake ice. Share them with us at weather.com/photos or via Facebook or Twitter. Your photo could win $15,000!
MORE ON WEATHER.COM: Huge Fog Bank on Great Lakes
Play Video
WATCH: Huge Fog Bank Rolls in
---
Northern Arizona Wildfire: Slide Fire Containment Grows
Published: May 26, 2014, 4:34 PM EDT weather.com Containment on northern Arizona wildfire inches up Firefighters say they are slowly making progress in controlling a wildfire burning around Oak Creek Canyon.
Rwanda's deadly methane lake becomes source of future power
View gallery
Karongi (Rwanda) (AFP) – Beneath the calm waters of Lake Kivu lie vast but deadly reserves of methane and carbon dioxide, which Rwanda is tapping both to save lives and provide a lucrative power source.Plans are in place to pump out enough gas for power that would nearly double Rwanda's current electricity capacity, as well as reducing the chance of what experts warn could be a potentially "catastrophic" natural disaster.The glittering waters of the inland sea, which straddles the border of Rwanda and the Democratic Republic of Congo, contain a dangerous and potent mix of the dissolved gases that if disturbed would create a rare "limnic eruption" or "lake overturn", expert Matthew Yalire said.Levels of carbon dioxide (Co2) and methane are large and dangerous enough to risk a sudden release that could cause a disastrous explosion, after which waves of Co2 would suffocate people and livestock around, explained Yalire, a researcher at the Goma Volcano Observatory, on the lake's DR Congo shore."Right now the lake is stable, but for how long?" asked Yalire, who believes that extracting potentially explosive methane is one way to help "stabilise" the lake.Near the town of Rubavu, a pilot project of the Rwandan government is already producing about two megawatts of electricity from the methane in the lake.But a new, additional plant is being built on Kivu's eastern shore, where the US-based power company ContourGlobal plans massively to boost production."Our team is focused on extracting methane from the lake to generate electricity that will expand household access to power, lower costs, and reduce environmental hazards," ContourGlobal said.View gallery
A man fishes on the edge of Lake Kivu on May 28, 2012 near the city of Goma in North Kivu province i …Its 200 million dollar (145 million euro) "KivuWatt" project aims to lessen the natural threat of an explosion, while turning the deadly gas into a source of energy and profit.- Two million people at risk -On the lake's Rwandan shoreline and at the foot of green hills dotted with banana plantations, hundreds of construction workers are building a platform due to be installed on the lake by the end of the year.Rather than being a drill platform, it will instead suck up the methane trapped in the depths."There is no drilling, gas is pumped from the lower layers of the lake that are saturated with methane," the KivuWatt project's chief, Yann Beutler, told AFP."From the moment when the water rises to the surface, it releases gases that are collected."The methane and Co2 are separated, with the methane sent to a plant on the shore and the Co2 re-dissolved and returned to the depths of the lake.View gallery
A view from a UN base on the edge of Lake Kivu in the Democratic Republic of the Congo's eastern …"The structure of the lake, and the flora and fauna, are not changed," Beutler added.The project's first phase is planned to generate over 25 megawatts of energy, with production to be multiplied four times in the second phase to 100 MW, almost doubling Rwanda's current national production capacity of about 115 MW.The scheme is largely financed by private capital, though some 45 percent of the funding takes the shape of loans from international development institutions.ContourGlobal has signed a 25-year concession with the Rwandan government and an agreement with the country's national power producer and distributor.- Lessons from Cameroon -The electrification of Rwanda is a top objective of Kigali's government, which aims to more than triple access to electricity from a mere 18 percent of the population today to 70 percent by 2017.The methane will also help Rwanda fulfil the further goal of diversifying energy sources.Today, almost half of its energy comes from fossil fuels, with the annual bill for imported fuel topping some 40 million dollars (30 million euros).Kivu is not unique: two other lakes in Cameroon — Monoun and Nyos — have similar high concentrations of the gases. In 1984, a limnic eruption killed 37 people around Lake Monoun, then in 1986 a similar disaster at Lake Nyos claimed more than 1,700 lives. These tragedies have been seen as dire warnings for people near Lake Kivu."It is essential to extract the gas from the lake," said Martin Schmid, a researcher at the Swiss Federal Institute of Aquatic Science and Technology (Eawag)."If we let the gases accumulate for a long time, we should expect at a catastrophic eruption of gas."Stretching over 2,370 kilometres squared (915 miles squared) and plunging to some 485 metres (1,590 feet) deep, the lake holds some 60 billion cubic metres (2,118 billion cubic feet) of dissolved methane gas, and some 300 billion cubic metres (10,594 billion cubic feet) of carbon dioxide.With some two million people living close to the lake shore in both Rwanda and DR Congo, any eruption could be disastrous.An active nearby volcano, Mount Nyiragongo, which smothered part of the Kivu lakeshore city of Goma with lava in 2002, highlights the real risk that geological activity in the lake could trigger an explosion.Both the lake and volcano are located on Africa's continental Rift zone, where the Earth's tectonic plates are very slowly being pulled apart.
Mexican man, once world's heaviest, dies at 48
By
PORFIRIO IBARRA
7 hours ago
View photo In this June 9, 2008 file photo, Manuel "Meme" Uribe, 42, shows how he exercises from his bed during an interview in Monterrey, Mexico. Uribe, once listed as the world's heaviest human being, has died at the age of 48. His death was confirmed Monday, May 26, 2014 by an official of the health department of Nuevo Leon state in Mexico. Doctors have not yet certified the cause of death. (AP Photo/Monica Rueda, File)MONTERREY, Mexico (AP) — A Mexican man once listed as the world's heaviest human being died Monday at the age of 48.Manuel Uribe had slimmed down to about 867 pounds, well below his then-record peak weight of 1,230 pounds, which was certified in 2006 as a Guinness World Record.Uribe's death was confirmed by an official of the health department of Nuevo Leon state, where the city of Monterrey is located.Uribe had been confined to his bed in Monterrey for years, unable to walk on his own.The official, who was not authorized to be quoted by name, said Uribe had been taken to the hospital on May 2 because of an abnormal heartbeat.He had to be taken to the hospital with a crane by emergency and civil defense workers.Doctors have not yet certified the cause of death. In addition to the cardiac condition, Uribe was also believed to have suffered from liver problems.Uribe married Claudia Solis in 2008, and the wedding was one of the few times he left his home in recent years.Uribe was a chubby kid, weighing more than 250 pounds as an adolescent. Starting in 1992, he said, his weight began ballooning further.Since the summer of 2002, Uribe had been bedridden, relying on his mother and friends to feed and clean him.