Waterspout Over Galveston Bay, Texas, Likely Came Ashore As Tornado
Published: Jun 26, 2014, 6:05 PM EDT weather.com
The_Greyson21/TwitterA photo from The_Greyson21 on Twitter shows the waterspout over Galveston Bay, Texas.A waterspout that formed over Galveston Bay Thursday reportedly came on shore as a tornado near Texas City, Texas.According to Chron.com, a man in Freddiesville was pinned down by flying debris after the storm tossed his trailer into power lines. He wasn't hurt.Roofs, trees and power lines were also damaged, according to Click2Houston.com.The National Weather Service typically sends a survey team to investigate reported tornadoes a day after the storm, which is likely to happen Friday.(MORE: Track Severe Storms)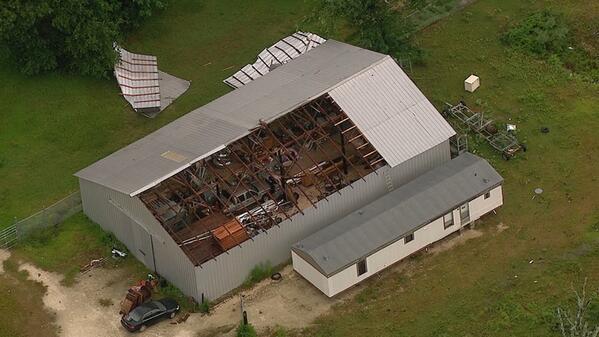 KHOU 11 News Houston
✔
@KHOU
Follow
Photos: Storm damage in Galveston County –>
http://
bit.ly/1iLklFP
KHOU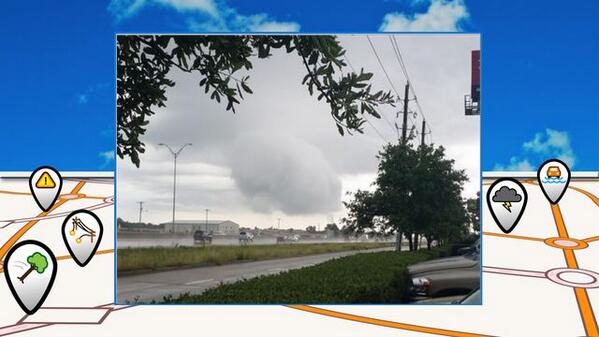 KPRC Local 2 Houston
✔
@KPRCLocal2
Follow
Local 2
@StormPins
user TXFirefighter010 sent us this photo I45 at Victory Lakes
http://
bit.ly/1iz7mHA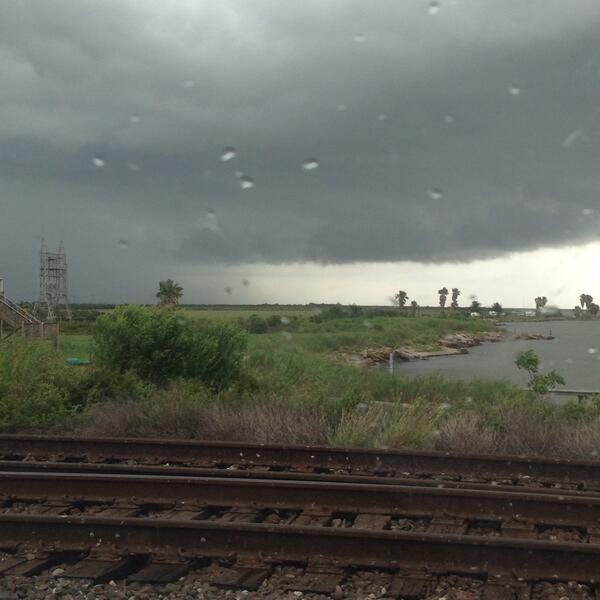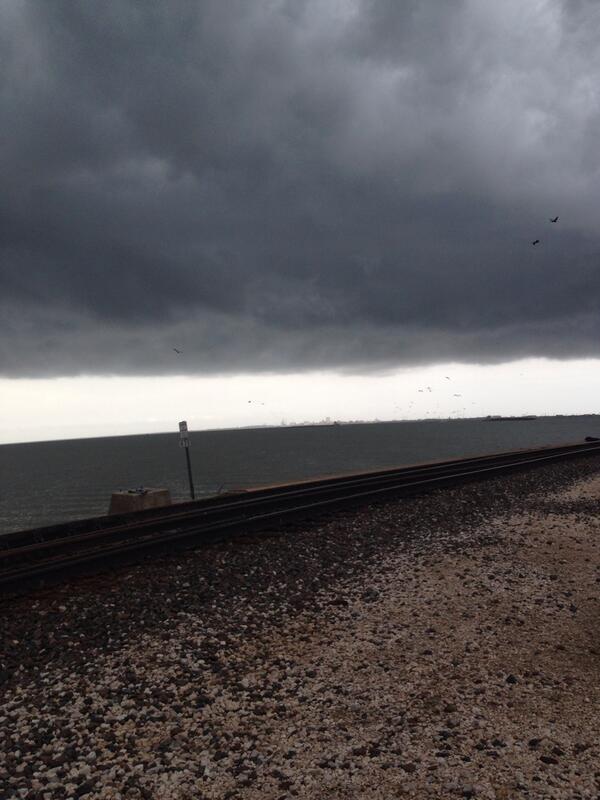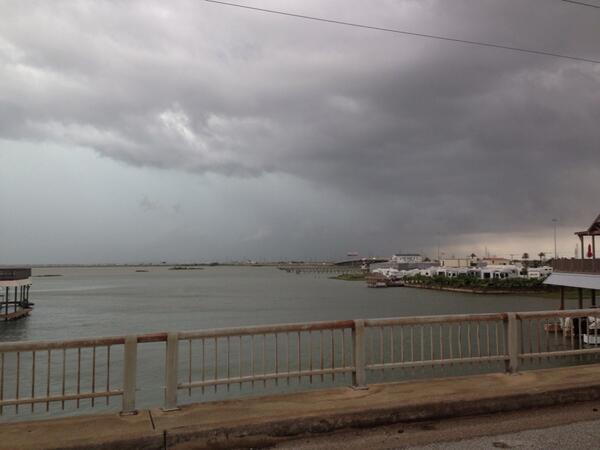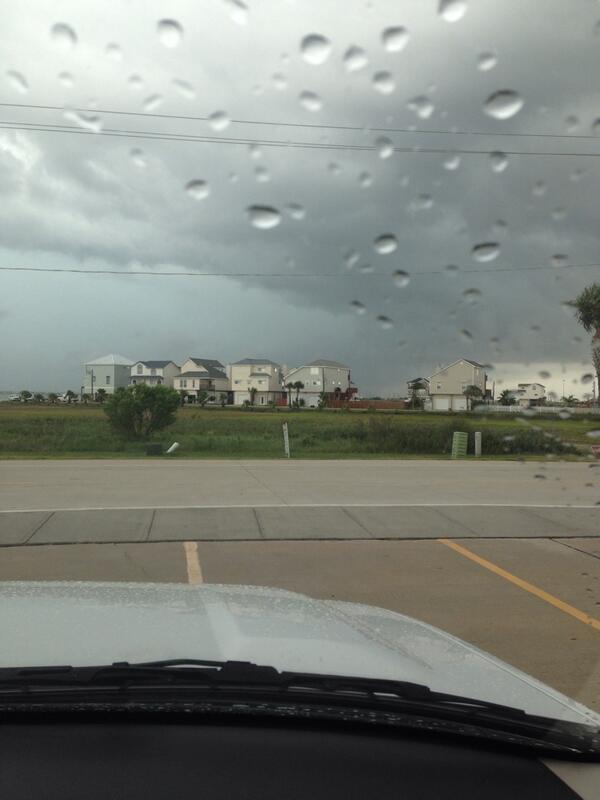 Norman Williamson
@gcoemsg2
Follow
Tornado warning Galveston County
Tiki Island Store, United States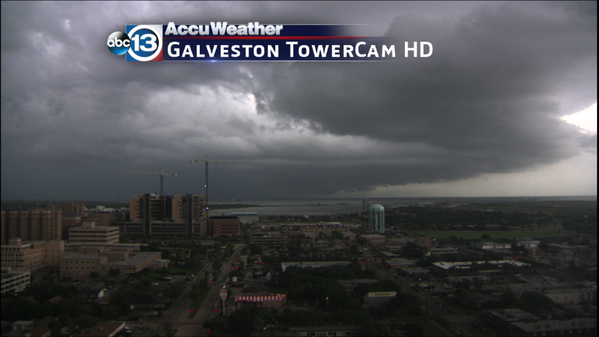 Travis Herzog
@HerzogWeather
Follow
Rotation is strong over Galveston Bay, possible rain-wrapped waterspout moving NE toward Chambers county.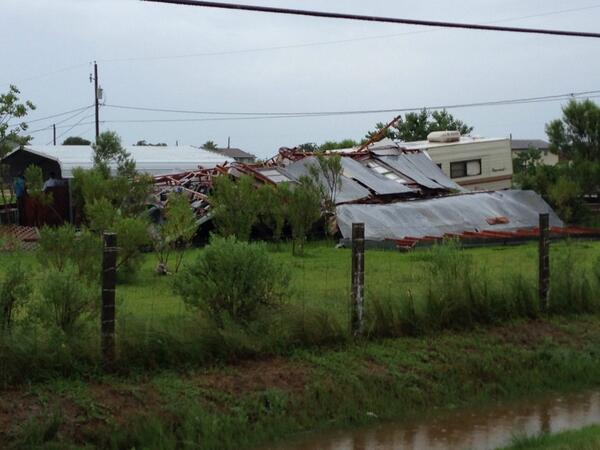 Tropical Update: Eastern Pacific, Atlantic Concerns Next Week?
Stu Ostro, Michael Lowry, Dr. Greg Postel Published: Jun 26, 2014, 4:16 PM EDT weather.com
Watching the Tropics
Atlantic Basin Satellite Image
INTERACTIVE MAP
Area To Watch
Area To Watch
INTERACTIVE MAP
Western Pacific Basin Satellite Image
INTERACTIVE SATELLITE
Quick Summary:- Eyes to the southeast coast this weekend- Slow development likely in the eastern PacificAtlantic, Caribbean, and the Gulf of Mexico Still some thunderstorms over the western Gulf of Mexico, but not as much of a big concentrated eruption like yesterday, and no sign of organization/development nor do models indicate that happening. (Ditto for anything developing at the surface underneath the swirl over the Atlantic northeast of the Bahamas which is an upper low.)Interestingly, though, as what was left of that massive blow-up over the Gulf yesterday moved northeast and inland overnight it instigated a pronounced spin in the lower-middle levels of the atmosphere, most prominent about two miles up, which can easily be seen on the satellite loop.Models have caught onto that feature and predict it to interact with a surface low pressure system forming over the Carolinas and then move offshore of the southeast U.S. coast by Saturday, then lurk there for a couple days, then either not move much or head back toward land early next week.It'll be over
warm water
, and sometimes such systems at this time of year can become tropical or subtropical depressions or storms. (Memories are evoked of Beryl off the Southeast coast a couple years ago in May, but that developed from a much different origin, a
tropical low pressure system from the Caribbean
). Model forecasts don't show this system being particularly either tropical or non-tropical; they also depict it to be weak and with surface pressures on the high side. Upshot: A low, though not zero, probability of getting the first 2014 Atlantic numbered depression or named storm.If nothing else, this, along with the other recent one east of Florida, will have been a couple of wannabes that remind us that we're in hurricane season, and
now is the time for people to be preparing
, not at the last minute.(
MORE:
Atlantic Hurricane Season Outlook
|
New NHC Storm Surge Maps in 2014
)Eastern Pacific No major changes here. Just a ribbon of storminess extending from Central America westward across the eastern Pacific. An area of low pressure is expected to form somewhere within this region south of Mexico by late weekend into early next week. It's too soon to say what threat, if any, such a system might pose to Mexico. REAL-TIME UPDATES Our live wall below has the latest updates from our hurricane experts and from coastal National Weather Service offices. No need to refresh, the latest updates will appear at the top of the wall. Time stamps on each post are in Eastern U.S. time.
Rob Lowe, Family Rescued After Torrential Rains Flood French Vacation Home
Published: Jun 26, 2014, 11:16 AM EDT weather.com Actor Rob Lowe, star of television shows "The West Wing" and "Parks and Recreation," and his family were rescued from their vacation home in the south of France on Wednesday after torrential rains flooded the first floor of their home.The New York Daily News reported that the 50-year-old Lowe, along with his wife Sheryl Berkoff and son John, had to be rescued after a massive storm struck where they were staying in Grasse, France, dropping three months' worth of rainfall in four hours.Lowe snapped this photo of the floodwaters, which he posted on Instagram: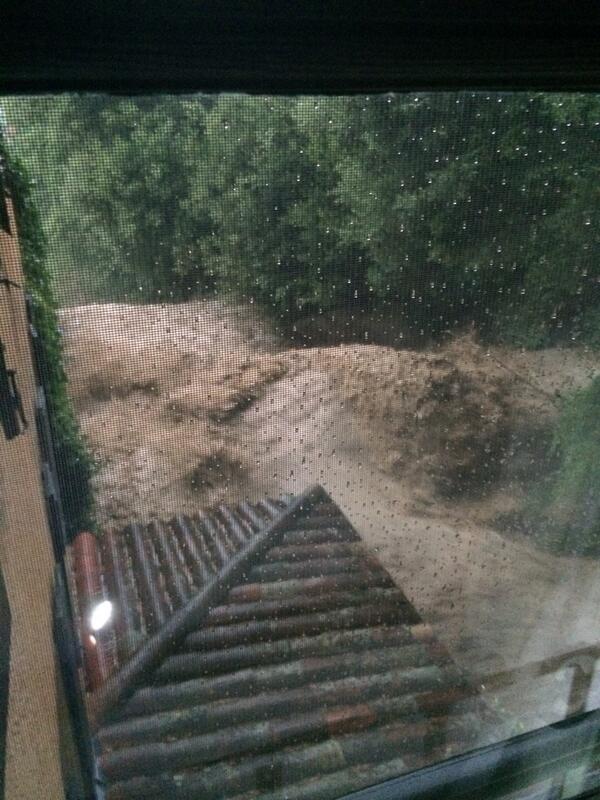 "This is is right outside the house," Lowe wrote in his caption for the photo. "Was twice as high at the worst, just before sunrise."After they had been safely rescued, Lowe followed up with a photo of his wife hugging the first responders, which no longer appears on his Instagram page. "My wife being rescued this am (morning) in the horrific flooding in Grasse France," wrote Lowe,
according to the Toronto Sun
. "Glad we are safe. Grateful to first responders."Here's a photo that Lowe's son John took of the flooding, looking just outside their vacation home's window:
Brunswick, Ohio, Tornado: Why There Was No Tornado Warning
By Jon Erdman Published: Jun 26, 2014, 10:57 AM EDT weather.com
Tornado Hits Brunswick, OH There was no tornado warning issued when an EF1 tornado tore through a part of Brunswick, Ohio, on Monday evening, damaging at least 45 homes and businesses, according to a storm survey from the National Weather Service's office in Cleveland. No injuries were reported.Above: Reports of severe weather (tornadoes: red tornado symbols, large hail: white circles, high winds/wind damage: blue arrows) from June 23, 2014.In this era of Doppler radar, enhanced spotter networks and social media, how did this happen? The short answer is this was a difficult case for any forecaster, even those with experience, to diagnose in real time. Let's step through the event starting with the day's forecast.The Forecast: Nothing Stood Out
Day one thunderstorm damaging wind gust outlook for June 23, 2014. Red arrow denotes approximate location of Brunswick, Ohio. (NOAA/NWS/Storm Prediction Center)The large-scale setup, as is often the case in summer, was favorable for thunderstorms over northern Ohio, but not necessarily supercell thunderstorms.A frontal system was approaching from the western Great Lakes, with a warm front lifting northward into the Buckeye State, south of which resided warm and humid air, but not oppressively so by late June standards.While instability (warm, humid air near the surface and in this case, somewhat cooler, drier air aloft) was in play, wind shear – namely, the change in wind speed and direction with height required to sustained supercells ​– was rather unremarkable.The morning convective outlook from NOAA's Storm Prediction Center, a general forecast of both severe and non-severe thunderstorms, only depicted a general area of thunderstorms over northern Ohio, with a small risk (five percent chance within 25 miles of a point) of large hail or damaging winds, as shown above. The day's
TOR:CON forecast
from severe weather expert 
Dr. Greg Forbes
 assigned a TOR:CON tornado potential index of "2 or less," a value indicative of a low chance of a tornado and one assigned to many areas of the country quite often in the late spring, summer or fall. There was no severe thunderstorm or tornado watch issued, as forecasters believed thunderstorms would, in the extreme, produce a quick pulse of strong winds or marginal hail, rather than an organized, concentrated area of hail or wind damage.As you can see in the interactive map above, these forecasts were quite accurate. The Ohio Valley severe reports were not concentrated as, say, with a
derecho
, but were fairly hit-or-miss.Using the Storm Prediction Center's filtered database to remove duplicate reports, there were a total of 73 reports of severe weather in the Lower 48 States on Monday, less than 50 of which were in the Ohio Valley. An average June day features 228 reports of severe weather nationwide, according to Forbes. However, there was that one tornado.Outflow Boundaries: Local Tornado Generator
Base reflectivity from the NWS-Cleveland Doppler radar from 6:01 to 7:01 p.m. ET on Jun. 23, 2014. Lake breeze (blue arrows) and thunderstorm outflow boundaries (red arrows) denoted at the beginning of the loop.While the large-scale environment was not conducive for supercell thunderstorms and tornadoes, a post-analysis of radar data suggested several factors which combined to generate the Brunswick tornado.There were three distinct boundaries picked up by the NWS-Cleveland Doppler radar, which are pointed out in the radar loop above. First, a lake-breeze boundary, a mini cold front between the cooler air over Lake Erie and warmer, more humid air inland, surged southward, denoted by the blue arrows at the beginning of the radar loop above. This lake-breeze boundary may have been boosted by outflow winds from showers and storms over the east and northeast side of the Cleveland metro in the afternoon.Add to that a pair of thunderstorm outflow boundaries, one moving northward from near Mansfield, Ohio, another surging east from a cluster of thunderstorms arriving from northwest Ohio, and the stage was set for a collision.Boundary Collision + Thunderstorm = Tornado
Base reflectivity (left) and storm-relative velocity (right) from the NWS-Cleveland Doppler radar from 6:46 to 7:10 p.m. ET on Jun. 23, 2014. Rotation detected by radar denoted by red circles at right. (NWS, Gibson Ridge)These boundaries are a source of horizontal vorticity, or spin, in the lowest levels of the atmosphere, as rain, or in one case above, lake-cooled air rushes outward. Think of this similar to rolling a pencil on your desk.When boundaries collide, unstable air is lifted, and either new thunderstorms are formed, or existing storms are given a boost by the uplift.In this case, as you can see in the zoomed-up radar animation above at left, a cluster of thunderstorms was given such a boost after the aforementioned boundaries collided. This prompted the National Weather Service office in Cleveland to issue a severe thunderstorm warning at 6:54 p.m.ET.
Text of NWS-Cleveland severe thunderstorm warning issued at 6:54 p.m. ET on June 23, 2014. (NWS Cleveland)At that time, there was a signature in Doppler radar suggesting strong, straight-line wind gusts were possible, as shown by the brighter green shadings in the middle radar images above at right.Less than two minutes later, a tighter rotation began to appear in new storm-relative velocity imagery, denoted by the red circle above at right. This was, in fact, the Brunswick tornado.What changed so quickly to spawn this tornado?We mentioned the boundaries as a source of horizontal spin earlier. When a thunderstorm's updraft passes over these boundaries, their horizontal spin can be tilted and stretched by the thunderstorm's updraft into the vertical. This may have been how the Brunswick tornado formed.Interestingly, merging thunderstorm cells (illustrated in the first radar loop above) may have also played a factor in the Brunswick case, as recent research on the Moore, Oklahoma, 2013 tornado illustrates.However, just as fast as the rotation appeared, it weakened as the outflow boundaries continued surging past the storm cluster they boosted, cutting off the flow of warm, humid air thunderstorms feed off of.The final storm survey from NWS Cleveland estimated the tornado lasted only five minutes, from 6:55 to 7:00 p.m.Lessons Learned?So, from a forecast perspective, let's recap:
Tornado threat Monday was generally low, but not zero.
A severe thunderstorm warning was issued for strong straight-line (non-tornadic) winds.
Less than two minutes later, rotation tightened, but lasted no longer than five minutes total.
Suffice it to say, this was an exceedingly difficult short-lived scenario to react to quickly, even for experienced forecasters.The conventional radar reflectivity signature was not in any way suggestive of a tornado, compared to a more classic hook echo in a tornadic supercell.A 2013 study of two years' worth of National Weather Service tornado warnings found the probability of detection (defined as an event for which a tornado occurred inside a tornado-warned area/time) for non-supercell tornadoes, such as Brunswick, Ohio, was only 46 percent, meaning roughly every other non-supercell tornado is not covered by a tornado warning when it forms.These non-supercell cases are simply more difficult for a forecaster to detect.As unsettling as that sounds, for supercell tornadoes, the probability of detection was found to be 85 percent. Generally speaking, the most destructive, violent tornadoes tend to occur on days where the large-scale setup tends to favor tornadic supercells, and are the easiest to detect on radar.Simply put, due to various factors – gaps in radar coverage, geometry of the radar beam rising away from the surface with distance, nighttime tornadoes, a lack of spotters at any given time – a tornado cannot be detected every time.(MORE: The Tornado East Texas Never Saw Coming)This puts NWS forecasters in a catch-22:
Issue more tornado warnings to attempt to capture every tornado, but then risk more false alarms, increasing complacency in response by the public.
Issue fewer warnings, focusing on stronger tornadoes more likely to claim lives, but then risk missing more EF0, EF1 tornadoes. With fewer weak tornadoes warned, there's no guarantee more fatalities wouldn't result.
For now, the answer is close to the first option, as missing tornadoes is less acceptable and palatable than false alarms.(MORE: Tornado Warning False Alarms)It is always good practice to seek shelter for severe thunderstorm warnings. As National Weather Service severe thunderstorm warnings often say, severe thunderstorms can produce tornadoes with little or no advance warning.MORE ON WEATHER.COM: Could This Save You From a Tornado?Play Video
Could This Save You From a Tornado?
Midwest Flooding Crisis Likely to Worsen as Storms Return to Minnesota, Iowa, Wisconsin, South Dakota, Nebraska
By Sean Breslin Published: Jun 26, 2014, 8:48 AM EDT weather.com
Rising Flood Water in Minnesota Residents of several Midwest states would be just fine not seeing any more rainfall for a couple of weeks, but they might not get the fair weather they've craved.River levels have soared over the past few weeks in South Dakota, Nebraska, Minnesota, Iowa and Wisconsin, flooding towns, killing crops and even
setting off a mudslide in Minneapolis
. The Mississippi River has been pushed into major flood stage in the Twin Cities,
as have 50-year-old levees
, according to TwinCities.com.
(PHOTOS: Satellites Show Massive Changes to Our Planet)
"More clusters of thunderstorms with locally heavy rainfall are in the forecast this weekend, possibly persisting through Monday in parts of the waterlogged Midwest," said weather.com senior meteorologist
Jon Erdman
.Though meteorologists can't forecast exactly where those storms will pop up, if they form over the hardest-hit areas, another several inches of rainfall could quickly overwhelm smaller streams and creeks, and trigger additional rises on mainstem rivers.'This … is the whole state'Other severe weather events — past floods included — have done little to prepare Minnesotans for the disaster unfolding all over the state. According to a New York Times report, this event
is happening later than most floods that affect Minnesota
, which forced officials to quickly prepare emergency deluge-fighting procedures. Sandbags had to be collected by the thousands, while flood walls and barriers needed to be built to minimize the damage.Still, this event was so vast that it was hard to protect everyone, everywhere."I've seen severe weather — tornadoes, flash floods and ice storms — but usually they impact one area of the state," Minnesota Gov. Mark Dayton told the Times. "This one is the whole state."In St. Paul, Minnesota, the Mississippi River was nearing a crest early Thursday, just over 6 feet above flood stage. The river is expected to remain at major flood stage through at least the middle of next week, depending on how much more rain the region receives.
(MORE: Here's How Our Future Is at Risk)
Gov. Dayton visited flooded areas of the state including Delano, a community about 30 miles west of Minneapolis, where downtown businesses and a main bridge were swamped."For a community our size, we're expending a tremendous amount of resources," Delano city administrator Phil Kern
told NPR
. "Probably upwards of 10 percent of our annual budget just simply in the last five days trying to deal with holding back these waters."In Iowa, the National Weather Service reported river level readings in
flood stage over much of the state
. Iowa's top emergency management official told the Associated Press that the state has suffered at least $15 million in damage from the flooding, and at least 150 homes have been severely damaged by high water, mostly in the northwestern parts of the state."This is now the record wettest month all-time in Sioux City, Iowa, topping the previous record wettest month set in May 1903 of 11.78 inches," said Erdman.Wisconsin's crops have also been decimated by the flooding. A Milwaukee Journal Sentinel article cites a U.S. Department of Agriculture report that says
21 percent of Wisconsin's corn crop is in poor or fair condition
, and the floods are to blame."Soil erosion, ponding and flooding were reported statewide, stressing or outright drowning some fields," the report said.With the exception of areas near the Mississippi River, most of the Wisconsin's waterways
have dropped below flood stage
, but, like its neighboring states to the west, the rains could return soon to disastrous effect.'Mother Nature always wins' About those levees in Minnesota — once they go, they're gone for good, at least in the town of Newport. Built by the Army Corps of Engineers in 1969, the levee that protects Newport from the Mississippi River
could break when the river crests on Thursday
, or if rainfall pushes the river level up again at a later date, reports TwinCities.com.Because the levee was built on private land, it hasn't been upgraded in more than 50 years, and the report mentions it would cost $10 million to repair a break, if it happens. A levee failure would leave at least eight homes in immediate danger of being destroyed by the floodwaters, TwinCities.com added.
(MORE: What To Do To Stay Safe After the Flood)
City administrator Deb Hill knows the situation is becoming dire for the town, but their hands are tied. "It would not be cost-effective for that property," she told TwinCities.com, in regards to fixing the levee. "Mother Nature always wins."Gov. Dayton plans to ask President Barack Obama for federal disaster assistance,
TwinCities.com reported
, when the president travels to Minneapolis on Thursday and Friday.
MORE ON WEATHER.COM: Images of Flooding in the Midwest
A tractor-trailer and two smaller trucks work their way through standing water on a closed portion of U.S. Highway 18 at the South Dakota-Iowa border, Tuesday, June 17, 2014, east of Canton, S.D. (AP Photo/Dirk Lammers)