Hurricane Ana
Hurricane Ana was on course Saturday to miss Hawaii by more than a hundred miles while generating strong winds and heavy rains that prompted flash-flood warnings and lured surfers with high waves.The center of the powerful Pacific storm was about 120 miles southwest of Honolulu, and it was losing speed as it churned southwest of the islands, the National Weather Service said. (AP)A county bus is stranded on Highway 11 in Naalehu, Hawaii where heavy rains from Hurricane Ana flooded the road on Saturday, Oct. 18, 2014. Hurricane Ana was on course to miss Hawaii by more than a hundred miles but was generating high waves, strong winds and heavy rains that prompted flash-flood warnings throughout the islands. (AP Photo/Audrey McAvoy)
At Least Six Dead in Mudslides After Tropical Storm Trudy Dumps Heavy Rain on Southern Mexico By Allie Goolrick Published: Oct 19, 2014, 9:07 PM EDT weather.com At least six people were killed in mudslides after the remnants of Tropical Storm Trudy dumped heavy rain on southern Mexico, the Associated Press reports. Five people were killed in Ometepec in the state of Guerrero after a mountainside collapsed. A 70-year-old man was also swept away by a raging river.  One more person died in Tlacoachistlahuaca in the state of Oaxaca. At least two of the dead were children, according to Reuters. "A highly localized but extreme rainfall event occurred just east of where Tropical Storm Trudy made landfall along Mexico's Pacific coast east of Acapulco," said weather.com meteorologist Nick Wiltgen. "The town of Ometepec picked up 15.91 inches of rain in 24 hours. Unfortunately, this region is home to some very steep mountain ranges so this kind of rain inevitably leads to landslides and debris flows, which can be deadly."Images on social media showed rivers swollen and muddied collapsed hillsides near busy highways. At least one pedestrian bridge over the Solteco River in Guerrero was destroyed, according to Mexican newspaper Excelsior. Several other rivers in the region overflowed, causing damage to structures, roads and crops. Houses in Santo Domingo and Santa Maria Armenta were flooded. Many state highways and streets were impassible because of mudslides. States of emergency have been declared in 36 municipalities, and over 4,000 people were evacuated to shelters.Classes were also suspended for an area stretching from the tourist resort of Acapulco to the border with Oaxaca.MORE ON WEATHER.COM: Hurricane Odile Slams Baja
Tourist Cesar Calzada, center, of Mexico City, climbs over a fence of the Riu resort to get out of the hotel and go search for food after Hurricane Odile severely damaged the hotel in Los Cabos, Mexico, Monday, Sept. 15, 2014. (AP Photo/Victor R. Caivano)
Hurricane Gonzalo Lashes Bermuda; Thousands without Power, Some Schools and Airport Reopening Published: Oct 19, 2014, 9:20 PM EDT Serious Damage in Bermuda from Gonzalo Hurricane Gonzalo tore through Bermuda Friday night, downing trees and causing flooding and thousands of power outages. It made landfall at 8:30 p.m. Eastern time along the south-central coast of the island.Yet Bermuda was getting back to its feet this weekend, as Bermuda's Premier Michael Dunkley tweeted, "All hands were on deck and worked very well. Much to be done, but we are roaring back!" Dunkley said that the U.S., Britain and other nations offered to aid with the cleanup efforts, according to the Associated Press. According to the island's utility provider, Belco, 6,157 of the island's 36,000 metered homes were without power as of Sunday night. "Where possible, Belco is restoring power in a few areas," a utility spokesperson said Saturday afternoon, according to Bermuda's paper, The Royal Gazette. "It is important to realize that damage is widespread, so restoration will not be quick or easy. We are also assessing damage and responding to reports of downed poles and other equipment, such as transformers." Local cell networks were also impacted.As of Monday, government schools are not scheduled to reopen, but some private schools are looking forward to reopening their doors to students and faculty. The Royal Gazette reported that all government offices would reopen Monday. Soldiers of the Bermuda Regiment are helping with cleanup and repair efforts around the island and are assisting residents who sustained infrastructure damage, according to The Royal Gazette. (FORECAST: Gonzalo Tracking Through Bermuda)Early Saturday morning,The Gazette reported that "barely a road" on the island was passable because of downed trees and other debris. "Important things need to be done and we encourage everyone to stay off the road. The roads are so littered with debris and hardly any roads are two-way,"  Police Commissioner Michael DeSilva said at the time. "There's no way we can have traffic trying to travel in two directions." Local officials also urged residents to take caution if they go outside because of the risk from downed power lines and flooding. Overnight Friday, the Bermuda Fire and Rescue Service was called out to more than 20 incidents, including a fire in Warwick Parish, Bermuda. It's unclear whether Gonzalo caused the fire.Before Gonzalo hit, Bermuda's Dunkley urged people to "stay inside and stay safe." Residents of Bermuda flooded stores, boarded up homes and businesses and undertook other necessary preparations heeding Dunkley's warnings.The director of the Bermuda Weather Service (BWS) warned that Bermudans would likely see similar impacts to those of Hurricane Fabian, which hit the island in 2003 and caused $300 million in damage. BWS told residents to expect heavy damage and storm surge as Gonzalo hit the coast. "The direction of the swells and the winds will be very reminiscent of Fabian," said BWS Director Kimberley Zuill.According to The Weather Channel Vice President of Global Forecasting Services Peter Neilley, who was on Bermuda when Fay hit last weekend and remained on the island as Gonzalo approached, Bermudans were still cleaning up from Fay, even as Gonzalo approached.The Associated Press noted that Gonzalo ripped off several roofs, including those of the island's legislature, the House of Assembly and an exhibit at the Bermuda Aquarium, Museum & Zoo.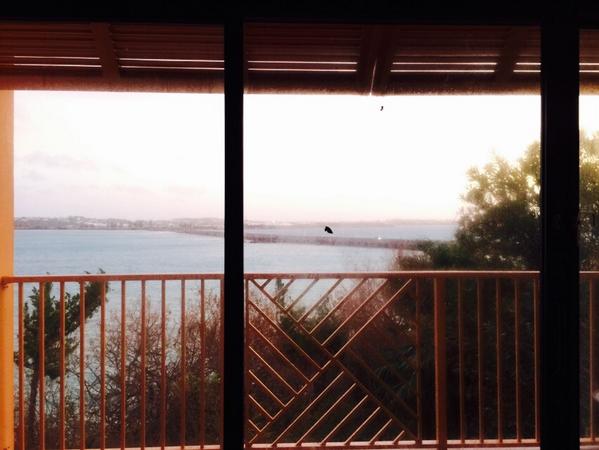 Jim Edds @ExtremeStorms Follow I'll be lucky if the sliding glass window survives the hurricane GrottoBay Bermuda Gonzalo According to Bernews, L.F. Wade International Airport is anticipated to reopen beginning 5 p.m. Sunday afternoon, despite some roof damage. Ferries resumed operations on Sunday, while buses were scheduled to resume partial service on Monday at 9 a.m., according to The Royal Gazette. More than 1,000 homes were without power before Gonzalo; nearly all of Bermuda lost power in the wake of Fay, The Royal Gazette reported. Neilley said piles of debris left over from that storm were still strewn about the island, which could cause issues as Gonzalo's strongest winds arrive. "Debris from Fay, mostly trees, limbs and coconuts, may be the primary issue with back-to-back storms as this debris could become airborne," said Neilley.Late Friday morning, the Causeway at the East End was closed — the only road connecting the main Bermuda Island with St. George's and St. David's islands — because of fears that the bridge would sustain major damage as it did during Fabian, according to The Gazette. Bernews reported that the Causeway was reopened on Saturday. The British Navy sent a warship to Bermuda to provide relief assistance after Gonzalo; it's expected to arrive as early as Saturday, The Gazette notes.Shelters were open to take in residents and vacationers. Additional flights were scheduled Thursday to get as many people as possible off the island who wanted to leave, The Gazette notes. Boats were being pulled in from dockyards, and businesses and homes were being boarded up in anticipation of Gonzalo's arrival.Bermuda has been hit by 10 major hurricanes (Category 3 or higher strength) since records began in 1899, according to Dr. Jeff Masters of Weather Underground. Only two of those storms were Category 4 strength when they tracked within 75 miles of Bermuda, with the most recent of those storms hitting in 1948, Masters added.
 Damage is seen to trees after hurricane Gonzalo hit Bermuda. (tipsyandmom/instagram)
Hopes fade for 40 missing after Nepal blizzard
 15 hours ago Reuters Videos Hopes fade for 40 missing after Nepal blizzard
Around The Globe Hopes fade for 40 missing after Nepal blizzard KATHMANDU (Reuters) – Hopes faded on Sunday for survivors of one of Nepal's worst mountain disasters as villagers joined an intensive search by troops and government officials for as many as 40 people missing after an unseasonal blizzard killed 39.Related Stories
More than 500 people have been rescued from a route popular with foreign adventure tourists that circles Annapurna, the world's tenth-tallest peak. The survivors included 230 foreigners.Rescuers turned to villagers familiar with the rugged, snow-clad terrain to help look for stranded trekkers. The snow and avalanches were triggered by the tail end of a cyclone, which hit neighboring India last weekend."We are not clear where the missing people are and whether they are safe or not safe," Yadav Koirala, the chief of Nepal's disaster management authority, told Reuters in Kathmandu, the capital."We can only hope and pray that they are not dead."Since Wednesday, rescue teams have recovered 30 bodies and identified nine more from the air.
Israeli survivors from the blizzard hug each other, as they get ready to board a bus to the airport  …"The snow is very thick and the rescue teams are finding it difficult to pull the nine bodies out," said K.P. Sharma, an administrator in Dolpa, a district of glaciers and ravines.Army helicopters searched for survivors on parts of the trail at an altitude of more than 5,000 meters (16,400 feet). Soldiers fanned out through some of the most treacherous terrain, where helicopters cannot land.The dead include Canadian, Indian, Israeli, Japanese, Nepalese, Polish and Slovak trekkers. Survivors said many victims perished trying to descend from the trail's highest pass in freezing, whiteout conditions.The incident was Nepal's second major mountain disaster this year. Sixteen guides died in an avalanche in April on Mount Everest, the world's highest peak.This week's disaster was the worst since 42 people died in avalanches in the Mount Everest region in 1995, army officials said.Eight of the world's 14 highest mountains are in Nepal. Income from tourism, including permit fees for trekkers, who made up more than 12 percent of its 800,000 tourists in 2013, accounts for 4 percent of its economy.(Reporting by Rupam Jain Nair and Gopal Sharma; Editing by Douglas Busvine and Clarence Fernandez)
Nepal rescuers find 34 more trekkers, 12 bodies after snowstorm
 By Paavan Mathema13 hours ago
Kathmandu (AFP) – Nepalese teams Sunday rescued 34 more trekkers and guides stranded in the Himalayas since a snowstorm struck five days ago at the height of the hiking season but also found 12 more bodies, officials said.Rescuers using helicopters found the bodies buried in the highly popular Annapurna Circuit trekking route hit by the storm, with the total number of those confirmed or feared dead put at 40."Four helicopters were sent out today to the affected areas in Mustang, Manang and Dolpa. We have rescued 34 since morning," said police official Pradeep Bhattarai.They include 17 Nepalese, 10 Germans, five Swedes and two Australians, Bhattarai told AFP, without giving details of their injuries or condition.Rescuers pressed on with their search for bodies that they have seen from the air but have so far been unable to retrieve, said the Trekking Agencies' Association of Nepal, an industry group.Three bodies were found early Sunday and another nine — all Nepalese support staff for trekkers — late in the day on different sections of the circuit, the association's Ramesh Dhamala told AFP.
An injured survivor of a snow storm is assisted by Nepal Army personnel in Manang District, along th …Searchers were taking advantage of good weather but efforts were being hampered by the fact that snow was turning to ice, making it difficult to free trapped bodies."We are scanning areas at higher altitude today, coordinating with local officials to identify areas where remaining trekkers might be found," said Dhamala.Searches would resume on Monday to retrieve more bodies along with any more survivors, he said.Nepal has pledged to set up a weather warning system after the snowstorm caught trekkers unaware as they heading to an exposed high mountain pass on the circuit.Police have said 483 trekkers, guides and others have been rescued since operations started on Wednesday, including 292 foreigners.
Nepalese police move the bodies of trekkers killed in a snowstorm to be flown to Kathmandu on Octobe …Thousands of people head to the Annapurna region every October, when the weather is usually clear and cool.Search efforts were initially focused Sunday on an area of the circuit in Manang where two bodies were found and where more were feared buried, another association official told AFP."A team of experts dug through snow to recover bodies of two Indians at Nar-Phu area," said the association's Machendra Acharya.A third body was discovered in Letdar, higher up the circuit at 4,200 metres (13,779 feet). The identity of the man, dressed in monk's clothing, was unknown, he said.The nine bodies of the Nepalese were pulled from Sangda-La pass, higher still at 5,490 metres. Three Swiss and four Nepalese were rescued alive from the same area on Friday.There have differing accounts of the total number of dead. But according to the trekking association a total of 40 people have died.This figure is based on the many bodies that have been recovered, plus other corpses seen from the air or described in eyewitness accounts by survivors.The dead include at least 26 hikers, guides and porters on the circuit, three yak herders, and five people who were climbing a nearby mountain.The disaster follows Mount Everest's deadliest avalanche that killed 16 guides in April on the world's highest peak and forced an unprecedented shutdown of it.Impoverished and landlocked Nepal relies heavily on tourism revenues from climbing and trekking.
First plant in Morocco solar mega-project to open in 2015
 13 hours ago
Morocco's first solar energy plant will begin operating in 2015, an official said, as part of a multi-billion-euro project the oil-scarce kingdom hopes will satisfy its growing energy needs. (AFP Photo/Alain Jocard)Ouarzazate (Morocco) (AFP) – Morocco's first solar energy plant will begin operating in 2015, an official said Sunday, as part of a multi-billion-euro project the oil-scarce kingdom hopes will satisfy its growing energy needs.The so-called "Nour 1" thermo-solar plant at the southern desert city of Ouarzazate will be operational "next year", Mustapha Bakkoury, the head of Morocco's MASEN solar energy agency told AFP.The North African country is aiming to become a world-class renewable energy producer and is eyeing the chance to export clean electricity to nearby Europe.Morocco expects to build five new solar plants by the end of the decade with a combined production capacity of 2,000 megawatts (MW) and at an estimated cost of seven billion euros ($9 billion).The Nour 1 plant cost 600 million euros and is expected to have a capacity to generate 160 MW.A consortium led by Saudi developer ACWA Power won the contract to build the plant, near Morocco's desert gateway city, last September.The World Bank, the African Development Bank and the European Investment Bank are helping to finance the solar complex.Bakkoury said the general project — the largest of its kind in the world — was progressing "in a satisfactory manner".The plant's second phase, including the construction of two additional solar parks, will begin at the start of next year, Bakkoury said.He said a call for tenders had attracted seven firms, including French and Spanish groups, the result of which will be announced before the end of the year.A third and final construction phase at Ouarzazate will be announced "in the coming weeks", Bakkoury said.The kingdom has scarce oil and gas reserves and is hoping with the solar projects, along with a string of planned wind farms along its Atlantic coast, to raise renewable energy production to 42 percent of its total power supply mix by 2020.
'Water cops' seek sprinkler scofflaws in drought-parched California
 By Sharon Bernstein9 hours ago
City of Sacramento water conservation official Steven Upton walks back to his truck after delivering …By Sharon Bernstein SACRAMENTO Calif. (Reuters) – It was still dark on Kokomo Drive in Sacramento's Natomas district as Paul Brown edged his city-issued Honda Civic past a row of beige stucco houses with tiny front lawns, looking for water wasters.He heard the scofflaws before he saw their lush green lawns amid the otherwise parched turf. The buzz of a sprinkler system gave them away on a day that the city, desperate to save water amid California's ongoing drought, had forbidden watering."If I can get a good picture – if there's a lot of water – I'll cite them," he said.California is in the third year of a devastating drought that has led farmers to fallow nearly half a million acres of cropland, threatened fish hatcheries and shrunk drinking water supplies for some communities.To get people to conserve, many municipalities and regional water agencies have hired "water cops" like Brown to enforce state conservation rules.
Water conservation official Steven Upton photographs a home that has evidence of watering on a manda …Cities have even asked people to turn their neighbors in, and some have created smartphone apps to make the process easier.Brown, 46, a father of four who was hired by the city as a meter reader, said he picked this area because he has fielded numerous complaints from neighbors about water wasters.Camera and citation book in hand, he parked the car a few houses down and got out, walking swiftly to the house where the sprinklers were on. A flash illuminated the building's facade, then all was dark again.Brown headed back to the car and wrote up the citation. A check of his laptop showed that the residents had not been cited before, so instead of a fine of up to $500, they would get a warning. On a second offense, they would have to attend a meeting on how to save water. Third time, a fineThe city of Sacramento has about a half-dozen employees enforcing conservation rules. Like Brown, they go out on Friday mornings before dawn, patrolling neighborhoods. When they're not patrolling, they field phone calls from residents turning in their neighbors, hopping in their cars to check out serious reports on the spot.
A sprinkler runs and water flows down a driveway on a mandatory "no watering" day in Sacra …Water use in the city dropped 25 percent in August over the same month in 2013, the most recent month for which information is available, state data showed.Statewide, residents and businesses cut water use by 11.5 percent in August over the comparable 2013 period, enough to fill nearly 40,000 Olympic-size swimming pools.Felicia Marcus, chairwoman of the State Water Resources Control Board, credits new rules and tougher enforcement with much of the change."Regulations make better results than voluntary exhortations," she said. "People want to know that everybody else is doing it."In August, the water resources board implemented statewide rules that prohibit watering gardens enough to cause visible runoff, hosing down driveways or asphalt, and operating non-recirculating fountains.
Sprinklers spray water at a home on a mandatory "no watering" day, in this August 15, 2014 …Regulators also allowed municipalities to set mandatory cutbacks and levy fines against those who do not comply.In Los Angeles, the city has received 4,400 reports of water wasters this year, resulting in 2,200 warning citations, said Michelle Vargas, a spokeswoman with the Los Angeles Department of Water and Power.L.A. has kept one water cop on the beat full-time since the state's last big drought in 2009, but it added three more this summer after the new statewide regulations went into effect.The Southern California city of Long Beach is offering residents a water-waster app for their smartphones, making snitching quick and easy by allowing users to report neighbors and businesses for hosing down sidewalks, watering during the heat of the day or having a break or leak in their water lines.Sometimes, Brown says, reports from vindictive neighbors lead him to visit a property only to find that no violation has taken place."I tell them I'm not going to cite you just because they call on you," said Brown, who carefully documents every case with photographs and a brief report. "There has to be evidence."(Editing by Douglas Royalty)
Castro: Cuba would cooperate with US against Ebola
 By ANNE MARIE GARCIAOctober 18, 2014 11:46 AM
HAVANA (AP) — Cuba stands ready to cooperate with the United States in the battle against Ebola, former leader Fidel Castro said in an article published Saturday.Related Stories
Cuba is sending about 460 doctors and nurses to West Africa to help fight Ebola, an effort that was praised on Friday by U.S. Secretary of State John Kerry.The U.S. is sending hundreds of soldiers to set up clinics and train health care workers and it also has sent officials from the Centers for Disease Control to help in training."With pleasure we will cooperate with U.S. personnel in that task," the 88-year-old ex-leader wrote in the Communist Party daily Granma. He said it would not be to seek peace between two countries long at odds, but "for the peace of the world."Castro did not say what form cooperation might take.He also noted that Havana plays host on Monday to a meeting of leaders from the ALBA alliance of leftist Latin American nations that is meant to raise more support for the fight against Ebola.
Jorge Perez, the head of Cuba's top tropical medicine institute, points to a map, showing the lo …He said such medical cooperation is "the greatest example of solidarity that a human being can offer."Jorge Perez, the head of Cuba's top tropical medicine institute, told The Associated Press on Friday that Cuba is ready to send still more doctors if there is enough funding and infrastructure to support them."There are countries that have resources and can send money, but there are also those who can send human resources. It's not just doctors. We also need nurses, technicians," he said.In Washington on Friday, Kerry mentioned Cuba as one of the "nations large and small stepping up in impressive ways to make a contribution on the front lines."Perez said that despite the United States' chilly 55-year relationship with Cuba's communist government, Kerry's words were "an important gesture."
Tropical Storm Ana Drenching Kauai and Oahu, Hawaii; High Surf Threat (FORECAST) Published: Oct 19, 2014, 10:49 PM EDT weather.com Hurricane Ana Brushes Hawaii Hurricane Ana was downgraded to a tropical storm Sunday afternoon as it passes southwest of Hawaii, sideswiping the island chain with heavy rain and high surf.As of 5 p.m. HST Sunday, Ana had maximum sustained winds of 70 mph, just below the 74-mph threshold for hurricanes.Ana made its closest approach to the Big Island of Hawaii when it was 155 miles southwest of Kailua-Kona at 5 a.m. EDT Saturday. As of 5 p.m. EDT Sunday, Ana was about 210 miles west-southwest of Honolulu, or 130 miles southwest of Lihue, Hawaii.Hurricane Ana had been upgraded from a tropical storm to a hurricane on Friday when it was in an area of favorable conditions (very warm water and a decrease in wind shear) in the central Pacific Ocean. (MORE: Expert Analysis | Hurricane Central)
Storm Information
Ana has slowed its forward motion and turned more toward the west, thanks to a ridge of high pressure building in to its north.Eventually, as that ridge shifts to the east, Ana will curve north around the west side of the high-pressure bubble, taking it over unusually warm water and potentially allowing it to regain strength.
Infrared Satellite
Hawaii was prepared ahead of Ana as Gov. Neil Abercrombie declared a state of emergency, which allows the state to access state and federal resources.(MORE: Hawaii Prepares For Ana | Hawaii Declares A State Of Emergency)Below is a map of the current radar and sustained winds across the Hawaiian Islands.
Radar and Current Wind
Even though the center of Ana is passing southwest of the Hawaiian Islands, it is close enough to have some impact. Tropical storm-force winds may brush a few parts of Kauai and Niihau through Sunday night.As a result, a tropical storm warning is in effect for the islands of Kauai and Niihau. Down the road, a hurricane watch is in effect for parts of the Papahanaumokuakea Marine National Monument, west of the main Hawaiian Islands.
Projected Path
The forecast path graphic above gives the latest thinking from the CPHC on track of Ana's center and intensity. Keep in mind tropical cyclones are not a point, but have impacts that extend some distance beyond the center of circulation. In this case, tropical storm force winds extend outward up to 105 miles from Ana's center of circulation.Bands of heavy rain continue to move over the Hawaiian Islands from Oahu westward. High surf may also be damaging, especially along exposed south and southeast shorelines.(FORECASTS: Hilo | Maui | Honolulu)Since 1950, only four hurricanes have tracked within 150 nautical miles of Honolulu. Hurricane Iniki(1992) and Hurricane Dot (1959) both made landfall on Kauai. Dot's center passed about 80 miles west-southwest of Honolulu as a Category 3 hurricane on August 6, 1959.(MORE: Hawaiian Hurricanes | Is A Third Tropical Threat For Hawaii Unusual?)Hawaii has already taken a hit from a landfalling tropical cyclone this season. Tropical Storm Isellemade landfall on the Big Island on Aug. 8, causing extensive damage and power outages.Stay with The Weather Channel and weather.com for updates on this system.MORE ON WEATHER.COM: Hurricane Ana – October 2014
A path floods in Hawaii after heavy rains due to hurricane Ana. (Jen Brown/Hawaii News Now)