Vague de froid en France: six morts
Par Ambre TOSUNOGLU | AFP – il y a 10 heures CONTENUS ASSOCIÉS
Pompiers et policiers sur les lieux du décès d'un sans-abri du fait du froid dans le 12e arrondissement de Paris le 30 décembre 2014
 Pompiers et policiers sur les lieux du décès d'un sans-abri du fait du froid dans le 12e arrondissement de Paris le 30 décembre 2014
NEWS À LA UNE
Le décès de six SDF rouvre le débat sur le "mal-logement"Reuters – il y a 11 heures
Les médecins libéraux prêts à un mouvement au long coursReuters – il y a 11 heures
Easyjet annule 138 vols mercredi et jeudi en France Reuters – il y a 12 heures Trois morts en région parisienne, un sur la Côte d'Azur, un dans l'Aveyron et un autre dans le Nord : la vague de froid qui frappe une grande partie de la France a tué au moins six sans-abri, malgré un renforcement des capacités d'accueil des plus démunis.Un homme de 50 ans a été trouvé dimanche soir à Paris par les services de secours en état d'hypothermie sur une place du XIIe arrondissement. Une autopsie est en cours mais, selon la mairie de Paris, il est "manifestement" mort à cause du froid.Deux autres SDF, qui avaient trouvé refuge dans un squat en Seine-et-Marne pour se protéger des températures glaciales, sont morts dans un incendie mardi matin, vraisemblablement après avoir tenté de faire un feu, selon la police.A Rodez, un sans-abri belge de 42 ans a été retrouvé mort mardi midi dans un chantier où il s'était abrité. Même la Côte d'Azur n'est pas épargnée : à Mandelieu-la-Napoule, le corps d'un autre sans-abri belge de 46 ans avait été découvert dimanche sous sa tente, a annoncé mardi la préfecture. "Le froid, combiné à l'alcoolémie" et à un vent glacial semblent à l'origine du décès.La veille, un jeune de 29 ans qui, selon la préfecture, avait plusieurs fois décliné "les propositions d'hébergement" du SAMU social, était trouvé inanimé à Douai, dans le Nord.La chute attendue des températures et l'instauration d'un niveau de vigilance orange dans différents départements ont conduit de nombreuses villes à augmenter leurs capacités d'hébergement d'urgence.La préfecture de Paris a ouvert mardi 50 nouvelles places au bénéfice des familles dans l'est de la capitale.En Ile-de-France, 1.454 places sont disponibles dont 752 à Paris. La préfecture du Nord a mis en place 300 places d'hébergement en plus des 11.600 existantes tout au long de l'année.En Gironde, 860 places d'hébergement sont ouvertes, pour un taux d'occupation de 93%. A Toulouse, la mairie a déclenché l'ouverture de 72 lits d'urgence dans deux structures municipales, qui ont accueilli au total 51 personnes dans la nuit de lundi à mardi. Selon le responsable d'un des centres, certains sans-abri préfèreraient aller dans des squats où ils n'ont pas à se plier aux règles du foyer d'urgence, comme de se lever à 06H00 par exemple.
– 'On attend -5°C pour ouvrir des places' en plus -Le nombre de sans-abri en France a "explosé" (+44%) en 11 ans dans les moyennes et grandes agglomérations, avec 112.000 SDF, dont 31.000 enfants, recensés en 2012, selon la dernière étude de l'Insee publiée en novembre.Et les places manquent : en novembre, sur 17.000 personnes ayant appelé le 115 dans 37 départements, plus de 9.000 sont restées sans solution, selon le baromètre de la Fédération nationale des associations d'accueil et de réinsertion sociale (Fnars) publié la semaine dernière.Florent Gueguen, directeur général de la Fnars, a dénoncé "un manque d'anticipation et de préparation de la part du gouvernement". "On fait une gestion au thermomètre: on attend qu'il fasse -5°C pour ouvrir des places supplémentaires alors que les locaux existent et que les associations sont prêtes à accueillir le public", regrette-t-il.Christophe Louis, président de l'association "Les Morts de la rue", rappelle qu'il y a "des décès tout au long de l'année", et demande que "les places ne soient pas seulement ouvertes en période hivernale, mais tout au long de l'année".La ministre du Logement Sylvia Pinel a demandé aux préfets et aux associations que les places d'hébergement d'urgence ouvertes l'hiver ne soient pas fermées avant la fin de la trêve fin mars, "même en cas d'amélioration des températures".Interrogée sur Europe 1, la ministre a déploré "des situations terribles et dramatiques", et assuré que le gouvernement n'a cessé "d'essayer de pérenniser des solutions alternatives". "Même si on ne peut que constater que ces moyens renforcés ne suffisent pas à répondre à l'ensemble des demandes", a-t-elle ajouté.
At Least 3 Deaths Blamed On Winter Storm Frona By Sean Breslin Published Dec 30 2014 05:43 PM EST weather.com Winter Storm Frona Packing Heavy Snow Winter Storm Frona is on its way through the west, packing heavy snow and strong winds. Winter Storm Frona continued to push south and east on Tuesday, leaving behind more than a foot of snow in some areas.Frona is expected to make a long appearance, traveling eastward through the week. Along the way, some unlikely locations – like Las Vegas – could see accumulating snow.(MORE: Check the Forecast for Winter Storm Frona)"Forecasting rare snow events is typically a challenge. In this case, the uncertainty is not from a lack of cold air, but rather, will enough moisture wrap into the Vegas Valley to produce accumulating snow," said weather.com meteorologist Jon Erdman. "For now, we think at least a dusting on the Las Vegas Strip is a decent chance."One person has been killed on roads made hazardous by the storm. Here are some of the other impacts in states affected by Winter Storm Frona.California Dangerously high winds were the first part of the storm to reach into California. In northern California, two people in Paradise were killed by falling trees in separate incidents, according to the Oroville Mercury-Register. Thousands of people lost power in the wind event.Wind gusts topped 60 mph in Oakland with advisories and warnings stretching across much of the state.The high winds ruffled commuters in San Francisco, where BART trains were running at reduced speeds causing delays. NBC Bay Area also reported trees down on the tracks between Balboa Park and Glen Park, stopping service there.Frona is also expected to bring snow and very cold air to parts of southern California. As much as five inches of snow could fall in the higher elevations of the interior mountains, and snow levels could drop as low as 2,000 feet, according to the National Weather Service.The Los Angeles County Public Health Department has warned vulnerable people to take extra precautions during the upcoming cold snap, including children and the elderly, according to the Associated Press.Those camping along the Rose Parade route Wednesday night have also been warned to wear extra layers of clothing, as temperatures could dip into the lower 30s in Pasadena, the Los Angeles Times said.Nevada With more than 300,000 people expected to descend on the Las Vegas strip and the downtown Fremont area for New Year's Eve festivities, forecasters are keeping a close eye on Frona's possible snowy impacts in Sin City.The NWS has warned visitors to pack layers and wear shoes good for traction, which isn't usually a priority on a fashionable holiday evening, according to the AP.Accumulating snow isn't a guarantee for Vegas during this storm, but if an inch or two falls, it could cause big problems for a city that isn't well prepared to deal with winter weather. McCarran International Airport doesn't have de-icing equipment, so the airlines will be required to provide their own, the AP added. The airport hasn't had an accumulating snowfall since Dec. 17, 2008.Colorado A wave of heavy snow has entered Colorado, and bitter cold is expected to follow.Monday's rush hour commute was rough for the Front Range as snow fell on roads that were already icy from last week's winter weather. One of several wrecks occurred on Interstate 25 near Castle Rock, where a state trooper and Douglas County sheriff's deputy were hospitalized following a crash, according to the Associated Press. The officers, side-swiped by a woman who lost control of her vehicle, were released later in the day.Many of the same travel problems were being seen on Tuesday morning as residents attempted to get to work.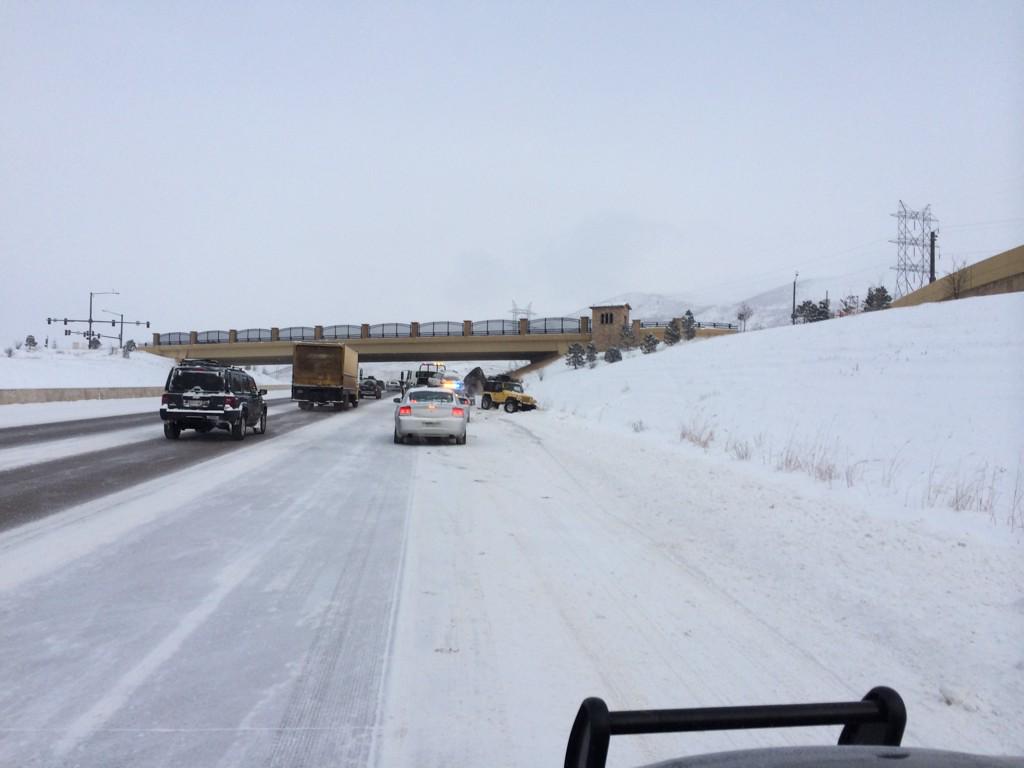 CSP Public Affairs @CSP_News Follow Multiple crashes on 470 from 25 to 70. Roads are VERY icy. That means SLOW DOWN! Please be safe. (MORE: Here's the Forecast for the Arctic Plunge)On Monday, more than 150 flights were canceled at Denver International Airport and more than 100 more were canceled Tuesday morning, according to the flight tracking website FlightAware.Temperatures in the Denver area are expected to dip below zero over the next couple of days, with Tuesday's highs likely to stay in the single digits.Arizona The NWS has issued stern warnings for residents that will be affected by Frona over the coming days. Icy roads, limited visibility and accumulating snow could lead to major travel problems in northern and eastern Arizona, the AP reported. As a result, nonessential travel isn't advised once the winter storm arrives.The AP also issued a list of tips for drivers to stay safe during winter weather, including wearing warm clothes and taking an emergency kit along for all trips, in case drivers get stranded.Nebraska Omaha Police Department spokesman Michael Pecha said investigators are looking into the possibility that the bitter cold air could be to blame for the death of 49-year-old John Neilsen. His body was found Tuesday morning near a car that was spotted with one door open.Pecha told the AP it appears Neilsen died from exposure, but investigators are still looking into other possible causes and will rely on an autopsy for more information. Weather Underground data shows the temperature in Omaha dipped to two degrees below zero overnight Monday.Idaho As much as 19 inches of snow were dumped by Frona in parts of the state.Idaho State Police said 13-year-old Kalkidan Qualls of Moscow, Idaho, died Saturday morning on U.S. Highway 95 north of Tensed, Idaho, when the minivan in which the child was riding slid across the road and was struck by an oncoming SUV. The driver and another adult passenger of the minivan were injured. The occupants of the SUV were not hurt. Corporal Glenn Bakken with the Idaho State Police confirmed to The Weather Channel that snow-covered roads were deemed a factor in the collision.(PHOTOS: weather.com's Images of the Year)KHQ-TV in Spokane, Washington, said heavy wet snow was blamed for power outages that left some 1,000 customers darkin Kootenai County of northern Idaho Saturday night.On Sunday afternoon, the Idaho Department of Transportation said a 21-mile stretch of State Route 36 was closed between Weston and Interstate 15 in the southeastern part of the state due to heavy snow and snow drifting over the roadway.Montana Four snowmobilers survived after being buried by an avalanche west of Seeley Lake, Montana, on Saturday afternoon, NBC Montana reported. Seeley Lake Search and Rescue noted the snowmobilers rode away from the experience on their own. Two of the snowmobilers were able to unbury themselves before reaching the other two riders using emergency beacons and a snow probe. Eight inches of new snow fell in the North Folk Bowl area just hours before the incident occurred.Sunday evening, three roadways were listed as having reduced visibility and blowing snow per the Montana Department of Transportation, the Billings Gazette reported. The roadways are north of Billings and include State Highway 3, State Highway 87 and Interstate 94.A tree was downed on a home in Woods Bay, Montana, after heavy snowfall Saturday, according to the National Weather Service.Parts of the higher elevations received as much as a foot and a half of snow from the storm.Oregon The Northwest Avalanche Center issued a forecast of "high avalanche danger" for Mount Hood Sunday after Winter Storm Frona dumped at least 15 inches of snow on its slopes.The agency said snow at Mount Hood was "much heavier" than the surrounding areas Sunday.Areas near Meacham in the northeastern part of the state received as much as 14 inches of snow.Washington Snow contributed to difficult travel conditions over the Cascades Saturday, including Snoqualmie Pass along Interstate 90.In the eastern part of the state, several slideoffs were attributed to snow in the Spokane area, according to local television station KREM.Lower-elevation rain associated with Frona may have contributed to a landslide Sunday morning that closed the BNSF railroad track near Mukilteo, Washington. KING-TV said the slide forced the suspension of Amtrak and Sound Transit train services between Seattle and Everett, Washington. Service is not expected to resume until Tuesday or Wednesday.Utah Extremely strong winds were reported Tuesday morning in the Salt Lake City area, leading to travel issues.A Utah man was missing after being separated from the woman he was snowmobiling with on Saturday, according to The Salt Lake Tribune. Cache County Sheriff's Lt. Doyle Peck said Lawrence Orduno, 48, was separated from Courtney Wood, 27, after Wood became stuck in deep snow. The pair was snowmobiling in the Franklin Basin area near the Utah-Idaho border. A search commenced around 5 a.m. Sunday.  As of 3 p.m. Sunday, Peck noted around 18 inches of fresh snow fell on the area.Monday morning, Orduno was found by officials, according to Fox13Now.com. It was unclear when he was found, but rescue crews gave the man food and warmth, and he is expected to be fine, the report added.A semi truck closed two westbound lanes of Interstate 80 Sunday afternoon after the driver lost control, sending the vehicle careening into a concrete barrier and overhead sign support on the shoulder, KSL.com reported. The driver was allegedly driving too fast on the weather compromised roadway and lost control during a lane change. The contents of the truck were spilled into the median and left lane.In Tooele County, multiple lanes of I-80 were closed for several hours because of a multi-car crash involving 20 to 30 vehicles. Two minor injuries were attributed to that crash. 1 of 14
A man walks along the 16th Street Mall as snow falls in downtown Denver, Dec. 29, 2014. The Denver area could see up to four inches of snow with this storm. (RJ Sangosti/The Denver Post)
NOW WATCHING
Magnitude-3.9 Earthquake Strikes Off San Pedro, Rattles Long Beach & South Bay
Storm kills 31 in Philippines, leaves 7 missing
 14 hours ago
MANILA, Philippines (AP) — Flash floods and landslides triggered by Tropical Storm Jangmi left at least 31 people dead and seven missing in the Philippines, including in areas still recovering from last year's Typhoon Haiyan, officials said Tuesday.Jangmi, packing winds of 65 kilometers (40 miles) per hour and gusts of 80 kph (50 mph), dumped heavy rains Monday on southern Mindanao Island, where floods destroyed bridges and highways, sending thousands of residents to evacuation centers. The storm then pushed its way through eastern and central islands, where most of the deaths occurred Tuesday.The government weather bureau said that as of late Tuesday afternoon, the eye of the storm was 140 kilometers (87 miles) southwest of central Iloilo City, moving west at 19 kph (12 mph) toward western Palawan Island.Mayor Stephanie Uy-Tan said 12 people died when a landslide buried two vans and six houses near a mountainside highway in eastern Catbalogan City. She said voices could still be heard from one of the vans and that rescue efforts were ongoing.Olive Luces, a regional civil defense official, said 11 members of a family died after a creek-side house where they had gathered was washed away by flash floods in central Cebu province. Six other people were missing in the same town.In eastern Leyte province's Tanauan town, which was devastated last year by Typhoon Haiyan, army rescuers retrieved five bodies from a house buried by landslide.A 65-year-old man died due to drowning in southern Compostela Valley province, while another resident remains missing after crossing a swollen river.In central Bohol province, an 80-year old man drowned to death, while a 10-year-old girl died in a landslide that hit her home in southern Butuan City, officials said.
Missing AirAsia QZ8501 plane found at bottom of Java Sea Yahoo Newsroom – 1 hour 8 minutes ago
Graphic shows where the wreckage of QZ8501 was found in the Java Sea (Source: The Malaysian Insider)REPORTING FROM SINGAPORE [Times are in GMT+8, unless specified] WHAT WE KNOW: – Debris and bodies from AirAsia flight QZ8501 were found Tuesday afternoon after a gruelling search by international teams. Indonesian president Joko Widodo says the recovery of the passengers and the crew is now the priority. [CLICK HERE]– Six bodies have been pulled from the sea — three male and three female,
one of whom was dressed in flight attendant uniform. Earlier reports of 40 bodies recovered was a "miscommunication", according to the Indonesian navy. [CLICK HERE]– Images of floating bodies were broadcast on Indonesian TV and spread on social media, triggering an uproar by families of the victims and sparking scenes of raw emotion from distressed relatives. [CLICK HERE and HERE]– Naval vessels and aircraft from countries such as Singapore continue to arrive in the vicinity to assist in the retrieval effort. IF YOU'RE READING THIS FOR THE FIRST TIME:Indonesia air traffic control lost contact with AirAsia flight QZ8501 on Sunday morning. The flight was en route to Singapore from Surabaya, Indonesia, with 162 people on board. The plane was last seen on radar over the Java Sea between Belitung island and Pontianak, on Indonesia's part of Kalimantan island, barely an hour after it left Juanda International Airport. Communications logs suggest the pilot was approved to veer left because of poor weather conditions. He then asked air traffic control for permission to climb to 38,000 feet from 32,000. There was no further communication after that.We've also put together the stories of some of the passengers and crew on board the plane as well.Click here. LATEST UPDATES:Wednesday, 31 December 12.10pm: Indonesia's search-and-rescue agency has obtained a sonar image it says is the body of the missing AirAsia jet at the bottom of the Java Sea. The image was spotted about 3km from where the debris was found on Tuesday. It is unclear whether the plane is in one piece or broken up, reported CNN.11:37am: An Indonesian ship, the Bung Tomo, has according to local portal Detik.com retrieved a backpack, child's shoes and food from the waters in the search area.A Super Puma helicopter is also reportedly on its way to the ship to pick up three bodies on board.11:19am: The recovery of bodies is the main priority, not that of debris, according to updates from a press conference involving police, airport officials, AirAsia staff and BASARNAS just held at Juanda airport. Conditions are making it a challenge for the 18 ships currently scouring the area, however, said a Channel NewsAsia reporter on the ground.Police have obtained DNA samples from 93 immediate families of passengers and crew. Authorities are also preparing accommodation near to Bhayankara hospital, where families will be ferried to assist in body identification. The hospital has said they are "100 per cent ready" to commence the identification process.A large part of the identification and DNA extraction processes for the bodies hinges on the condition they are found in, however, a police spokesperson said.The reporter also said nine planes and 16 helicopters are hovering over the search area in a bid to spot more bodies or debris, although some of the helicopters are stranded in central Kalimantan, hampered by poor visibility.As locating bodies is still a priority, finding the plane's fuselage is also crucial as there may still be some trapped inside.10:09am: Some 75 ambulances are on standby, equipped with stretchers, to ferry bodies that arrive at Juanda International Airport in Surabaya to a hospital 10km away, said a Channel NewsAsia reporter on the ground at the airport.None have yet, though, as updates from news agencies say police are conducting DNA tests on the bodies recovered so far. Families will be ferried to the hospital as well to assist in identification, after which the identified bodies will be sent to their respective homes.9:37am: Indonesian search and rescue chief Henry Bambang Soelistyo said in a morning press conference that bad weather has forced his teams into "wait-and-see" mode."Weather is bad currently. High tides and heavy rains. Every element is now in their position ready to make a move when weather improves," he reportedly said. According to CNN, Soelistyo said six bodies in total — five passengers and one crew member — have been recovered so far.Channel NewsAsia cites Soelistyo as saying that the new bodies found consist of two males and a female dressed in a flight attendant uniform. All six have not yet been brought to land at Pangkalan Bun, owing to bad weather.8:27am: Malaysia's chief of Navy Abdul Aziz Jaafar has posted a map of the new search area this morning, as well as the names of the ships deployed to scour the four different sectors, adding up to a total of 28 by 56 nautical miles.
Messages for passengers on board the missing AirAsia flight 8501 are placed on a board at Changi International …Moving messages have been pinned to a board at Terminal 2 of Singapore's Changi Airport, where people penned thoughts expressing their sadness and support over the disaster and loss of lives in post-it notes. The coloured squares were pasted on a board placed outside the relatives' holding area on Level 3.7:24am: Singapore's navy landing ship tank, the RSS Persistence, is headed with two Super Puma helicopters on board to the new search location south of Kalimantan, according to Singapore media. Its estimated arrival time is 10am today. Meanwhile, its fourth ship, a submarine support and rescue vessel called the MV Swift Rescue, is on its way to the area, equipped with sonars and sensors to detect the signals emitted from the black box.7:12am: The search for the plane body, passengers and crew on board QZ8501 resumed at about 5:00am Indonesia time, according to CNN, quoting Indonesia's search and rescue agency.
The littoral combat ship USS Fort Worth (LCS 3) arrives in Singapore. (U.S. Navy photo by Mass Communication Specialist …Adding on to its announcement yesterday that the USS Fort Worth, currently docked in Singapore's Changi Naval Base, is ready to be deployed and can set sail in a day or two, Pentagon spokesperson Rear Admiral John Kirby said the navy also was ready to provide maritime patrol aircraft to "help map the debris field on the surface" as well as sonar equipment if necessary to track down wreckage at the bottom of the sea.The story until now:Slightly less than 60 hours after it was officially declared missing, the first pieces of debris and bodies of victims from AirAsia flight QZ8501 were found on Tuesday evening.The airline's Indonesian branch and the country's search and rescue agency (BASARNAS) confirmed this at 6pm local time. Anguished relatives of passengers and crew screamed and wept upon hearing the news, while others fainted from the shock and overwhelming grief."I am absolutely devastated," said AirAsia Group CEO Tony Fernandes. "This is a very difficult moment for all of us at AirAsia as we await further developments of the search and rescue operations but our first priority now is the wellbeing of the family members of those onboard QZ8501."Recovery phase begins as wreckage, bodies of …
Members of the Search and Rescue Agency SARS carry debris recovered from the sea from missing Indonesia Air Asia flight QZ 8501 at Pangkalan Bun, Central Kalimantan, December 30, 2014 in this photo … more So far, apart from pieces of debris, three bodies — two female and one male — have been retrieved from the Karimata Strait in South East Belitung, roughly 10km from where the plane was last sighted on radar. BASARNAS rescuers spotted three others, but were unable to reach them because of waves reaching heights of between two and three metres.The bodies that are recovered will be sent to a hospital in Surabaya for identification by a team of disaster victim identification officials who are there standing by to receive them, said BASARNAS. Indonesia's police medical center chief also was quoted as saying that families will be better able to assist in identification of the bodies if they are brought directly there.Asked about the black box, BASARNAS chief Henry Bambang Soelistyo said responsibility for it lies beyond them. It has not yet been found.Indonesian president Joko Widodo stressed that the key focus of the country's efforts is on the retrieval and evacuation of passengers and crew from the area, alongside debris from the plane. "We all pray that all families will be given the strength to face this tragedy," he said. He had on Monday night also directed Indonesia's transport ministry to review aviation procedures while seeking comprehensive weather reports from met agency officials for greater airline safety.
Photo taken from an Indonesian search and rescue aircraft over the Java Sea shows possible plane debris from missing …First sightings of objects earlier in the day sent Twitter into a frenzy, as international media raced to confirm reports and locations where they were spotted. Images soon followed of a long yellow piece and an orange and black item that some thought were an emergency slide, a life vest, and a red and white-coloured piece was believed to be a door from the plane.An Indonesian Air Force plane also spotted a "shadow" on the seabed, believed to be the remains of the plane.
A specialist from Singapore's Ministry of Transport's Air Accident Investigation Bureau (AAIB) showcases …Singapore's two specialist teams with two underwater locator beacon detectors will be sent to the sea search area on Wednesday. A landing ship tank with two SuperPuma helicopters has also arrived on site, and will head to a new search location, according to Channel NewsAsia. Two ships from the US and one from China are also bound for the search area, as are surveillance planes from China and South Korea, to back up the ongoing effort.AirAsia is also chartering a dedicated A320 plane for relatives of the ill-fated plane's passengers and crew to visit the search area. The jet, which will leave on Wednesday, will circle the area to allow grieving next-of-kin to pray for their loved ones.On board the missing AirAsia plane are a total of 162 people — 138 adults, 16 children and one infant, making up 155 passengers along with seven crew members (two pilots, four flight attendants and one engineer). The passengers comprise one Singaporean, one Malaysian, one British, three South Koreans and 149 Indonesians, while the crew consists of six Indonesians and one French (the co-pilot). See the full manifest here, and read more about their stories here.Hundreds of distressed relatives remain at Surabaya's Juanda International Airport, where airline and government officials regularly update them in various closed-door sessions. AirAsia Indonesia CEO Sunu Widyatmoko and AirAsia CEO Tony Fernandes are both stationed in Surabaya to be with the families.Singapore's Civil Aviation Authority said a total of 40 registered passenger next-of-kin had taken up an offer to fly to Surabaya to join hundreds of other relatives waiting for updates there. It said it will continue assisting and feeding updates to relatives who choose to stay in Singapore.QZ8501 lost contact with Indonesian air traffic control after 6:14am Indonesia time on Sunday, 42 minutes after departure and slightly more than an hour before it was scheduled to land in Singapore.Reuters reports that the aircraft was between the Indonesian port of Tanjung Pandan and the town of Pontianak, in West Kalimantan on Borneo island, when it went missing without a distress signal.The plane stayed on its submitted flight plan route before it asked for permission to deviate to avoid "bad weather" described by officials as dense storm clouds, strong winds and lightning.State navigation operator AirNav Indonesia revealed the details of the last messages sent between the plane and Indonesian air traffic control, saying that the pilot on board had not explained why he wanted to ascend to 38,000 feet. [Click here]After giving immediate approval at 6:12am Indonesia time to veer left, which the plane then did, Indonesian air traffic control could not permit the jet to rise to that altitude as AirAsia flight QZ8502 was already cruising at that level. The Jakarta Post reports that Indonesian air traffic control then coordinated with its counterpart in Singapore to determine an approved 34,000 feet altitude. When they informed the pilot of the approved height to ascend to at 6:14am, however, they did not receive any response.The pilot in command, Captain Iriyanto, had a substantial total of 20,000 flying hours and over 10 years' experience as a pilot trainer. The first officer, Remi Emmanual Plesel, a total of 2,275 flying hours, said AirAsia, adding that the jet underwent its last scheduled maintenance on 16 November this year.Air Asia chief Tony Fernandes confirmed the plane had been given the all-clear by aviation technicians, was in "good condition" and "has never had any problems whatsoever".Airbus said it would provide full assistance to authorities in charge of the investigation.The Wall Street Journal quoted Inmarsat vice president of external affairs Chris McLaughlin as saying that AirAsia had started deploying satellite communications on some of its A320s that would provide position updates every two minutes, but the QZ8501 plane was not yet upgraded.Essential information AirAsia has established an Emergency Call Centre that is available for family or friends of those who may have been on board the aircraft. The number is +62 212 927 0811 or 031- 869 0855 or 031- 298 6790 (Surabaya).Relatives of passengers are asked to call the following dedicated hotlines:
Malaysia: +60 321 795 959
Indonesia: +62 212 927 0811
Singapore: +65 6307 7688
Korea: 007 9814 206 9940
AirAsia will release further information as soon as it becomes available. Updated information will also be posted on the AirAsia website at www.airasia.com.
Mexico bullfighter, 2 more injured by "smart" bull
 By MARK STEVENSON7 hours ago
MEXICO CITY (AP) — Karla Sanchez San Martin, one of Mexico's few female bullfighters, vowed Tuesday to return to the ring by mid-January, two days after she and several others were gored by what she said was a "very smart" bull.The 26-year-old bullfighter, who fights under the stage name of "Karla de los Angeles," suffered a pair of gashes to the thigh and buttock when she was gored twice by the 495-kilogram (1,090-pound) bull Gamusino."From almost the beginning, he was hunting me," De los Angeles said from the hospital room where she was recovering from a 9 ½ inch (24-cm) gash to the thigh and 6-inch (15-cm) slash to the buttock.De los Angeles was going in for the kill when the bull lifted his head, caught her with a horn and tossed her into the air. Bandaged up, De los Angeles re-entered the ring to finish off the bull."But the bull had already learned," she said, noting he held his head high, making it hard for her to drive the sword in.He caught her a second time with a lifted horn and tossed her to the dirt, goring her again.
Karla Sanchez San Martin, one of Mexico's few female bullfighters, poses for a portrait in her h …A group of four bullfighters' assistants rushed in to carry off the wounded matador, but the bull wasn't done yet.He chased and gored one of the assistants carrying De los Angeles, and broke the ribs of another.Another bull in Sunday's fight leapt over the ring wall, crushing a spectator's face. Another man, identified as a bull breeder, also suffered injuries to his hand.None of the injuries were considered life-threatening."It was one of those afternoons where the accidents happened one after the other, that leaves a bad taste in the mouths of those in the ring and the stands," the Plaza Mexico bull ring wrote in an article on its web site.De los Angeles said of the wounds, "the truth is, right now it hurts a little bit" but "this is not going to discourage me."She said she has a fight on Jan. 18, "and I'm going to be there."
Tracking the Fukushima radioactivity plume across the Pacific
A Tokyo Electric Power Co. official stands in front of Advanced Liquid Processing Systems at the Fukushima Dai-ichi nuclear power plant. (Shizuo Kambayashi / AFP/Getty Images)By DEBORAH NETBURNcontact the reporter How long did it take a radioactive plume to travel the waters of the Pacific from Fukushima, Japan, to the shores of North America?The answer, according to a new study published in PNAS, is about 2.1 years.After an earthquake-triggered tsunami damaged the Fukushima Daiichi nuclear power plant in March 2011, a team of Canadian scientists saw an opportunity to put models of Pacific Ocean current speeds to the test.
Fukushima officials ask for Olympic preliminary events After the tsunami struck, the plant released cesium 134 and cesium 137 into the ocean. The researchers knew that a small percentage of this radioactive material would be carried by currents across the Pacific, eventually reaching the west coast of North America.Computer models could predict when this might happen, but by taking actual samples of the ocean water and testing them for cesium 134 and cesium 137 the scientists could see for certain when it happened.lRelated
SCIENCE West Coast radiation from Fukushima disaster poses no risk, experts say "We had a situation where the radioactive tracer was deposited at a very specific location off the coast of Japan at a very specific time," said John Smith, a research scientist at the Bedford Institute of Oceanography in Dartmouth, Nova Scotia, and the lead author of the paper."It was kind of like a dye experiment," he added. "And it is unambiguous — you either see the signal or you don't, and when you see it you know exactly what you are measuring."The natural radioactivity of seawater is 13 Becqueral per liter (equal to 13,000 Bq per cubic meter. From the article, Fukushima added 1 Bq/cubic meter, which means Fukushima added 0.007% to the radiation of the water off the US Pacific Coast. You would get more radiation from the granite…Just three months after the tsunami, Smith and his team began sampling ocean water from as far as 1,500 kilometers (930 miles) off the coast of British Columbia. They took measurements from the same sites every June from 2011 to 2013, collecting 60 liters of water and then analyzing it for traces of cesium 134 and cesium 137.In June of 2011 they detected no signature from the Fukushima disaster at any of the test sites. In June of 2012 they found small amounts of the Fukushima radiation at the westernmost station, but it had not moved any closer to shore. By June of 2013, however, it had spread all the way to the continental shelf of Canada.The amount of radiation that finally made it to Canada's west coast by June 2013 was very small — less than 1 Becquerels per cubic meter. (Becquerels are the number of decay events per second per 260 gallons of water.) That is more than 1,000 times lower than acceptable limits in drinking water, according to the Environmental Protection Agency.Computer models that match fairly closely with the hard data that Smith collected suggest that the amount of radiation will peak in 2015 and 2016 in British Columbia, but it will never exceed about 5 Becquerels per cubic meter."Those levels of cesium 137 are still well below natural levels of radioactivity in the ocean," said Smith.  Because of the structure of the currents, the radiation levels in Southern California are expected to peak a few years later, but by that time they will be even smaller than the highest levels of radiation expected in Canada."Even when levels are small like this, it is important to collect systematic data so we can better predict how another event might move through the ocean," said Ken Buesseler, a marine chemist at Woods Hole Oceanographic Institute, who was not involved in the study.Buesseler leads a citizen scientist group called Our Radioactive Oceans, to track the arrival of the Fukushima radioactivity plume in the U.S. He noted that his group's results matched Smith's."What we really need for understanding what happens after events like Fukushima is data like this on a regular basis," he said.    Science rules! Follow me @DeborahNetburn and "like" Los Angeles Times Science & Health on Facebook.
2-year-old accidentally kills his mom in Wal-Mart
 By NICHOLAS K. GERANIOS1 hour ago HAYDEN, Idaho (AP) — A 2-year-old boy accidentally shot and killed his mother after he reached into her purse at a northern Idaho Wal-
Mart and her concealed gun fired, authorities said Tuesday.Veronica J. Rutledge, 29, was shopping with her son and three other children, Kootenai County sheriff's spokesman Stu Miller said. Rutledge was from Blackfoot in southeastern Idaho, and her family had come to the area to visit relatives.She had a concealed weapons permit. Miller said the young boy was left in a shopping cart, reached into his mother's purse and grabbed a small-caliber handgun, which discharged one time.Deputies who responded to the Wal-Mart found Rutledge dead, the sheriff's office said."It appears to be a pretty tragic accident," Miller said.The victim's father-in-law, Terry Rutledge, told The Associated Press that Veronica Rutledge "was a beautiful, young, loving mother.""She was not the least bit irresponsible," Terry Rutledge said. "She was taken much too soon."The woman's husband was not in the store when the shooting happened at about 10:20 a.m. Miller said the man arrived shortly after the shooting. All the children were taken to a relative's house.The shooting occurred in the Wal-Mart in Hayden, Idaho, a town about 40 miles northeast of Spokane, Washington. The store closed and was not expected to reopen until Wednesday morning.Brooke Buchanan, a spokeswoman for Wal-Mart, said in a statement the shooting was a "very sad and tragic accident.""We are working closely with the local sheriff's department while they investigate what happened," Buchanan said.There do not appear to be reliable national statistics about the number of accidental fatalities involving children handling guns.In neighboring Washington state, a 3-year-old boy was seriously injured in November when he accidentally shot himself in the face in a home in Lake Stevens, about 30 miles north of Seattle.In April, a 2-year-old boy apparently shot and killed his 11-year-old sister while they and their siblings played with a gun inside a Philadelphia home. Authorities said the gun was believed to have been brought into the home by the mother's boyfriend.Hayden is a politically conservative town of about 9,000 people just north of Coeur d'Alene, in Idaho's northern panhandle.
This photo shows Wal-Mart with a shopping cart in the foreground in Hayden, Idaho, Tuesday, Dec. 30, 2014. A 2-year-old …Idaho lawmakers passed legislation earlier this year allowing concealed weapons on the state's public college and university campuses.Despite facing opposition from all eight of the state's university college presidents, lawmakers sided with gun rights advocates who said the law would better uphold the Second Amendment.Under the law, gun holders are barred from bringing their weapons into dormitories or buildings that hold more than 1,000 people, such as stadiums or concert halls.___Associated Press writer Kimberlee Kruesi in Boise, Idaho, contributed to this story.
Mars Orbiter Spies Alien Ice 'Spiders' Ian O'Neill, Discovery News   |   December 30, 2014 04:07pm ET
NASA's Mars Reconnaissance Orbiter has spied these strange spider-like shapes, formed by frozen carbon dioxide, on the Martian surface in the planet's south polar region.
Credit: NASA/JPL/University of Arizona
The Martian surface is covered with a diverse array of landscapes and features, but this is one of the weirdest.Imaged by the High-Resolution Imaging Science Experiment (HiRISE) camera on board NASA's Mars Reconnaissance Orbiter (MRO) that orbits the planet 150 miles overhead, strange spider-like formations cover this south polar region of Mars. And these are truly alien features that are found nowhere on Earth.PHOTOS: The Psychedelic Landscape of Mars So what are they? Is Mars infested with arachnids? Or is it some sort of giant mold? Sadly, it's neither, it's actually a fascinating season-driven phenomena that HiRISE scientists call "araneiform" terrain.Araneiform means, perhaps unsurprisingly, "spider-like" and the term applies to other features that have a "spider", "caterpillar" or "starburst"-like shape, according to planetary scientist Candice Hansen who described the same south pole region in an earlier HiRISE image release.The Martian climate is so cold that even carbon dioxide will freeze from the atmosphere and accumulate as ice on the surface during winter. During spring, the carbon dioxide will sublimate back into the atmosphere as it is heated by a strengthening sun.ANALYSIS: Weird Geological Features Spied on Mars Carbon dioxide ice on Mars does not melt into a liquid state; it bypasses the liquid phase and sublimates straight from a solid into a vapor. This seasonal process therefore creates its own type of erosion on the Martian landscape."This particular example shows eroded channels filled with bright ice, in contrast to the muted red of the underlying ground," writes Hansen. "In the summer the ice will disappear into the atmosphere, and we will see just the channels of ghostly spiders carved in the surface." [Amazing Mars Photos by MRO]Earth's atmospheric temperature does not drop as low as Mars', so carbon dioxide ice (or "dry ice") does not form naturally. Therefore, there is no terrestrial analog of these alien spider channels — it is purely a Mars phenomenon.ANALYSIS: On Mars, Dry Ice 'Smoke' Carves Up Sand Dunes"This is truly Martian terrain — this type of erosion does not take place anywhere naturally on earth because our climate is too warm," adds Hansen.Planetary scientists are therefore very interested in understanding these kinds of erosional processes; they provide us with a very privileged view into thechanging seasons on the Red Planet and how very different erosional processes on an alien world continue to shape the dynamic Martian terrain.Special thanks to @HiRISE
Giant Invasive Crab Caught Walking Down The Street In Hawaii The Huffington Post  |  By James Cave Earlier this month, Holly Cantere looked up to see a 4.8-pound coconut crab walking down a busy street in her suburban Honolulu neighborhood."It just kept walking, like there was not a care in the world when it crossed the street,"she told KHON-2. "Everybody slowed down like it was a pedestrian."The largest terrestrial arthropods in the world, coconut crabs can grow as big as nine pounds and three feet wide, and they can live as long as 120 years. They've been known to shred trash cans, eat cats and tear up gardens. They're so avaricious that one theory to explain Amelia Earhart's demise says she didn't drown, but crashed on the remote Nikumaroro atoll and was eaten by coconut crabs that then scattered her bones.They got their name because while mere humans need a machete to tear into a coconut, the crab's strong pincers can easily crack one.Although they are native to islands throughout the Pacific and Indian oceans, coconut crabs (or "robber crabs" because they scamper off with your stuff) are seldom found in the continental United States and are considered an invasive species in Hawaii.Story continues below…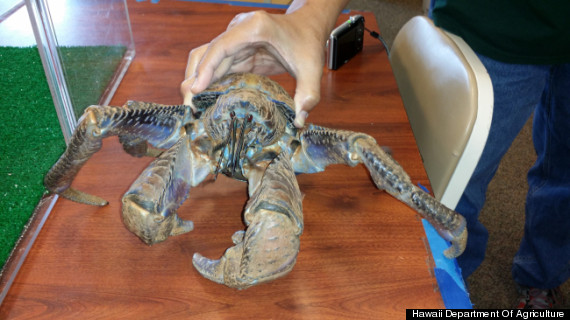 This coconut crab was spotted crossing a busy street in Honolulu, Hawaii, on Dec. 21, 2014. It was the first coconut crab captured there since 1989.Looking for help, Cantere bravely packed the neighborhood interloper in a box and called the state's department of agriculture. The crab is now quarantined — nobody knows where it came from or how it got there — and once cleared, it will end up in an exhibit at the Honolulu Zoo."It's a rare event that anyone finds a coconut crab in Hawaii," Robert Toonen, an associate researcher at the University of Hawaii Institute of Marine Biology, told The Huffington Post. The last time the department of agriculture found one in public in Hawaii was in 1989. (Toonen surmised it was probably meant for someone's holiday dinner and escaped; coconut crabs that eat a diet heavy in coconuts are reportedly tasty.)According to Toonen, an infestation of coconut crabs in Hawaii would spell disaster for native species of birds and plants. He said they "eat any rotting material that falls to the ground, including leaves, coconuts and carrion … if they're looking for food, they'll eat anything they can put their claws on. A lot of the native species here are already under threat from other invasive species, so having one more nonnative predator is a concern."Coconut crabs can grow as big as a trash can, as this one reportedly did outside a construction site.While coconut crabs aren't allowed in Hawaii today, a 2011 study published by the scientific journal Plos One shows that a different species of endemic land crabs — Geograpsus severnsi — once roamed the forested mountains there. Though smaller — the size of a human hand — these crabs were discovered to have lived in Hawaii until settlers (and their pigs, dogs and rats) hunted them into extinction.Clarification: Language has been adjusted to specify more accurately the native range of the coconut crab species.ALSO ON HUFFPOST: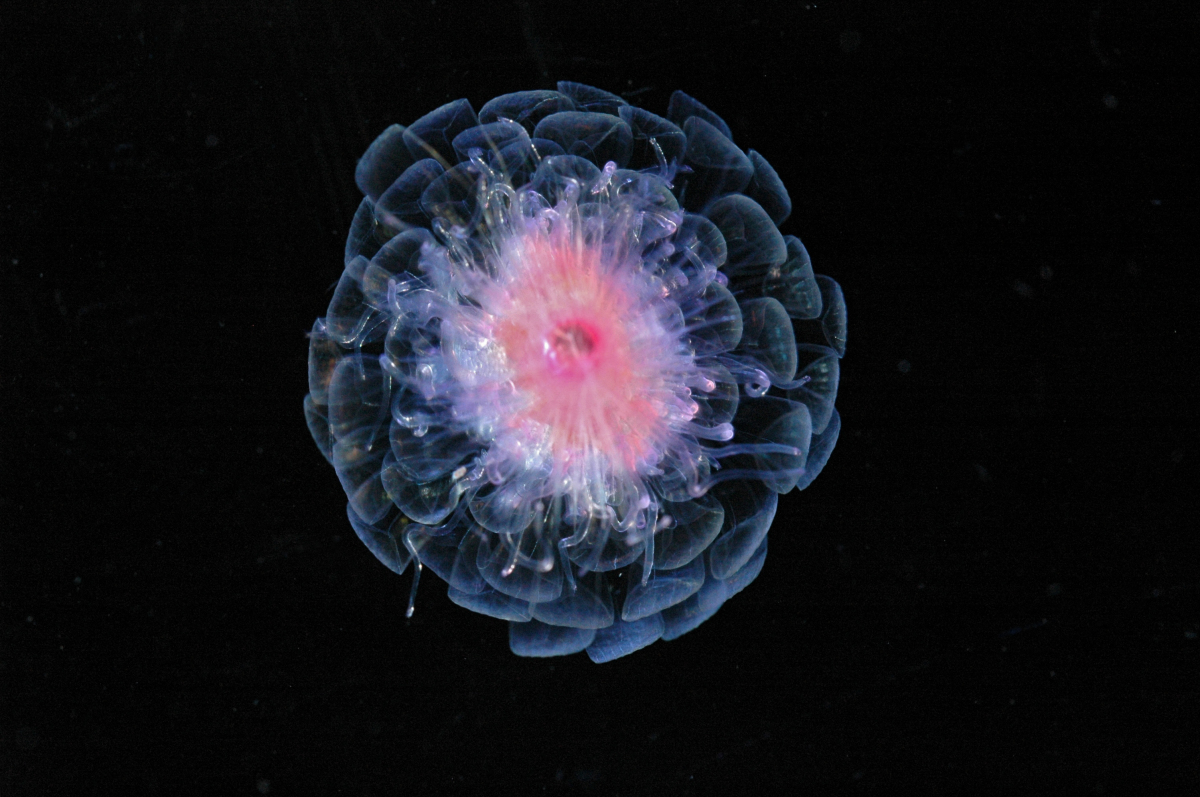 Photo by Larry Madin, ©Woods Hole Oceanographic Institution







Pollution Around the World: A Matter of Choices DEC. 30, 2014 Photo
A view of the Eiffel Tower through smog in March. Several regions of France experienced high levels of particulate pollution that month. CreditPatrick Kovarik/Agence France-Presse — Getty Images Michael GreenstoneA few weeks ago, I wrote about China and India's challenges with high particulate matter pollution — widely believed to be the mostharmful form of air pollution. A chart comparing air pollution levels caught many eyes because it showed the severity of the problem in China, and even more in India.It also showed that Europe is slightly more polluted than the United States. With the European Union's climate leadership, including acap-and-trade program for greenhouse gases, some might find this surprising.The World Health Organization considers fine particulate matter pollution levels higher than 10 micrograms per cubic meter to be unsafe. The majority of American cities are in the safe zone, with the average pollution level at 9.6. Thirty-three percent of cities are above the W.H.O. standard. Those cities tend to be geographically dispersed throughout the United States, but are predictably cities with heavy industry and driving, like Cleveland, Chicago, Los Angeles and Philadelphia. Outside of the W.H.O., the United States has its own particulate matter standard of 12 micrograms per cubic meter. The pollution in 13 percent of American cities is higher than that.Europe is a different story. The average European city has pollution levels that are double what the W.H.O. considers safe, at 21.7 micrograms per cubic meter. In total, 93 percent of Europe's cities have unsafe levels of pollution when measured against the W.H.O.'s standards. The E.U.'s standard, against which member countries base their regulations, is much more lax than both the W.H.O. and the American standards, at 25 micrograms per cubic meter. Only a quarter of the E.U.'s cities fail to meet that standard. In the United States, only Fresno, Calif., would.Another defining characteristic about Europe's pollution is that it is relatively confined to certain areas. In fact, while the overall pollution is worse than in the United States, northern Europe (Scandinavia and the Baltic States) has the same average pollution level as our nation. Western Europe (Germany and west) jumps up to about 16, and the eastern and Mediterranean regions are around 26 micrograms per cubic meter. Turkey has particularly high pollution levels and relatively low levels of income by European standards. With Turkey taken out of the picture, Europe's average drops to 18.7.India, Even More Polluted Than China Percentage of cities grouped by levels of fine-particulate matter in the air.Less than 10 micrograms per cubic meter10 to 19.9 20 to 49.9 U.S. Europe China India 65%
AirAsia Zest Plane Overshoots Runway In Wet Weather Published Dec 30 2014 03:25 PM EST The Associated Press Passenger Plane Overshoots Runway Another AirAsia passenger plane is having trouble. One overshot the runway in the Philippines and weather had something to do with the incident.  Wet weather caused more trouble for AirAsia Tuesday after a plane overshot a runway.The AirAsia Zest plane skidded off the runway, getting stuck in a muddy field at an international airport in the central Philippines after landing from Manila in windy weather, officials said. There were no reports of injuries; 159 people were on the plane.Crew members launched emergency slides to help passengers get off the Airbus A320-200.Initial reports indicated that three of the plane's tires got stuck in the mud, said Civil Aviation Authority of the Philippines spokesman Eric Apolonio. He said the busy airport would be closed to air traffic until the stalled aircraft, which likely sustained some damage, is towed away from near the runway's end.A tropical storm has set off landslides and flash floods in the southern and central Philippines, leaving at least 31 people dead and seven missing.(MORE: Tropical Storm Slams Philippines)Kalibo town, 350 kilometers (217 miles) south of Manila, is a busy gateway to the Boracay beach resort, a popular tourist destination.The accident came after an AirAsia plane crashed into the Java Sea on Sunday during a flight from Indonesia to Singapore with 162 people on board. Bloated bodies and debris were seen floating in Indonesian waters Tuesday.It also came two days after another incident involving an AirAsia Zest plane. On Sunday, a jet operated by the carrier developed a tire problem in the central Philippine city of Tagbilaran while its 184 passengers and crew were boarding, prompting the airline to cancel the flight to Manila, officials said.Budget carrier AirAsia Zest is partly owned by AirAsia Philippines.MORE ON WEATHER.COM: AirAsia Flight Crashes Into Java Sea 1 of 40
Commander of Indonesian Air Force 1st Operational Command Rear Marshall Dwi Putranto, center, shows the airplane parts and a suitcase found floating on the water near the site where AirAsia Flight 8501 disappeared, during a press conference at the airbase in Pangkalan Bun, Central Borneo, Indonesia, Tuesday, Dec. 30, 2014. (AP Photo/Dewi Nurcahyani) 
Brightly burning Lovejoy comet to be visible with naked eye By Michael Walsh11 hours agoYahoo News
Comet Lovejoy (2014 Q2) was spotted from Australia on Dec. 13, 2014.You won't need fancy equipment to watch a dazzling space rock soar across the night sky early next month.The Lovejoy comet, known to the scientific community as C/2014 Q2, is visible with the aid of binoculars throughout much of January. And it will be at its brightest on Jan. 7, 2015.People in the countryside — far from the light population of major cities — will get to scope out the comet with nothing but their eyes.Terry Lovejoy, an Australian amateur astronomer, discovered the comet on Aug. 17, 2014, from his rooftop observatory in Brisbane, Queensland. It is his fifth comet discovery."To me, all comets are interesting because they are unpredictable. Comet C/2014 Q2 has brightened considerably, and might continue to brighten as it approaches perihelion (January 30)," meteorite specialist Dr. Denton Ebel said to Yahoo News in an interview.Astronomers gauge the brightness of a star using a magnitude scale on which the brightest have lower numbers.At the time of its first sighting, the comet was burning at an apparent magnitude of 15, but that number continued to drop, and the comet is expected to reach its brightest point next month.Joe Rao, a guest lecturer at New York's Hayden Planetarium, thinks it could reach magnitude 4.6 around Jan. 7, when it's closest to Earth.This, he explained on Space.com, would make it the brightest comet in the night sky since Comet Holmes in October 2007.Rao said that Lovejoy will be slightly brighter than Eta Ursae Minoris, which is the faintest of the four stars that form the Little Dipper's bowl. So, if you can see that, you will be able to see the comet.David Williams, former director of the St. Cloud State University Planetarium, said Lovejoy will travel through the constellations of Lepus and Orion and into the constellation of Taurus."It will be approximately 44,000,000 miles or about one half astronomical unit (an A.U. is the distance from Earth to the sun)," he wrote in the St. Cloud Times. "Toward the end of January, this comet will brighten a little bit as it continues to approach the sun."NASA astronomer Mitzi Adams says that comets are exciting in part because of how quickly they move."Comets are fun to watch because they move a large distance in the sky from one day to the next.  If an observer looks for a comet on two consecutive days at the exact same time, a comet will have moved quite a bit in the sky," she told Yahoo News. "Indeed, one can observe cometary motion, if patient, on the same night."The comet has an orbital period of roughly 11,500 years, so if you miss it this time around you won't get another chance."The comet is a long period comet," Adams said, "it may pass by Earth again in about 8000 years."Ebel says the comet will be below Orion's left foot (the bright star Rigel) in the evening of Jan. 7 and will climb higher in the sky as the month progresses."Each comet apparition gives us the chance to learn more about our solar system," he said, "particularly the question of the origin of water in the inner solar system."
Accident de car en Allemagne: Quatre morts et plus de 40 blessés
Par 20minutes.fr | 20minutes.fr – il y a 15 heures
20minutes.fr/20minutes.fr – Géolocalisation de la ville de Bad Hersfeld en Allemagne, 20 Minutes NEWS À LA UNE
Le décès de six SDF rouvre le débat sur le "mal-logement" MONDE – Des personnes âgées voyageaient à bord du véhicule…Quatre personnes ont trouvé la mort et plus de quarante ont été blessées mardi dans un accident de car sur une autoroute de l'ouest de l'Allemagne, a-t-on appris auprès de la police.Le car à bord duquel voyageaient des personnes âgées a quitté la route aux alentours de 10h30 locales puis fait plusieurs tonneaux dans une pente boisée, entre Kirchheim et Bad Hersfeld (centre).Une voiture a perdu le contrôleSelon les premiers éléments de l'enquête, le véhicule parti du Bade Wurtemberg (sud) et qui se rendait à Leipzig (est) a été heurté par une voiture dont le conducteur avait perdu le contrôle, pour une raison inconnue.A la mi-journée, cinq hélicoptères de secours ont atterri sur l'autoroute, où la circulation a été interrompue, pour évacuer les blessés.