Forget fireworks, Mexico's Popocatépetl volcano puts on an explosive New Year's show Published January 02, 2015 Fox News Latino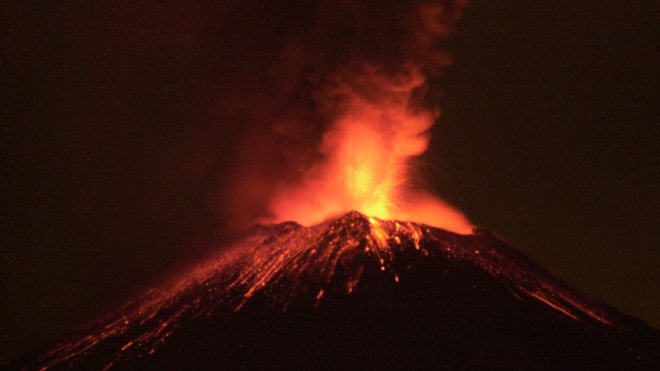 383484 01: The Popocatepetl volcano spews rocks and ash early December 19, 2000 in central Mexico. Centuries after its last catastrophic eruption, the volcano is showing signs of activity and has forced the evacuation of people from villages nearby. (Photo by Susana Gonzalez/Newsmakers)Many places around the globe ring in the New Year with fireworks, but Mother Nature gave residents of one Mexican town a very explosive show to celebrate the arrival of 2015.According to statistics compiled by Mexico's National Disaster Prevention Center, the infamous Popocatépetl volcano erupted almost 30 times in less than 24 hours
 leading up to 2015 and prompted the Mexican government to ask people living within 6 miles of the mountain to evacuate.Besides the 28 reported eruptions noted by Mexico's disaster agency, the volcano also released smoke more than 450 times and at least five strong tremors were also felt in the area.The active volcano, which is located about 40 miles from Mexico City, emitted gas and ash some two miles into the sky.Popocatépetl is the second highest peak in Mexico
.Mexico's National Disaster Prevention Center laboratory keeps a round-the-clock watch on Popocatépetl, with anywhere from six to 15 technicians analyzing data for signs of a full-scale eruption, which they can never fully anticipate.Technicians work in a 20-by-30-foot (6-by-9-meter) laboratory resembling those that once housed old giant supercomputers, everything plain white with a server at one end and screens all around. Five remote-controlled cameras positioned on the side of the mountain emit real-time images, while sensors feed data to the constantly scrolling seismographs as the crew and volcanologists analyze the concentration of gases and changes in the shape of the mountain. The loudest laboratory sound is a regular ping that alerts technicians to every seismic shift, at least a half dozen an hour.The data helps set the "volcano stoplight," a three-color system in which green means little activity, yellow means warning and red starts the evacuation process — something that has occurred only twice since 1994, when the volcano awoke again after sitting dormant for seven decades."It's one of the most advanced laboratories of its kind in the world, and the scientists in charge are using the best methods," said Michael Sheridan, a volcanologist at the University of Buffalo in New York who has studied Popocatépetl. "It is very difficult to predict the behavior of a volcano that has not had an eruption in recent history."The Associated Press contributed to this report.
Homes evacuated southeast of MelbourneAAP January 3, 2015, 5:49 pm Homes have been evacuated as an out-of-control bushfire rages in Melbourne's southeast.Evacuated resident Barbara Tipper said she had noticed the fire moving towards her home in Bittern from Hastings when she rushed home to pack her personal belongings.As she left Bittern, the roads were jammed as other residents fled the fire, Ms Tipper said."It was getting pretty scary," she told ABC 24 on Saturday."There's lots of smoke and we have no hope if a fire gets in here."Dangerous winds are expected to hamper fire fighting efforts as crews battle the fast moving blaze.An emergency warning has been issued by the Country Fire Authority for Hastings, Bittern and Crib Point.A wind change across the bay was expected to increase dangerous conditions not long after 5pm on Saturday.The CFA says spotfires and embers are starting up to half a kilometre ahead of the main fire and will impact estates south of Reid Parade.Those in the area have been told to leave and that emergency services may not be able to help if they decide to stay.The fire was first reported just after 2pm.Trains have been suspended between Frankston and Stony Point.
Homes lost: Extreme fire danger forecast for SA, Victoria Yahoo7 and Agencies January 3, 2015, 5:02 pm South Australia is facing the worst bushfires since 1983 Ash Wednesday, authorities say, with residents warned their lives and homes are at risk.Close to 10,000 hectares have been ravaged by fire in the Adelaide Hills area.
An emergency vehicle driving past the head of the flames at the Moyston fire.There are 500 firefighters fighting the out-of-control blaze.More than five homes and a number of sheds are believed to have been destroyed.Emergency fire warnings for Hastings, Bittern and Crib Point in Victoria have been issued. Residents of these areas are being urged to leave immediately.Lightning and very strong winds forecast are set to exacerbate conditions into the evening, authorities say.Trains have been suspended on a line southeast of Melbourne as a grassfire reported near Hastings poses a threat to homes and factories.Trains have been suspended from Frankston to Stony Point, but replacement buses cannot operate at the current time, Metro said.A blaze at Sampson Flat continues to burn out of control on all flanks, the South Australia Country Fire Service said and the Adelaide Hills area is facing "an incredibly dangerous fire"."Your life is at risk and we are asking you to implement your bushfire survival plan," a spokesman said.Residents of 19 towns in the Adelaide Hills are being urged to leave immediately.The CFA has warned anyone in areas affected by the Sampson Flat fire to leave now.
A bushfire in South Australia's Mount Lofty Ranges is threatening lives and homes, authorities say. Photo: ABCThe areas include: Mount Pleasant, Kersbrook, Gumeracha, Mount Torrens, Woodside, Lobethal, Inglewood, Upper Hermitage, Breakneck Hill, One Tree Hill township, Little Para Reservoir, Chain of Ponds, Houghton, Cudlee Creek, Lower Hermitage, Charleston, Birdwood, Lenswood, and Williamstown.Five homes have been destroyed in South Australia and one in Moyston, Victoria.It's not yet known how many homes have been destroyed in the Sampson Flat blaze as it's not safe to get into the Upper Hermitage area that's affected, said Brenton Eden of the CFS."But it will be more than five" – the number of properties already reported lost on Friday, he said.Two of the lost homes belong to firefighters who have been battling the out-of-control bushfire while another belongs to a police officer also helping in the emergency.Meanwhile, Mr Eden urged residents in a host of places to find safety now, ahead of an expected deterioration in conditions."Winds at the moment are quite benign, so now is the time when people should be packing up their valuables, taking care of their stock and getting out of there."Please, heed this warning."We do not want to be reporting that we have lost any lives."
Extreme weather warning Yahoo!7 Pty Ltd VIC and SA residents are bracing themselves for another day of extreme temperatures as water bombing continues in areas that have already lost homes.
AirAsia QZ8501: Main wreckage of plane found, says Indonesian search and rescue agency Yahoo Newsroom – 20 hours ago
REPORTING FROM SINGAPORE [Times are in GMT+8, unless specified] THE LATEST 1:57PM: Search and rescue crew are sending underwater remote-operated vehicles to take underwater pictures of the location where main
wreckage and two large objects were spotted but rough seas are making it difficult. 1:50PM: Biggest batch of bodies sent to Surabaya from Pangkalan Bun – 9 males, 3 females, reportsChannel NewsAsia. Forensics team are trying to identify the bodies retrieved so far but only some are undergoing autopsies as some families have declined, citing religious or cultural reasons 10:53AM: Main wreckage of plane has been located, says Indonesia's search and rescue agency. Two large objects roughly 30 metres under the sea have been spotted near oil spills in the area near Pangkalan Bun.9.19AM: The formation of ice in storm clouds caused by extreme bad weather may have caused the crash of AirAsia flight QZ8501, Indonesia's weather officials said  in the first official word from Jakarta on the reasons behind Southeast Asia's latest aviation tragedy. "The most probable weather phenomenon is that icing caused the plane engines to be damaged," Indonesia's Met agency says in a14-page report.912 AM: Late Friday, Indonesia's Transport Ministry says flight QZ8501 had been flying on an unauthorised schedule when it crashed. The airliner has now been suspended from flying the Surabaya-Singapore route."It violated the route permit given, the schedule given, that's the problem," said director general of air transport Djoko Murjatmodjo, adding that the permit for the route would be frozen until investigations were completed.A statement from transport ministry spokesman J.A. Barata said AirAsia had not been permitted to fly the Surabaya-Singapore route on Sundays and had not asked to change its schedule. AirAsia Indonesia is only allowed to ply that route on Mondays, Tuesdays, Thursdays and Saturdays, but had done so on Sundays as well. The crashed flight had departed last Sunday (Dec 28).8AM:  Search resumes on Day 7, a week after AirAsia flight QZ8501 went down in the Karimata Strait. Malaysia's Chief of Navy tweets that the underwater search area has been widened to 57 by 10 nautical miles and that windy, rough seas, with waves as high as four metres, are still hampering the search.The story so far DAY 6 (Friday): A total of 30 bodies have been recovered by search teams. Of the 30 recovered so far, 21 were found on Friday, many by a U.S. Navy ship, the USS Sampson.Col. Yayan Sofiyan, commander of the warship Bung Tomo told MetroTV his team has recovered seven bodies from the sea, with some still fastened in their seats. He also told Metro TV that the tail of QZ8501 was spotted.Three more passengers on board the flight were identified by the Disaster Victim Identification Police Department of Republic of Indonesia, said AirAsia in a statement. They are Grayson Herbert Linaksita, Kevin Alexander Soetjipto and Khairunisa Haidar Fauzi. Khairunisa was a flight attendant on QZ8501. Tony Fernandes, Group CEO of AirAsia flew to Palembang to hand over her remains to her family and attend her burial. Bad weather, which hindered the search for the past several days, remains a concern. Rain, strong winds and high waves have been forecast until Sunday.We've also put together the stories of some of the passengers and crew on board the plane. Read them here.DAY 5 (Thursday): Bad weather and strong waves between three to four metres high hampered search efforts again on the first day of 2015.An official said it could take a week to locate the black box recorder. So far, search teams have not detected any "pings" from the black box.So far, nine bodies have been recovered. Indonesian search agency BASARNAS says eight of nine bodies have been sent to Bhayangkara Hospital for identification.BASARNAS added that equipment that can detect material underwater has also arrived. A team of French and Singaporean experts will also join the search for the black boxes.Over 90 vessels and aircraft — including two Singapore vessels with underwater locator beacon detectors — from the US, Malaysia and South Korea, have been dispatched to the sea search area to assist in locating wreckage, says a statement by AirAsia. Singapore now has a total of five ships deployed in the search.
The grave marker of Hayati Lutfiah, a passenger of AirAsia QZ8501, is pictured at a cemetery in Surabaya January …Two bodies were identified on Thursday – Hayati Lutfiah Hamid, and university student Kevin Alexander Soetjipto. Hayati's body was on Thursday evening buried by about 150 people. Hayati — the first victim to be buried — was identified in post-mortem through her thumbprint, personal belongings, a necklace with her name on it and her identity card.Families are ferried from Juanda International Airport in Surabaya, to accommodation nearer the hospital, so they can more quickly ID the recovered bodies. The family support centre was closed and moved to the hospital. Local police have also collected DNA samples and identifying information from the immediate relatives of 93 passengers and crew. At Bhayankara hospital, cold containers are ready to store up to 150 bodies, while 130 ambulances stand ready.Recovery continues as bodies from AirAsia QZ8501 …
Indonesian military personnel carry coffins containing the bodies of victims of AirAsia Flight 8501 upon arrival at Juanda Naval Airbase in Surabaya, East Java, Indonesia, Friday, Jan. 2, 2015. After … more Share to FacebookShare to TwitterShare to PinterestDAY 3 (Tuesday): Indonesian president Joko Widodo stressed that the key focus of the country's efforts is on the retrieval and evacuation of passengers and crew from the area, alongside debris from the plane.Singapore's Civil Aviation Authority said a total of 40 registered passenger next-of-kin have been flown to Surabaya to join hundreds of other relatives there. It said it will continue assisting and feeding updates to relatives who choose to stay in Singapore.Moving messages have been pinned to a board at Terminal 2 of Singapore's Changi Airport, where people penned thoughts expressing their sadness and support over the disaster and loss of lives in post-it notes.Messages for passengers on board the missing AirAsia flight 8501 are placed on a board at Changi International …SUNDAY (Day 1): QZ8501 loses contact with Indonesian air traffic control after 6:14am Indonesia time on Sunday, 42 minutes after departure and slightly more than an hour before it was scheduled to land in Singapore.On board are a total of 162 people — 138 adults, 16 children and one infant, making up 155 passengers along with seven crew members (two pilots, four flight attendants and one engineer). The passengers comprise one Singaporean, one Malaysian, one British, three South Koreans and 149 Indonesians, while the crew consists of six Indonesians and one French (the co-pilot). See the full manifest here, and read more about their stories here.Reuters reports that the aircraft was between the Indonesian port of Tanjung Pandan and the town of Pontianak, in West Kalimantan on Borneo island, when it went missing without a distress signal.The plane stayed on its submitted flight plan route before it asked for permission to deviate to avoid "bad weather" described by officials as dense storm clouds, strong winds and lightning.State navigation operator AirNav Indonesia revealed the details of the last messages sent between the plane and Indonesian air traffic control, saying that the pilot on board had not explained why he wanted to ascend to 38,000 feet. [Click here]After giving immediate approval at 6:12am Indonesia time to veer left, which the plane then did, Indonesian air traffic control could not permit the jet to rise to that altitude as AirAsia flight QZ8502 was already cruising at that level. The Jakarta Post reports that Indonesian air traffic control then coordinated with its counterpart in Singapore to determine an approved 34,000 feet altitude. When they informed the pilot of the approved height to ascend to at 6:14am, however, they did not receive any response.The pilot in command, Captain Iriyanto, had a substantial total of 20,000 flying hours and over 10 years' experience as a pilot trainer. The first officer, Remi Emmanual Plesel, a total of 2,275 flying hours, said AirAsia, adding that the jet underwent its last scheduled maintenance on 16 November this year.Essential informationAirAsia has established an Emergency Call Centre that is available for family or friends of those who may have been on board the aircraft. The number is +62 212 927 0811 or 031- 869 0855 or 031- 298 6790 (Surabaya).Relatives of passengers are asked to call the following dedicated hotlines:Malaysia: +60 321 795 959
Indonesia: +62 212 927 0811
Singapore: +65 6307 7688
Korea: 007 9814 206 9940
AirAsia will release further information as soon as it becomes available. Updated information will also be posted on the AirAsia website at www.airasia.com.
The best countries to retire in 2015 By Mandi Woodruff15 hours ago As luxurious as it sounds, retiring abroad can often make a lot more financial sense than living out your golden years close to home. Deciding where to lay down roots outside of the U.S. is the tricky part. Each year, International Living Magazine releases its Global Retirement Index to help point retirees in the right direction. The survey relies on a combination of  first-person accounts from their legion of international correspondents and editors, as well as data from the World Bank and the World Health Organization. Countries are ranked based on a range of factors, including real estate, cost of living, ease of fitting in, health care costs/quality, infrastructure, and climate.For the full index, which ranks 25 countries, check out the report here. We've highlighted the top 10 below:10. Thailand (Last year's rank: 10)
Chiang Mai, Thailand (Thinkstock)With its low cost of living and wide array of entertainment and arts offerings, Thailand has long been a popular destination for American expats. According to International Living, North American influences in major cities like Bangkok and Chiang Mai make it easy to feel right at home (many of the locals speak English). And the cost of living is so low that a couple could live comfortably on $1,500 a month, which would include housing. A routine doctor's visit costs around $30 and you can find a decent health insurance package for $300 a month.9. Portugal(Last year's rank: No. 15)
Algarve, Portugal (Thinkstock) Portugal cracked the top 10 this year, owing to its great climate (warm and sunny in the south and cooler up north), low cost of living, strong infrastructure, and proximity to Spain. "English is widely understood, especially in the large cities, and—combined with the warm Portuguese hospitality—makes it easy to settle in and feel at home, whether you prefer sophisticated urban environments like Lisbon or one of Portugal's many beach communities," says International Living.8. Colombia(Last year's rank: No. 6)
Taganga, Colombia (Thinkstock)Colombia is one of the most affordable countries on this year's index; a couple could live comfortably on just $1,200 a month, according to International Living. But it's truly establishing itself as a haven for expats looking for excellent health care on the cheap. Its first-rate medical facilities have attracted a booming expat population in major cities like Bogotá and Medellín, according to IL contributing editor Michael Evans. The South American country's biodiversity is a huge draw for foreigners as well.  "Colombia is the second-most biodiverse country on the planet. It has beaches, jungles, deserts, and a few steamy volcanoes," Evans says. "You'll never get bored." 7-6. Spain & Malta (Tie)
Valencia, Spain (Thinkstock)[Last year's rank: Spain (5) and Malta (7)]Spain is one of the more expensive European destinations, but it still has one of the lowest costs of living on the Continent. A couple could live well in Spain on about $2,600 per month, including rent, according to IL. It tied with Malta this year. For what the small island nation lacks in size, Malta makes  up for in year-round sunshine, excellent health care and low crime rates.5. Costa Rica(Last year's rank: 4)
Costa Rica's Arenal National Park (Thinkstock)Costa Rica earned top marks this year for its low cost of living, entertainment/arts offerings and the ability of expats to fit in with the locals. It helps that a lot of locals speak English and the tourist-friendly country is used to outsiders.4. Malaysia
(Last year's rank: 3)
Kuala Lumpur, Malaysia (Thinkstock)Malaysia is a great base for expats looking to travel throughout Southeast Asia while still living comfortably. Cost of living is about $1,500 a month for a couple, according to IL, and public transportation is ubiquitous enough that cars aren't necessary. A basic doctor's visit costs about $15.  It's the highest-ranking Asian country on this year's index.3. Mexico(Last year's rank: 7)
Mexico City (REUTERS/Carlos Jasso)Mexico took a big leap this year, sailing into the top 3. It's a great starting point for Americans looking to test their travel skills abroad without moving too far from home. Its proximity to the U.S. is a major plus, not to mention the fact that it's relatively easy to find familiar brands and services there.  "In Mexico I can get almost anything I could get back home, between the U.S. chain stores and the local shops and markets," says International Living editor Glynna Prentice. Prices are so low that a week's worth of groceries can cost as little as $15 to $20 and property taxes are quite low as well, for those who consider buying.2. Panama(Last year's rank: 1)
Bridge of the Americas, Panama (Thinkstock)Panama slipped from the top spot this year, but it's still the second-best place to retire, according to IL. The benefits for expat retirees are probably the country's biggest draw. Panama offers something called a Pensionado visa, which provides any foreigner who can prove they receive income from a lifetime pension or Social Security of at least $1,000 a month the ability to live there indefinitely. The visa also comes with some pretty sweet discounts — 20% off medical services, 50% off entertainment, 25% off restaurant meals, 25% off airfare, and 25% off electricity and phone bills.1.  Ecuador(Last year's rank: 2)
Cotopaxi volcano, Ecuador (Thinkstock)Like Panama, Ecuador really caters to the expat retiree community. Seniors (65 and over) can easily get discounts on flights originating in Ecuador and as much as 50% discounts on movies and sporting events. That discount also applies to public transport (50%) and utilities. On top of all that, it's a pretty cheap place to live, costing the average couple about $1,400 per month.To see the full International Living Global Retirement Index for 2015, check it out here.Did you retire abroad or thinking about it? We'd love to hear your story! E-mail us atyfmoneymailbag@yahoo.com.More from Mandi:Where are they now? The top 5 money comebacks of 2014;5 benefits you can ask for if you don't get a raise ;Awesome new student debt calculator is what every college kid needs
Two Orange Dwarf Stars To Reach The Solar System Might Wipe Out Human Race By Edgar Jr. Reyes | January 2, 2015 11:38 AM EST Some would say that the given time frame is truly a long stretch from today. However, the big threat that the phenomena might cause makes the study worth considering as it will have direct effect to future humanity.
ReutersA long filament of solar material that had been hovering in the Sun's atmosphere, the corona, erupts out into space at 4:36 p.m. EDT on August 31, 2012. The coronal mass ejection, or CME, traveled at over 900 miles per second. The CME did not travel directly toward Earth, but did connect with Earth's magnetic environment, or magnetosphere, causing aurora to appear on the night of September 3, 2012. The image above includes an image of Earth to show the size of the CME compared to the size of Earth.European astrophysicist Coryn Bailer-Jones who works at the Max Planck Institute for Astronomy in Heidelberg,Germany is predicting that around 14 stars might come within the next few million years. The astrophysicist came to this prediction after analysing the computer-simulated orbits of more than 50,000 stars that are nearby. The prediction also says that among the thousands of neighboring stars, there at least two that humanity should worry about, Forbes reports.Bailer-Jones' study is set to appear in an upcoming issue of Astronomy & Astrophysics journal. According to the study, the possibility of the dwarf stars entering the boundaries of the solar system might potentially disturb the trillions of comets orbiting in the Oort cloud beyond the primary planets. This might send many comets into the inner solar system and has the potential to hit Earth. Apparently, the comets are made of rocks, dust and organic materials.According to New Scientist's report, the two stars that have 90 percent probability of reaching the solar system the closest are named as Hip 85605 and GL 710. The Hip 85605 might reach the solar system in 0.13 to 0.65 light years away, while the GL 710 might take around 0.32 to 1.44 light years in the next 1.3 million years.The estimate on the current position of the Hip 85605 and GL 710 is not accurate and could still be wrong. However, the threat posed by the movements of these stars nearing the solar system is not a joke.Report says that the Earth can be affected in three ways. First, the gravity can attract comets into the inner solar system and the passing comets might harshly affect Earth's atmosphere due to the powerful ultraviolet radiation that the comets might cause. Second, a small number of the alleged stars might explode like supernova while passing through the Oort Cloud. Finally, the study says that the effect of the supernova remnants could cause long-term global cooling. The global cooling was also suspected to have wiped out the dinosaurs in the past and it is possible that's such incident might wipe out the human race millions of years from now.Email Address: edgereyes@gmail.com To contact the editor, e-mail: editor@ibtimes.com
China's Three Gorges dam 'breaks world hydropower record'
 January 1, 2015 7:41 PM
The Yangtze river power station generated 98.8 billion kilowatt-hours of electricity in 2014, the Three Gorges Dam Corporation said in a statement, topping the 2013 production from the Brazilian-Paraguayan Itaipu dam (AFP Photo/Str)Beijing (AFP) – China's Three Gorges dam has broken the world record for annual hydroelectric power production, more than a decade after it became the world's largest power plant, its operator said.The Yangtze river power station generated 98.8 billion kilowatt-hours of electricity in 2014, the Three Gorges Dam Corporation said in a statement, topping the 2013 production from the Brazilian-Paraguayan Itaipu dam.The amount of electricity generated by the Three Gorges plant is roughly equivalent to burning 49 million tonnes of coal, said Thursday's statement, thereby preventing 100 million tonnes of carbon dioxide emissions.But concerns have been raised about the environmental and human cost of the huge project, which saw more than a million people moved before it opened around a decade ago.Thousands remain in poverty, and China's government in 2012 made a rare admission that the treatment of migrants relocated for the dam was still an "urgent problem".Campaign groups say it has damaged biodiversity, threatening the critically endangered Yangtze river dolphin.The Three Gorges dam is the world's largest power plant by installed capacity with 22,500 megawatts, a third more than Itaipu, on the Parana river.
Warming world already causing dramatic changes, say scientists Last updated on 2 January 2015, 11:28 am Fish, forests, birds and wildflowers affected by a wide range of impacts – human and natural – from global warming 
Source: Flickr/viinzography By Tim Radford Lumberjacks are selecting different trees, US fishermen are sailing further north to catch black sea bass, desert birds are nesting later in California and Arizona, and one kind of wildflower is changing shape in the Rocky Mountains − and all in response to climate change, according to new research.None of these responses is simple, or necessarily ominous, and global warming is not the only factor at work. But all are nevertheless examples of adaptation to − so far – very modest changes in temperature.Adena Rissman and Chad Rittenhouse, of the University of Wisconsin-Madison, report in the Journal of Environmental Management that they looked at weather records and logging data and found that, since 1948, the winter interval during which ground is firmly frozen has declined by an average of two to three weeks.Hard winters are the logger's friend as the ground can support heavy machinery, whereas muddy soils can make tracks impassable.So, over the decades, foresters have harvested more and more red pine and jack pine − species that flourish in sandy, well-drained soil more accessible to trucks, tractors and chainsaws.Significant decline "We wanted to know how weather affects our ability to support sustainable working forests," says Dr Rissman, assistant professor of human dimensions of ecosystem management."We found a significant decline in the duration of frozen ground over the past 65 years and, at the same time, a significant shift in the species being harvested."Such changes in selection tend to affect ecosystems – on land or at sea.Scientists at the Northeast Fisheries Science Centre in the US report in the ICES Journal of Marine Science that they looked at trawl survey data collected between 1972 and 2008 to analyse variations in abundance of black sea bass, scup, and summer and winter flounder.All had shown "significant poleward shifts" in at least one season.The bass and scup were responding to changes in temperature. The summer flounder were more likely to be responding to a decrease in fishing pressure − that is, the species could recolonise former habitat.There was no change in the distribution in the southern New England/Mid Atlantic Bight stock of winter flounder."Using these data, we demonstrated how a combination of fishing and climate can influence the distribution of marine fish," said lead author Richard Bell, research associate at the US National Oceanic and Atmospheric Administration fisheries service laboratory at Narrangansett. "It is not one or the other."Meanwhile, in the arid American southwest's Sonora Desert, all 13 desert bird species have tended to delay nesting by two weeks or more, as a response to severe drought.Delays in nesting This makes survival a problem for the birds as their young are more vulnerable to nest predators and parasites. Some species forego breeding entirely during an extreme drought. Even without global warming, droughts are an enduring fact of life in the region.But ecologists point out that climate models predict a greater frequency of droughts, which could lead to even more delays in nesting."These responses are predicted to become more frequent and extreme, due to climate change, causing us to question how desert birds will persist in the long term," Chris McCreedy, a desert ecologist at Point Blue Conservation Science, reports in The Auk, the American Ornithologists' Union journal.At least one species has responded to climate change by altering not just its life cycle but its shape.Students at Dartmouth College in New Hampshire and the University of South Carolina report in Global Change Biology that the Rocky Mountain mustard plant (Boechera stricta) offers an example of what biologists call "phenotypic plasticity".This means that it doesn't evolve to meet climate change − it just looks different under different conditions. It changes according to whether the conditions are hot and dry, or cold and wet. In experiments that simulated future climate change, it also flowered seven days earlier.This little ready-for-anything brassica plant seemed able to respond differently according to whether or not there was snow around it. Or, as the researchers put it: "Extensive plasticity could buffer against immediate fitness declines due to changing climates."This article was produced by the Climate News Network– See more at: http://www.rtcc.org/2015/01/02/warming-world-already-causing-dramatic-changes-say-scientists/#sthash.sivK0gjV.dpuf
3 men see snout, free moose buried in Alaska avalanche Associated Press11:42 a.m. EST January 2, 2015
(Photo: Dan Joling/Associate Press)851CONNECT 32TWEET 2LINKEDIN 11COMMENTEMAILMORE ANCHORAGE, Alaska – A moose buried by an avalanche on an Alaska mountain had its luck changed by three men passing on snowmobiles.The Alaska Dispatch News reports that the three Matanuska-Susitna Borough residents spotted the animal's snout sticking out of the snow and used shovels to free the moose.Marty Mobley, Rob Uphus and Avery Vunichich were on at outing Sunday at Hatcher Pass about 55 miles northeast of Anchorage when they passed a small hillside that had both ski and moose tracks.
FREEP 2 moose visit Upper Peninsula cabin for snacks When they returned an hour later, an avalanche had covered the tracks. Mobley says he saw something move in the debris and it turned out to be a snout, not a skier.After 10 minutes of digging, the moose stood up, towered over its rescuers and ran off.