Mudslide strands about 200 in Washington neighborhood By Caitlin Dickson8 hours agoYahoo News Floodwaters have started to subside after heavy rains that caused mudslides in western Washington state Monday. The town of Hoquiam was hit especially hard, with a landslide crushing and uprooting several homes and stranding about 200 people in the Beacon Hill neighborhood.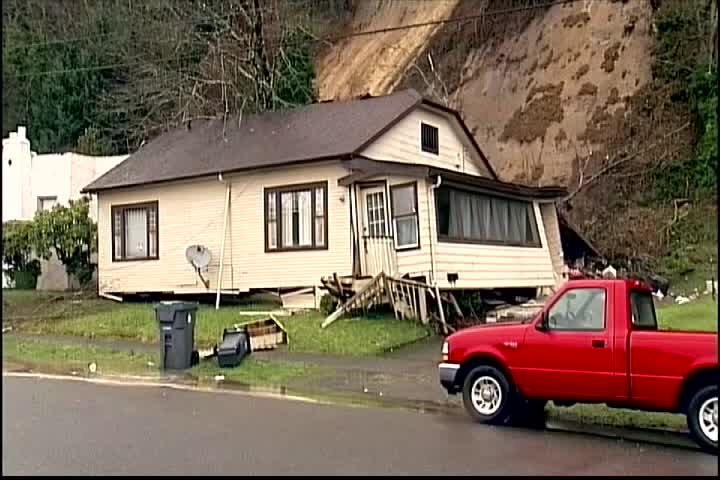 WLNS Newsroom @WLNSFollowWA Mudslides devastate neighborhood. People flee for their lives. http://bit.ly/wamudslid  Fortunately, no mudslide-related injuries have been reported. In Aberdeen, just a few miles from Hoquiam, firefighters rescued an elderly woman and her dog trapped in her rainswept house by cutting a hole in the roof. She was taken to the hospital but was in good condition, according to police.By Tuesday morning, police had begun to evacuate Beacon Hill residents along a narrow logging road, cautioning that the hillside could still be unstable and that the neighborhood might remain cut off for a few more days. In the meantime, homeowners and local reporters have been documenting the destruction on social media. This widely shared Vine shows a piece of the hillside collapsing on one house and uprooting it.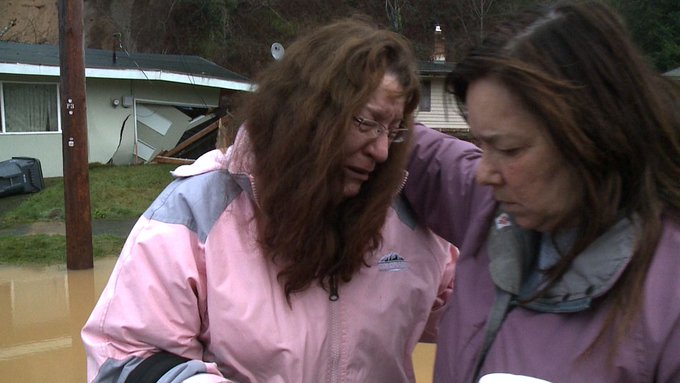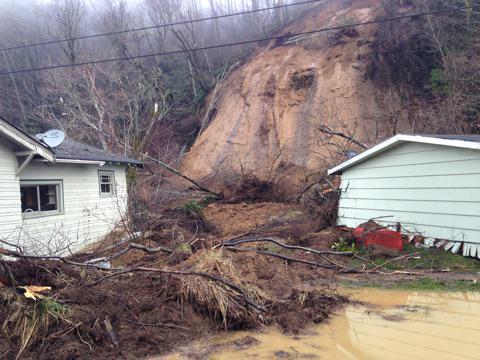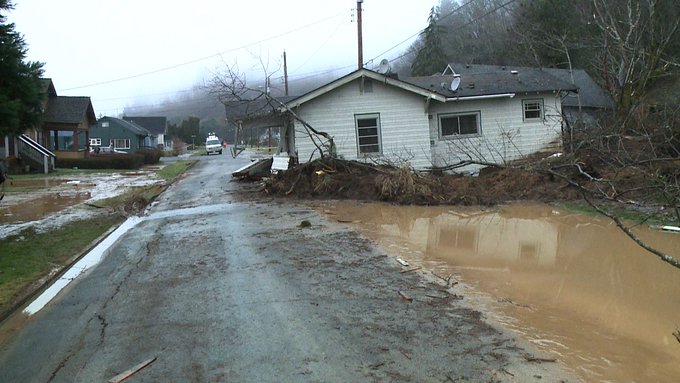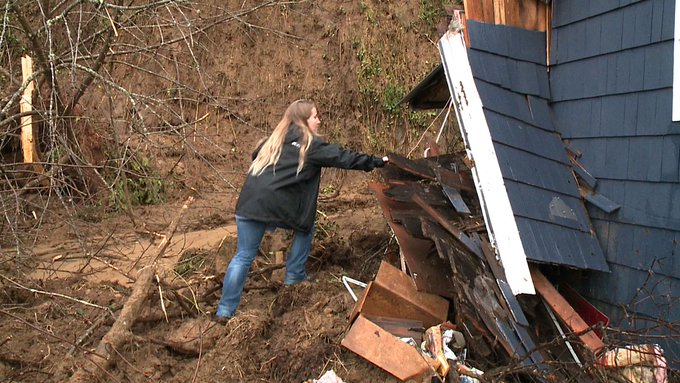 Steve Kiggins        ✔ @Q13FOXKigginsFollowOverwhelming sadness in #Hoquiam as slide victims try to salvage what's left Q13FOX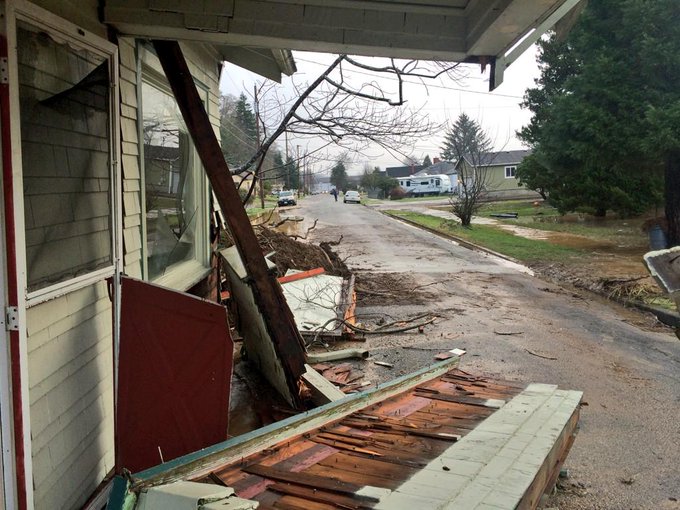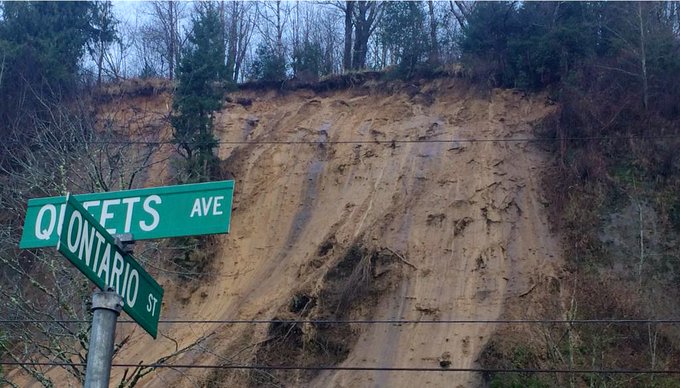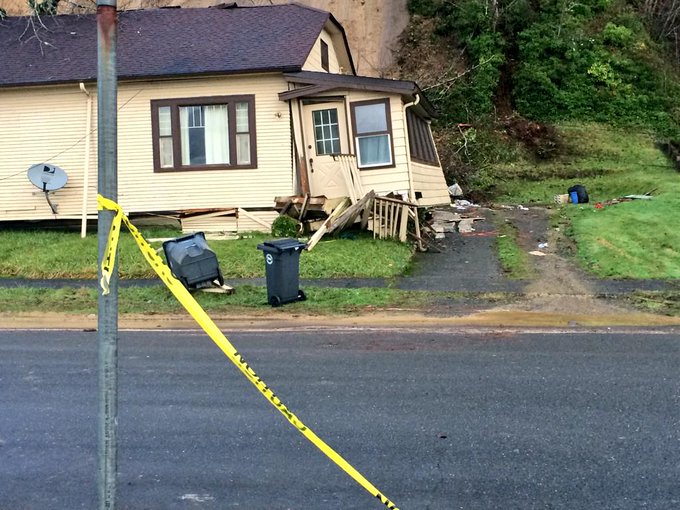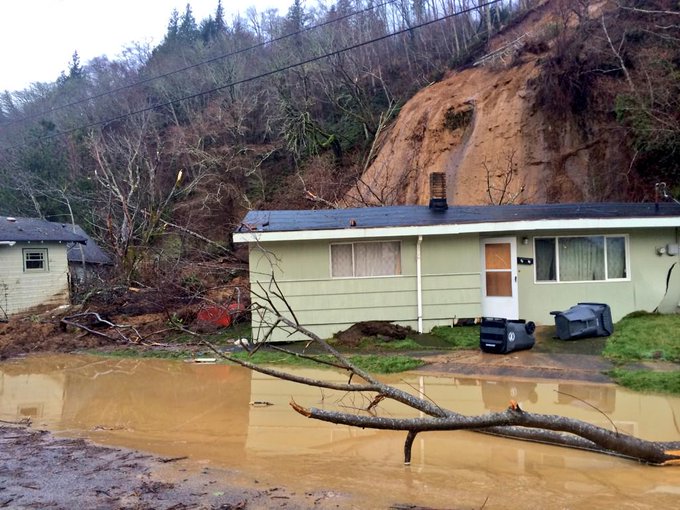 Brandi Kruse @BrandiKruse Follow There will be a lot of cleanup to do on hard-hit Queets Avenue in Hoquiam.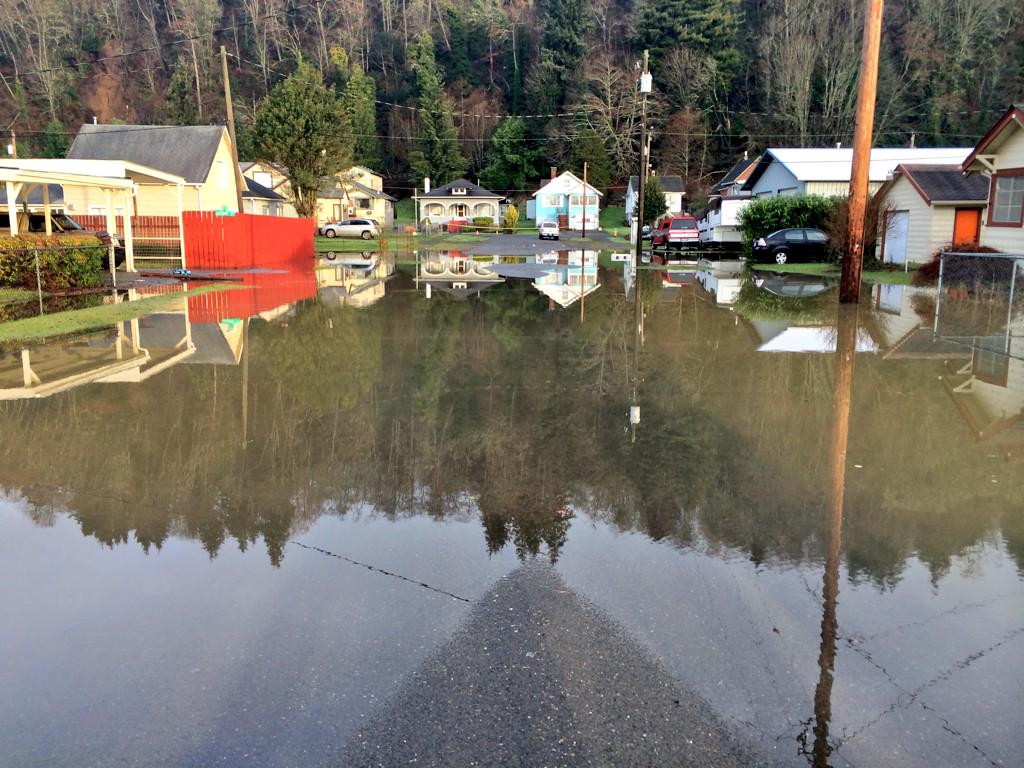 Brandi Kruse @BrandiKruseFollowSometimes you can't ask people for an interview, you just have to ask how they're doing. Hoquiam kiroradio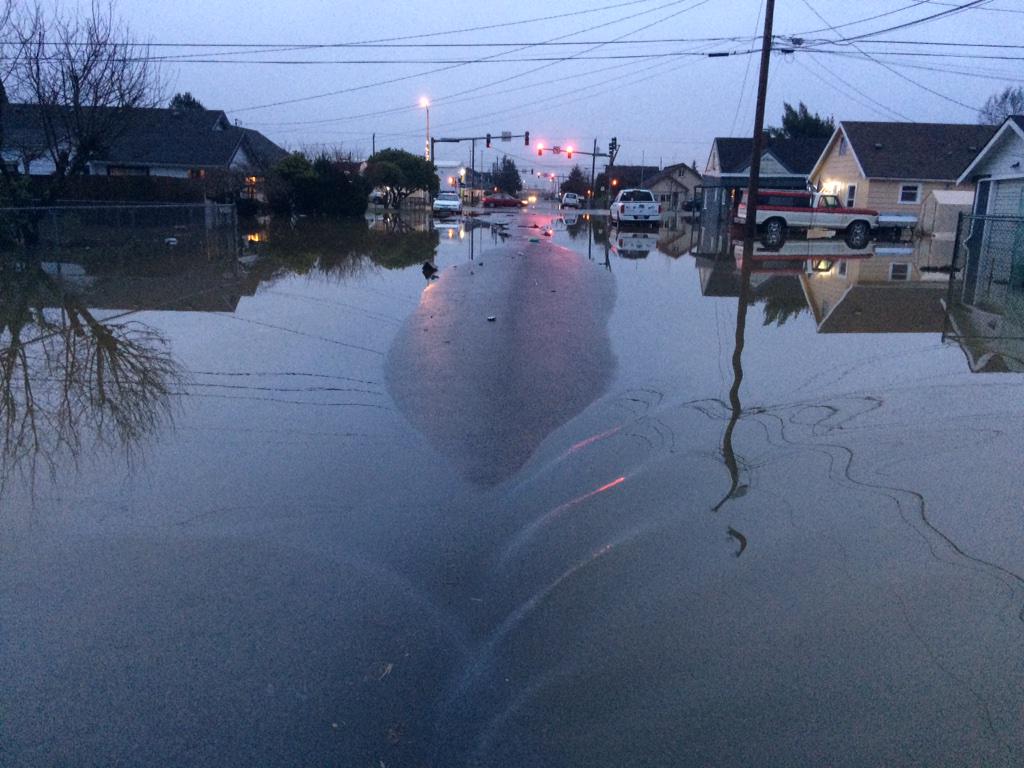 Michael Konopasek @MikeKonopasek FollowI've seen water recede substantially within the last few hours in Hoquiam GoodNews
Buffalo herd saves calf from lion attack Amateur photographer shoots photos and video of wildlife moment in Tanzania by David Strege
An adult buffalo chases off a lion attempting to catch a young calf in Tanzania. Photo by Andreas Häntzschel/Mercury Press/Caters NewsThings looked pretty bleak for a young buffalo calf singled out by a pack of hungry lions in northwest Tanzania, but thanks to a little help from his friends, the lion attack was thwarted.At first, a defiant adult buffalo did its best to shield the young calf from the lions and fought off the predators as long as it could. But after one lion grabbed the calf, the cavalry came to the rescue.Amateur photographer Andreas Häntzschel, 39, of Aachen, Germany, was on the safari when the lion attack unfolded. He snapped photos and videotaped the scene:In the beginning, the buffalo herd ran away from the approaching lions, leaving behind the calf and adult, presumably its mother. Once the lion snatched the youngster, the adult buffalo went after the lion, as did the rest of the herd, appearing out of nowhere to help run off the lions.
Buffalo runs after the lion that grabbed the calf. Photo by Andreas Häntzschel/Mercury Press/Caters News
Buffalo herd returns to run off the lions and save the young calf. Photo by Andreas Häntzschel/Mercury Press/Caters News"This was absolutely unreal," Häntzschel told Caters News Agency. "This was amazing and you don't get a lot of chances to see something like it."To see lions is not too spectacular, but to see them fighting is great. The buffaloes were very courageous to save themselves."Follow David Strege on Facebook 
$45 Million In Luxury Cars Almost Sank Over The Weekend — And It's Happened Before!
 By Benjamin Zhang11 hours ago
A 51,000 ton cargo ship was intentionally run aground over the weekend outside of Southampton on the southern coast of England. The Norwegian-owned vessel — christened the Hoegh Osaka — had just left port on its way to Germany when it developed what the owners Hoegh Autoliners called a "severe list."The Hoegh Osaka's crew decided to beach the beach vessel in an attempt to save it and its cargo.Fortunately, all of 25 members of crew made it safely to shore. At the time of the incident, the ship was transporting as many as 1,200 luxury cars and SUVs from Jaguar and Land Rover, with an estimated value of $45 million.In addition, the Osaka was also carrying 65 vehicles from BMW's MINI division, valued at an estimated $2 million, reports the BBC. All of the cars were reportedly destined for the Middle East.Salvage teams have already boarded the vessel in preparation to refloat the 590-ft.-long ship.
Amazingly, this isn't the first time a ship full of luxury cars has been involved in a maritime catastrophe. The most famous case in recent history involves the sinking of another Norwegian car carrier — the MV Tricolor.In December of 2002, the vessel sank in the North Sea after a collision with the Bahamanian cargo ship Kariba.Following the collision, the Tricolor capsized and went down within half an hour. Fortunately, all 24 crew members made it safety.
At the time of its sinking, the Tricolor was on its way to Southampton from Belgium with a shipment of 2,871 luxury cars from BMW, Saab, and Volvo.According to Jalopnik, the automotive cargo held a total value of $100 million. This included a shipment of early production run Volvo XC90 SUVs – a highly coveted vehicle at the time.The Tricolor came to rest in one of the busiest sea lanes in the world. The wreck was reportedly struck by no fewer than three ships after its sinking.The vessel settled in about 100-feet of water, 20 miles off the coast of France. According to Australia's Drive, Smit International — a Dutch salvage company — was contracted to recover the 55,000 ton car carrier from the sea floor in 2003. 
Smit — the same company tasked with salvaging the stricken Kursk nuclear submarine from the bottom of the Barents Sea in 2000 — chose not to refloat the entire vessel. Instead, the firm used high-tension wires to cut the ship in 9 segments. 
Sadly, none of the Triocolor's luxury cars bound for the US could be rescued.The Osaka's cargo is likely to be in much better condition. Which leads bargain hunters to ask the question, "Can I get a hefty discount on a salvage-titled Jag?"See Also:
SEE ALSO: The Range Rover Sport V8 Supercharged Is The Best SUV On — Or Off — The Road
Beau Kazer, 'Young and the Restless' Star, Dead at 63
 By Tim Kenneally2 hours ago
Beau Kazer, 'Young and the Restless' Star, Dead at 63 Beau Kazer, who originated the role of Brock Reynolds on the CBS soap opera "The Young and the Restless," died Dec. 30. He was 63."It is with great sadness to share the news that Beau Kazer passed away on December 30th in Thousand Oaks, California," a representative for the show told TheWrap on Tuesday.See photos: Hollywood's Notable Deaths of 2014Kazer originated the role of Reynolds in 1974 and frequently appeared on the show throughout the years."He is survived by his wife, Sharon Alkus who wanted everyone to know Y&R was a large part of his life that he was very proud of," the statement continued.Kazer's "Y&R" costar, Daniel Goddard, remembered Kazer in a Facebook post Tuesday, writing, "'The Young and the Restless' has lost another of its own… RIP Beau Kazer (Brock)."Also Read: 'Young and the Restless' Star Justin Hartley to Adam Newman Fans: Tell Me if You Hate My Guts (Exclusive)Goddard added, "I remember the first time I heard your voice and thought wow! This guy should have been in radio! Then I watched u act and was blown away with how natural and honest your performances always were. God Bless."Jeanne Cooper, who played Kazer's onscreen mother, Katherine Chancellor, on the soap opera died in May 2013 at 84.While playing Brock Reynolds, his onscreen love interests included Lori Brooks (Jaime Lyn Bauer), Jill Foster (then-Brenda Dickson), Julia Newman (Meg Bennett) and Gina Roma (Patty Weaver). In 1999, it was revealed his character fathered a daughter, Mackenzie Browning (Ashley Bashioum et al.), with a fellow missionary.Also Read: 'Young and the Restless' Actor Speaks Out on His Horrific Thanksgiving Attack: 'I Thought It Was Over'Born in Toronto in 1951, Kazer studied drama at the Stella Adler Studio of Acting.Kazer's acting career also included roles on the soap opera "General Hospital," on which he portrayed Dr. Bunny Wilson, "Hart to Hart" and "B. J. and the Bear."The cause of death has not yet been announced.Related stories from TheWrap:'Young and the Restless' Actor's Alleged Thanksgiving Attackers Charged in Vicious Beating'Young and the Restless' Actor Speaks Out on His Horrific Thanksgiving Attack: 'I Thought It Was Over'
Harpoonless Japanese whalers heading for Antarctic: govt
 20 hours ago
View photoPhoto released by the Instutute of Cetacean Research on November 18, 2014 shows a minke whale on the deck of a whaling ship for research whaling at Antarctic Ocean (AFP Photo/Institute Of Cetacean Research)Tokyo (AFP) – Japanese whalers will set out for the Antarctic this week, but will leave their harpoons at home after the United Nations' top court last year ruled their annual hunt was illegal, the government said Tuesday.The Japanese Fisheries Agency said the Institute of Cetacean Research plans to conduct non-lethal research on whales until March 28.As the research does not involve catching whales, harpoons have been removed from the vessels, the agency said.Two boats, which will set sail on Thursday, will carry out "sighting surveys" and take skin samples from the huge marine mammals. A third boat will sail in support.The International Court of Justice — the highest court of the United Nations — ruled in March that Tokyo was abusing a scientific exemption set out in the 1986 moratorium on whaling, and was carrying out a commercial hunt under a veneer of research.After the ruling, Japan has said it would cancel this winter's Antarctic mission.But Tokyo has also expressed its intention to resume "research whaling" in 2015-16.In a new plan submitted to the International Whaling Commission (IWC) and its Scientific Committee, Japan set an annual target of 333 minke whales for future hunts, down from some 900 under the previous programme.Tokyo also defined the research period as 12 years from fiscal 2015 in response to the court's criticism of the programme's open-ended nature.Japan killed 251 minke whales in the Antarctic in the 2013-14 season and 103 the previous year, far below its target because of direct action by conservationist group Sea Shepherd.Tokyo also conducts hunts in the name of science in the Northwest Pacific, where it killed 132 whales in 2013, and off the Japanese coast, where it caught 92.Despite widespread international opprobrium, Japan has continued to hunt whales using the scientific exemption, although it makes no secret of the fact that the meat from the creatures caught by taxpayer-funded ships ends up on dinner tables.
Brazil train collision leaves 158 injured
 8 hours ago
Image grab taken from an SBT video shows the two commuter trains that collided at the Presidente Juscelino train station in Mesquita on January 5, 2015 (AFP Photo/)Rio de Janeiro (AFP) – Two trains serving Brazil's much-criticized commuter rail service collided outside Rio de Janeiro, injuring 158 people, authorities said Tuesday.The accident occurred Monday around 8:20 pm (22:20 GMT) when a train stopped at a station was struck from behind by another in Mesquita, 34 kilometers (21 miles) outside Rio, state transportation chief Carlos Osorio said.The Supervia commuter service is the target of regular criticism from users who deride its often dilapidated infrastructure. Its carriages do not have air conditioning even in the stifling heat of a Southern Hemisphere summer.Osorio added that Supervia would be fined over the incident but did not specify how much.Rescue authorities said most of those hurt had suffered minor injuries, including cuts and bruises.A spokesman told AFP that seven people remained in hospital but their condition was stable."This accident is extremely serious and the error unpardonable. Experts are on site to retrieve material and investigate," said Osorio."We must find out if this is due to an individual mistake, a collective one or a combination of factors," Osorio said.Osorio said the commuter rail service needed modernization but noted the train which hit the stopped one had been refurbished three years ago.He added that 53 new trains would come on stream by the end of this year.Around 620,000 people use the service daily as they commute in and out of Rio from the suburbs
Snow forecast takes Holy Land by storm
 10 hours ago
A bride (2nd L) and her friends walk behind a photographer as they brave the wind on the shore of the …JERUSALEM (Reuters) – With memories still fresh of the Holy Land's worst storm in 50 years last winter, Israelis and Palestinians stocked up on supplies for a forecast heavy snowfall on Tuesday.The approaching storm, due to peak on Wednesday, was expected to be lighter than in December 2013, when snow fell for three days, paralyzing the region and causing power outages that left tens of thousands cut off from electricity and heat.Israeli television weatherman Danny Rupp predicted 12 to 24 hours of snowfall in Jerusalem. Barry Lynn, a meteorologist at Hebrew University of Jerusalem, said the storm would likely dump between 25 cm and 60 cm (10 inches and 24 inches) of snow in the city.Snowploughs and power crews were on alert in Jerusalem, northern Israel and in the Palestinian Territories.As the skies darkened on Tuesday, Israelis and Palestinians scurried for food supplies and gas or paraffin heaters."We ran out quickly," said one salesman in Jerusalem's Mahane Yehuda market, "There's not a heater to be found anywhere in the area."
A man runs along the Mediterranean Sea as he is sprayed by breaking waves on Tel Aviv's beach pr …Heavy rains and near-freezing temperatures in the approaching storm threatened to deepen the misery in the Gaza Strip, where streets are still strewn with wreckage from a 50-day war with Israel last summer, thousands live in U.N. shelters and damaged homes and the power is on only six hours a day."No electricity, no drinkable water, no reconstruction, and now a storm. Our people need the help of the entire world," said Samir Ali, 47, a Gaza city taxi driver.Inside a packed supermarket, Jerusalem resident Alon Issashar, 29, said he had hoped to beat the crowds by shopping early."As you can see Armageddon is coming," he joked. "People are going crazy. I guess people outside of Israel will laugh but we are used to sun."In the Palestinian city of Ramallah, shoppers cleared bread, water and diapers off supermarket shelves.
A man tries to take pictures of the Mediterranean Sea as waves break on Tel Aviv's beach promena …In Jerusalem, Mayor Nir Barkat said roads to the city were likely to be closed at the sight of the first snowflakes.Prime Minister Benjamin Netanyahu joined Barkat, police commanders and emergency services officials at a meeting in Jerusalem to prepare for the storm."I ask all Israeli citizens to simply watch out for their neighbors' welfare and help them," Netanyahu said in a statement.Last winter, hundreds of motorists trying to reach Jerusalem were trapped in their vehicles for hours before being rescued by troops in armored personnel carriers."Last year's lessons have been learnt to their fullest," Barkat told Army Radio.In neighboring Lebanon, a storm halted air traffic at Beirut international airport as of 1700 GMT, an airport source said.Strong winds lashed the Beirut coastline late on Tuesday. In other coastal parts of Lebanon, people posted pictures and videos on social media of whirlwinds and flooding. Some parts of the capital suffered power cuts.The education ministry has ordered schools closed on Wednesday, state news agency NNA said.(Reporting by Maayan Lubell; Noah Browning and Nidal al-Mughrabi; additional reporting by Sylvia Westall in Beirut; Writing by Maayan Lubell; Editing by Jeffrey Heller and Mark Trevelyan)
US skiers join in mourning of teammates killed in avalanche
 By ERIC WILLEMSEN10 hours ago
 .
 ZAGREB, Croatia (AP) — David Chodounsky paid a fitting tribute to the two junior members of the U.S. ski team who were killed in an avalanche in Austria.Competing in the opening leg of a World Cup slalom race in Croatia on Tuesday, the American skied one of the best runs of his life and ended up with the third-fastest time.When he crossed the finish line, he pointed at his helmet, which carried a piece of tape saying "Remember BA + RB.""The entire U.S. ski team is mourning for them," Chodounsky said. "We're just skiing for them today. They were great guys."All U.S. ski team athletes at the race joined in the mourning of development team members Ronnie Berlack, 20, and Bryce Astle, 19, who died Monday near the Rettenbach glacier in the mountains over Soelden, the U.S. ski team's European training base since 2011."It's terrible," said Chodounsky, who later straddled a gate and failed to finish his second run. "U.S. skiing is a tight family, there is not many of us. They were great skiers, young but they were coming up. There is no doubt in my mind that one day they had made the World Cup. The entire team is skiing for them."
Spectators observe a minute of silence in front of the half mast U.S. flag prior to the start of an  …The Americans wore black armbands during the race, while the American flag in the finish area was flying at half-staff. A 30-second moment of silence was held before the race started.Berlack, from Franconia, New Hampshire, and Astle, from Sandy, Utah, were part of a group of six skiers who were descending from the 3,056-meter Gaislachkogel when they left the prepared slope and apparently set off the avalanche. The other four skied out of the slide and escaped unhurt."What happened yesterday was for sure a bummer," Olympic giant slalom champion Ted Ligety told The Associated Press. "We are all racers. But to know you've lost a couple of your teammates is super saddening, for sure."Will Brandenburg was the fastest starter in the first run before skiing out. He had Berlack and Astle on his mind."Bryce always had a way of going for it and that is something I love because I see it in my skiing, too," Brandenburg told the AP. "I was just going to go for it, that's all I wanted to do, I wanted to fight and that's what I did."
This handout provided by the U.S. ski team shows Ronnie Berlack. Two prospects from the U.S. ski tea …The 28-year-old Brandenburg was like a mentor for the two juniors and helped them settle at their European training base."Those two kids were amazing people," he said. "I mean, great skiers but truly amazing people. And I got a great opportunity to spend quite a bit of time with them and help them throughout the summer with travel and training."The tragic news reaching the athletes the day before the race destroyed every preparation plan."I was broken last night. It was really difficult to sleep," Brandenburg said. "But I was able to put that behind me and ski the turns I wanted to ski and execute how I wanted to execute."According to Ligety, the death of their teammates might have brought out the best of the team.
This undated handout provided by the U.S. ski team shows Bryce Astle. Two prospects from the U.S. sk …"You saw with Daver and Will, it's maybe a bit of inspiration to do something special for those guys," Ligety said. "We just heard the news in the afternoon after getting up the hill. We had a big meeting and I mean, it's just sad, what can you do? Horrible to have two young guys, so young, to lose their life in those circumstances. That's just tough."The deaths left the U.S. ski team "in shock," U.S. Alpine director Patrick Riml said. Men's head coach Sascha Rearick left the World Cup group in Croatia to head back to Austria as soon as he heard the news on Monday."We've always been a tight family, but this is going to make us even tighter and stronger," Rearick told the AP in a telephone interview from Soelden. "Stronger mentally and stronger in many ways."Rearick said the skiers and staff at their training base were "standing strong together.""The emotions are coming and going in cycles," the coach said. "But the support we are getting from the whole family of ski racing has been very nice to have. We really appreciate that. The support from different federations, different skiers, they have been coming in from New Zealand to Canada to America to Switzerland, everywhere."Rearick described Berlack and Astle as two promising athletes and great characters, too."Ronnie was a cheery individual who was so proud to be part of the team, and always did everything to help the team in any way he could," he said. "Bryce had a tremendous smile, a joy of life. I will never have a shorter 10-hour drive to California than the time I drove with him."Several members of the U.S. women's team took to Facebook to express their feelings."I'm heartbroken at the news of my younger @usskiteam teammates passing away," Stacey Cook wrote. "Avalanches have stolen too many lives of friends way too early. A small comfort is knowing how much love and passion we all share for this sport, and how big I'm sure they were smiling right up to the end…"Alice Mckennis acknowledged it was "hard to put it in words how devastated and saddened our little ski world is today.""We lost two great young men today," she said. "Ronnie and Bryce touched many people in their lives and now remind us that every day is precious and that we must live every single one of them to the fullest and chase after our goals and dreams just like Ronnie and Bryce were."
Vigilance neige et verglas dans six départements de l'Est
Par AFP | AFP – il y a 12 minutes
AFP/AFP/Archives – Strasbourg sous la neige le 30 décembre 2014 NEWS À LA UNE
Vers une démission collective à la tête de la CGTReuters – il y a 11 heures
L'UMP réclame 28 millions d'euros à la société BygmalionReuters – il y a 11 heures
Berlin et la BCE doivent faire plus pour la croissance, dit MacronReuters – il y a 9 heuresL'alerte orange neige et verglas concernait six départements d'un quart nord-est de la France mercredi à 06H00 après la levée de la vigilance sur la Meurthe-et-Moselle par Météo France.Les six départements concernés sont désormais la Moselle, les Vosges, la Côte-d'Or, le Bas-Rhin, la Haute-Saône et le Territoire de Belfort.La perturbation pluvieuse "se décale lentement vers l'est-sud-est" et "les températures ne remontent que lentement", notait Météo France dans son bulletin de 06H00.
Intempéries: alerte neige-verglas dans neuf départements de l'Est
Par AFP | AFP – il y a 7 heures
AFP/AFP/Archives – Des personnes tentent de dégager leur voiture bloquée par la neige, le 12 mars 2013 près de Godewaersvelde dans le nord de la FranceReuters – il y a 9 heures Neuf départements du quart nord-est, dont la Lorraine, ont été placés en "vigilance orange" neige-verglas à partir de mardi à 16H00 par Météo-France et Bison Futé, qui mettent en garde contre un risque accru d'accidents avec de possibles chutes de neige ou du verglas dans des proportions importantes.Météo-France a placé en vigilance orange les quatre départements lorrains -Moselle, Meurthe-et-Moselle, Meuse et Vosges- ainsi que les Ardennes, la Côte-d'Or, le Bas-Rhin, la Haute-Saône et le Territoire de Belfort. Les intempéries devraient durer une bonne partie de la journée de mercredi.Une perturbation peu active a abordé dans la soirée les régions de l'est où les températures sont restées négatives. Les premières bruines verglaçantes ont été observées dans les Ardennes. Cette perturbation va continuer à se décaler vers l'Est cette nuit. Les bruines sont verglaçantes et tombent sur des sols gelés. Ces petites pluies ou bruines se décalent vers l'est pour concerner la Lorraine, ainsi que le Val de Saône, et l'ouest de la Haute-Saône, a précisé Météo-France dans son bulletin de soirée.Pour la Côte d'Or, où les températures tournaient autour de -2°C dans la région de Dijon, ces petites bruines vont rendre les surfaces glissantes. Ailleurs en Côte d'Or, les températures sont positives et le risque de verglas est plus limité.Dans la seconde partie de nuit, ce risque de bruines verglaçantes devrait disparaître des Ardennes, mais avec la progression des bruines vers l'est la façade est de la Lorraine et le Bas-Rhin seront à leur tour concernés. Ce risque perdure en Haute-Saône et dans la région de Dijon.Parmi les conséquences possibles, Bison Futé s'attend à des "chutes de neige" ou à la présence de verglas dans des "proportions importantes", appelant à une prudence et une vigilance accrue sur les routes, selon un communiqué."Les conditions de circulation peuvent devenir rapidement très difficiles sur l'ensemble du réseau" avec des risques d'accidents "accrus". Bison Futé, qui évoque un "épisode hivernal non exceptionnel", rappelle que le verglas, "même en faible quantité, est particulièrement gênant pour la circulation routière".Dans le Bas-Rhin, un épisode de brouillard givrant a causé mardi matin au moins une quinzaine d'accidents de la circulation, selon les pompiers.Selon Bison Futé, ce risque devrait ensuite perdurer mercredi sur la Haute-Saône et la région de Dijon.
Colombie : l'incroyable explosion d'une usine de feux d'artifice Une usine fabriquant des feux d'artifice près de Bogota (Colombie) a pris feu lundi 5 janvier. La scène est impressionnante.
Par M6 Info | M6info – il y a 14 heuresCONTENUS ASSOCIÉS
Colombie : l'incroyable explosion d'une usine de feux d'artifice Nul ne sait pour le moment comment l'incendie a démarré dans l'usine de feux d'artifice de Granada, près de Bogota en Colombie. Vers 10h du matin, dimanche 4 janvier, des centaines de fusées ont illuminé le ciel pour un spectacle improvisé géant.Tout le stock a explosé Les pompiers, incapables de maîtriser l'incendie, n'ont pu qu'assister à la destruction complète du stock de l'usine.  Les images sont impressionnantes. Un caméraman venu filmer la scène a littéralement été renversé par le souffle de l'explosion. "On ne comprend pas, cela fait huit ans que nous sommes là, tous nos documents sont à jour… ", explique Fredy García, le représentant de la maison-mère de l'usine.Deux blessés légers L'accident a fait deux blessés légers et de gros dégâts sur les maisons voisines. Une enquête est en cours pour comprendre l'origine de l'incendie.
Comment lutter contre le froid ? Manger, boire, s'habiller, se chausser, se chauffer… Face à la chute des températures, on ne sait pas toujours comment se prémunir efficacement contre le froid. Voici quelques conseils et astuces.
Par Charlotte Pascal | M6info – il y a 21 heures
Getty Images/Getty – Se prémunir du froid CONTENUS ASSOCIÉS Article: Grand froid : les 5 conseils pour aider un sans domicile fixe M6info – lun. 29 déc. 2014 Bien s'alimenter, bien boire Inutile de manger deux fois plus que d'habitude, mais il convient au contraire de garder une alimentation équilibrée, de boire beaucoup d'eau, de jus de fruits frais et non d'alcool qui n'apporte qu'une sensation fallacieuse et éphémère de réchauffement. Même pour les températures actuelles, notre alimentation est généralement suffisante. Un bon petit déjeuner, en particulier pour les enfants, à base de fruits, de céréales ou de pain, et de laitages est conseillé avant de sortir. Privilégiez les fruits et les jus de fruits frais contenant de la vitamine C (oranges, citrons, pamplemousse…).Boire chaud, en évitant de se brûler quand-même, aide. Mais, il faut de toute façon boire beaucoup : de l'eau, du lait, des tisanes. Il faudrait boire au moins 1,5 litre d'eau par jour, en petites quantités régulières. On observe en effet, en période de froid, une tendance à la déshydratation à laquelle le chauffage des appartements contribue. Bien se couvrir Evidemment, bien se couvrir est une priorité lorsque les températures hivernales sévissent. Il faut notamment porter des gants et un couvre-chef (bonnet, chapeau…) car lorsque l'on a la tête exposée au froid, il peut y avoir jusqu'à 30 % de déperdition de chaleur. Les vêtements serrés qui coupent la circulation sont vivement déconseillés. Préférez des habits amples avec une couche extérieure imperméable au vent et à l'eau. Le corps humain est particulièrement sensible au vent. En effet, par une température de -10°C et un vent de 60 km/h , le ressenti pour le corps est équivalent à une température avoisinant les -30°C . Privilégiez les vêtements en laine ou en synthétique, qui ne gardent pas l'humidité, contrairement au coton par exemple. N'oubliez pas non plus, une fois au chaud, d'enlever des épaisseurs. Sortir après avoir transpiré est l'un des meilleurs moyens de tomber malade en hiver Bien se chausser Pour les grands frileux, ou en cas de température polaire, rien de tel que de superposer deux paires de chaussettes pour ne pas avoir froid aux pieds. Porter une seule paire très épaisse n'est pas la meilleure solution. Privilégiez cependant deux épaisseurs différentes, au risque sinon, que la circulation sanguine ne se fasse pas correctement, condition indispensable pourtant pour avoir chaud. Côté chaussures, le meilleur moyen de ne pas subir les basses températures reste de s'équiper de grosses chaussures à semelles bien épaisses. Mais comment couvrir nos petits petons qui souffrent terriblement du froid sans ressortir pour autant les gros godillots qui traînent dans un fonds de placard ? Le secret : les bottes moumoutes! Très douces et très tendances, elles se déclinent en version décontractée ou plus féminine. Si vous n'en avez pas, il ne vous reste plus qu'à franchir le pas !…Bien se chauffer A la maison, recommandent les praticiens, il n'est pas nécessaire de trop chauffer, des températures aux alentours de 19 degrés sont préférables, en veillant toutefois au cas des personnes âgées plus sensibles au froid. Plutôt que de surchauffer, on peut rajouter une couette ou une couverture sur le lit. L'humidification, en posant un bol d'eau sur ou près du radiateur – en tenant bien entendu compte des consignes de sécurité de chaque appareil – est souvent oubliée. Si on sort les bébés, il faut savoir que les chauffages à air pulsé des transports sont très déshydratants. Il faut donc leur proposer fréquemment un biberon d'eau.Bien s'informer Avant de prendre la route, quelques habitudes simples peuvent éviter tout problème éventuel : s'informer de l'état des routes, s'armer de boissons chaudes et de couvertures au cas où, sans oublier de partir avec un téléphone portable chargé. Ne pas oublier non plus de se renseigner au préalable sur la météo peut s'avérer judicieux.Faites le 115 ! Le froid représente une terrible épreuve pour ceux qui sont sans abris. Pour signaler une personne sans-domicile, composez le 115, un numéro d'urgence gratuit, accessible même sans carte téléphonique, 24 heures sur 24 et 365 jours par an. 
Il neige ou il fait très froid chez vous ? Envoyez-nous vos photos à l'adresse suivante : m6info@m6.frMerci de préciser l'endroit où la photo a été prise. Nous publierons les plus belles1 / 18 M6info | Photo par Maryse au Lac Noir en Suisse