Plane skids off LaGuardia runway, slams into fence near bay Plane skids off runway at LaGuardia Airport, crashes through fence near icy waters of bay
 By Meghan Barr and Scott Mayerowitz, Associated Press5 hours ago
A plane that skidded off the runway at LaGuardia Airport hangs over the edge of the runway in New York, Thursday, March 5, 2015. The plane, from Atlanta, skidded off the runway while landing, and crashed through a chain-link fence. (AP Photo/Seth Wenig)
NEW YORK (AP) — A Delta jetliner landing at LaGuardia Airport in a driving snowstorm on Thursday skidded off a runway and crashed through a chain-link fence, its nose coming to rest on a berm at the edge of an icy bay.Six people were hurt in the midday accident, which authorities say came just minutes after the runway had been plowed. It was a near-tragic reminder of what pilots have long known about LaGuardia: Its relatively short runways and waterfront location leave little room for error, especially in bad weather.Passenger Malcolm Duckett, a marketing executive from Georgia who was seated near the left wing, called the landing "scary" and said he was thankful the plane didn't end up in Flushing Bay. He said he and other passengers were told they had to exit over the right wing because one of the doors was too close to the water."We landed pretty hard. I could see the damage to the wing. It was pretty torn up," Duckett said. "It was riding across a fence for 10 seconds, and once we landed, we landed in the snow."Another passenger on the flight from Atlanta, Charles Runel, said the landing "felt like fishtailing in a car. But in a much larger car."Passengers trudged through the snow in an orderly line after climbing off the plane. Atlanta-based Delta Air Lines Inc. said they were bused to a terminal.At the time of the crash landing, snow was falling and a northeast wind was blowing at 9 mph, with visibility at a quarter of a mile, the National Weather Service said.LaGuardia, known for its disconcertingly close proximity to the bay, which swamped the berm during Superstorm Sandy and flooded its two runways, is one of the nation's most congested airports. It's also one of the most difficult ones at which to land: Its close proximity to three other busy airports means pilots have to make a series of tight turns to line up with its runways while also going through their normal landing checklists.The Delta flight was landing on LaGuardia's main runway, about 7,000 feet long and 150 feet wide. On the right side of the runway are a taxiway and terminals. On the left, where the plane ended up, are the berm and the bay.LaGuardia's runways are "reasonably short" but still safe, said former US Airways pilot John M. Cox, who's now CEO of consultancy Safety Operating Systems.At airports with longer runways, pilots will glide a few feet above the runway and gently touch down. At LaGuardia, Cox said, "you put the airplane on the ground and stop it."The runway had been plowed just minutes before the Delta landing, and two other pilots had reported good braking conditions shortly before, according to the Port Authority of New York and New Jersey, which operates the region's main airports and other transit hubs.There was an eerie sense of calm onboard Flight 1086 as it veered off the runway with 125 passengers and five crew members aboard, passengers said. Everyone was silent as the plane bounced and slid, but some children started crying after it came to a stop. It was only then that everyone realized how close they had come to plunging into freezing saltwater.Among the passengers was New York Giants tight end Larry Donnell, who said he felt blessed to be safe afterward.There's no rule about how much snow or ice leads to a runway closing. Instead, the Federal Aviation Administration requires airports to close runways if weather starts to deteriorate to the extent the airport cannot maintain adequate runway conditions or if pilots report trouble braking.The Port Authority's executive director, Patrick Foye, said the Delta pilot did everything he could to slow the aircraft. Both runways closed after the crash, but one reopened about three hours later. The plane briefly leaked fuel at about a gallon a minute.The National Transportation Safety Board said it was sending an investigator to retrieve the plane's flight data and cockpit voice recorders and to document damage to the plane.LaGuardia has had its share of planes mishaps. In July 2013, the front landing gear of a Southwest Airlines flight collapsed right after it touched down, sending it skidding before it came to a halt. Ten passengers were injured.
Delta plane skids off runway in snowstorm at New York's LaGuardia By Michael Walsh11 hours agoYahoo News Storyful Emergency Services Respond to Plane Skidding Off Runway at LaGuardia
Storyful Emergency Services Respond to Plane Skidding Off Runway at LaGuardiaA commercial airplane skidded off the runway and crashed into a chain-link fence while landing at LaGuardia Airport during a snowstorm on Thursday morning in New York.Lenis Rodriguez, a spokesperson for Port Authority, told Yahoo News that LaGuardia has reopened its runways and air traffic has continued.Passengers aboard Delta Flight 1086, which was touching down after a flight from Atlanta, were evacuated and taken to a terminal, Reuters reported. The Federal Aviation Administration said that runways at the airport were closed after the incident, which is standard procedure.The plane carrying 125 passengers and five crew members went off the runway about 11:10 a.m., according to the Associated Press.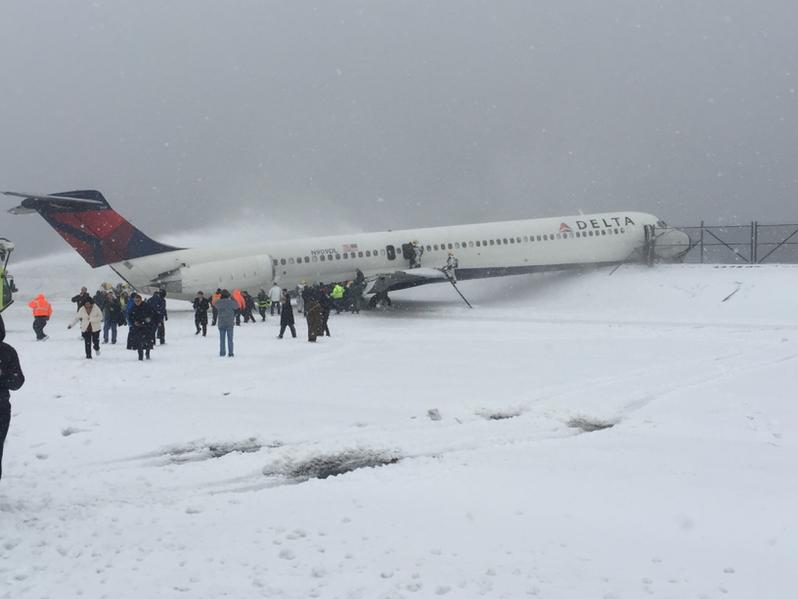 Steve @steveblaze98FollowMy day so far. crashland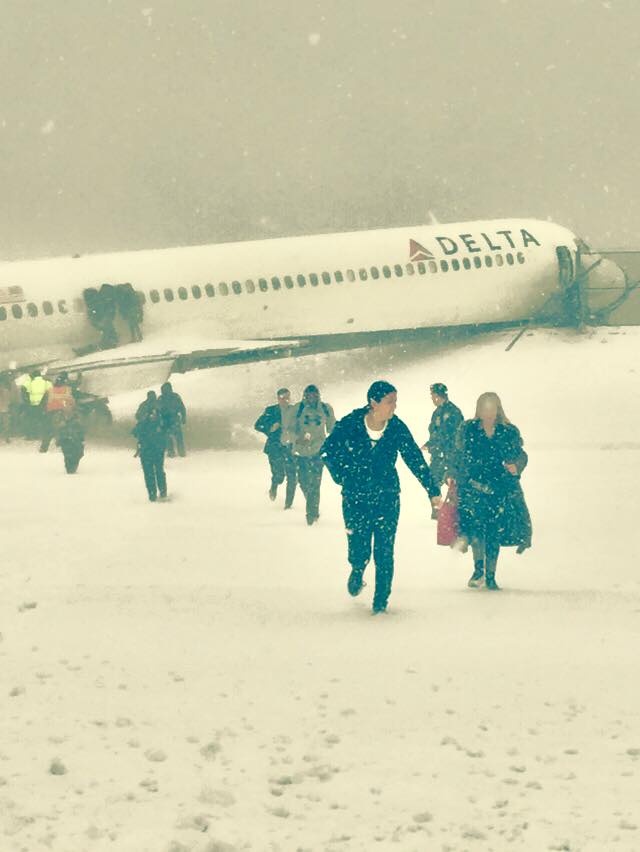 Michael Gass @michaelgassFollowMy friend @SamStern_ just posted this photo of his plane that crashed landed at Laguardia moments ago. Athens, TN, United States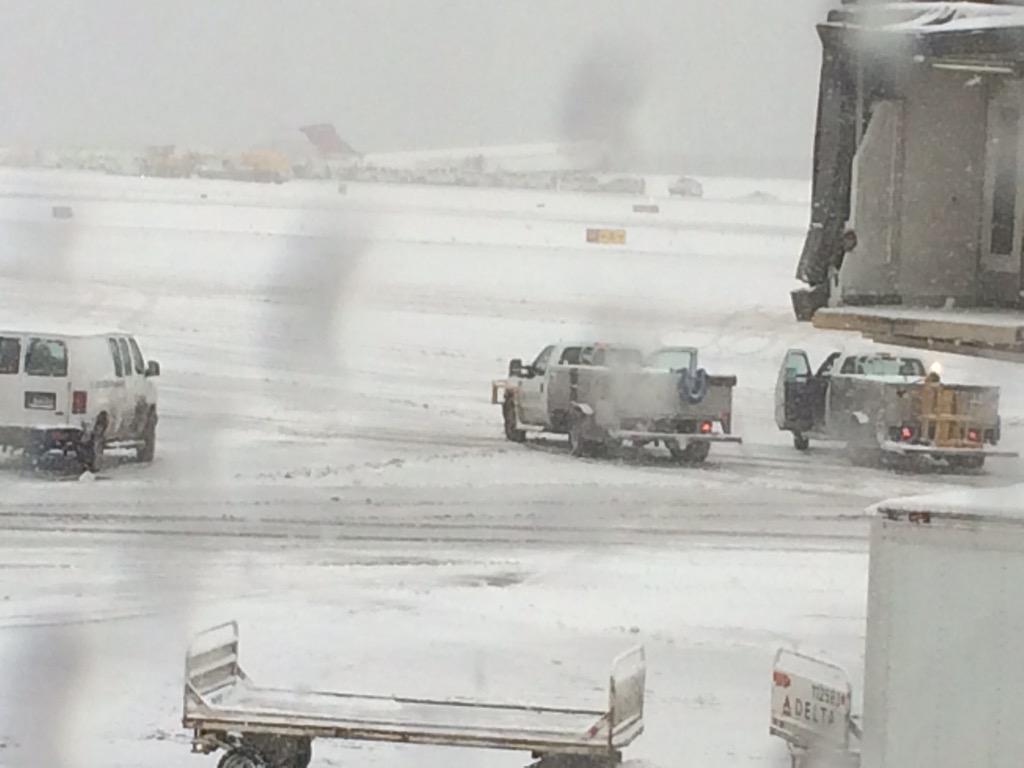 Sarah Wagner @swags201Followa plane just slid off the runway at LaGuardia Airport…Some took to social media to share images of the crash site in several inches of snow on a strip of land close to Flushing Bay.Larry Donnell, a professional football player for the New York Giants, was a passenger aboard the flight. The Giants released a statement on behalf of the tight end confirming that he was unharmed in the incident, reported ESPN."I'm blessed to be safe and sound after our plane skidded off the runway at LaGuardia airport today," it reads. "I feel fine physically and hopefully all the other passengers did not have any significant injuries. We were all shocked and alarmed when the plane started to skid, but most importantly, as far as I know, all of the passengers and flight crew were able to exit the plane safely."A source with the Port Authority of New York & New Jersey told NBC New York that the impact caused a fuel leak on the left wing, though it is not thought to be significant.National Transportation Safety Board spokeswoman Kelly Nantel said they will send an investigator to secure the jetliner's flight data and cockpit voice recorders, according to the AP.The investigator will also document the damage to the plane and collect other information.The incident occurred on LaGuardia's primary runway, which is 7,003 feet long and 150 feet wide.The Fire Department of New York says that 24 people suffered non-life-threatening injuries. Emergency workers are still assessing people, but no major injuries have been reported.
CLICK IMAGE for slideshow: Passengers walk from a Delta jet which skidded off the runway at Laguardia airport in …
Storm left Ky. interstates packed with stranded motorists
 By BRUCE SCHREINER and ADAM BEAM4 hours ago
Traffic backs up as more than 50 miles of Interstate 65 southbound is shut down from the weather, Thursday, March 5, 2015, near Mount Washington, Ky. Kentucky State Police reported that the interstate will not reopen until Thursday evening. Kentucky has been walloped by a winter storm that has dumped nearly 2 feet of snow in parts of the state. (AP Photo/Timothy D. Easley)Thousands of stranded motorists endured agonizingly long waits Thursday lasting nearly 24 hours for some as a winter storm walloped Kentucky with up to 2 feet of snow and frustrated travelers dealt with gas tanks and stomachs close to empty. Larry Weas spent a cold night hunkered down in his car after getting caught in a logjam along Interstate 65 near his hometown of Elizabethtown. To conserve fuel during his 11-hour ordeal, he kept his car turned off for long stretches of time and scooped snow into a bucket to have something to drink."This has been a lesson of survival," said the 54-year-old man, who is diabetic.A stranded couple gave him a bottle of Gatorade and candy until a rescue worker took him to town.The massive traffic jam stretched for about 26 miles, from just north of Elizabethtown past Shepherdsville.Kenny Thompson huddled overnight on I-65 in his car with some snacks he grabbed for a trip home to Louisville and his smartphone to keep him connected to his family.Thompson said people would dash quickly out of their cars to go to the bathroom, even hiding behind cars."There's no privacy out here," said Thompson, who had been stuck in the logjam since 9 p.m. Wednesday.While Thompson talked to an AP reporter Thursday afternoon, an emergency worker told him they would be moving soon.After being stranded along the same interstate for 21 hours, Mike Gee had enough fuel in his truck for another 10 minutes of heat."We're in trouble out here. We're in big trouble out here," said the 53-year-old from Clarksville, Tennessee, who was trying to get to Ohio with his wife for a weekend vacation.National Guard soldiers and emergency workers were dispatched to make safety checks on the frustrated travelers."You see miles and miles of tail ends and tail ends. It's not a very good sight," National Guard Spc. Jeriel Clark said as his group of soldiers handed out food and water while patrolling along snowbound Interstate 24 in far western Kentucky.By Thursday evening, state highway officials said interstate routes in Kentucky were open again. Snow plows kept up their fast pace as dropping temperatures created the risk of icy highways.Gov. Steve Beshear declared a state of emergency, authorizing the National Guard to help with relief efforts. His office reported that motorists were being evacuated by county emergency personnel, law enforcement and the guard and taken to local shelters.During the height of one pileup in western Kentucky, more than 400 vehicles were stuck along westbound I-24 between Cadiz and Eddyville, Beshear said.National Guard Lt. Mathew Murphy was in the thick of the standstill in his Humvee along I-65.The guardsmen were checking on stranded motorists and taking some people to a warming center in Elizabethtown."They're giving us a thumbs up and we're making sure they're OK," he said.Among the stranded along I-65 were the Rev. Jesse Jackson's wife and other members of his Rainbow/PUSH Coalition staff. The group was on its way to join Jackson in Selma, Alabama, for this weekend's events commemorating the 50th anniversary of the civil rights march led by Dr. Martin Luther King Jr.The Rev. Janette Wilson, the coalition's senior adviser, told The Associated Press in a phone interview that staffers had been stuck on I-65 since 2:30 a.m. Thursday. At one point, they walked two miles to buy snacks at a gas station that was quickly running out of food. She said a nearby McDonald's had already closed down because it ran out of food.During the day, state highway officials said as soon as progress was made to clear the interstates, new wrecks would cause entanglements and more waits for motorists.There were no reports of storm-related deaths or widespread power outages in the state, Beshear said.The National Weather Service said 15 to 20 inches of snow fell across broad swaths of western and central Kentucky.A reported 25 inches fell near Radcliff in Hardin County, south of Louisville, the weather service said.Twenty-three inches piled up in parts of Ohio County in western Kentucky, it said. Elsewhere, snowfall totaled 14.7 inches in Louisville, 17.1 inches in Lexington, 20.5 inches in Mount Washington, 19 inches in Bardstown, 18.5 inches in Frankfort and 21.5 inches in Cynthiana.Paul Impellizzeri was brushing snow off his truck at his Louisville home to make a coffee run Thursday morning. The snow that fell in mid-February had just melted in his neighborhood on Wednesday, he said."It's pretty nutty for March, I can tell you that," said Impellizzeri, a computer programmer who was working from home on Thursday. "Generally you expect the trees to be blooming here pretty soon, but not with a foot of snow on the ground."_Associated Press Writer Dylan Lovan in Louisville, Kentucky, contributed to this report.
Plane skids off New York runway as winter storm hits US
 By Mariano Andrade3 hours ago
New York (AFP) – An airliner skidded off a runway at New York's La Guardia airport and slid to a halt just yards from frigid waters, as a snow storm battered the US coast from Texas to Boston.Heavy snow was falling as Delta flight 1086 from Atlanta careered off the runway, plowed up an embankment and demolished a fence after its late-morning landing in hazardous conditions.New York firefighters said 24 people suffered non-life-threatening injuries, including three who were transported from the scene. The McDonnell Douglas MD-88 was carrying 127 passengers and five crew.Video footage showed shaken passengers climbing gingerly out of the plane through an exit over a wing and trudging through thick snow. The plane's nose jutted through the fence, suspended above the icy East River.Passengers recounted panic as the plane failed to break after landing."We knew something was wrong because you didn't feel the wheels take and we started to skid," Jared Faellaci told CNN.
A woman waits to get a taxi cab during a winter storm on March 5, 2015 in New York (AFP Photo/Jewel  …"I'm definitely shaken up, I cried, shed some tears, and obviously I'm just reflective and grateful."Another passenger, Jaime Primak, tweeted: "We just crash landed at LGA. I'm terrified. Please."She added later: "We have all been evacuated. Everyone is safe. Thank you for your prayers. God is good."It was the most dramatic incident on a day in which a huge winter storm forced thousands of flight cancellations and disrupted life across a broad swath of the United States.In Washington DC, government workers were ordered to stay home, schools were closed, and museums shuttered for the day as icy rain turned to heavy snow, leaving the US capital looking like a ghost town.
Snowplows clear the snow covered streets on March 5, 2015, in Washington, DC (AFP Photo/Paul J. Rich …Baltimore, Philadelphia and New York were expected to get as much as eight inches of snow, with temperatures dipping well below average in much of the region.Airports experienced travel chaos, with more than 4,500 flights canceled by Thursday afternoon, spelling travel misery for many.- Poor visibility -Forecasters had warned of low visibility in New York, and some 40 percent of flights had been canceled at La Guardia before the accident, according to flightaware.com.New York Port Authority executive director Patrick Foye did not say what caused the accident, only that the runway was recently cleared.
A jogger runs down a residential street under snowfall on March 5, 2015 in Washington, DC (AFP Photo …"That runway had been plowed literally minutes before, and other pilots had reported good braking action," he told reporters.Foye said the plane skidded more than 4,500 feet (1,400 meters) down the runway and that the aircraft's emergency chutes did not deploy after it hit the embankment.But he assured there was no risk of it coming into contact with water."The plane did not make contact with the water, happily that was never a risk today," he said.Delta, which said that passengers were ferried to the terminal on buses afterwards, said in a statement: "Our priority is ensuring our customers and crew members are safe."
Children ride sleds down a hill on the West Lawn of the US Capitol on March 5, 2015 in Washington, D …The airline — which received the plane new in 1987 — vowed to "work with all authorities and stakeholders to look into what happened in this incident."There was a "minor fuel spill" after the crash that was contained, according to Foye.Among the passengers was Larry Donnell, a player with the New York Giants NFL team."We were all shocked and alarmed when the plane started to skid, but most importantly, as far as I know, all of the passengers and flight crew were able to exit the plane safely," he said in a statement.- State of emergency -The National Weather Service said 65 million people were under a winter storm warning, and other another 29 million were under a winter weather advisory.The southern United States was not spared, with Texas, Oklahoma and New Mexico all facing weather warnings."For this time of year, to be impacting people in the relative deep south, it's a fairly unusual event," NWS meteorologist Bruce Terry told AFP.He said southern states, not accustomed to ice and snow conditions, might not be as prepared as some winter-hardened northerners.Washington and Baltimore were expecting up to eight inches of snow, with temperatures in the capital dropping to 10 degrees Fahrenheit (-12 Celsius) by evening."Significant amounts of snow are forecast that will make travel dangerous. Only travel in an emergency," the National Oceanic and Atmospheric Administration cautioned for Washington and Baltimore.The arctic conditions were expected to hang around on Friday, before giving way to warmer weather into the weekend.
Double the Trouble Found Under Hawaii's Kilauea Volcano
 By Becky Oskin9 hours ago
Hawaii's big, booming eruptions are born from just under Kilauea volcano's peak, a new study confirms.Two small reservoirs of molten rock (magma) feed Kilauea's recent eruptions, according to analysis of chemical tracers from the last 50 years of lava flows. The results suggest thatKilauea volcano also taps a deeper source, because the shallower magma chambers are too tiny to account for all of the lava that has streamed across the island's surface since 1983."The amount of magma is very small," said lead study author Aaron Pietruszka, a U.S. Geological Survey geologist based in Denver. "You have to have a constant supply of new melt [magma] coming from below, because the volcano itself can't supply everything that's erupted since 1983."The size of both magma chambers adds up to less than half a cubic kilometer (0.12 cubic miles) of molten rock, Pietruszka told Live Science. Since the current eruption kicked off in 1983, Kilauea has belched about eight times that amount of molten rock, or some 4 cubic km (nearly 1 cubic mile) of lava, he said. [Explosive Images: Hawaii's Kilauea Erupts for 30 Years]Pietruszka and his co-authors located the underground magma chambers by analyzing lead isotopes in Kilauea's lava rock. The isotopes, which are atoms of lead with different numbers of neutrons, trace the lava's history as it traveled underground before erupting. "Lead isotope ratios are like fingerprints imprinted on the magma before it enters the shallow plumbing system," Pietruszka said. "When you start building up many analyses, you can see patterns in the lead isotope ratios."Kilauea is a single volcano with two very distinct lead isotope ratios in its summit lavas, Pietruszka said. Lavas with higher lead isotope ratios come from Halema'uma'u Crater, and lavas with lower ratios erupted near the caldera rim. (Kilauea volcano is topped by a deep depression called a caldera, which a violent volcanic explosion carved out in 1790.)
eA cartoon cross-section of Kilauea volcano's magma plumbing.The different lead isotopes suggest there are two magma sources beneath Kilauea's peak. "The only way to explain that is if there are two isolated, distinct magma bodies," Pietruszka said.The deeper source for Kilauea's eruptions, as with all of Hawaii's volcanoes, is a mantle plume beneath the oceanic crust, he said. The plume is a blob of hot rock that rose from deep inside the Earth and is now torching the crust, building Hawaii's long chain of volcanic islands, scientists think.The chemistry matches up with geophysical surveys of the volcano, which have identified magma chambers under Kilauea's summit in the same spots. "We're now converging on a common model for how Kilauea works and what it looks like under the surface," said Michael Poland, a geologist at the Hawaii Volcano Observatory who was not involved in the study.One reservoir sits less than 1.2 miles (2 km) beneath Halema'uma'u Crater, where a bubbling lava lake emerged in 2008. The other reservoir is slightly deeper and larger, and rests about 1.2 to 2.4 miles (2 to 4 km) under the caldera's south rim.Separate geophysical measurements suggest the magma chambers are somewhat larger than indicated by the chemical tracing, both Poland and Pietruszka noted. This could mean there is more molten rock than the chemical analyses indicate. But many researchers now think that involcanic reservoirs like those beneath Kilauea, the rock is more like a slushy porridge, a mix of warm crystals surrounded by magma."Geochemists see the fluid part of the system, and geophysicists might see the movement of magma plus these hot, deformable crystals," Pietruszka said. "I think that explains the discrepancy between the [size] estimates."The researchers published their study March 2015 in the journal Earth and Planetary Science Letters.Follow Becky Oskin @beckyoskin. Follow Live Science @livescience, Facebook & Google+.Originally published on Live Science.
Rosetta Probe Snaps Awesome Comet Photo in Harrowing Close Encounter
 By Elizabeth Howell17 hours ago
An image of Comet 67P/Churyumov-Gerasimenko taken from 15.3 kilometers (9.5 miles) above the surface …Europe's Rosetta spacecraft recently beamed back an amazing photo of its comet taken during a risky, close flyby of the dusty cosmic body.Rosetta's flyby took it from the shady side of Comet 67P/Churyumov–Gerasimenko towards sunlight, putting the sun directly behind the spacecraft and showing scientists how reflective the comet's surface was. The image, taken when the Rosetta spacecraft was 9.5 miles (15.3 kilometers) from Comet 67P/C-G's surface puts the celestial body's dusty, craggy face on display."The data acquired during Rosetta's close flyby will provide incredible new details of the comet's surface and near-coma environment, complementing that collected earlier in the mission while on bound orbits," European Space Agency officials said in a blog about the close flyby. [See more photos of the comet from Rosetta]Rosetta's flyby brought it about 3.7 miles (6 km) from the comet's face on Feb. 14, but not all went according to plan during the orbit.The comet has far more dust and gas coming from its surface as it draws closer to the sun. The team discovered that this created drag on the Rosetta spacecraft, and making it difficult for the probe to view the stars it needed for navigation. Rosetta started tracking "false stars," and even its backup star tracker stopped working, according to ESA.But in spite of these issues, the spacecraft continued to function, snapping the new photo and collecting data for the science teams back on Earth."With a lot of luck, the spacecraft did not end up in 'safe mode'," Sylvain Lodiot, Rosetta spacecraft operations manager, said in the same blog post. "Although in this case we could have recovered the spacecraft and resumed operations as planned, the science instruments would have automatically switched off in the meantime. By the time they had been switched back on, we would have been relatively far away from the comet again."Rosetta arrived at Comet 67P-C-G in 2014. The spacecraft is expected to function in orbit around the comet through the rest of 2015, following the cosmic body as its makes its close pass of the sun later this year.In November 2015, mission controllers deployed the Philae lander from Rosetta to the comet's surface. Philae made a bumpy landing, and officials aren't yet sure where the probe ended up on the comet. The lander did spend several days gathering data before the spacecraft's battery died. As more sunlight falls on the surface, controllers are hoping Philae's solar panels will collect enough energy to help the lander start functioning again.Follow Elizabeth Howell @howellspace. Follow us @Spacedotcom, Facebook and Google+. Original article on Space.com.
Ancient Stone Tool Discovered In Oregon Is A 'Tantalizing' Find, Met With Skepticism By  Zoe Mintz @ZoeMintz z.mintz@ibtimes.com on March 05 2015 10:13 PM EST
Near the Rimrock Draw Rockshelter outside of Riley, Oregon, archaeologists recently discovered evidence suggesting one of the oldest known human occupations in the western United States. University of Oregon Archaeological Field SchoolA stone tool discovered in the high desert of eastern Oregon may be the oldest sign of human occupation ever found in the western United States, the U.S. Bureau of Land Management announced Thursday. Archeologists uncovered the tool underneath eight inches under a layer of volcanic ash that dates back to the eruption of Mount St. Helens 15,800 years ago."When we had the volcanic ash identified, we were stunned, because that would make this stone tool one of the oldest artifacts in North America," Patrick O'Grady, with the University of Oregon Archaeological Field School, who led the excavations at the Rimrock Draw Rockshelter, where the tool was found, said in a statement. Archeologists have been excavating the site since 2011.The tool is a small orange agate that archeologists say was used to butcher animals, carve wood and scrape animal hides. Tests performed on the scraper found residue consistent with bovine blood — specifically Bison antiquus, the predecessor of the modern buffalo.To date, the earliest known human artifacts west of the Rockies date back to about 13,000 years ago. Those are believed to belong to the Clovis culture, is a prehistoric Paleo-Indian culture known for their hunting abilities and thought to be one of the first group of people in North America. If the latest discovery proves to be as old as believed, it would place humans at the site 1,500 years earlier than previously thought.  The discovery has not been published in any scientific journal, but it has been reported in newsletters and conferences, Bureau of Land Management archaeologist Scott Thomas said.While O'Grady called the latest find "tantalizing," the scientific community is not necessarily convinced."No one is going to believe this until it is shown there was no break in that ash layer, that the artifact could not have worked its way down from higher up, and until it is published in a convincing way," Donald K. Grayson, professor of archaeology at the University of Washington, told the Associated Press. "Until then, extreme skepticism is all they are going to get."
Are Republicans Or Democrats More Likely To Survive The Apocalypse? 12:41 PMMAR 5 By FIVETHIRTYEIGHT
An 1868 painting called "Mount Vesuvius at Midnight" by Albert Bierstadt at The Cleveland Museum.TONY DEJAK / AP The polling firm YouGov released a poll Tuesday asking respondents:"How would you fare during the apocalypse?" The results, and especially the partisan split, engendered a healthy debate among the FiveThirtyEight staff. Here's an edited transcript of our Slack conversation.simone: So here's a partisan YouGov poll on whether people think they could survive the apocalypse. Republicans think they're more likely to survive the apocalypse than other people in their communities. Democrats and independents, less so. What do you guys think?
benc: Well, I think they're right!neil_paine: If you aggregated the whole population (all three groups), you'd see a definite pattern where the "survive longer" bin is larger than the "not survive as long" bin. So there's definitely a bias across everyone to think they'd survive longer. … That's one point. Another question is exactly how delusional the Republicans' particular distribution is.mona: I suspect that if they used nationalities instead of political affiliation here, you would see that most Brits don't think they'll survive too long. #realisticallylowlifeexpectationsbenc: What would help you survive the apocalypse? Guns would probably help. Living out in the country away from other people/zombies/plagues would probably help. A distrust of the new robot-controlled government would probably help. Guess who have guns, live in the country and distrust the government? Republicans!micah: I'm with Ben, if we're talking a zombie apocalypse, being armed will help:
neil_paine: Can we look at the most likely apocalypses? Seems like those attributes @benc lists are more useful in some scenarios than otherssimone: Yeah, what about global warming?benc: Global warming is a good point, @simone. On the one hand, Democrats believe in it! On the other hand, they live on the coast and will all die.neil_paine: I mean, shouldn't our mean expectation be that no one is truly more prepared than others, and that survival will largely depend on random effects?benc: Oh sure @neil, be all rigorous about it. Also, keep in mind people self-segregate by ideology. So when Republicans say they'd outlive others in their communities, they think they'd outlive other Republicans.simone: I think Republicans are less likely to survive because they're older. If our apocalypse is zombies, say, they'll have a harder time outrunning them.benc: Ooh, that's a good point @simone. Then again, they also have more children.jody: But the wording of this question is "apocalyptic disaster," not "slowly rising sea levels." This is tapping into conspiratorial thinking, where there's actually an interesting common ground with the far right and far left. I think we need to bring in some polling on that front.micah: Republicans also tend to live in more rural areas though, more places to hide from zombies.jody: Useful: Statistical Mechanics Finds Best Places To Hide During Zombie Apocalypse. So who is more likely to read statistical modeling for advice on how to deal with Zombies — Republicans or Democrats?[10:44 AM] natesilver: joined #apocalypsecarl: I think maybe we're misreading the poll. "47% of Democrats say that they'd live as long as most other people in their community." Sounds to me like it's rooted in Democrats' greater emphasis on reducing inequality.mona: Black Americans are more likely to have thought about preparing for a natural disaster:
simone: And are more likely to be Democrats.mona: Southerners are also more prepared!!!carl: Notable: Highest-income families are least likely to have given no thought to natural disasters. Hypothesis: Lower-income families have other things to worry about.mona: Other fascinating results in the poll, guys: ONLY 1 in 5 SAY THEY DON'T THINK THERE WILL BE AN APOCALYPSE.neil_paine: @mona 80% say they think there will be an apocalypse, but 69% think it's unlikely (39% very unlikely).mona: Wikipedia says the next upcoming apocalypse is going to be sometime between now and September 2015, although the previous 30 or so entries appear to have been misguided. Unless, you know, everything we think we know actually isn't real.carl: I'm more interested in what people think will cause the apocalypse. Not surprisingly, way more Democrats think climate change will do it. Interestingly, more Republicans expect it to come from worldwide revolution. Unclear if they think revolution is more likely, or if Democrats consider worldwide revolution less apocalyptic. Also, I'm disappointed AI wasn't one of the options. It'sterrifying.simone: Wait, I think I understand the split! "The apocalypse" probably means the biblical apocalypse to Republicans. So, if more of them are Christian, they're more likely to think they'll go on up to the spirit in the sky on Judgment Day.neil_paine: I think @simone is onto something here.simone: It's in the poll: "Asked what the most likely cause of the end of civilization is, nuclear war was the most popular option, chosen by 28% of Americans. Climate change and judgement day tied for second place with 16%, followed by worldwide revolution at 9%."mona: omg 2% zombies.
carl: A slightly higher percentage of Republicans than Democrats think weather is very or somewhat likely to cause a natural disaster in their community in the next year. Does that mean belief in extreme weather is nonpartisan, or do more Republicans live in extreme-weather territory?micah: I really think for most apocalypses, living in a city is a huge disadvantage. Nuclear, disease, zombie, resource scarcity.benc: Yeah, cities really didn't work before technology and medicine, both of which would presumably be wiped out by the apocalypse.Then again, @micah, lots of food and supplies in cities.neil_paine: Hmm, so maybe the community comparison in the question is meaningless to people who are far-flung in the middle of nowhere.micah: It's always the cities that get fucked up in disaster movies.jody: @micah Disagree! The last couple years have seen the rise in aconversation about resiliency. This was a big post-Sandy buzzword in New York City. Density means more resources, less isolation, stronger community bonds, more infrastructure (if it's well taken care of).benc: @jody: Urban residents actually live longer than rural ones. Granted, that's at least in large part due to access to health care, which might not fare so well when the doctors are all zombies.simone: But do Republicans think an apocalypse scenario is "every man for himself" while Democrats expect the community to work together @jody? The wording of the YouGov question implies "every man for himself" I think.benc: Do we think there's a difference in survival likelihood for the libertarian wing of the GOP vs. establishment conservatives?jody: @benc This is the interesting space for me. Has the "I'm ready for the apocalypse" wing of the GOP become a stronger voice over the last 8 years?micah: Rand Paul would survive for sure.walt: Rand Paul would be first to go. Rand Paul is an opthamologist.benc: Is Hillary a prepper? She has a basement stocked with email servers!walt: All of you are fuckin' wrong. Who survives the apocalypse is hardly a city/country matter, it's a notion of skills. Assuming you survive the contagion or whatever, the next step is (a) not dying from simple diseases and (b) producing food. The question is not who is going to survive by such matters of party affiliations.jody: @walt that is, literally, the question.walt: The Republicans would run out of gasoline in their trucks halfway down the desert and die of dehydration. Most people would die of dehydration. Which party is more equipped to hydrate properly? That's the question.benc: So basically, by @walt's logic, Minnesotans are best prepared.micah: Conclusion: Republicans are right. They are more likely to survive than Democrats and independents. (I would die within the first week.)walt: So false. Republicans live in arid, hot climates.benc: I say the most likely apocalypse is the robot apocalypse. In the absence of Neo, the best prepared are coders, who are all a bunch of damned libertarians. In the case of zombies, Republicans win. Plague goes to Democrats. And under no circumstances does anyone from FiveThirtyEight survive more than 15 minutes.meghan: Wait — why are Democrats better at plague?micah: Yeah? Plague hits cities hardest.benc: Plague requires collective action, institutions. Probably some meetings. Democrats friggin' love meetings.simone: WHAT ABOUT JUDGMENT DAY? My money's on the Rs for that.walt: Oh def. Judeo-Christian apocalypse.mona: This survey was the equivalent of asking, "Do you foresee that the unforeseeable might happen? If so, do you think you will do better than other people at surviving it?" i.e. ARE YOU BLOODY ARROGANT??neil_paine: Ding ding!benc: @mona, the poll was of Americans. We're all arrogant.
Evidence indicates Yucatan Peninsula hit by tsunami 1,500 years ago 15 hours ago
Credit: NASA image courtesy Jeff Schmaltz LANCE/EOSDIS MODIS Rapid Response Team, GSFC.Read more at: http://phys.org/news/2015-03-evidence-yucatan-peninsula-tsunami-years.html jCpThe eastern coastline of Mexico's Yucatan Peninsula, a mecca for tourists, may have been walloped by a tsunami between 1,500 and 900 years ago, says a new study involving Mexico's Centro Ecological Akumal (CEA) and the University of Colorado Boulder.There are several lines of evidence for an ancient tsunami, foremost a large, wedge-shaped berm about 15 feet above sea level paved with washing machine-sized stones, said the researchers. Set back in places more than a quarter of a mile from shore, the berm stretches for at least 30 miles, alternating between rocky headlands and crescent beaches as it tracks the outline of the Caribbean coast near the plush resorts of Playa del Carmen and Cancun.Radiocarbon dates of peat beneath the extensive berm indicate a tsunami, which may have consisted of two or even three giant waves, likely slammed the coastline sometime after A.D. 450. In addition, ruins of Post-Classic Mayan structures built between A.D. 900 and 1200 were found atop parts of the berm, indicating the tsunami occurred prior to that time."I was quite shocked when I first walked these headlands and saw this large berm paved with boulders running long distances in both directions," said CEA scientist Charles Shaw. "My initial thought was that a huge wave came through here in the past, and it must have packed quite a punch."A paper on the subject by Shaw and Larry Benson, an adjunct curator of anthropology at the University of Colorado Museum of Natural History, was published online this week in the Journal of Coastal Research.The boulders that cover the face and top of the berm are composed of coral and fine-grained limestone, said Benson. "The force required to rip this reef material from the seafloor and deposit it that far above the shoreline had to have been tremendous," he said. "We think the tsunami wave height was at least 15 feet and potentially much higher than that."In addition, the researchers have found "outlier berms," spanning some 125 miles along the Yucatan coastline that suggest the tsunami impacted a very large region. "I think there is a chance this tsunami affected the entire Yucatan coast," said Benson.The berm is composed of two layers of coarse sand as well as both small and large boulders. The beaches between the headland areas contain mostly sandy carbonate material with small boulders that likely were eroded from nearby bays during the event, said Shaw.It is not clear what might have caused the tsunami, which can be triggered by a variety of events ranging from earthquakes and underwater landslides to volcanic eruptions and oceanic meteor strikes. While scientists have found evidence a "super-typhoon" deposited rocky berms on the Australian coastline, the sediments in those berms occur in well-sorted bands, while the Yucatan berm is composed of coarse, unlayered sands suggesting different processes were involved in sediment deposition."If hurricanes can build these types of berms, why is there only a single berm off the Yucatan coast given the numerous hurricanes that have made landfall there over the past century?" said Shaw. "That is a big part of our argument for a tsunami wave. We think we have the pieces of evidence we need for this event to have occurred."Benson and Shaw suggest the tsunami could be more accurately dated by coring mangrove swamp sediments found along the coast in order to locate the carbonate sand deposited by the massive wave, then radiocarbon dating the peaty material above and below the sand.One implication of the Yucatan tsunami is the potential destruction another one could cause. While the geologic evidence indicates tsunamis in the region are rare—only 37 recorded in the Caribbean basin since 1492—the Yucatan coastline, which was only lightly populated by Mayans 1,500 years ago, is now home to a number of lavish resort communities and villages inhabited by some 1.4 million people."If such an event occurs in the future, it would wreak havoc along the built-up coastline, probably with a great loss of life," said Benson. But it's far more likely that powerful hurricanes like the Class 5 Hurricane Gilbert that made landfall on the Yucatan Peninsula in 1988, killing 433 people in the Caribbean and the Gulf of Mexico and causing more than $7 billion in damage, will slam the coastline, said the researchers
The dog no one owned but everyone lovedIf there is one thing that has stood the test of time, it is humans' affection toward dogs. The only proof you need is located along a stretch of country road in Coles County, Illinois.There, near the brim of a road, lies a grave. To most observers it may seem out of place, but to those who know the grave's occupant – and you, too, will pretty soon – it's a welcome tribute that still gets attention nearly 50 years since its erection.
Nearly 50 years later, the gravestone still stands at the intersection of Route 16 and Route 49 in Coles Co., Illinois GOOGLE MAPSCBS News correspondent Charles Kuralt first stumbled upon the grave in 1978 and filed a story for the "CBS Evening News" as part of his On the Road series. As Kuralt discovered, the story first started in the summer of 1965, when a little black dog — who seemed to be lost — appeared on the road where Illinois Route 16 meets Route 49.
CBS News correspondent Charles Kuralt in 1978, reporting in Coles Co., Illinois CBS NEWS"I've always theorized that he was dropped off or left and he just stayed here and was waiting for his master to return," said Bill Stiff, whose family farm adjoined the road where the dog was buried.Pretty soon afterwards that little black dog had a name: Blackie."Often I saw him on this island between roads here, just sitting there kind of watching the traffic and apparently waiting and watching for someone," said Helen Parkas, who at the time was the editor of the weekly paper in Oakland.
Bill Self CBS NEWS The summer went by and Blackie kept his place at the crossing. People worried about how he'd fare in the coming winter and multiple families tried to adopt him, but to no avail."All the neighbors and everything brought food out here," said Stiff. "I remember, one account of Thanksgiving that he was here, and there was more turkey bones there than anybody could ever imagine, they were stacked up high."Blackie sat there for months until one icy morning in February when he was struck and killed by a car. Saddened by the loss, a gravestone was put up at the site where Blackie had stood watch. For years kids took turns mowing the grass to keep the area cleaned up.
Blackie's gravestone as seen in 1978 CBS NEWS Decades later and it's now Rick Eskew who farms the land around Blackie's burial site. Eskew spoke to CBS News this week and says he continues to mow the grave area "out of respect." And it appears people still haven't forgotten about Blackie. Flowers and lights are routinely left, usually on Memorial Day, said Eskew.As Charles Kuralt said in his 1978 story, it's hard to explain the impression Blackie made on the people around Coles County. But perhaps the only explanation we need is in what they wrote on Blackie's grave marker."Blackie. February 6, 1966. Know Ye Now True Loyalty and Love."
Blackie's gravestone in Coles Co., Illinois CBS NEWS © 2015 CBS Interactive Inc. All Rights Reserved.
Russian priest feels closer to God in serenity of Antarctica
 By LUIS ANDRES HENAO1 hour ago
KING GEORGE ISLAND, Antarctica (AP) — Sophrony Kirilov pulls hard on the strings of the heavy Russian bells from inside the world's southernmost Eastern Orthodox church, calling to Mass anybody wanting to pray on this remote Antarctic island.The 38-year-old Russian priest is clad in a loose black robe and a vest dotted with patches of penguins and seals, marking his four years of service at the bottom of the world. Although he often misses his family and the dark winters are hard, Kirilov says there is no place he feels closer to God than in this frigid land."In the world there's no tranquility and silence. But here, it's quiet enough," Kirilov said inside the Holy Trinity Church.The small wooden building is perched precariously on a rocky hill above a smattering of pre-fabricated houses for scientists and service workers who call this frozen continent home, at least part of the year. Kirilov, who also works as a carpenter and mason at the Russian Bellinghausen base, says his passion for Antarctica is deeply connected to his love for the lonely building.Russian priests here rotate in for yearlong stints, primarily to celebrate Mass for the workers on the Russian base, who number between 15 and 30 at a time. The priests also welcome any of the island's other inhabitants, about 100 in winter when temperatures can plunge to -13 Fahrenheit (-25 Celsius), and 500 in the still-chilly summer months.The greyish clapboard church was first built in Russia from Siberian cedar planks treated to withstand the frosts and harsh wind. It was then disassembled and shipped log-by-log, "like Lego blocks," to Antarctica, said Alejo Contreras, a Chilean Antarctic explorer who witnessed the construction and consecration in 2004. To protect it from strong winds, it is bound to the nearby rocky mountain with chains.
In this Feb. 1, 2015 photo, Russian Orthodox priest Sophrony Kirilov, 38, pulls on the strings of th …In the summer, tourists and the staff of the international stations brave strong winds to hike up here, leaving snowy, muddy boots at the entrance. Some pray in silence, standing or kneeling because there are no pews in the boxy interior, while others marvel at the gold-leaf iconostasis screen of icons painted with bearded saints and winged angels in vivid colors.During Sunday service, Kirilov reads from the scriptures in Russian and sings in an angelic voice."A Russian polar worker, as any other believer, wants spiritual support nearby, a church devoted to God," said Kirilov, who has a flowing salt-and-pepper beard and blue eyes tinted with gray.Reaching the church's pointed belfry requires climbing up a staircase and squeezing in through an attic-like, square hole. At most, three people, rubbing shoulders, can fit next to the heavy bells that pierce the snowy silence with a cacophonous and hypnotic sound similar to the clang of a railroad crossing.At night the church is lit from below and becomes a beacon for ships crossing the South Sea.
In this Feb. 1, 2015 photo, 38-year-old Russian Orthodox priest Sophrony Kirilov walks out from the  …"Thank God for this gift to us," Kirilov said, adding that he wishes more than a handful of people would attend Sunday service.The church, nearly 10,000 miles (16,000 kilometers) from Kirilov's monastery near Moscow, is just a few ice-covered steps from the red, bunker-like building that he calls home when he is in Antarctica.A pair of skis the priest uses to explore the island leans against a wall near the front door, where Kirilov painted flowers to remind him of nature during the dark winter months. A stuffed toy Emperor penguin is connected to one of the windows with a suction cup.Inside, the walls are covered with maps, pictures of Russian churches and a painting of London Bridge.Penguins are his favorite animals, but Kirilov says he has also made friends with three large brown skuas, Antarctic scavenging birds often seen hovering outside his doorstep, waiting for the priest to toss them fresh fish.
In this Jan. 29, 2015 photo, Russian Orthodox priest Sophrony Kirilov, 38, poses for a photo in fron …"Since 2008, I constantly meet them here and talk to them," the priest says, recalling the time a skua tried to make off with his pointed monk hat. "Sometimes they become naughty," he smiles.During his time off, Kirilov also follows Russian news online using a desktop computer that gets spotty Wi-Fi from the base.Kirilov says his parents and four siblings, including an identical twin who also took monastic vows, are eagerly awaiting his return to Russia in April. While he will be happy to see his family after the four-year stint in Antarctica, Kirilov says the moment he leaves he know he will be pining for this forbidding land."Here, you can calmly pray to God in peace and quiet," said the priest. "Sure, you can do it anywhere in Russia, but here, it's special."_Associated Press writer Varya Kudryavtseva in Moscow contributed to this report._Luis Andres Henao on Twitter: https://twitter.com/LuisAndresHenao
NOAA Announces Arrival Of El Niño, 2015 Poised To Beat 2014 For Hottest Year BY JOE ROMM POSTED ON  2,297Share This 
The National Oceanic and Atmospheric Administration (NOAA) has announcedthat the long-awaited El Niño has arrived. NOAA's Climate Prediction Centersays we now have "borderline, weak El Niño conditions," and there is a "50-60% chance that El Niño conditions will continue" through the summer.An El Niño is "characterized by unusually warm ocean temperatures in the Equatorial Pacific," as NOAA has explained. That contrasts with the unusually cold temps in the Equatorial Pacific during a La Niña. Both are associated with extreme weather around the globe (though a weak El Niño like this will tend to have a muted effect). El Niños tend to set the record for the hottest years, since the regional warming adds to the underlying global warming trend. La Niña years tend to be below the global warming trend line.If even a weak El Niño does persist through summer, 2015 will almost certainly top 2014 as the hottest year on record. But there is a good chance it will do so in any case (unless a La Niña forms). After all, 2014 was the hottest year on record even though there was no official El Niño during the year. It's just hard to stop the march of human-caused global warming — without actually sharply cutting greenhouse gas emissions.Significantly, because 1998 was an unusually strong "super El Niño," and because we haven't had an El Niño since 2010, it appeared for a while (to some) as if global warming had slowed — if you cherry-picked a relatively recent start year (and ignored the rapid warming in the oceans, where 90 percent of human-caused planetary warming goes). In fact, however, several recent studies confirmed that planetary warming continues apace everywhere you look.And that was before 2014 set the record for the hottest year. In January, Gavin Schmidt, director of NASA's Goddard Institute of Space Studies, tweeted, "Is there evidence that there is a significant change of trend from 1998? (Spoiler: No.)" He attached this chart:
The latest NASA temperature data make clear that not only has there been no "pause" in surface temperature warming in the past decade and a half, there hasn't even been a significant change in trend.The very latest research suggests that we are about to enter a multiyear period of rapid warming. Fasten your seatbelts.
Harrison Ford survives crash-landing on golf course Harrison Ford survives crash-landing of his vintage plane on Los Angeles golf course
 By Tami Abdollah and Andrew Dalton, Associated Press2 hours ago CBSTV Videos Harrison Ford injured in plane crash on California golf course
CBS News Harrison Ford injured in plane crash on California golf courseRelated Stories
LOS ANGELES (AP) — Harrison Ford crash-landed his vintage plane Thursday after losing engine power, suffering serious but not life-threatening injuries as he used his extensive piloting experience to skillfully bring down the plane on a golf course and avoid nearby homes.It was the latest and most serious in a series of crashes and close calls for the 72-year-old action-adventure A-lister, who like his "Star Wars" alter-ego Han Solo has a taste for aerial thrills. He was helped by golfers who saw the plane come down about a quarter-mile short of the runway at Santa Monica Municipal Airport and taken to a hospital conscious and breathing.Ford's publicist Ina Treciokas said in a statement that Ford had no other choice but to make an emergency landing. She said his injuries "are not life threatening, and he is expected to make a full recovery."Ford was about a half-mile west of the airport and flying at 3,000 feet when he told air traffic controllers that his engine failed, interim Santa Monica City Manager Elaine Polachek said in an email to city officials.Ford's plane "apparently hit a tree on the way down," and in addition to a cut forehead Ford may have broken his leg, the email said.The plane, a yellow 1942 Ryan Aeronautical ST3KR with stars on its wings, was upright and mostly intact after the crash. No one on the ground was hurt.
An airplane sits on the ground after crash landing at Penmar Golf Course in Venice, Los Angeles Cali …"I would say that this is an absolutely beautifully executed — what we would call — a forced or emergency landing, by an unbelievably well-trained pilot," said Christian Fry of the Santa Monica Airport Association.The airport's single runway sits amid residential neighborhoods in the city of more than 90,000 on the Pacific Ocean. City leaders and many residents advocate closing the airport, citing noise and safety concerns. Other airplanes taking off or landing there have crashed into homes, and in September 2013 four people died when their small jet veered into a hangar and caught fire.Ford, who keeps his plane at the airport, took off at 2 p.m. About 20 minutes later, he told the tower he had engine failure and was making an immediate return, according to a recording posted by the website LiveATC.net.He came down on a fairway of Penmar golf course."Immediately you could see the engine started to sputter and just cut out, and he banked sharply to the left," said Jeff Kuprycz, who was golfing when he saw the plane taking off. "He ended up crashing around the eighth hole."Kuprycz estimated the plane was about 200 feet overhead when it plunged to the ground.
A small plane lies where it crash-landed on Penmar Golf Course in the Venice area of Los Angeles on …"There was no explosion or anything. It just sounded like a car hitting the ground or a tree or something. Like that one little bang, and that was it," Kuprycz said.Charlie Thomson, a flight instructor at the airport who saw Ford take off, said engine failure like Ford's does not make the plane harder to maneuver. "It just means you have to go down," he said.Gloria Dedios, 43, lives across street from the golf course. She was making juice in the kitchen when she heard the plane crash and the ground shook.On the golf course, she saw four or five people helping Ford. Paramedics arrived and asked him to move his head and his arms, which he did. He also was able to move his legs.Ford is cast to play the swashbuckling Solo in his fourth "Star Wars" movie, set for release in December. The original "Star Wars" in 1977 made Ford an overnight star who later played whip-slinging archaeologist Indiana Jones in four hugely popular movies.Shooting on "Star Wars: The Force Awakens" was shut down for several weeks last July after Ford broke his leg during filming at the Pinewood Studios outside London. The accident involved the spacecraft door of the Millennium Falcon, which makes a return in the highly anticipated film.Ford got his pilot's license in the late 1980s and has made headlines with his flying before, though he had never been significantly injured doing it. In 2001, he rescued a missing Boy Scout with his helicopter. Nearly a year before, he rescued an ailing mountain climber in Jackson, Wyoming.In 2000 in Lincoln, Nebraska, a gust of wind sent a six-seat plane Ford was piloting off the runway. He and his passenger were not injured.He has also volunteered his services during forest-fire season, when rescue helicopters are busy fighting blazes.The actor has said his rescues "had nothing to do with heroism.""It had to do with flying a helicopter. That's all," he said._Associated Press Writers Robert Jablon, Justin Pritchard and Sandy Cohen in Los Angeles and Alina Hartounian in Phoenix contributed to this story.
Arctic Sea Ice 'Thinning Dramatically,' Study Finds
 By Laura Geggel17 hours ago
Areas where the researchers found data for sea-ice levels in the Arctic Ocean, which included measurements taken by satellites and submarines.Arctic sea ice — the ice that freezes and floats on Arctic waters — is thinning at a steadier and faster rate than researchers previously thought, a new study finds.Using modern and historic measurements, the researchers got an extensive view of how the thickness of Arctic sea ice has changed over the past few decades. According to measurements from multiple sources, the ice in the central Arctic Ocean thinned 65 percent between 1975 and 2012, from 11.7 feet (3.59 meters) to 4.1 feet (1.25 m).The thinning is even steeper for September sea-ice levels, when sea ice is at its lowest after the summer melt. During the same 37-year stretch, September ice thickness thinned 85 percent, or from 9.8 feet (3.01 m) to 1.4 feet (0.44 m). [On Ice: Stunning Images of Canadian Arctic]"The ice is thinning dramatically," said lead researcher Ron Lindsay, a climatologist at the University of Washington (UW) Applied Physics Laboratory. "We knew the ice was thinning, but we now have additional confirmation on how fast, and we can see that it's not slowing down."The study may help researchers gauge when the Arctic Ocean will be ice-free during parts of the year, he added.The researchers acquired the data from a number of different sources, making them the first to combine all available observations on Arctic sea-ice thickness into one study. For instance, from 1975 to 1990, most ice-thickness readings were from under-ice submarines. These vessels once used sonar to measure ice drift so they could figure out where they could safely surface.The submarine data suggest that from 1975 to 2000, the Arctic sea ice thinned 36 percent, a little less than half of what the new study found, the researchers said."This confirms and extends that study," Lindsay said. The larger data set used in the new study shows that the leveling off of sea ice thinning in the 1990s was only temporary, he said.Since 2000, readings are largely based on airborne and satellite measurements — such as NASA's IceSat satellite and IceBridge aircraft — and other methods that involve people directly measuring the ice thickness.Data dumpAll of the data in the study are now in the Unified Sea Ice Thickness Climate Data Record, which gets as many as 50,000 new measurements a month. The record is curated by researchers at the University of Washington, and stored at the U.S. National Snow and Ice Data Center.Lindsay also works with a UW group who puts together a popular calculation of monthly sea-ice volumes that blends weather data, sea-surface temperatures and satellite measurements of sea-ice concentration for ice thickness maps, the researchers said.Critics have said those calculations of ice loss seemed too rapid, and questioned their value, the researchers said. But the new study shows the ice may be thinning at an even faster rate than the calculations showed, the researchers said."At least for the central Arctic basin, even our most drastic thinning estimate was slower than measured by these observations," said co-researcher Axel Schweiger, a polar scientist at the UW Applied Physics Laboratory.The new study also shows that hands-on ice-measuring methods used by people on the ground are just as accurate as other methods, Schweiger said."Using all these different observations that have been collected over time, it pretty much verifies the trend that we have from the model for the past 13 years, though our estimate of thinning compared to previous decades may have been a little slow," Schweiger said.The data in the new study goes up to 2012, when summer sea-ice levels dropped to a record low. Since then, ice levels have slightly increased, the researchers said."What we see now is a little above the trend, but it's not inconsistent with it in any way," Lindsay said. "It's well within the natural variability around the long-term trend."The findings were published in the March issue of the journal The Cryosphere.Follow Laura Geggel on Twitter @LauraGeggel. Follow Live Science @livescience, Facebook &Google+. Original article on Live Science.
IS 'bulldozed' ancient Assyrian city of Nimrud, Iraq says
 By Karim Abou Merhi and Jean Marc Mojon1 hour ago
Baghdad (AFP) – The Islamic State group have begun bulldozing the ancient Assyrian city of Nimrud in Iraq, the government said, in the jihadists' latest attack on the country's historical heritage.Related Stories
IS "assaulted the historic city of Nimrud and bulldozed it with heavy vehicles," the tourism and antiquities ministry said on an official Facebook page.An Iraqi antiquities official confirmed the news, saying the destruction began after noon prayers on Thursday and that trucks that may have been used to haul away artefacts had also been spotted at the site."Until now, we do not know to what extent it was destroyed," the official said on condition of anonymity.Nimrud, one of the jewels of the Assyrian era, was founded in the 13th century BC and lies on the Tigris River around 30 kilometres (18 miles) southeast of Mosul, Iraq's second city and the IS group's main hub in the country."I'm sorry to say everybody was expecting this. Their plan is to destroy Iraqi heritage, one site at a time," said Abdulamir Hamdani, an Iraqi archaeologist from Stony Brook University."Hatra of course will be next," he said, referring to a beautifully-preserved city in Nineveh province that is more than 2,000 years old and is a UNESCO world heritage site.
An Islamic State group militant is shown destroying a statue of an Assyrian diety in the Iraqi Gover …"I'm really devastated. But it was just a matter of time," he said.Nimrud is the site of what was described as one of the greatest archaeological finds of the 20th century when a team unearthed a collection of jewels and precious stones in 1988.The jewels were briefly displayed at the Iraqi national museum before disappearing from public view. But they survived the looting that followed the 2003 US invasion and were eventually found in a Central Bank building.Most of Nimrud's priceless artefacts have long been moved to museums, in Mosul, Baghdad, Paris, London and elsewhere but giant "lamassu" statues — winged bulls with human heads — and reliefs were still on site.The destruction at Nimrud Thursday came a week after the jihadist group released a video showing militants armed with sledgehammers and jackhammers smashing priceless ancient artefacts at the Mosul museum.- Winged bulls –
An image grab taken from a propaganda video uploaded on June 11, 2014 by jihadist group the Islamic  …That attack sparked widespread consternation and alarm, with some archaeologists and heritage experts comparing it with the 2001 demolition of the Bamiyan Buddhas in Afghanistan by the Taliban.In the jihadists' extreme interpretation of Islam, statues, idols and shrines amount to recognising objects of worship other than God and must be destroyed.The video released by IS last week showed militants knocking statues off their plinths and rampaging through the Mosul museum's collection.It also shows jihadists using a jackhammer to deface an imposing granite Assyrian winged bull at the Nergal Gate in Mosul."These artefacts behind me are idols for people from ancient times who worshipped them instead of God," a bearded militant said in the video."The prophet removed and buried the idols in Mecca with his blessed hands," he said, referring to the Muslim prophet Mohammed.
Displaced Assyrians, who fled their hometowns due to Islamic State group attacks against their commu …Many of the artefacts destroyed in the Mosul museum were from Nimrud and Hatra.UNESCO director general Irina Bokova demanded an emergency meeting of the Security Council and called for the International Criminal Court to look into the Mosul museum destruction.The IS group spearheaded a sweeping offensive last June that overran Nineveh province, where Mosul and Nimrud are located, and swept through much of Iraq's Sunni Arab heartland.The Mosul region was home to a mosaic of minorities, including the Assyrian Christians, who consider themselves to be the region's indigenous people.IS militants have systematically destroyed heritage sites in areas controlled by the group, including Sunni Muslim shrines that they also consider heretical, and they have repeatedly attacked members of religious minorities.Iraqi security forces and allied fighters are battling to regain ground from the jihadists with backing from an international anti-IS coalition as well as neighbouring Iran.But major operations to drive IS out of Nineveh are likely months away, leaving the province's irreplaceable historical sites at the mercy of militants who have no regard for Iraq's past.During the rule of now-executed dictator Saddam Hussein, Iraq enforced laws protecting historical sites.But years of violence before the 2003 invasion and crippling international sanctions saw the maintenance of Iraq's heritage take a back seat to other more urgent demands.Since the overthrow of the Hussein regime, such laws have been patchily enforced and the government has prioritised reconstruction of the war-battered country over preservation of heritage buildings, and many have now fallen into neglect.Iraq's national museum in Baghdad officially reopened on February 28 after 12 years of painstaking efforts to recover nearly a third of the 15,000 pieces looted during the US-led invasion.