Winter Storm Thor: 13 Dead; Hazardous Conditions Prompt School Closures Across East Published Mar 6 2015 10:29 PM ESTweather.com Winter Storm Thor Causes Pileup on I-94 in Clearwater, Minnesota Winter Storm Thor dumps snow on I-94 in Clearwater, Minnesota causing this chain reaction pileup.Winter Storm Thor's impacts are still being felt in the Northeast and South as precipitation turned to ice overnight, prompting several school closures and delays. "Winter Storm Thor has moved off the East Coast, leaving behind bitterly cold air in its wake across the Midwest, Northeast and South," said weather.com meteorologist Linda Lam. At least 13 fatalities have been attributed to Thor. (FORECAST: Winter Storm Thor)Here are the latest impacts from Thor:AlabamaSeveral schools were closed or delayed Friday due to adverse conditions left in the wake of Thor, WSFA-TV said. Ice likely contributed to a 14-vehicle pileup on Interstate 459 southbound Thursday afternoon, WBRC-TV reported. Irondale police noted five people were taken to hospitals, with two adults sustaining serious injuries. The interstate has since reopened. Icy conditions were seen all over Alabama on Thursday, leading to major issues on state roadways. Accidents were reported on Interstate 65 north of Cullman, The Associated Press reported, which greatly slowed travel. Officials had to close elevated parts of I-565 in Huntsville because of ice, the report added. Travel problems could continue through early Friday because of subfreezing temperatures. Gov. Robert Bentley declared a state of emergency ahead of the storm. Many schools and offices in northern Alabama were closed Thursday as the state hunkered down for another blast of freezing rain and sleet.According to AP, only scattered power outages have been reported across the state. Arizona Flooding kept residents who live along Oak Creek Canyon from departing or returning to their homes, KSAZ-TV said.A car lost control and was struck by a freight train crossing tracks at Route 66 in Flagstaff, Arizona, leaving one person injured, The Arizona Daily Sun reports.CaliforniaA mudslide shut down a stretch of the Pacific Coast Highway in both directions early Sunday morning, The Los Angeles Times reports.Officials reopened the road Monday.(MORE: Winter Storm Sparta Creates Nightmare on Roads)Bay Area residents were baffled Saturday when a storm dropped so much hail, people confused it for snow. The local NWS office confirmed although it looked "deceptively similar to snow, no snow fell below 4,000 feet" elevation.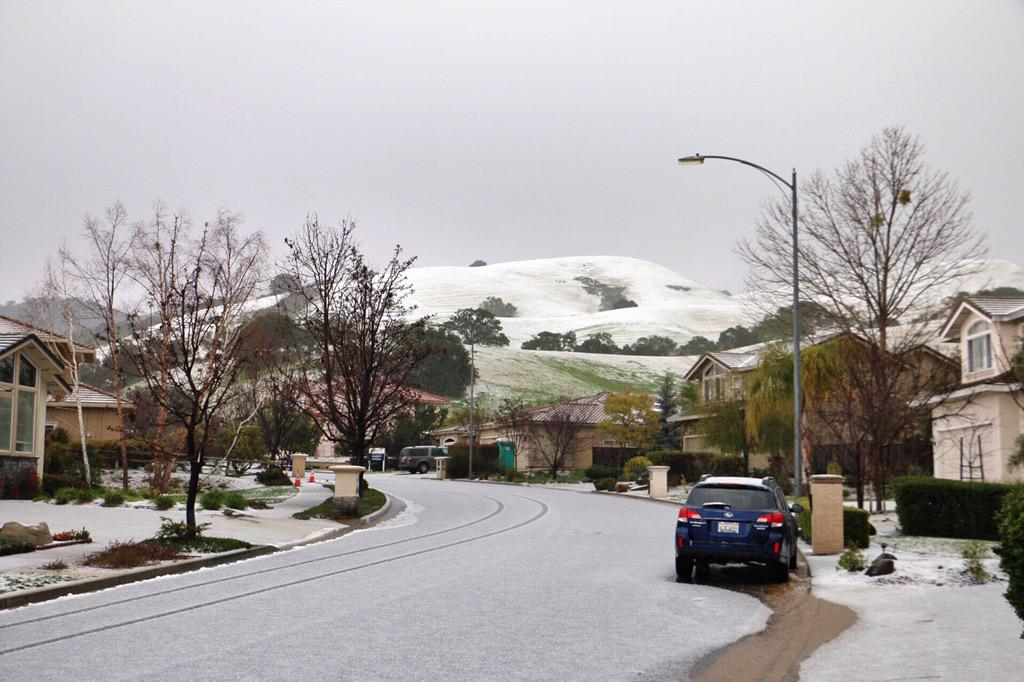 Steve Baker @sbakerFollowFoothills east of San Jose are covered in white! cawxIt began snowing in those higher elevations of the Sierra Nevada late Friday, and the ski resorts reported receiving upwards of a foot of snow."We are thrilled," Melissa Matheney, a spokeswoman for Squaw Valley and Alpine Meadows ski resorts, told The San Francisco Chronicle. "We couldn't be happier with this storm. It exceeded expectations, which is fantastic."ColoradoMultiple non-injury wrecks led to the partial closure of northbound I-25 Monday, Colorado State Patrol says. Around 9 a.m. local time, the highway was completely reopened.Thor's new layer of snow is on top of piles of snow left by previous storms across the state in the last few weeks.IllinoisIssues from Thor continued to linger into Thursday, with many roads in southern Illinois remaining snow- or ice-covered, according to the state DOT.AP reported that the Illinois Secretary of State's office closed 10 offices Thursday due to dangerous roads. Those offices are expected to reopen Friday morning.The DOT reported wet, icy conditions on major roadways Tuesday. The ice caused problems, including slide-offs and accidents, which briefly closed a stretch of I-57 Tuesday, according to The Chicago Tribune. State police say there were at least four injury-causing accidents on I-74.IndianaSouthern Indiana saw heavy snow from Thor after the state struggled with ice earlier in the week. Icy roads snarled morning traffic in northwest Indianapolis Tuesday. WTHR reports that at least six accidents involving semi-trucks shuttered travel on I-65 and I-465. With overturned and jack-knifed semis on the road, closures began to pop up. Fox 59 reports that a salt truck was involved in one of the crashes on I-65 and I-465. On westbound I-70, Indiana State Police report slide-offs.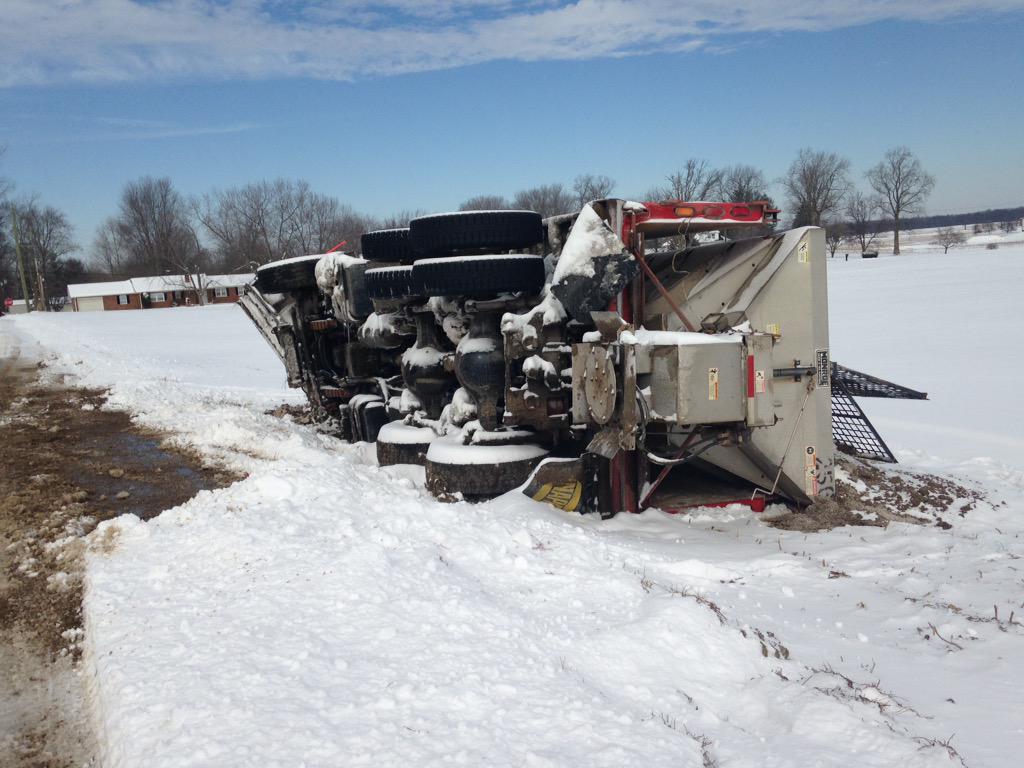 Hillary Simon @Hillary14NewsFollowA snow plow that turned over in Chandler last night is still here. This is on N First St and McCool Rd IowaThe Montgomery County Sheriff's Office told Omaha.com a Carson, Iowa, woman was seriously injured Tuesday morning when her 2004 Ford Expedition rolled on an icy road.KentuckyJefferson County Public Schools closed Friday, per the district website. Students will have a make up day in June. Fayette County Public Schools were closed Friday due to adverse weather conditions, according to the district's website.Snow plows across the state experienced obstacles trying to clear Thor's wintry mess, the Associated Press said. Chuck Wolfe, State Transportation Cabinet spokesman, said some snow plows were getting stuck in the heavy snow or blocked by disabled vehicles. Lexington broke its single-storm total record with 17.1″ of snowfall, up from 16.1″ in 1917, according to the National Weather Service. The city also broke its all-time 24-hour snowfall record with 14.6″ between 7 a.m. Wednesday and 7 a.m. Thursday, up from 13.5″ in 1943. Interstate 65 became a parking lot Thursday morning as heavy snow stranded drivers, according to local reports. Some motorists said they were stuck on the freeway for at least 12 hours. The closures were cleared Thursday night, however, traffic congestion remained heavy, Kentucky State Police trooper Paul Blanton told NBC. (MORE: National Guard Called In To Assist Stranded Drivers)Gov. Steve Beshear declared a state of emergency Thursday morning.In advance of the snow that hit Wednesday afternoon, central and eastern Kentucky experienced flooding, as a result of rain and snow melt."There are reports of high water and minor flooding all over," Monica French, a spokeswoman for the Kentucky Division of Emergency Services, told The Lexington News Herald Wednesday evening.Water covered several roads and bridges, making travel difficult, but homes were not threatened, local officials reported. Gov. Steve Beshear said Wednesday evening he was watching the situation to decide whether a statewide emergency declaration is needed, the paper reported.The University of Louisville will be closed again on Friday, the school announced.LouisianaGov. Bobby Jindal declared a state of emergency Wednesday night ahead of Thor.State officials closed I-49 from Shreveport to the Arkansas state line, and I-220 is closed around north Shreveport and Bossier City, AP reported.MarylandMARC train and commuter bus service were halted Thursday while light rail and subway schedules were modified, according to AP.MichiganA fatal three-car accident that occurred Tuesday afternoon was blamed on roads made slick by Thor's snow and ice, The Associated Press reported.The crash occurred near Caro, about 80 miles north of Detroit, the report added. Authorities had not yet released the name of the person killed.Several other accidents were reported in Genesee, Ingham and Washtenaw counties, officials told the AP.MinnesotaI-94 closed for three hours in both directions Tuesday after a series of crashes clogged roads. State Patrol spokesperson Lt. Tiffani Nielson told KARE-TV a person was killed in one of the incidents after a semi hit a car being retrieved from a ditch.The interstate reopened late Tuesday evening.Nielson provided updates on state highways throughout the day, citing numerous crashes and a rolled semi. On I-494 near Concord Street in South St. Paul, Minnesota, a state trooper's car was struck, and the officer was transported to an area hospital.MississippiGov. Phil Bryant hdeclared a state of emergency ahead of Thor, according to the Clarion-Ledger. Nebraska Omaha was on the edge of Thor's precipitation Tuesday morning and saw freezing drizzle, leading to a glaze of ice across the Omaha-Council Bluffs area. KETV anchor Alex Hoffman, citing updated reports from local hospitals Wednesday, told weather.com that 148 people were hospitalized in the Omaha area after they slipped and fell on ice. Injuries ranged from sprains to broken legs and arms to head injuries.A motorist also died early Tuesday morning in Omaha when his vehicle veered off icy roads and crashed into a tree, Omaha.com reported. Patrick Dubas, 44, was unresponsive when rescue personnel arrived on the scene. Three other motorists were seriously injured in separate incidents.New JerseySeveral Garden State schools were closed or delayed opening Friday due to the hazardous conditions Thor left behind, News 12 reported.Gov. Chris Christie declared a state of emergency Wednesday night as the state prepared for Thor.State offices and most schools were closed Thursday to keep people off the roads and home safe, AP reported. Speed limits were reduced on major highways, and mass transit was limited until the storm passed.New YorkHazardous conditions prompted the closure or delays of several schools Friday, NBC New York reported. Here is a full list of affected schools. Late Thursday morning, a Delta plane traveling from Atlanta to New York skidded off a snowy runway at LaGuardia Airport; you can read more about that story here.The first waves of Thor left slick roads and poor visibility in Orange County earlier in the week. The conditions were blamed for a 23-vehicle pileup along I-84 Wednesday morning. Ten people were hurt, but state police said the injuries were minor.OhioSouthern parts of the state were hit hard by Thor's snowy blast, forcing the closure of some school districts on Thursday. Cincinnati Public Schools were given the day off, AP reported.OklahomaOklahoma City set a daily snowfall record Wednesday, with 4 inches dumped by Thor. PennsylvaniaSchool District of Philadelphia schools, Philadelphia Archdiocese schools and several more remained closed Friday due to adverse weather conditions, CBS Philadelphia said.  Several hazardous bus routes prompted the Southeastern Pennsylvania Transportation Authority to suspend service again Friday, NBC Philadelphia reported. Icy conditions Tuesday night prompted Penn State officials to cancel classes Wednesday for the first time in 8 years, the AP reported.Abington Township near Philadelphia and others declared states of emergency Wednesday ahead of the area's switch from rain to snow. Ice jams along Loyalhanna Creek in Ligonier Township forced about a half-dozen residents to evacuate when the waterway overflowed its banks early Wednesday morning, according to a separate AP report.TennesseeShelby County Schools closed Friday due to dangerous conditions on bus routes and campuses, according to the district's website. Four people died in Tennessee from motor-vehicle accidents related to the storm. A 46-year-old man was killed in a car accident, according to The Tennessean, but additional details have not been released.A second death occurred when a 35-year-old Wilson County woman was killed in a weather-related crash on Wednesday, AP reported.TexasDallas/Fort Worth International Airport reported 2.5 inches of snow Wednesday, setting a daily record for the city.Wednesday night, NBC DFW reported a weather-related vehicular accident that resulted in one fatality on Highway 380 near Little Elm. Additional details were not yet released.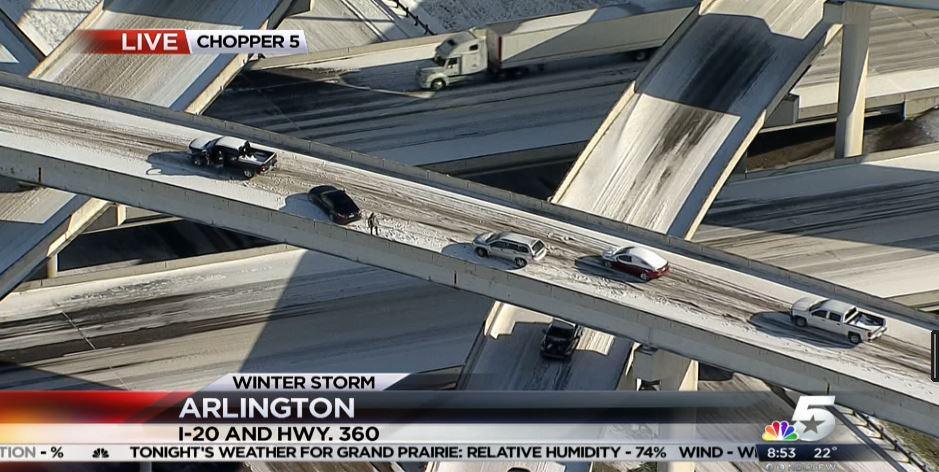 NBC DFW @NBCDFWFollow Drivers stranded along I20 and Hwy 360 in Arlington. Live NBCDFWSnow coverage here: http://on.nbcdfw.com/Yrp7ZJd The Dallas Area Rapid Transit announced a modified schedule beginning at 8:30 p.m. Wednesday in response to the weather. Shuttle operated in place of trains in several locations. Virginia Thursday evening, a man was found dead in a car swept away by flood waters in Davenport, the Associated Press reported.  AVirginia State Police team located the missing vehicle before 5 p.m. and found 60-year-old Randy O'Quinn of Haysi inside. O'Quinn was the passenger in the vehicle that was swept away just after 11 p.m. Wednesday night. Virginia State Police responded to nearly 500 accidents and 222 disabled vehicles between noon and 4 p.m. Thursday, the Associated Press reported. The police also received over 1, 150 emergency calls during that timeframe. In addition to the winter weather, about 70 roads in southwestern Virginia were closed because of flooding and landslides, AP also reported. Washington D.C. Hazardous conditions prompted the closure of D.C. area schools Friday, NBC Washington reported. Federal government offices were operating on two-hour delays, as well.Dangerous roads led to several accidents Thursday, NBC Washington reported. A jackknifed semi and flipped snow plow were among the incidents. West Virginia Parkesburg reported 12 inches of snow, reports AP, while as much as 11 inches were recorded in Huntington.More than 80,000 customers were without power in the state Thursday morning, according to West Virginia's utility companies. Warming stations and shelters were opened in several counties, including Cabell County where about 10,000 residents were without power Thursday evening, according to AP. Severe flooding occurred Wednesday across large swaths of northern and central West Virginia. A local state of emergency was declared for Monongalia County, West Virginia, because of flooding in the region, as several homes in the county were evacuated. The storm closed roads in three dozen counties due to high water, rock falls, mudslides and downed trees, reports AP, and many other streets and interstates were clogged with snow.Wisconsin The AP reports that one person died after a crash on Highway 41 in Brown County, Wisconsin. Behind the crash, a line of buses got stuck. Officials closed the just-opened Apostle Island ice caves Tuesday because of high winds and blowing snow, Channel 3000 reports.Wyoming Three adults died Monday evening when two sedans collided about 40 miles north of Casper near the town of Midwest. One of the drivers was thrown from his vehicle and hit by an oncoming pickup truck, according to The Casper Star-Tribune. The driver and a passenger in the other vehicle also died, but a two-year-old child survived without major injuries.An airplane slid off a runway at New York City's LaGuardia Airport on Thursday, March 5, 2015 during Winter Storm Thor. There were no reports of serious injuries. (Twitter/@NYPDSpecialops)
El Nino finally here; but this 1 is weak, weird and late
 By SETH BORENSTEINMarch 5, 2015 10:37 AM
FILE – In this Feb. 24, 1998 file photo, a woman waits for a tow truck on the hood of her brother's pickup after a wall of mud plowed down Laguna Beach Canyon Road in Orange County, Calif. forcing her to evacuate her home, in background. A long anticipated El Nino weather warping is finally here. But for drought-struck California, it's too little, too late, meteorologists say. The National Weather Service Thursday proclaimed the somewhat infamous weather phenomenon El Nino is now in place. It's a warming of a certain patch of the central Pacific that changes weather patterns worldwide, associated with flooding in some places, droughts elsewhere, a generally warmer globe, and fewer Atlantic hurricanes. El Ninos are usually so important that economists even track it because of how it affects commodities. This year's El Nino that has arrived isn't big and is late so it's unlikely to do much to alleviate the current California drought. (AP Photo/Nick Ut, File)WASHINGTON (AP) — A long anticipated El Nino has finally arrived. But for drought-struck California, it's too little, too late, meteorologists say.The National Weather Service on Thursday proclaimed the phenomenon is now in place. It's a warming of a certain patch of the central Pacific that changes weather patterns worldwide, associated with flooding in some places, droughts elsewhere, a generally warmer globe, and fewer Atlantic hurricanes. El Ninos are usually so important that economists even track them because of how they affect commodities.But this is a weak, weird and late version of El Nino, so don't expect too many places to feel its effects, said Mike Halpert, deputy director of the weather service's Climate Prediction Center. He said there may be a slight decrease in the number of Atlantic hurricanes this summer if the condition persists, but he also points out that 1992's devastating Hurricane Andrew occurred during an El Nino summer, so coastal residents shouldn't let their guard down.There's about a 50 to 60 percent chance the El Nino will continue through the summer, NOAA predicts.Ever since March 2014, the weather service has been saying an El Nino was just around the corner. But it didn't quite show up until now. Meteorologists said the key patch of the Pacific was warming but they didn't see the second technical part of its definition — certain changes in the atmosphere. Halpert said he didn't know why this El Nino didn't form as forecast, saying "something just didn't click this year.""What we've learned from this event is that our definition is very confusing and we need to work on it," Halpert said.Last year, some experts were hoping that El Nino would help the southwestern droughts because moderate-to-strong events bring more winter rain and snow to California — even flooding and mudslides during 1998's strong El Nino. But this El Nino arrives at the end of California's rainy season and is quite weak, Halpert said."This is not the answer for California," Halpert said.The U.S. Southeast may see some above average rainfall, which is typical for an El Nino, Halpert said.This is the first El Nino since spring of 2010.Allan Clarke, a physical oceanography professor at Florida State University, said as far he's concerned, El Nino has been around awhile and the weather service didn't acknowledge it. But he agrees that this doesn't look like a strong one.That fits with the pattern the last 10 years, when El Nino's flip side, a cooling of the central Pacific called La Nina, has been more common. From 2005 to 2014, there have been twice as many months with a La Nina than with El Nino, weather records show. More than half of the time, the world has been in neither._Online:Climate Prediction Center's El Nino page: http://1.usa.gov/1jSaUB3_Seth Borenstein can be followed at http://twitter.com/borenbears
Outrage: Extremists take ancient statues, damage Iraqi site
 By VIVIAN SALAMA and CARA ANNA9 hours agoABC News Videos ISIS Bulldozes Ancient City of Nimrud in Iraq
News ISIS Bulldozes Ancient City of Nimrud in Iraq BAGHDAD (AP) — Islamic State extremists trucked away statues as they damaged the irreplaceable remains of an ancient Assyrian capital, a local resident and a top UN official told The Associated Press Friday.Related Stories
Nimrud, a nearly 3,000-year-old city in present-day Iraq, included monumental statues of winged bulls, bearded horsemen and other winged figures, all symbols of an ancient Mesopotamian empire in the cradle of Western civilization.The discovery that extremists removed some statues before using heavy equipment to destroy much of the site Thursday was cold comfort as outrage spread over the extremists' latest effort to erase history.United Nations Secretary-General Ban Ki-Moon considers the destruction a war crime, his spokesman said in a statement.Iraq's most revered Shiite cleric, the Grand Ayatollah Ali al-Sistani, said in his Friday sermon that the extremists are savaging Iraq, "not only in the present but also to its history and ancient civilizations.""I'm shocked and speechless," said Zeid Abdullah, who lives in nearby Mosul and studied at the city's Fine Arts Institute until the extremists shut that down. "Only people with a criminal and barbaric mind can act this way and destroy an art masterpiece that is thousands of years old."
In this March 1, 2015. file photo, a man at Iraq's National Museum in Baghdad walks past two ancient …A farmer from a nearby village told the AP Friday that militants began carrying tablets and artifacts away from the site two days before the attack, which began Thursday afternoon. The militants told the villagers that the artifacts are idols forbidden by Islam and must be destroyed, the farmer said, speaking anonymously for fear of reprisals.But the group also is known to have sold off looted antiquities as a source of revenue.Some statues were "put on big trucks, and we don't know where they are, possibly for illicit trafficking," UNESCO Director General Irina Bokova said.UN officials have seen images of destroyed Assyrian symbols including statues with the head of a man, the torso of a lion and wings of an eagle. These symbols were referred to in the Bible and other sacred texts, she said.said.
In this March 1, 2015. file photo, Aaman at Iraq's National Museum in Baghdad walks past two ancient …UN officials were studying satellite imagery of the destruction, since it remains too dangerous to approach the site, she said.These violent Sunni extremists have been campaigning to purge ancient relics they say promote idolatry that violates their interpretation of Islamic law. A video they released last week shows them smashing artifacts in the Mosul museum and in January, the group burned hundreds of books from the Mosul library and Mosul University, including many rare manuscripts. Many fear Hatra, another nearby ancient site could be next.Iraqi authorities were still trying to assess Friday exactly how badly the ancient site was damaged Thursday."The destruction of Nimrud is a big loss to Iraq's history," Qais Mohammed Rasheed, the deputy tourism and antiquities minister, told The Associated Press on Friday. "The loss is irreplaceable."UNESCO previously warned that the group was selling ancient artifacts on the black market for profit. Rasheed said authorities have not ruled out the possibility that the militants could try to sell these, too.
This Monday, Sept. 15, 2014 file photo shows a detail of a statue from the Assyrian period displayed …Bokova already wrote the International Criminal Court about a possible war crimes prosecution, and plans to alert INTERPOL, major museums, auction houses and Middle East governments to recover any trafficked artifacts."Somebody is going to buy these," said Iraq's U.N. Ambassador, Mohamed Alhakim.Nimrud, also known as Kalhu, was the 9th century B.C., capital of Assyria, an ancient kingdom that swept over much of present-day Iraq and the Levant. The site spans 3.3 square kilometers on the Tigris River, and boasted the remains of temples, palaces and a ziggurat pyramid as well as the huge statues.Many artifacts from Nimrud were moved to museums in Mosul, Baghdad, London and Paris.In the 1980s, archaeologists discovered a trove of hundreds of gold items from Nimrud's royal tombs — considered one of the 20th century's most significant archaeological finds. The "treasures of Nimrud" were kept in a basement safe of the Central Bank in Baghdad for years until they were "re-discovered" in 2003, and now most of it is in the Baghdad Museum.
This undated handout photo provided by the Library of Congress taken during the autumn of 1932 shows …Nimrud was already on the World Monument Fund's list of most endangered sites due to extreme decay and deterioration before it was captured in June as extremists took over nearby Mosul, Iraq's second-largest city.Last year, the militants destroyed the mosque believed to be the burial place of the Prophet Younis, or Jonah, as well as the Mosque of the Prophet Jirjis — both revered ancient shrines in Mosul. They also threatened to destroy Mosul's 850-year old Crooked Minaret, but residents surrounded the structure, preventing the militants from approaching.In July, they removed the crosses from Mosul's 1,800-year old Mar Behnam monastery and then stormed it, forcing the monks and priest to flee or face death.A U.S.-led coalition has been striking the Islamic State group since August and is preparing a large-scale operation to retake the city of Mosul. But U.S. and Iraqi officials have been cautious about setting a timeline for preparing Iraq's embattled military for the campaign.Meanwhile the battle to recover Saddam Hussein's hometown of Tikrit progressed Friday with Iraqi government forces taking back the town of Dawr, 10 miles (15 kilometers) south of the city. Raed al-Jabouri, the provincial governor, said security forces should reach Tikrit by Sunday.The Tikrit campaign launched Monday has been stalled because extremists lined strategic roads into the city with explosives and land mines, military officials said.Dawr is the hometown of Izzat Ibrahim al-Douri, Saddam's former deputy, who has been suspected of collaborating with the Islamic State militant group.__Anna reported from the United Nations. Sameer N. Yacoub and Ahmed Sami in Baghdad, Verena Dobnik in New York, Amanda Myers in Washington, Jamey Keaten in Paris and Danica Kirka in London contributed to this report.
Bloody Sundays: Violence against peaceful protesters from Selma to BelfastBy Michael Walsh11 hours agoYahoo News The real story of Selma How long must we sing this song?Related Stories
President Barack Obama is scheduled to visit Selma, Ala., on Saturday, March 7, to commemorate the 50th anniversary of Bloody Sunday.On that day in 1965, Alabama state troopers and local police used tear gas and billy clubs to attack a gathering of roughly 600 nonviolent protesters near the Edmund Pettus Bridge during a march from Selma to Montgomery.Martin Luther King Jr. led the crowd of men and women of all ages in their fight for African-Americans' right to vote.Activists organized the march in response to the death of Jimmie Lee Jackson, who was shot and killed by an Alabama state trooper during another peaceful protest the previous month.Televised footage of the Bloody Sunday violence galvanized supporters of civil rights and ultimately led to the passage of the Voting Rights Act in August of that year. This landmark piece of federal legislation prohibits racial discrimination in voting
In this March 7, 1965 file photo, state troopers use clubs against participants of a civil rights vo …"Bloody Sunday is sacred. It's sacred because of the blood shed in the struggle engaged in all on a holy day," Democratic state Sen. Hank Sanders, who represents the district, said in an interview with Yahoo News.Sanders says he has participated in the commemoration of that watershed moment every year for the past 40 years.Bloody Sunday in Northern Ireland Several dates throughout history have been given the same name — Bloody Sunday — most involving authorities resorting to violence to disperse peaceful, unarmed protesters.Perhaps the most widespread use of the phrase refers to an incident on Jan. 30, 1972, in Derry, Northern Ireland, during the conflict known as the Troubles.
An armed soldier attacks a protester on Bloody Sunday when British paratroopers shot dead 13 civilia …British soldiers opened fire on 26 unarmed civilians during a rally against internment, killing 14 people. Some were shot while fleeing; others, while helping the wounded.The 2010 Saville Report, the result of a 12-year investigation into the incident, shows that the British Army gave no warning before firing and that some soldiers gave false accounts to justify their actions.U.K. Prime Minister David Cameron subsequently apologized to the Irish people on behalf of Great Britain."There is no doubt, there is nothing equivocal, there are no ambiguities," Cameron said before the House of Commons. "What happened on Bloody Sunday was both unjustified and unjustifiable. It was wrong."Crowds gathered at Guildhall Square in Derry broke into applause as Cameron delivered the results of the inquiry.
22nd January 1905: At the Narva Gate in St. Petersburg unarmed strikers trying to present a petition …Russia The name Bloody Sunday is also used in reference to a violent encounter between unarmed protesters and Imperial Russian soldiers on Jan. 22, 1905, in St. Petersburg.The massacre ushered in the violence of the Russian Revolution of 1905, which posed a significant threat to the czarist dictatorship.Crowds of disgruntled industrial workers holding religious symbols gathered outside Emperor Nicholas II's Winter Palace in St. Petersburg to air their grievances.Grand Duke Vladimir, the chief of the security police and the emperor's uncle, ordered the police to shoot the workers when he could not stop their march.
In this March 7, 1965 file photo, S.W. Boynton is carried and another injured man tended to after th …More than 100 people were killed, and hundreds were wounded.In response to the bloodshed, riots and protests erupted across the country and Nicholas promised to work toward some democratic reforms by forming "Dumas," elected legislative assemblies.But turmoil and anger continued to brew until the Russian Revolution of 1917 overthrew the government — ushering in nearly a century of communism.Other Bloody SundaysWashington state's Bloody Sunday on Nov. 5, 1916, also known as the Everett Massacre, stemmed from a confrontation between members of the Industrial Workers of the World union and local authorities.
In this March 7, 1965 file photo, John Lewis, center, of the Student Nonviolent Coordinating Committ …There were two Bloody Sundays — on Nov. 21, 1920, and July 10, 1921 — during the Irish War of Independence.Nazis murdered between 10,000 and 12,000 Jews on Oct. 12, 1941, in the Stanisławów Ghetto in Poland.And there was even a Bloody Sunday in the 19th century, on Nov. 13, 1887, when police charged a crowd of poor protesters in London.The legacy of Bloody Sunday in Alabama Two days after the Bloody Sunday of Selma, Martin Luther King Jr. organized another protest during which police yet again violently opposed peaceful demonstrators.
In this March 7, 1965 file photo, clouds of tear gas fill the air as state troopers, ordered by Gov. …A third attempt on March 25 attracted some 3,200 participants in Selma and picked up about 22,000 more on their way to Montgomery. The courage of King and the other marchers inspired countless men and women across the nation to demand black rights through civil disobedience.Of all those marches, Bloody Sunday is the one that lives on in our cultural memory.Sanders says the 50th is especially important not just to commemorate the events of that day but to "rededicate ourselves to fully restoring the Voting Rights Act."He argues that voting rights have been under deliberate attack ever since then President Lyndon Johnson signed the legislation into law half a century ago — and hopes Saturday's anniversary will help keep the issue in the spotlight."There will be hundreds of elected officials, thousands of leaders and tens of thousands of people here on this sacred pilgrimage."
Could we be flying in three-decker planes by 2030?Future concept 'Progress Eagle' aircraft will be eco-friendly and fly 800 passengers
Yahoo News. – 14 hours ago
Is this the future of air travel? (Oscar Viñals/REX)The future of aircraft will be a three-decker plane with space for 800 passengers, according to the AWWA.QG Progress Eagle concept produced by Barcelona-based designer Oscar Viñals.[ NASA to produce breathable air on Mars in 2020 ]The plane, which images what air travel will look like in 15 years' time, feaureszero contaminant emissions, making it eco-friendly. The self-sufficient aircraft would produce 75% less noise than current models, says its designer.
The concept aircraft has three decks (Oscar Viñals/REX)
The Progress Eagle would be given a powerful thrust by six on-board fuel energy engines.
The eco-friendly plane is 75% quieter than existing models (Oscar Viñals/REX)
The largest passenger plane currently in use is the Airbus A380, which carries 525 passengers.
QUIZ! How well do you know London?
Our latest brainteaser tests your knowledge of our capital city….
Yahoo News.
 – 19 hours ago We've already tested you on 
sunsets
, 
country outlines
 and, erm… 
close-up objects
.For our latest quiz, we thought we'd get you to rack your brains on all things London. Let us know how you get on in the comments below!Still thirsty for more quizzing? Head over to 
our dedicated quiz page for more tests
 of your knowledge.
Japan, North Korea could resume abduction talks this month – Nikkei
Reuters
 – 58 minutes ago
Reuters/Reuters – People walk near a campaign poster on Japan's abduction issue on a street in Tokyo July 3, 2014. REUTERS/Yuya Shino/Files TOKYO (Reuters) – Japan and 
North Korea
 could resume talks as early as this month over an investigation North Korea is conducting into the fate of Japanese citizens it kidnapped decades ago, the Nikkei newspaper reported on Saturday.There was informal contact between Japanese and North Korean diplomats in China in late February, and the two sides agreed to hold a meeting about the investigation in China sometime late March or early April, the Nikkei said without citing sources.Foreign ministry officials were unavailable for comment.If the talks do take place they would be the first official contact since Japan sent a diplomatic mission to Pyongyang in October only to be disappointed to learn that North Korea had no new information about abductees.North Korea admitted in 2002 to kidnapping 13 Japanese citizens, and five of those abductees and their families later returned to Japan. North Korea said that the remaining eight were dead and that the issue was closed, but Japan has been pressing for more information.The North promised to reopen the investigation in 2008, but never followed through.When North Korea agreed last year in May to reopen an investigation into the abductees Japan responded by easing some sanctions in a sign the often fractious relationship between the two countries could improve.(Reporting by Stanley White; Editing by Jeremy Laurence)
Six-way kidney swap complete at San Francisco hospital
By 
By Michael Fleeman
 | 
Reuters
 – 2 hours 12 minutes ago
Reuters/Reuters – Surgeons remove a kidney from Zully Broussard at California Pacific Medical Center in San Francisco, California, March 5, 2015, in this handout photo provided by California Pacific Medical
 …more 
Zully Broussard speaks to a nurse before beginning a kidney removal at California …
Surgeons begin a kidney removal from Zully Broussard at California Pacific Medical …By Michael Fleeman SAN FRANCISCO (Reuters) – Doctors at a San Francisco hospital on Friday completed kidney transplant surgeries in a rare organ-transplant chain from living donors that resulted in healthy kidneys going to six sick people.The group of 12 donors and recipients, ranging in age from 24 to 70-years-old, were recovering after their operations at California Pacific Medical Center, said hospital spokesman Dean Fryer."All the surgeries went smoothly. Everybody is now in their recovery rooms and getting some well-deserved rest," Fryer said, adding that donors typically can be released in two to three days and recipients in three to five days.The first round of operations began on Thursday and all the surgeries were completed by late Friday afternoon, Fryer said. Five surgeons and dozens of hospital staff were on hand for the two days of procedures, he said.Among those recovering from Thursday's surgery was Zully Broussard, 55, of Sacramento, California, a so-called altruistic donor who had triggered the domino effect.Broussard, whose son and husband both died of cancer, offered to donate a kidney to a friend, but the friend ultimately had to use another donor, according to hospital officials.Broussard was still willing to donate, so she was matched with a man she did not know from Benicia, California. That man's sister-in-law, who was not a match for him, agreed to donate her kidney to a Fresno woman, while her son, in turn, would be a donor for another woman, and so on.This was the largest kidney swap in the 44-year history of California Pacific's transplant center. In 2011, the hospital became the state's first to do a five-way swap, Fryer said.(Reporting by Michael Fleeman in Los Angeles and Curtis Skinner in San Francisco; Editing by Cynthia Johnston and Eric Beech)