Crater collapse causes lava explosion on Hawaii's Kilauea
 By CALEB JONES3 hours ago
View photoIn this May 3, 2015 photo provided by U.S. Geological Survey Hawaiian Volcano Observatory, smoke and lava explode from Kilauea volcano on Hawaii's Big Island. Molten lava and rocks went flying through the air after part of the crater wall collapsed and caused the explosion. (USGS Hawaiian Volcano Observatory via AP)HONOLULU (AP) — Molten lava, rocks and gas went flying through the air on Hawaii's Kilauea volcano after an explosion was caused by the partial collapse of a crater wall.The collapse triggered a small explosion, spreading lava and debris around the rim of Kilauea's Halemaumau Crater, the U.S. Geological Survey's Hawaiian Volcano Observatory says.Janet Babb, a geologist with the USGS, compared the blast on Sunday to taking a hammer to the top of a bottle of champagne."You look at the bottle and you see the liquid, but you don't see the gas," she said. "There's a lot of gas in the lava. And so, when that rock fall hits the lava lake, it's like the moment you knock the top of the champagne bottle off and that gas is released and it hurls molten lava and rock fragments."Rocks overhanging the lava lake are altered by gases coming from the lava, Babb said. The rocks eventually give way and collapse into the lava, causing an explosion.The material was hurled about 280 feet skyward, she said.Video of the event shows a wall of rocks sliding into a lava lake that last week rose to a record-high level. The slide caused an explosion that sent fist-size chunks of rock onto the closed Halemaumau visitor overlook, according to the Geological Survey. The area has been closed since 2008, when the lava lake formed, and no one was injured.There could be fallout of ash and dust from this type of event, but it's very unlikely that anyone could be injured, Babb said. Wind direction dictates the amount of debris that lands in visitor areas, and it is relatively common, she said.The last time molten lava was visible in the crater was in 1982, when a fissure erupted. The last time there was a lake similar to this one was in 1974.The vent within Halemaumau Crater has been rising and falling since it first opened, but it reached a record high last week. Even at its previous highest level in October 2012, the lake was too low for people to see. During the day, people could view the gas rising from the lake, and at night people could see the orange glow from the lava.From the early 1800s up until 1924, there was a continuous lake of lava at Kilauea summit within Halemaumau. At that time, the crater was about half the diameter of what it is now.In 1924, there was a huge eruption inside the volcano that doubled the size of the crater.Since 1924, lava lakes have been present at different times. In 1967 and 1968, the entire crater was filled with molten lava. You can still see a "bathtub ring" on the walls of the crater where the lava had risen to at that time.A magnitude 3.6 earthquake was felt in the area early Monday morning, according to the Geological Survey._Follow Caleb Jones on Twitter: @CalebAP
Strong quake rocks Papua New Guinea, local tsunami possible
 1 hour agoRelated Stories
SYDNEY (AP) — A powerful earthquake rattled the South Pacific island nation of Papua New Guinea on Tuesday, and officials warned that a local tsunami was possible.The 7.4-magnitude quake struck about 130 kilometers (80 miles) south of the town of Kokopo in northeastern Papua New Guinea, at a depth of 63 kilometers (40 miles), the U.S. Geological Survey reported, downgrading its original estimate that the quake was magnitude 7.5 and 10 kilometers (6 miles) deep.The Pacific Tsunami Warning Center said tsunami waves of up to 1 meter (3 feet) were possible within 300 kilometers (186 miles) of the epicenter.There were no immediate reports of waves being seen and no reports of damage, said Chris McKee, assistant director Geophysical Observatory in the capital, Port Moresby."The earthquake is offshore and the nearby land areas are fairly sparsely populated," McKee said.The National Disaster Center also had not received any reports of damage, said acting director Martin Mose."We're just sending a message now to the area for villages along the coast to take extra precautions in case a tsunami is generated," he said.Tuesday's quake was centered in the same area as two earthquakes that rocked Papua New Guinea last week. Neither of those quakes caused damage or generated a tsunami, but they were slightly lower in strength than Tuesday's.Papua New Guinea sits on the Ring of Fire, the arc of seismic faults around the Pacific Ocean where earthquakes are common.
Greenland glaciers melt, revealing a new island on Facebook Share on Twitter  Ice off the coast of Greenland in August 2014.IMAGE: ALBERT NIEBOER/ASSOCIATED PRESS
BY ANDREW FREEDMANThe Greenland ice sheet has been melting at an increasing rate over the past few decades, contributing to global sea level rise and possibly the slowing of the Gulf Stream current in the North Atlantic.Glaciers that end in the ocean have seen some of the fastest rates of retreat, since comparatively mild ocean waters are destabilizing the ice from below, speeding the ice's one-way trip into the sea.SEE ALSO: Wonderworld: A spectacular photo journey of EarthNow comes new evidence that the Greenland coast continues to transform regional maps, with a new island created at the ocean boundary between the Steenstrup Glacier and Kier Glacier in northwest Greenland.
A new island formed as the Steenstrup Glacier pulls back between 2013 and 2014.IMAGE: LANDSAT IMAGE VIA AGUAccording to glacier researcher Mauri Pelto of Nichols College, the retreat of these two glaciers from 1999 to 2014 has led to several new islands, one of which emerged just last year. In a blog post for the American Geophysical Union, a society representing earth scientists worldwide, theSteenstrup Glacier has retreated by 6.21 miles, or 10 kilometers, during the past 60 years.In 2012, there was just a narrow glacier connection with the unnamed island known by the mountain that rests on it called Tugtuligssup Sarqardlerssuua. This connection lasted for only two years before the ice retreated further last year, severing the island's link to mainland Greenland.Before that, the island had been firmly within these glaciers' grasp, and may have helped anchor the glacier in place, Pelto told Mashable in an interview. Without its roots, the glacier may speed up its rate of retreat."These islands can be anchors as well, so when a glacier loses contact with an island there tends to be a fairly rapid retreat," he said.In contrast to when giant glaciers retreat up fjords, new islands are "a very visible feature" if glacial melt, "something new" that was created from the melt, Pelto said. "It would never have been shown as an island before, but it certainly has been an island you would think in the past. It all depends on your time frame."It's more accurate, perhaps, to say this was an island "waiting to be released" from its frozen clutches, Pelto added.The island's formation isn't a new phenomenon solely related to manmade global warming, however. Throughout history, these islands may have been connected and then severed from mainland Greenland many different times as ice has expanded and retracted. However, past glacier retreats had more natural climate origins, such as variations in Earth's orbit.But the majority of global climate change in recent decades has been caused by human emissions of greenhouse gases, such as carbon dioxide and methane, from burning fossil fuels.According to Pelto, the red arrow in these images indicates the ice front of the Steenstrup Glacier at Tugtuligssup Sarqardlerssuua.
Map showing the pullback of two Greenland glaciers, which created new islands in the process.IMAGE: MAURI PELTO/AGU"In 2014 Steenstrup Glacier at the red arrow has separated from Tugtuligssup Sarqardlerssuua," Pelto writes. "From 2013 to 2014 the embayment is spreading inland and north."Pelto said the retreat of the glacier here matches patterns of glacial retreat and new island formation at other Greenland outlet glaciers, such as Alison Glacier and Upernavik Glacier. "The map of Greenland is continues to change at an accelerated rate," he said. Pelto has previously identified other islands forming in the same area from retreating ice.As for the upcoming melt season, its unclear how much ice will be lost in northwest Greenland. But the winter wasn't particularly kind to the region's glaciers, with data showing ice mass loss in northwest Greenland from September 2014 through the end of April 2015.Have something to add to this story? Share it in the comments.TOPICS: CLIMATE, GREENLAND, HISTORY, SEA LEVEL RISE, WORLD
Remote home of leprosy patients could open door wider
 By JENNIFER SINCO KELLEHER4 hours ago
FILE -This Aug. 12, 2008, file photo, shows an aerial view of Kalaupapa Peninsula on Molokai, Hawaii. A handful of people with leprosy are still living full time on the isolated peninsula, but the National Park Service is already making plans to overhaul buildings and allow more visitors to the area when the last of the patients dies. (AP Photo/Hugh E. Gentry, File)HONOLULU (AP) — A remote peninsula that has been the home of leprosy patients since the 19th century could be opened more fully to the public as the last remaining residents near the end of their lives.Now called Kalaupapa National Historical Park, the site is now only open to 100 adults per day. No children are allowed to visit. The park on the island of Molokai is accessible exclusively by plane or mule.Once the last patient dies, the National Park Service would like to open the park to more visitors, including children, according to a draft of the agency's long-term management plan. The patients at the site — who chose to continue living at Kalaupapa after the mandatory exile of leprosy patients there was lifted by the state in 1969 — range in age from 92 to 73."Visitor regulations would change, including allowing children to visit Kalaupapa with adult supervision, and removing the 100 person per day cap while continuing to limit the number of visitors per day through new mechanisms," the park service said in a summary of its preferred alternative.In 2011, when the public process for developing the long-range plan began, the public was given a chance to comment. Most who weighed in supported a limit on daily visitors, saying they didn't want it turned into a tourist trap. Some recommended giving Native Hawaiians less restricted access because most of the 8,000 people who died at Kalaupapa were Hawaiian.Alika Cullen, general administrator at Cathedral Basilica of Our Lady of Peace in downtown Honolulu, said he has visited Kalaupapa about 40 times. He has mixed feelings about plans to open up Kalaupapa to more people, he said."The world should know of the trials these people endured and how they overcame physical and mental roadblocks," Cullen said in an email. "On the other hand, I do not wish to see a change so soon after the last patient dies. … The settlement has kept the peninsula pretty sparse for the welfare of the patients and that is what makes the place special."A former leprosy patient who lives at the site said he would like see more visitors now."Come when we alive," Clarence "Boogie" Kahilihiwa, 74, the second-youngest patient, said in a phone interview with The Associated Press on Monday. "No come when we all dead."He would especially like to see children there, Kahilihiwa said. "I'd like to see the children and if they like hear our story, I can tell them personally," he said.Kahilihiwa has lived at Kalaupapa since 1959 and has seen the disease's stigma subside over the years. Leprosy, known as Hansen's Disease, was once feared as highly contagious and long-lasting infection caused by bacteria. But it's now very rare and easily treated."Before it was shame, they didn't want to talk to us," Kahilihiwa said. "But now, everybody wants to reach out."The area also has strong connections to the Roman Catholic Church because Saints Damien and Marianne cared for leprosy patients there. Damien contracted the disease and died in 1889, while Marianne died in 1918 of natural causes.Both were buried at Kalaupapa until their remains were exhumed — Damien at the request of the Belgian government seeking to return him to his birthplace and Marianne during the sainthood process.The aging patients also represent a turning point for the Sisters of St. Francis, which continues to provide nuns to help care for the patients."I want to make sure our sisters are here in Kalaupapa until the last patient goes," said Sister Alicia Damien Lau, one of two nuns at Kalaupapa. "After that we, too, will have to look at what our purpose will be."The rest of the residents living there are mostly park service employees who tend to more than 200 historic structures.The public has until June 8 to comment on the various alternatives the park service has released, including its preferred option. There are public meetings scheduled statewide, with first one taking place Monday evening on Kalaupapa.__Follow Jennifer Sinco Kelleher at http://www.twitter.com/JenHapa .
People are furious about where Starbucks' Ethos bottled water comes from
 By Ashley Lutz8 hours ago
(Rien Meulman Fotografie for Starbucks) Starbucks' Ethos bottled water comes from a drought-ridden county in California."The bottling plant that Starbucks uses for its Ethos customers in the western United States is located in Merced, California, which is currently ranked in the 'exceptional drought' category by the US Drought Monitor," writes Anna Lenzer at Mother Jones."Its residents face steep water cuts in their homes, and surface water for the region's many farms is drying up."The company donates 5 cents from every $1.95 bottle of Ethos to help children get clean drinking water in countries including Tanzania, Indonesia, and Colombia. Celebrities such as Matt Damon have endorsed the brand for Starbucks.Starbucks gets the water free, according to Mother Jones.Lenzer estimates that Starbucks has sold nearly 250 million bottles of the water.A Starbucks' representative told Mother Jones that the company uses "a private spring source that is not used for municipal water for any communities."
(ethos-water.com) Starbucks' often promotes Ethos water's humanitarian mission.  But a geologist tells Mother Jones that sometimes these private water sources drain the community supply by capturing the water before it reaches people downstream who might use it.Many people are criticizing Starbucks on social media, calling for the brand to move its water plant to another location.
Starbucks wants you to feel good about drinking up California's…The coffee giant says it's solving the world's water problems—yet it's profiting off the Golden State's dwindling reserves.View on web A separate report from Mother Jones notes that many popular bottled water brands come from California, including Nestle's Arrowhead and Pure Life brands.There are no laws in California to regulate how much water can be taken from underground aquifers (aka "groundwater").The only laws that exist govern surface water, the kind in rivers and lakes. New regulations were recently introduced for this exact purpose, but they won't kick in for years.NOW WATCH: Starbucks, Dunkin' or McDonald's — which coffee is the best value?
Massive tree-thinning project in northern Arizona is largest of its kind in US Forest Service Published May 04, 2015 Associated Press
In this April 28, 2015 photo, a machine stacks logs in the Coconino National Forest just outside Flagstaff, Ariz. The work is part of an effort to restore a 2.4 million-acre forested area in northern Arizona. (AP Photo/Felicia Fonseca) (The Associated Press)Next FLAGSTAFF, Ariz. –  Northern Arizona forests are being reshaped as part of a complex wildfire-prevention effort.Some areas are being thinned mechanically while others are blackened intentionally by fire as part of the 2.4 million-acre Four Forest Restoration Initiative. The project made a major leap forward recently when nearly 600,000 acres were cleared for restoration.The project is the largest of its kind within the U.S. Forest Service. It aims not only to lessen the chance of catastrophic wildfires but return the forest to conditions ideal for wildlife, streams and cultural resources.The Forest Service has about two dozen similar efforts nationwide, mostly in in the western U.S., that reflect a focus on speeding up the pace and scale of forest-restoration work.The first priorities often are in watersheds and the urban interface.
SpaceX is about to fly the life-saving capsule that could revolutionize spaceflight for the first time
 By Jessica Orwig8 hours ago
(REUTERS/Mario Anzuoni) SpaceX CEO Elon Musk speaks after unveiling the Dragon V2 spacecraft in Hawthorne, California May 29, 2014. Before the end of the 21st century, spaceflight is going to look completely different from spaceflight of the 20th century, and one of the leaders paving the way is Elon Musk's private company SpaceX.On Wednesday, May 6, SpaceX will test their revolutionary, one-of-a-kind technology on board their Dragon 2 space vehicle. This technology involves eight engines that will make spaceflight safer than ever before.SpaceX's Dragon 2 vehicle is designed to ferry astronauts into space by as early as 2017, but Wednesday's test will be un-manned. NASA will begin a live broadcast at 6:35 am ET of the event, which is scheduled to take place some time between 7 am and 2:30 pm ET. The live feed is provided at the bottom of this post.What makes Dragon 2's technology so unique are its eight SuperDraco engines, two of which are shown below.These engines are designed to, in the unfortunate event that a rocket would malfunction during launch, boost the spacecraft and its crew members away from the rocket to safety.
(SpaceX on Flickr) Two SuperDraco engines. Dragon 2 is outfitted with eight SuperDraco engines. Although other spacecraft have what is called a launch escape system that a crew could use to abort in the event of a malfunction, SpaceX's Dragon 2's unique design includes engines built-in to the vehicle that can also help the capsule land.Safer spacecraft "This test is going to show that we have delivered a revolutionary system for the safety of astronauts and this test is going to show how it works," SpaceX Vice President for Mission Assurance Hans Koenigsmann said during a press conference on Thursday, April 30. "I'm really stoked about this."SpaceX will put its SuperDraco engines — the first engines ever made entirely through 3D printing — to the test on Wednesday sometime between 7 am ET and 2:30 pm, whenever weather conditions are the most desirable.Although the window is long, the test will only last 90 seconds. Here's how it should go down:
(SpaceX on Flickr) Dragon 2 space vehicle attached on top of the "trunk". The Dragon 2 vehicle will launch out of Cape Canaveral Air Force Station, Florida on top of a permanently grounded Falcon 9 rocket. (The rocket will not actually launch. It's there to test the Dragon 2's ability to separate from the rocket, like it might in the event of a malfunction.)The first six seconds: All eight SuperDraco engines will fire. After six seconds Dragon 2 will be traveling at a maximum speed of 400 miles per hour and the engines will shut off.The next 14 seconds: Dragon 2 will coast to a maximum height of 0.9 miles above ground. After the first 20 seconds, the spacecraft will start to fall back to earth.For the final 70 seconds, Dragon 2 will deploy a series of parachutes that slow its descent as it prepares to land in the Atlantic Ocean where it will be retrieved. Although the Dragon 2 vehicle will slowly descend by parachute back to the surface, SpaceX's ultimate vision is to set the vehicle down on land. To do this will require a second use of the SuperDraco engines, shown in the SpaceX animation below. (Wednesday's test will not attempt to fire the SuperDraco engines a second time.)"That is how a 21st century spaceship should land," Musk said when SpaceX first unveiled Dragon 2 in May of 2014.Your browser does not support the video tag. SpaceX on YouTubeAs its name implies, Dragon 2 is the second version of SpaceX's original Dragon spacecraft, which the company is currently using to transport food, water, and other supplies to astronauts on the International Space Station. The last transport service took place on April 14 and the next one is scheduled for June 19.The big difference between Dragon and Dragon 2 is the interior design. Whereas Dragon is basically a glorified storage unit, Dragon 2 is a state-of-the-art crew-carrying spacecraft complete with seven seats and digital control screens.
(SpaceX on Flickr) Inside of Dragon 2 Right now, a life-sized dummy named Buster sits in one of these seats, ready for Wednesday's test. SpaceX engineers have strapped Buster in for the ride and outfitted him with instruments that will help them learn how a real astronaut might fair during the test. The first manned test flight with Dragon 2 is scheduled for 2017.Wednesday's test will not be Dragon 2's only flight of 2015. SpaceX has scheduled a second test flight for a yet-to-be-announced date later this year. The second test will be much harder because the spacecraft will have to successfully separate from a Falcon 9 rocket while in mid-flight. (As mentioned above, Wednesday's test will not involve the launch of a Falcon 9.)Watch the exciting test flight on NASA TV below:Broadcast live streaming video on UstreamNOW WATCH: How Elon Musk and SpaceX plan to drastically reduce the cost of space flight
Fisherman Catches Piranha in Arkansas Lake BY DOUGLAS MAIN 5/4/15 AT 1:40 PM
ARKANSAS GAME AND FISH COMMISSION FILED UNDER: Tech & Science, Fish, Wildlife, Invasive SpeciesFishermen typically catch bluegill, channel catfish and largemouth bass in northwest Arkansas' Lake Bentonville. But one angler got quite a surprise on Friday when he reeled in a piranha, a carnivorous fish native to South America, according to a report by local NBC affiliate KY3.A biologist with the Arkansas Game and Fish Commission told KYE that the fish must have been dumped there after being taken out of somebody's aquarium. This illegal act carries a fine of $2,500 and 90 days in jail. The culprit hasn't been found.Piranhas can't survive indefinitely in the lake due to freezing winter temperatures and are generally sluggish and less aggressive than usual because of the cold, Army Corps Engineer Alan Bland tells the New York Post. Nevertheless, the fish nearly bit the fisherman's finger.Try Newsweek: subscription offers Fishermen have sporadically reported piranha catches in various parts of the South, though the fish have yet to establish a viable, sustaining population in any body of water, according to the California Department of Fish and Wildlife. They have come close, though; over the past few decades, Florida officials eradicated piranhas in three different lakes.Biologists have reason to worry about keeping guard against these fish. "If introduced outside of their native range, piranhas…not only prey on native species but compete with them for food and habitat as well, which could lead to a reduction in the abundance and diversity of native species," the California Department of Fish and Wildlife notes. Although piranhas have a reputation for attacking humans, they actually pose little risk to people.
Climate drives 'new era' in Arctic Ocean
David ShukmanScience editor 4 May 2015 From the sectionScience & Environment Changes in the Arctic Ocean are so profound that the region is entering what amounts to "a new era", according to Norwegian scientists. A switch from a permanent cover of thick ice to a new state where thinner ice vanishes in the summer will have far-reaching implications, they say.The Norwegian Polar Institute has been mounting an expedition to the Arctic Ocean during the year's coldest months.Scientists have to brave extreme temperatures and total darkness.Their aim is to gather data on the condition of the ice as it freezes during the polar winter.A research vessel, the Lance, has been deployed to an area about 500 miles from the North Pole and allowed to drift with the pack-ice.The director of the institute, Jan-Gunnar Winther, said that measuring what happens in the winter was vital to improving scenarios for future climate change.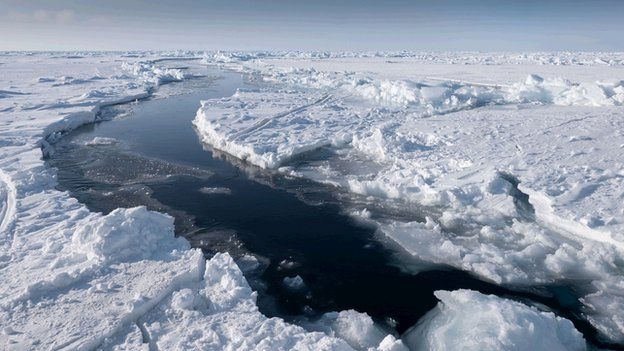 A major focus of the expedition is to examine the consequences of having less so-called multi-year ice and a greater proportion of younger ice"We have almost no data from the Arctic Ocean in winter – with few exceptions – so this information is very important to be able understand the processes when the ice is freezing in early winter and we'll also stay here when it melts in the summer," he explained."A new era has entered, we are going from old ice to young ice, thinner ice and the climate models used today have not captured this new regime or ice situation."So knowing how it is today can improve climate models which again improve the projection for global climate change."Record lows This research effort comes as US scientists have reported that the maximum extent of Arctic sea-ice was recorded at its lowest winter level since satellite records began.A major focus of the expedition is to examine the consequences of the Arctic Ocean having less of the so-called multi-year ice – older, tougher floes which have survived for several years – and a greater proportion of younger ice which is thinner.Among the researchers investigating the impact of this change on the polar biology is Dr Haakon Hop, who is leading a team of biologists working under the ice.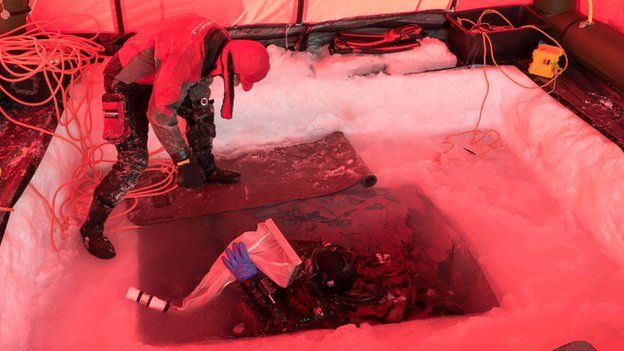 Scientists want to understand how the cycles of freeze and melt are changing"Typically, there's much less life underneath first year ice – multiyear ice is more complex, with more ridging and typically has more animal life," he said."So what has been seen around the Arctic is these animals that live underneath the ice – crustaceans, amphipods, and copepods – the biodiversity has gone down and their abundance and biomass have also gone down in the areas that have been measured."That is a very serious concern because these animals are important prey items for sea birds feeding on the ice edge and for the marine animals that feed on them."Complex responseAnother biologist taking part in the expedition, Dr Philipp Assmy, said it was important to understand how some species might benefit from the ocean having less ice cover – as more sunlight would allow plankton to flourish – while others would suffer."We know that the organisms living in the ocean will actually increase because there will be more light available for them to grow."On the other hand, the organisms living within the sea-ice are likely going to decline as their habitat deteriorates and that will have cascading effects on the large charismatic marine mammals we are all familiar with."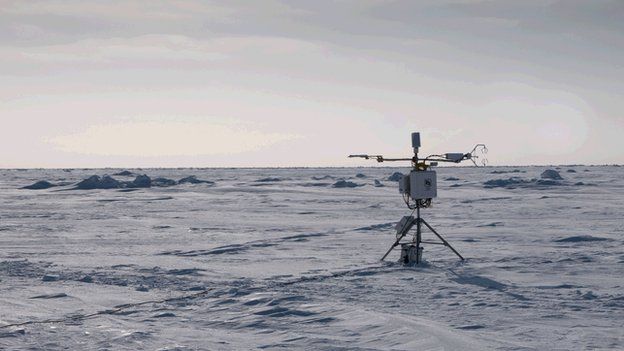 Data gathered from the ice can be used to calibrate measurements from satellites and overflightsThe expedition is attempting to provide a comprehensive assessment of all key aspects of this part of the Arctic Ocean.Dr Polona Itkin has been deploying tracking devices on the ice-floes so that the movement and thinning of the ice can be observed after the expedition ends in June."We would like to understand how the sea ice cover in this part of the Arctic is behaving in, let's call it, the new climate."We know something about this ice that has been studied over decades but we think now the ice is different and we would like to see how different, and what does it mean for other components of the climate."The scientists say that data gathered from the ice itself is invaluable as a way of calibrating measurements taken by satellites and overflights.But the work comes with risks. One is the sheer struggle of operating in freezing conditions. During our visit to the Lance, the temperature regularly fell to -21C with the wind lowering the feel of the cold to -47C.Another threat is from polar bears, and one approached the ship while we were on board.In the darkness of the polar winter, Dr Jennifer King was in a small group working under the Lance's floodlights when a bear guard suddenly spotted one of the animals emerging into the light."It was 25m away, standing up on a ridge, looking at us, looking like a majestic king of the Arctic – it was very beautiful but the heart stops."The bear was scared away with flare guns.A further danger is from the mobility of the pack-ice. During the course of the expedition, while scientists have been deployed on the ice, cracks or "leads" have frequently appeared in the surface or floes have collided creating pressure ridges.Several times, we saw equipment being winched back from the ice to avoid the risk of it being lost. And once while filming, one floe was being forced above another and we were called back to the ship for our own safety.According to Jan-Gunnar Winther, the younger ice more prevalent in the Arctic now is more mobile."We know that the ice drift is faster now than it was 100 years ago."So with thinner ice and less ice, it's more moved around by the wind and the weather. It's more dynamic now, we know that."The expedition, known as the Norwegian Young Sea ICE cruise, can be followed at www.npolar.no/nice2015
LA's Island Playground Could Trigger Tsunamis
 By Becky Oskin15 hours ago
Underwater terraces are evidence that Catalina Island is sinking and tilting.PASADENA, Calif. — Landslides coming off Catalina Island's steep slopes could sendtsunamis racing toward popular Los Angeles and Orange County beaches with just a few minutes of warning, geoscientists said on April 23 here at the annual meeting of the Seismological Society of America.Researchers discovered chaotic deposits that are characteristic of landslides while probing underwater rocks offshore Catalina Island. Seismic waves provide images of underground sediment and rock layers in a manner similar to medical CT scanners that search for cancer and broken bones. [Waves of Destruction: History's Biggest Tsunamis]The landslides were buried underwater because Catalina Island is sinking, said lead study author Chris Castillo, a Stanford University graduate student. The remnants of old beaches have dropped beneath the waves as the island descends, creating a stair-stepped series of nine terraces."Catalina is rare," Castillo told Live Science. "We knew there was evidence of subsidence, but it's the only [Southern California] island that has these submerged beaches."Catalina's nearest neighbor to the south, San Clemente Island, has ancient beaches that sit about 1,800 feet (550 meters) above sea level.Castillo does not yet know how fast Catalina Island is sinking. The oldest terrace is about 720 feet (220 m) below current sea level. The island is also tilting as it descends, which increases the landslide threat by destabilizing the steep coastal slopes, he added.However, Castillo will soon get a better handle on the rate of sinking by matching the beach levels to well-known sea level changes during the past 1 million years. The research team plans to recover fossils from the terraces this summer, which will help connect Catalina's terraces to these past sea level events, he said. Currently, the researchers think the island is sagging by about 1 foot (30 centimeters) every 1,000 years.Disaster planners have already recognized that California faces a rare but plausible tsunami risk from its iconic coastline. Major offshore fault lines have triggered small tidal waves during historic earthquakes. However, when these faults slip, the seafloor typically moves horizontally, without launching huge waves.Instead, California's biggest local risk of deadly tsunamis comes from unpredictable underwater landslides. These avalanches shove seawater aside, setting off tsunamis. And in the new study, geologists found evidence of such enormous submarine landslides offshore Catalina Island.Although tidal waves from submarine landslides only threaten local coastlines, the waves can kill. A submarine landslide triggered tsunamis that killed 2,200 people in Papua New Guinea in 1998."Landslides can have a big impact in a small area, and you don't get a lot of warning," said geophysicist Stephanie Ross, project leader for tsunami hazard scenarios for the U.S. Geological Survey in Menlo Park, California. Ross was not involved in the study.California's tsunami flooding maps account for such worst-case scenarios, said Rick Wilson, a California Geological Survey senior engineering geologist.But new geologic surveys are finding evidence that could heighten the tsunami risk. For instance, two earthquake faults offshore Ventura, between Santa Barbara and Los Angeles, shove the seafloor upward during quakes, according to research presented here Wednesday (April 22). This style of movement can generate tsunamis.The two faults — the Pitas Point fault and the Red Mountain fault — could potentially unleash a magnitude-7 earthquake, said Kenny Ryan, a University of California, Riverside, graduate student. For the study, Ryan modeled tsunamis created by faults. He found that the waves turn counterclockwise toward the towns of Ventura and Oxnard once they hit deep water. "Tsunamis travel at different speeds depending on water depth," Ryan said.Scientists are unsure how often tsunamis of any kind hit Southern California's coastline because there are few sand deposits onshore left by waves. The biggest study of tsunami deposits to date, published in 2014, looked for prehistoric tsunamis in 20 coastal locations and struck out at all but two.So far, although the state has considered the new studies, its tsunami maps haven't needed revising, Wilson told Live Science. "These are very low-probability events," Wilson said.Follow Becky Oskin @beckyoskin. Follow Live Science @livescience, Facebook & Google+.Originally published on Live Science.
Report: Global emissions goals still aren't enough to prevent dangerous warming By Chelsea Harvey May 4 at 12:32 PM Steam billowing from the cooling towers of Vattenfall's Jaenschwalde brown coal power station behind wind turbines near Cottbus, eastern Germany, Dec. 2, 2009. (Pawel Kopczynski/Reuters)When it comes to combating climate change, many scientists and policy makers focus on one major goal: cut carbon emissions enough to keep the planet's average surface temperature from rising more than 2 degrees Celsius above its pre-industrial level. But a new analysis, published on Monday by the Grantham Research Institute on Climate Change and the Environment, said we're still falling short of the mark.For years, the 2-degree target has been touted by experts as a kind of climate threshold: By staying within its confines, many argue, we can keep the planet in relatively stable condition and avoid the most dire effects of global climate change.Currently, world leaders are developing concrete emissions reduction goals in preparation for this December's U.N. climate change conference in Paris, where they'll ultimately draft an international agreement to combat climate change with the goal of staying within the 2-degree mark. By contrast, if world nations were to do nothing — in other words, if we stuck to a "business as usual" trajectory — experts believe our climate could warm more than 4 degrees by the end of the century.Three of the most heavy-hitting emissions reduction targets have already been declared by the United States, the European Union and China. The United States has resolved to reduce its carbon emissions by 26 to 28 percent below its 2005 emissions levels by 2020, and the European Union has vowed that by 2030 it will collectively cut its emissions by 40 percent compared to its 1990 levels. Meanwhile, China has claimed its carbon emissions will peak by 2030.But according to the Grantham report, these resolutions, combined with the rest of the world's projected future emissions, will probably not be enough to keep Earth within the 2-degree boundary."In thinking about where we're going, it's important to have an assessment now of what the sum total of those commitments might add up to," said co-author Nicholas Stern, chair of the Grantham Research Institute on Climate Change and the Environment and president of the British Academy.Stern and his co-authors Rodney Boyd and Bob Ward, also of the Grantham Research Institute, calculated what global greenhouse gas emissions will be in 2030 based on the announced targets from the United States, the European Union and China, as well as energy use estimates for the rest of the world published by the International Energy Agency (IEA). Then, they compared these calculations with a report from United Nations Environment Programme (UNEP) describing the kinds of emissions pathways that might allow the world to reach its 2-degree target.The authors found that if the United States, the European Union and China stick to their resolutions, their combined emissions in the year 2030 will be between 20.9 and 22.3 gigatons of carbon dioxide equivalent. (A gigaton is a billion metric tons.) And their estimate for the rest of the world's emissions came to about 35.4 gigatons, meaning total global greenhouse gas emissions in 2030 could exceed 57 gigatons.But according to the UNEP report the authors used for comparison, global emissions in 2030 must be below 48 gigatons if we want even a 50 percent chance of hitting the 2-degree mark. (What matters is not precise emissions in 2030, but rather what emissions pathway the world is on by then, with emissions in 2030 taken as a representation of that.)In other words, on our current trajectory, we're unlikely to make it.This means the world needs to step up its game, both leading up to the conference in Paris and afterward, Stern said. He and his co-authors laid out four potential steps in their analysis that could help world leaders get back on target. These include coming up with more aggressive emissions reduction plans; increasing investment and innovation in clean energy and land use; creating a mechanism in the Paris agreement that will enable participating countries to review their efforts and create better targets post-2030; and building strong foundations at home for a decarbonized society.There's still room for optimism, according to Stern. There are some uncertainties in the analysis that could lean in a positive direction. For instance, China has vowed to cap its emissions by 2030, but they could still peak earlier than that — perhaps by 2025 or even sooner, Stern said. Improvements in our clean energy technology are also a possibility. "There's uncertainty, on the positive side, that technical progress could be even faster than we thought," Stern said.He added that governments' political will to take action is an uncertainty that could cut either way. He believed the key to political goodwill when it comes to climate action is remembering that growth and climate responsibility are not mutually exclusive. "I think the building of that political will depends critically that these two things can come together and support each other," Stern said.In addition to the four steps outlined in the paper, Stern said another key to effective climate action is increased cooperation between countries — particularly sharing ideas and paying attention to the methods other countries are using to achieve their goals. Paris should be seen as the beginning of an ongoing conversation about decarbonization — one that should challenge countries to set more aggressive goals for themselves."We should recognize that it looks as if Paris will take us half of the way between what might have been 'business as usual' and where we need to be to meet 2 degrees," Stern said. "I would tend to take a glass-half-full approach to that and ask how we can fill the glass up."
Millions of trees die in California drought, adding to fire danger
 3 hours ago
New growth is seen alongside damage caused by the 2013 Rim Fire in the Stanislaus National Forest in …
A tree scorched by the 2013 Rim fire is pictured at the origin of the fire near Groveland, Californi …SACRAMENTO, Calif. (Reuters) – California's drought led to the deaths of 12.5 million trees in the state's forests last year, leaving behind huge amounts of dry fuel that could burn easily as the summer wildfire season begins, the U.S. Forest Service said Monday.The dead trees, visible from the air as red patches in the forest, were weakened by drought and in many cases then killed by bark beetles, which have infested the state's forests and thrive in the warm, dry conditions."In some places, we had 100 percent mortality," said Jeffrey Moore, a biological scientist with the Forest Service whose team mapped the dead trees by airplane last month.The Forest Service report, which was released on Monday, included aerial surveys of about 8.3 million acres throughout the state.The Forest Service has been closely tracking tree deaths since the start of the drought, now in its fourth year.The dry weather has made conifers in the state's wooded area particularly vulnerable to beetles, which attack when the trees are weak, eventually killing them.Stanton Floria, a spokesman for the Forest Service, said the drought was a major factor driving forest fires last year, and dry weather and dead trees and brush will exacerbate blazes again this summer.(Reporting by Sharon Bernstein; Editing by Eric Walsh)