Texas teen tweets of love for his truck during harrowing flood rescue 'A massive wave pushed me off the road,' teen says on Twitter
 By Jason Sickles, Yahoo6 hours agoYahoo News
Lane Wisdom and Gus McNairy were stranded for an hour. Their rescue was captured by WFAA-TV. (Twitter.com/wfaa …DALLAS — A dangerous flash flood nearly led to a Texas-sized tragedy during a weekend of extreme weather in the small town of Sanger, but a daring helicopter rescue led to a happy ending for two trapped teens — and one boy's beloved truck.Lane Wisdom, 17, and his teenage pal, Gus McNairy, were driving down Duck Creek Road 50 miles northwest of Dallas on Sunday afternoon when the byway's namesake overflowed its banks.Looking back, Wisdom says he should have turned around, but "my truck had already made it through a foot of water so I kept pushing."It's a decision he almost didn't live to regret.In an instant, raging currents swept Wisdom's 2001 Chevrolet Silverado truck off the road. Waters rose beyond 4 feet in a flash. The teens grabbed their cellphones and quickly climbed atop the maroon half-ton Chevy. The ordeal was captured by Dallas ABC affiliate WFAA-TV.ICYMI: A young man tweeted from the roof of his truck while stranded in intense flood waters http://t.co/OJBMmxAnzG pic.twitter.com/ie4qke2t17— WFAA TV (@wfaachannel8) May 11, 2015The pair looked like they were marooned in the middle of the Mississippi River.  With rescuers on their way, Wisdom began sharing the harrowing experience on social media."Tweeting live from my roof go look on the news," read Wisdom's first dispatch, along with a colorful in-the-moment characterization. "It was like out of a movie it was a foot deep then a massive wave pushed me off the road and flooded it out."The first rescuers on the scene tried to carry life vests to the teens but found the currents too intense. A boat wouldn't be safe either.According to the National Weather Service, about 7 inches of rain have fallen near Sanger in the past week. Much of North Texas was under flash flood watches or warnings throughout the weekend. More torrential rain is forecast this week.The Texas Army National Guard used large trucks or a Black Hawk helicopter to rescue dozens of flood victims across the region on Sunday.I'm ok guys my truck dream is ruined waiting on a heli evac rn— Young Killa (@lane_wisdom) May 10, 2015Wisdom and McNairy, 16, were stranded for about an hour before the chopper could pluck them from the angry waters."Scary," is the only thing McNairy said to WFAA-TV when he reached safety.Wisdom declined to comment at the scene but later used Twitter to thank his rescuers.According to the National Weather Service, flooding and flash flooding combined are a leading cause of weather-related fatalities in the United States each year. Many of those cases begin with drivers trying to cross high water.On Instagram, Wisdom offered a "huge thank you" to the rescuer who slammed into a metal fence while descending from the helicopter."Of course I was responsible and had Gus go [to the helicopter] before me seeing that it was my fault," Wisdom wrote.Meanwhile, Wisdom's friends were already paying their respects to "Vortec Express," the affectionate name for his truck.Rip vorte cexpresspic.twitter.com/kJlzNYPFos— Kameron (@kam22eron) May 11, 2015According to his Instagram account, Wisdom inherited the Chevy from an older brother last year. The odometer reads nearly 300,000 miles, but that didn't faze Wisdom. He recently wrote on Instagram that a summer job would allow him to spruce up the vehicle."This oil leakin 8 lug money pit is where I find my happiness," he wrote on Instagram last week. "Every single morning when I start her and hear that old 6.0 brought to life I say 'good morning beautiful' and smile. I have a lot of good memories in this truck and a billion more are to come with her go ahead make fun of me but just stop and ask yourself, are you actually happy with your life?"By Monday morning, the rain had stopped and the sun was out in Sanger — allowing Wisdom to bring his prized, albeit waterlogged, possession home.Truck will be gettin some love this week pic.twitter.com/aha8pEoin9— Young Killa (@lane_wisdom) May 11, 2015Jason Sickles is a reporter for Yahoo News. Follow him on Twitter (@jasonsickles).
Large Tornadoes Ravage Small Towns in Texas, Arkansas, Iowa and South Dakota, Killing At Least 6 By Sean Breslin Published May 11 2015 07:30 PM EDT weather.com Multiple Deaths, Dozens Injured from Large Tornadoes Meteorologist Danielle Banks has the latest on severe storms Sunday that killed at least three, destroyed homes, and injured several It was a Mother's Day that residents of several Great Plains towns will never forget.More than two dozen reported tornadoes were spotted Sunday up and down the Plains, ripping up trees, power lines and, in some cases, chunks of small towns. Where the tornadoes didn't hit, slow-moving storms brought torrential rainfall that flooded other areas, creating another life-threatening danger.Sunday night, three towns sustained major storm damage: Van, Texas, Nashville, Arkansas, and Lake City, Iowa. Earlier Sunday, the small South Dakota town of Delmont was partially destroyed by a large twister.(LIVE UPDATES: Severe Weather Outbreak)So far, 6 deaths have been reported from this round of severe weather. Here are the latest impacts on a state-by-state basis.Arkansas Two people died in Howard County and two others were critically injured after a round of storms rolled through the area Sunday night. The two fatalities occurred in a mobile home park in the town of Nashville, according to the National Weather Service.Howard County Coroner John Gray told the Associated Press that the two people killed were a young couple, but their toddler-age daughter survived. The couple has been identified as Melissa and Michael Mooneyhan, according to KTBS.com.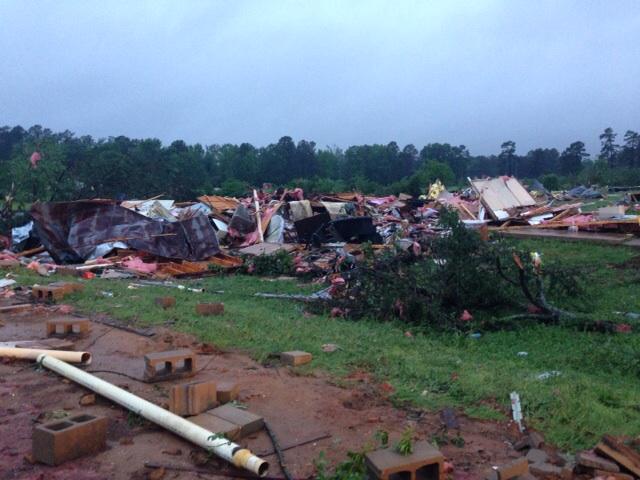 Follow
Adria Goins @Adria_GoinsDamage from the possible tornado in Nashville, Arkansas. Two confirmed deaths.An NWS survey crew reviewed the damage Monday afternoon and gave the tornado a preliminary EF2 rating, with maximum wind speeds of at least 125 mph.Iowa Just before 8:45 p.m. Eastern time Sunday night, a trained spotter reported a tornado in Lake City, about 100 miles from Des Moines, according to the National Weather Service. The tornado ripped off part of South Central Calhoun High School's roof. When the tornado struck, 150 people were inside the school for an awards ceremony, according to the Des Moines Register."The lights went off, and everyone's ears kind of popped," Dave Birks, the school's girls' basketball head coach, said in the report. "They say a tornado sounds like a freight train, and that lasted only 5 or 10 seconds. Everyone came upstairs, and it was a mess."Before the tornado hit, everyone inside the school hunkered down in the basement and locker rooms, the report added, and no major injuries were reported. Outside the building, the tornado carved a damage path two blocks wide, including the school's roof.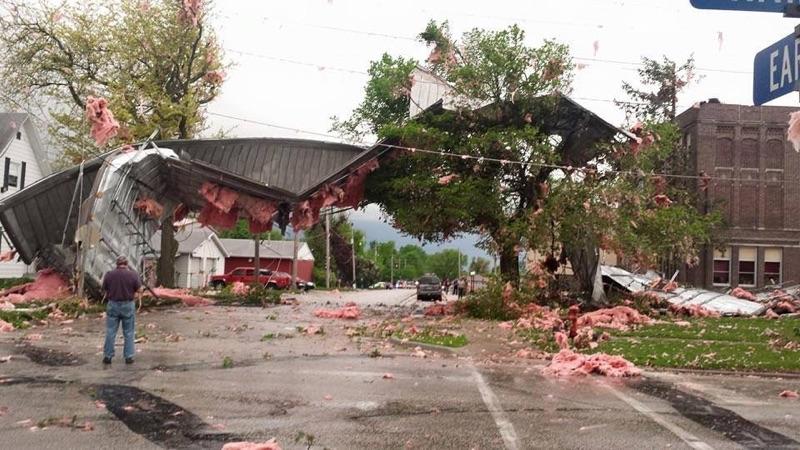 Follow
Johnny Kelly @stormchaser4850Picture: Another view of damage in Lake City IAwx: RT@SamASchreier: High school roof in lake city ripped offJodi Simpson, spokesperson for the Calhoun County Sheriff, told The Weather Channel that the town is without power, but no injuries had been reported as of early Monday morning. A survey crew with the NWS gave the tornado a preliminary EF1 rating after viewing the damage. The report said the twister had maximum winds of at least 100 mph.Gov. Terry Branstad declared a disaster emergency in Calhoun County, allowing state resources to be used in recovery efforts, the AP reported.South Dakota Sunday morning, a large reported tornado left damage and injuries in Delmont, according to local emergency officials. The storm, which left the town without power or water, hit the state on the same morning as Winter Storm Venus, which dumped more than a foot of snow in some areas.An NWS survey crew has completed its review of the damage and rated the tornado EF2 with maximum winds of 130 mph.Delmont is located in southern South Dakota, about 90 miles southwest of Sioux Falls.Click here for full coverage of this tornado.TexasGov. Greg Abbott declared a state of disaster in Texas counties Monday, following recent days of severe weather, which has included tornadoes, thunderstorms and flooding.The declaration, which authorizes further mobilization of state resources to assist impacted communities, included Bosque, Clay, Denton, Eastland, Gaines, Montague and Van Zandt counties."Our thoughts and prayers are with those who have lost their lives, their families and all of our affected communities," Abbott said. "I want to thank the first responders who are working tirelessly to provide shelter, care and resources to impacted areas."Residents of Van experienced a terrifying night after a large killer tornado ripped through the town Sunday night, damaging nearly one-third of the city. The National Weather Service believes the twister was likely an EF3; investigators were still on the scene assessing damage Monday afternoon.After a night of search-and-rescue operations in the town of about 2,500, authorities confirmed 2 deaths and 43 injuries in Van, and some of those injuries were critical. Eight people remained unaccounted for at the time of the update, early Monday afternoon."Damages range from completely destroyed homes, damaged homes, to trees and power lines down," Van Zandt County fire marshal and emergency management coordinator Chuck Allen told the AP in an email.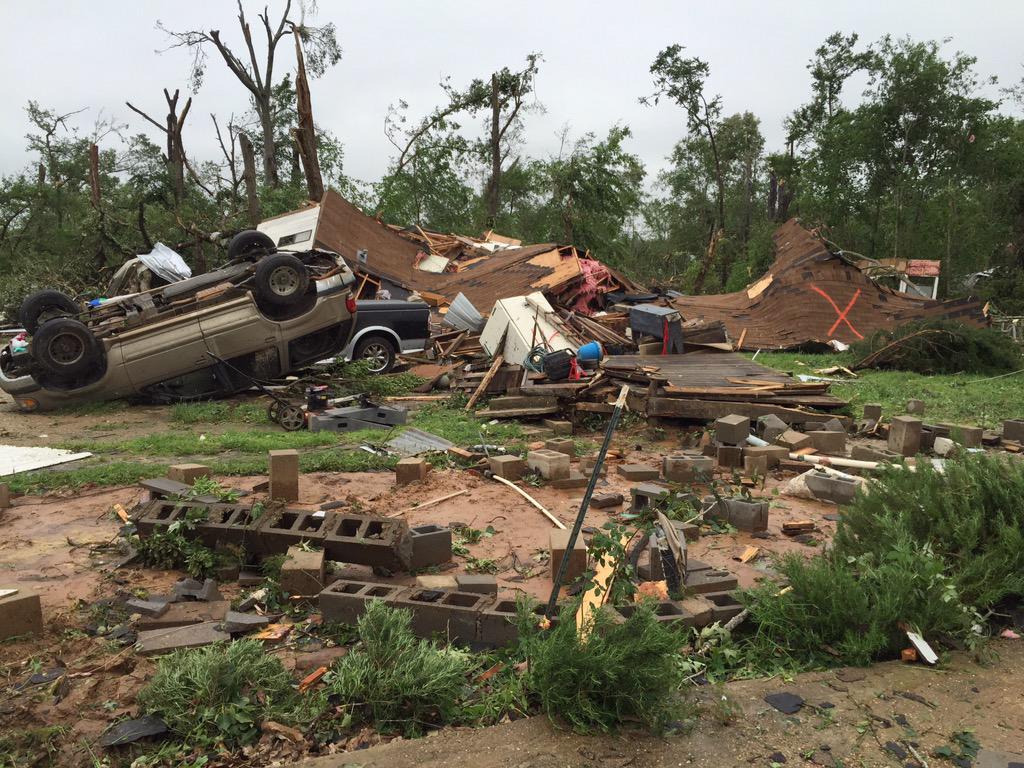 Follow

NWS Fort Worth @NWSFortWorthAdditional damage in Van.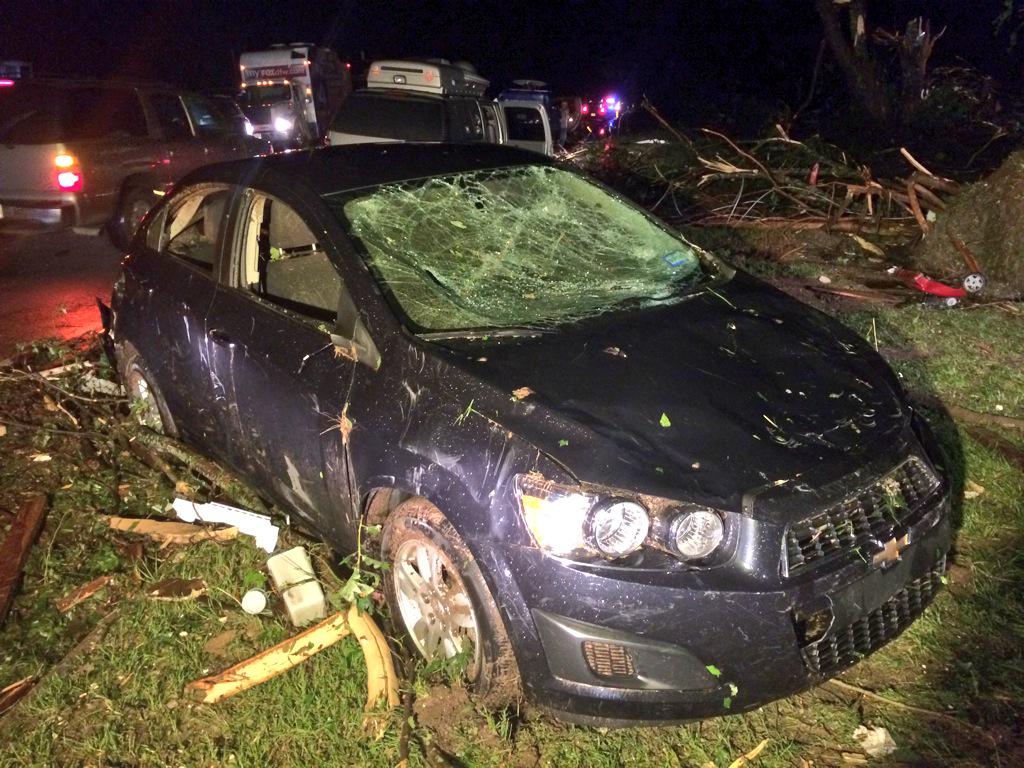 Follow
Sebastian Robertson @wfaasebastianDamage widespread throughout Van. Look at this car smashed up by last nights SevereWeather wfaaweather · Van, TX, United StatesAbout 2 hours after the tornado came through the town, another storm forced emergency workers to take cover, according to the Van Fire Department's Facebook page.Crews will dispatch dogs to search for the missing residents on Monday, according to WFAA.The American Red Cross opened a shelter at First Baptist Church, and the Van Independent School District announced schools will be closed Monday.In the "Big Country," an area of Texas composed of 19 counties and centered around Abilene, there hadn't been a killer tornado since 1986. That streak ended Saturday, when a tornado plowed through the town of Cisco, killing one person.Damage to property has been reported throughout the area and some people are unaccounted for as of mid-day Sunday, Eastland County Judge Rex Fields told the Associated Press. He told the AP that damage assessment has been difficult Saturday because of heavy rains."The homes that I've seen, there are just maybe one or two walls standing," he said in the AP report.Another tornado was reported Sunday in Denton, and the NWS confirmed it was EF1 strength with winds as high as 100 mph after a damage survey.Flooding was also a major concern in the Lone Star State, as several days of rain were washing out roadways and water rescues were necessary. One person died due to flooding in Corsicana, The Weather Channel confirmed.The man in his 20s died when he left his car that got stuck in floodwaters, according to NBC DFW. He was swept away and killed by the flooding.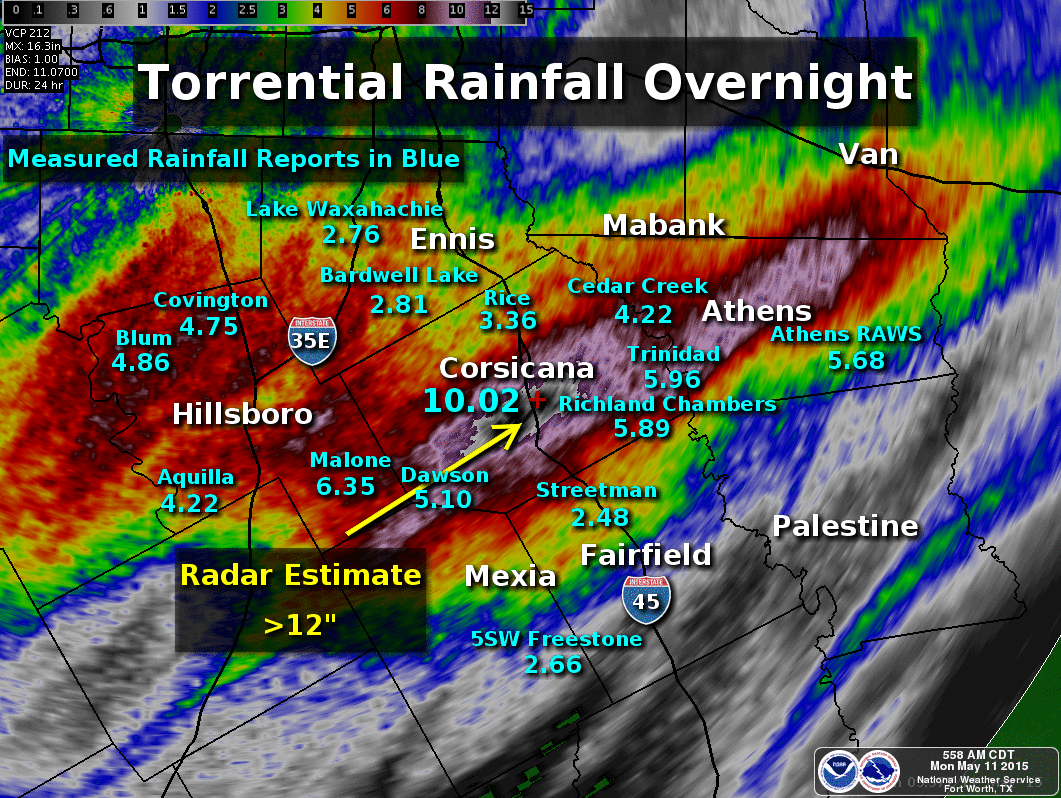 Follow
Jonathan Erdman @wxjerdman Wow! MT @NWSFortWorth: Radar est rain from last night. >12″ estimated in spots. Corsicana measured 10.02″ in 5 hrs.Residents survey damage near an elementary school, caused by severe weather, Monday, May 11, 2015, in Van, Texas. (AP Photo/Todd Yates) 
Sea-level rise accelerating, say scientists
 By Richard Ingham9 hours ago
Paris (AFP) – Sea-level rise is accelerating, not declining as some have hoped, scientists said on Monday citing meltwater from Earth's ice sheets as the likely cause.In 2013, the UN's Intergovernmental Panel on Climate Change (IPCC) said the global mean sea level rose by 19 centimetres (7.6 inches) from 1901-2010, an average 1.7 mm (0.06 of an inch) per year.This accelerated to 3.2 mm per year between 1993 and 2010, the IPCC said in its landmark Fifth Assessment Report.But in 2014, another study raised a big question.In the past decade, it said, sea-level rise had been much lower than the previous decade.That raised hopes in some quarters that, far from being an inexorably rising threat, sea levels could fluctuate in response to some hidden but natural variability.The new study deals a blow to this scenario.Both the IPCC estimate and the 2014 paper were based on satellite observations of sea levels.
The IPCC's new acting chair Ismail El Gizouli speaks during a press conference in Nairobi on Feb …But they were unable to take an important variable into account: something called vertical land motion.This is natural movement in the height of the Earth's land surface, which can happen through subsidence, earthquakes or uplift.For instance, parts of the northern hemisphere are still rising after the end of the last Ice Age — the land was crushed by glacial weight and even today is slowly "rebounding," thousands of years after the ice melted.The new study, published in the journal Nature Climate Change, takes land movement into account, along with an important statistical tweak — hourly data from a network of tide gauges deployed around the world's oceans.It finds that the overall rate of sea level rise between 1993 and mid-2014 is between 2.6 and 2.9 mm per year, with a margin of error of plus or minus 0.4 mm.The bad news is that the first six years of the satellite data — 1993 to 1999 — is the period that is most affected by these corrections.For those six years, estimates have to be scaled down by 0.9-1.5 mm a year.
Residents walk past high waves brought about by strong winds, hours before Typhoon Hagupit passes ne …That mean in more recent years the rate of sea-level rise has actually increased rather than declined, according to the paper, led by Christopher Watson of the University of Tasmania, Australia.The acceleration "is higher than the observed twentieth-century acceleration but in reasonable agreement with an accelerating contribution from the Greenland and West Antarctic ice sheets over this period," the team said.It is also consistent with the IPCC's projections for an additional 0.07 mm rise in the early decades of the 21st century, they added.The IPCC projected that the global mean sea level would rise by between 40 and 63 cm by the end of this century, depending on how much heat-trapping carbon gases are emitted.These figures do not include margin of error. At the top end of the range, the 63 cm could be as high as 82 cm.- Complex calculations -Ocean rise has huge implications for the hundreds of millions of people who are coastal dwellers.Their cities could be threatened by ground erosion, flooding and storm surges, and their groundwater imperilled by saltwater intrusion.But it is also one of the most vexed questions in climate science, given the many uncertainties.Computer models have to try to estimate how much of the rise is due to thermal expansion — warming of the water — or to runoff from ice sheets, glaciers or permafrost.They also have to calculate the extreme time it takes for a vast body of water to respond to temperature change.The IPCC said the loss of Greenland's icesheet had probably increased from 34 billion tonnes per year in the decade to 2001 to 215 billion tonnes a year over the following decade.In Antarctica, the rate of loss likely increased from 30 billion tonnes a year to 147 billion tonnes a year over the same timescale.
The Reason Sea Levels Are Rising Faster By Emily J. Gertz | Takepart.com10 hours agoTakepart.com
The Reason Sea Levels Are Rising Faster Sea-level rise has sped up over the past decade and continues to accelerate at a rate of about 12 percent a year.Related Stories
For the first time, scientists have been able to show that the reality of sea-level rise aligns closely with projections made by the Intergovernmental Panel on Climate Change, said Christopher S. Watson, a climate scientist at the University of Tasmania in Australia and coauthor of the new research, published Monday in the journal Nature.  The IPCC is the United Nations' scientific groupfor assessing the advance and impacts of climate change.For coastal nations, accelerating sea-level rise could mean more deaths and injuries—as well as greater damages—from storm surges and flooding in the next several decades."In Australia, there's about $226 billion worth of infrastructure in the way of that sea-level rise, and that's before you take into account the ecosystems," Watson said. Looking to the northern hemisphere, "Hurricane Sandy is a good example [that] the previously once-in-a-lifetime floods are going to become a lot more frequent."Two hundred thirty-three people died in the U.S., Canada, and Caribbean nations during 2012's Hurricane Sandy, which caused almost $1 trillion in direct damages—including more than $68 billion in the New York metropolitan area alone.With the New York area's sea level already a foot higher than it was a century ago, experts have estimated that powerfully destructive storms on the order of Sandy will occur up to four times more often by the time a baby born today is 85.Last year, the think tank Global Climate Forum estimated that globally the dollar costs of sea-level-related disasters could rise from $25 billion per year (on average) to upwards of $100,000 billion per year by 2100. Countries must increase their spending on flood and storm protections by tens of billions of dollars, the group recommended, to cut the deaths, injuries, and economic costs of such climate change–driven disasters.RELATED: We Might Avert Climate Catastrophe With This One Radical ChoiceBut barring a major reduction in greenhouse gas emissions in the next few decades, Watson said, the world is on track to hit the IPCC's "worst-case scenario" of a three-foot global sea-level rise by 2100.The earlier projections, which suggested that sea-level rise was slowing down, did not factor in that larger geological forces cause land in many places to sink or rise, Watson said. "To achieve the accuracy that we want for sea-level studies, you have to take into account those very small motions," he said, even if it's only a few tenths of an inch per year.To get an accurate picture of sea-level rise, Watson and his colleagues combined measurements from tide gauges around the world—the traditional method for tracking sea levels—with global positioning system measurements of land height since 1993. The combined data reduced the figures for mean sea-level rise by 15 percent, from 0.13 inches a year to between 0.09 and 0.11 inches. But by taking into account land motion, the scientists demonstrated that total sea-level rise is accelerating by 0.002 inches a year.International negotiations are already under way to reach a binding global treaty on controlling greenhouse gas emissions. They will come to a head late in 2015 at a Paris conference. Observers already fear that whatever comes out of these talks will be too weak to hold off the worst impacts of climate change.Rising temperatures, caused by burning fossil fuels, are raising sea levels in two primary ways. Oceans, which cover 70 percent of the Earth's surface, are absorbing about 90 percent of the increased heat, causing seawater to expand and take up more room in the ocean basins.The higher temperatures have also increased the melt rate of the world's two largest ice sheets, on Greenland and West Antarctica, as well as mountain glaciers worldwide. Eventually, water from these land-based stores flows into the ocean, raising the sea level further."It's like turning on another tap in the bathtub," said Watson.The next step in the research is to look more closely at regional rates of sea-level rise, which can vary considerably owing to local geology, ocean currents, and other factors, he said, so that nations and cities can plan effectively for an even hotter, wetter future."I think that our agencies, regionally, need to consider the impact of rising sea level and plan accordingly," Watson said. "The community has the right to consistent info on these things. I think there are parts of the world where that information has been inconsistent.""Adaption is going to happen," he added. "Sea level is rising, full stop. We need to be able to adapt, and the community needs better information to be able to do so."Related stories on TakePart:• Sea-Level Rise Poses Hard Choice for Two Neighborhoods: Rebuild or Retreat?•Who Wins and Who Loses in the Great Arctic Thaw?• Scary New Proof That We Have Seriously Screwed Up the Planet's Oceans• In Florida, Officials Ban the Term 'Climate Change'Original article from TakePart
High-speed trains are coming — and they could change the way we travel
Business Insider Sponsor Post
About 160 years ago, the completion of the first transcontinental railroad in the US made travel between the East and West Coasts a lot easier, and changed the country forever.Today, Americans still rely on trains to help them to go great distances or just across the city.And just around the time when America was building its first cross-country railroad, Siemens started building passenger trains, all over the world.Siemens and a private company in Florida have joined together to start another transportation revolution: a new passenger train line that just might be the future of American transportation. New Florida trains are connecting cities All Aboard Florida, whose parent company dates to the days when Florida was barely settled, is embarking on an all-new passenger rail system (America's only private passenger system) that experts say will transform the state and take countless cars off the highway.These trains will be capable of travel at 125 mph. Stations will be located in the already booming downtown areas of Miami, Fort Lauderdale, and West Palm Beach. Because there will also be a depot at the Orlando airport, some 50 million travelers who currently fly or drive between Orlando and South Florida will benefit from the All Aboard Florida service.The line's diesel-electric locomotives will be 100% American-made by Siemens. The coaches, also manufactured in the US by Siemens, will feature ergonomic seating and Wi-Fi. And they'll be easy to board — you don't have to step up to enter the cars — allowing easy access for bikes, walkers, strollers, and wheelchairs.California is getting a bullet trainCalifornia has already broken ground on high-speed rail, a bullet train that will extend from San Francisco down to Los Angeles, some 400 miles away. The train is expected to reach speeds of 220 mph and cut in half the normally more than six-hour drive commute between California's two economic clusters. Eventually, the system will extend further north to Sacramento and all the way south to San Diego — an 800-mile trip.
To help Californians visualize the possibilities of high-speed rail, Siemens recently displayed a 50-foot-long mock-up of the futuristic-looking train and invited the public to come aboard. More than 3,000 Californians, including children from nearby schools, experienced the interactive mock-up and imagined the future with high-speed rail.Siemens is local to California, where it maintains a 430,000-square-foot facility that's 80% solar-powered. The plant is capable of designing, engineering, and manufacturing Siemens' rolling stock portfolio, which includes locomotives, light rail vehicles, streetcars, and passenger coaches. Currently, more than 800  people are employed there.This post is sponsored by Siemens.Find out more about Sponsored Content. See Also:HERSH: The White House is lying about the killing of Osama bin Laden;4 killed when a small plane crashed on a highway in Atlanta;31 people who are carrying WAY too much stuff
Sea rise threatens Florida coast, but no statewide plan
 By JASON DEAREN and JENNIFER KAY11 hours ago
ST. AUGUSTINE, Fla. (AP) — America's oldest city is slowly drowning.St. Augustine's centuries-old Spanish fortress and other national landmarks sit feet from the encroaching Atlantic, whose waters already flood the city's narrow, brick-paved streets about 10 times a year — a problem worsening as sea levels rise. The city has long relied on tourism, but visitors to the fortress and Ponce de Leon's mythical Fountain of Youth might someday have to wear waders at high tide."If you want to benefit from the fact we've been here for 450 years, you have the responsibility to look forward to the next 450," said Bill Hamilton, a 63-year-old horticulturist whose family has lived in the city since the 1950s. "Is St. Augustine even going to be here? We owe it to the people coming after us to leave the city in good shape."St. Augustine is one of many chronically flooded communities along Florida's 1,200-mile coastline, and officials in these diverse places share a common concern: They're afraid their buildings and economies will be further inundated by rising seas in just a couple of decades. The effects are a daily reality in much of Florida. Drinking water wells are fouled by seawater. Higher tides and storm surges make for more frequent road flooding from Jacksonville to Key West, and they're overburdening aging flood-control systems.But the state has yet to offer a clear plan or coordination to address what local officials across Florida's coast see as a slow-moving emergency. Republican Gov. Rick Scott is skeptical of man-made climate change and has put aside the task of preparing for sea level rise, an Associated Press review of thousands of emails and documents pertaining to the state's preparations for rising seas found.Despite warnings from water experts and climate scientists about risks to cities and drinking water, skepticism over sea level projections and climate change science has hampered planning efforts at all levels of government, the records showed. Florida's environmental agencies under Scott have been downsized and retooled, making them less effective at coordinating sea level rise planning in the state, the documents showed.r
In this Tuesday, Feb. 3, 2015 photo a sea wall separating the Matanzas River and U.S. Highway 1 is s …"If I were governor, I'd be out there talking about it (sea level rise) every day," said Eric Buermann, the former general counsel to the Republican Party of Florida who also served as a water district governing board member. "I think he's really got to grab ahold of this, set a vision, a long-term vision, and rally the people behind it. Unless you're going to build a sea wall around South Florida, what's the plan?"The issue presents a public works challenge that could cost billions here and nationwide. In the third-most populous U.S. state, where most residents live near a coast, municipalities say they need statewide coordination and aid to prepare for the costly road ahead.Communities like St. Augustine can do only so much alone. If one city builds a seawall, it might divert water to a neighbor. Cities also lack the technology, money and manpower to keep back the seas by themselves.In a brief interview with the AP in March, Scott wouldn't address whether the state had a long-range plan. He cited his support for Everglades restoration and some flood-control projects as progress but said cities and counties should contact environmental and water agencies to find answers — though Scott and a GOP-led legislature have slashed billions in funding from those agencies. Spokespeople for the water districts and other agencies disputed that cuts have affected their abilities to plan."We will continue to make investments and find solutions to protect our environment and preserve Florida's natural beauty for our future generations," the governor said in a statement.
In this Tuesday, Feb. 3, 2015 photo, the Castillio de San Marcos fort, built over 450 years ago, is  …Florida's Department of Environmental Protection is in charge of protecting the state environment and water but has taken no official position on sea level rise, according to documents. DEP spokeswoman Lauren Engel said the agency's strategy is to aid local communities and others through the state's routine beach-nourishment and water-monitoring programs.In St. Augustine, downtown streets around 19th century buildings built by oil tycoon Henry Flagler often close during nor'easters because of flooding. While the city's proximity to the sea has always made flooding a problem, residents say it's worsened over the past 15 to 20 years.St. Augustine's civil engineer says that the low-lying village will probably need a New Orleans-style pumping system to keep water out — but that but no one knows exactly what to do and the state's been unhelpful."Only when the frequency of flooding increases will people get nervous about it, and by then it will be too late," engineer Reuben Franklin said. "There's no guidance from the state or federal level. … Everything I've found to help I've gotten by searching the Internet."Across coastal Florida, sea levels are rising faster than previously measured, according to federal estimates. In addition to more flooding at high tide, increasing sea levels also mean higher surges during tropical storms and hurricanes, and more inundation of drinking wells throughout Florida.
In this Tuesday, Feb. 3, 2015 photo, the Lightner Museum, housed in a building constructed in 1887,  …Water quality is a big concern for many communities. It's especially bad in South Florida — just north of Miami, Hallandale Beach has abandoned six of eight drinking water wells because of saltwater intrusion. Wells in northeast and central Florida are deemed at risk too.While South Florida water officials have led the charge in addressing sea level rise concerns in their area, their attempt to organize a statewide plan was met with indifference, documents show. The Scott administration has organized just a few conference calls to coordinate local efforts, records show. Those came only after Florida's water district managers asked DEP for help.In a recent visit to Everglades National Park, President Barack Obama said the wetlands, vital to Florida's tourism economy and drinking-water supply, already are threatened by infusions of saltwater from rising seas.The list of other problems across the state is growing. Miami Beach is spending $400 million on new stormwater pumps to keep seawater from overwhelming an outdated sewer system.In St. Augustine, homes built on sand dunes teeter over open space as erosion eats at the foundations. Beachside hotel owners worry about their livelihoods.
In this Tuesday, Feb. 3, 2015 photo, cars travel on the Bridge of Lions, to and from St. Augustine,  …Tampa and Miami are particularly vulnerable to rising seas — many roads and bridges weren't designed to handle higher tides, according to the National Climate Change Assessment. Officials say Daytona Beach roads, too, flood more often than in the 1990s.South Miami passed a resolution calling for South Florida to secede from the more conservative northern half of the state so it could deal with climate change itself.Insurance giant Swiss Re has estimated that the economy in southeast Florida could sustain $33 billion in damage from rising seas and other climate-related damage in 2030, according to the Miami-Dade Sea Level Rise Task Force.Cities like St. Augustine have looked for help, but Scott's disregard for climate change science has created a culture of fear among state employees, records show.The administration has been adamant that employees, including scientists, not "assign cause" in public statements about global warming or sea level rise, internal government emails show.
In this Tuesday, Feb. 3, 2015 photo, cars travel on the Bridge of Lions, to and from St. Augustine,  …For example, an April 28, 2014, email approving a DEP scientist's request to participate in a National Geographic story came with a warning: "Approved. Make no claims as to cause … stay with the research you are doing, of course," the DEP manager, Pamela Phillips, warned."I know the drill," responded Mike Shirley, manager of the Guana Tolomato Matanzas National Estuarine Research Reserve near St. Augustine.Agency spokeswoman Engel said Phillips was a lower-level staffer whose views didn't necessarily reflect the entire administration. When asked whether staffers are told not to assign cause, Scott's office said "the allegations are not true".Most towns say they cannot afford the cost of climate change studies or regional coordination."For us, it's a reality, it's not a political issue," said Courtney Barker, city manager of Satellite Beach. The town near Cape Canaveral used to flood during tropical weather, but now just a heavy rainstorm can make roads impassable for commuters.
In this Tuesday, Feb. 3, 2015 photo, traffic makes it way along U.S. Highway 1, in St. Augustine, Fl …"When you have to listen to that mantra, 'Climate change, is it real or not?' you kind of chuckle, because you see it," Barker said.Scott administration officials are moving forward on a five-year plan that will provide basic guidance to cities dealing with sea level rise. Scott has appointed the Department of Economic Opportunity as the lead agency overseeing the project.The DEO has received nearly $1 million in federal grants for the plan. More than half has been spent on staff time and travel or hasn't yet been allocated, according to documents. The rest, about $450,000, went to contract researchers who are helping create the document, due in 2016. Agency spokeswoman Jessica Sims wouldn't comment and refused requests for the program's manager to be interviewed.In one grant-funded study, Florida State University researchers asked local leaders about sea rise. Some officials complained to researchers about the "poisonous political atmosphere" over climate change hampering progress. The AP obtained the report in a public records request."In some cases, especially at the local level, planners are constrained by perceptions among elected officials that there is a lack of reliable scientific information to support the existence of sea level rise," report authors summarized.
In this Tuesday, Feb. 3, 2015 photo, tourists make their way down Hypolita Street, in St. Augustine, …Scott's office again said "the allegations are not true" when asked about the political atmosphere in government agencies.As for concerns over drinking water, water district officials said they were happy with the state's funding. But internal emails show frustration among those working behind the scenes to better organize a statewide sea level rise planning group."I often worry about the next generations; I think they will survive in spite of us," Dave DeWitt, a staffer at the Southwest Florida Water Management District, said in an email to colleagues. A district spokeswoman wouldn't comment on policy beyond the district.St. Augustine officials say they need state-level coordination, or in coming decades much of historic downtown could be ankle-deep in water at high tide.Franklin, the engineer, said, "Are we going to be early to the game in terms of planning for this, or late?"_Kay reported from Miami._Follow Kay on Twitter at www.twitter.com/jnkay and Dearen at www.twitter.com/JHDearen.
How the Drought Is Impacting California's Black FamiliesBy TakePart Staff | Takepart.com9 hours agoTakepart.com
How the Drought Is Impacting California's Black Families Every day, like a trusted analog clock, Robert Williams sticks to his routine. Not blistering summer heat, blinding dust storms, nor biting winter cold can keep Williams, 80, from tending the land his father bought during the 1940s in the heart of California's San Joaquin Valley.For the past few years, however, it has been particularly challenging for Williams to maintain his routine. Like other black and working-class residents of Fairmead, a tiny unincorporated community in Madera County, California, just north of Fresno, Williams has experienced grinding hardship caused by the drought that's lingered for nearly half a decade.The alfalfa and cotton that once provided a solid income for Williams' family is barely surviving on the drip-irrigation system he developed. The water supply in Williams' private well is nearly depleted. Most family-owned wells like his only go several hundred feet deep. But those that serve the massive, corporate-owned pistachio and almond farms can reach 1,000 feet. To make matters worse, the corporate-farm wells often suck up more of the dwindling water table than the shallower wells.This has led to a cycle of escalating costs that most families cannot meet. It has created a seemingly endless era of frustration for the Williams family and other working-class families who have lived in Fairmead for decades. They are the descendants of people who arrived here from the Deep South in the 1940s, seeking the bounty of affordable land and prosperity that California then promised. Now, after decades spent building small businesses and raising families, they face a bleak prospect: The persistent drought is threatening their livelihoods and identities."I'm not sure how he does it," says Thelma Williams, Robert's 44 year-old daughter. "But he stays on his schedule—he goes out, gets on that tractor of his, and will just turn the hay and soil over and over. It's dry, dry, dry, but he isn't about to stop."—The biggest difference between the Williams family farm and the industrial farms is not just that small-scale farmers have only recently lacked the financial wherewithal to dig deep wells. Black farmers in Fairmead and surrounding counties have faced disenfranchisement virtually since they first arrived in this part of California during the early 20th century."Blacks who migrated to Fairmead and other parts of the Valley from the Deep South were restricted by racially discriminatory local laws and rules called covenants from buying land or property in towns that had services and features like schools, reliable sewers, roads, and so on," said Michael Eissinger, a doctoral student at the University of California, Merced, and an authority on the Central Valley's black history.In short, black people like the Williams family who lived across California's arid, agricultural midsection were prevented by racial discrimination from gaining capital and connectivity until at least the 1960s, when state and federal laws prohibited such forms of discrimination. White people in nearby communities had access to bank loans, social networks, and other resources to sustain them during droughts or economic downturns. Black residents of Fairmead and other valley towns did not have those options. Today, blacks and Latinos comprise the majority of Fairmead's roughly 1,500 residents. Most of the elderly residents are white. Nearly 34 percent of the city's residents live near the poverty level.—The past two years have been hard. In August 2014, when the water table that served most households and small farmers in Fairmead dried up, the Madera County Farm Bureau donated, and began delivering, emergency drinking water—weekly drops of more than 340 cases of 16-ounce bottles for more than 40 private well owners.But by last November, the Madera County Farm Bureau's bottled water donations ran out. So the county's environmental health authorities supplied water. By February of this year, its funding for water was diminished. Since then, authorities have secured emergency funding via the California Disaster Assistance Act. They are developing other emergency tactics: providing drinking water to individuals and supplying bulk water storage tanks with non-potable water that can be hauled to private well owners.The cost to dig deep wells can be prohibitively expensive—and anyway, state water experts estimate that the groundwater table in this part of the San Joaquin Valley is disappearing.Fairmead in 2011 received a 212,000-gallon community water tank through a million-dollarCommunity Development Block Grant funded by the state and the U.S. Department of Housing and Urban Development. It was the first significant upgrade to the community's water infrastructure since the area was settled in the early 1900s, when speculators from Northern California first bought up the land in this region.Many in the Fairmead community—like the Williams family—with property far away from the big community water tanks have been hit hard by the double whammy of the disappearing well water and large corporate farms that can afford to siphon out what little underground water remains."We don't necessarily blame the big farmers—they're working the land just like most of us," said Vickie Ortiz, secretary of Fairmead Community and Friends, a local advocacy group that includes the Williams family and other black, Latino, and white working-class citizens. "But it's also true that most of us, like the Williams, we don't have the same level of resources to be able to withstand these conditions for too long."—When the Williams family first arrived in Fairmead, they worked as day laborers on white-owned farms and took jobs in Northern California's World War II–era factories. By the late 1940s, the family had bought 88 acres of farmland that eventually held cows and produced alfalfa, cotton, and fruit. The farm served some of the region's major creameries. By the 1950s, Fairmead had become the epicenter of a robust community of "exodusters"—black people who had begun leaving Louisiana, Arkansas, Mississippi, and Georgia for California during the Great Depression. Now, however, the Williams parcel is down to 44 acres, mainly because family members have moved away or died.Thelma Williams speaks with pride of the grit, smarts, and optimism displayed by her grandfather, Morial, the Williams family patriarch, who first moved his large family (Robert was one of his dozen children, and extended family also made the trek) from Louisiana to California in the 1940s. Robert has been under the weather lately, so Thelma is spending more time with him and her 73-year-old mother. Her parents are tough. They worry a lot, but they don't want to show it.Thelma's home hasn't had reliable water in nearly seven years. So she has created an intricate system for running a household with little water: She uses the 16-ounce bottles of water sparingly. After laundry and cleaning dishes, she recycles the water—graywater, as it's called—for flushing toilets. She showers at a relative's house in a nearby town where water is more plentiful. In the garden outside her home, she once grew tomatoes, greens, and herbs for Sunday family dinners. Now, the garden is dormant.The need to improvise and rely on others often drives a sense of frustration and a longing for the old, productive self-sufficiency. "My father is used to being the person in the community who was always helping out others," Thelma said. "Now, the kinds of things that we used to do for everyone else—those who were in need—we're relying on the county and others to do for us."If there is any upside to the years of rapidly disappearing water in Fairmead, it may be this: The Williams family have become politically active and engaged with their neighbors. The neighbors—elderly white people and Latinos—have in recent weeks crowded into government meetings and started strategizing among themselves about how to conserve water and keep costs low. They are determined to hang on."We know times change, for good and bad," Thelma said. "Now, we're out here scraping by with basically no water. You can't really see where the solutions are. Sometimes you get desperate and just start thinking, 'Well, maybe we should try a rain dance or something.'" Related stories on TakePart:• California Has a New Plan to Beat the Drought, One Glass of Water at a Time• California's Drought Is So Bad, They're Shutting Off Showers for Surfers• Desalination Could Be the Solution to California's Drought• California Has a New Plan to Beat the Drought, One Glass of Water at a Time• Almonds' Water Demands Could Dry Out Some California Farms Original article from TakePart
Weird spots on dwarf planet Ceres start to come into focus Dawn has taken the closest pictures yet of the dwarf planet and started to illuminate the nature of its most glaring mystery.by Eric Mack @ericcmack May 11, 2015 1:32 PM PDT 
Ceres seen from Dawn at a distance of 8,400 miles (13,600 kilometers).NASA/JPL-Caltech/UCLA/MPS/DLR/IDAAs NASA's Dawn spacecraft gets a closer look at Ceres, the largest object in the asteroid belt between Mars and Jupiter, and at the mysterious reflective bright spots on its surface, we could be getting our first glimpse at evidence of intelligent extra-terrestrial life. Of course, it's seeming much, much more likely that it's really just a great potential ice skating rink for E.T.s that have yet to arrive.The above animated GIF, released Monday, is composed of images that Dawn took from a distance of 8,400 miles (13,600 kilometers), the closest view yet of the dwarf planet. NASA says the images reveal that the bright spots inside a large crater appear to be composed of many smaller spots, none of which look to be lampposts for a secret alien base.RELATED STORIES
"Dawn scientists can now conclude that the intense brightness of these spots is due to the reflection of sunlight by highly reflective material on the surface, possibly ice," Christopher Russell, principal investigator for the Dawn mission, said in a release.The exact nature of the intriguing spots should be revealed soon after Dawn enters its second mapping orbit on June 6. At that point, the craft will be observing Ceres from a height of just 2,700 miles (4,400 kilometers), three times closer than the spot these images were gathered from. We should also get some new images as Dawn descends over the next few weeks.Meanwhile, be sure to check out our list of what might be behind the mystery onCeres, and begin considering which sounds more appealing for a 22nd-century ice-fishing trip: Ceres or Saturn's icy-hot moon Enceladus?
A giant man-made hole in Earth's atmosphere is finally closing up
 By Jessica Orwig8 hours ago
(NASA Goddard on YouTube) Now that summer is here, you'll likely be slathering up with sunscreen.Earth, it turns out, is doing the same, according to an encouraging study recently published by a team of scientists at NASA Goddard Space Flight Center and Goddard Earth Sciences Technology and Research at the Universities Space Research Association.Earth has its own layer of sunscreen called the ozone layer, or ozone shield, which makes up part of the stratosphere and absorbs most of the sun's ultra-violet (UV) radiation. But it doesn't absorb all of the UV light, and what gets through can cause skin cancer and cataracts in humans as well as reproductive problems in fish, crabs, and frogs.the hole should finally, permanently shrink below 8 million square miles by 2040 and could even be fully recovered by the end of the century Since 1983, scientists have observed a scary phenomenon: Earth's ozone was extremely weak over parts of Antarctica, letting in bouts of harmful UV radiation. The reason, in part, was because a series of man-made chemicals — namely chlorine and bromine — were eating away the planet's protective, sunscreen-like layer.They called this weaker region Antarctica's ozone hole. Although the hole's size varies each year, it has been consistently larger than 8 million square miles since 1990 — more than twice the size of the entire United States!In recent years, scientific reports have noted that the hole is slowly healing — thanks to a decrease in ozone-depleting chemicals in the atmosphere — but scientists were not sure when the hole would be completely regenerated.Now, according to a study published in journal Geophysical Research: Atmospheres, the hole should finally, permanently shrink below 8 million square miles by 2040s and could even be fully recovered by the end of the century.The source of the problem For the middle half of the 20th Century, companies used ozone-depleting chemicals, called chlorofluorocarbons (CFCs), in refrigerators and aerosol sprays that, through use, were getting released into the atmosphere. By the early '80s scientists were beginning to understand the damage that these chemicals were doing to the planet.When CFCs float up to the troposphere, above the ozone, they interact with UV radiation from the sun releasing chlorine, which destroys ozone. As a result of this discovery, an international treaty called the Montreal Protocol was enacted in 1989 that began phasing out the production and subsequent emission of ozone-depleting chemicals.By that point, however, the damage had been done.These chemicals can hang out in the atmosphere for years after they've entered the atmosphere. Like a series of dominoes, the ozone hole continued to grow even after CFCs were banned. Here's a chart showing the size of the ozone hole, in blue, from 1979 through 2012:
(Images from NASA Goddard Space Flight Center, graphic by Business Insider) Ozone depletion above the planet's north and south poles was exceptionally bad because Earth's wind currents were sweeping the chemicals toward either end of the planet.Once these chemicals reached the poles, a large-scale cyclone, called the polar vortex, was trapping the chemicals where they accumulated over time to high concentrations, ravenously eating away the ozone (see the GIF below). This led to the Antarctic ozone hole as well as the Arctic ozone hole, which in 2011 reportedly had half the ozone it used to.
(NASA Goddard on YouTube) Using NASA'S Aura satellite — an instrument orbiting Earth that sniffs out certain chemicals, including chlorine — the team of scientists studied the amount of ozone-eating chemicals above Antarctica from 2004 to 2012. From that, they identified a clear relation between the level of chlorine in the atmosphere and the size of the ozone hole.They then looked at ozone hole sizes from 1979 through 2013 and predicted what future hole sizes will be based on how quickly chlorine levels are decreasing in the atmosphere above the Antarctic."With this new information we can look into the future and say with confidence that ozone holes will be consistently smaller than 8 million square miles by 2040," said Susan Strahan, a senior research scientist at NASA Goddard Space Flight Center, in a video about the study. "And that will really be a milestone that we're finally past the era of big ozone holes."
Choppy Surf Likely Washed over Two Dozen Whales Ashore in Southern Chile, Scientists Say By Zain Haidar Published May 11 2015 12:14 PM EDT weather.com This is a first for Chile. Over 20 sei whales were found dead on the South American country's southern coast last month, and choppy surf could have contributed to the mass beaching. German biologist Vreni Haussermann, whose group found the whales, told AFP that bad weather hampered attempts to get an exact count of the whales, but anywhere up to 30 could have washed ashore. "I think they were swept away by the currents. In my 15 years in the area I never saw something like that," Haussermann said.This April 21, 2015 photo released by Vreni Haussermann shows Sei whales beached off the Gulf of Tres Montes, which is part of the Gulf of Penas, Chile.   (Vreni Haussermann, Huinay Scientific Field Station via AP)(MORE: Killer Whales Like You've Never Seen Them Before) As the Associated Press reports, it's not unusual for whales to beach on Chile's 2,400-mile-long coast. However, the country's Fisheries Service says this is the first time they've seen it happened to sei whales. The beached whales were around 33 feet long, according to the Fisheries Service, but an adult sei whale can grow up to 50 feet long. Like other migratory whales, sei spend summers in northern waters and winters in the south. It's possible that this group of whales was traveling north in search of cooler waters when overwhelming currents sent them onto Chile's jagged southern shore. Sei whales, which are listed as an endangered species, have been protected from commercial whaling in the southern hemisphere by the International Whaling Commission since 1979. According to the National Oceanic and Atmospheric Administration (NOAA), sei whale populations took a heavy toll throughout the 19th and 20th centuries because whalers targeted the animals for their meat and oil. Estimates say 300,000 sei whales were killed during that period. Last week, scientists discovered the carcass of a young female humpback whale in the San Francisco Bay area. MORE ON WEATHER.COM: Pilot Whales Beached  People look at a dead pilot whale before it is transported to a facility for a necropsy by the National Oceanic and Atmospheric Administration's Fisheries Service on January 21, 2014 in Estero, Florida. (Joe Raedle/Getty Images)