Tornadoes Strike Texas, Oklahoma; At Least 1 Injured By Zain Haidar Published May 19 2015 11:43 PM EDT weather.com Streets Engulfed in Water During Flash Flood Shreveport, Louisiana A massive hole swallows water during a flash flood in this raw video from Shreveport, Louisiana. Damaging storms crawled across Texas and Oklahoma Tuesday, and at least 17 tornadoes were reported in both states. Roads were closed late Tuesday night throughout the state of Oklahoma, due to high water or flood damage, according to Oklahoma Department of Transportation. To check current road conditions, call (888) 425-2385 or check the Oklahoma Department of Public Safety's web site.In Giddings, Texas, which is around 60 miles east of Austin, an EF0 tornado struck and left at least one person injured."Early this afternoon a tornado developed near Giddings, Texas, and there were also a couple of reports of funnel clouds in the area. A remnant outflow boundary may have helped in the formation of the tornado and funnel clouds," weather.com meteorologist Linda Lam said.A tornado hit Giddings, Texas, Tuesday afternoon. The National Weather Service gave it a rating of EF0 with estimated winds of 80 mph. (Twitter/_Rippin_Lips_)KEYE reports that a Giddings man was injured when the tornado sent debris through a window and hit his face. The man's injuries are non-life threatening. (MORE: Severe Weather Threat in the South and East Through Early Week)Tornadoes were spotted near Purcell and Lexington, Oklahoma, and three others were sighted near Wichita Falls, Waxahachie and west Texas.A tornado was also reported in Mineral Wells, Texas Tuesday night with reports of a roof collapse of a vacated bank building downtown.Roof damage due to a possible tornado was also reported to two separate apartment buildings in Runaway Bay, Texas and in nearby Boonsville residential structures have collapsed and large trees and power lines are down.No other damage or injuries have been reported from Tuesday's twisters. Late Monday night into early Tuesday, major flash flooding hit San Angelo, Texas, and killed at least one person. You can get the latest updates on severe weather forecast on the weather.com severe tracker page. MORE ON WEATHER.COM: Severe Outbreak May 10 Residents survey damage near an elementary school, caused by severe weather, Monday, May 11, 2015, in Van, Texas. (AP Photo/Todd
Mudslide, Flooding Wash Away Homes in Colombia; At Least 62 Dead By The Associated Press Published May 19 2015 10:56 AM EDT weather.com Landslide in Northwest Columbia Turns Fatal A landslide in Colombia's northwestern municipality of Salgar killed at least 57 people as it carried away homes and bridges on Monday, May 18. Heavy rains triggered the mudslide early on Monday as people were sleeping, injuring dozens more. According to  An early morning wave of mud, triggered by heavy rainfall, swept over a western Colombia town Monday and killed at least 62 people. On Tuesday, with an unknown number of people still missing, crews returned to the area to continue the search for bodies.Unstable homes and bridges were sent tumbling into the nearby Libordiana ravine, jarring residents awake before dawn and sending survivors fleeing."It was rocks and tree trunks everywhere," Diego Agudelo told the Associated Press, adding that never in 34 years living next to the ravine had he suspected such a tragedy was possible.(MORE: Massive Russian Landslide Swallows Highway) "The river took out everything that was in its path," Aguelado said, including the back part of his home.Enlarge Flooding and landslides have killed dozens in western Colombia.  (Twitter/Mindefensa Colombia )The disaster hit around 3 a.m. local time in the town of Salgar, about 60 miles southwest of Medellin.Rescuers supported by police helicopters were evacuating residents near the ravine for fear of another mudslide.Carlos Ivan Marquez, head of the National Disasters Unit, said 62 people were killed and 37 sustained injuries. An unknown number of people, as many as 100, remain missing.The flooding destroyed the town's aqueduct and knocked out electricity and other public services. Even areas in less hazardous zones experienced flooding.Authorities called on volunteers to send water, food supplies and blankets to cope with what they described as a humanitarian emergency.The town of 18,000 lies amid one of Colombia's major coffee-growing regions. Former President Alvaro Uribe, who spent part of his childhood in Salgar, rushed to the town to assist in relief efforts."It's very painful what we've seen," Uribe told RCN TV, describing his encounter with a grandmother caring for her 3-day-old grandchild in place of the boy's parents, who are missing.(MORE: Flash Floods Swamp San Angelo, Texas)President Juan Manual Santos was reportedly on his way to the town to oversee disaster relief operations.Colombia's rugged topography, in a seismically active area at the northern edge of the Andes, combined with shoddy construction practices, has made the country one of Latin America's most disaster-prone. More than 150 disasters have struck the country over the past 40 years, claiming more than 32,000 lives and affecting more than 12 million people, according to the Inter-American Development Bank.The tragedy in Salgar appeared to be the single deadliest event since a 1999 earthquake in the city of Armenia that left hundreds dead. A wave of flooding during the 2011 rainy season left more than 100 dead.Luz Maria Urrego, 74, said she escaped certain death because she had traveled to Medellin for the long holiday weekend. She said her brother was killed along with his children and grandchildren."I said to my wife 'let's hold each and hope that God saves us,'" said Jorge Quintero, a local resident, describing to RCN TV how he was trapped between two raging currents that had taken with it two homes on either side of his own. "I know God gave us his hand because here we are, alive, still frightened, but alive."People search for relatives after a landslide in Salgar municipality, Antioquia department, Colombia on May 18, 2015. (RAUL ARBOLEDA/AFP/Getty Images) 
India's Bellandur Lake Is So Polluted It Caught Fire The Huffington Post  |  By Nick Visser Posted: Updated: Whoever said water couldn't burn didn't pollute hard enough.Residents in Bangalore, India, were alarmed earlier this week when a local lake caught fire. For several weeks, Bellandur Lake has been covered with several feet of toxic foam that some have said resembles snow from far away, according to The Hindu. Beneath the snow-white lather, the water has turned black from chemicals and sewage.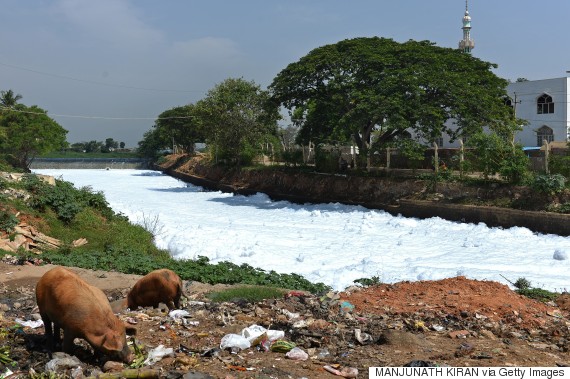 A canal that once carried water from Bellandur Lake to Varthur Lake is filled with toxic foam.The foam apparently caught fire last week, burning for most of last Friday night, as seen in a shocking video recorded from its banks, the Bangalore Mirror reported. Experts told the outlet a slurry of oil and phosphorus from untreated industrial waste and sewage likely created the conditions for the combustable cocktail to ignite. Areas of nearby wetlands that had helped to filter the lake in the past were destroyed by development."These wetlands used to act as purifiers. But all such wetlands surrounding the lake have been encroached and there is no place for natural purification. Hence the pollution at these lakes is uncontrollable," an unnamed officer for the local pollution control board told the Mirror.Apart from the alarming, positively hellish prospect of a lake of fire, residents have also reported allergic reactions and a burning sensation possibly caused by toxins released by the foam, which caught fire again on Monday, according to The News Minute. The froth has swelled to a height of as much as 12 feet due to recent rains, and has spilled over the banks of the lake.City officials have called for an investigation into the rampant pollution, which is alsonoticeable on another lake nearby."Foam, fire, what next? A Loch Ness monster?" a resident told local television outlet NDTV.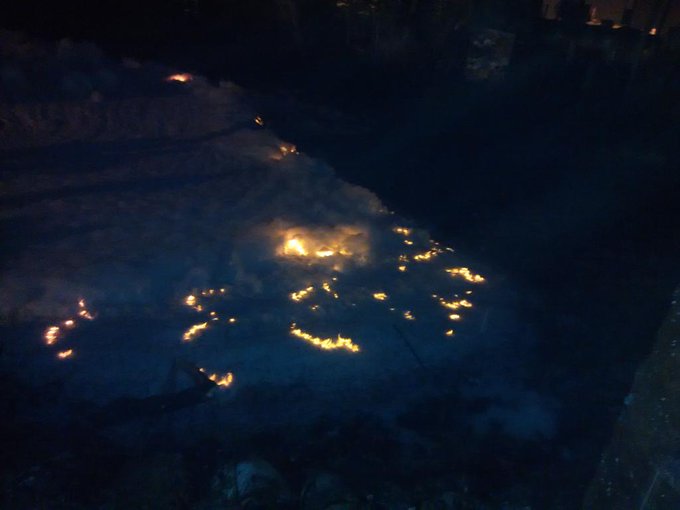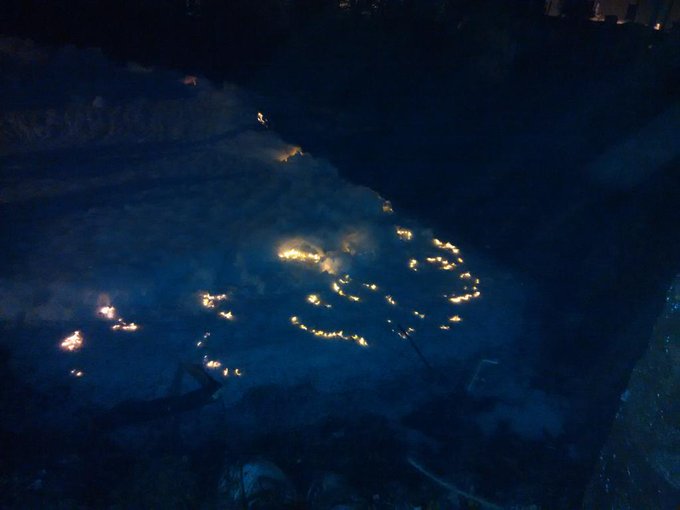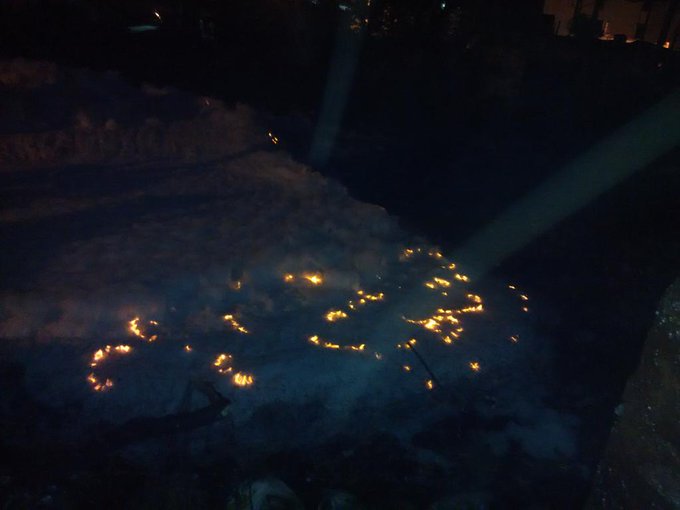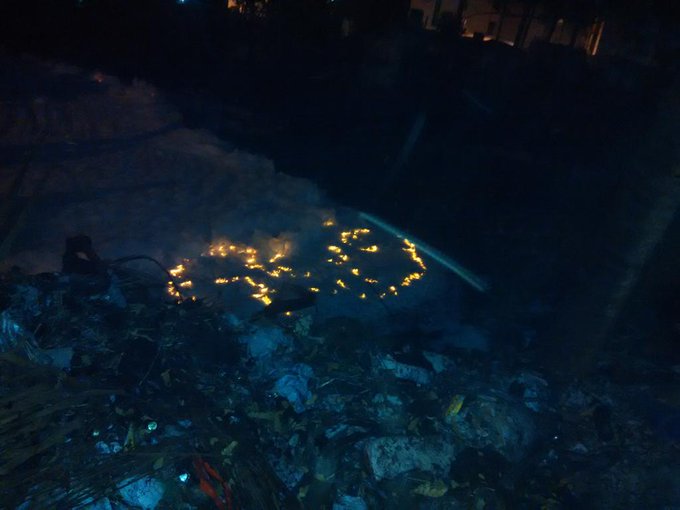 Follow

Anand Basu @basuanand Bellandur lake on fire again today · Bengaluru South, Karnataka, India ALSO ON HUFFPOST: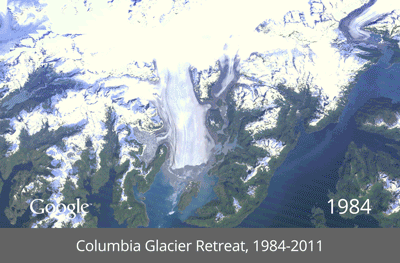 Google






Ruptured pipeline spills 21,000 gallons of oil on California coast
 2 hours ago KTLA – Los Angeles Oil Spill Off Refugio State Beach in Santa Barbara County Prompts Emergency Response
News Oil Spill Off Refugio State Beach in Santa Barbara County Prompts Emergency Response LOS ANGELES (Reuters) – A pipeline ruptured along the scenic California coastline on Tuesday, spilling some 21,000 gallons (79,000 liters) of oil into the ocean and on beaches before it could be secured, a U.S. Coast Guard spokeswoman said.The pipeline, which runs parallel to Highway 101 near Santa Barbara, left a slick extending about four miles (6.4 km) along Refugio State Beach, extending about 50 yards (46 meters) into the water, Petty Officer Andrea Anderson of the Coast Guard said.Anderson said the company responsible for the 24-inch (61- cm) pipeline was identified as Plains All American Pipeline, which had brought in a company to begin cleaning up the spill. Refugio State Beach was closed.The cause of the rupture had not been determined, Anderson said.Richard Abrams, emergency manager for Santa Barbara County, said the Coast Guard, Department of Fish and Wildlife and Santa Barbara County were assisting on the clean-up."We haven't seen any reports of impacts on wildlife but it is in the water so it is impacting the environment," Abrams said.Representatives for Plains All American were not immediately available for comments.(Reporting by Rory Carroll in San Francisco, Nallur Sethuraman in Bengaluru and Dan Whitcomb in Los Angeles; Editing by Lisa Shumaker and Eric Walsh)
What Will the X-37B Military Space Plane Do on Its Next Mystery Mission?
 By Leonard David11 hours ago
A photo from a previous X-37B mission shows launch processing of a Boeing-built X-37B Orbital Test V …On Wednesday, the United States Air Force's Rapid Capabilities Office is set to launch the fourth mission of the X-37B Orbital Test Vehicle — the military's secretive robotic space plane.The reusable, unmanned X-37B spacecraft will blast off atop a United Launch Alliance Atlas V booster tomorrow (May 20) at 10:45 a.m. EDT (1445 GMT) from Cape Canaveral Air Force Station in Florida. You can see a video of how the X-37B will launch.Since April 2010, two X-37B vehicles have chalked up a total of 1,367 days in space on three different missions. On the last flight, which launched in December 2012 and landed this past October, the X-37B set the record for longest mission of a reusable space vehicle: 674 days. [X-37B Space Plane's 4th Mystery Mission in Photos]All three missions landed on autopilot at California's Vandenberg Air Force Base. On this outing, the space plane might touch down at Kennedy Space Center in Florida, although Vandenberg is still being maintained as a landing spot, Air Force officials have said.Experiment objectives The X-37Bis built by Boeing Network & Space Systems, the same unit that designs and delivers satellites used for communications, navigation, intelligence and weather monitoring. The winged vehicle measures 29 feet long by 9.5 feet tall (8.8 by 2.9 meters), with a wingspan of 15 feet (4.6 m). It has a payload bay the size of a pickup-truck bed.Two X-37B space planes have purportedly been built. Which one of those craft will be flying Wednesday isn't clear."The vehicle cannot be specified for operational reasons," Air Force spokesman Capt. Christopher Hoyler told Space.com. "What I can tell you is that the program selects the orbital test vehicle for each activity based upon the experiment objectives."The Air Force has revealed that it is collaborating with two organizations to evaluate experiments carried on the space plane's upcoming mission.An experimental propulsion system jointly developed by the Air Force Research Laboratory and the Space and Missile Systems Center will be flown. In addition, the X-37B craft will carry a NASA advanced materials investigation.
Encapsulated in its fairing, the United States Air Force's X-37B space plane is positioned for a …Such details are pretty much unprecedented; the payloads carried by the X-37B, as well as specifics about the vehicle's orbital activities, are generally classified. As a result, just what the space planesdo away from Earth has become something of a Rorschach test for many outside observers. (Air Force officials have long stressed that the X-37B is not a space weapon, saying it simply tests reusable-spacecraft technologies on orbit.) [Top 10 Space Weapons]Also catching a ride aboard the Atlas V on Wednesday is the LightSail spacecraft, a solar-sailing demonstrator built by the nonprofit Planetary Society. Mysterious nature "Describing some of the activities on this X-37B flight may be meant to lessen its mysterious nature," said Laura Grego, senior scientist at the Global Security Program for the Union of Concerned Scientists, which is headquartered in Cambridge, Massachusetts.Grego told Space.com there is "no compelling reason" provided for why these experiments need to hitch such an expensive ride on the X-37B."While the space plane isn't particularly well suited to a space weapons role, most of the space plane's details are still classified, and the Pentagon appears committed to continuing the program," Grego said. "So it still seems to be a source of anxiety for some of those concerned about the increasing weaponization of space."Whatever the X-37B's activities may be, Grego said, "we should certainly be concerned about theweaponization of space. In any case, security in space cannot be achieved unilaterally or by developing the best weapons. It really depends on sustained and substantial cooperation among users."Counter-satellite operations Given the clandestine nature of the X-37B missions, how do other nations, such as China, view the program?"I don't think there's any question that the Chinese see the X-37B as a space weapon," said Dean Cheng, a senior research fellow at The Heritage Foundation's Asian Studies Center in Washington, D.C
The third mission of the X-37B space plane was completed on Oct. 17, 2014, when it landed and was re …"Interestingly, they [the Chinese] not only are worried about the potential for such a platform to conduct counter-satellite operations, but they also see it as a potential space-to-ground weapons delivery platform," Cheng told Space.com. [Latest news about China's space program] Cheng doubts that China sees the X-37B as the end-state. "Instead, I would suspect that they see it as an evolutionary part of a larger space capability, one that will have a larger payload…including more cargo volume than the bed of a pickup truck," he said.Neighborhood watchIt is also useful to note, Cheng said, that the Chinese are interested in reusable launchers. China is probably even more intent on gaining the ability to deploy payloads into space in ways that may be hard to identify from the ground, he added."It will be interesting to see what measures, if any, they [China] can take to counter 'space-based' space surveillance capabilities," Cheng said.An example of such capabilities is provided by the two U.S. geosynchronous space situational awareness program (GSSAP) spacecraft lofted last year. GSSAP satellites are billed by U.S. military space officials as America's "Neighborhood Watch" program. They observe satellites in geosynchronous orbit and scout for unusual activity — and can sidle up to and inspect other spacecraft.Chip in the poker game From the U.S. military's perspective, the X-37B is a "chip in the poker game" that officials see being played with the Chinese, and possibly Russia and other nations as well.That's the view from Roger Handberg in the Department of Political Science at the University of Central Florida in Orlando."Space has been militarized, but increasingly the drumbeat is back to weaponization as the logical extension of military operations," Handberg told Space.com.From a military perspective, Handberg said, "you have to prepare for all contingencies, no matter what they are." The ultimate high ground The X-37B is consistent with the idea of operationally responsive space, Handberg said."That's an absolutely necessary ability," Handberg said, "if you assume the Chinese will immediately attack all U.S. military space assets, plus many of the commercial options in communications and remote sensing that the DoD [Department of Defense] uses daily."How rapidly any lost on-orbit inventory can be replenished, Handberg added, will be critical for the U.S. given its dependence on space-based assets for military superiority."From a policy perspective, the X-37B is also a tool for the space cadets inside the Air Force to demonstrate a little separation from the flyboys who run the service and its priorities," Handberg said.Handberg said the X-37B is a "visible reminder" to all that the U.S. can operate successfully beyond the atmosphere to project American power globally."And do so in a reusable vehicle whose military potential has not yet been demonstrated, but the imagination can provide several scenarios where the capabilities will be very useful," Handberg said. "Scaling the vehicle up could allow for multiple payloads including nuclear weapons, or simply replacement satellites for those damaged by attack or accident."Leonard David has been reporting on the space industry for more than five decades. He is former director of research for the National Commission on Space and is co-author of Buzz Aldrin's 2013 book "Mission to Mars – My Vision for Space Exploration," published by National Geographic with a new updated paperback version released this month. Follow us@Spacedotcom, Facebook or Google+. Originally published on Space.com.
A Strange El Niño Is Bringing Rain To Texas MAY 19, 2015 | 9:40 AM BY MOSE BUCHELE When you hear about El Niño, you might remember the classic skit where Chris Farley plays "El Niño," a pro-wrestling tropical storm.What other weather pattern gets its own Saturday Night Live send-up?Well, after a year of waiting, El Niño is here, and it is raging like Farley. But it's it's not like anything we've seen before. To understand why, we've got to clear up some misconceptions.First off, in the sketch Farley says El Niño is a "tropical storm." It's not. It's a weather pattern that brings storms. That's what it's been doing this month in Texas — a lot.Secondly, the name carries a little more meaning than Farley would have you believe."El Niño was named after the Christ child, because it was first observed by Peruvian fisherman around Christmastime," says Texas State Climatologist John Neilsen Gammon. "The water temperatures would warm up and it would have big impacts on rain."That's what makes this El Niño a strange one. Christmas is long gone. El Niño is not."Usually this time of year we don't have much effect from El Nino," says Neilsen Gammon.National Oceanic and Atmospheric Administration meteorologist Victor Murphy says Austin's received 8.97 inches through May 17, compared to 7.09 inches of rainfall in the entire month of May last year.
SCREEN GRAB FROM YOUTUBE Chris Farley in his classic turn as "El Nino"He says the rains will likely continue through the end of the month — he expects anywhere from two to four inches at least by the end of this week — which could break the record for the wettest May on record in Austin.Neilsen Gammon says the unseasonable system doesn't have a definite finish line."I don't have a good feel for when we'll stop getting a big influence," he says. "Because really this sort of situation hasn't really happened a whole lot in history."He says, with luck, we could get a repeat of 1957, the year when heavy rains in both spring and fall ended the great Texas drought of the 1950s.
Lithuanian power grid has dark secret buried in Soviet past
 By LIUDAS DAPKUS9 hours ago
VILNIUS, Lithuania (AP) — Giedrius Sakalauskas always thought there was something strange about the graffiti-sprayed, bunker-like structure in a leafy area outside the center of Vilnius.Why build an electrical substation with granite blocks instead of regular bricks?When he examined the building more carefully this month, he made a chilling discovery: Dozens of stones had inscriptions in Hebrew or Yiddish. "I touched the stones and I realized that they're really gravestones," Sakalauskas told The Associated Press.And he had strong hunch about where they came from: Across the street there used to be a Jewish cemetery that was demolished in the 1960s when Lithuania was part of the Soviet Union. Sakalauskas posted pictures of his discovery on social media, setting off an emotional discussion about a dark chapter in Lithuania's history that didn't end when a Nazi occupation was replaced by a Soviet one in 1944.Lithuania's once-vibrant Jewish community was nearly annihilated by the Nazis and the few who survived found little sympathy from their new communist rulers."Hitler wanted to destroy Jews physically," said Simonas Gurevicius, whose family escaped the Holocaust by fleeing to Russia and returned to Lithuania after the war. "Stalin came, and he wanted to destroy the whole memory of the Jewish people, making sure that nothing will stay."
In this photo taken on Wednesday, May 13, 2015, Shmuel Levin, the Chairperson of the Jewish religiou …The etchings on the substation are hard to spot unless you know what you are looking for. They're only visible in the gaps where the slabs overlay each other.Showing the site to AP journalists, Gurevicius ran his fingers softly over the letters."For sure, this is a very sad feeling. It's difficult to read now," he said.Archaeologists confirmed this week that the electrical substation was built with tombstones pilfered from a Jewish cemetery.Vilinius Mayor Remigijus Simasius told the AP he's already asked the utility companies that own the substation, which feeds electricity to thousands of homes, to find a way to move them to a "proper resting place."
In this photo taken on Tuesday, May 12, 2015, a woman looks at a power substation built of tombstone …The discovery raised uncomfortable questions over how many other structures were built with recycled Jewish tombstones and why the issue is gaining attention only now, 25 years after Lithuania declared independence following nearly five decades of Soviet rule.The substation is not the first example. In the 1990s, authorities removed steps leading up to the Tauro hill, one of the highest points in Vilnius, after finding out they were made with stones taken from a Jewish graveyard.The mayor said two other cases are being investigated: the steps leading up to the Reformed Evangelical Church in Vilnius — which was turned into a movie theater by the communists — and a wall outside a high school in the city."This Soviet-era legacy is a disgrace for our city," Simasius said. "Monuments must be respected. We are talking to the Jewish community to find a proper solution."The issue has touched a raw nerve in a country that has been accused of not confronting the role some Lithuanians played in killing Jews during the 1941-44 Nazi occupation. More than 90 percent of Lithuania's prewar Jewish population of 240,000 was killed.
In this photo taken on Tuesday, May 12, 2015, tombstones from a Jewish cemetery are used to form the …With Jewish life all but eradicated from Vilnius, Jewish cemeteries were seen as "easily accessible and free building material" during the Soviet era, said Jurgita Verbickiene, a historian at Vilnius University.Ethnic and religious groups were repressed along with political dissidents amid Moscow's efforts to unite the vast empire under the banner of communism.In the Soviet Union there were no Jews because there was just one people — the Soviet people — explained Rachel Kostanian, deputy director of the Jewish State Museum in Vilnius."It was a friendship between the Lithuanians, Latvians, Ukrainians, Russians, et cetera," she said. "The Jews were among the et cetera."_Associated Press journalist David Keyton contributed to this report.
Nazi letter to Soviet wartime agent found in Japan
 By Hiroshi Hiyama17 hours ago
Tokyo (AFP) – A birthday letter from a Nazi foreign minister to a legendary spy credited with helping turn the tide of Germany's advance on Moscow has been found in Tokyo, a book dealer said Tuesday.Unknown to Adolf Hitler's regime, Richard Sorge accurately forewarned his Soviet paymasters that the Nazis were preparing to tear up a non-aggression pact and march into western Russia.Under his cover as a journalist and press attache to the German embassy, Sorge ran a spy ring in pre-war Tokyo, reporting to Moscow what both Nazi Germany and Imperial Japan were planning.Historians say the 1938 letter from Joachim von Ribbentrop, marking Sorge's 43rd birthday and praising his "outstanding contribution" to the embassy in Tokyo, underlines how trusted he was by the Germans — and therefore how valuable he was to the Soviets."The letter comes from pre-World War II time. It is interesting in that it allows you to surmise" the Nazis' trust in Sorge, said Yoshio Okudaira, who works at antique book dealer Tamura Shoten in Tokyo's Jimbocho district.The letter came with a signed photograph of Ribbentrop, who was Hitler's foreign minister from 1938 until 1945.
Sorge's information helped Soviet leader Joseph Stalin to reposition military resources from eas …Although Sorge was a German national and a Nazi party member, he spent part of his childhood in the Soviet Union and was a committed communist who later began spying for Moscow.In 1933, at the Soviets' behest, he moved to Japan as a correspondent for the Frankfurter Zeitung.- Vital information -Known for his womanising and heavy drinking, Sorge was also a keen political observer whose insights brought him respect, and ultimately, high-level access inside the German embassy.He became a personal aide to German ambassador Eugen Ott, a position that gave him an excellent vantage point on Nazi policymaking, and made him privy to vital information about the German war machine.It was there that he learned of Hitler's intention to unilaterally revoke the non-aggression pact with Moscow and invade the Soviet Union from the west.While the Soviets did not fully believe this intelligence at the time, they did act when Sorge told them he had learned Japan did not intend to invade Russia from the east, preferring to concentrate on winning territory in resource-rich Southeast Asia.This vital information allowed Soviet leader Joseph Stalin to reposition vast military resources from the far east to the west, helping to turn back the advancing German army in late 1941.Okudaira said this snapshot of history came as part of a bundle of Nazi-related documents brought in by a customer who was disposing of a dead relative's collection."I thought, 'Here is interesting stuff,'" Okudaira told AFP, adding that the customer did not know the nature of the letter.Okudaira said the letter and photograph would be auctioned off, although he cautioned that they were written by Ribbentrop's secretary, making them relatively ordinary administrative documents.Sorge's spy ring was broken up by the Japanese authorities. He was disavowed by the Soviets and hanged by Japan in 1944, although posthumously rehabilitated by post-Stalin Russia.
Iceland whale meat shipment to Japan sparks protests
 9 hours ago
The tails of two 35-tonne fin whales are bound to a Hvalur HF boat off the coast of Hvalfjsrour, north of Reykjavik, on the western coast of Iceland on June 19, 2009 (AFP Photo/Halldor Kolbeins) Environmentalists reacted angrily Tuesday to a controversial shipment of fin whale meat to Japan by an Icelandic whaling company, saying it flouted international conservation agreements.The Icelandic whaling company Hvalur HF plans to ship 1,700 tonnes of whale meat via Luanda in Angola, repeating a similar controversial delivery of 2,000 tonnes last year which sparked protests along its route."This is an animal welfare issue. There is no humane way to kill animals of that size… there is no need for this meat and certainly no need for Iceland's economy or fisheries industry to have this," said Sigursteinn Masson, Iceland spokesman at the International Fund for Animal Welfare (IFAW) told AFP."This is a shipment that faces strong international opposition… Commercial whaling is a very isolated business — we want to see the end of it, as does most of the world."According to Icelandic daily Eyjan the meat was loaded aboard a vessel known as Winter Bay near the Icelandic capital Reykjavik two weeks ago but its departure has been delayed due to a mechanical failure.Kristjan Loftsson, chief executive of Hvalur HF, confirmed local media reports of the pending shipment which he said was "not illegal"."Iceland made a reservation on the ban so it is not bound by it," he said.Iceland and Norway are the only nations that openly defy the International Whaling Commission's (IWC's) 1986 ban on hunting whales.Icelandic whalers caught 137 fin whales and 24 minkes in 2014, according to the anti-whaling group WDC, compared to 134 fin whales and 35 minkes in 2013.Japan has used a legal loophole in the ban that allows it to continue hunting the animals in order to gather scientific data.But it has never made a secret of the fact that the whale meat from these hunts often ends up on dining tables.Consumption of whale meat in Japan has fallen sharply in recent years while polls indicate that few Icelanders regularly eat the meat.In September the European Union, the US and several other countries issued a statement calling on Iceland to halt commercial whaling, particularly of fin whales.
US daredevil dies in Yosemite jumping accident
 May 18, 2015 4:50 AM ABC News Videos Base Jumper Dean Potter Dies in Tragic Accident
Yahoo News Videos Base Jumper Dean Potter Dies in Tragic Accident Los Angeles (AFP) – A world-renowned extreme athlete died along with another man during a stunt at the Yosemite National Park in California, US media said Sunday.Related Stories
Tributes poured in from all over the globe for Dean Potter, 43, following his death on Saturday.He and fellow BASE jumper Graham Hunt, 29, were killed during a jump at Taft Point, ABC News said, citing Yosemite National Park spokesman Scott Gediman.Reports filtered through to park officials on Saturday of an accident and a helicopter spotted the two bodies on Sunday.When Rangers got to them about noon, they were identified as Potter and Hunt, Gediman said.Other media said the pair had been attempting a wingsuit flight from Taft Point but smashed into a rocky outcrop when they tried to fly through a narrow gap in the mountains.
World-renowned extreme athlete Dean Potter died along with another man during a stunt at the Yosemit …On Potter's official Facebook page — where he describes himself as "artist, adventurer, athlete" — extreme sports enthusiasts from all over the world paid tribute to the man admired for his fearlessness and incredible courage.His last Facebook post, on May 12, shows a picture of his dog in a mountainous landscape and the caption: "Miss Whisper. Yosemite Dog."In an interview with The New York Times in 2008, Potter said: "Part of me says it's kind of crazy to think you can fly your human body."Another part of me thinks all of us have had the dream that we can fly. Why not chase after it? Maybe it brings you to some other tangent. Chasing after the unattainable is the fun part."BASE stands for buildings, antennas, spans and Earth that jumpers can parachute from. It is illegal in US national parks.
Climate Change May Put Power Grid at Risk in the West By Bobby Magill, Climate Central Published May 19 2015 11:29 AM EDT From our partners The ravages of climate change could severely hurt the ability of utilities in the 11 Western states to generate power unless they "climate proof" their power grid using renewables and energy efficiency, something they are not prepared for, according to a new study.For nearly half of the West's existing power plants, climate change could reduce their ability to produce electricity by up to 3 percent during an average summer and possibly up to nearly 9 percent during a decade-long drought, according to thestudy published Monday in the journal Nature Climate Change by researchers at Arizona State University. Coal-fired power plants in Wyoming, Utah, Arizona and Colorado are especially vulnerable, the study says.Upgrading the power grid to increase electric transmission capacity, investing in renewables and encouraging electric power conservation will help "climate proof" the power grid to help fend off these problems, the study says.Climate change is expected to profoundly affect the Western U.S., possibly making the already-parched Southwest more arid and vulnerable to drought. Stream flows will decline and mountain snowpack will melt earlier as temperatures rise, constraining water supplies. Wildfires and heat waves will be more frequent, and forests throughout the Northwest will be vulnerable to disease outbreaks and die-offs, according to the National Climate Assessment.Together, those factors conspire to hit power plants hard, especially during times of peak demand when people are using the most power, usually during the summer months when air conditioners are run at full blast.Scientists have a limited understanding of how electricity production and transmission will be affected by climate change, and the study offers a peek into what those effects might be, Mikhail V. Chester, Arizona State University engineering professor and study co-author, said.Higher temperatures and low stream flow reduce coal-fired power plants' ability to use water for cooling, preventing them from operating at full capacity. The most vulnerable power plants could see a reduction in power generation capacity by up to 8.8 percent, the study says.Renewables take a hit, too, but are much less vulnerable to climate change.A wind turbine next to a coal plant.   (Flickr/Roland Peschetz )Solar photovoltaic panels generate less power as air temperatures rise, leading to a power generation capacity loss of up to 1.7 percent. And, just like airplanes have difficulty getting airborne in Phoenix on hot summer days because the air isn't dense enough to create sufficient lift from the wings and power from the jet engines, wind turbines operate less efficiently when the air is hot and less dense. The study says climate change's effect on wind turbines is too uncertain to estimate a possible loss in power generation capacity, however."Often when we think about the effects of hotter temperatures on electricity provision we focus on the demand side as people consume more electricity for air conditioning," Chester said. "Our results show that climate change can be expected to impact the electricity supply side as well ultimately raising questions about our ability to meet this growing demand with the current mix."Utilities gauge how adequate their power supply is based on how much additional electricity they're able to generate after meeting peak demand during the summer, something called "planning reserve margin." Most utilities in the West estimate that they'll be able to produce about 18 percent more power than is actually needed, but they're not studying how that margin could be hit by climate change, the study says.Climate change could reduce that margin to 14 percent, and utilities are not preparing for the reduction in capacity, Matthew Bartos, an Arizona State University research scientist and the study's lead author, said."A lot of people didn't realize this is a possibility — that climate change could impact the amount of electricity being produced," he said, adding that the study makes no predictions about the likelihood of blackouts or brownouts because of reduced power generation capacity.John Yearsley, an affiliate professor of computational hydrology at the University of Washington, said Bartos and Chester's approach and results are similar to a 2012 study he co-authored showing that coal-fired and nuclear power plants nationwide stand to take a power generating capacity hit of up to 16 percent through 2060 because of climate change.The Arizona State study recommends Western states invest in wind, solar and other "resilient" renewable energy sources while upgrading the power grid and encouraging conservation as ways to overcome some of the challenges climate change poses to the region's power supply."My own feeling is that changing consumption rates is more likely to mitigate impacts of climate change on power generation," Yearsley said.In other words, to make sure the lights stay on across the West during the summer, people should make their homes as efficient as possible so they use as little electricity as they can.Related Content from Climate Central:
MORE ON WEATHER.COM: Hoover Dam Power Plant Hoover Dam generates, on average, about 4 billion kilowatt-hours of hydroelectric power each year for use in Nevada, Arizona, and California – enough to serve 13 million people (Bryan Haraway/Getty Images)