Flooding in the Southern Plains: Arkansas Town Records Wettest May; 2 Dead in Oklahoma By Sean Breslin and Jon Erdman Published May 20 2015 09:58 PM EDT weather.com Roads Washed Out in Flood in Charleston, South Carolina People had to push stalled out cars off the roads in Charleston, South Carolina after they flooded. Severe flooding is ongoing all over the Southern Plains, where cars and homes have been swamped and at least two people have died.The heavy rainfall was sorely needed to break a years-long extreme drought that has gripped the region, but in many areas, the persistent downpours have proven to be too much to handle. This has kept authorities busy, as constant water rescues have been performed in Texas, Oklahoma and Arkansas.Here are the latest impacts from the states hardest hit by this long-lasting flood event.ArkansasDowntown Little Rock experienced flooded streets Wednesday morning as rainfall became too much for some roads to handle. THV11.com reported one driver had to be rescued from a car stranded in floodwaters Wednesday morning, and authorities said accidents were being reported on several highways around Little Rock.With 11 days to go in the month, the National Weather Service's Tulsa office reported Fort Smith has already achieved its wettest May on record, with nearly 14 inches already recorded. The previous record was 13.67 inches in 1943, NWS added.KansasFlooding was reported yet again in the Wichita area on Wednesday, and some homes had to be evacuated, according to local reports.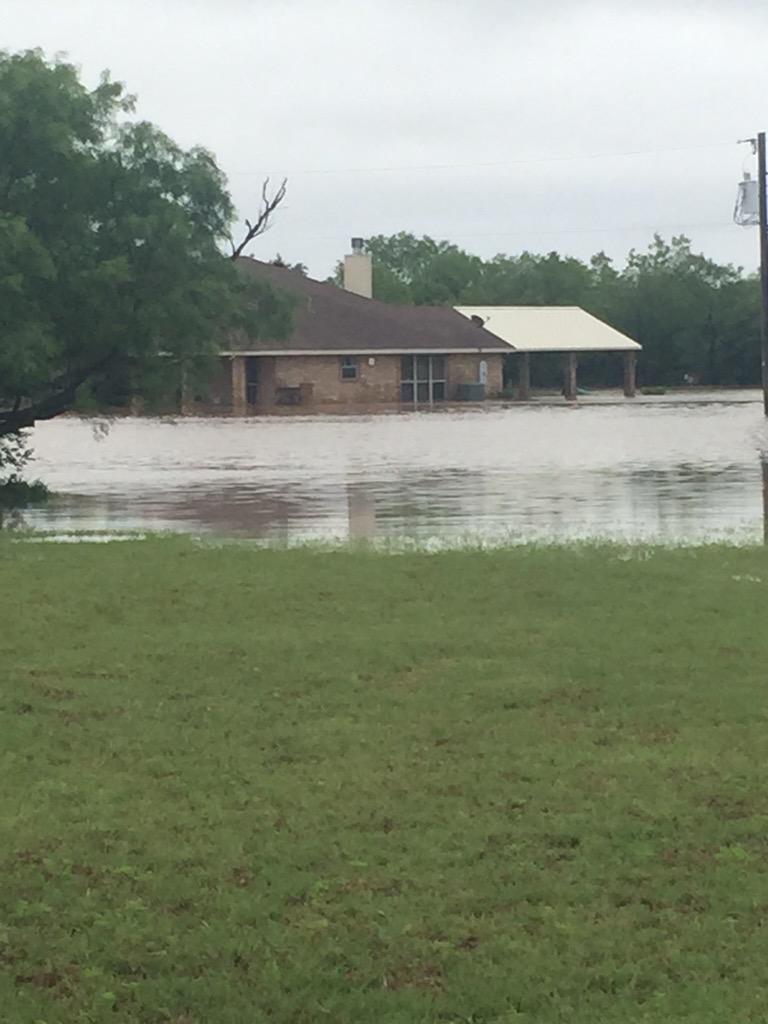 Follow
Brittany Costello @BrittanyKAUZHomes being evacuated on FM 367. Overflow from the Wichita River continues causing massive flooding.Oklahoma Authorities discovered a vehicle submerged in the Canadian River near the Wanette-Byars Bridge between McClain and Pottawatomie counties Wednesday, Oklahoma's News 9 reported. It is unclear if there was anyone in the car or how it ended up in the waters. One person died early Wednesday morning near Cole when a car was swept away by floodwaters after the driver went around a barrier. A spokesman with the McClain County Sheriff's Office confirmed to The Weather Channel that three people were inside the car, and two were able to swim to safety before being rescued from a tributary. The third person, an unidentified male, did not make it out of the truck.As residents continue to dodge floodwaters and hope their homes will be spared by the rising rivers and creeks, one councilman is wondering if the state can do more to lessen the blow from future flooding events."We've spent a lot of money and haven't solved the problem. We ought to look if we're doing it right and maybe the standard we're building to is not adequate," said Oklahoma City councilman Pete White, according to KFOR.com.The report also mentioned that the city's drainage codes are supposed to cover 100-year floods. But in the last five years, there have been three 500-year floods, which is even more severe than the 100-year variety.Flooding caused more problems on Oklahoma roadways Wednesday morning; NewsOK.com has an updated list of all street closures.There's another problem that could arise from all this standing water – mosquitoes. Experts told the Times Record that the flooding will be a favorable breeding ground for the pests this spring and early summer.TexasRainfall has been relentless in the Lone Star State. As of Wednesday morning, at least one Texas town has reported 4 inches of rain of more in every day since May 5. In more than a dozen places around the state, more than a foot of rain has been reported this month.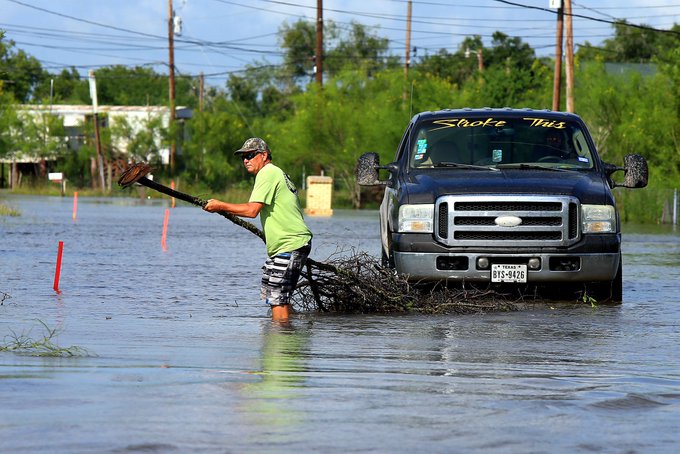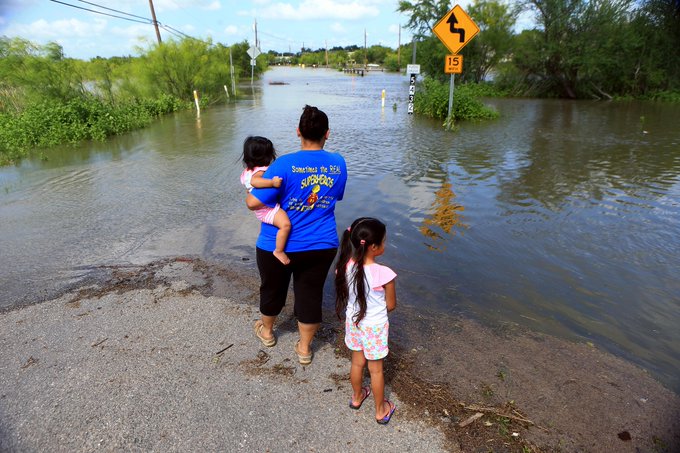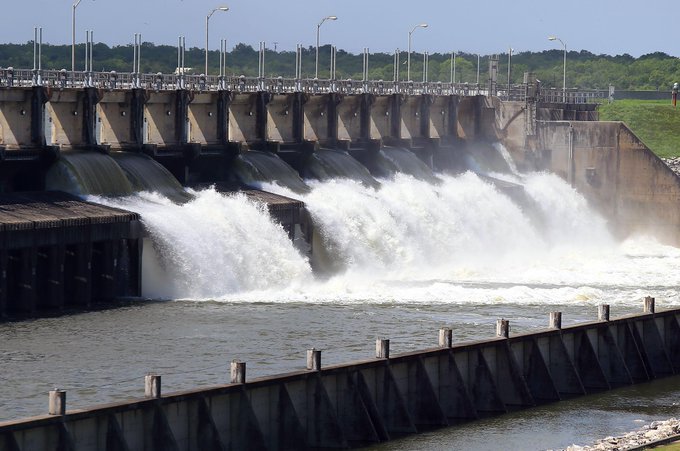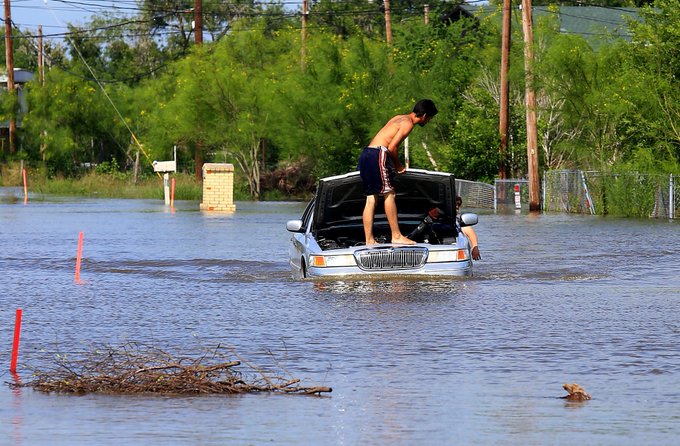 Follow
Gabe Hernandez @callergabePhotos: Nueces River Flooding. http://www.caller.com/weather/nueces-river-flooding-051915 … @callerdotcomTorrential rain triggered major flash flooding in San Angelo late Monday night into early Tuesday, trapping cars and forcing a shutdown of the city's airport.One person was killed in the flooding, a San Angelo Police Department spokesperson confirmed to The Weather Channel. An unidentified male died when a truck hydroplaned and collided with a tree.In just 45 minutes, 2.99 inches of rain drenched San Angelo Regional Airport, located southwest of the city. This was more than the average rainfall for the entire month of May – 2.82 inches – their wettest month on average.At least one car was swept away in floodwaters. One woman was rescued from her flooded car in a McDonalds parking lot. Numerous low-water crossings were flooded and water was reported to be 10-12 feet deep at Monroe Street and Avenue H, according to an amateur radio operator.(MORE: Vehicle Danger in Flooding)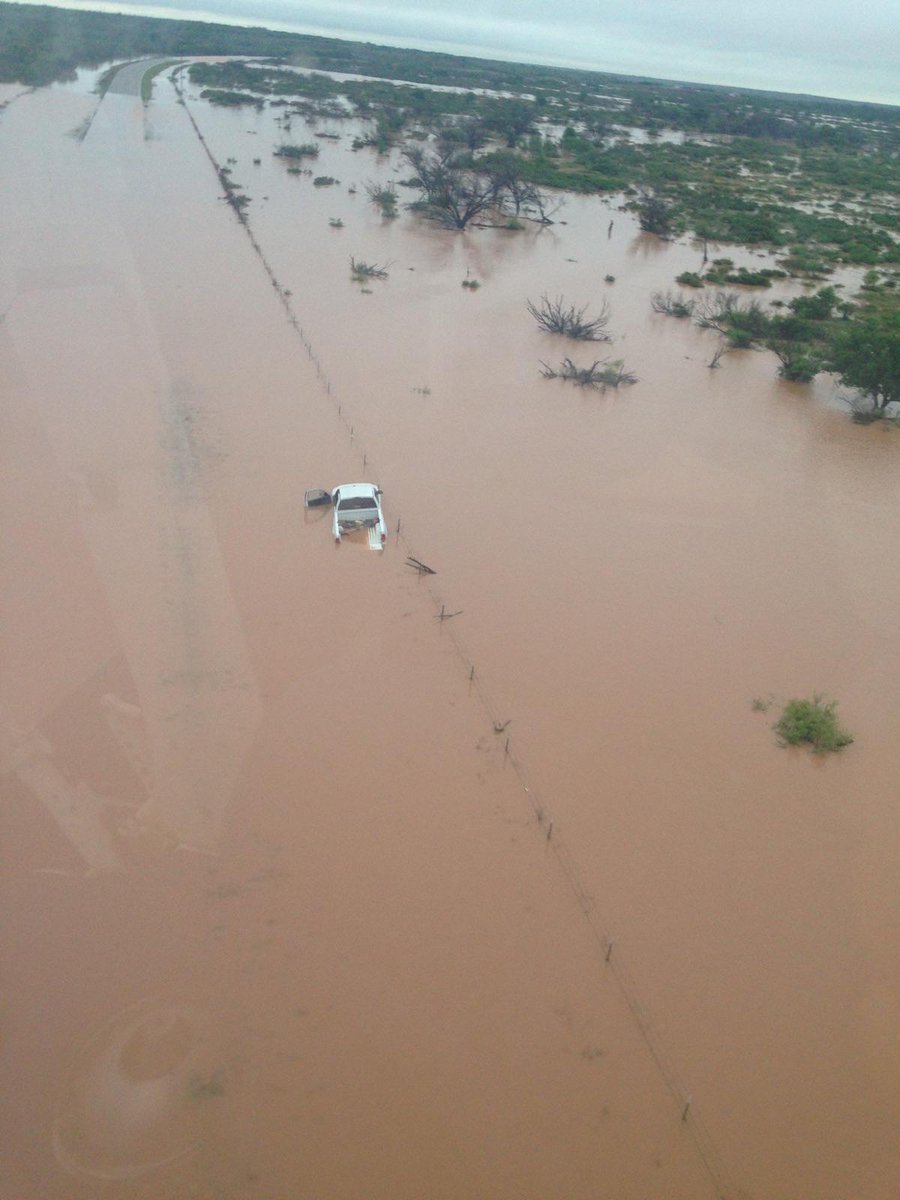 Follow

Clint Luig @txtchx1999 Hwy 368 from Lake Kickapoo where Plum Creek crosses.One home in Carlsbad, about 15 miles northwest of San Angelo, was inundated with four feet of water early Tuesday morning, according to local law enforcement.The North Concho River at Carlsbad crested Tuesday morning just over 8 feet above flood stage, its highest crest since September 20, 1974, according to the National Weather Service. The river rose just over 17 feet in 3.5 hours early Tuesday morning.Floodwaters crept inside the terminal building at San Angelo Regional Airport, prompting closure of the airport Tuesday. All flights are being diverted to Abilene Regional Airport, roughly 90 miles northeast of San Angelo, according to the City of San Angelo.(MORE: Dozens Die in Horrific Colombia Mudslide)Monday was the wettest May day on record in the city, dating to 1908, as 4.01 inches of rain was measured at San Angelo Regional Airport.Overall, it was the ninth wettest calendar day, and the single wettest day since September 9, 1980, when the remnants of Tropical Storm Danielle wrung out 6.24 inches of rain in the city.This was the city's heaviest rain event since a Memorial Day weekend deluge of 7.42 inches May 23-26 last year. Incredibly, last year at this time, San Angelo had chalked up their driest year-to-date on record, with only 0.85 inches of precipitation from January 1 – May 18, 2014. This year, however, the city has picked up almost 12 inches of precipitation, just over two-thirds of an inch shy of their record wettest year-to-date – 12.67 inches in 2007. Elsewhere, several cars were swept off the road near Coyanosa due to flooding.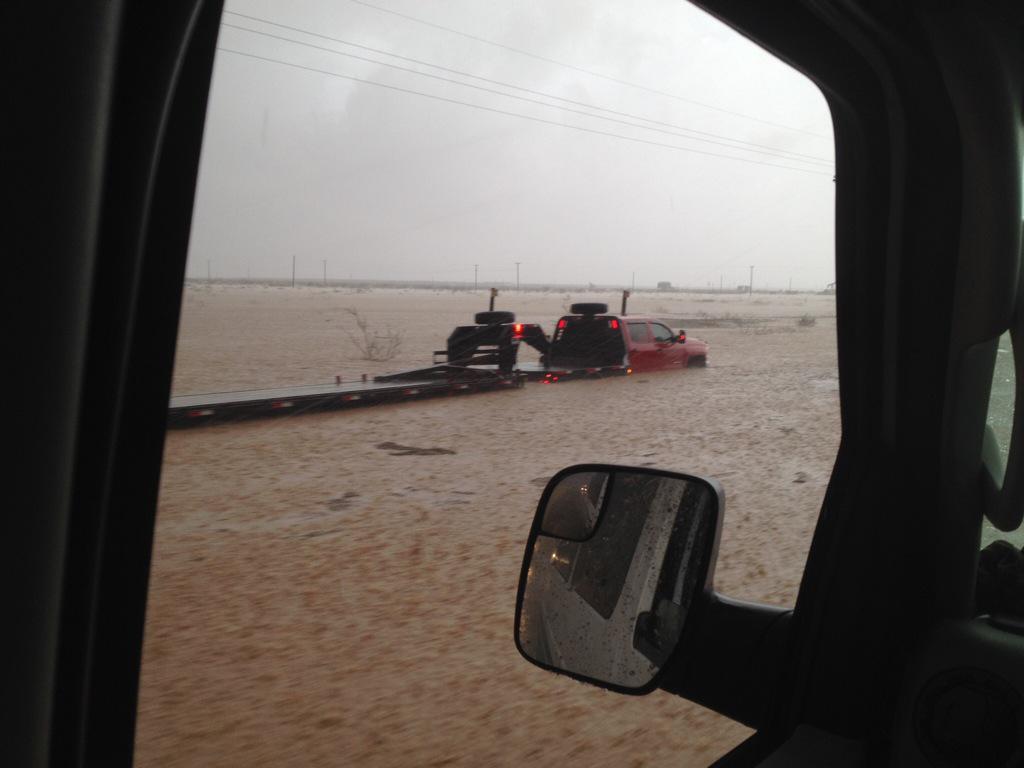 Follow

NEXLAB Storm Chase @cod_stormchaseSouth of Coyanosa. @NWSMidlandA riverside park floods from heavy rain in Denver, Colorado, Tuesday, May 19, 2015. (AP Photo/Brennan Linsley)  
Heavy Flooding Cuts Alaska's Interior Off from Oil-Rich North Slope By Carolyn Williams Published May 20 2015 05:21 PM EDT weather.com Dalton Highway in Northern Alaska Flooding inundates northern Alaska's Dalton Highway. (Photo Credit: Alaska Department of Transportation and Public Facilities) 
Extreme flooding prompted authorities to close the James W. Dalton Highway in northern Alaska, the only route from Alaska's interior to its oil-rich North Slope, a second time on Sunday. The Alaska Department of Transportation and Public Facilities said the northern end of the highway will be closed for four days, Alaska Public Media reported. Meadow Bailey, DOT spokeswoman, revealed spring melt water could potentially cause considerable issues, just one month after the Sag River encroached it.The highway traverses 414 miles from Livengood, Alaska, to Deadhorse and Prudhoe Bay, the U.S. Bureau of Land Management says. The highway was built across northern Alaska while the trans-Alaska pipeline was built in the 1970s.(MORE: Wave Frees Stranded Cruise Lines Ship from Reef Near Bermuda)Washouts and surface erosion have already been reported by the DOT in several portions between milepost 394 and 403, the Fairbanks Daily News-Miner said. Over 2 feet of rushing water has caused the problems.Authorities closed a larger portion in anticipation of reconstruction, Alaska Public Media reported, allowing a contractor time to stage areas for necessary equipment and materials.Recent temperatures quickened the melting process, Bailey told local media, "We knew there would be flooding. Be prepared and be able to make repairs as fast as possible."The highway will go under major construction this summer, Alaska Public Media says, when it will be raised 7 feet above its current grade.MORE ON WEATHER.COM: Alaska Flooding May 29, 2013In this May 27, 2013 photo released by the National Weather Service, ice and water cover the roads in Galena, Alaska. (AP Photo/National Weather Service, Ed Plumb) 
Central New Zealand at Risk for 'Megathrust' Earthquakes, Study Says By Carolyn Williams Published May 20 2015 01:52 PM EDT weather.com Wellington, N.Z.A bout that used to be on the edge of the road sits in the harbour where the land fell into the sea at the Port Wellington Container terminal caused by an earthquake on July 21, 2013. (Marty Melville/AFP/Getty Images) 
 New Zealand may be looking at a worst-case scenario, after a recently published study revealed the country is in danger of experiencing a 'megathrust' earthquake.The study revealed the Pacific plate just off of the country's east coast is colliding with and moving under the Australian plate, which could cause all three segments of the Hikurangi Margin to rupture at the same time, NewScientist reported.A megathrust earthquake is an earthquake of large proportions that occurs in a subduction zone, or a zone where two tectonic plates collide, with one sliding beneath the other.(MORE: Kilauea Earthquakes Could Be Warning of New Eruption, Scientists Say)The area affected would stretch from Hawke's Bay to Marlborough, or central New Zealand, Stuff.co.nz says. Ther region could see quakes similar to the 9.0 monster that struck Japan, in May 2011, as well as a tsunami. Marlborough, New Zealand, where Kate Clark and colleagues performed the study. (Photo Credit: GNS Science) Kate Clark, paleoecologist and earthquake geologist of GNS Science research consultancy, and other colleagues explored salt marshes in New Zealand, examining sediments and using radiocarbon dating to determine the area's risk factor, NewScientist reports.They discovered the area experienced two 'megathrust' earthquakes over the past 1,000 years, which occurred beneath Cook Strait, the New Zealand Herald said. The first quake occurred between 880 and 800 years ago, and the second occurred between 520 to 470 years.(MORE: Danger in the Heartland: Man-Made Quakes Mark New Hazard Map)The evidence surprised scientists, who said in the Bulletin of the Seismological Society of America, "This is the first evidence that the southern Hikurangi margin ruptures in large (7-7.9) to great (8+) earthquakes, and the relatively short time interval between the two events has significant implications for seismic hazard in New Zealand."According to previous models outlining a possible 'megathrust' quake, in Wellington alone, an event could cause more than 3,000 fatalities and over $13 billion worth of damage, NewScientist reports. Wellington was rocked by a 6.5 magnitude earthquake in July 2013, which injured four and caused minor structural damage. Bruce Pepperell, Wellington region civil defense controller, told local media safety messages and evacuation plans would likely not change in light of this new evidence. He stressed communities should ban together and prepare disaster response and evacuation plans, which will be vital if an event is to occur.MORE ON WEATHER.COM: Before and After the Japan Tsunami of May 2011In this image a man climbs onto a boat wedged on a bridge on March 18, 2011 in Ishinomaki, Japan. (Chris McGrath/Getty Images) 
Climate Change Could Devastate Many of China's Major Cities Bye-bye, Shanghai. Three maps show the immense damage rising sea levels could do.BY DAVID BARREDA, JEFFREY LINN MAY 20, 2015 – 2:14 PM The warming of the earth's climate has already changed life on its surface in substantial ways. The Intergovernmental Panel on Climate Change (IPCC), established by the UN, has been monitoring the planet's cryosphere — water frozen primarily in the forms of ice, snow, glaciers, permafrost — since 1979. This frozen water has been steadily melting — especially sea ice, glaciers, and ice sheets — and running into the world's oceans, causing them to rise. According to the IPCC's most recent predictions, if the current trajectory continues, as many scientists fear it will, the world's sea level will rise dramatically, submerging many of world's current coastlines under more than 200 feet of water. That includes many of the major cities in China.That future may still be centuries off, but cartographer Jeffrey Lin has already begun to fathom what the world will look like when it arrives. His maps of Seattle (his hometown), Los Angeles and San Diego, Portland, and Vancouver plot the new coastlines that will emerge from the rising waters. ChinaFile asked Linn to apply the same techniques to China's coast, where some 43 percent of its population currently lives. The maps below show what may happen to the contours of China's cities as the planet's temperature continues to warm over the course of the 21st century and into the next one.Shanghai Shanghai, with its current population of more than 20 million, would be completely underwater if all of the ice melts, and ocean water would reach miles up the Yangtze river. Here's how it looks now:
Here's how Shanghai might look in the next century:
Pearl River DeltaThe delta is home to 30 million people and includes the major trading and manufacturing cities of Hong Kong, Shenzhen, and Guangzhou. Here's how it looks now:
Here's how the Pearl River Delta might look in the next century:
Hong Kong Hong Kong is one of the most densely populated places in the world, due in large part to it being a mountainous island. In 2013, some 36 million visitors came to the island. Here's how Hong Kong looks now:
Here's how Hong Kong might look in the next century:
Images by Jeffrey Linn/Copyright ChinaFile
Deadly Hawaii crash raises concerns about Marines' new plane
 By AUDREY McAVOYMay 19, 2015 11:24 AM Associated Press Videos Osprey Hard Landing Kills 1 Marine
Around The Globe Osprey Hard Landing Kills 1 Marine HONOLULU (AP) — A military plane crash that killed a Marine and injured several other service members during a training exercise in Hawaii has renewed safety concerns about the Marine Corps' new airplane-and-helicopter hybrid.Related Stories
But the Marines say the MV-22 Osprey has proven itself to be safe despite high-profile accidents early in its operation.The aircraft went down Sunday at a military base outside Honolulu with 21 Marines and a Navy corpsman on board. The crash killed Marine Lance Cpl. Joshua Barron, 24, of Spokane, Washington, and critically injured another. Three Marines were still hospitalized in stable condition on Monday.The governor of Okinawa in southern Japan immediately called for all Osprey flights to be suspended in his area until the cause of the crash is determined. The U.S. operates 24 Ospreys on Okinawa and announced a week ago that 10 more would be deployed to Yokota Air Base near Tokyo beginning in 2017.The Osprey that crashed had taken off from the USS Essex, a Navy ship 100 miles offshore. It was flying to Oahu to drop off infantry Marines for training on land, said Capt. Brian Block, a spokesman for the 15th Marine Expeditionary Unit.The crash didn't stop the unit's exercises, Block said. The Marines also don't plan to ground their fleet of Ospreys.
In this May 17, 2015 photo, a man and woman look toward smoke rising from a Marine Corps Osprey airc …"We're continuing to train in order to make sure we remain sharp and ready for whatever comes up during deployment," he said.The unit, which is based in Camp Pendleton, California, recently left for a seven-month deployment to the Pacific and the Middle East and was in Hawaii for about a week of training.The Osprey is built by Boeing Co. and Bell, a unit of Textron Inc., and the program was nearly scrapped after a history of mechanical failures and two test crashes that killed 23 Marines in 2000.Those crashes led the Marine Corps to work to train pilots and eliminate sources of risk, said Loren Thompson, an analyst at the Lexington Institute, a think tank based in Virginia.The aircraft also has features that make it safer than normal helicopters, like rotors that automatically collapse on landing to reduce the dangers of a hard landing, Thompson said.
In this May 17, 2015 photo, smoke rises from a Marine Corps Osprey aircraft after making a hard land …The Osprey has deployed to Iraq and Afghanistan since its introduction to the fleet. The Marine Corps has been using it the Himalayas this month to help with earthquake disaster relief in Nepal.For every 100,000 flight hours, the Osprey has had 3.2 mishaps involving loss of life or damage exceeding $2 million, Marine spokesman Capt. Ty Balzer said in an email. That compares with a rate of 2.98 per 100,000 flight hours for the CH-46 Sea Knight helicopters the Ospreys are replacing.Balzer said the difference is small considering the large number flight hours involved.The Osprey had the lowest serious-mishap rate of all Marine rotorcraft in the first 200,000 flight hours of its existence, he said. The MV-22 has now been in the air for a total of 223,000 flight hours, Balzer said.Sunday's crash was a tragedy but wouldn't slow down the Osprey "because the aircraft has proven itself in combat," said Thompson, the think tank analyst.It can take off and land like a helicopter, allowing it to go almost anywhere. Yet it can also fly as far and as fast as an airplane, giving it longer range than a traditional helicopter. That made the Osprey the aircraft of choice when Marines rescued a downed Air Force pilot from a remote area of Libya in 2011.Sunday's crash wasn't related to a symposium on amphibious landings involving defense leaders from 23 nations in Hawaii this week. Ospreys will participate in a demonstration of an amphibious landing for the symposium at Bellows Air Force Station on Tuesday.
Crisis in California: Innovative technologies under development for cleaning up oil spills A broken pipeline spewed many gallons of crude oil onto the Santa Barbara coastlineBy Michael Walsh7 hours agoYahoo News
An oil slick is seen along the coast of Refugio State Beach in Goleta, California, United States, May 19, 2015. A pipeline ruptured along the scenic California coastline on Tuesday, spilling some 21,000 gallons (79,000 liters) of oil into the ocean and on beaches before it could be secured, a U.S. Coast Guard spokeswoman said. REUTERS/Lucy NicholsonScientists are developing innovative technologies that could one day be used to clean up the sort of massive oil spill that sullied nine miles of picturesque California coastline Tuesday.Over three hours, the broken 24-inch pipeline, owned by Plains All American Pipeline, spewed many gallons of crude oil (about 21,000, according to initial estimates, but authorities aren't relying on that figure) onto the Santa Barbara coastline — the slick stretched 50 yards into the ocean.All spills are unique and require different responses based on their location, the weather conditions and the types of oil involved.Traditional methods According to the University of Delaware Sea Grant Program, which promotes responsible use of marine and coastal resources, there are four main approaches to cleaning up an oil spill: (1) Leave it alone and let it disperse naturally, (2) use booms to contain the spill and collect it from the water's surface with skimmer equipment, (3) use dispersants to break up the oil and expedite its biodegradation, or (4) use bacteria and other microorganisms to speed its biodegradation.David Pettit, senior attorney for the Natural Resources Defense Council, laments that cleanup methods have not changed much in recent decades.
"The technology that you're going to see applied in Santa Barbara is basically the same as they used in 1969 along those same stretches of beach when the offshore oil platforms blew out," he said in an interview with Yahoo News. "The cleanup lasted for months, and many animals were killed."This time around, Pettit said, skimmers will be used to get oil off the water, but with the oil so close to shore, it might be difficult to get the boats into the appropriate position.For the oil on land, he said, it is just grunt labor: people with shovels dumping oily sand in bags to be hauled away in trucks."If it gets in the rocks, they have to get in there by hand with cloths to get the oil off, which is a hopeless task," Pettit said.Despite the lack of progress in this area, or perhaps because of it, many scientists have been hard at work on a variety of technologies that might eventually accelerate the speed and efficiency of oil cleanups — mostly by separating the oil and water using nanoparticles.Stainless steel meshIn April, scientists at Ohio State University unveiled a piece of coated stainless steel mesh that allows water to pass through, but not oil.
The mesh's coating was partly inspired by lotus leaves, which have a bumpy surface that repels water."We developed a coating that can be put in mesh that can separate oil from water. So someone could take a huge net and put it in an area that is contaminated to collect the oil," Ohio State engineering professor Bharat Bhushan said in an interview with Yahoo News.SpongeIn April 2012, researchers at Rice University and Penn State University said they had created a sponge — using pure carbon nanotubes and boron — that could absorb oil from the water's surface.After being retrieved, the oil could then be burned off of the sponge so that it could be reused, according to the researchers.The robust sponge blocks, which are more than 99 percent air, repel water but attract oil.Smart filter Later that year, in August, researchers at the University of Michigan developed a similar "smart filter" technology that they think could clean up spills using gravity instead of chemical detergents.The filter is a blend of a common polymer and a novel nanoparticle that attracts water but repels oil. Most natural substances soak up oil, and the few that repel it also repel water."This is one of the cheapest and most energy-efficient ways to separate oil and water mixtures," Anish Tuteja, an assistant professor of materials science and engineering at the university, said in a release in August 2012. "It has never been demonstrated before."
Magnet The following month, MIT scientists announced the creation of a similar technology that can separate oil and water magnetically.The engineers said that water-repellent ferrous nanoparticles could be mixed into oil following a spill on the ocean's surface. Then magnets would lift the oil from the water and finally separate the nanoparticles so that the oil could be salvaged for later use, according to the plan.Robotic sailboatCesar Harada, a TED senior fellow and inventor, was inspired to delve into oil-spill technology after the devastating BP spill in the Gulf of Mexico in 2010. He developed a flexible sailboat that is controlled remotely, rather than with a board and rudder.The shape-shifting vessel, called Protei, can expand and contract and is capable of cleaning up large expanses of ocean quickly, according to Harada.Rather than seeking a profit, Harada chose to open-source his invention, giving universal access to the design.Time is of the essenceTim Donaghy, a senior research specialist for Greenpeace who specializes in the challenges for oil-spill technology in the Arctic, said that oil-industry representatives like to talk about the cleanup technology they have, but time is not on their side; once the oil hits the water, it spreads quickly over a large area."Getting the technology in place in a timely manner is 95 percent of the battle," he told Yahoo News.Donaghy said that the oil industry has an awful track record of mistakes and accidents wreaking havoc on the environment that they have not been able to reduce."It's unfortunately a fact of life in the oil industry. It's a great reason for us to get off of this stuff and start using a cleaner technology," he said.The Deepwater Horizon oil spill of 2010, which is considered the worst in American history, cost U.S. taxpayers nearly $10 billion and cost BP $40 billion.Response to Tuesday's spill When contacted by Yahoo News, a Plains All American Pipeline representative declined to comment but shared the company's statement on the spill."Plains deeply regrets this release has occurred and is making every effort to limit its environmental impact," it reads. "Our focus remains on ensuring the safety of all involved."
The company initiated its emergency response plan and is working with local officials and first responders to begin the cleanup process, according to the statement.Greenpeace executive director Annie Leonard argues that oil spills are a direct result of inadequate oversight of fossil fuel companies — not accidents.In a statement, she called upon U.S. politicians to take responsibility for the oil companies. She said that American leaders let these companies "run rampant in our country" and put "profits above human and environmental impacts.""Our thoughts are with the impacted Santa Barbara communities this morning, whose beautiful coastline has been devastated by this terrible oil spill," she said.
Texas hunter shoots endangered Namibian rhino for $350,000
 9 hours ago ABC News Videos Rhino Safari Auction Triggers Backlash
Yahoo News Videos Rhino Safari Auction Triggers Backlash Windhoek (AFP) – A US hunter who paid $350,000 to kill a black rhinoceros in Namibia successfully shot the animal on Monday, saying that his actions would help protect the critically-endangered species.Corey Knowlton, from Texas, downed the rhino with a high-powered rifle after a three-day hunt through the bush with government officials on hand to ensure he killed the correct animal.Knowlton, 36, won the right to shoot the rhino at an auction in Dallas in early 2014 — attracting fierce criticism from many conservationists and even some death threats.He took a CNN camera crew on the hunt to try to show why he believed the killing was justified."The whole world knows about this hunt and I think it's extremely important that people know it's going down the right way, in the most scientific way that it can possibly happen," Knowlton told the TV channel in footage released Wednesday."I think people have a problem just with the fact that I like to hunt… I want to see the black rhino as abundant as it can be. I believe in the survival of the species."
A US hunter who paid $350,000 to kill a black rhinoceros in Namibia has shot the animal, saying his  …Since 2012, Namibia has sold five licences each year to kill individual rhinos, saying the money is essential to fund conservation projects and anti-poaching protection.The only rhinos selected for the hunts are old ones that no longer breed and that pose a threat to younger rhinos.The International Union for Conservation of Nature (IUCN) says there were about 850,000 black rhinos alive through much of the last century before hunting left only about 2,400 in 1995, but numbers have since edged up to about 5,000."These are incredibly majestic creatures, and their worth alive is far greater than (when) they are dead," said Azzedine Downes, of the International Fund for Animal Welfare (IFAW), one of the conservation groups opposed to the hunt.Both black rhinos and the more common white rhino have recently suffered from soaring poaching in South Africa's Kruger Park where hundreds are killed each year for their horns which are used in traditional Asian medicine.
Meluaya, a 17-year-old black rhino, who was killed and dehorned by poachers at the Lewa Conservancy  …The exact location of Knowlton's hunt was kept secret to avoid tipping off poachers.Television footage showed Knowlton accompanied by a professional hunter and local trackers as they tried to find a rhino that was approved for killing.His first shots injured the animal before he fired the fatal bullets."I felt like from day one it was something benefiting the black rhino," Knowlton said just after the hunt ended, his voice croaking with emotion."Being on this hunt, with the amount of criticism it brought and the amount of praise it brought from both sides, I don't think it could have brought more awareness to the black rhino."
Here's why some scientists are convinced there's life on Mars
 By Kelly Dickerson10 hours ago
(NASA ) Mars V. Earth — could they both have life? Mars is no Earth.Our planet is swaddled in a nice atmospheric blanket that protects us from dangerous blasts of radiation that permeate space. Mars barely has any atmosphere and its surface is constantly bombarded with cosmic rays.The average temperature in Antarctica — the coldest place on Earth — is minus 58 degrees Fahrenheit. The average temperature for all of Mars is minus 80 degrees Fahrenheit.Earth is a thriving haven of life. Mars is a frozen, barren wasteland.Still, some astronomers and planetary scientists are convinced there could be life on Mars. Here's why:1. Mars used to look an awful lot like Earth Our perception of Mars has dramatically changed over the past couple decades, NASA astrobiologist Jennifer Eigenbrode said at the Humans to Mars Summit on May 5. It may look like an empty chunk of space rock right now, but there's evidence that Mars used to look like Earth billions of years ago.It probably once had a huge ocean that covered more of the planet's surface than Earth's own ocean does now:
(ESO/M. Kornmesser/N. Risinger (skysurvey.org)) This artist's impression shows how Mars may have looked about four billion years ago.  And there's evidence that Mars was probably much warmer in the past than it is now. Warm and water-soaked are two big prerequisites for life to arise. So it's possible that life existed on ancient Mars and then died off. Or it could have taken a much different evolutionary path than life on Earth and it's hiding somewhere we haven't uncovered yet.2. Life exists even in the most extreme places on EarthLife is surprisingly resilient. It thrives in the Atacama Desert where it only rains every 10 to 15 years. Fungi is growing in radiation-poisoned Chernobyl."Life exists in all extremes on Earth," Eigenbrode said. "Every time we think 'No there's no way life could live here,' we're proven wrong."So it might be possible that it also exists somewhere in the extreme environment of Mars, lurking where robotic rovers can't reach.3. Some ingredients for life already exist on Mars In geology, markers of current and past life are called "biosignatuares," and scientists are scouring Mars for them.There are already a few promising leads. For example, methane is regularly cycled into the planet's atmosphere but scientists have no idea where it's coming from. The methane should dissipate, but there seems to be a steady stream so something could be actively producing it. One wild idea is that the methane could be coming from tiny microbes deep below the planet's surface.Scientists have already found some of the essential ingredients for life on Mars, including fixed nitrogen (a critical part of amino acids), carbon monoxide (an energy source for some microbes), and there's evidence that salty, liquid water is flowing beneath the surface.4. We haven't scratched the surface yet Or at most we've only scratched a couple inches with the Curiosity rover's tiny drill.Your browser does not support the video tag. NASA Jet Propulsion Laboratory The mighty Mars rover Curiosity.We've analyzed small pinches of soil and haven't found anything, but these samples could have actually contained microbial life. That's because we may have used a faulty technique to draw out signs of life from the soil. Martian soil contains perchlorate, and when perchlorate is heated (as it is in a rover's onboard lab) it destroys organic material. So it's possible the soil might hold life and the perchlorate just burned it off before the rover could detect it.Even with this question mark, it seems pretty clear that there's no life on the weathered surface of Mars, but there could be "refugem life" lurking deep below the planet's surface, Pamela Conrad, Deputy Principal Investigator for Sample Analysis at Mars, said at the summit.Astrochemist Danny Glavin said we need to drill a few meters below the surface to actually get a good idea of what's going on (and potentially living) down there. There's even a startup company that wants to fire drills at the surface of Mars like a spray of bullets and get at what could be hiding below the surface.Conrad said she hopes to eventually see a human lab on Mars. Humans can process data much faster than a rover ever could, humans are more flexible in what experiments we can do, and we'll be able to perform a much better soil analysis if we ever get our hands on it.NOW WATCH: An astronaut just blew our minds with the amazing story of his first time in space