Drought-driven wildfire scorches 11,000 acres in rarely burned area near Big Bear
After scorching some thousands of acres near Big Bear, the Lake Fire continued to burn, prompting evacuations and an air advisory.By VERONICA ROCHAcontact the reporter Hot, dry conditions are fueling the Lakefire The Lakefire swells to 11,000 acres overnight and is 10% contained Officials say there are no records of a fire burning near Barton Flats in the last 104 yearsA drought-driven wildfire burning in an area of the San Bernardino National Forest that hasn't burned in more than 100 years grew overnight to 11,000 acres.The Lake fire, which is 10% contained, continues to rage in Barton Flats as it consumes thousands of drought-stricken trees and burns east toward forestland, said Lyn Sieliet, a spokeswoman for the U.S. Forest Service. There are no reports of fire in the area in 104 years of record-keeping, she said.
CAPTIONGina Ferazzi / Los Angeles Times Hotshot crews from Mill Creek keep the Lake Fire from crossing a meadow into the Heart Bar TrainingFacility in the San Bernardino National Forest area of Angelus Oaks.CAPTIONGina Ferazzi / Los Angeles TimesA helicopter drops water on the head of the Lake fire above Jenks Lake Road in the San Bernardino National Forest.On Thursday, U.S. Forest Service fire officials said the Lake fire is the largest blaze this year in a California national forest.Heat and low humidity will be troublesome for firefighters who are working to cut 10,000 feet of fire lines around the massive blaze. Temperatures could soar to 100 degrees while low humidity will keep the forest dry."The low humidity is a concern for us because we are not getting a good recovery overnight," she said.lRelated
L.A. NOWWind-driven Lake fire near Big Bear jumps to 10,000 acres; 74-year-old hiker rescued SEE ALL RELATEDWater-dropping helicopters worked Thursday night to put out flames while hand crews trekked into the wilderness to fight the blaze from the ground.Hot, dry conditions are driving the fire, making the firefight arduous. Winds up to 10 mph are fanning the flames, but the dry conditions are proving to be the challenge.As the fire scorches grass and timber, more than 1,200 firefighters must navigate through steep terrain and thousands of acres of old growth.
Lake fire near Big BearThis year, researchers with the U.S. Forest Service surveyed 4.2-million acres of trees in the Cleveland, San Bernardino, Angeles and Los Padres national forests and found that 2 million trees have died because of drought and the invasion of bark beetles. The tiny bark beetle thrives in dry conditions, chewing away at pines and making them brittle.Flames continue to pose a threat to 150 structures, mostly cabins, nestled in the San Gorgonio Wilderness Area.The fire erupted at 3:52 p.m. Wednesday near Jenks Lake Road and a cluster of summer camps operated by churches and the YMCA.Fire crews are using 88 engines, an air tanker and 10 helicopters to battle the moderately fast-burning fire.The cause of the fire is under investigation.cComments Attended a forest presentation at the Barton Flats ampitheater years back and the ranger wait the current forest had 400 trees per acre but the natural density was 40. He said one way or another, we will get back to 40.GROSSBEAKAT 5:13 PM JUNE 19, 2015 ADD A COMMENTSEE ALL COMMENTS About 300 people have been evacuated, most were from five camps in the area. Other residents lived in cabins in the areas of Angelus Oaks, Onyx Summit, Barton Flats, Seven Oaks and homes off of Rainbow Lane.Hiking trails into the San Gorgonio Wilderness were closed because of the fire. The Pacific Crest Trail is also closed from Whitewater Preserve to Onyx Summit.Jenks Lake Road has been shut down, and Highway 38 is closed between Angelus Oaks to Lake Williams.While the fire is burning near Big Bear, it is heading east and is not affecting recreational activities at Big Bear Lake, Sieliet said.
Drought kills 12 million trees in California's national forestsFirefighters throughout the state are battling other blazes on dry forestland.At 200 acres, the Sky fire is burning six miles north of Oakhurst, which is south of Yosemite National Park. Fire officials fear the blaze, started by a vehicle fire on Sky Ranch Road, could swell to 1,000 acres in the next couple of days. Evacuations have been issued for all nearby campgrounds.For breaking news in California, follow@VeronicaRochaLA
Alaska's climate hell: Record heat, wildfires and melting glaciers signal a scary new normal The Arctic state is battling two major blazes against a backdrop of rapid warming TOPICS: ALASKA, WILDFIRES, CLIMATE CHANGE, MELTING GLACIERS, SEA LEVEL RISE, SUSTAINABILITY NEWS, NEWS
In this June 16, 2015 photo, two Nikiski Fire Department firefighters walk on a road near a fire-ravaged forest left behind by the Card Street fire in Sterling, Alaska. The wildfire moved rapidly northeast toward the Kenai National Wildlife Refuge and authorities have evacuated the Upper and Lower Skilak Lake campground. (Rashah McChesney/Peninsula Clarion via AP) (Credit: AP)Here's the immediate problem: Alaska is on fire. Wildfires have been raging all week in the northernmost state: two major ones are currently being fought near the communities of Sterling (CardStreetFire) and Willow (Sockeyefire), while more than fifty smaller blazes are demanding firefighting crews' attention across the state. The Card Street fire exploded in size Thursday evening: at 12,000 acres, it's officially the nation's top wildfire priority.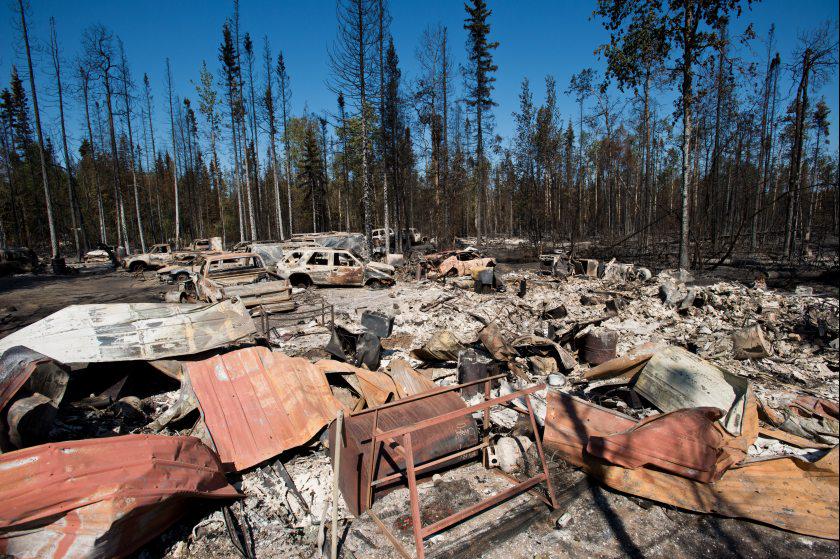 Follow
Alaska Dispatch News @adndotcom@MatSuBorough says of about 50-100 structures destroyed in #SockeyeFire, 26 were homes http://on.adn.com/1Gv4CDc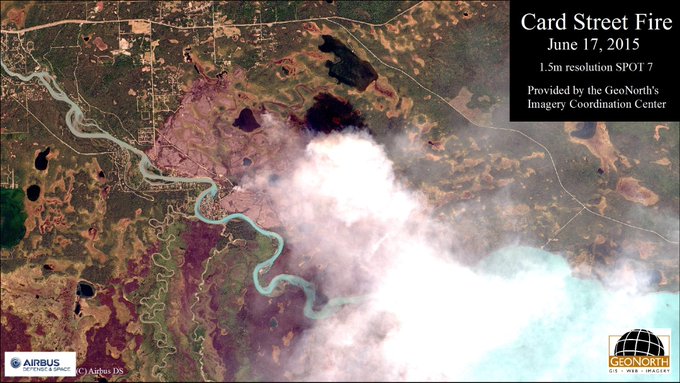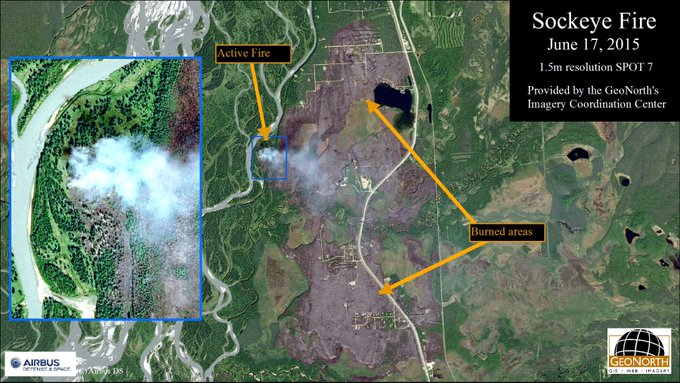 Follow
Kyle Hopkins @kylehopkinsAKThe Alaska wildfires, as seen by satellite Wed. (Thanks Airbus & GeoNorth for the pics) CardStreetFire SockeyeFire.@MatSuBorough says of about 50-100 structures destroyed in SockeyeFire, 26 were homes http://t.co/qLrvBuKE2T pic.twitter.com/VKa3kdMCOY— Alaska Dispatch News (@adndotcom) June 18, 2015The Alaska wildfires, as seen by satellite Wed. (Thanks Airbus & GeoNorth for the pics) CardStreetFire SockeyeFire pic.twitter.com/0SNt56PXOn— Kyle Hopkins (@kylehopkinsAK) June 18, 2015The sheer number of fires, said Pete Buist, a spokesman for the state Division of Forestry, "in Alaska terms is not the end of the world" — 2004, which saw a record 6.7 million acres burn, demonstrated just how catastrophe the state's wildfire season has the potential to get.But crews have been preparing for a season marked by unusually hot, dry weather— and following a winter marked by below-average snowfall — that can exacerbate the blazes. Any associations you might have with Alaska being a generally chilly place, actually, were belied by last month's heat wave: with average temperatures7.1 degrees above normal, the state had its hottest May in 91 years of record-keeping. Here, via NASA's Earth Observatory, is what that deviation looked like:
North American land surface temperatures from May 17–24, 2015, compared to the 2001–2010 average for the same eight-day period. Shades of red depict areas that were hotter than the long-term average; areas in blue were below average for the week. White pixels were normal, and gray pixels did not have enough data, most likely due to excessive cloud cover.Meteorologists attributed the unusual heat to a "kinked jet stream that is sending air masses in a more north-south flow than the more typical east-west direction" — a pattern that may be connected to two typhoons in the Pacific.In the long-term, the problem gets much scarier. Thanks to climate change, the state, with the rest of the Arctic, is currently heating up at twice the rate of lower latitudes, and its weather, as one state meteorologist, who was only sort of joking,put it, is "broken." Earlier this year, Slate's Eric Holthaus did a deep-dive on why that's happening:Alaska's recent surge of back-to-back warm winters comes after a record-snowy 2012, in which the National Guard was employed to help dig out buried towns. Then, about two years ago, something in the climate system switched. The state's recent brush with extreme weather is more than just year-to-year weather variability. Alaska is at the point where the long-term trend of warming has begun to trump seasonal weather fluctuations. A recent shift toward warmer offshore ocean temperatures is essentially adding more fuel to the fire, moving the state toward more profound tipping points like the irreversible loss of permafrost and increasingly violent weather. If the current warm ocean phase (which began in 2014) holds for a decade or so, as is typical, Alaska will quickly become a different place.Pull back a little further, and we all have reason to be concerned, not least because Alaska is, as Holthaus puts it, "a canary in our climate coal mine." In a study out just this week, scientists with the University of Alaska at Fairbanks reported that the state's glaciers lost 75 gigatons of ice per year between 1994 and 2013, meaning the region alone has likely contributed to several millimeters of sea level rise over the past two decades. They concluded that "Alaska will continue to be a primary contributor to global [sea level rise] through the end of this century."The record heat and low snowfall experienced this winter, again, is making a bad situation worse. "The lack of snow means that the glaciers can initiate melt more rapidly," study co-author Anthony Arendt, a research scientist at the University of Washington in Seattle, told the Washington Post. "So if it's a warm summer this will be a pretty bad year for the glaciers in Alaska."About those wildfires, by the way: Alaska's been seeing more and more of them lately. According to a recent study, total acreage burned in the state has increased fivefold since 1943, an increase attributed to human activity like logging and development, but also to the broader shift in climate. And there's reason to believe that those fires, by speeding up the thawing of the permafrost and thus releasing trapped greenhouse gases into the atmosphere, will end up contributing to more climate change. Experts call that a "positive feedback loop." It's best understood, though, as a disaster in the making.
Lindsay Abrams is a staff writer at Salon, reporting on all things sustainable. Follow her on Twitter @readingirl, email labrams@salon.com.
Shallow quake of 6.4 magnitude strikes off Chile, no damage
 1 hour ago Related Stories
SANTIAGO (Reuters) – A shallow earthquake measuring 6.4 magnitude struck off Chile on Friday. There were no immediate reports of injuries or damage.The quake was 10 km (6 miles) deep and centered 90 km northwest of Concepcion, the U.S. Geological Survey said.Chile's Navy said the quake did not meet the conditions to create a tsunami off the country's coastline.There are no reports of damage to people, or basic services or infrastructure due to the quake, Chile's Onemi emergency office said.(Reporting by Nick Macfie and Anthony Esposito; Editing by Ken Wills)
Last month was hottest May in modern history: US
 June 18, 2015 11:34 AM
A young Indian child pours water on himself as he tries to cool himself off in New Delhi on May 28, 2015 (AFP Photo/Money Sharma)Miami (AFP) – Last month marked the hottest May in modern history, continuing a troubling trend of rising global temperatures, US government scientists said Thursday."This was the warmest May on record," said Derek Arndt, chief of the monitoring branch at the National Oceanic and Atmospheric Administration (NOAA) National Centers for Environmental Information, during a conference call with reporters.When global air and sea surface temperatures were averaged, May was 1.57 degrees Fahrenheit (0.87 Celsius) warmer than the 20th century average, said the NOAA monthly report.The temperatures were the highest for May in the 1880-2015 period, "surpassing the previous record set last year in 2014 by 0.14 Fahrenheit (0.08 Celsius)," said the NOAA report.One quarter of the United States is experiencing drought, primarily in California and nearby West Coast states but also in parts of the northeast and New York.The monthly figures for May continue an upward climb for temperatures since the start of the year, when the planet's land and ocean surfaces have been 1.53 Fahrenheit (0.85 Celsius) above the 20th century average."This was the highest for January-May in the 1880-2015 record, surpassing the previous record set in 2010 by 0.16 Fahrenheit (0.09 Celsius)," NOAA said.Last year was the hottest on record, the US agency has said.
First taste of freedom for 'rewilded' bison in Romania
 By Anca TeodorescuJune 18, 2015 3:08 AM
Armenis (Romania) (AFP) – An excited crowd gathered in southwestern Romania to watch more than a dozen woolly brown bison stroll off lorries into the picturesque Tarcu mountains — nearly 200 years after they became extinct in the region."I grew up hearing legends about bison that lived here and today we finally see them there," said 60-year-old teacher Elena Dragomir, watching the event near the village of Armenis with a group of her students.Wildlife experts brought a group of 14 bison from zoos across Europe last week to a 140-hectare (345-acre) Romanian reserve, where they will reacclimatise to natural life before their release into the wilderness in a few months time.On Saturday, another group of 14 bison was released fully into the Southern Carpathians, a year after they were brought to the reserve to reacclimatise.The programme, run by Rewilding Europe, WWF Romania and the local community, for now involves only a small group of the huge horned animals, but scientists hope to see herds totalling about 500 bison in the area by 2025."This project is not only about saving Europe's largest mammal. It is also about restoring an ecosystem," said Wouter Helmer, director of conservation at Rewilding Europe.
An European bison is released from a truck at the Magura Zimbrilor reintroducing area 20 km from Arm …"The bison is grazing meadows, keeping them open for insects, flowers and reptiles. One species makes the world more fun for thousands of others," he said.- The 'Houdini' of bison -The bison, however, do not always follow the programme laid out for them. One newcomer quickly broke through a fence and was found peacefully ruminating on a hill dotted with fir trees and forest strawberries a day after his arrival."The bison beat us. He already released himself. It wasn't planned, it just happened. It is all part of the rewilding process," said Joep van de Vlasakker, a passionate bison specialist and consultant for Rewilding Europe.The runaway ungulate, two metres (6.5 feet) tall with big black eyes, has been baptised 'Houdini' after the magician famed for his extraordinary escapes. Aged three, he arrived from the Thoiry zoo, near Paris, with 13 other bison from Switzerland, Germany, Belgium and France.
The bison to be returned to nature are selected by DNA testing to determine their genetic wealth, bu …Houdini will most probably rejoin his fellow bison in the reserve, his escape having been provoked by the stress of the journey to the mountains, the experts said."We now leave the bisons in peace as much as possible, the rangers will observe them, they will take good care of them to make the process of adaptation as smooth as possible," said van de Vlasakker.From the first group of 17 bisons that arrived last year, three died last summer from insect-borne 'bluetongue' disease. But the others "adapted perfectly" and the experts decided they were ready to leave the reserve to live in 59,000 hectares of wilderness in the Tarcu mountains.Severely depleted by hunting and deforestation, the European bison came close to extinction in the 20th century, surviving thanks to breeding programmes for those kept in captivity.Today there are more than 5,000 bison in Europe, but only 3,400 live in freedom or semi-freedom, according to wildlife researchers.- Fewer than black rhinos in Africa -The biggest population is found in Poland, numbering more than 1,400. Across Romania there are about a hundred.Helmer said the species was "very threatened", with fewer of them in Europe than there are black rhinos in Africa.The bison to be returned to nature are selected by DNA testing to determine their genetic wealth, but their personalities are also closely watched because they must be able to eventually form herds.In Armenis, a village of 2,500 people, Mayor Petru Vela is betting on the bison as a unique tourist attraction."The area is of extraordinary beauty but we were missing something special," he said.The community is working with the WWF and Rewilding Europe to create environmentally friendly business opportunities around the arrival of the bison — something that has already changed the life of Daniel, an enthusiastic 25-year-old."I thought of searching for work abroad when the opportunity to train as a ranger with WWF presented itself," he said.
Here's More Proof Earth Is in Its 6th Mass Extinction
 By Laura Geggel8 hours ago
Mei Xiang, a giant panda (Ailuropoda melanoleuca) at the Smithsonian's National Zoo in Washington, D.C. There are fewer than 2,500 mature giant pandas left in the wild, according to the IUCN. Diverse animals across the globe are slipping away and dying as Earth enters its sixth mass extinction, a
new study finds.Over the last century, species of vertebrates are dying out up to 114 times faster than they would have without human activity, said the researchers, who used the most conservative estimates to assess extinction rates. That means the number of species that went extinct in the past 100 years would have taken 11,400 years to go extinct under natural extinction rates, the researchers said.Much of the extinction is due to human activities that lead to pollution, habitat loss, the introduction of invasive species and increased carbon emissions that drive climate change and ocean acidification, the researchers said. [7 Iconic Animals Humans Are Driving to Extinction]"Our activities are causing a massive loss of species that has no precedent in the history of humanity and few precedents in the history of life on Earth," said lead researcher Gerardo Ceballos, a professor of conservation ecology at the National Autonomous University of Mexico and a visiting professor at Stanford University.Ceballos said that, ever since he was a child, he struggled to understand why certain animals went extinct. In the new study, he and his colleagues focused on the extinction rates of vertebrates, which include mammals, birds, reptiles, amphibians and fishes.First, they needed to establish how many species go extinct naturally over time. They used data from a 2011 study in the journal Nature showing that typically, the world has two extinctions per 10,000 vertebrate species every 100 years. That study based its estimate on fossil and historical records.Moreover, that background extinction rate, the researchers found, was higher than that found in other studies, which tend to report half that rate, the researchers said.Then, Ceballos and his colleagues calculated the modern extinction rate. They used data from the International Union for Conservation of Nature (IUCN), an international organization that tracks threatened and endangered species. The 2014 IUCN Red List gave them the number of extinct and possibly extinct vertebrate species since 1500.These lists allowed them to calculate two extinction rates: a highly conservative rate based solely on extinct vertebrates, and a conservative rate based on both extinct and possibly extinct vertebrates, the researchers said.According to the natural background rate, just nine vertebrate species should have gone extinct since 1900, the researchers found. But, using the conservative, modern rate, 468 more vertebrates have gone extinct during that period, including 69 mammal species, 80 bird species, 24 reptile species, 146 amphibian species and 158 fish species, they said.Each of these lost species played a role in its ecosystem, whether it was at the top or bottom of the food chain."Every time we lose a species, we're eroding the possibilities of Earth to provide us with environmental services," Ceballos told Live Science.Researchers typically label an event a mass extinction when more than 5 percent of Earth's species goes extinct in a short period of time, geologically speaking. Based on the fossil record, researchers know about five mass extinctions, the last of which happened 65 million years ago, when an asteroid wiped out the nonavian dinosaurs. [Wipe Out: History's Most Mysterious Extinctions]"[The study] shows without any significant doubt that we are now entering the sixth great mass extinction event," study researcher Paul Ehrlich, a professor of population studies in biology at Stanford University, said in a statement.Bye-bye, birdie At this rate, a huge amount of biodiversity will be lost in as little as two to three human lifetimes, Ceballos said. And it can take millions of years for life to recover and repopulate the Earth, he said.Species make up distinct populations that can spread over a continent. But some vertebrate populations have so few individuals left that they cannot efficiently play their role in the ecosystem, Ceballos said.For instance, elephant populations are now far and few between. "The same [goes for] lions, cheetah, rhinos, jaguars — you name it," Ceballos said."Basically, focusing on a species is good because those are the units of evolution and ecosystem function, but populations are in even worse shape than species," he added.However, there is still time to save wildlife by working with conservationists and creating animal-friendly public policy, he said."Avoiding a true sixth mass extinction will require rapid, greatly intensified efforts to conserve already threatened species, and to alleviate pressures on their populations — notably, habitat loss, over-exploitation for economic gain and climate change," the researchers wrote in the study, published online today (June 19) in the journal Science Advances.The study supports other findings on Earth's high extinction rate, said Clinton Jenkins, a visiting professor at the Institute of Ecological Research in Brazil, who was not involved with the study.In 2014, Jenkins and his colleagues published a study in the journal Science that came to thesame broad conclusions detailed in the new study, but in last year's study, they also included flowering and cone plants. That study found that current extinction rates are about 1,000 times higher than they would be without human activities."This latest study is further evidence of a human-induced mass extinction now underway," Jenkins told Live Science. "Much like the situation with human-caused climate change, years of research have built an enormous scientific case that humanity is driving a mass extinction. What the world's many species now need are actions to reverse the problem."Follow Laura Geggel on Twitter @LauraGeggel. Follow Live Science @livescience, Facebook &Google+. Original article on Live Science.
Mount Everest Moves 1 Inch After Earthquake By Stephanie Pappas, LiveScience Published Jun 18 2015 10:09 AM EDT From our partners
Mount Everest is the world's highest mountain located in the Mahalangur section of the Himalayas. (Wikimedia/Shrimpo1967) 
The incredible energy unleashed by the magnitude-7.8 earthquake that hit Nepal on April 25 moved Mount Everest more than an inch.
The world's tallest mountain shifted 1.18 inches (3 centimeters) to the southwest during the quake, according to the state-run China Daily newspaper, which cited a new report by China's National Administration of Surveying, Mapping and Geoinformation.
The shift was a small leap back for the mountain, which has been creeping northeastward at a rate of about 1.5 inches (4 cm) a year, the agency reported. The mountain also rises about 0.1 inch (0.3 cm) each year. This motion is caused by the slow, grinding collision of the Indian and Eurasian tectonic plates, which pushes the ground upward. [See Images of the Odd Effects of the Nepal Earthquake]
But Everest's movement during the quake was small potatoes compared with the shifting of regions around Kathmandu, Nepal's capital during the quake.
"Everest is kind of like a distraction from the whole story," said Richard Briggs, a geologist at the U.S. Geological Survey (USGS) in Golden, Colorado.
Major motion
Near Kathmandu, the quake lifted the ground by about 3 feet (1 meter), according to preliminary data from Europe's Sentinel-1A radar satellite. Damage from the quake covered more than 5,600 square miles (over 14,000 square kilometers). More than 8,000 people died.
The earthquake deformed the ground into a sort of a welt, Briggs told Live Science. Areas above the slipping fault, where the stress of the continental collision finally gave, pushed upward. This happened, for example, to Kathmandu. Meanwhile, farther north, behind the fault slip, the ground abruptly dropped.
This side-by-side comparison shows Mount Everest before and after the 7.8-magnitude earthquake on April 25, 2015. (NASA Earth Observatory)
"Everest is way out on the edge of that possible downward trough," Briggs said. Preliminary satellite data from Sentinal-1A had suggested the mountain dropped an inch (2.5 cm) during the quake, but the Chinese agency reported no loss of height. Everest aside, the Himalayas were undeniably affected, Briggs said: About 60 miles (100 km) of mountain range north of Kathmandu dropped significantly.
"What moved this time was closer to Kathmandu," Briggs said. "And those peaks, which are just a little bit smaller than Everest, moved over half a meter [more than 1.6 feet]."
Active region
A 7.3-magnitude aftershock rocked the region on May 12, triggering new landslides and killing dozens of people. That aftershock did not shift Everest, according to China's mapping agency. Hundreds of smaller aftershocks have continued in the region, according to the USGS.
The quakes in Nepal are not unusual, geologically speaking. According to the USGS, the Indian plate is crunching into the Eurasian plate at a rate of 45 millimeters (1.8 inches) per year. The Indian plate slides under the Eurasian plate at a very shallow angle, Briggs said. The arrangement is similar to the undersea subduction zones off of Alaska and Japan, where one continental plate pushes under another. Lessons from those regions, as well as geological evidence of past quakes in the Himalayas, reveal that the fault is capable of quakes larger than magnitude 7.8, Briggs said. [In Photos: Hiking the Himalayas]
It's impossible, however, to predict when such a quake might occur, or whether April's quake influenced the chances of a later temblor.
"Movement on this fault will have affected nearby faults, and some of the faults will be promoted closer to failure [causing a quake], and some will be pulled farther away from failure," Briggs said. "The trouble we have is the timing part. We don't know where all these faults are in their kind of 'clocks' and how close they were to kind of going anyway."
Complicating the guessing game is the lack of geological evidence. The type of quake that shook Nepal doesn't necessarily leave a strong trace in the rock record, Briggs said. Imagine a hand pushing on a metal ruler until the instrument bows. When the ruler finally springs back against the pressure, as the Eurasian plate did against the pressure of the Indian plate, it changes shape. But the overarching pressure of the hand (or Indian plate, in this case) continues, deforming the ruler back into its bowed shape.
"Kathmandu is going to go down, and it's going to move back in the direction of Asia, and the Himalaya [region] is going to come back up," Briggs said. The changes in the Earth are elastic, he said, and "they're mostly canceled out in between the big earthquakes."
The quake was also what is known as a "blind rupture," meaning there was no visible fault line or cracking at the surface. That makes it harder to see how many times such a quake has happened before, and how likely it is to happen again.
Follow Stephanie Pappas on Twitter and Google+. Follow us @livescience, Facebook & Google+. Original article on Live Science.
Copyright 2015 LiveScience, a Purch company. All rights reserved. This material may not be published, broadcast, rewritten or redistributed.
MORE ON WEATHER.COM: Images from the Nepal Earthquake Nepalese residents walks past damaged houses following an earthquake in Bhaktapur on the outskirts of Kathmandu on May 13, 2015. (Prakash Mathema/AFP/Getty Images) 
A crazy new theory solves 40-year-old mystery about what happens inside of a black hole
 By Jessica Orwig10 hours ago
(Alain Riazuelo of the French National Research Agency, via Wikipedia) There's a common notion that at the edge of every black hole lies a back door to the universe — an exit from reality into a new realm where fundamental laws of nature, like time, no longer behave the way that we understand them.What happens once you cross this threshold is a long-standing mystery that the world's leading scientists have been pondering for decades with little headway.Now, a recent paper presented at a conference in Paris this week has proposed a solution by looking at black holes in a completely different way.Taking a novel approach to this age-old problem, the theory proposes that there is no back door to the universe in the first place. Instead, black holes are impenetrable bodies, called fuzzballs.Fuzzballs (yes, fuzzballs) are the new black holes Samir Mathur, a professor of physics at The Ohio State University and sole author of the paper, says as you approach the fuzzball, your body will be destroyed but, oddly enough, you will not die. Rather, you'll be transformed into a copy of yourself, in the form of a hologram, that is forever embedded onto the surface of the fuzzball.
(NASA) Artist's view of a radiating black hole. Mathur describes the surface as a thin fuzzy region of space instead of smooth, distinct feature, which is how he came up with the name "fuzzball".When he first announced his fuzzball theory in 2003, it excited the scientific community because it offered a resolution to an outstanding paradox about black holes.This paradox was originally discovered by astrophysicist Stephen Hawking more than 40 years ago and scientists have been attempting to explain it ever since.However, Mathur's original calculations didn't conform to other well-established theories that describe the nature of black holes. So, he's spent over 15 years molding and maturing his argument.Now, his latest paper has taken a significant step forward, suggesting that his picture of black holes as the holographic copy machines of the universe, while bizarre, could mean that fuzzballs truly are how scientists should be thinking about these mysterious cosmic beasts to better understand their behavior.But some scientists are skeptical of Mathur's conclusions. Although they support his novel view of black holes, they suggest you won't survive your encounter with a fuzzball, at all, but suffer a fiery death.The most extreme environments in space
(REUTERS/NASA/Chandra X-Ray Observatory/A.Hobart/Handout ) What makes black holes so exotic is their powerful gravitational grip, which acts like a deep well in space, warping the space and time around and within.Moreover, this grip has the power to swallow everything that passes too close, including light. This means anything that falls into the well never returns, which makes it nearly impossible to determine what happens beyond the edge of a black hole.That didn't stop Hawking from first attempting to find some answers in the early '70s.Unlike Mathur, Hawking pictured black holes with back doors through which material was pulled by gravity. So, Hawking began to explore what happens just outside of that door, moments before crossing over to the dark side for eternity.What he found in 1976 from following the well-established laws of physics originally set down byAlbert Einstein and Paul Dirac and many others, was shocking: Black holes don't just consume material through their back doors. They also emit it in the form of radiation.A pesky paradox While this was a momentous discovery — the radiation has since been named Hawking radiation — it generated a perplexing issue, called the black hole information paradox, that scientists have yet to resolve.
(NASA/JPL-Caltech) But Mathur thinks he's done just that with his fuzzball theory.Hawking radiation is generated from whatever falls first into a black hole, according to Hawking's theory.Some of what falls in gets spit back out while the rest is trapped inside of the black hole, where it's eventually destroyed and lost forever. This is where the paradox arises: One of the most fundamental concepts in physics states that no material in the universe can be completely lost or destroyed, which directly contradicts Hawking's original assumption.Other than that small problem, the famous astrophysicist's logic was fool proof. And scientists today, including Mathur, still consider Hawking radiation a plausible component of black holes, although it has yet to be observed.Nearly 30 years later, Hawking hasn't offered a convincing solution to the paradox he discovered, but Mathur might have. What Mathur has done differently is to think of black holes as a solid surface that has no back door.Solving the information paradoxThe fuzzball black holes that Mathur pictures are impenetrable and, therefore, don't have a region where material can fall into them. Rather, any object attracted by a fuzzball's gravitational pull will fall onto the surface.
(Zhaoyu Li/Shanghai Astronomical Observatory ) Artist's conception of the black hole. When that happens, a near-perfect copy of the objects is created in the form of a hologram. That hologram goes on to live on the surface of the black hole, while the original copy feeds the fuzzball."The original copy is destroyed. More precisely, the data making up the original copy gets transformed to a new form, which is data on the surface of the fuzzball," Mathur told Business Insider in an email. "When matter falls on the surface, this surface gets more energy, and it expands."When Mathur was first exploring this theory at the turn of the century, his original calculations suggested that your holographic twin was a perfect copy of your original self. However, other scientists argued that a perfect copy was impossible because the universe tends to favor imperfection.Mathur's latest paper resolves this issue, showing how slightly altered copies could be possible.From this, Mathur has managed to settle the black hole information paradox in two ways:
By removing the exotic realm inside a black hole where information is mysteriously destroyed and lost forever.
By explaining exactly what happens to material as it reaches a black hole and how all of it is preserved and none is lost.
"The fuzzball structure resolves this paradox; that is the reason I believe in it," Mathur told Business Insider.Strings of fuzzballs To explain his assumptions mathematically, Mathur relies on a theoretical framework in physics called string theory, which suggests that all particles in the universe are made of tiny, one-dimensional strings that vibrate and interact with one another to generate the universe around us.
(Indiana University South Bend) Artist's version of what strings might look like. (This idea is controversial since no one has ever observed a string. Still, string theory offers convincing solutions to some outstanding scientific mysteries like quantum gravity — also referred to as a "unified theory of everything" — so physicists are reluctant to scrap it just yet.)Mathur's fuzzball black holes are actually giant, balled-up collections of strings. So, theoretically, when an object touches the surface of the fuzzball, its mass gets converted into light, generating a holographic copy of its former self. Other string theorists disagree, though.Building upon Mathur's logic, a team of physicists at the University of California proposed in 2012 that anything falling onto the surface of a fuzzball would immediately be "burned to a crisp" and die. This group's "firewall" theory divided the scientific community into supporters of fuzzballs versus supporters of firewalls.One way to resolve the issue would be a scientific experiment."It is hard to check the fuzzball structure explicitly by an experiment," Mathur told Business Insider in an email. "One way would be if we could ever make tiny black hole in an accelerator like [those at]CERN."Particle accelerators slam particles together at near the speed of light, which can generate extreme environments that are similar to the early universe. Whether the world most powerful accelerators at CERN (European Organization for Nuclear Research) can produce tiny black holes this way is questionable.Regardless, there is a growing group of scientists around the world in support of Mathur's idea who are exploring different facets of the theory. The deeper they dig, the more likely they'll discover the truth of fuzzballs.NOW WATCH: How scientists uncovered a completely new world inside the tunnels of the most powerful physics machine on Earth
World's largest cruise ship takes to the water in France
 13 hours ago Zoomin.tv The world's largest cruise ship departs from Barcelona
Yahoo News Videos The world's largest cruise ship departs from Barcelona
Fishing boats pass by as the cruise ship "Harmony of the Seas" is towed by tug boats into  …Saint-Nazaire (France) (AFP) – The hulking shell of the world's largest cruise ship slid into the waters off western France on Friday, with workers aiming to have it ready for a 2016 inaugural trip.The huge vessel, named "Harmony of the Seas", has been under construction since September 2013 in the shipyards in Saint-Nazaire.When finished it will weigh some 227,000 tonnes and measure 362 metres (1,187 feet) in length, 50 metres longer than the height of the Eiffel Tower.Harmony is also a metre wider than the current twin ocean-going monsters of the pleasure cruise world, which are also 362 metres long."Allure of the Seas" and "Oasis of the Seas", the world's biggest cruise ships in current service, are 65 metres wide and come in at 225,000 tonnes a piece. All three belong to Royal Caribbean International cruise lines.Some 2,500 people are at work building Harmony, which will require 90,000 square metres (968,700 square feet) of carpet and 500,000 litres (132,000 gallons) of paint.The test runs of the boat are presently set for mid-February 2016 and its first voyage is planned for May next year, a trip from Southampton in Britain to the Spanish city of Barcelona.The ship will have room for some 6,360 passengers and 2,100 staff members.
Qatar Airways was Named 2015's Best Airline – One Look Inside its Cabins Will Show You Why
BGR News Brad Reed
qatar-airwaysThere's something wonderful about flying first class. However, Qatar Airways has found a way to make regular first-class seating look like coach. Skytrax recently named Qatar Airways its 2015 airline of the year and Business Insider has posted some photos showing us exactly why it's so deserving of that honor.MORE ON HIGH-CLASS AIRLINES: Samsung has hired a new design boss – here are some of his old company's most gorgeous designsThis is Qatar Airways' first-class cabin. Notice how you have enough leg room to fully recline and that you get large monitors to keep you entertained throughout the whole flight.
Economy Class on Qatar Airways is nice as well, as it offers you seats that are roomier than anything you'll get on Delta. Plus, each seat comes with a power outlet, a USB port and a personal telephone.
And if you're the kind of person who likes to drink their way through flights, you'll be pleased to know that Qatar Airways offers a terrific first-class bar and lounge too.
These are just three of the pictures showing us how awesome it would be to fly 2015's airline of the year. To check out the rest, see Business Insider's full gallery here.Related storiesWhy airlines go out of their way to make flying miserable JetBlue Using eBay in Attempt to Boost Sluggish Sales Delta Trialing Cellphone Boarding Passes at LaGuardia More from BGR: How Beats Fools You Into Thinking Its Headphones Are High-End And Luxurious This article was originally published on BGR.com