Fires are spreading like crazy in Alaska and scientists are concerned
 By Alex Lockie6 hours ago So far in June, Alaska has seen 391 wildfires, with 152 of these starting up on the weekend of June 21-22, totaling more than 1.1 million acres of scorched earth, according to the Alaska Division of Forestry (DOF).Alaska is no stranger to wildfires. The Alaska Division of Air Quality reports that in 2004, the state saw 701 fires which consumed more than 6.5 million acres of land, but they are on track to break that record before long.
(REUTERS/Matt Snyder/Alaska Division of Forestry) The Bogus Creek Fire burns in the Yukon Delta National Wildlife Refuge in southwest Alaska, in this Alaska Division of Forestry picture taken June 7, 2015. Alaska DOF official, Tim Mowry, told NBC News that the fires were caused by a relatively dry spring which left plains vulnerable to ignition via lightning, but what was unusual was the volume and variety of the fires."We have almost 300 fires going right now," said Mowry.
(REUTERS/Mat-Su Borough/Stefan Hinman) Trees are consumed by flames as an out of control wildfire burns near Willow, Alaska, in this picture courtesy of Mat-Su Borough taken June 14, 2015. Fires actually serve a purpose in nature, as the charred vegetation returns minerals to soil, and makes way for young shoots to surface and provide food for animals like moose, but these fires are above and beyond the course of nature. The concentration and location of the fires make them a particular threat to people and structures.The Alaska DOF tweeted the following to illustrate just how much these fires have gotten out of control: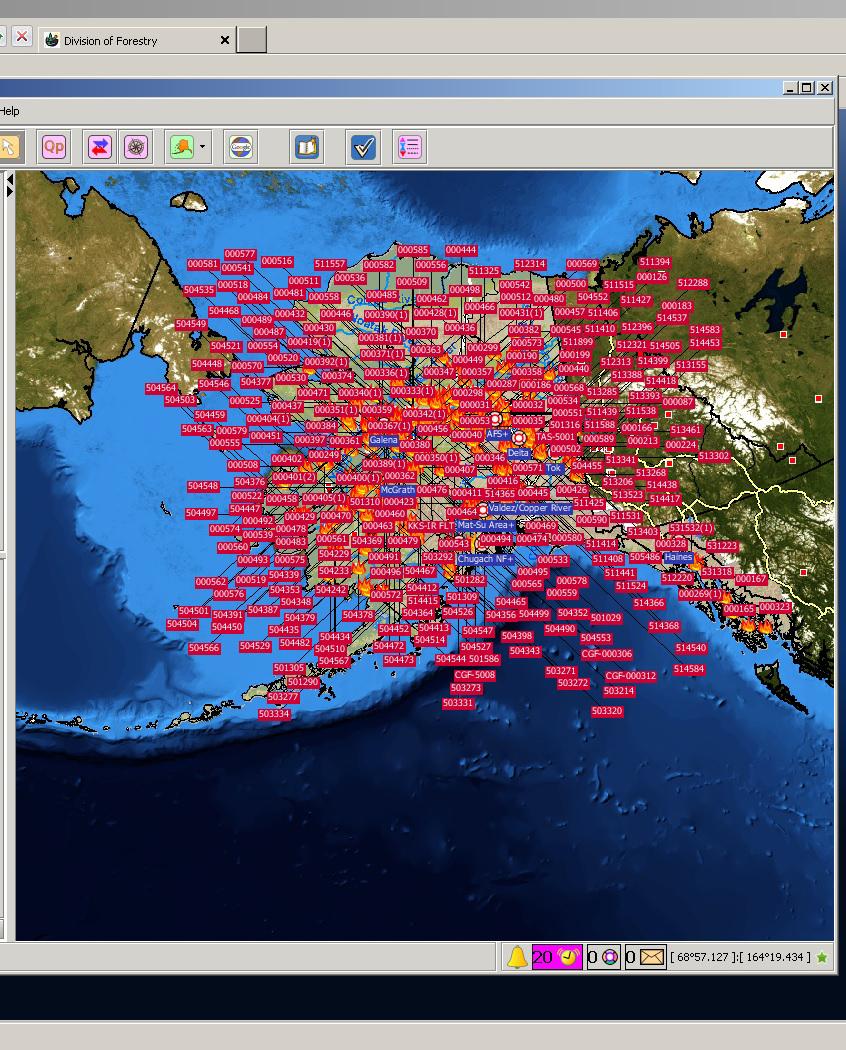 Follow
AK Forestry @AK_ForestryThis map from the Alaska Interagency Coordination Center helps put Alaska's wildland fire situation in perspective.Below is a map of wildfires nationwide from the National Interagency Fire Center. Alaska (bottom left) is a clear outlier:
(National Interagency Fire Center) NBC reports that "The state [of Alaska] has sent 2,700 firefighters to combat the blazes, with hundreds of firefighters sometimes battling a single fire. Many fires are so far from populated areas that the state simply monitors them or leaves them alone entirely"
(Reuters / Alaska State Troopers) An Alaska State trooper vehicle sits on the Parks Highway near an out of control wildfire burning in Willow, Alaska, in this Alaska State trooper picture taken June 14, 2015. The Washington Post pointed out that these fires are troubling not only in their immediate impact on the landscape, but also in their potential to contribute to global warming:"A major climate fear is that thawing permafrost will unleash massive amounts of carbon dioxide into the air as this plant life decomposes. Intense wildfires can burn not only trees but upper soil layers, which can hasten the thawing of permafrost (and also expose the ground more directly to the sun's heat, which can also contribute to thawing)."
(REUTERS/Mat-Su Borough/Stefan Hinman) The setting sun is partially obscured by smoke from an out of control wildfire on the Parks Highway near Willow, Alaska, in this picture courtesy of Mat-Su Borough taken June 14, 2015. The National Weather Service in the Alaska region made the following tweet illustrating just how bad this year has already been for wildfires: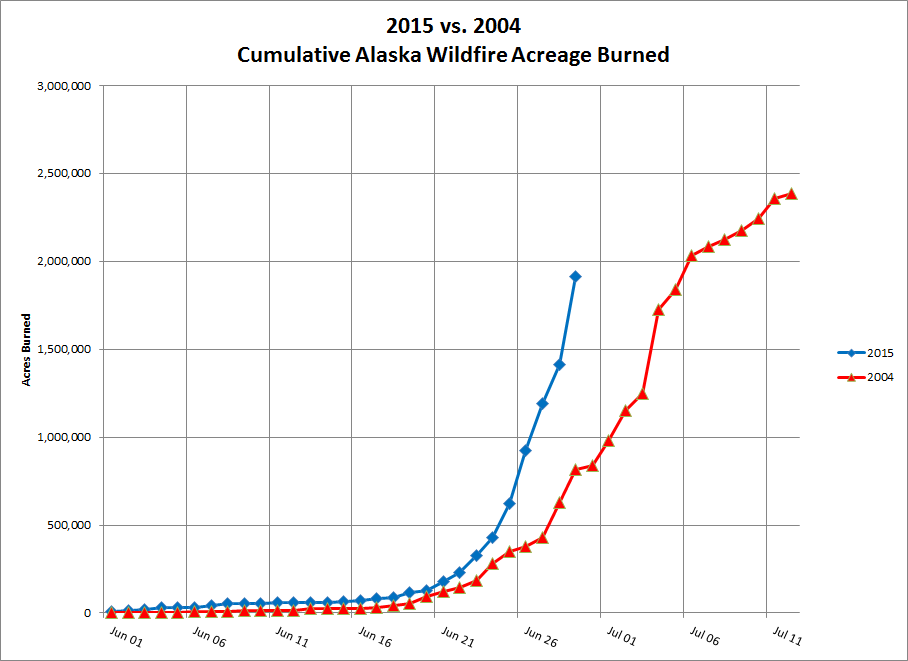 Follow

NWS Alaska Region @NWSAlaskaAlaska burns… Sadly, it won't be long until 2 million acres have burned. 2004 was bad but 2015 is already worse.So the crisis of wildfires in Alaska seems to be burning on both ends of the candle, with the loss of millions of acres of forest also contributing to the release of carbon and potential warming of the climate.The problem in Alaska is so widespread that there is little else to do besides hope that the remained er of the year brings rain and relief from the inferno.NOW WATCH: Incredible Video Of An Explosion At A Warehouse With 10 Tons Of Fireworks Inside More From Business Insider Climate change is 'the biggest global health crisis of the 21st century';The countries most likely to survive climate change in one infographic;There's a giant hole that's draining a lake on the border of Oklahoma and Texas like it's a bathtub
Californians struggle for 'normal life,' without water
 By Veronique Dupont2 hours ago
Los Angeles (AFP) – A washing machine stands in the middle of Maria Jimenez's California yard, like a redundant relic of modern life. Nearby are several rented mobile toilets, no longer in use.For four months, she and her family have had no running water."We are trying to live a normal life," the 52-year-old told AFP in the town of Monson, 200 miles north of Los Angeles.Hers is one of a growing number of generally low-income households with no direct access to water in central California's Valley, known as America's food basket, where four years of extreme drought have left many residents high and dry.Jimenez and her husband use plastic plates and cups in order to save using water for washing the dishes, all the while generating piles of garbage and extra expenses.To take a shower, they've created an elaborate system that pumps bottled water up to the roof of their rented house and back down to the shower head.But whenever possible, they try to wash at the homes of friends and family.
Maria Jimenez demonstrates how they use bottled water to wash dishes in the drought affected town of …Even before the well that supplied their house dried up, they couldn't drink its water, which was polluted with pesticides from nearby fields.Now they have no water at all, and things aren't likely to change anytime soon."We don't have water in a country that is rich," Jimenez's neighbor Laura Garcia said.Born in Mexico, she recalled how as a girl living in a small village near Guadalajara, she would haul water more than a mile (1.6 kilometers) to her house.Today, even her childhood hamlet in Mexico has running water.She doesn't dare tell her family back in Mexico about her situation in the United States.
Dead plum trees that have been removed from the ground due to the lack of water in the drought-affec …"They would tell me 'Come home! What are you doing there?'" she said in Spanish.- Financial disaster -Servando Quintanilla, who owns the two women's houses, said the situation is a nightmare.The retired farmworker said the drying up of his well was a financial disaster.He can no longer charge rent to those living on his properties, which represent a $200,000 investment on his behalf.His only option is to dig a new well, which would cost $35,000 and likely also be polluted.Due to the drought, farmers are unable to rely on surface water and have become totally dependent on their wells, pumping much more groundwater than in the past.Ryan Jensen, spokesman for the Community Water Center, which works to make sure all communities have access to water, estimated that some 5,000 people in Tulare County, where Monson is located, don't have access to drinkable water.Monson is now part of a list of dry communities — among them Highland Acres, Porterville, Woodville and Terra Bella — where many residents have not had running water for nearly two years.Maria summed up her feelings with a mix of anger and powerlessness. She said she was mad because the small children in her family needed water.She also said her family's livelihood in agriculture was dependent on it, as is the produce they eat.The problem is specific to California's agricultural regions.Cities have sophisticated systems of aqueducts and other supply routes to bring water from northern California or from the Colorado River to the east.California authorities are studying long-term solutions to link isolated communities to larger cities. But that requires costly solutions, and lots of time.
Now comes the SpaceX rocket whodunit: A complex mystery
 By SETH BORENSTEIN5 hours ago
WASHINGTON (AP) — A rocket's dead, blown to bits in public view. Now it's time for "Rocket Science CSI."Related Stories
After 18 straight successful launches, SpaceX's Falcon 9 rocket broke apart Sunday morning minutes after soaring away from Cape Canaveral, Florida. Lost with the rocket was a capsule packed with supplies for the crew on the International Space Station.n this whodunit, there are clues pointing to pressure problems in the second stage's liquid oxygen tank, SpaceX founder Elon Musk tweeted within hours. But that may be a red herring, and a former NASA shuttle chief warns against jumping to conclusions."First impressions never are right," said Wayne Hale, who is on the board investigating last year's launch pad failure of Orbital Sciences' Antares rocket, also carrying station cargo for NASA.Russia also lost a supply shipment in April when its Progress capsule spun out of control.The SpaceX investigation will be a lot like the crime dramas you see on television, complete with forensics examination of debris. Except it's not over in an hour. Most mishap investigations take about a year, Hale said. Eight months later, Orbital's investigation isn't done yet.The engineering detective work kicks in after all the information is saved, including more than 3,000 channels of data radioed from the rocket. In engineering-speak it's called a fault tree analysis. Engineers calculate everything that could go wrong and why.It's painstaking. It's precise. It's logical, like the board game Clue, said retired space expert John Logsdon, who was on the board that investigated the 2003 space shuttle Columbia accident."One by one eliminate everything that it could not be until you get down to hopefully relatively few possibilities," Logsdon said. "It's a complex mystery with multiple suspects."It all comes down to one question: Why?
The SpaceX Falcon 9 rocket and Dragon spacecraft lifts off from Space Launch Complex 40 at the Cape  …"You have to ask why seven times, that's the rule of thumb," said HaleYou find one thing that went wrong, then ask why that happened, and keep going, asking why about seven times until you find the root cause, he said.Here's what we know so far according, to SpaceX officials:— The Sunday's accident occurred about 28 miles off the ground when the rocket was going more than 3,100 mph.— The first stage of the rocket — the part that gets it off the ground — worked fine, even after the rest of the rocket started breaking apart. Its nine engines fired well.— The second stage — which gets the capsule into orbit — had high pressure readings in the liquid oxygen tank, according to Musk's tweet.— The Dragon capsule survived at first and sent back data.Before dawn Monday— about 16 hours after the rocket broke apart — Musk, tweeted: "cause still unknown after several thousand engineering-hours of review."SpaceX president Gwynne Shotwell told reporters Sunday that because the private company made nearly all the parts in the rocket, it will be easier and quicker to investigate: "I'm sure we'll find it rapidly."Logsdon thinks she might be right and an answer can be found, fixed and rockets launching again in six months or less. The California-based SpaceX, whose clients include governmental agencies and private firms, eventually plans to launch NASA astronauts to the space station as early as December 2017.In the meantime, Sunday's accident has postponed the SpaceX launch of a sea-measuring satellite for the National Oceanic and Atmospheric Administration scheduled for early August, according to NOAA spokesman John Leslie. That launch is also on a Falcon 9 rocket.The SpaceX investigation, like the one at Orbital, will be run by the company itself with oversight by the Federal Aviation Administration, which will have to make sure the next flight is safe.At SpaceX, they haven't named a mishap investigation board yet, but said Hans Koenigsmann, the company's mission assurance vice president, will be in charge.Despite the loss of three cargo shipments, NASA said the space station has enough supplies to last until at least the end of October. Russia has a cargo launch scheduled for Friday and Japan has another shipment planned for August. There's a crew of three at the station now, and three more men are set to join them in July._Online:SpaceX: http://www.spacex.com/_Seth Borenstein can be followed at http://twitter.com/borenbears
Washington state wildfire destroys at least 23 homes
 4 hours ago
Forest Service fire fighters from Leavenworth watch as a house burns in northern Wenatchee, Wash., June 28, 2015. A wildfire fueled by high temperatures and strong winds roared into a central Washington neighborhood, destroying properties and forcing residents of several hundred homes to flee, authorities said Monday. (Don Seabrook/The Wenatchee World via AP)By David Ryder Related Stories
WENATCHEE, Wash. (Reuters) – A wildfire burning unchecked in Washington state has destroyed at least 23 homes and three commercial buildings near the eastern foothills of the Cascades, state police and emergency management officials said on Monday.The so-called Sleepy Hollow fire has scorched an estimated 3,000 acres (1,200 hectares) of rolling grasslands and brush in and around Wenatchee in central Washington since it erupted on Sunday, said state patrol spokesman Darren Wright.A couple of firefighters suffered minor injuries, Wright said.He said several hundred homes remained under evacuation orders on Monday, as firefighters scrambled to take advantage of heavy overnight showers that slowed the fire's advance. Crews have yet to establish containment lines around the blaze."We had a couple of pretty good rain storms that knocked it down a bit for us," Wright said, adding the blaze could flare up again with triple-digit temperatures and low humidity forecast for the coming days.Hot, dry winds fanned the flames through drought-parched vegetation as the fire zone "blew up" late on Sunday, growing from 200 acres (80 hectares) at about 6 p.m. to 15 times that size overnight, said Janet Pearce, a spokeswoman for the state Department of Natural Resources.Wright said at least 23 homes west of Wenatchee had burned, and embers blown into town set ablaze and destroyed a recycling center and two adjoining buildings of a fruit-packing storage facility.A thick, black plume from the three burning buildings drifted over Wenatchee, as well as a haze of lighter smoke."Leave your home immediately, the fire is close and you are in danger," a Chelan County Emergency Management office notice told area residents.The cause of the blaze has not been determined, but it followed a large number of lightning strikes in the region, Pearce said.With the approaching Fourth of July holiday, state officials were asking residents to avoid using personal fireworks, and a ban on outdoor fires was imposed for state-owned parks and forests.Washington experienced its worst wildfire season on record last year, with the Carlton Complex fires blackening 250,000 acres (100,000 hectares). It has tallied more than 300 wildfires so far this year, according to the Natural Resources Department.The Sleepy Hollow is one of dozens of large wildfires flaring across the western United States, including more than 60 in Alaska alone, where 650,000 acres (263,000 hectares) have burned, the National Interagency Fire Center in Boise, Idaho, reported.(Reporting by Chris Michaud and Carey Gillam; Editing by Dan Grebler and Sandra Maler)
A look at wildfire hotspots around the West
 By The Associated Press1 hour ago Associated Press Videos Hot, Windy Weather Spreads Wenatchee Wildfire
News Hot, Windy Weather Spreads Wenatchee Wildfire Wildfires chased residents from neighborhoods in Washington state, where 24 structures burned, and in California, where flames raged uncomfortably close to a historic mission. In Alaska, rain helped suppress fire activity.Related Stories
Here's a look at hotspots around the West:__WASHINGTON Residents of several hundred homes fled when a blaze erupted Sunday outside Wenatchee and spread out of control in hot and windy weather, destroying 24 structures, including houses."There was fire in so many places," said Albert Rookard, who lives across the Wenatchee River from the fire.In this Sunday, June 28, 2015 photo provided by The Wenatchee World, a Douglas County firefighter sp …There were no immediate reports of injuries as the blaze burned more than 4 square miles about 120 miles east of Seattle. Railroad traffic through the area was shut down.However, the railroad helped battle the blaze by spraying water from tank cars and transferring water to firefighting trucks.Eastern Washington has been experiencing temperatures in the 100s. Last week, Gov. Jay Inslee issued an emergency proclamation that allows the quick use of state resources to respond to wildfires.___ALASKA
In this Sunday, June 28, 2015 photo provided by The Wenatchee World, a Chelan County Sheriff's d …The state had 612 wildfires on Monday, but only two new ones that broke out a day earlier.Weekend rains brought relief to fire crews, and there were no new evacuations. Conditions were expected to heat up later in the week.__SOUTHERN CALIFORNIA A 300-acre wildfire that broke out Monday afternoon in a brushy, rural area of Lompoc prompted authorities to order the evacuation of 1,200 people and their livestock.In this Sunday, June 28, 2015 photo provided by The Wenatchee World, U.S. Forest Service firefighter …No structures were damaged, but the flames burned not far from historic La Purisima Mission, 150 miles north of Los Angeles. Constructed in 1787, La Purisima is one of 21 Spanish-style California missions built by Franciscan priests.With temperatures in the 60s, authorities sought to get a quick jump on the blaze, dispatching 200 firefighters and several water-dropping air tankers and helicopters. By Monday evening, the blaze was 55 percent contained and the aircraft had returned to their base.Farther south, a 48-square-mile forest fire that has burned for nearly two weeks in the San Bernardino Mountains east of Los Angeles was showing little activity as monsoons flowed through the region.The U.S. Forest Service said, however, that heat remained along most of the perimeter, and pockets of unburned fuel continued to erupt.The monsoons were predicted to continue for several days. More than 2,200 firefighters were on the lines.In this Sunday, June 28, 2015 photo provided by The Wenatchee World, Forest Service fire fighters fr …The fire has destroyed only one residence and three other buildings. Firefighting costs topped $30 million._NORTHERN CALIFORNIA The flow of humid, unstable air unleashed hundreds of lightning bolts that ignited three dozen wildfires that were kept small by an aggressive deployment of firefighters.Progress was also being made on fires that were previously burning.A 28-square-mile blaze south of Markleeville in Humboldt-Toiyabe National Forest was 45 percent contained, while a 500-acre blaze in Madera County was fully surrounded.
Drilling, not quake, caused Indonesia mud volcano: paper
 12 hours ago
View photoSmoke and hazardous gas has emitted from the crater vent of a mud volcano in Indonesia's East Java province continually for nine years, initially swallowing 12 villages and displacing more than 13,000 families (AFP Photo/BPLS)Paris (AFP) – Geologists reignited the debate Monday about whether to blame nature or humans for the devastating eruption nine years ago of an Indonesian mud volcano still oozing its all-consuming sludge today.New analysis of underground gas levels measured at the time of the outburst point the finger to gas exploration — not an earthquake — as the trigger, a research team from the United States, Britain and Australia wrote in the journal Nature Geosciences."Taken together, our data strongly supports a man-made trigger," study co-author Mark Tingay from the University of Adelaide said in a statement.The Lusi mud volcano erupted out of the blue on May 29, 2006, in the middle of a rice field in the Sidoarjo district of Java island.It has destroyed numerous villages, factories, shops, and a highway. A dozen people were killed and about 40,000 have been displaced.Lusi continues to ooze mud at a rate of some 30,000 to 60,000 cubic metes per day, according to disaster management authorities– the equivalent of 12-24 Olympic-sized swimming pools of muck.More than 6.5 square kilometres (2.5 square miles) of Sidoarjo has been buried in up to 40 metres (130 feet) of mud, said the statement, with costs estimated at over $2.7 billion (2.4 billion euros).- End of debate? -The Indonesian government has erected about 20 kilometres (12 miles) of dykes, some 10 metres high.Previous studies have alternated blame between the 6.3-magnitude Yogyakarta earthquake that struck two days before the outburst about 260 kilometres (162 miles) away, and the Banjar Panji gas well just 150 metres (164 yards) from the volcano's main vent.Indonesian oil and gas company Lapindo Brantas, which was drilling there at the time, insists on its website that an investigation found no evidence to link its activities to the eruption."Lapindo Brantas Inc. geological experts believe the mud eruption was linked to seismic activity surrounding an earthquake two days earlier," it states, and points to financial assistance promised to Sidoarjo residents.The company could not be reached for comment on Monday.The latest research directly contradicts a study published in the same journal almost exactly two years ago, which blamed the quake for the muddy outburst.That study, led by Stephen Miller at the University of Bonn in Germany, used computer modelling to determine that the quake would have liquefied a clay source of the mud deep underground, and caused it to be injected into a fault.But the latest research found such a scenario "unlikely"."Clay liquefaction is always associated with extensive gas release, and it is this large gas release that has been argued to have helped the mud flow upwards and erupt on the surface," said Tingay.Except that his team's own analysis showed "that there was no gas release following the earthquake".For a look at the gas content of the rock formation underneath the eruption, the researchers had relied on measurements from the Banjar Panji well, where detailed records of gas concentrations and composition were kept during drilling."We hope this closes the debate on whether an earthquake caused this unique disaster," added Tingay.
Western Europe bakes in heatwave
 10 hours ago
Seville (Spain) (AFP) – Temperatures soared above 40 degrees (104 degrees Fahrenheit) in Spain and Portugal on Monday prompting health concerns and the scorching heat was expected to move north to France and Britain later in the week.The soaring temperatures prompted Spain's national weather office to put the region of Cordoba on red alert, the highest level on the scale, meaning the weather posed an "extreme risk" to health.Temperatures in the countryside of Cordoba, a region of whitewashed houses in Andalusia, were expected to climb to 44 degrees Celsius.Spaniards flocked to the beach with officials urging them to avoid alcohol and consume plenty of water as 43 of the country's 50 provinces were on orange alert — the second highest warning — due to the heatwave.The cities of Castelo Branco and Portalegre in Portugal's interior also sizzled with temperatures hitting 41 degrees Celsius.France is meanwhile bracing for the thermometer to hit 39 degrees Celsius by the middle of the week, while Britain will have to contend with temperatures in the mid-30s.
People jump into the Guadalquivir river during a heatwave in Sevilla, Spain on June 28, 2015 (AFP Ph …"These are not usual meteorological phenomena, (they are) of an exceptional intensity and with a very high level of risk for the population," a spokesman for Spain's national weather office said.In the Andalusian capital of Seville, where temperatures shot up to 42 degrees Celsius, children and adults soaked their feet in city fountains for relief from the heat while others jumped from bridges into the Guadalquivir river.Beaches across Spain's southern coast were packed as the heatwave coincided with the start of the high season for tourism.Authorities in Spain and Portugal warned that the scorching temperatures posed a high risk of forest fires.Nearly all of Spain faced an "extreme", "very high" or high" risk of forest blazes on Monday, according to the nation's weather office.
A tourist uses an umbrella to protect from the sun as she goes for a walk on the outskirts of Lisbon …Madrid city hall was advising everyone to remain hydrated throughout the day by drinking at least three litres of water per day and avoid drinking alcohol.The expected jump in temperatures in Britain prompted one newspaper to breathlessly predict that the nation would be sweating in 36 degrees Celsius heat on Wednesday.If the mercury goes that high it would be the hottest ever recorded at the Wimbledon tennis championships which got underway Monday in south London.The forecast has prompted concern in France where a European-wide heatwave in 2003 led to nearly 20,000 deaths above the normal rate, mainly among elderly people.France has already called on air-conditioned public spaces to allow the public in for respite from the heat."I don't think this heatwave will have the same consequences as the one in 2003 because we weren't as prepared at that time," said Ecology Minister Segolene Royal.The fiery temperatures are expected to last through the end of the week.
Image of Asia: Walking in an Indian rainstorm
 By The Associated Press15 hours ago
An Indian man walks with his cycle through a water-logged street as it rains in Jammu, India, Monday, June 29, 2015. Heavy rains lashed the city bringing much needed relief from the scorching heat wave. (AP Photo/Channi Anand)In this photo by Channi Anand, a man walks with his cycle through a water-logged street as it rains in Jammu, India. The heavy rains lashing the city brought much-needed relief from a scorching heat wave. Temperatures exceeding 40 Celsius (104 Fahrenheit) on Sunday dropped by 3 degrees on Monday in the city. The monsoon reaches far northern Jammu and Kashmir state later than most of the nation, around July 1, according to the India Meteorological Department. It forecast scattered and isolated rainfall in the region for the rest of the week.
AP PHOTOS: Editor selections from Asia
 By TheAssociated Press21 hours ago 
Indonesia's Mount Sinabung belched more volcanic ash and lava, part of its almost daily eruptions this month. The activity has forced thousands of villagers to evacuate to safer areas. It is one of about 130 active volcanoes across the sprawling country.June is something like Hate America Month in North Korea. Officially known as "Struggle Against U.S. Imperialism Month," North Koreans swarm to war museums and mobilize for gatherings denouncing the evils of the United States. Some 100,000 people rallied in Pyongyang's Kim Il Sung stadium, where they pumped their fists and chanted, "Defend!"In other images from around Asia last week, an Indian worker dried vermicelli for a traditional sweet dish popular during the Islamic holy month of Ramadan, when believers are called to refrain from eating, drinking, smoking and sex from dawn until dusk.Dogs in cages were sold in southern China, where restaurateurs held an annual dog meat festival despite international criticism, while in Bangkok a Maltese was groomed during the Thailand International Dog Show.Filipino students in Manila walked over a bridge on their way home, while officials at a prestigious Japanese school in Yokohama for the first time took journalists on a tour of the secret, underground headquarters for the imperial navy during the closing months of World War II._This gallery was curated by photo editor Karly Domb Sadof in Bangkok.
Pakistan heat wave eases after more than 1,150 die
 By Syed Raza HassanJune 26, 2015 8:57 AM
People are seen bathing while others cool off from the heat as they are sprayed with water jetting out …By Syed Raza Hassan Related Stories
KARACHI (Reuters) – Sea breezes brought lower temperatures on Friday to ease a heat wave that killed more than 1,150 people around Pakistan's teeming port city of Karachi during the Muslim fasting month of Ramadan.Mass funerals were held for 50 unidentified victims on Friday before their bodies were hastily buried.The extreme heat of up to 44 degrees Celsius (111 Fahrenheit) – the hottest since 1981 – coincided with power failures and triggered sharp criticism of the government's response in the city of 20 million people.On Friday, the daily high temperature was about 36 degree Celsius (97 Fahrenheit), according to Dr Mohammad Hanif of the Director National Weather Forecasting Centre.The power outages left many without fans, water or light at the beginning of Ramadan, when many Muslims do not eat or drink during daylight hours.
People cool off from the heat as they are sprayed with water jetting out from a leaking water pipeli …"By Friday, at least 1,150 people have died in the government-run hospitals," said Anwar Kazmi of the Edhi Foundation, a private charity that runs a network of ambulances and morgues.The stench of rotting corpses pervaded one of those morgues on Friday as workers offered funeral prayers for 50 victims.Afterwards, workers removed the bodies from a hallway so full it was hard to walk through and then piled them into ambulances to be taken to a graveyard."We waited for three days for any claimants to come forward, and now we are going to bury the 50 bodies," Edhi's Amanullah Khan told Reuters, adding that some of the victims appeared to be homeless."Before we bury them, we take photographs and issue tag numbers in case any claimants turn up later and can identify the body."
A man cools off from a public tap after filling bottles during intense hot weather in Karachi, Pakis …The crisis – following a heat wave in India last month that killed about 2,500 people – illustrates how ill-prepared many developing nations are for the extreme weather conditions that scientists say will accompany global climate change in coming decades."These type of events are taking place across the world … we need to prepare ourselves and develop our strategy," said Qamar uz Zaman Chaudhry, the Islamabad-based special adviser for Asia to the UN-World Meteorological Organization.  "It's time to learn lessons, instead of getting into the blame game."Pakistan's national and local political parties have blamed one another for the crisis, while much of the relief was provided by the powerful military and private charities such as the Edhi Foundation.(Writing by Kay Johnson; Editing by Nick Macfie)