The Latest: Calif. wildfire grows after jumping containment
 1 hour ago Associated Press Videos Crews Battle Explosive California Wildfire
News Crews Battle Explosive California Wildfire
Fire crews walk on U.S. Highway 20 as a fire approaches near Clearlake, Calif., Monday, Aug. 3, 2015 …Related Stories
LOWER LAKE, Calif. (AP) — The latest on wildfires burning in California:7:13 p.m.Firefighters are trying to stand their ground after a massive blaze jumped Highway 20, which had served as a containment line. The blaze grew to almost 97 square miles and plumes of black smoke rose as helicopters dropped water from the sky.Cal Fire says fire crews are working aggressively to sustain control in the steep and rugged terrain.2:10 p.m.Evacuated residents say a massive wildfire burning in Northern California flared up and spread fast.The fire about 100 miles north of San Francisco in the Lower Lake area roughly tripled in size over the weekend to 93 square miles. More than 13,000 people have been required or advised to evacuate. Two dozen homes have been destroyed.Donna McDonald, who lives in Clear Lake, said Monday at one point she saw no smoke at all. Then the fire flared up again.Lower temperatures and higher humidity allowed firefighters to contain more of the fire.
Cooler weather helps crews battling California wildfire
 2 hours ago Associated Press Videos Raw: Fires Rage in Woodlands Across California
News Raw: Fires Rage in Woodlands Across California LOWER LAKE, Calif. (AP) — Firefighters were working aggressively to regain control after a raging Northern California fire jumped a highway that had served as a containment line for the massive blaze — one of 20 wildfires burning in California.Related Stories
Cooler weather had helped crews build a buffer Monday between the wildfire and some of the thousands of homes it threatened as it tore through drought-withered brush in Lake County that hadn't burned in years.But Monday afternoon erratic wind blew hot embers north of Highway 20 ignited several fires across the highway north of the city of Clearlake."There were too many (spot fires) for us to pick up," Battalion Chief Carl Schwettmann of the California Department of Forestry and Fire Protection told the San Francisco Chronicle, after the stand on Highway 20. "With these drought-stricken fuels, it's just moving at an extremely high rate of speed."At least two dozen homes were destroyed over the past few days, and more than 13,000 people were urged to flee.The fire — the largest blaze in drought-stricken California — roughly tripled in size over the weekend to almost 97 square miles, generating its own winds that fanned the flames and reduced thousands of acres of manzanita shrubs and other brush to barren land in hours.
Cal Fire firefighters prepare to start a backfire operation ahead of the Rocky Fire on August 2, 201 …"There's a lot of old growth-type vegetation and four years of drought to dry it all out," said Lynne Tolmachoff, a spokeswoman for the California Department of Forestry and Fire Protection. "It was ready to go."The fire was burning in the Lower Lake area, about 100 miles north of San Francisco and 10 miles from Clear Lake, the largest freshwater lake entirely within California and a popular spot for boaters and campers. Fire officials said no homes around the lake were threatened.Evacuated residents were amazed at how quickly the flames spread."I'm overwhelmed," Donna McDonald, of Clear Lake, said at a high school that had been turned into a shelter. "I was very happy at one point when I saw no smoke at all. Then all of a sudden it just flared up real big again."Layna Rivas, of Clearlake Oaks, evacuated her home over the weekend and wanted to get back to feed her chickens.
Burned signs are shown on a road near Lower Lake, Calif., Friday, July 31, 2015. A series of wildfir …"You have to have that let go feeling and know everything is going to be OK," she said. "My place is going to be safe, my animals are going to be safe."Lower temperatures and higher humidity Monday allowed firefighters to contain more of the fire, said CalFire Capt. Don Camp."We are hoping we only have to deal with winds from the weather instead of the fire creating its own winds," he said.Numerous other wildfires in California, Washington state and Oregon took off as the effects of drought and summer heat turned the West Coast combustible. California blazes killed a firefighter last week and injured four others.Crews in the Lower Lake area conducted controlled burns, setting fire to shrubs to rob the blaze of fuel and protect some of 5,500 homes threatened. The fire was burning in a rural area of grasslands and steep hills.
Firefighters spray a hose at a fire along Morgan Valley Road near Lower Lake, Calif., Friday, July 3 …The fire destroyed at least 24 homes and 26 outbuildings. More than 13,000 people have been forced from their homes or have been warned to leave.More fire crews were brought in, bringing the number of firefighters to nearly 3,000. Two more National Guard air tankers were being brought in from Colorado to drop retardant, Tolmachoff said.Crews battled 20 other wildfires in California — some sparked by lightning — though none as big as the Lower Lake blaze. Mandatory evacuations were also in place farther north in a remote rural area of the Shasta-Trinity National Forest.The Lower Lake fire is well short of historic proportions. One of the largest wildfires in California history was a 2013 blaze that took out 400 square miles of Sierra Nevada wilderness._Daley reported from Middletown, Calif. Associated Press writers Sudhin Thanawala and Olga R. Rodriguez in San Francisco and Yara Bishara in Phoenix contributed to this report.
American Lung Association lauds Clean Power Plan for protecting vulnerable citizens Scientists point to often overlooked health benefits of limiting carbon emissions By Michael Walsh13 hours agoYahoo News
 Yahoo News Live Archive President Obama Gets Tough on EnvironmentThe White House is poised to unveil its final version of a plan to slash carbon emissions from existing power plants in what President Obama calls the "biggest, most important step we've ever taken" to fight climate change.Related Stories
Scientists say that Obama's Clean Power Plan (CPP) will help combat climate change while protecting the health of U.S. citizens.Power plants account for nearly 40 percent of the country's emission of carbon dioxide, which is the most common greenhouse gas contributing to global warming. But there has been no limit to how much carbon these plants could spew into the air Americans breathe.The revised plan will require the power sector to cut carbon emissions to 32 percent below 2005 levels by 2030. This aggressive new goal aims to reshape the nation's electricity infrastructure by shifting the nation from fossil fuels towardrenewable energies like wind and solar.The American Lung Association (ALA) strongly supports the new standards; it says that in 2030 the reductions are estimated to prevent up to 3,600 premature deaths, 90,000 asthma attacks and 300,000 sick days at work and school.Lyndsay Moseley, director of ALA's Healthy Air Campaign, said that degraded air quality, wild fires, heat waves and many other consequences of air pollution strongly affect lung health.
In this Jan. 20, 2015, file photo, a plume of steam billows from the coal-fired Merrimack Station in …Breathing clean air, she said, is essential to life, and the CPP will provide protection for some of the most vulnerable Americans."There are certain populations that are disproportionately vulnerable to climate change and air pollution: children, older adults, people who live with asthma or other chronic diseases, and people with low incomes," she said in an interview with Yahoo News.In a statement, Harold Wimmer, the national president and CEO of the organization, reiterated the importance of minimizing the release of toxins into the air for fighting illness."The final plan, as described, reflects the progress we as a nation are making to reduce pollution from power plants and marks a tremendous step forward in the fight against climate change," Wimmer said. "The American Lung Association will work with states to maximize the immediate health benefits from power plant cleanup."The Environmental Protection Agency (EPA), which is required to regulate pollutants by 1973's Clean Air Act, says the health and climate benefits far outweigh the cost of the plan.
In this March 16, 2011, file photo, exhaust rises from smokestacks in front of piles of coal in Thom …"These reductions will lead to climate and health benefits worth an estimated $55 billion to $93 billion per year in 2030," the EPA said on its official site.In the past, public health and medical professionals have written open letters to the EPA opining that the health impacts of climate change are often overlooked.Medical doctors have been pushing for the EPA to enact strict limits on power plants for years."These common sense clean air safeguards will improve the quality of our air, protect public health and help move our country toward cleaner energy technologies that won't make people sick or cut short our patients' lives," reads one such letter.In May, researchers at Harvard University's school of public health released the results of the first independent, peer-reviewed paper looking into the potential immediate health benefits of the CPP.President Obama: Climate change has direct impact  …Play video
By analyzing three options for power plant standards, the Harvard team discovered that the best choice would prevent an average of 3,500 premature deaths throughout the nation annually — ranging from 780 to 6,100 each year.The top option, they said, would also prevent a thousand heart attacks and hospitalizations from air pollution each year."If EPA sets strong carbon standards, we can expect large public health benefits from cleaner air almost immediately after the standards are implemented," Jonathan Buonocore, research fellow and co-author of the paper, said in a release.The Solar Energy Industries Association (SEIA), a national trade group for that sector, praised the "historic" and "critically needed" plan, while encouraging states to invest in solar energy as a low-cost and carbon-free way to meet its goals.Rhone Resch, the president and CEO of SEIA, says that the U.S. has been able to create more than 150,000 new solar jobs in the last decade alone because of the technology's reliability and affordability.
Employees of a solar farm company take notes between panels at the farm in Nakorn Ratchasima provinc …"As a nation, it is time to replace our aging, dirty energy infrastructure with clean, reliable 21st century energy technologies, like solar. And as an industry, we look forward to solar helping states achieve an optimal long-term strategy for their economy and environment," Resch said in a statement Sunday.By the close of 2016, he said, nearly 45 million metric tons of carbon emissions will be offset by the amount of solar energy in the country, enough to power 8 million houses.The National Mining Association (NMA), a trade group for that industry, on the other hand, called the plan an act of political expedience rather than a realistic attempt to provide the nation with affordable energy.Hal Quinn, the association's president and CEO, encouraged the country's governors to reject the EPA's authority and challenge its "flawed plan.""NMA filed a request today with EPA to stay the rule while the courts have the opportunity to determine the lawfulness of the agency's attempt to commandeer the nation's electric grid. If EPA denies our request, we will ask the courts to do so," he said.Republican presidential candidate Jeb Bush released a statement saying that Obama's plan is "irresponsible and overreaching.""The rule runs over state governments, will throw countless people out of work and increases everyone's energy prices," it reads in part.But on Friday, 365 businesses and investors, including industry giants like General Mills and Nestle, signed an open letter to 29 governors voicing their support for the plan that they say is "firmly grounded in economic reality" and will help the economy.
Earth's most powerful storm of the year roars across Pacific
 Doyle Rice, USA TODAY6:09 p.m. EDT August 3, 2015
(Photo: NOAA)3383CONNECT 134TWEET 11LINKEDIN 18COMMENTEMAILMOREThe Earth's most powerful storm of 2015 — Super Typhoon Soudelor — is now roaring through the western Pacific Ocean with winds of 178 mph, the equivalent of a Category 5 hurricane, the Joint Typhoon Warning Center said Monday.The storm already ripped into Saipan, one of the Northern Mariana Islands, a 48,000-population U.S. commonwealth in the Western Pacific. Acting Gov. Ralph D.L.G. Torres declared "a state of disaster and significant emergency" there on Monday.Soudelor (SOW-de-lore) is the strongest storm anywhere on the planet so far this year. Typhoons are the Western Pacific's version of hurricanes.The typhoon is taking aim at Taiwan and China by Friday and Saturday, though it is expected to weaken to a Category 3 or 4 storm by then, the typhoon warning center said.The storm slammed into Saipan late Sunday into early Monday, flooding the island's power plant, ripping off roofs and toppling power poles, the Pacific Daily News in Guam reported. Hundreds of Saipan residents are in shelters. Some roads remain impassable, and power and water service are out."I've seen multiple primary power poles down. I've seen cars flipped over the road. I've seen lots of torn roofs," said John Hirsh, executive director of the American Red Cross in Saipan.He said an initial assessment shows extensive damage across the island. Hirsch said it felt as if the island took a direct hit from the typhoon's full force between 11 p.m. Sunday to 1 a.m. Monday, local time.Soudelor is a Pohnpeian word for a legendary chief or ruler, according to the National Weather Service. Pohnpeian is a language spoken on the island of Pohnpei in the Caroline Islands.
 Follow
Ryan Maue @RyanMaueECMWF 12z is to left of GFS or south w/direct landfall of Taiwan in 96-hours at 919 mb (Super Typhoon)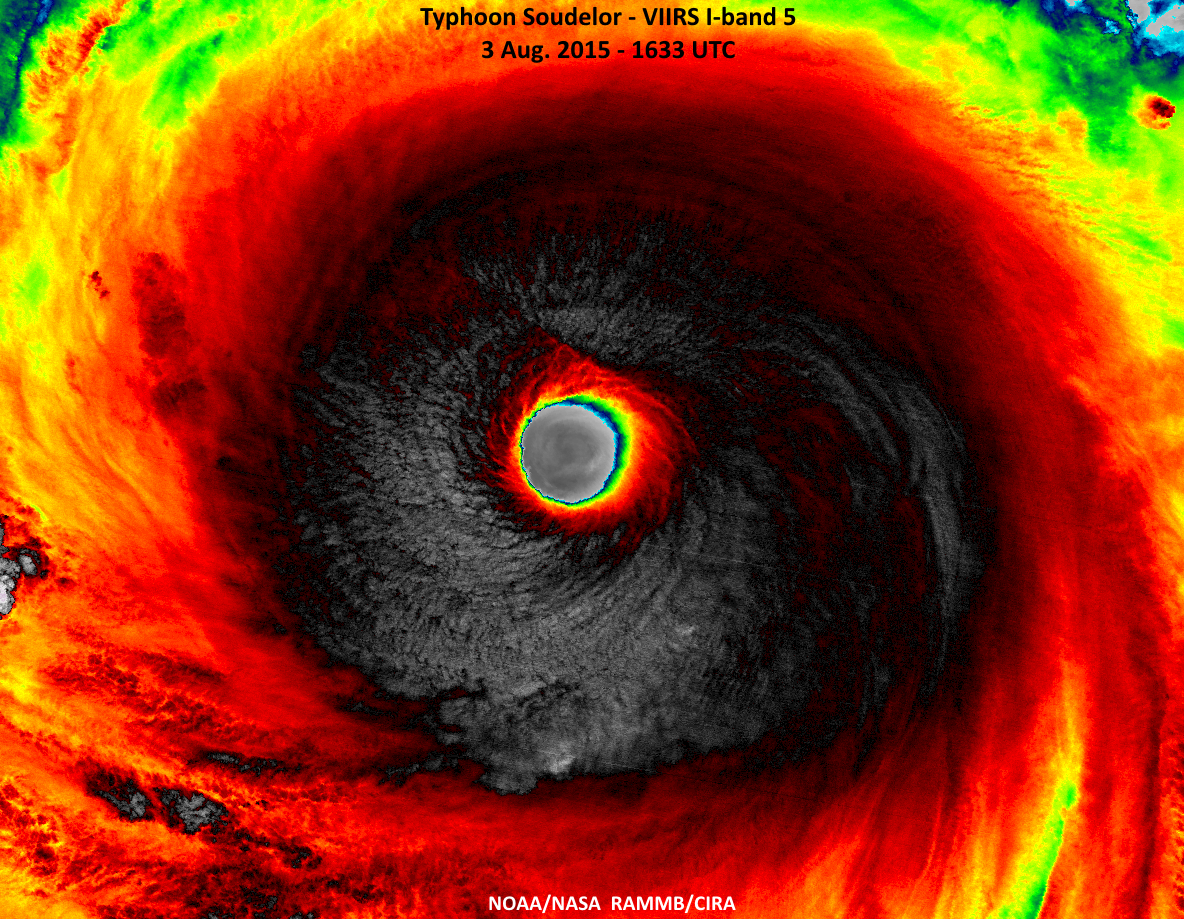 Follow
NOAA Satellites @NOAASatellites Soudelor reclassified as a Super Typhoon in the NW Pacific today. Image via @NASANPP http://go.usa.gov/3Af25 
Instagram | @_bamms_It's sad to see how much damage one typhoon can do to our hometown. Luckily my family are safe but there belongings are damaged Wishing I was there to help out. Be safe everyone. Prayers for Saipan❤️ #myhome #saipan #island #typhoonInstagram | @_bamms_It's sad to see how much damage one typhoon can do to our hometown. Luckily my family are safe but there belongings are damaged Wishing I was there to help out. Be safe everyone. Prayers for Saipan❤️ #myhome #saipan #island #typhoon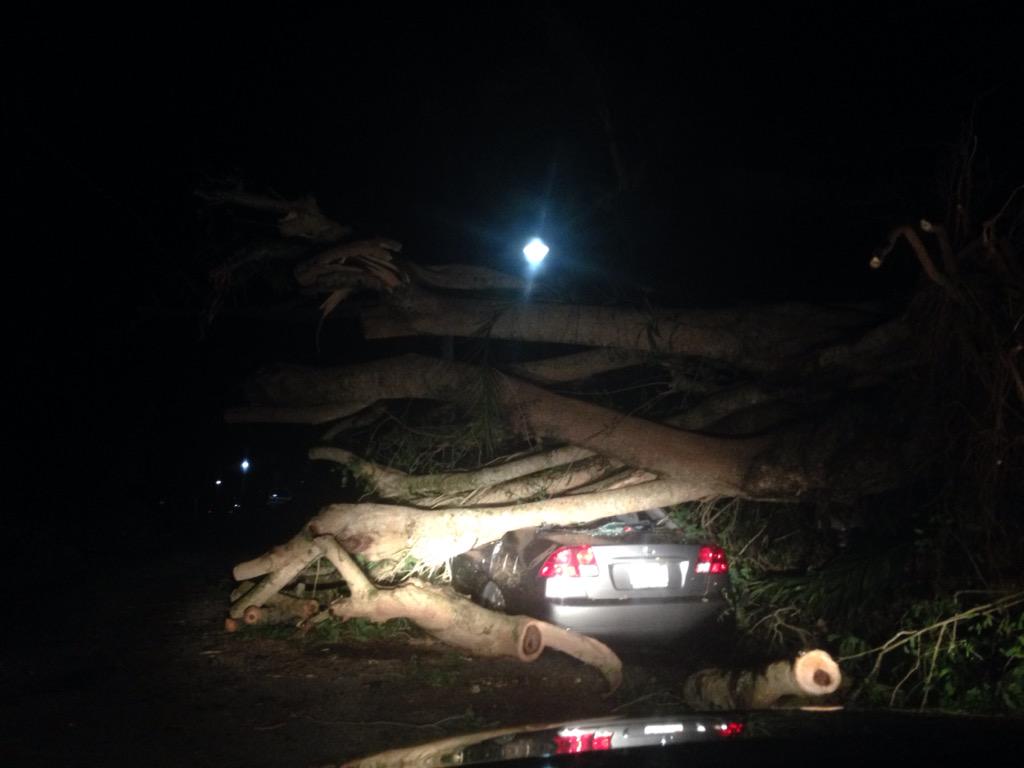 Follow
Jillian Angeline @JLAngelineOne more pic of the devastation on Saipan from Typhoon Soudelor. Some places, the norm is 7 power poles down in a row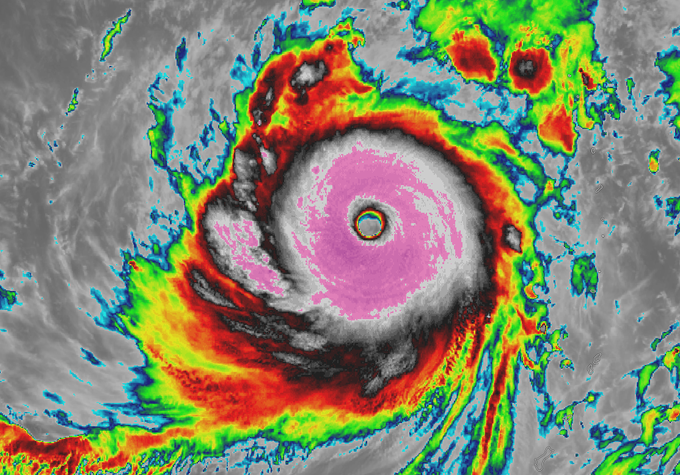 Follow
Anthony Sagliani @anthonywx Considerable concern for S Ryukyus and Taiwan late this week as Soudelor approaches. 
Soudelor targets Japan, China as most powerful storm of 2015
 1 hour ago
Cyclone Pam, the previous strongest storm of 2015, killed at least 15 people when it slammed into Vanuatu, also in the Pacific, five months ago (AFP Photo/Jeremy Piper)Hagatna (Guam) (AFP) – Super Typhoon Soudelor developed into the world's most powerful storm of the year Tuesday as it took aim at Japan, Taiwan and China after trashing the Northern Marianas.The storm was roaring across the western Pacific Ocean packing wind gusts up to 220 miles per hour (354 kph) according to the Joint Typhoon Warning Center which rated it a maximum category five.It was stronger than Cyclone Pam, the previous strongest storm of 2015, which killed at least 15 people when it slammed into Vanuatu, also in the Pacific, five months ago.No deaths have been attributed to Soudelor, but it left a trail of destruction across the Northern Marianas where acting governor Ralph Torres declared a "state of major disaster and significant emergency" after it struck late Sunday.Nearly 400 people were packed in emergency shelters after Soudelor ripped roofs off houses and left residents without power, water and wastewater services."I've seen multiple primary power poles down; I've seen cars flipped over the road; I've seen lots of torn roofs," John Hirsh, executive director of the American Red Cross in Saipan, told Pacific Daily News.Damage was "extensive" across the island and there had been significant damage to public infrastructure, he said.Many roads were impassable in Saipan — the Northern Marianas main island, the seat of government and hub of the local economy — while in the harbour at least three vessels were ripped from their moorings.In Hagatna, on neighbouring Guam, the weather service warned boats to stay away from exposed reefs and beaches because of "hazardous surf" and "life threatening" rip currents.It said Soudelor would continue to intensify as it swept across open water for the next 24 hours before starting to weaken.It was expected to be down to category four or three by the time it hit southern Japan, Taiwan and China from late Thursday.Tropical typhoons and cyclones typically form in the western Pacific between May and October with Pam the most destructive so far this year.In addition to the fatalities in Vanuatu, about 75,000 people needed emergency shelter after their homes were destroyed and almost all food crops were wiped out.Typhoon Maysak slammed into the Federated States of Micronesia in late March killing at least four people and leaving more than 5,000 in need of food, shelter and other emergency assistance.
Egypt seeks cash, prestige boost with 'new Suez Canal'
 By Tony Gamal-Gabriel and Jay Deshmukh1 hour ago
Cairo (AFP) – Egypt is set to inaugurate a "new Suez Canal" waterway touted as an achievement rivalling the digging of the original, as it seeks to boost both its economy and international standing.Related Stories
The ceremony on Thursday, to be attended by foreign dignitaries including French President Francois Hollande, comes just over two years after President Abdel Fattah al-Sisi, the former military chief, overthrew his Islamist predecessor.Sisi broke ground on the project last August after winning a presidential election on promises of strengthening security and reviving the ailing economy.The new 72-kilometre (45-mile) waterway, built in less than a year at a cost of $9 billion (7.9 billion euros), runs part of the way alongside the existing canal connecting the Red Sea and the Mediterranean.It will cut the waiting period for vessels from 18 hours to 11.By 2023 the number of ships using the canal will increase to 97 per day from the current 49, the Suez Canal Authority website said."It sends a message to the public and foreign investors that the government is capable of accomplishing something in a set calendar," Amr Adly of the Carnegie Middle East Center told AFP."Since (former president Mohamed) Morsi's ouster the new regime is engaged in a political conflict to prove its legitimacy inside and outside Egypt.""The ability to accomplish such an economic project is part of cementing this legitimacy."
President Abdel Fattah al-Sisi broke ground on the project last August after winning a presidential  …- Ambitious target -Sisi set an ambitious target of digging the waterway in just a year despite an initial estimate it would take up to three years.Officials say the entire funding for the project was raised in six days by selling investment certificates to domestic investors.It involved 37 kilometres of dry digging and 35 kilometres of expansion and deepening of the existing canal.Preparations for Thursday's lavish opening are in full swing in the port city of Ismailiya.Some 10,000 policemen will stand guard across six provinces as Sisi opens the ceremony by joining a naval parade, state media said.Newly bought French Rafale warplanes and US F-16s delivered by Washington last week will also be on display.Banners saying "New Suez Canal: From Egypt to the World" have been put up at Cairo airport, and hundreds of Egyptian flags grace the capital's streets.
Built 146 years ago, the original canal is one of the world's most heavily used shipping lanes ( …The opening comes amid a rapprochement between the West and Sisi's regime, although Washington remains critical of the country's human rights situation.A police crackdown targeting Morsi supporters has killed hundreds and seen thousands jailed.Militants have killed scores of policemen and soldiers, mostly in the Sinai Peninsula that lies between Israel, the Gaza Strip and the Suez Canal.In July, the Islamic State group affiliate in Egypt claimed a missile attack that destroyed an Egyptian naval vessel off North Sinai.Suez Canal Authority chief Mohab Mameesh has declared the new waterway "safe" after conducting a trial run.- External factors -The expanded canal is considered a "national project" that aims to revive an economy battered by political upheaval since the 2011 ouster of longtime leader Hosni Mubarak.It is part of a plan to develop the surrounding area into an industrial and commercial hub that would include the construction of ports and provide shipping services.The government is aiming for an annual gross domestic product growth rate of seven percent for an economy traditionally driven by tourism and canal revenues.Tourism has plummeted, however, with last year's 10 million visitors sharply down from 2010 when 15 million foreigners visited Egypt.The authorities hope the new waterway will more than double Suez earnings from $5.3 billion expected at the end of 2015 to $13.2 billion in 2023.Mameesh said about a million jobs are expected to be created around the canal over the next 15 years.Analysts doubt the forecasts."There will be an increase in revenues, but are these figures credible?" asked Carnegie's Adly."It's not just about the increase in traffic… it's also related to external factors such as growth in global trade itself."Built 146 years ago, the original canal is one of the world's most heavily used shipping lanes and a key focus of international trade.Its expansion is a major achievement for Sisi, but Egypt needs many projects to turn around its dilapidated economy, Fawaz Gerges of the London School of Economics and Political Science told AFP."The administration will capitalise on this project to showcase economic growth, but it is unlikely to resolve challenges facing the economy," he said.
Fukushima operator says 20 tons of rubble lifted from reactor
 21 hours ago 
The fourth floor of the unit four reactor building of TEPCO's Fukushima Dai-ichi nuclear power plant in Okuma, Fukushima prefecture, 2011 (AFP Photo/)The operator of the crippled Fukushima nuclear plant said it has removed a 20-ton piece of rubble from a destroyed reactor in what it called a "major step forward" in decommissioning.After months of planning, Tokyo Electric Power Co (Tepco) said it used giant cranes on Sunday to lift one fuel handling machine, which was destroyed when a quake-sparked tsunami sent some of the plant's reactors into meltdown in March 2011.The company described the delicate operation as a critical step toward clearing highly radioactive spent fuel rods from the cooling pool inside its badly damaged Reactor number 3.The fuel handling machine was a key part of the process that transferred nuclear fuel assemblies into the reactor core."It paves the way for continued progress and is a milestone in reducing the risk of removing spent fuel assemblies," said the company's chief decommissioning officer Naohiro Masuda.Removing fuel from the pool at the site's reactors is scheduled to last until the second half of 2021.However, decommissioning efforts to clean up the debris at the shattered plant are expected to last some four decades.The announcement comes several days after the government said compensation costs from the worst nuclear disaster since Chernobyl in 1986 are expected to be more than $57 billion.Tokyo has poured billions of dollars into the embattled company to keep it afloat as it stumps up cash for decommissioning the reactors, cleaning up the mess from the disaster and paying compensation.
Watch: Virgin Atlantic Plane Overtaken By 'UFO' Over Skies Of New York
 15 hours agoThis is the spooky moment a jumbo jet taking off from New York was seemingly overtaken in the air by a UFO.The incredible footage shows the Virgin Atlantic plane flying from JFK airport before a mystery object is seen in the distance flying quickly past it.So far, there doesn't seem to be any explanation other than that the object is a flying saucer piloted by an alien.At least, that's according to Rick from LookNowTV, who insists the person who filmed the clip is not a hoaxer.He said: "The person that saw this UFO at JFK films planes often and looks to catch UFOs on video…"I thought this one doesn't look like a bug or another plane in the background."I have no reason to believe this guy is a hoax. It's really unidentified."
(Mercury Press)However, Rick's theory doesn't hold water with Brit UFO expert Russ Kellett, who said the object could be "anything".He added: "It doesn't look to be a bird or anything like that but at a different angle it could be anything."You can believe in UFOs and be logical about images as well."It comes behind from the aeroplane's tail, you can tell it's behind but it does move sort of like a bird, when something's moving when the wings are flapping."If it's moving away, it will give that appearance."So if it isn't a bird, and it isn't a plane, then it's Superman, obviously.
Building cranes topple onto houses in Netherlands
 6 hours ago
Two cranes that have fallen onto houses in Alphen aan den Rijn on August 3, 2015 (AFP Photo/Lex Van Lieshout)The Hague (AFP) – Two large building cranes working on a bridge upgrade in the Netherlands fell over and toppled onto nearby houses and shops on Monday, in a dramatic moment that was captured on camera but caused no major injuries.Local authorities in the western town of Alphen aan den Rijn said there were no victims in the incident, while local media reported that one man had been plucked from the rubble complaining of hip pain. A dog was found dead among the debris."While we did not dare hope it when we saw the footage, at this point it seems there are no casualties," Mayor Liesbeth Spies said in a statement.Initially, firefighters had said about 20 people had been wounded, a figure they later retracted."Two cranes and the stretch of roadway they were carrying fell on five (buildings) in all," Ton Koot, brigade spokesman for firefighters of the central Holland region, told AFP.Rescuers, working with sniffer dogs, rushed to the scene and spent several hours combing through the rubble for victims before calling off the search around 11:00 pm (2100 GMT).Dutch prosecutors have opened an investigation into the accident and three people have voluntarily presented themselves to the local police station in connection with the probe, Dutch news agency ANP reported.A security perimeter has been set up around the site, leaving the residents of 51 houses unable to sleep in their homes tonight.Mayor Spies said it was a "terrible accident". "There is a lot of material damage," she added.The cranes, working from barges, were renovating the Queen Juliana Bridge, a canal bridge dating from the 1950s, when the first machine went down.Unbalanced by the extra load, the second crane then collapsed as well.The drama was captured in amateur footage shot by a local resident who was following the progress of the bridge works from his balcony.
Whale appears alongside yachts in luxury Argentine area
 By PETER PRENGAMAN7 hours ago
BUENOS AIRES, Argentina (AP) — A whale appeared in the marina of one of Buenos Aires' most exclusive neighborhoods Monday, periodically surfacing alongside luxury yachts while hundreds of onlookers tried to capture the moment with smartphones.The whale first surfaced in the early afternoon in Puerto Madero, an upscale area of towering office buildings and high-end lofts. In the middle of the area is a body of water the size of a few square blocks where many residents keep boats.News of the whale quickly spread on social media and was broadcast live by local stations, prompting hundreds to line up along the port area to catch a glimpse."We were at home having lunch when we saw it on the news and said, 'We have to see this for ourselves,'" said Rosana Saavedra, a teacher who came with her husband and teenage daughter. "We were so curious. What is this whale doing here?"Puerto Madero was built in the late 19th century to better accommodate an increasing number of ships coming into Buenos Aires, one of South America's largest port cities. After decades of decay, it was transformed by a major urbanization project in the 1990s and today is one of the city's trendiest districts.Authorities had not identified the type of whale, and it was unclear how they would get it back to the ocean. A port police boat was seen going up and down the waterway, apparently trying to lure the animal to the connecting Rio de la Plata river, which feeds into the Atlantic.
People watch a lost whale in Puerto Madero, Buenos Aires, Argentina, Monday, Aug. 3, 2015. Authoriti …Police at the scene declined to answer questions. Calls to the Puerto Madero police headquarters were not answered.Within a few hours, the normally sedate quarter with pricey coffee and pastry shops had a carnival feel as vendors sold cotton candy and soda and families with small children kept an eye out for the whale.Each time the whale surfaced, people in the crowd gawked and rapid-fire clicks of cameras pierced the air.Many Argentines, known for their quick wit and humor, were ready with jokes.Irene Fernandez, who owns a condo a block from the water, said she was surprised by the crowd when she came out for her afternoon walk. She asked a police officer what was happening and was told a whale had appeared.
A lost whale swims near boats in Puerto Madero, Buenos Aires, Argentina, Monday, Aug. 3, 2015. The w …"I always see whales walking around here," she said, making a play on the word "ballena" in Spanish, which Argentines sometimes use to refer to politicians and people who are portly.Still, there was also worry about what might happen to the creature."It's really said," said Daniela Ritta, who works at a bank around the corner from the marina and went with colleagues to have a look. "This is not its natural habitat. The poor whale is clearly lost."Mariano Sironi, scientific director of the Whale Conservation Institute in Argentina, initially said the animal appeared to be a minke or a humpback whale. But later, after viewing video and talking with a colleague, he said he thinks it is a humpback.Sironi said whales sometimes get disoriented and swim upstream in rivers. When that happens, the animal often needs help to get back to sea, which usually involves using boats to direct it back from the direction it came.A fresh-water environment like a marina can hurt the skin of whales, provides no food and also makes it harder for them to swim because the water doesn't have the buoyancy effect of salt in the ocean, Sironi said.While there is no time limit on how long a whale can live in fresh water, "every day it will get weaker and be in worse health," he said._Peter Prengaman on Twitter: http://twitter.com/peterprengaman
Similar UFOs Appear Over Japanese, U.S. Cities Strange lights over Osaka and Milwaukee.Lee SpeigelWriter, reporter, editor
Posted: 08/03/2015 10:45 AM EDT
Two separate cases of unusual-looking lights — over cities on different continents — were captured on video, prompting speculation that the objects were everything from alien life forms to popular Chinese lanterns.
The composite image above shows the aerial anomalies over Osaka, Japan, (left) and Milwaukee, Wisconsin, (right) within days of each other.The first event was videotaped and 
posted to Facebook
 by a Wisconsin police officer near Milwaukee on July 25. Officer Gustavo Rojas said he and his partner saw the lights slowly maneuvering around the sky, forming strange patterns before they eventually vanished.
NOTE:
 The following video of the Rojas encounter contains strong language:Days after the Wisconsin UFO video was posted, a second one arrived.RT, the 
Russian television channel
, published a story on July 29 about a low-quality video, showing 10 white, circular objects above Osaka.It's unclear when the video, shown below, was taken. RT says the footage shows "mysterious round objects moving quickly in the sky, while following a dance-like pattern."Comments on the story suggested explanations that included blurry birds, two strings of tethered objects, downright hoaxes, hot air balloons and 
Chinese lanterns
.Of course, as is the case with so many UFO sightings, some believed Osaka and Milwaukee had been visited by passing extraterrestrials. At the beginning of the week, Milwaukee's NBC News affiliate, WTMJ, wasn't sure what the objects were that had been seen slowly gliding and falling from the sky on July 25.By the end of the week, the 
mystery appeared to be solved
 when a member of an elite Army parachute team, 
The Golden Knights
, came forward to say it was his group that was seen over Milwaukee, performing during the city's annual German Fest events."We wear seven sticks of pyro on our left foot in a very similar fashion to how we wear smoke," Staff Sgt. Mick Koch told WTMJ. Koch told the station his team left the plane together, in a single formation, before splitting off separately, resulting in the numerous "UFO" reports and videos that night.While that may take the wind out of people who thought they were seeing visiting ETs over Milwaukee, there's still no official word on what those floating and "dancing" lights were in Osaka. It's all still, literally, up in the air.