Intense Colorado flash flooding tosses cars like toys in a bathtub
BY BRIAN KOERBERSevere thunderstorms brought hail, flash flooding and heavy rains to the Colorado Springs area in Colorado on Monday, dropping almost two inches of rain in 45 minutes, according tometeorologist Rachael Plath.The flash flooding was especially intense in the Manitou Springs area on the west side of the city.Among the damage, Ryan Halla shared a clip of flooding which took over Stoneridge Drive in Colorado Springs, moving parked cars with ease.SEE ALSO: Massive waves thrash Taiwan as Typhoon Soudelor makes landfallBREAKING WEATHER ALERT: This is video from just a short time ago on Stoneridge Drive off of Flying W Ranch Road on the west side of Colorado Springs. Thanks to Ryan Halla for sharing this video.Posted by KKTV 11 News on Monday, August 10, 2015BREAKING WEATHER ALERT: This is Stoneridge Drive off of Flying W Ranch Road. Cars floated down the road.Posted by KKTV 11 News on Monday, August 10, 2015Another clip shows a failed floodway in Manitou Springs, which was working until the grate clogged with debris, forcing the water onto the street instead of into a drain.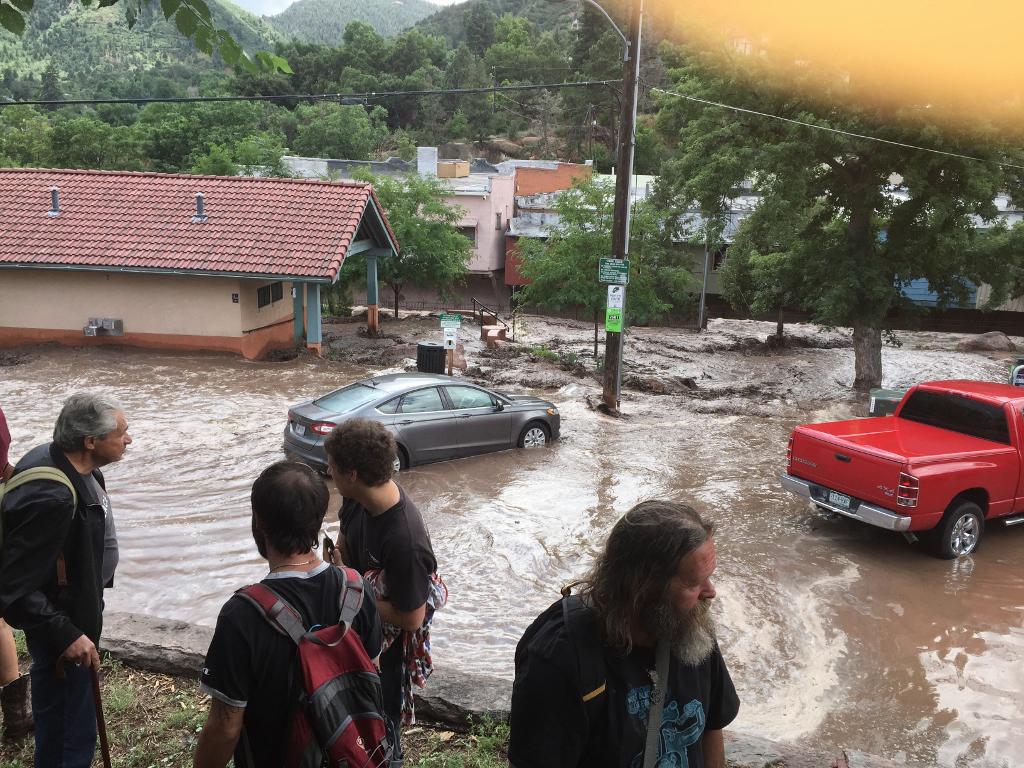 Follow
djrosenberry @djrosenberryMy heart is breaking. My poor little town! No more downpours, please! (Photo: Keith L. Morrish) #ManitouSprings cowx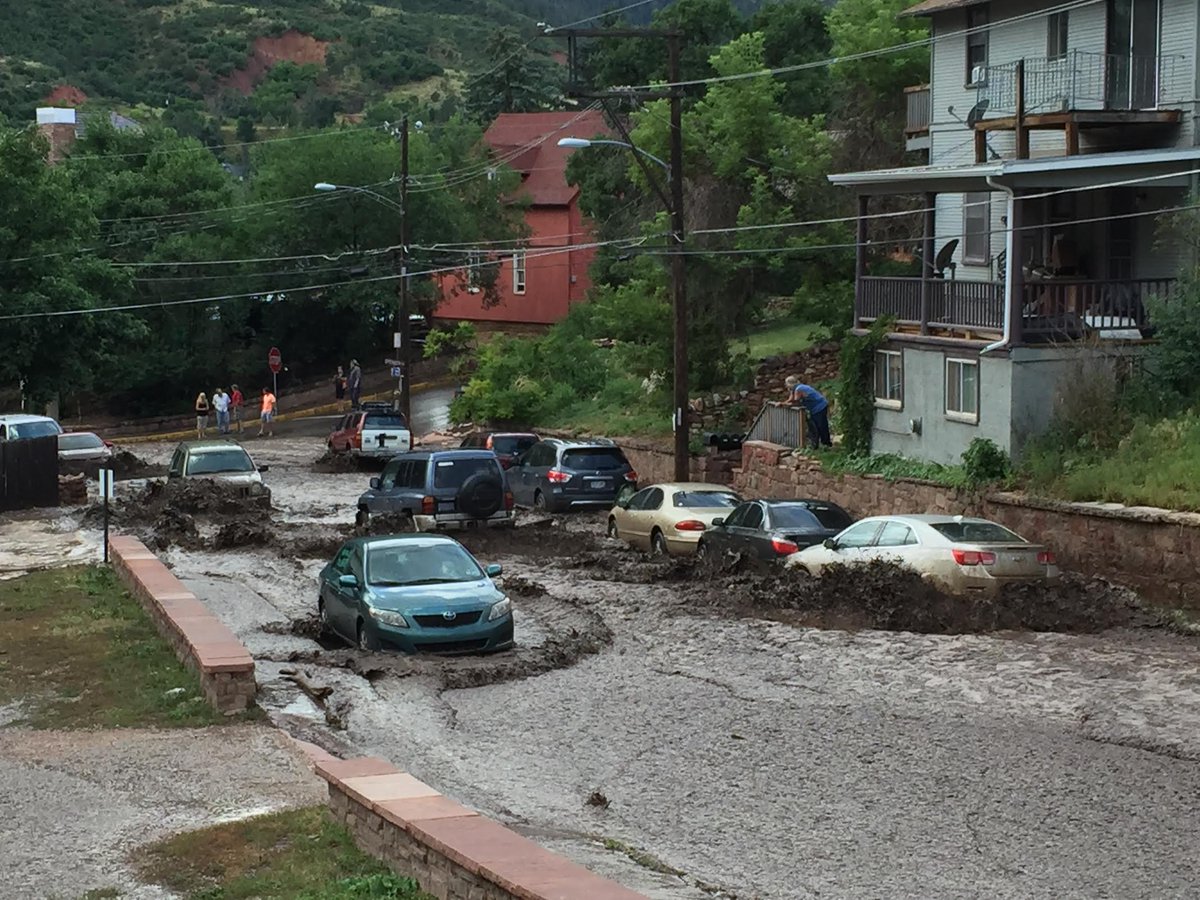 Follow
Annie Snead @AnnieSnead From one of our viewers in Manitou: Taken from Timberline Baptist Church when the flooding began #News5 #cowxAnd another provides a perspective of the flooding in Manitou almost from start to finish. The flooding there was particularly intense because heavy rain fell on the burn scar left by the Waldo Canyon fire in 2012, which forced the evacuation of parts of Colorado Springs.Burn scars are especially vulnerable to flash flooding since water runs quickly off of such areas, rather than being absorbed and slowed by trees and other vegetation.Although no major injuries or deaths were immediately reported, the Colorado Springs Police department was placed on Cold Report Accident status, allowing police to prioritize severe car accidents. When in place, citizens do not need to call police for minor accidents and can fill out their own reports online.Have something to add to this story? Share it in the comments.
Wildfire burning near massive blaze expands
 2 hours ago
LOWER LAKE, Calif. (AP) — A wildfire that erupted near a destructive blaze in Northern California's rural, rocky hills expanded farther.Related Stories
The blaze had burned 9 square miles by Monday afternoon, the California Department of Forestry and Fire Protection said. It broke out several miles away from the community of Lower Lake Sunday afternoon and quickly spread.Evacuations have been ordered for the fire that ignited Sunday and doubled in size overnight.Authorities couldn't say how many homes were evacuated or how many people were told to be prepared to flee. Containment of the fire about 100 miles north of San Francisco was not in sight.Firefighters and air tankers battling the bigger nearby fire were reassigned to attack the new blaze. No homes have been destroyed and no injuries have been reported.Meanwhile, firefighters have nearly surrounded the larger blaze that started about two weeks ago and burned 109 square miles.That fire destroyed 43 homes, but all evacuations have been lifted. Students in the Middletown Unified School District could start classes next Tuesday, but it might be later depending on where the fire burns.Fire officials are investigating the causes of both fires. There have been five arson arrests related to smaller fires in five weeks.Here's a look at other wildfires burning up Western states:___
In this Saturday, Aug. 8, 2015 photo, smoke billows over Topock Marsh in the Mohave Valley south of  …EVACUATIONS LIFTED Authorities lifted evacuation orders for most of the 1,000 homes threatened by a wildfire near the Arizona-California line, one of several blazing across the tinder-dry West.The fire in Arizona's Mohave Valley area chewed through 10 square miles and remained uncontrolled Monday.Evacuation orders were lifted for 900 homes after crews made solid efforts in protecting them and conditions became more favorable, said Byron Steward, Mohave County emergency management coordinator.The wildfire broke out Saturday in the Havasu National Wildlife Refuge. Authorities say it has burned 11 homes but it was not known if they were damaged or destroyed.The fire's cause is under investigation._MOTOR-HOME BLAZE SPARKS WILDFIREA motor-home fire-turned-wildfire in rural Riverside County has surged to about 500 acres, forcing evacuations and leaving one person with a burn injury and three firefighters with minor injuries.
In this Saturday, Aug. 8, 2015 photo, smoke billows over Topock Marsh in the Mohave Valley south of  …The blaze off State Route 74 near Anza started as a motor home blaze that spread to vegetation on Monday afternoon.State fire officials say one person from the motor home had serious burns, but only to about 3 percent of their body. Three firefighters were taken to hospitals with minor injuries suffered while taking on the blaze.   Residents of five streets in the area have been told to evacuate, but it's not clear how many homes or people are affected. The fire is about halfway between Temecula and Palm Desert. It's 10 percent contained. ___FIREFIGHTERS KILLED A U.S. Forest Service firefighter was killed in the Lake Tahoe area after he was struck by a tree while battling a wildfire — the second firefighter killed in a California blaze since the summer wildfire season got underway.Michael Hallenbeck, 21, of Shingle Springs, California, was hit Saturday during the initial attack on a fire that broke out south of the Echo Summit mountain pass.On July 30, a firefighter was killed by a wildfire in the Modoc National Forest while he scouted the area for ways to fight the blaze. Forest Service firefighter David Ruhl, of Rapid City, South Dakota, had been on temporary assignment since June in California.On Sunday, hundreds of people turned out in Rapid City to pay their respects at a procession and memorial service for Ruhl. Forest Service Associate Chief Mary Wagner attended, saying Ruhl's death was "felt by every member of the Forest Service."___ELSEWHERE IN THE WEST— Overcast skies and higher humidity helped fire crews get a preliminary line around a wildfire in Lewis County, Washington. Evacuations have been lifted, and there have been no reports of injuries.While the cooler weather is helping firefighting efforts, crews are keeping an eye on thunderstorms that are in the forecast for later Monday— Fire crews are working to control a blaze that has spread across nearly 2 square miles on Oahu, Hawaii, and led to evacuations. No structures were damaged Monday. Part of Highway 270 closed when a pile of timber caught fire.— A fire that started nearly three weeks ago near St. Mary Lake in Montana's Glacier National Park has burned nearly 7 square miles and is more than half contained.— This summer's fire season has officially become the second biggest on record in Alaska. More than 5.08 million acres — or 7,940 square miles — have burned this year. Fire spokesman Sam Harrel says Alaska won't beat the 6.6 million acres burned in 2004 because the state has entered its seasonal wet period.Forget Sykes-Picot. It's the Treaty of Sèvres That Explains the Modern Middle East. Ninety-five years ago today, Europe carved up the Ottoman empire. That treaty barely lasted a year, but we're feeling its aftershocks today. BY NICK DANFORTH AUGUST 10, 2015
Ninety-five years ago today, European diplomats gathered at a porcelain factory in the Paris suburb of Sèvres and signed a treaty to remake the Middle East from the ashes of the Ottoman empire. The plan collapsed so quickly we barely remember it anymore, but the short-lived Treaty of Sèvres, no less than the endlessly discussed Sykes-Picotagreement, had consequences that can still be seen today. We might do well to consider a few of them as the anniversary of this forgotten treaty quietly passes by.In 1915, as British troops prepared to march on Istanbul by way of the Gallipoli peninsula, the government in London printed silk handkerchiefsheralding the end of the Ottoman empire. It was a bit premature (the battle of Gallipoli turned out to be one of the Ottomans' few World War I victories) but by 1920 Britain's confidence seemed justified: With allied troops occupying the Ottoman capital, representatives from the war's victorious powers signed a treaty with the defeated Ottoman government that divided the empire's lands into European spheres of influence. Sèvres internationalized Istanbul and the Bosphorus, while giving pieces of Anatolian territory to the Greeks, Kurds, Armenians, French, British, and Italians. Seeing how and why the first European plan for dividing up the Middle East failed, we can better understand the region's present-day borders, as well as the contradictions of contemporary Kurdish nationalism and the political challenges facing modern Turkey.Within a year of signing the Treaty of Sèvres, European powers began to suspect they had bitten off more than they could chew. Determined to resist foreign occupation, Ottoman officers like Mustafa Kemal Ataturk reorganized the remnants of the Ottoman army and, after several years of desperate fighting, drove out the foreign armies seeking to enforce the treaty's terms. The result was Turkey as we recognize it today, whose new borders were officially established in the 1923 Treaty of Lausanne.Sèvres has been largely forgotten in the West, but it has a potent legacy in Turkey, where it has helped fuel a form of nationalist paranoia some scholars have called the "Sèvres syndrome." Sèvres certainly plays a role in Turkey's sensitivity over Kurdish separatism, as well as the belief that the Armenian genocide — widely used by European diplomats to justify their plans for Anatolia in 1920 — was always an anti-Turkish conspiracy rather than a matter of historical truth. Moreover, Turkey's foundational struggle with colonial occupation left its mark in a persistent form of anti-imperial nationalism, directed first against Britain, during the Cold War against Russia, and now, quite frequently, against the United States.But the legacy of Sèvres extends well beyond Turkey, which is precisely why we should include this treaty alongside Sykes-Picot in our history of the Middle East. It will help us challenge the widespread notion that the region's problems all began with Europeans drawing borders on a blank map.There's no doubt that Europeans were happy to create borders that conformed to their own interests whenever they could get away with it. But the failure of Sèvres proves that that sometimes they couldn't. When European statesmen tried to redraw the map of Anatolia, their efforts were forcefully defeated. In the Middle East, by contrast, Europeans succeeded inimposing borders because they had the military power to prevail over the people resisting them. Had the Syrian nationalist Yusuf al-'Azma, another mustachioed Ottoman army officer, replicated Ataturk's military success and defeated the French at the Battle of Maysalun, European plans for the Levant would have gone the way of Sèvres.Would different borders have made the Middle East more stable, or perhaps less prone to sectarian violence? Not necessarily. But looking at history through the lens of the Sèvres treaty suggests a deeper point about the cause-and-effect relationship between European-drawn borders and Middle Eastern instability: the regions that ended up with borders imposed by Europe tended to be those already too weak or disorganized to successfully resist colonial occupation. Turkey didn't become wealthier and more democratic than Syria or Iraq because it had the good fortune to get the right borders. Rather, the factors that enabled Turkey to defy European plans and draw its own borders — including an army and economic infrastructure inherited from the Ottoman empire — were some of the same ones that enabled Turkey to build a strong, centralized, European-style nation-state.Of course, plenty of Kurdish nationalists might claim that Turkey's borders actually are wrong. Indeed, some cite Kurdish statelessness as a fatal flaw in the region's post-Ottoman borders. But when European imperialists tried to create a Kurdish state at Sèvres, many Kurds fought alongside Ataturk to upend the treaty. It's a reminder that political loyalties can and do transcend national identities in ways we would do well to realize today.The Kurdish state envisioned in the Sèvres Treaty would, crucially, have been under British control. While this appealed to some Kurdish nationalists, others found this form of British-dominated "independence" problematic. So they joined up to fight with the Turkish national movement. Particularly among religious Kurds, continued Turkish or Ottoman rule seemed preferable to Christian colonization. Other Kurds, for more practical reasons, worried that once in charge the British would inevitably support recently dispossessed Armenians seeking to return to the region. Some subsequently regretted their decision when it became clear the state they had fought to create would be significantly more Turkish — and less religious — than anticipated. But others, under varying degrees of duress, chose instead to accept the identity the new state offered them.Many Turkish nationalists remain frightened by the way their state was destroyed by Sèvres, while many Kurdish nationalists still imagine the state they might have achieved. At the same time, today's Turkish government extolls the virtues of Ottoman tolerance and multiculturalism, while Kurdish separatist leader Abdullah Ocalan, apparently after reading the sociologistBenedict Anderson in prison, claims to have discovered that all nations are merely social constructs. The governing Justice and Development Party (AKP) and the pro-Kurdish HDP spent much of the last decade competing to convince Kurdish voters that a vote for their party was a vote for peace — competing, that is, over which party was capable of resolving Turkey's long-simmering conflict by creating a more stable and inclusive state. In short, as many Americans still debate the "artificial" nature of European-made states in the Middle East, Turkey is fitfully transcending a century-long obsession with proving how "real" it is.Needless to say, the renewed violence Turkey has seen in the past several weeks threatens these fragile elements of a post-national consensus. With the AKP calling for the arrest of Kurdish political leaders and Kurdish guerrillas shooting police officers, nationalists on both sides are falling backinto familiar, irreconcilable positions. For 95 years, Turkey reaped the political and economic benefits of its victory over the Treaty of Sèvres. But building on this success now requires forging a more flexible political model, one that helps render battles over borders and national identity irrelevant.
Here's what would happen if the sun disappeared right now
 By Jessica Orwig6 hours ago
(NASA/SDO/AIA/Goddard Space Flight Center ) Inspired by this intriguing YouTube video, we're going to dive into the tantalizing question:What would happen if the sun disappeared this very second?The sun is about 333,000 times the mass of Earth and produces the same amount of energy as 100 billion hydrogen bombs every second!Its giant mass makes the sun the dominant gravitational force in the solar system that locks all eight planets into eliptical orbits.At the same time, the sun's enormous energy heats our planet just enough so that Earth's surface is the right temperature for liquid water — the catalyst for life.But what would happen if we lost the sun? What would we feel and see if all of a sudden if just went poof!What might seem like a silly question on the surface was actually an important thought experiment for Albert Einstien.The speed of gravityy
(Image Editor on Flickr) Before Einstein attacked this problem, scientists suspected — but hadn't proved — that gravity acted instantaneously.If that were true, then the first thing that would happen when the sun disappeared is that Earth, along with all the other planets, would go flying off into space. It would be complete and utter chaos in our solar system.Light, on the other hand, is not instantaneous: It travels at approximately 671 million miles per hour and takes roughly 8 minutes to reach Earth. Therefore, we would still see the sun in our sky eight minutes after it was gone.So, if the speed of light is a constant and the speed of gravity is instantaneous, then we would feel the sun's disappearance before we saw it.But, as Einstein showed in in his theory of general relativity that he introduced in 1915, the force from gravity is not instantaneous. In fact, it travels the same speed as light!Therefore, if the sun disappeared, we would remain blisfully unaware for eight minutes that inevitable doom was upon us.Eternal night
(Sergio Garcia Rill) We wouldn't be left in complete and utter darkness, however.The stars would still shine, and electricity would continue to work so cities would remain lit for as long as the power lasted, and even the planets would remain visible for a brief time.For example, when Jupiter is closest to Earth it's about 33 light minutes away, which means we would continue to see the giant planet for over an hour — the time it would take for the resdiaul light to reach Jupiter and reflect back to Earth — after the sun was gone.But after eight minutes, one thing on Earth would come to a screeching hault, explains Michael Stevens, who founded and stars in the widely popular YouTube channel Vsauce. Without sunlight, photosnythesis — the process by which all plants generate food — would stop the second the sunlight winked out in our sky.Most small plants woule die within a matter of days, but that's not what we should be worried about: Earth's average surface temperature would drop to 32 degrees Fahrenheit after the first week, and then to negative 150 degrees Fahrenheit by the end of the first year.All the while, Earth's oceans would grow ever colder, eventually freezing over, transofrming Earth into an ice world. But just like deep lakes in winter, only the surface would freeze, leaving a liquid ocean underneath. If any humans survived this extreme transformation, their only refuge, according to Stevens, would be near geothermal vents on the ocean floor. These vents emit heat that wells up from the enter of the Earth.Life on Earth would thrive for billions of years
(Courtesy Chris German, WHOI/NSF, NASA/ROV Jason C: 2012 Woods) This way of life would be miserably dark and lonely, and it is difficult to know whether humans would last long under these conditions.On the other hand, the animals that live around these vents today would continue surviving for billions of years after the sun vaniched. That's because these animals don't need the sun to live. Instead, they get their food and energy from the heat coming out of these geothermal vents.Therefore, most but not all life would be extinguished from our planet without the sun. These geothermal-loving organimss would last for billions of years after the sun vanished and after all other life froze into extintction.Oddly enough, this iceball Earth resembles some of the moons around Jupiter that astrobiologists suspect could harbor extraterrestrial microbes.What lies beyond
(ESO/L. Calçada) This artist's impression shows the planet orbiting the star Alpha Centauri B, a member of the triple star system that is the closest to Earth. Alpha Centauri B is the most brilliant object in the sky and the other dazzling object is Alpha Centauri A. Our own Sun is visible to the upper right. Right now, Earth is orbiting the sun at a blazing speed of 67,000 miles per hour. If the sun vanished, its gravitational pull would be gone, but Earth's speed would remain the same.To understand why, picture yourself tying a rock to the end of a string and then swinging that string in a circle over your head. Then you let go of the string. The rock goes flying in a straight line away from you, the same way that Earth would go flying in a straight line away from the central point in space where the sun used to sit.As long as Earth didn't collide with any other planets, asteroids, or comets, it would only take about 377,000 hours (43,000 years) for it to traverse 4.3 light years — the distance to the nearest star, Alpha Centauri. And after 1 billion years, Steven calculates, Earth would have traveled 100,000 light years, or the length of the entire Milky Way Galaxy.Who's to say our tiny planet wouldn't get picked up and pulled into orbit by another star or, perhaps, a black hole? The Milky Way harbors an estiamted 100 billion stars and as many as a billion black holes. Whatever the outcome, Earth's future after no sun would be an exciting adventure across the cosmos.Check out the two YouTube videos that inspired this post below:NOW WATCH: This drummer created a whole song using only the sound of coinsMore From Business Insider  How to watch the most incredible meteor shower of the year this week ;What it would be like to live on the hottest planet in our solar system ;Tesla's cars and NASA's Mars rovers have this one mysterious material in common
Ailing Thai king treated for 'water on the brain'
 3 hours ago
The 87-year-old King Bhumibol Adulyadej, who is perceived as a near-deity by many Thais, has been in Bangkok's Siriraj Hospital since being re-admitted in May (AFP Photo/Pornchai Kittiwongsakul)Thailand's revered but ailing King Bhumibol Adulyadej has been treated for "water on the brain" and a chest infection, the palace has revealed in a rare statement, amid public concern over the health of the world's longest serving monarch.The 87-year-old king, who is perceived as a near-deity by many Thais, has been in Bangkok's Siriraj Hospital since being re-admitted in May, but information on his condition has been scarce.Doctors at the hospital have "reduced the level of water in his brain", the Royal Household Bureau said in a statement on Monday."During his stay at the Siriraj, he has had fever periodically and a raised heartbeat — assumed to be caused from an earlier lung infection," it said, adding his heart rate had returned to normal after treatment.Fears over Thailand's future as Bhumibol's reign enters its twilight years are seen as a motivating factor behind a decade of political turmoil in the kingdom that has seen two coups and several rounds of violent street protests.Royalist generals seized power in a coup in May 2014 after weeks of protests against the civilian government of Yingluck Shinawatra, whose family and their proxies have won every election since 2001.The Shinawatras are loathed by the royalist elite who accuse them of widespread corruption and subverting the kingdom's political status quo.Thailand's generals have said they will hand back power once the constitution has been rewritten and corruption expunged.But critics say the military has used its self-designated status as the defender of the monarchy as a pretext to grab power and ensure the Shinawatras never return to politics.The king's health is a controversial topic. The Thai monarchy is shielded by one of the world's toughest lese majeste laws and prosecutions have increased dramatically since the military took over.A man was jailed for 30 years on Friday for "insulting" the monarchy on Facebook, in one of the toughest known sentences for royal defamation.Media have to routinely self-censor when reporting on the monarchy for fear of falling foul of the broadly worded law.
Universe 'resting on sofa' as it slowly dies
 8 hours ago
This photo released by the European Southern Observatory on August 6, 2015 shows a composite picture of how a typical galaxy appears at different wavelengths in the GAMA survey (AFP Photo/)Sydney (AFP) – The Universe is experiencing a slow death, like a person resting on the sofa awaiting eternal sleep, according to astronomers from a project which measured the energy generated by 200,000 galaxies.The international team carried out the most precise measurements of energy generation in a large portion of space ever completed and found that it is only half of what it was two billion years ago and fading."The Universe is fated to decline from here on in, like an old age that lasts forever," said Simon Driver from the International Centre for Radio Astronomy Research (ICRAR) in Western Australia."The Universe has basically plonked itself down on the sofa, pulled up a blanket and is about to nod off for an eternal doze."Researchers used seven of the world's most powerful telescopes to observe galaxies at 21 different wavelengths, from ultraviolet to the far infrared, as part of the Galaxy and Mass Assembly Survey (GAMA).Observations collected over eight years from the Anglo-Australian Telescope in rural New South Wales state were used in conjunction with those from orbiting space telescopes operated by NASA and the European Space Agency."We used as many space and ground-based telescopes we could get our hands on, to measure the energy output of over 200,000 galaxies across as broad a wavelength range as possible," said Driver, who is presenting the findings to the International Astronomical Union in Hawaii on Monday.- Galactic slowdown -Driver said while most of the energy sloshing around in the Universe was created in the aftermath of the Big Bang, additional amounts were constantly being released by stars as they fused elements such as hydrogen and helium together."This newly released energy is either absorbed by dust as it travels through the host galaxy, or escapes into intergalactic space and travels until it hits something such as another star, planet, or very occasionally a telescope mirror," he said.Andrew Hopkins, from the Australian Astronomical Observatory, said while it had been known for some time that the rate at which the Universe was forming stars was declining, the new data showed that the rate of energy production was reducing the same way across all different wavelengths."It doesn't matter which wavelength you look at the Universe in, it is slowing down in its energy production in the same way," Hopkins told AFP via telephone from Hawaii."As the Universe expands and as the rate of expansion accelerates we know that the rate at which galaxies can continue to evolve is going to slow down and this is reflected in the rate that we have been able to measure of how fast they are forming their stars."It is hoped that the survey data will help scientists better understand how different types of galaxies form.Researchers also want to expand their work to map energy production over the entire history of the Universe using new facilities, including the world's largest radio telescope, the Square Kilometre Array, which is set to be built in Australia and South Africa over the next decade.