Western wildfires: Firefighters to get additional resources
 By The Associated Press3 hours ago Firefighters across the West saw little relief over the weekend as wildfires raged in the drought-stricken region, but for those in Washington, other states will soon provide additional resources.Related Stories
A look at large Western wildfires:___
Homeowner Brad Craig, right, thanks departing firefighters who he said saved his home from a wildfir …WASHINGTON Fire officials say a complex of wildfires burning in north-central Washington has grown to cover 374 square miles. Infrared mapping found the fires spread about 19 square miles Saturday evening.Fire spokeswoman Suzanne Flory says there could be some explosive fire growth Sunday if a cap of smoke lifts from Okanogan County, as has been forecast. When the smoke lifts on a wildfire, humidity drops, heat rises and fires can flare up. Flory says it's similar to what happens when the flue is opened on a fireplace.
The skeletal remains of a house and garage stand after the structure was destroyed in a wildfire ear …Flory says the good news is that less smokes means restrictions on air travel will be lifted and more fire tankers can fly over and drop water and chemical retardant.Meanwhile, officials have downgraded some evacuation notices, allowing some people to return to their homes.On Sunday evening, the state Department of Health said that should nearby wildfires reach the site of a now-defunct uranium mine in Stevens County in eastern Washington, the smoke won't be any more toxic than the standard smoke from a wildfire.In an announcement, the department said that radioactive materials at the Midnight Mine, which is about three miles northwest of Wellpinit on the Spokane Reservation, "won't exacerbate the dangers of wildfire smoke if the fires overtake the site as the naturally occurring radioactive material stays in its original rock form and does not burn."_CALIFORNIAPlanes and helicopters were making major liquid drops on a wildfire that broke out Sunday afternoon near a ski resort in the San Bernardino Mountains, bringing the first gains against the blaze.The U.S. Forest Service says the fire near Snow Summit Ski Resort south of Big Bear Lake has forced evacuation orders for about 400 homes, many of them cabins and vacation houses.It has grown to 85 acres, but it is 10 percent contained.Water cannons from the ski resort usually used for making snow are being pointed toward the fire.
A firefighting helicopter flies past a dark red sun and through a deep haze that blanketed the Okano …Earlier Sunday, firefighters were gaining ground against a wildfire that led to the evacuation of thousands of people and destroyed a lodge in Kings Canyon National Park.Despite relentlessly high temperatures, fire crews increased the blaze's containment to 7 percent, the U.S. Forest Service said. The wildfire has burned across more than 73 square miles of timber and brush left parched by the state's extended drought.At least 2,500 campers, hikers, employees and residents fled the area last week, including staffers and summer campers at The Hume Lake Christian Camp.Nobody was hurt when the Kings Canyon lodge, which bills itself as a folksy getaway for tourists, was burned to its foundation.The lightning-sparked blaze has been burning for three weeks. It is one of 15 wildfires burning across California.
In this photo taken on Friday, Aug. 21, 2015, Omak resident Pat Charles, right, shows Lake Roesiger  …__MONTANAFirefighters and residents are bracing for a return to more intense fire activity in western Montana where wildfires have scored thousands of acres and threatened some small communities.A fire weather watch posted Sunday warned that gusty winds and low humidity were expected Monday afternoon in Glacier National Park and the Kootenai and Flathead national forest areas.On Glacier's southern boundary, a wildfire is about a mile south of the town of Essex where about 100 area residents have been advised to be ready to evacuate.
A tree is engulfed in flames during a controlled burn near a fire line outside of Okanogan, Wash., o …Fire spokesman Jonathan Moor says crews are working to keep the fire away from the town but it's difficult to predict what the fire will do over the next couple of days.__OREGON Cooler temperatures and reduced winds helped firefighters on Saturday who were battling a large wildfire in Oregon south of the towns of John Day and Canyon City.Fire officials expect wind to pick up on Sunday, but since winds were expected to blow out of the southeast, they will send the fire back into an area that has already burned.The lightning-caused Canyon-Creek Complex of fires has burned about 109 square miles since Aug. 12.To the northeast, firefighters also made progress Saturday on the Grizzly Bear Complex of fires in northeast Oregon and southeast Washington. The five-lightning caused fires have burned more than 95 square miles since Aug. 13.
Tropical Storm Danny takes aim at Caribbean
 8 hours ago
This NASA image released August 22, 2015 shows Hurricane Danny, which has now been downgraded to a Tropical …Miami (AFP) – Tropical Storm Danny swirled toward the Caribbean Sunday as forecasters warned that some popular vacation destinations could see downpours.The storm — downgraded from a hurricane — was expected to bring two to four inches (five to ten centimeters) of rain to the Leeward Islands, the US and British Virgin Islands and Puerto Rico through Tuesday, the National Hurricane Center said.Danny was located some 215 miles (345 kilometers) east of Guadeloupe and 260 miles (420 kilometers) east southeast of Antigua, according to the latest update from the Miami-based forecasters.Currently packing maximum sustained winds of 50 miles per hour (85 kilometers per hour), Danny was expected to weaken further over the next 48 hours and become a tropical depression by late Monday or early Tuesday, according to the NHC.Tropical storm warnings are in effect for Antigua, Barbuda, Montserrat, St. Kitts, Nevis, and Anguilla.On its present trajectory, Danny's center is expected to move over the Leeward Islands late Sunday or early Monday.
World's fastest-melting glacier loses massive chunk in 2 daysWHAT'S THIS?An example of a calving front of a glacier, in this case, the Gyldenlove Glacier in Greenland.IMAGE: NASA
BY ANDREW FREEDMANOne of the world's most rapidly flowing glaciers may have just set another record, and it's not one not that bodes well for low-lying coastal cities and nations around the world, which are vulnerable to sea level rise.During the past month, a NASA satellite captured images showing a sudden loss of ice, also known as a calving event (or in this case, possibly multiple events) from Greenland's Jakobshavn Isbrae Glacier between July 31 and August 16, 2015.Images posted on the Arctic sea ice blog, which closely tracks developments in the Arctic, narrowed the timeline of the ice loss to between August 14 and 16. 
NASA satellite images on July 31, 2015 (first) and then on August 16, 2015 (second), showing the movement of the calving front further inland, or to the right.It's unclear if this sudden ice loss set a record, according to NASA."Some observers have speculated that the area of ice lost could be the largest on record. However, these estimates are preliminary, and satellite images from before and after an event cannot show whether the ice was lost all at once, or in a series of smaller events," NASA stated on its Earth Observatory website.Nevertheless, the event was significant because it once again signaled the rapidly changing ice conditions in Greenland as air and ocean temperatures increase."The calving events of Jakobshavn are becoming more spectacular with time, and I am in awe with the calving speed and retreat rate of this glacier," said Eric Rignot, a glaciologist at NASA's Jet Propulsion Laboratory, in a statement.Studies have shown that Jakobshavn's summer flow speeds have sped up dramatically during the past few decades, and this one glacier was responsible for raising global average sea level by about 1 millimeter, or .04 inches, between 2000 and 2010, a figure that is likely to increase as global warming continues.Jakobshavn retreated more than 25 miles between 1850 and 2010, and since 2010, the retreat has sped up dramatically.In fact, a 2014 study published in the open access journal Cryosphere found that the glacier was moving at average speeds of about half-a-mile per year, or more than 150 feet per day, during the summers of 2012 and 2013."We are now seeing summer speeds more than four times what they were in the 1990s, on a glacier which at that time was believed to be one of the fastest, if not the fastest, glacier in Greenland," said study author Ian Joughin, a glaciologist at the University of Washington, in apress release when that study was published.Jakobshavn is not just any old glacier. It's important because it helps drain a large portion of the Greenland Ice Sheet. As it moves faster, it transports more ice at a faster rate into the sea, adding to sea level rise."This glacier alone could contribute more to sea level rise than any other single feature in the Northern Hemisphere,""This glacier alone could contribute more to sea level rise than any other single feature in the Northern Hemisphere," NASA stated on its website.Given its rapid movement, Jakobshavn has been the scene of several famous large calving events, including one in July 2010, when the glacier shed a 2.7 square-mile chunk of ice in the span of 24 hours, pushing the calving front one mile further inland.Scientists think the ice loss has sped up so much because of a combination of warmer air temperatures during the short Greenland summers, as well as warmer ocean temperatures, which are undermining the glacier's ice tongue — the part that sticks out into the ocean and serves as a brake to all the ice behind it — speeding up the ice's movement into the sea.Climate scientists have raised alarms about such outlet glaciers in recent years, both in Greenland and Antarctica, because when they become unstable and move more swiftly into the sea, the ice they hold back begins to move as well, endangering low-lying coastal cities and countries around the world.View image on Twitter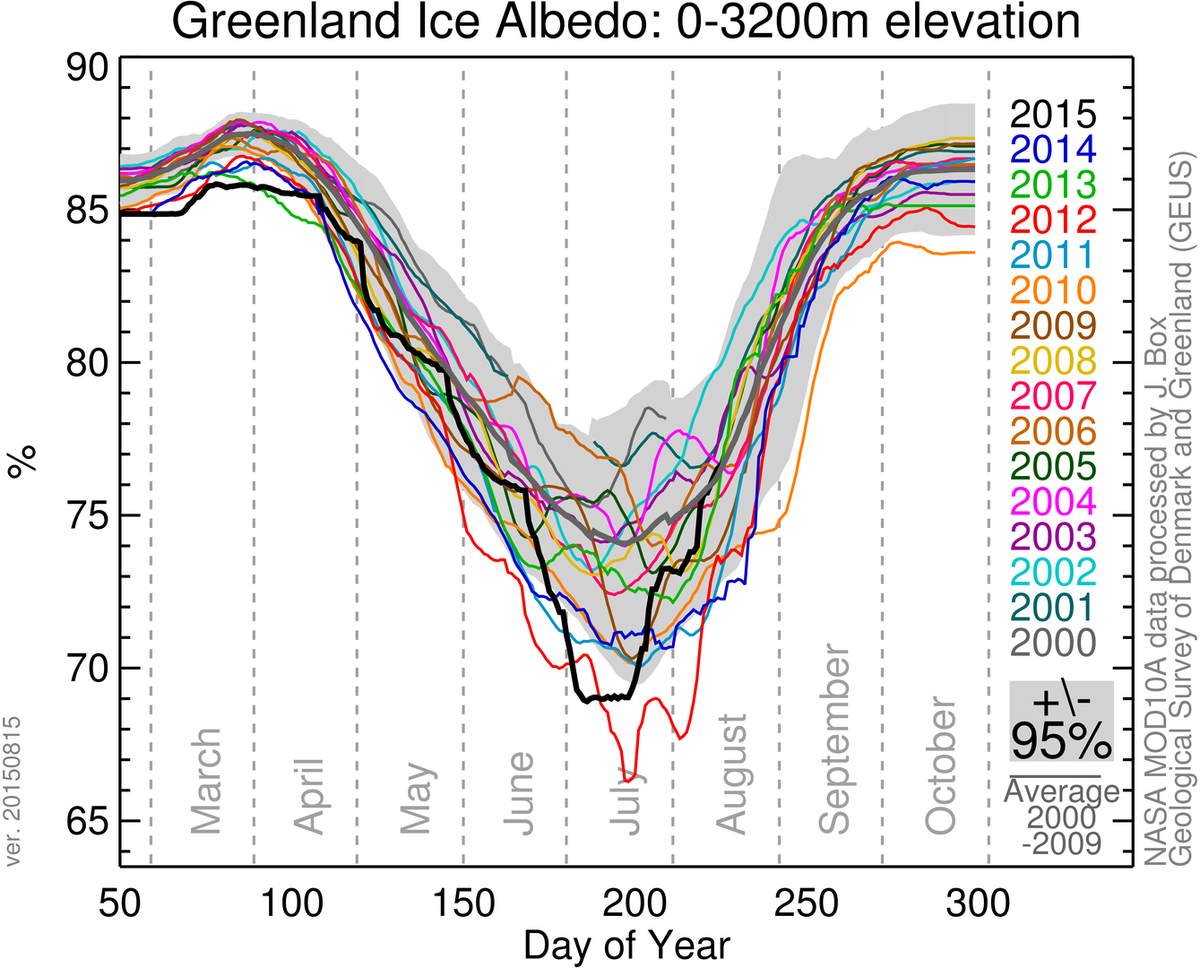 Follow
Jason Box @climate_iceaverage Greenland ice reflectivity rockets back to normal after dark JulyMassive calving event seen on the Ilulissat Glacier in western Greenland in 2008, as shown in the film "Chasing Ice."In the case of Jakobshavn, as the ice has retreated, the calving front has reached a deeper area of the fjord, and this has further sped up the melting.The calving front is now located in an area where the base of solid rock that it rests upon is more than 1,000 feet below sea level, making the glacier especially vulnerable to intrusions from relatively mild water as ocean currents in the regions change in response to global warming and other factors."What is important is that the ice front, or calving front, keeps retreating inland at galloping speeds," said NASA's Rignot, in a statement.Worries about Greenland's stabilityGreenland is the world's largest island, extending more than 1,200 miles from its southern to northernmost points, and if all of its ice were to melt — which would likely take many centuries — the oceans would rise by more than 20 feet.Already, the melting of the Greenland ice sheet is one of the largest contributors to global sea level rise, accounting for about .02 inches of the .13 inches per year global average sea level rise (local rates of sea level rise vary significantly).A study published last year found that glaciers long thought to be stable and resistant to rapid melting in northeastern Greenland, which tends to be colder than the area where Jakobshavn is, may nonetheless share the latter glacier's fate.The study, published in the journal Nature Climate Change, found that three glaciers holding back a vast ice stream in northeast Greenland, are now thinning and moving more rapidly into the sea.The most recent report from the U.N. Intergovernmental Panel on Climate Change (IPCC) found that global average sea level is likely to increase by 10.2 to 32 inches by the year 2100, with a highest emissions scenario showing a sea level rise of between 21 and 38 inches by the end of the century if greenhouse gas emissions continue to rise unabated.The recent observations from Jakobshavn and the glaciers in northeast Greenland, plus data showing the West Antarctic Ice Sheet may be increasingly unstable, suggest that sea level rise is likely to be at the higher end of the predicted range, if not significantly higher than that.As for this calving event, it's not yet clear where it falls in the recent history of Jakobshavn."Overall, I don't think that they really can nail the 'largest' [calving event] or not," wrote Richard Alley, a glaciologist at Pennsylvania State University, in an email to theWashington Post.Alley told the Post that the calving event may have occurred in several smaller installments, keeping it from setting a record for the single largest observed calving event."I wouldn't get too excited on this, even though it is not good news," he wrote.TOPICS: CLIMATE, GLACIER, GREENLAND, SEA LEVEL RISE, SPACE, U.S., WORLD
Activists: Islamic State destroys temple at Syria's Palmyra
 By BASSEM MROUE6 hours ago
Part of the ancient oasis city of Palmyra, pictured in March 2014 (AFP Photo/Joseph Eid)BEIRUT (AP) — Islamic State militants have destroyed a temple at Syria's ancient ruins of Palmyra, activists said Sunday, realizing the worst fears archaeologists had for the 2,000-year-old Roman-era city after the extremists seized it and beheaded a local scholar.Related Stories
Palmyra, one of the Middle East's most spectacular archaeological sites and a UNESCO World Heritage site, sits near the modern Syrian city of the same name. Activists said the militants used explosives to blow up the Baalshamin Temple on its grounds, the blast so powerful it also damaged some of the Roman columns around it.The Britain-based Syrian Observatory for Human Rights said Sunday night that the temple was blown up a month ago. Turkey-based activist Osama al-Khatib, who is originally from Palmyra, said the temple was blown up Sunday. Both said the extremists used a large amount of explosives to destroy it.Both activists relied on information for those still in Palmyra and the discrepancy in their accounts could not be immediately reconciled, though such contradictory information is common in Syria's long civil war.The fate of the nearby Temple of Bel, dedicated to the Semitic god Bel, was not immediately known. Islamic State group supporters on social media also did not immediately mention the temple's destruction.The Sunni extremists, who have imposed a violent interpretation of Islamic law across their self-declared "caliphate" in territory they control in Syria and Iraq, claim ancient relics promote idolatry and say they are destroying them as part of their purge of paganism. However, they are also believed to sell off looted antiquities, bringing in significant sums of cashAl-Khatib said the Baalshamin Temple is about 500 meters (550 yards) from the Palmyra's famous amphitheater where the group killed more than 20 Syrian soldiers after they captured the historic town in May.The temple dates to the first century and is dedicated to the Phoenician god of storms and fertilizing rains.The head of UNESCO, Irina Bokova, said Friday that Islamic State extremists in Syria and Iraq are engaged in the "most brutal, systematic" destruction of ancient sites since World War II — a stark warning that came hours after militants demolished the St. Elian Monastery, which housed a fifth-century tomb and served as a major pilgrimage site. The monastery was in the town of Qaryatain in central Syria.News of the temples destruction comes after relatives and witnesses said Wednesday that Khaled al-Asaad, an 81-year-old antiquities scholar who devoted his life to understanding Palmyra, was beheaded by Islamic State militants, his bloodied body hung on a pole. He even had named his daughter after Zenobia, the queen that ruled from the city 1,700 years ago.Meanwhile in Iraq, at least 23 soldiers and government-allied militiamen were killed Sunday in an attack by Islamic State militants in the turbulent Anbar province west of Baghdad, Iraqi military and police officials said, in the second heavy death toll suffered by the Iraqi military and its allies in recent days in the vast Sunni region.The officials said Sunday's attack, which killed 17 soldiers and six Sunni militia fighters, took place in the rural district of Jaramshah, north of Anbar's provincial capital, Ramadi.The officials spoke on condition of anonymity because they were not authorized to speak to journalists.They said the Islamic State fighters used suicide bombings and mortar shells and that chief of army operations in Anbar, Maj-Gen. Qassim al-Dulaimi, was lightly wounded in the attack.News of Sunday's attack came two days after up to 50 soldiers were killed by the Islamic State group in two ambushes elsewhere in Anbar province, much of which is under militant control, including Ramadi and the key city of Fallujah.Government forces and allied Sunni and Shiite militiamen have been battling the Islamic State militants in Anbar for months, but, hampered by suicide bombings and booby-trapped buildings, they have only made modest gains._Associated Press writers Hamza Hendawi and Qassim Abdul-Zahra in Baghdad contributed to this report.
From The Marbles Justin Wilson critical, in a coma after head injury at Pocono (Updated)
 By Nick Bromberg5 hours agoFrom The Marbles
IndyCar driver Justin Wilson suffered a severe head injury Sunday afternoon at Pocono Raceway when he was hit in the head by debris from Sage Karam's car after Karam crashed. As of 9 p.m. ET, the IndyCar Series said he's in a coma and in critical condition at an Allentown, Pennsylvania, hospital.Wilson was airlifted from Pocono following the accident. Karam was leading when he crashed in front of the field. Wilson was hit in the head by the debris, apparently knocked unconscious, and his car then hit the inside wall.The crash happened with 21 laps to go in the 500-mile race. Karam was taken to a local hospital for a right foot injury.It looks like Wilson was hit in the helmet by the nose cone of Karam's car, which is a much heavier piece of bodywork than others. You can see in this slow-motion replay how high the debris shoots into the air after it hits Wilson and how his car suddenly veers to the left after the hit.Please be aware that this is a video of someone suffering a possible serious head injuryWilson, 36, has driven in major American open-wheel racing since the 2004 season. He was driving a partial schedule in 2015 for Andretti Autosport. He has seven wins in CART and IndyCar. His most recent win was at Texas in 2012.It's not the first time that a driver has been hit in the head with debris recently. James Hinchcliffe suffered a concussion when he was hit from flying parts at the 2014 Grand Prix of Indianapolis. Like Formula 1 cars, IndyCars do not have canopies above the drivers' heads. However, canopies in open-cockpit cars aren't unprecedented. The NHRA approved canopies for its Top Fuel dragsters in 2012.Wilson's teammate, Ryan Hunter-Reay, won Sunday's race.– – Nick Bromberg is the editor of From The Marbles on Yahoo Sports. Have a tip? Email him atnickbromberg@yahoo.com or follow him on Twitter!