Fire crews battle smoky conditions, flames in Washington
 By NICHOLAS K. GERANIOS28 minutes ago Associated Press Videos Unknown How Many Structures Lost in Wash. Fire
News Unknown How Many Structures Lost in Wash. Fire SPOKANE, Wash. (AP) — Smoke from big wildfires burning east of the Cascade Range hurt air quality Wednesday and hampered efforts by crews battling the flames in Washington state.Related Stories
Smoky conditions grounded helicopters and airplanes that had been fighting the fires, and air quality was rated as unhealthy for some people in Spokane County, which has nearly 500,000 residents.Crews battling a 262-square mile blaze near the town of Republic were also battling smoke as well as flames, fire spokesman Donnie Davis said."Everybody up here is rubbing their eyes," Davis said. "It's brutal."Davis said the cause of the fire remained under investigation.A wildfire in Okanogan — the largest blaze ever recorded in the state — grew to nearly 438 square miles and heavy smoke also grounded air resources, fire spokesman Rick Isaacson said.
A sign warns of heavy smoke on Washington state route 155 near Omak, Wash., Wednesday, Aug. 26, 2015 …"We're still socked in," Isaacson said. "There's maybe one mile of visibility."So far, officials have counted 40 homes and 40 outbuildings destroyed by the blaze, Okanogan County Sheriff Frank Rogers said. The fire is about 17 percent contained by more than 1,300 firefighters.Rogers said a forecast calling for highs in the 70s and rain in the next few days was good news."It is looking better for us," he said.The U.S. is in the middle of a severe fire season with some 11,600 square miles scorched so far.
A firefighter sprays water on burning items next to a mobile home near Omak, Wash., Wednesday, Aug.  …"You can imagine how stretched thin everybody is," said Dan Dallas, deputy incident commander of the Okanogan fire. "We're all working without the resources that in a normal year — which I don't think there is such a thing anymore — that we might have."So many fires are burning in Washington state that officials summoned help from fire managers in Australia and New Zealand. They also got 200 U.S. troops from a base in Tacoma in the first such use of active-duty soldiers in nine years.The Oregon Military Department said soldiers also were ready to help battle a wildfire that has destroyed more than three dozen homes near John Day, about 150 miles east of Portland.Fires also were burning in California, Montana and Idaho.Schools reopened in a Southern California mountain community where crews were battling a small fire burning through timber near a popular ski resort.Firefighters have held the blaze in the San Bernardino Mountains to 100 acres.Some residents in Riggins and along U.S. Highway 95 in west-central Idaho were told to evacuate Wednesday. Fire managers said the fire grew to 29 square miles with extreme fire behavior that included sustained runs through tree crowns. There was no immediate word on the number of evacuees.A wildfire that started in the Benchmark area about 30 miles west of Augusta, Montana, led to the evacuation of recreational cabins in the Lewis and Clark National Forest.
Drought-plagued California readies for El Nino storms
 By AMY TAXIN19 hours ago
SANTA ANA, Calif. (AP) — While drought-plagued California is eager for rain, the forecast of a potentially Godzilla-like El Nino event has communities clearing out debris basins, urging residents to stock up on emergency supplies and even talking about how a deluge could affect the 50th Super Bowl.Roofers, on the other hand, are reveling in the uptick in business as homeowners ready for the prospect of downpours after four years of dry weather.In San Francisco, officials are discussing how to contend with possible street closures if there is extensive rain or street flooding during the Super Bowl in February."As we move forward with Super Bowl planning, this is one of the things we've put out to various departments and entities," said Rob Dudgeon, deputy director of San Francisco's department of emergency management. "What if it has been raining really hard? What if it has been raining three or four days?"In a state known for striking mountain landscapes and dramatic seaside cliffs, Californians are used to preparing for natural disasters ranging from treacherous wildfires and earthquakes to devastating floods and landslides.Often, the state's residents must be ready for more than one potential calamity at a time. Right now, firefighters are battling blazes during the state's wildfire season but also getting ready for the prospect of wet winter months ahead.
Roofer Joel Camberos with Hull Brothers Roofing & Waterproofing resurface townhomes roofs at the Mar …Federal meteorologists recently said the El Nino event is already the second strongest on record for this time of year. While the warming of Pacific Ocean waters tends to bring heavy winter rain to California and much of the southern and eastern U.S., California's state climatologist noted only half the time when there have been big El Ninos has there been meaningful, heavy rains.California would need 1 ½ times its normal rainfall to get out of the extended drought, which is unlikely, according to Mike Halpert, deputy director of the National Oceanic Atmospheric Administration's Climate Prediction Center.Emergency planners said the prolonged dry conditions across the state could lead to more debris, fallen trees and flooding during early rains."The potential for flooding is a very definite possibility with strong storms after a drought," said Tammy Dunbar, emergency planning coordinator for Santa Clara County.In Los Angeles County, workers have been clearing basins and channels to prevent flooding and capture as much storm water as possible to replenish local water supplies, said Bob Spencer, a spokesman for the county's public works department.
Roofer Chuck Jewett with Hull Brothers Roofing & Waterproofing climbs a ladder to check on his worke …In Laguna Beach, officials are urging homeowners to clear terrace drains and install floodgates where needed. They will also have code enforcement officers personally visit flood-prone properties, said Ben Siegel, deputy city manager.In some places, residents are heeding the call to get prepared. In Palm Springs, where it rarely rains, homeowners have been getting their roofs checked and gutters cleared, said Rob Winkle, operations manager at Western Pacific Roofing."They want someone to come out and tell them everything is going to be OK," said Winkle, who said the company is fielding 20 percent more calls than usual from worried residents.During California's prolonged drought, Hull Brothers Roofing president Chuck Jewett said he shifted his business to focus on installing cooling roofs for consumers weary of the heat.But since the media began reporting on the potential for an El Nino that a NASA oceanographer compared to Godzilla, Jewett said his Culver City-based company has seen a four-fold increase in calls and has a two week wait for evaluations."They are like a beehive that is all stirred up," Jewett said. "This is the busiest we have ever been."
NASA: Rising Sea Levels More Dangerous Than Thought
 By Tia Ghose3 hours ago
Scientists are concerned about sea level rise from ice melt in southern Greenland (shown here) and the Antarctic.The consequences of global sea level rise could be even scarier than the worst-case scenarios predicted by the dominant climate models, which don't fully account for the fast breakup of ice sheets and glaciers, NASA scientists said today (Aug. 26) at a press briefing.Related Stories
What's more, sea level rise is already occurring. The open question, NASA scientists say, is just how quickly the seas will rise in the future.Rising seasThe current warming of the seas and the associated expansion of their waters account for about one-third of sea level rise around the world. [Images of Melt: Earth's Vanishing Ice]"When heat goes under the ocean, it expands just like mercury in a thermometer," Steve Nerem, lead scientist for NASA's Sea Level Change Team at the University of Colorado in Boulder, said in the press briefing.The remaining two-thirds of sea level rise is occurring as a result of melting from ice sheets in Greenland and Antarctica and mountain glaciers, Nerem said.Data collected by a cadre of NASA satellites — which change position in relation to one other as water and ice on the planet realign and affect gravity's tug — reveal that the ocean's mass is increasing. This increase translates to a global sea level rise of about 1.9 millimeters (0.07 inches) per year, Nerem said.Unpredictable pace But the speed of sea level rise is an open question."Ice sheets are contributing to sea level rise sooner, and more than anticipated," said Eric Rignot, a glaciologist at the University of California, Irvine, and NASA's Jet Propulsion Laboratory in Pasadena, California.That's because people have never seen the collapse of a huge ice sheet and therefore don't have good models of the effects, Rignot said.The Intergovernmental Panel on Climate Change, an international organization created by the United Nations that produces climate change models, has predicted that sea levels could rise as much as 21 feet (6.4 meters) in the next century if global warming continues unabated.But even that worst-case scenario may not capture the risk, Rignot said. That's because the IPCC models only take into account temperature changes at the surface of glaciers, but not the rapid melting that occurs when glaciers calve and break up into the ocean, Rignot said.In addition, much of glaciers' melting occurs at deep, undersea ice canyons. Warmer water is salter and therefore heavier. That means it sinks into the deeper layers of the ocean, and the contrast between this warm water and the undersea ice canyons contributes an unknown but substantial amount of sea level rise, said Josh Willis, an oceanographer at JPL in Pasadena, California.When the massive Jakobshavn glacier in Greenland calved earlier this summer, it moved 4.6 square miles (12 square kilometers) of ice in one day, Rignot said. [See Photos of Greenland's Melting Glaciers]If the Jakobshavn glacier had melted completely, "it contains enough ice to raise global sea level by half a meter — just this one glacier in Greenland," Rignot said. If all the land ice on the planet were to melt, it would raise sea levels about 197 feet (60 m), he added.Some of the melting that has already occurred is likely irreversible, and could take hundreds of years to reverse, Rignot said.American impact While global sea levels have risen about 2.75 inches (7 centimeters) over the past 22 years, the west coast of the United States has not seen much of a rise in ocean levels. That's largely because of a long-time-scale weather pattern called the Pacific Decadal Oscillation, which is masking the global effect. That, however, could reverse in the coming years, Willis said."In the long run, we expect the sea levels on the west coast to catch up to global mean and even exceed the global mean," Willis said.Florida is also particularly vulnerable to sea level rise because its porous soil allows more seawater intrusion than does the soil in other coastal areas, Willis said.Follow Tia Ghose on Twitterand Google+. Follow Live Science @livescience, Facebook &Google+. Original article on Live Science.
Thai elephant kills keeper, runs off with 3 Chinese on its back
 16 hours ago
An elephant in northern Thailand went berserk Wednesday, killing his "mahout" keeper before running off into the jungle with three terrified Chinese tourists still on his back, police said."The mahout who was killed was Karen and he was not familiar with the elephant. They (the tourists) are safe now," Colonel Thawatchai Thepboon, police commander of Mae Wang district in Chiang Mai province, told AFP.The Karen are an ethnic minority widespread in northern Thailand.Police said the incident took place at 9.30am (0230 GMT) as a Chinese family of three — a father, mother and a young child — took a ride on the back of a male elephant.Rides are a popular and lucrative tourist activity but many animal rights groups say it is cruel and stressful for the pachyderms.The elephant had not taken easily to his new keeper and turned on him suddenly, goring him to death, Channel 3 reported.
Mahouts with their elephants after bathing them in a river at Anantara resort, home to the Golden Tr …The channel broadcast footage of the three frightened tourists being led back to camp still on the elephant's back once it had been calmed down by other mahouts and their rides.Thailand's roughly 4,000 domesticated elephants outnumber an estimated 2,500 remaining in the wild.Domestic elephants in Thailand — where the pachyderm is a national symbol — have been used en masse in the tourist trade since they found themselves unemployed in 1989 when logging was banned.Accidents are not unheard of. In June an elephant killed a Thai man and injured another as they were eating dinner at a beachside restaurant. The pair had been talking to the animal's mahout when it suddenly flipped.Rights groups have documented the more unscrupulous mahouts using controversial techniques to crush the animal's spirit or severely overworking their rides to make more money."Elephants work every day, of every month, basically 365 days per year," Edwin Wiek, a campaigner from Wildlife Friends of Thailand told AFP."If you had to do the same, you would get stressed. It is the same for elephants. At some point they become crazy and we can't control them."The accident comes as Thailand's tourism industry reels from last week's bombing of a religious shrine in Bangkok, an attack that killed 20 people, mostly ethnic Chinese devotees from across Asia.
L.A. County leaders wash cars two-three times a week amid drought: report
 By Dan Whitcomb5 hours ago
A dry pipe drips water on Gless Ranch in Kern County, California, United States July 23, 2015. REUTERS/Lucy …By Dan Whitcomb LOS ANGELES (Reuters) – Despite a devastating four-year drought that has forced strict water conservation measures across California, most Los Angeles County supervisors still have their cars washed two or three times a week, a local newspaper reported.The multiple weekly car washes carry on despite Governor Jerry Brown's admonitions to Californians to take shorter showers and stop watering their lawns and Los Angeles Mayor Eric Garcetti's own "Save the Drop" campaign, according to the Los Angeles Daily News.The five supervisors can either collect a car allowance or have the county buy them a vehicle, which is washed, maintained and kept fueled at taxpayer expense.The Daily News determined through public service records that two of the supervisors, Don Knabe and Michael Antonovich, have their SUVs washed by county workers an average of twice a week and that a third, Mark Ridley-Thomas, has his car cleaned three times a week.The remaining two, Sheila Kuehl and Hilda Solis, wash their cars about once a week, according to the paper. It said Ridley-Thomas, Knabe and Antonovich actually increased the frequency of their car washes after the governor ordered the first statewide mandatory water restrictions in April, directing cities and communities to reduce their water usage by 25 percent."The governor's executive order calls on every Californian to help save water during this drought and it specifically includes limiting car washing and making sure to wash with recycled water," said George Kostyrko, a spokesman for the State Water Resources Control Board."All over the state many Californians are rising to the challenge and there's always more conservation work to be done, Kostyrko said.Unlike many commercial car washes, the county's facilities do not use recirculated water, the Daily News said.The supervisors declined to answer questions from the Daily News about the car washing.County public information officers and representatives for Garcetti had no immediate comment when contacted by Reuters.California is in its fourth year of a withering drought that has killed 12.5 million trees, forced farmers to fallow a half-million acres of land and left mountains bereft of snow that melts to replenish streams and reservoirs.Garcetti's "Save the Drop" campaign urges residents of America's second-largest city to save water with ads on buses and trash trucks and educational programs at libraries, and alerts them to programs such as rebates for replacing water-gulping grass lawns with drought-tolerant plants.(Reporting by Dan Whitcomb; Editing by Mohammad Zargham)
NASA sees unavoidable sea level rise ahead
 By Kerry Sheridan7 hours ago
Miami (AFP) – Sea levels are rising around the world, and the latest satellite data suggests that three feet (one meter) or more is unavoidable in the next 100-200 years, NASA scientists said Wednesday.Ice sheets in Greenland and Antarctica are melting faster than ever, and oceans are warming and expanding much more rapidly than they have in years past.Rising seas will have "profound impacts" around the world, said Michael Freilich, director of NASA's Earth Science Division."More than 150 million people, most of them in Asia, live within one meter of present sea level," he said.Low-lying US states such as Florida are at risk of disappearing, as are some of the world's major cities such as Singapore and Tokyo."It may entirely eliminate some Pacific island nations," he said.
There is no doubt that global coastlines will look very different in years to come, US space agency  …There is no doubt that global coastlines will look very different in years to come, US space agency experts told reporters on a conference call to discuss the latest data on sea level rise."Right now we have committed to probably more than three feet (one meter) of sea level rise, just based on the warming we have had so far," said Steve Nerem of the University of Colorado, Boulder and leader of NASA's sea level rise team."It will very likely get worse in the future," he told reporters."The biggest uncertainty is predicting how quickly the polar ice sheets will melt."- Melting faster –
This image obtained from NASA on November 14, 2012 shows a view of Sheldon Glacier with Mount Barre  …The last major predictions were made in 2013 by the United Nations Intergovernmental Panel on Climate Change (IPCC).Based on a consensus of international researchers, the IPCC said global sea levels would likely rise from one to three feet by the end of the century.Nerem said the latest satellite data suggests the higher end of that range is more likely.NASA's predictions are based on a series of altimeters that measure ocean height from space. NASA and French space agency CNES began launching satellites to measure sea level in 1992."The instruments are so sensitive that if they were mounted on a commercial jetliner flying at 40,000 feet (1,200 meters) they could detect the bump caused by a dime lying flat on the ground," Freilich said.
According to NASA's sea level rise team, it's pretty certain we are locked into at least thr …The world's oceans have risen an average of almost three inches (7.6 cm) since 1992, with some locations rising more than nine inches (23 cm) due to natural variation, according to these instruments, known as Topex/Poseidon, and its successors, Jason-1 and Jason-2, NASA said.Much of the extra water is coming from melting ice and glaciers. Scientists are particularly concerned about the Greenland ice sheet, which shed an average of 303 gigatons of ice a year over the past decade.Also, the Antarctic ice sheet has lost an average of 118 gigatons a year."One of the things we have learned is that the ice sheets are melting faster than we had previously suspected," said Josh Willis, oceanographer at NASA's Jet Propulsion Laboratory in Pasadena, California."Sometime in the next 20 years we will probably see faster than average sea level rise, so we have to be prepared."- 'More worried' -Scientists have never seen an ice sheet collapse, so the question of when sea levels will rise drastically is a major mystery.According to Tom Wagner, the cryosphere program scientist at NASA, the paleoclimate record shows that sea levels can rise as much as 10 feet (three meters) in a century or two, if the ice sheets fall apart rapidly."We're seeing evidence that the ice sheets are waking up, but we need to understand them better before we can say we're in a new era of rapid ice loss."Eric Rignot, glaciologist at the University of California, Irvine, said that as the planet warms, there is no reason to expect that ice sheets will melt at the same pace as they did in the past. According to the laws of physics, they will deteriorate faster. And they already are."We are not talking about futuristic scenarios," said Rignot."On a personal level, the data collected over the past few years make me more concerned about the decay of the ice sheets than I was in the past," he added."As we go on, I think we are a bit more worried about what is happening."
Are Volcanoes Erupting More Frequently?By Sean Breslin Published Aug 18 2015 02:23 PM EDT weather.com
It seems like there have been a lot of volcanic eruptions lately.
Popocatépetl volcano in central Mexico has been spewing ash and smoke for months, while Colima, also in Mexico, continues to erupt regularly. In Japan, Sakurajima keeps threatening to erupt in a big way, and some scientists believe it will happen soon. According to Volcano Discovery, there are at least eight volcanoes currently active around the world.
Mount Raung volcano emits steam and ash as seen in the background from Banyuwangi, located in Indonesia's eastern Java island, on July 23, 2015.  (STR/AFP/Getty Images)If you're wondering what all this activity means, you're not alone. Scientists are asking the very same questions. They've been studying active periods of volcanic eruptions to see if there's a trend, or even if something's causing the increase in these events – and they still don't have any concrete answers.(MORE: Residents Put on High Alert Near Japan Volcano)Last year, a new study was released suggesting the speed at which the Earth spins may have an effect on the amount of volcanic activity. The belief is that the extra energy the sun uses to alter the speed of Earth's spin, even by the smallest amount, can transfer hundreds of thousands of petajoules of energy into the subsurface, and that may trigger additional eruptions.Some researchers have also said global warming may be to blame. According to a 2012 study in the journal Geology, melting of land ice could relieve pressure off continents, which may allow magma to surge up more easily, leading to a higher likelihood of more eruptions. A 2015 study in Iceland had similar findings, according to Time.But the scientists of both studies agree that the ties between climate change and more eruptions aren't concrete, and more examination needs to be done before any conclusions can be drawn."The link between climate change and volcanism is still poorly understood," Dr. Robin Wylie, researcher of volcanology at the University College of London, said in the Conversation, a science magazine based in the UK.If either of these theories are proven to be true, Wylie adds, it would be yet another example of how the smallest changes in our world can have major consequences.MORE ON WEATHER.COM: Indonesian Volcanoes A farmer carries harvested produce while Mount Raung volcano emits steam and ash as seen in the background from Banyuwangi, located in Indonesia's eastern Java island, on July 23, 2015. Mount Raung, which has been rumbling for weeks, sent an ash cloud floating over Bali and eastern Java island disrupting airport operations. Ash spewing from a volcano briefly closed the airport on the Indonesian resort island of Bali on July 22 for the third time this month, forcing the cancellation of flights and stranding tourists during peak holiday season. (STR/AFP/Getty Images) 
100,000 Fish Killed After Vegetable Oil Spill in Washington State Creek By The Associated Press Published Aug 26 2015 04:23 PM EDT weather.com Remnants spill into a creek from a warehouse full of food products that was destroyed in an early-morning fire on Tuesday, Aug. 18, 2015, Winlock, Wash. The fire caused vegetable oil to leak into nearby Olequa Creek and a spokesman for the Washington Department of Ecology feared the spill might have killed thousands of small salmon and other fish. (Natalie Johnson/The Chronicle via AP) 
 As many as 100,000 small salmon and other fish have been killed over the past week after a fire at a food warehouse in Washington's Lewis County sent vegetable oil spilling into a nearby creek.The Washington Department of Ecology gave its latest count of the number of fish killed to Portland's KGW News, adding that the fire sent about 1,100 gallons of burning oil into the creek through a pipe in the warehouse.Spokesman Chase Gallagher said Tuesday the scene in Olequa Creek appears to be a "100 percent kill for five miles" downstream, with officials unsure how many fish died "because the number is so high." Olequa Creek is a tributary of the Cowlitz River, and its Native American name means "where salmon come to spawn."The fire was reported at Olympic Trading Company in Winlock early Tuesday morning. The company had just taken a large delivery of vegetable or other cooking oil, and Gallagher said it's extremely likely that's the oil that entered the stream."The combination of hot water coming off the fire with the higher temperature in the creek led to kind of an instant kill for the fish," Gallagher told KGW.Crews were using absorbent pads and vacuum trucks to contain and clean the spill. The cause of the fire was still under investigation as of Wednesday.MORE FROM WEATHER.COM: School of Anchovies That Looks Like an Oil Slick Massive School of Anchovies in La Jolla, CaliforniaSurfers paddle near a huge school of anchovies off the coast of La Jolla, California, on July 8. (Photo by Scripps Institution of Oceanography)  
Massive Wildfire Turns Russia's Lake Baikal Into Hellish Landscape 
By Sean Breslin Published Aug 25 2015 04:08 PM EDT weather.com This image, taken by NASA's Aqua satellite, shows wildfire smoke rising from the edges of Lake Baikal in southern Russia, Aug. 8, 2015. 
(NASA Photo)
In the northwestern United States, wildfire smoke has invaded major cities as millions of acres of land burn. On the other side of the world, infernos that have been burning for weeks – in a part of Siberia, no less – have turned the landscape into what resembles Hell on Earth.Near Lake Baikal, the biggest and deepest freshwater lake in the world, large wildfires 
are sending huge amounts of smoke into the air
, shrouding the popular vacation area in the middle of summer, Mashable said. The wildfires have been a combination of natural and man-made, the report added, and they've created so much smoke that 
they're easily visible from space
."
It feels like doomsday
," an onlooker told the Siberian Times.
(MORE: Washington Wildfire Now Nearly Three Times the Size of Seattle)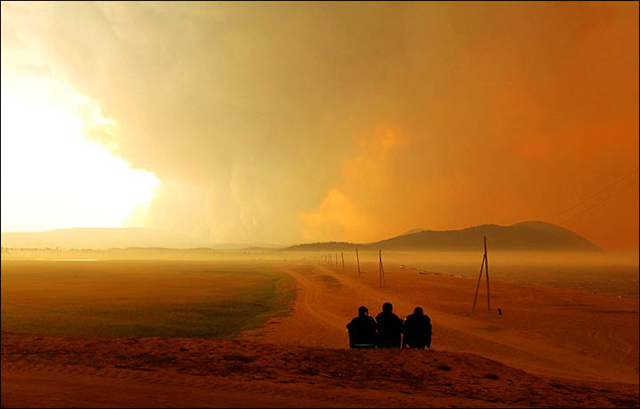 Follow
beforeitsnews : Siberia in flames – Around Lake Baikal, 'it feels like doomsday' …
http://

twitter.com/beforeitsnews/

status/635948457908416512 

…
) 
Through Aug. 12, wildfires 
have burned more than 540 square miles in Russia
, according to Radio Free Europe. Most of those fires have raged in southern Siberia.Lake Baikal is a UNESCO World Heritage Site, and 20 percent of the world's unfrozen freshwater can be found in this waterway, the Siberian Times also said. Aside from the environmental hazards created by the smoke rising into the atmosphere for weeks, there's another problem that may have been created by the fires near Baikal."Fires near the lake's shores actually kill the water arteries, thus damaging the water balance in the lake," Mikhail Slipenchuk, deputy head of the Russian parliament's committee on natural resources and ecology, told the Siberian Times.
MORE ON WEATHER.COM: Western Wildfires