WDBJ journalists Alison Parker, Adam Ward shot and killed during live broadcast; suspect dead from self-inflicted gunshot wound
 Family of alleged gunman Vester Flanagan issues statement to send condolences to victims' families
 By Dylan Stableford4 hours agoYahoo News Virginia Journalist Shooting News Video A pair of television journalists at a CBS affiliate in Virginia were shot and killed during a live broadcast Wednesday morning, and authorities said the shooter, a disgruntled former employee at the station, shot himself after crashing his car on an interstate highway.The suspected gunman, identified as Vester Flanagan, a 41-year-old former WDBJ-TV reporter who went by the name Bryce Williams on air, was taken into custody with "life-threatening injuries," police said. He later died.The victims, WDBJ reporter Alison Parker, 24, and Adam Ward, her 27-year-old cameraman, died shortly after the shooting, which occurred at approximately 6:45 a.m. at Bridgewater Plaza in Moneta, Va., near Smith Mountain Lake.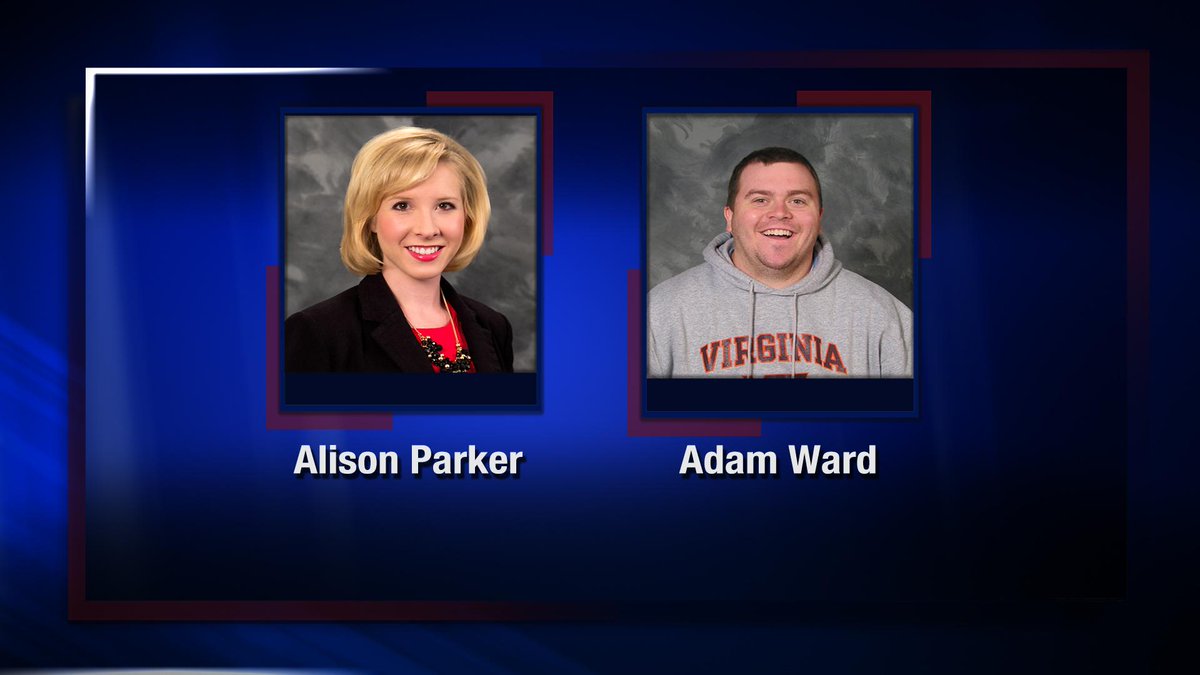 Follow
WDBJ7 @WDBJ7We love you, Alison and Adam. The gunman opened fire Wednesday morning as Parker was interviewing Vicki Gardner, the head of the Smith Mountain Lake Chamber of Commerce, live on the air. Gardner was shot in the back and taken to a hospital for surgery. She is listed in stable condition.Warning: The video below contains graphic footage.The family of the alleged shooter sent a note of condolence via email to the WDBJ-TV news team late Wednesday afternoon to express sorrow for the victims — and to make a plea for privacy."It is with heavy hearts and deep sadness that we express our deepest condolenses [sic] to the families of Alison Parker and Adam Ward," the note read. "We are also praying for the recovery of Vicki Gardner. Our thoughts and prayers at this time are with the victims' families and the WBDJ7 NEWS family. Words cannot express the hurt that we feel for the victtims [sic]. Our family is asking that the media respect our privacy. Sincerely, The Family of Vester Flanagan."A chilling first-person video posted to a Twitter account belonging to Flanagan — @bryce_williams7 — showed what appeared to be him holding a gun behind Parker and Ward, then firing three shots at Parker as she tried to flee."I filmed the shooting," Williams tweeted after alleging that Parker had made "racist comments" about him.The Twitter account has since been suspended, as was a Facebook account belonging to someone with that name.
(@bryce_williams/Twitter)A still image taken from the on-air video shows the image of a man holding what appears to be a handgun.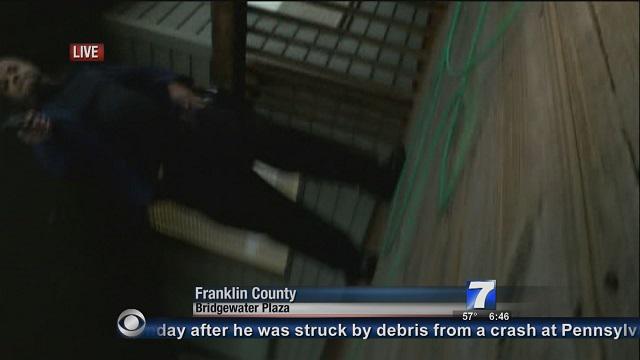 Follow
WDBJ7 @WDBJ7State police just released this picture of the shooter suspected of killing 2 WDBJ7 employees. http://www.wdbj7.com/news/local/law-enforcement-investigating-incident-at-bridgewater-plaza/34923086 … · Blacksburg, VA, United StatesEarlier, Virginia Gov. Terry McAuliffe told a local radio station that police were pursuing the suspect and that his apprehension was imminent. McAuliffe said the suspected shooter had been identified and was believed to a "disgruntled employee" at the station.At approximately 11 a.m., state police spotted Flanagan's vehicle, a 2009 Ford Mustang, at a regional airport. Flanagan's rental car, a Chevrolet Sonic, was then picked up by a license plate reader, police said.Shortly before 11:30 a.m., a Virginia state trooper spotted the suspect's vehicle eastbound on Interstate 66."He refused to stop and sped away from the trooper. Minutes later, the suspect vehicle ran off the road and crashed," the state police said in a statement. "The troopers approached the vehicle and found the male driver suffering from a gunshot wound."Flanagan was airlifted to a hospital, where he was pronounced dead at approximately 1:30 p.m.At a news conference, Franklin County Sheriff Bill Overton said investigators had yet to establish a motive and were reviewing Flanagan's social media postings. Fisher said it was unclear if the suspect had posted the videos of the shooting himself.According to public records, Flanagan, who lived in Roanoke, had no known criminal history. He filed a federal discrimination lawsuit against WTWC-TV in Tallahassee, Fla., after the station fired him in December 1999. In the suit, Flanagan said he was the victim of racial discrimination and retaliation during his nine months on the job. The station denied the allegations, saying Flanagan was dismissed for poor performance and office misbehavior. The case was settled out of court a year later.ABC News said that it received a 23-page fax on Wednesday morning from someone claiming to be Williams.In it, Williams writes that he was motivated, in part, to avenge the deaths of nine black churchgoers in Charleston in June."Why did I do it? I put down a deposit for a gun on 6/19/15. The Church shooting in Charleston happened on 6/17/15," he wrote. "What sent me over the top was the church shooting. And my hollow point bullets have the victims' initials on them." It's unclear which initials he is referring to. The news division said it turned the document over to the authorities."The church shooting was the tipping point … but my anger has been building steadily," he continued. "I've been a human powder keg for a while … just waiting to go BOOM!!!!"Williams also expressed his admiration for Columbine High School shooters Eric Harris and Dylan Klebold and Virginia Tech gunman Seung-Hui Cho, who killed 32 people and wounded 17 others in 2007."That's my boy right there," Williams writes of Cho. "He got NEARLY double the amount that Eric Harris and Dylann Klebold got … just sayin.'"RELATED: The journalism YouTube reels of Vester Flanagan Shortly after 10 a.m., ABC said a man who identified himself as Williams called the network, saying he had shot two people and that police were after him. He then hung up.WDBJ-TV president and general manager Jeff Marks said Flanagan was fired from the station two years ago, and that police were called to escort him from the building."Vester was an unhappy man," Marks said during the station's noon newscast. "He had a reputation for being difficult to work with."Flanagan's former employer in Tallahassee described a similar environment 16 years ago. In response to Flanagan's discrimination lawsuit, WTWC said he was actually fired for using profanity at work, misbehaving around co-workers and refusing to follow directions. Among other allegations, Flanagan claimed a producer at the station called him a "monkey" and that a black co-worker was told to "stop talking ebonics."Marks confirmed the deaths of the journalists in an on-air update shortly after 9 a.m.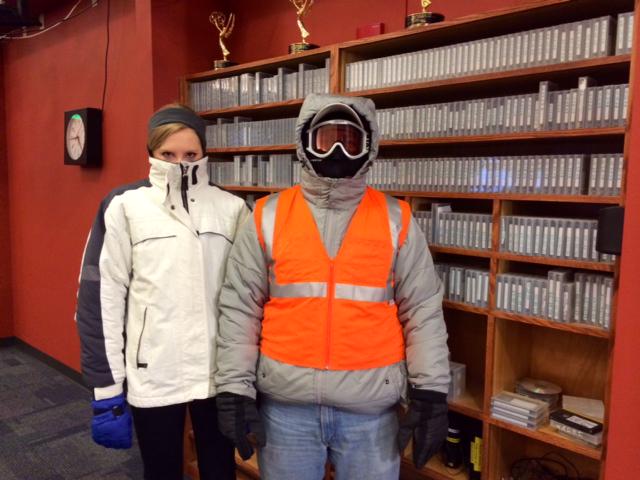 Follow
WDBJ7 @WDBJ7Alison and Adam always had a fun time together. Here are some behind-the-scenes pictures. http://www.wdbj7.com/news/local/34927838 … · Blacksburg, VA, United States"It is my very, very sad duty to report … that Adam and Alison died this morning," he told viewers. "I cannot tell you how much they were loved, Alison and Adam. Our hearts are broken."According to WDBJ-TV, both Ward and Parker lived in Roanoke. Ward graduated from Virginia Tech; Parker, who grew up in Martinsville, Va., was a recent graduate of James Madison University.Parker had just moved in with her boyfriend of nearly nine months, fellow WDBJ anchor Chris Hurst, who said they planned on getting married.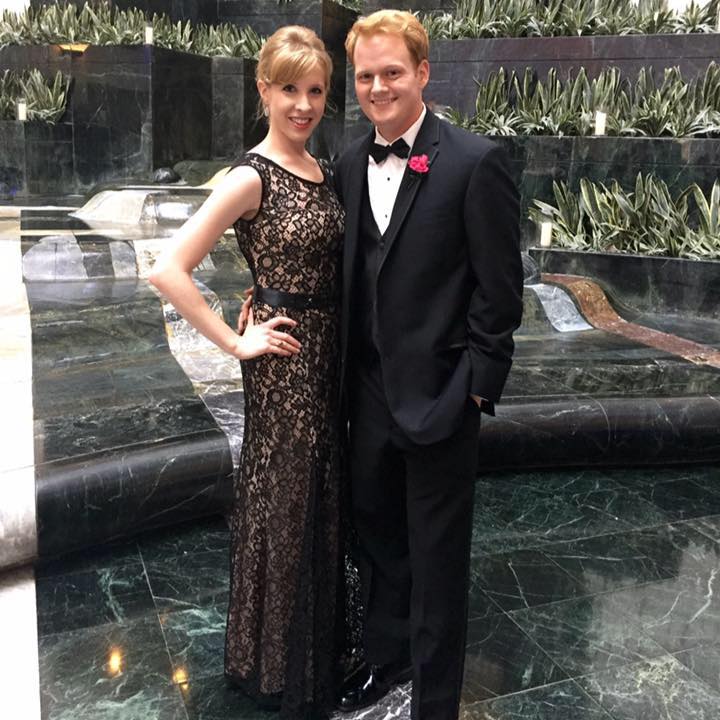 Follow
Chris Hurst @chrishurstwdbj We didn't share this publicly, but @AParkerWDBJ7 and I were very much in love. We just moved in together. I am numb."She was the most radiant woman I ever met. And for some reason she loved me back. She loved her family, her parents and her brother," Hurst wrote in a series of tweets. "I am comforted by everyone at @WDBJ7. We are a family. She worked with Adam every day. They were a team. I am heartbroken for his fiancee.""My grief is unbearable," Andy Parker, Alison's Parker's father, told the Washington Post. "Is this real? Am I going to wake up? I am crying my eyes out. I don't know if there's anybody in this world or another father who could be more proud of their daughter."He compared the gunman's first-person video of the shootings to the horrific hostage videos distributed online by Islamic State militants."It's like showing those beheadings," Andy Parker said. "I am not going to watch it. I can't watch it. I can't watch any news. All it would do is rip out my heart further than it already it is."Ward's fiancée, Melissa Ott, worked as a morning producer at the station. According to Marks, Ott was in the control room at the time of the incident and saw the shooting happen live.It was Ott's last day at WDBJ. She had taken a job in Charlotte, and Ward was going to follow her.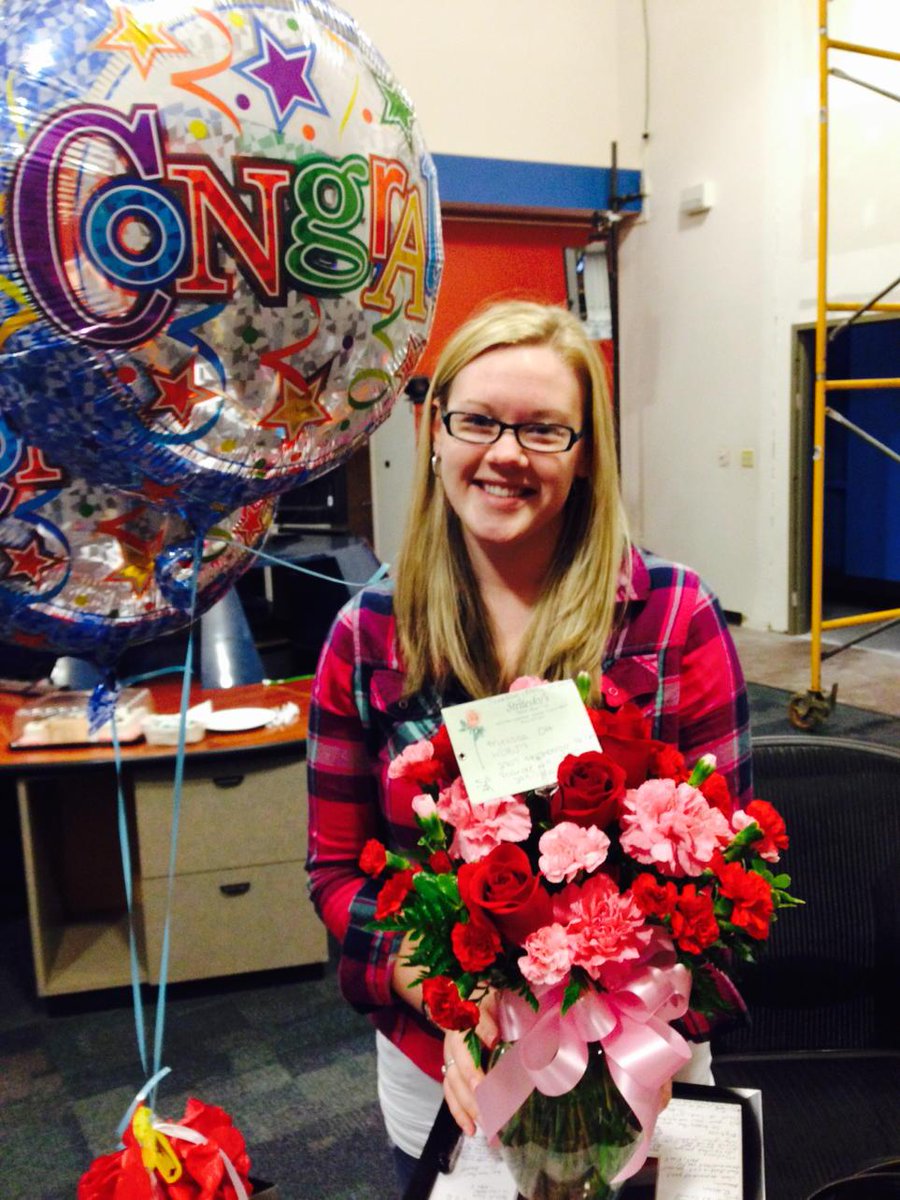 Follow
Kimberly McBroom @KimberlyWDBJCongrats to our awesome @WDBJ7Mornin producer Melissa Ott on her new job in Charlotte. We will miss you!


"This was going to be a celebratory day," Marks said.
He added: "Everybody's hugging. Everybody's crying. And then everybody's doing their work as journalists."At the White House, press secretary Josh Earnest said President Obama is disappointed and frustrated that people who oppose common-sense steps to reduce gun violence have great sway over Congress."I think the president has also been disappointed that our political system has not responded in the way that he would like," Earnest told reporters at the daily press briefing. "There are clear majorities in both the Democratic and Republican parties — according to many polls — for these policies. There are even some polls that indicate that there are clear majorities of gun owners that support some of these common-sense steps. And yet we haven't seen Congress take this action."Campaigning in Iowa, an emotional Hillary Clinton also called for stricter gun laws in the wake of Wednesday's tragedy."We have got to do something about gun violence in America," the Democratic frontrunner said. "There is so much evidence that if guns weren't readily available, if we had universal background checks … that maybe we could prevent this kind of carnage."Americans for Responsible Solutions — the gun reform group co-founded by former Arizona Rep. Gabrielle Giffords — released a statement condemning the shooting:We are horrified to learn that two young journalists were murdered this morning doing the jobs they loved. As they worked on a beautiful summer morning, they were murdered by an armed assailant. While we don't yet know all the details of what happened this morning, we know that an attack like this on journalists is an affront to the values we all share."Our country has a gun violence problem, and shootings like these are far too common in our country. Many times, they happen behind close doors, in homes and schools and movie theaters. But this time, the horror unfolded live and on air, for all to see. Our thoughts and prayers are with those whose loved ones were taken from them this morning, with their colleagues at WDBJ7 in Roanoke, and with all Virginians as they mourn this shocking loss.Shannon Watts, founder of Moms Demand Action for Gun Sense in America, issued a similar statement:The gun lobby's ongoing response to a long, cruel summer of senseless, preventable gun violence is to say Americans ought to be armed and at the ready at every moment. But, as we saw in the horrifying footage from this morning's shooting, that's an insane proposition. Was Adam supposed to hold a gun in one hand, and operate his camera with the other? Should Alison have carried both a microphone and a firearm? Moms will not be silent and allow the gun lobby's rhetoric and propaganda to take hold in this country. Americans are being shot and killed in places we should be able go every day without fear: work, school, church and the movies. Our leaders can no longer ignore the dire need for common-sense public safety measures that keep guns out of the hands of dangerous people. It's time to ask them: "Do you stand with Americans or do you stand with the gun lobby?"— With Michael Walsh and Jason Sickles contributing reporting
After Shooting, Alleged Gunman Details Grievances in 'Suicide Notes' By PIERRE THOMAS, JACK CLOHERTY, JACK DATE and MIKE LEVINE2 hours agoGood Morning America ABC News Videos Ex-Employee Caught in Connection to On-Air Shooting
A man claiming to be Bryce Williams called ABC News over the last few weeks, saying he wanted to pitch a story and wanted to fax information. He never told ABC News what the story was.This morning, a fax was in the machine (time stamped 8:26 a.m.) almost two hours after the shooting. A little after 10 a.m., he called again, and introduced himself as Bryce, but also said his legal name was Vester Lee Flanagan, and that he shot two people this morning. While on the phone, he said authorities are "after me," and "all over the place." He hung up. ABC News contacted the authorities immediately and provided them with the fax.
In the 23-page document faxed to ABC News, the writer says "MY NAME IS BRYCE WILLIAMS" and his legal name is Vester Lee Flanagan II. He writes what triggered today's carnage was his reaction to the racism of the Charleston church shooting:"Why did I do it? I put down a deposit for a gun on 6/19/15. The Church shooting in Charleston happened on 6/17/15…"Sources say Flanagan's firearm was legally purchased from a Virginia gun store."What sent me over the top was the church shooting. And my hollow point bullets have the victims' initials on them."Ex-Employee Caught in Connection to On-Air Shooting Alison Parker and Adam Ward, Slain Virginia Reporter and Cameraman, 'Did Great Work Every Day' What We Know About Suspect Vester Lee Flanagan in Virginia On-Air ShootingIt is unclear whose initials he is referring to. He continues, "As for Dylann Roof? You (deleted)! You want a race war (deleted)? BRING IT THEN YOU WHITE …(deleted)!!!" He said Jehovah spoke to him, telling him to act.Later in the manifesto, the writer quotes the Virginia Tech mass killer, Seung Hui Cho, calls him "his boy," and expresses admiration for the Columbine High School killers. "Also, I was influenced by Seung–Hui Cho. That's my boy right there. He got NEARLY double the amount that Eric Harris and Dylann Klebold got…just sayin.'"Sources familiar with the investigation tell ABC News that in his attack, Flanagan used a Glock 19 — a firearm similar to one that Cho used in his mass attack.In Flanagan's often rambling letter to authorities, family and friends, he writes of a long list of grievances. In one part of the document, Flanagan calls it a "Suicide Note for Friends and Family."He says he has been attacked by black men and white females
He talks about how he was attacked for being a gay, black man
He says has suffered racial discrimination, sexual harassment and bullying at work
A source with direct knowledge of his complaints against the station said a pair of tweets sent today and attributed to him accurately reflect previous complaints he lodged against the two people he killed today. These are the two Tweets: "Alison made racist comments," and, "Adam went to hr on me after working with me one time!!!"
Nowhere in the document does he make specific threats against anyone from WDBJ.In his manifesto, he says he encountered "nasty racist things" while working at WDBJ-7 in Roanoke, and that drove him to sue the station. "I marched down to the courthouse and sued WDBJ7 by myself and they settled! HA!"He continues: "I can remember one day in particular… leaving the courthouse… feeling overwhelmed… confused… even some fear. But by golly I knew I HAD to fight. … They truly f—-d with my life and caused an awful chain of events." He says he even killed his cats in a forest "because of them."Flanagan says that, "Hell yeah, I made mistakes," noting that he "should not have been so curt" with photographers in Roanoke. "[B]ut you know why I was? The damn news director was a micromanaging tyrant!!"
And, he writes, "the photogs were out to get me at WDBJ7… one went to HR after only working with me one time… the chief photog told his troops to [record video of] me if they saw be doing something wrong."Flanagan then suggests that, after leaving WDBJ-7, he was offered a job at a station in Pennsylvania, but WDBJ-7 persuaded the Pennsylvania station to rescind the offer."I got to the point, this time around, where I wasn't even looking for a job. I don't need to deal with workplace bullies anymore. THAT is what lawmakers need to focus on," he adds."Yes, it will sound like I am angry," he writes in his manifesto. "I am. And I have every right to be. But when I leave this Earth, the only emotion I want to feel is peace….""The church shooting was the tipping point…but my anger has been building steadily…I've been a human powder keg for a while…just waiting to go BOOM!!!!"He chronicles the "tough times" he's faced, including some "financial crashes." He says he used to work as a male model but, "I am proud of it" because he "made thousands.""[I] tried to pull myself up by the bootstraps," but, "The damage was already done and when someone gets to this point, there is nothing that can be said or done to change their sadness to happiness. It does not work that way. Meds? Nah. It's too much.""And then, after the unthinkable happened in Charleston, THAT WAS IT!!!""Yeah I'm all f—– up in the head," he concedes.
Hillary Clinton on a Biden run: give him 'space' for  'a very difficult decision'
Holly Bailey National Correspondent Yahoo Politics August 26, 2015
(Scott Morgan/REUTERS)ANKENY, Iowa—If news reports are to be believed, Vice President Joe Biden has been talking to plenty of people about possibly jumping into the race for the Democratic presidential nomination, including Sen. Elizabeth Warren and a slate of big donors and other party supporters. But the one person he hasn't talked to is Hillary Clinton.Speaking to reporters after a speech here, the former secretary of state said she hasn't personally talked to Biden or anyone on his team about the possibility he might join her in the Democratic nomination race. He hasn't reached out to her, and she hasn't called him, Clinton said, suggesting that Biden deserves the "space" to make what she described as "a very difficult decision.""I just want the vice president to decide to do what's right for him and his family," Clinton said. "I don't think it's useful to be behind the scenes asking this or saying that. … I just want him to reach whatever he thinks the right decision is. He has to do that. It has to be a really hard one."Calling Biden a friend and someone she has a "great deal of admiration and affection for," Clinton spoke in emotional terms of the tragedy Biden has suffered — including the loss of his first wife and their daughter early in his political career and, more recently, the death of his son, Beau, from brain cancer."I was at his son's funeral," Clinton said in a quiet voice. "I cannot even imagine the grief and the heartbreak. I mean, Joe has had more terrible events than most people can contemplate."But, she added, whatever Biden decides about his aspirations for the Oval Office will not change her plans. "I'm still running for president, regardless," she said, pointing out that she always thought it would be a competitive campaign. "I'm going to run as hard I can trying to convince as many people as possible to support me. I have to earn all the votes I can."Clinton's event here came amid Democratic hand-wringing that her candidacy may be struggling amid various investigations of her time at the State Department, including her use of a private email account. But it doesn't appear to be hurting her in Iowa. While rival Bernie Sanders has been attracting massive crowds at several of his recent events, a Suffolk University poll out this week found Clinton with a 34-point advantage among likely caucus-goers — even if Biden were to enter the race.
Serbia and Kosovo hail 'landmark' agreements
 By Jovan Matic4 hours ago
Belgrade (AFP) – Serbia and Kosovo voiced satisfaction Wednesday with an EU-brokered deal that marked a major step forward in normalising ties between the former foes, and boosted hopes of faster accession to the European Union."We have gained more than we hoped for," Serbian Prime Minister Aleksandar Vucic told national broadcaster RTS of Tuesday's agreement, which was mediated in Brussels."I have no bad news, I am not dissatisfied with what has been accomplished," he said, adding that he would visit Kosovo in September to present the deal to ethnic Serbs.His Kosovo counterpart Isa Mustafa said the agreement was considered "a great success, a success that will allow full sovereignty over the territory of Kosovo, including the north" where ethnic Serbs make up the majority.Some 120,000 ethnic Serbs live in impoverished Kosovo, where 90 percent of the 1.8 million population are ethnic Albanians.A key part of the deal is a plan to create an association of Serb-run municipalities within Kosovo, allowing for greater autonomy, as well as a judiciary in the north that would be acceptable for both ethnic groups.In their talks the two sides also struck deals on the issues of energy, telecommunications and the Mitrovica bridge, which divides the northern city along ethnic lines and has been a flashpoint area since the end of the 1998-1999 war.Serbia and Kosovo have had difficult relations ever since the conflict, which ended after Serbian forces withdrew from the territory following an 11-week NATO bombing campaign.Serbia and its ally Russia have persistently refused to recognise Kosovo's 2008 unilateral declaration of independence, recognised by more than 100 countries, including 23 out of 28 EU member states and the United States.
Kosovo's Foreign Minister Hashim Thaci said the deal was "a form of acceptance" by Ser …- Road to EU accession -In 2013 Pristina and Belgrade signed an EU-brokered agreement to normalise ties which enabled Belgrade to start EU accession talks a year later.But no chapters in negotiations subsequently opened as the process of improving relations stalled, mostly due to early legislative elections in Serbia in March last year, and three months later in Kosovo.EU foreign policy chief Federica Mogherini, who brokered the talks, said the deal "represents landmark achievements in the normalisation process", while Vucic said he now saw "no more obstacles" to starting negotiations over Serbia's EU accession.Serbian political analyst Dusan Janjic said the first chapters of such talks could open as early as this autumn, describing the deal as "a compromise that is extremely favourable for Serbia".Kosovo, which is a potential candidate for future EU enlargement, "will also be compensated" by the bloc for its concessions, Janjic told AFP.But Kosovo analyst Belul Beqaj was more sceptical, saying the deal was an attempt by both sides "to deceive their citizens" and that Kosovo's politicians were "allowing for power to be drawn away from the Pristina government".The plan for an association grouping 10 Serb-run municipalities in Serb-majority areas is the deal's main achievement for Belgrade, which could directly finance them, according to Vucic."We are bringing good agreements that not only guarantee security but also keep the jobs" of Kosovo's Serbs, he said.- 'Form of acceptance' -Kosovo Foreign Minister Hashim Thaci said meanwhile that the accord reached was "a form of acceptance"."Serbia agreed to sign documents where our country will be treated as the Republic of Kosovo," Thaci said.In Kosovo's north, ethnic Serbs received news of the agreement with mixed feelings.While some described it as a "great victory", Djurdjica, a 56-year old in Mitrovica, thought the new Serb-run entities would not have significant power."People are not stupid," she said.The agreement came ahead of a major summit grouping leaders of western Balkan nations and Mogherini on Thursday, amid concerns over a huge flow of migrants and refugees through the region and over Russian influence.
A look at the latest developments in Europe's migrant crisis
 By The Associated Press7 hours ago
Record numbers of migrants fleeing violence and poverty in countries such as Syria, Afghanistan and Eritrea are trying to reach Europe this year, despite the risks of perilous sea crossings and little humanitarian assistance. Here are the latest developments Wednesday:Related Stories
___y
Migrants cross the wire fence at the border between Hungary and Serbia near Roszke, 180 kms southeas …ITALY FINDS 51 MIGRANT BODIES IN BOATItaly's coast guard says 51 bodies have been found in the hull of a migrant boat that was rescued off Libya's northern coast. Coast guard Lt. Claudio Bernetti said the Swedish ship Poseidon, part of the European Union's Mediterranean operation, also rescued 439 surviving migrants from the ship. The rescue was one of 10 requests for assistance as Libya-based smugglers take advantage of calm seas to send boats overloaded with migrants to Europe.___HUNGARY'S BORDER FENCE STOPS FEW MIGRANTS
Migrants cross the wire fence at the border between Hungary and Serbia near Roszke, 180 kms southeas …Clambering over the razor-wire border fence or crawling under it, migrants surged across the Serbian border into Hungary, trying to evade border police and head to more prosperous European Union nations. By early Wednesday morning, 1,302 migrants had already been detained at Hungary's southern border with Serbia, according to Hungary's national police chief. Police said 2,533 migrants were detained Tuesday, up from 2,093 on Monday, with the numbers setting records nearly every day.In the border town of Roszke, police used tear gas to break up a brief scuffle involving about 200 migrants who were growing impatient with registration delays.The Hungarian border fence consists of three layers of razor wire along its 174-kilometer (109-mile) border with Serbia. But it did not stop one group of migrants, including women and children, from crawling under it, using blankets, sleeping bags, jackets and a stick to raise the wire.___GERMAN FAR-RIGHT PROTESTERS BOO MERKEL
A migrant man smokes sitting on a border-stone near the railway crossing at the border between Hunga …Chancellor Angela Merkel urged Germans to stand up against hatred and vowed zero tolerance for attacks against refugees, even as over 100 far-right protesters booed her visit to a shelter for asylum-seekers.Merkel traveled to Heidenau, a small town near Germany's eastern border with the Czech Republic, to express support for refugees following neo-Nazi riots there over the weekend. Dozens of police were injured when a far-right mob hurled bottles and fireworks at police, trying to prevent asylum seekers from moving into a former hardware store south of Dresden."It's shameful and repulsive what we experienced here," Merkel said of the weekend clash.A couple of hundred meters (yards) away, far-right protesters jeered and leaned on car horns. Some held placards denouncing the German government, while others shouted "Traitors!" and "Lying press!"_GREECE RESCUES HUNDREDS AT SEA Greece's coast guard says it rescued 578 migrants at sea off its eastern Aegean islands in 15 separate operations near the islands of Lesbos, Chios, Samos and Kos in the last 24 hours. The figure doesn't include those who arrive at the islands themselves from the nearby Turkish coast, usually in inflatable dinghies. Greece has borne the brunt of a record number of migrants heading to Europe, with more than 160,000 entering the country so far this year.___UN REFUGEE CHIEF SLAMS EU'S ASYLUM SYSTEMThe head of the U.N. refugee agency has said the Europe Union's asylum system is "completely dysfunctional," urging the bloc to better coordinate its response to the influx of refugees.Antonio Guterres said the response could include EU deployment of triage centers to register migrants pouring into countries like Italy and Greece. Such "hotspots" could help officials distinguish refugees from others who "don't need protection," he said.
Egypt turns to Russia to combat terrorism
 13 hours ago
Related Stories
MOSCOW (AP) — Russian President Vladimir Putin and Egyptian President Abdel-Fattah el-Sissi on Wednesday called for a coalition to combat terrorism in the Middle East.Opening a meeting with Putin in Moscow, el-Sissi said "the Egyptian people" are hoping for broader ties with Russia in all areas, particularly in fighting terrorism in the Middle East.El-Sissi's Russian visit, his second in the past three months, highlights Moscow's attempts to expand its influence in Egypt at a time when Egyptian-U.S. relations have soured in the aftermath of the ouster of Islamist President Mohammed Morsi.Putin told reporters after the talks that regional powers should join their efforts to combat the Islamic State group."(We) have underscored the vital importance of setting a counter-terrorism front to include key international players of the region including Syria," he said.Putin and el-Sissi were also expected to hammer out the details of a joint project to build Egypt's first nuclear power station but Putin told reporters on Wednesday that experts from both countries are still working on it.
South Sudan's Kiir signs peace deal despite doubts
 4 hours ago
Juba (AFP) – South Sudan President Salva Kiir signed a deal Wednesday to end 20 months of war in the world's youngest nation, but added a list of reservations that raised doubts about whether peace would take hold.Related Stories
The signing ceremony was held in the capital Juba under the threat of UN sanctions if Kiir failed to put his name to the accord, which had already been signed by rebel leader Riek Machar.At least seven ceasefires have already been agreed and then shattered within days — if not hours — in South Sudan, which broke away from Sudan in 2011."The current peace we are signing today has so many things we have to reject," Kiir said at the ceremony, attended by leaders of neighboring Kenya, Ethiopia and Uganda."Such reservations, if ignored, would not be in the interests of just and lasting peace."The United States, the key supporter of South Sudan's statehood, welcomed the signing and said the peace deal should be implemented as it stands."We do not recognize any reservations or addendums to that agreement," said US National Security Advisor Susan Rice in a statement from Washington.On the eve of the signing, the UN Security Council had ramped up the pressure on Kiir, threatening "immediate action" if he failed to sign or signed with reservations.
South Sudan rebel leader Riek Machar, a former vice president, signed a power-sharing peace deal on  …But the council on Wednesday gave Kiir until September 1 to get fully behind the peace deal as it weighed a possible arms embargo and targeted sanctions.The United States last week presented a draft UN resolution on those punitive measures, which would go into effect September 6."The deadline for (Kiir) is September 1," said Nigerian Ambassador to the UN Joy Ogwu, who chairs the council this month. "He has room to play."Tens of thousands of people are estimated to have died in a war marked by ethnic killings and rape that have fueled one of the world's worst humanitarian crises.The deal was brokered by the regional eight-nation IGAD bloc, along with the UN, the African Union, China, Britain, Norway and the United States.The accord commits both sides to end fighting and implement a "permanent ceasefire" within 72 hours, but both the government and rebels accused each other of launching attacks against the other on Wednesday.- Revisiting the deal –
South Sudanese SPLA soldiers inspect a burned out car in Pageri on August 20, 2015 (AFP Photo/Samir  …The deal gives the rebels the post of first vice president, which means that Machar would likely return to the job from which he was sacked in July 2013, an event which put the country on the path to war later that year.Fighting erupted in December 2013 when Kiir accused his former deputy Machar of planning a coup, unleashing a wave of killings that has split the country along ethnic lines.At the ceremony in Juba, the government released a list of concerns to be addressed for the peace accord to take hold."It is not a Bible, it is not the Koran, why should it not be revisited?" Kiir said of the deal."Let us give ourselves time and see how we can correct these things."The government cited concerns over provisions on the makeup of a monitoring commission tasked with policing the deal and on the demilitarization of Juba that would give greater powers to the rebels.Despite Kiir's reservations, regional leaders welcomed the accord."This is the day the people of South Sudan have been waiting 20 months for," said Ethiopian Prime Minister Hailemariam Desalegn."This was not a just war, it was an unjust war. It was a wrong war, at a wrong place, at a wrong time — and the sooner you finish it the better," said Ugandan President Yoweri Museveni.Under the deal, Museveni has 45 days to withdraw troops that he had sent to South Sudan to shore up Kiir's forces.UN Secretary-General Ban Ki-moon welcomed the signing and said the challenge now before South Sudan's leaders was to implement the peace deal."The road ahead will be difficult," said Ban.Some 2.2 million people have been driven from their homes in the conflict. About 200,000 terrified civilians are sheltering at UN bases.