2 Dead After Strong Storm System Batters Northwest By Ada Carr Published Aug 30 2015 04:09 PM EDT weather.com Storms Turn Deadly in Northwest At least 2 people have died as the result of storms in the Pacific Northwest. Two people were killed in Washington state Saturday, after a strong storm system barreled through the area.In Gig Harbor, Washington, police report that 36-year-old James Fay was driving with his 3-year-old daughter when he waskilled by a tree that fell onto his car. His daughter, who was in the backseat, was not harmed. Approximately 90 minutes later in Federal Way, a 10-year-old girl was struck by a falling branch and killed while playing outside during a sleepover, according to KOMO News."A strong area of low pressure brought damaging winds from coastal Oregon and western Washington to Canada's British Columbia Province,"  said weather.com meteorologist Chris Dolce. "Wind gusts in excess of 60 mph were not only recorded along the coast, but also in the Puget Sound area. Paine Field airport north of Seattle in Everett clocked a wind gust of 61 mph. The peak wind gust was 90 mph measured in Oceanside, Oregon."
 Enlarge High winds brought down this tree in Gig Harbor, Washington, the same town where a man lost his life when a different tree hit his car.  (Instagram/jackthedumplin)(MORE: Why a Lake Disappears Every Year in Oregon)The Associated Press reports that nearly 500,000 customers lost electricity and falling trees or branches injured four people during the Deuces Wild Triathlon at Joint Base Lewis-McChord. Two people were rescued from the water after their boat was overturned in Puget Sound, reports The News Tribune.As reported by the Washington Times, Puget Sound Energy says 60 lines crews have been working to restore power. According to the Snohomish County Public Utility District (PUD), some 70,000 residents are without power, and those in more remote areas may be without it for days. More than 75 fallen trees or limbs have been removedand major roads have been cleared, according to the Seattle Department of Transportation. There was similar chaos in Vancouver as heavy winds covered Highway 1 with debris, forcing the Pacific National Exhibition to close and stalling SkyTrain service. Up to 400,000 B.C. Hydro customers were left without power at one point Saturday afternoon as heavy winds and rainfall struck the Metro Vancouver area, reports The Province. 
EnlargeHigh winds tore this tree up by the roots in the Mount Pleasant neighborhood of Vancouver, British Columbia.   (Instagram/sarahvirag)BC Ferries was forced to cancel several sailings and delay others because of the extreme winds. Cars and an apartment building in Mount Pleasant were damaged when winds took down at least two large trees.(MORE: Spectacular Hole Punch Clouds Appear Over Washington, British Columbia)In Seaside, Oregon, a wind storm
tore down tents and sent tree branches flying just as runners for the annual Hood to Coast relay arrived, reports KGW.com.Around 6 a.m. Saturday, the wind storm hit the beach and the rain began just before 9 a.m. The National Weather Service recorded wind gusts at 90 mph in Oceanside around 9:30 a.m, and later issued a High Wind Warning through 1 p.m. Over 16,000 people were without power in Multnormah county because of wind gusts, according to KATU.com. MORE ON WEATHER.COM: Strong Northwest Storm Impacts A large tree that was knocked down by strong winds at a playground in Burnaby, British Columbia.   (Twitter/@MarkKlotz)
Global warming carving changes into Alaska in fire and ice
 By 
SETH BORENSTEIN and DAN JOLING
9 hours ago
ANCHORAGE, Alaska (AP) — Global warming is carving measurable changes into Alaska, and President Barack Obama is about to see it.Obama leaves Monday for a three-day visit to the 49th state in which he will speak at a State Department climate change conference and become the first president to visit the Alaska Arctic. There, and in the sub-Arctic part of the state, he will see the damage caused by warming — damage that has been evident to scientists for years.More than 3.5 trillion tons of water have melted off of Alaska's glaciers since 1959, when Alaska first became a state, studies show — enough to fill more than 1 billion Olympic-sized pools.The crucial, coast-hugging sea ice that protects villages from storms and makes hunting easier is dwindling in summer and is now absent each year a month longer than it was in the 1970s, other studies find. The Army Corps of Engineers identified 26 villages where erosion linked to sea ice loss threatens the communities' very existence.Permafrost is thawing more often as the ground warms, so as the ground oozes, roads, pipelines and houses' foundations tilt and shift — sometimes enough to cause homes to be abandoned. In far northern Barrow, the upper part of the ground is 7 degrees warmer than it was in the late 1950s and getting closer to the melt point in the summer, data shows. And scientists fear the thawing permafrost will unleash large amounts of trapped greenhouse gases and speed up worldwide warming.So far this year, more than 5.1 million acres in Alaska — an area the size of Connecticut and Rhode Island combined — have burned in wildfires. In the first 10 years of statehood, Alaska averaged barely a quarter million acres of wildfires yearly. The last 10 years have averaged 1.2 million acres.
FILE – In this June 17, 2015 file photo provided by the Alaska Army National Guard, a "Bambi Bucket, …"The state is changing and changing rapidly," said Fran Ulmer, chairwoman of the U.S. Arctic Research Commission and Alaska's former lieutenant governor.And scientists say those things are happening — at least partly and probably mostly — because of another thing they can measure: Alaska's temperature. Alaska's yearly average temperature has jumped 3.3 degrees since 1959 and the winter average has spiked 5 degrees since statehood, according to federal records. Last year was the hottest on record and so far this year Alaska is a full degree warmer than last year.Alaska "is sort of a bellwether," said John Walsh, chief scientist of the International Arctic Research Center at the University of Alaska Fairbanks. "The changes are definitely happening and we're out in front of the rest of the country."And what happens in Alaska isn't staying in Alaska, because weather changes in the Arctic trigger changes in the jet stream and reverberate down south, including the dreaded polar vortex escape that has brought sub-freezing temperatures to great expanses of North American in recent winters, said Martin Jeffries, an Arctic scientist for the U.S. Office of Naval Research.Warming's effects seem to be speeding up. From 1959 to 1993, Alaska's glaciers lost 57 billion tons of ice a year, but that jumped to almost 83 billion tons a year since 1994, according to Anthony Arendt, who co-authored a study on the subject this July.
FILE – In this June 16, 2015 file photo, two Nikiski Fire Department firefighters walk on a road nea …And while there may be many factors involved in glacier melt, all but about five of Alaska's 25,000 glaciers are shrinking, said University of Alaska Fairbanks glacier expert Regine Hock. She's adamant: "That's related to climate change."On the ocean, sea ice in the Arctic in the summer has shrunk by about one-third over three decades, leading to a loss of habitat for walrus and a threatened species listing for polar bears and their main prey, ringed seals. But in Alaska, what really hits hard is the loss of sea ice that's connected to the coast. That's the ice that protects villages from the worst of storms and allows both people and animals to hunt more at sea. But that type of ice is disappearing two weeks earlier in the summer and returns two weeks later when compared to the 1970s, geophysicist Andy Mahoney at the University of Alaska Fairbanks.Meanwhile, Alaska's wildfires are "more frequent, they're hotter and they're more severe," said Glenn Juday, a professor emeritus of forest ecology at the University of Alaska Fairbanks.Rapid and sustained warming has led to new patterns of insect outbreaks and new pest species affecting trees, he said. One of the chief problems is the spruce bark beetle, which thrive under warmer conditions. By 2006, aerial surveys had found spruce bark beetles had killed mature white spruce trees on 4.4 million acres following mild winters and hot summers. The acreage has increased since then, though not dramatically.Wildlife has changed, too. George Divoky and others have been tracking how early the black guillemot bird lays its first egg on far north Cooper Islands. In the 1970s they used to lay their eggs around June 25. The last five years, the average has been June 15 and this year it was June 8.
FILE – In this file photo taken Aug. 7, 2011, hikers get a close look at Exit Glacier near Seward, A …The U.S. Geological Survey has found a host of other animals changing their habits with warmer weather, including pink salmon, trumpeter swans, and caribou. It's a problem because sometimes the plants and animals don't quite match up — caribou, for example, born before the plants they eat, according to the USGS.The record warmth this spring has "turned the state into a melting pot, almost literally," said Jake Weltzin, who runs the USGS program tracking changes in plant and animal timing. "It's an enormous experiment."___
FILE – In this Aug. 4, 2012 file photo, tourists walk to Exit Glacier in Kenai Fjords National Park  …Borenstein reported from Washington.__Online:Study on melting Alaska glaciers: http://bit.ly/1LyHS7zStudy on wildland fires in Alaska: http://bit.ly/1LDVxNvU.S. Geological Survey on timing changes of animals, plants: http://bit.ly/1ElpAH7_Seth Borenstein can be followed at http://twitter.com/borenbears
White House renames Mount McKinley as Denali on eve of trip
 By JOSH LEDERMAN and MARK THIESSEN1 hour ago
FILE – This Aug. 19, 2011 file photo shows Mount McKinley in Denali National Park, Alaska. President Barack Obama on Sunday, Aug. 30, 2015 said he's changing the name of the tallest mountain in North America from Mount McKinley to Denali. (AP Photo/Becky Bohrer, File)WASHINGTON (AP) — The Obama administration will change the name of North America's tallest mountain peak from Mount McKinley to Denali, the White House said Sunday, a major symbolic gesture to Alaska Natives on the eve of President Barack Obama's historic visit to Alaska.Related Stories
By renaming the peak Denali, an Athabascan word meaning "the high one," Obama waded into a sensitive and decades-old conflict between residents of Alaska and Ohio. Alaskans have informally called the mountain Denali for years, but the federal government recognizes its name invoking the 25th president, William McKinley, who was born in Ohio and assassinated early in his second term."With our own sense of reverence for this place, we are officially renaming the mountain Denali in recognition of the traditions of Alaska Natives and the strong support of the people of Alaska," said Interior Secretary Sally Jewell.Ohio politicians reacted angrily, although it wasn't immediately clear if or how they could stop it. Rep. Bob Gibbs, R-Ohio, said McKinley deserved to be honored, and invited his colleagues to join him to try to block what he called Obama's "constitutional overreach.""This political stunt is insulting to all Ohioans, and I will be working with the House Committee on Natural Resources to determine what can be done to prevent this action," Gibbs said.The announcement came as Obama prepared to open a three-day visit to Alaska aimed at infusing fresh urgency into his call to action on climate change. To the dismay of some Alaska Republicans, the White House has choreographed the trip to showcase melting glaciers and other cherished natural wonders in Alaska that Obama says are threatened by warmer temperatures.But Obama's visit is also geared toward displaying solidarity with Alaska Natives, who face immense economic challenges and have warned of insufficient help from the federal government. As his first stop after arriving in Anchorage on Monday, Obama planned to hold a listening session with Alaska Natives. The president was also expected to announce new steps to help Alaska Native communities on Wednesday when he becomes the first sitting president to visit the Alaska Arctic.At 20,320 feet, the mountain stands as the continent's tallest, and is still growing at a rate of about one millimeter per year, according to the National Park Service. Known for its majestic views, the mountain is dotted with glaciers and covered at the top with snow year-round, with powerful winds that make it difficult for the adventurous few who seek to climb it.Sen. Lisa Murkowski, who had pushed legislation for years to change the name, said Alaskans were "honored" to recognize the mountain as Denali — a change in tone for the Alaska Republican, who had spoken out against Obama's energy policies in anticipation of his visit to her state."I'd like to thank the president for working with us to achieve this significant change to show honor, respect, and gratitude to the Athabascan people of Alaska," Murkowski said in a video message recorded atop the mountain's Ruth Glacier, with cloudy snow-capped peaks behind her.But Ohio Sen, Rob Portman and House Speaker John Boehner joined Gibbs in panning the move, although both stopped short of any threat to try to stop it. Said Boehner, R-Ohio: "I'm deeply disappointed in this decision."The White House pointed out that McKinley had never visited Alaska.The state of Alaska has had a standing request to change the name dating back to 1975, when the legislature passed a resolution and then-Gov. Jay Hammond appealed to the federal government.But those efforts and legislation in Congress have been stymied by members of Ohio's congressional delegation. Even when Mount McKinley National Park was renamed Denali National Park in 1980, the federal government retained Mount McKinley as the name of the actual peak.The White House cited Jewell's authority to change the name, and Jewell issued a secretarial order officially changing it to Denali. The Interior Department said the U.S. Board on Geographic Names had been deferring to Congress since 1977, and cited a 1947 law that allows the Interior Department to change names unilaterally when the board fails to act "within a reasonable time." The board shares responsibility with the Interior Department for naming such landmarks.The peak got its officially recognized name in 1896, when a prospector was exploring mountains in central Alaska, the White House said. Upon hearing the news that McKinley, a Republican, had received his party's nomination to be president, the prospector named it after him and the name was formally recognized.Obama won't personally visit the mountain during his tour of Alaska. He'll spend much of the trip in Anchorage, south of the peak, where Obama will speak at a climate change summit on Monday. While in Alaska, Obama also planned to meet with fishermen in Dillingham, hike a glacier in Seward and cross the Arctic Circle to visit the rural town of Kotzebue.In an attempt to show Obama wasn't coming to Alaska empty-handed, the White House on Sunday also announced plans to create a "young engagement program" to help rural and Alaska Native youth in the Arctic, along with new funding for local fish commissions and U.S. Fish and Wildlife Service advisers._Thiessen reported from Anchorage, Alaska.___Reach Josh Lederman on Twitter at http://twitter.com/joshledermanAP and Mark Thiessen at https://twitter.com/mthiessen
Lava Erupts From Hawaii's Kilauea Volcano, Creeps Into Nearby Forest Published Aug 28 2015 10:16 PM EDT weather.com Lava Erupts from Hawaii's Kilauea Volcano A volcano on Hawaii's Big Island began erupting Thursday, sending a thick stream of lava into the forests nearby. One of the world's most active volcanoes began erupting again on Hawaii's Big Island Thursday morning, sending a thick ribbon of lava from its summit down into the forests nearby.
Enlarge Hawaii's Kilauea Volcano, seen from the air as it erupted Thursday. (Reuters)The lava lake at the summit of Kilauea Volcano, located within Hawaii Volcanoes National Park near the southern end of the island, was still active Friday, according to officials with the U.S. Geological Survey office that monitors the volcano.The volcano's lava flow posed no threat to surrounding communities at this time, they added, "but [they] are being monitored closely," as some of the lava flows "are marked by smoke plumes where lava is creeping into the forest."Lava from the volcano had moved about half a mile in less than 24 hours, a witness told Reuters, and was headed toward a subdivision called Eden Roc, where about 450 people live.Reuters reports that a magnitude 3.8 earthquake occurred beneath the volcano on Thursday, and "low levels of seismic activities continue across the volcano," USGS added.Read more on Kilauea Volcano's status at the USGS Hawaii Volcano Observatory here.
Melting Ice Causes Thousands Of Walrus To Wash Up On Alaskan Shore By Robert Martin Published Aug 28 2015 12:14 PM EDTweather.comThe Sad Story Behind This PhotoAs Matt Sampson explains amazing images taken during NOAA's annual arctic marine mammal aerial survey, show an estimated 35,000 walrus looking for a place to lay their heads. Thousands of Pacific walrus have returned to the northwest coast of Alaska in what scientists say is a sad annual sign of climate change. Once again, melting sea ice has left the animals with nowhere to go but the shores of Point Lay, Alaska.
EnlargeThousands of walrus near Point Lay, AK in 2014  (AP)According to Associated Press, the walrus have been swimming to Point Lay for nearly eight years as the sea ice they rely on for survival disappears at a record pace. Unable to swim for long stretches, the marine mammals rest on ice and between dives for clams, snails and other food. Mothers will also often leave walrus pups on the ice as they hunt.Officials from the U.S. Fish and Wildlife service have advised Alaska residents avoid large groups of the animals that are prone to stampedes when gathered in large numbers. Easily scared by loud noises such as helicopters or planes, the walrus are prone to stampedes that often kill pups who can't keep up.(More: 35,000 Walrus Come Ashore)The sudden migration to U.S. shores comes just one week before President Barack Obama is scheduled to visit the Alaska Arctic to raise attention to the climate change issue. The Guardian reports that Obama is the first president in history to tour the area.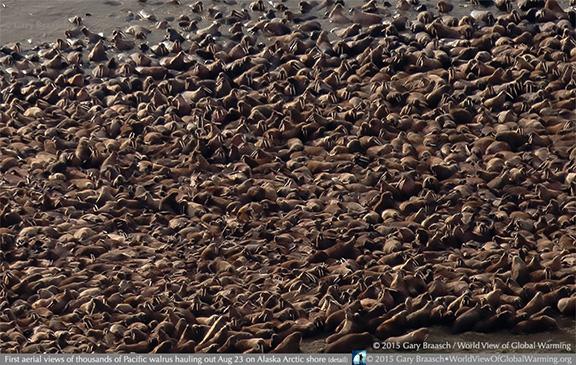 Follow

Gary Braasch @garybraaschAgain walrus swim ashore, Arctic sea ice disappears, Chukchi Sea http://worldviewofglobalwarming.org  climatechange @greenpeaceThis year's haul comes early. In 2014, an estimated 35,000 walrus were seen five miles north of Point Lay, but didn't arrive until October. The animals are also known to congregate on Russian shores in the summer.MORE ON WEATHER.COM: Sea Ice And Wildlife An Arctic fox on the tundra of West Greenland. (Jeff Kerby, Eric Post lab, Penn State University)