Strong earthquake shakes northern Japan; no tsunami warning
 1 hour ago Related Stories
TOKYO (AP) — A strong earthquake struck just off the coast of Hokkaido in northern Japan. No tsunami warning was issued.The quake with a preliminary magnitude of 6.7 hit about 12:30 p.m. (0330 GMT) Thursday, near Urakawa town on the southern tip of Hokkaido, according to the Japan Meteorological Agency. It said the quake's center was located at a depth of 50 kilometers (30 miles) below the sea surface.There were no immediate reports of injuries or damage.The lunchtime quake caught many residents by surprise."It was pretty strong. It went on about 40 seconds," said Haru Matsutakeya, 45-year-old resident in Hokkaido's capital of Sapporo, about 170 kilometers (100 miles) northwest of the epicenter. Just before the quake struck, an alarm on her cellphone and of several others around her sounded at a center for disabled people where she works. Matsutakeya rushed to turn off a kerosene stove in the room and stood by silently.Hiroyuki Kenai, a disaster prevention official at the Urakawa town was having lunch in his office when the quake hit. He told Japan's NHK national television in a telephone interview that officials were still assessing whether there was any damage.Two nuclear power plants and the Rokkasho reprocessing plant in the quake-hit region were not affected, nuclear safety officials said.Tohoku "bullet train" service south of the region was temporarily suspended but has since resumed, according to NHK. Some local train lines in Hokkaido were suspended for safety checks, though there were no immediate reports of damage.
French Alps Avalanche Kills 3; High Schoolers Among Missing Published:  8 hours 19 min ago By Sean Breslin weather.com Deadly Avalanche in French Alps Meteorologist Ari Sarsalari has the latest on a deadly avalanche that swept away 11 people in the French Alps Wednesday. Killing at least 3. Officials said at least 11 skiers were swept away by an avalanche in the French Alps on Wednesday, killing three and leaving several others unaccounted for.According to the Associated Press, the group was made up of 10 high school students and a teacher. They were skiing in the Les Deux Alpes area of Isère on a trail that had been closed due to avalanche fears, the AP added. Of the three confirmed deaths, two were high schoolers and one was a Ukranian skier."According to France Bleu [radio], about 10 centimeters (about 4 inches) of powder fell at 2,500 meters altitude the last few hours, without being stabilized," wrote Le Monde. "The risk of avalanches in Isère, Savoie and Haute-Savoie therefore increased."(WATCH: Avalanche Safety Tips)AP also reports that the ski trail was so risky it had been closed since the beginning of the ski season in December. Wednesday evening Isere prefect Jean-Paul Bonnetain told BFM-TV that the group leader "took the initiative to take his group on closed track" which was not suitable for beginners or high schoolers aged between 16 and 17.The Independent reported the group is believed to be from the Lyon area of France.The avalanche struck at about 4 p.m. local time Wednesday, according to ITV.com. A yellow alert was in place for the area due to avalanche danger, according to MeteoFrance.French President Francois Hollande sent condolences and said in a statement that he'll travel to Lyon to visit the families of the victims.This is a developing situation; please check back frequently for more. MORE ON WEATHER.COM: The Swiss Alps Jakub Polomski/jakubpolomski.com 
The Costliest Weather Disasters of 2015 Published:  1 day 17 min ago By Andrew MacFarlane weather.com Texas Tornadoes and Midwest Flooding: December 26-29  (Laura Buckman/AFP/Getty Images)
The National Oceanic and Atmospheric Administration announced their list of the costliest weather disasters of 2015—and it's a hefty one.In the last year alone, there were 10 events that exceeded in $1 billion in losses each, yes, each, across the U.S., including a drought, a wildfire, a winter storm, 2 floods, and 5 severe storms.In total, these 10 weather events resulted in 155 deaths and caused critical economic effects on the areas in discussion. The events also spanned across five distinct disaster event types, which is higher than the average in a given year.(More: Rocky Mountain Glaciers Are Shrinking, Scientists Find)The only other years to have five or more distinct event types that exceed over $1 billion in the same year were 2011, 2008, 1998, 1994, and 1989 in addition to 2015.The entire breakdown and overview can be found on NOAA's website.MORE ON WEATHER.COM: Weather.com's Best Photos of 2015 A man rows a boat on the West Lake in the snow on Dec. 5, 2015 in Hangzhou, Zhejiang Province of China. (ChinaFotoPress via Getty Images)  
Pali, Now a Tropical Storm, Became Earliest Central Pacific Hurricane on RecordPublished:  36 min 31 sec ago weather.com Tropical Storm Pali Still Churning Pali became the earliest hurricane on record in the central Pacific Ocean and has since weakened to a tropical storm. Pali became the earliest hurricane on record in the central Pacific Ocean Monday evening and has since weakened to a tropical storm, while still located unusually close to the equator for a tropical cyclone.This is on the heels of a historically active 2015 tropical season in the Pacific Ocean, including a Tropical Depression Nine-C, which formed near the end of the year and dissipated on Jan. 1, 2016.(MORE: 11 Things We Remember About the 2015 Tropics)Tropical Storm Pali was located more than 1,500 miles southwest of Honolulu, Hawaii, Wednesday night and will remain no threat to land.
Latest InformationPali defied odds, strengthening to a Category 2 hurricane on Tuesday, all while moving in an unusual southward direction across the low latitudes. For a time Tuesday, the hurricane even displayed a fairly well-defined eye on satellite imagery.Visible satellite imagery of Pali at its peak intensity as a Category 2 hurricane on Tuesday.Pali is forecast to continue weakening over the next five days, but confidence with the intensity forecast is relatively low, as very few tropical cyclones have existed so close to the equator.The previous record for the earliest hurricane in the central Pacific was Hurricane Ekeka which reached hurricane status on January 30, 1992.Dating to 1949, only two tropical storms had formed in the central Pacific in the month of January prior to Pali. Tropical Storm Winona was the first on Jan. 13, 1989, and the second was Ekeka on Jan. 28, 1992. Ekeka reached Category 3 hurricane intensity amidst the moderate El Niño of 1991-92.Pali will continue to track fairly close to the equator over the next few days, potentially ending up between 1 to 2 degrees north latitude. According to the Central Pacific Hurricane Center, this is "something rarely seen in the central Pacific."The system may utlimately dissipate by this weekend, but if Pali survives its track close to the equator as it nears the International Date Line, it could eventually re-strengthen later this weekend or next week. Since tropical cyclones of hurricane strength in the western Pacific are classified as typhoons, should Pali reach this intensity west of the date line, it would become a typhoon.
Projected Path In general, most tropical cyclones do not form within 5 degrees latitude of the equator, due to the weakness of the Coriolis force needed to help generate the low-level spin needed.  Here are the "closest to equator" tropical cyclones of hurricane strength (74 mph or higher), according to hurricane specialist Michael Lowry.:
1) Typhoon Vamei: 1.5 degrees North latitude in the western North Pacific basin (Dec. 27, 2001)
2) Cyclone Agni: 2.7 degrees North latitude in the north Indian Ocean basin (Nov. 29, 2004)
3) Hurricane Pali: 3.4 degrees North latitude in the central North Pacific basin (Jan. 13, 2016)
El Niño played a role in the formation of this unusual tropical cyclone. According to the discussion issued Thursday morning by the Central Pacific Hurricane Center, "This low-latitude out-of-season system has tapped into significant directional shear of the low-level winds, with an El Niño related westerly wind burst south of the system, and prevailing easterly trade winds to the north providing the large scale conditions conducive for development."(MORE: How May El Niño Impact Hurricane Season?)If this Pacific tropical storm wasn't strange enough, the Brazilian Navy Hydrographic Center's Serviço Meteorológico Marinho analyzed a subtropical depression off the east coast of Brazil in the South Atlantic earlier this past week. There is also a low pressure system in the North Atlantic that could become a subtropical storm within the next week. Pali is just another rarity in what has been an odd last couple of weeks in the tropics.The official 2015 hurricane season ended on November 30 in the central Pacific and does not begin in 2016 until June 1.MORE ON WEATHER.COM: Late Season Hurricanes Hurricane Wilma Oct. 15-25, 2005 After causing severe damage to the Yucatan Peninsula in Mexico, Wilma made landfall just south of Naples, Florida, as a Category 3 hurricane, producing widespread wind damage in South Florida. Wilma was the strongest Atlantic hurricane on record, by central pressure, bottoming out at 882 millibars in the western Caribbean Sea. (Image: NOAA) 
Photos: D.C. receives latest first trace of snow on record Resize Text By Jason Samenow January 13 at 10:16 AM  A dusting of snow in western Loudoun County. (Katie Thayer via Facebook)Finally, Tuesday evening, Washington, D.C. registered its first trace of snow of the 2015-2016 winter, the latest dating back to the late 1800s.Throughout the region, flakes flew and a few locations, primarily north and west of the Beltway, logged measurable amounts.Dulles Airport recorded 0.3 inches of snow, its latest first occurrence of measurable snow on record.  Other spots that picked up measurable amounts within a two county radius of the District included Damascus, Md. (0.3 inches) and Leesburg (0.3 inches).[Everything you need to know about snow in Washington, D.C.](Note: a trace of snow simply conveys flakes in the air, whereas a dusting indicates measurable snow that covers the ground)
Snow totals, Jan. 12, 2015 in D.C. area. (National Weather Service)More significant accumulations occurred in the highlands of eastern West Virginia and western Maryland where up to 2-4 inches fell.In the immediate metro region, the wind-whipped snow mostly melted on contact with the ground, although car tops, shaded and mulchy areas received a sparse covering, even inside the Beltway and in the District itself.The snow, which lasted only about 30 minutes in most spots, and its impacts were well-forecast, although the timing was roughly 60 minutes later than initially anticipated (occurring mostly between 6:30-8 p.m., rather than 5:30-7 p.m.).
[Snow showers dash through D.C. area]
Below are photos and video of the snow from around the region: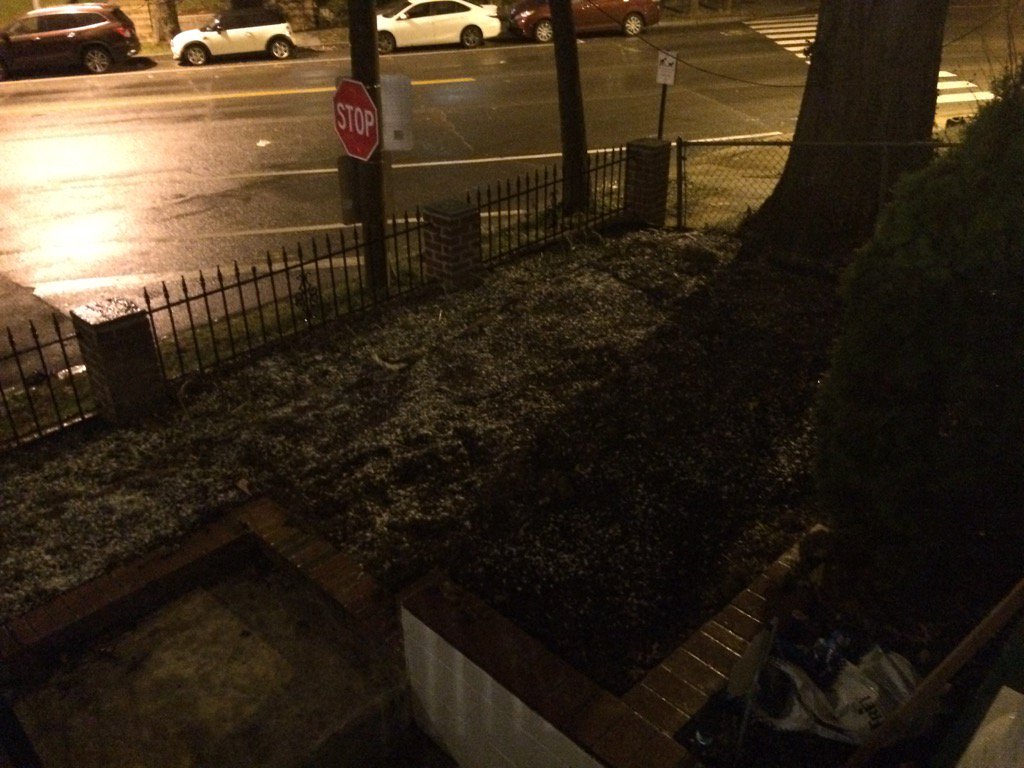 Follow
First snow in new house! Just enough to be visible on front yard
@
capitalweather
petworth
Virginia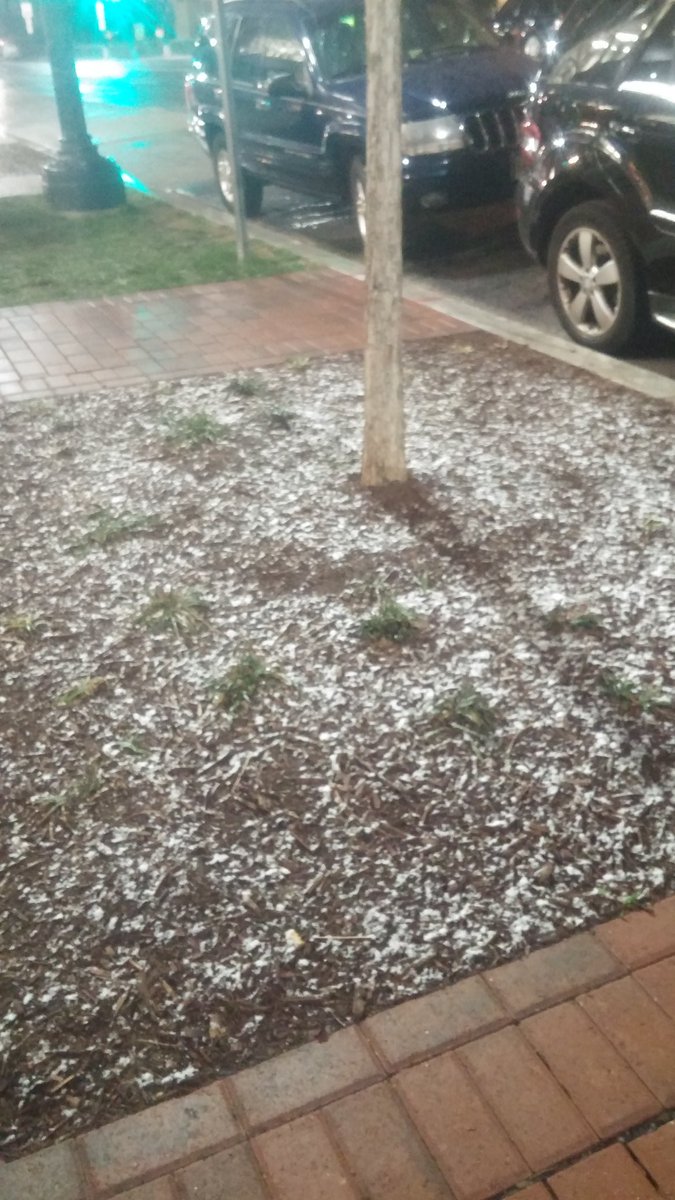 Follow
Snow in NE DC tonight…
@
capitalweather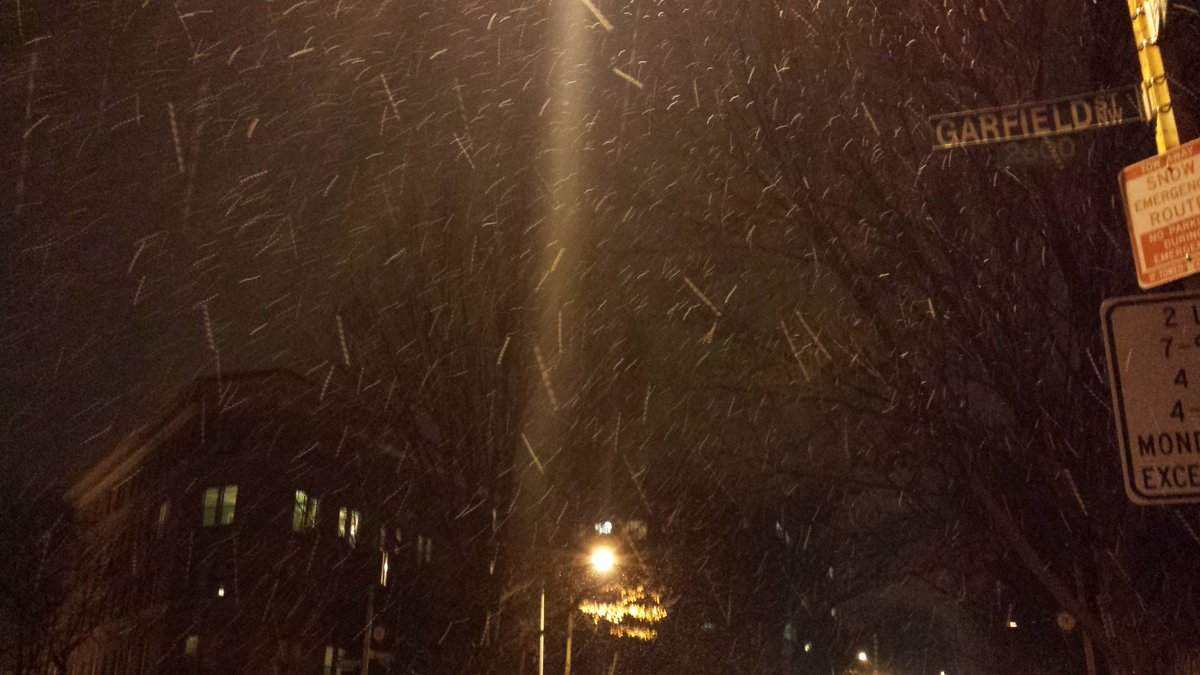 Follow
Snowing and melting fast at Cleveland park
@
capitalweather
Follow
Coming down but not sticking in
MtPleasant
DC
@
capitalweather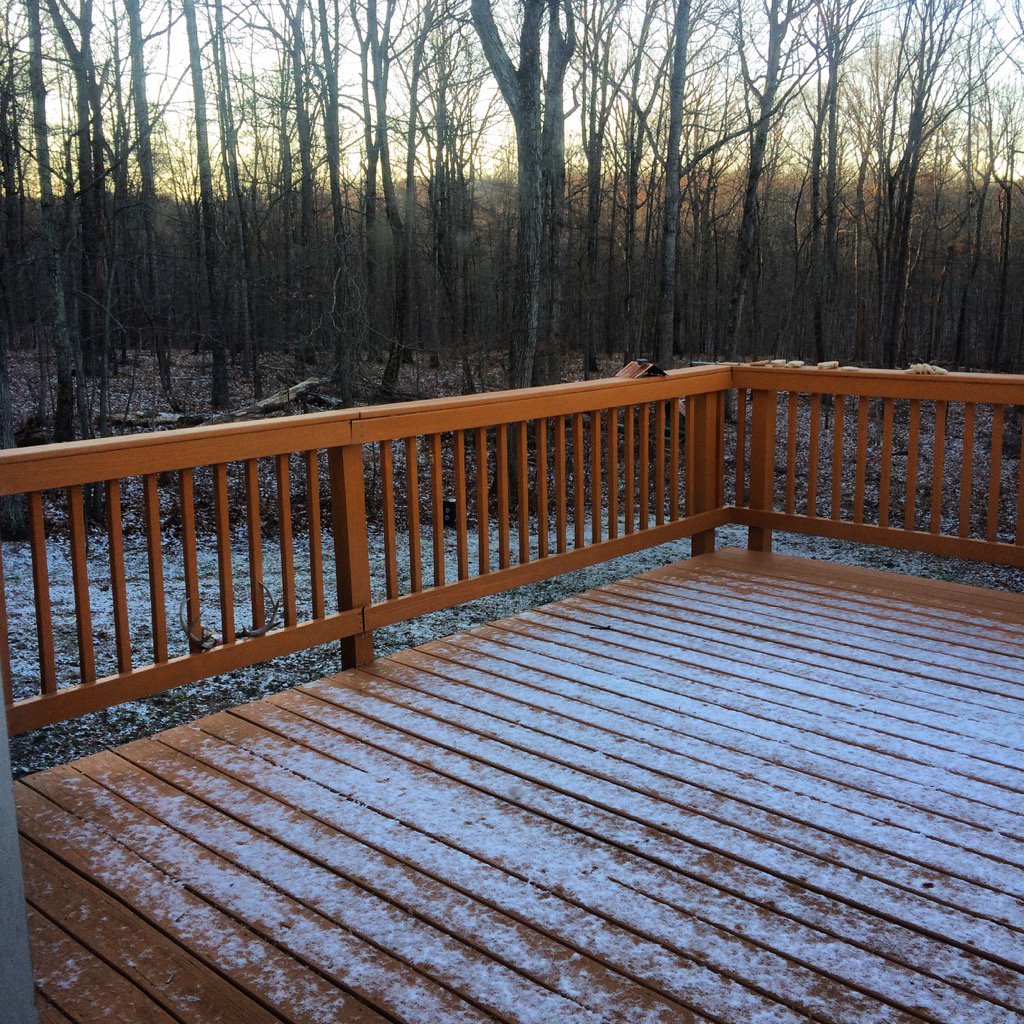 Aaaahhh Herndon snow is sticking to my car now (cc:
@
capitalweather
)
pic.twitter.com/6rz9dejn4c