Dike Collapse Causes Chaos in Chinese Village; Residents Evacuated Published: Jan 15 2016 12:00 AM EST By Ada Carr weather.com
The photo above shows flooded vehicles after the dike of a barrier lake collapsed in the Longfeng Township of Enshi Tujia and Miao Autonomous Prefecture, central China's Hubei Province on Jan. 14, 2016. (Xinhua via Getty Images)Thursday a village in central China's Hubei Province was completely flooded after a dike in a nearby barrier lake collapsed. The lake water, which amounted to hundreds of thousands of cubic meters, began pouring into the village of Enshi after the collapse occurred around 11 a.m, swallowing cars, according to Xinhua News Agency. Some of the villagers became trapped on top of vehicles as they attempted to escape the rushing waters, which began moving vehicles downstream, reports Daily Mail. Villagers were evacuated by emergency services and inflatable dinghies were brought in to help transport people.According to the fire brigade, more than 300 people were evacuated and 14 people were rescued from either being trapped inside of their vehicle or stuck on top of it, reports China News. By around 3 p.m., PICC Property and Casualty received reports of 27 flooded cars. By 4 p.m. the local vehicle registration had reports of more than 100 vehicles that were swept away by flood waters.(MORE: Man Survives 67 Hours Buried in Rubble of Shenzhen, China, Landslide)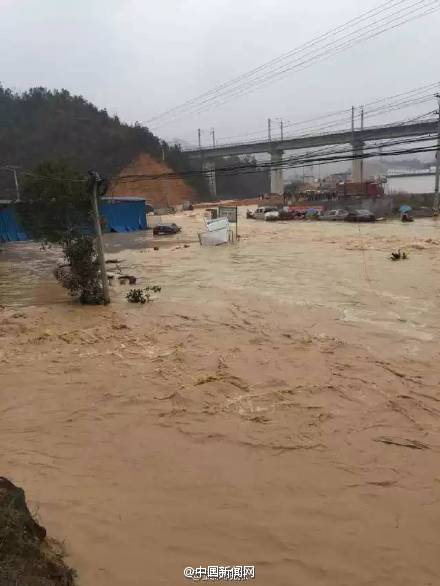 Follow
People's Daily,China@PDChina BREAKING Dam collapse in Enshi, C China's Hubei province Thu trapped dozens of people & vehicles. Rescue ongoing.Several villages downstream from Enshi also reported flooding, according to Daily Mail. When the water receded that afternoon, damaged sections of road re-emerged covered in a layer of yellow mud, China News also reports. Many flooded vehicles had been scattered along the roads and rescue vehicles were used to lift and tow them. Normal traffic was eventually restored.China News reports that the dike burst during drainage construction. There have been no casualties reported.MORE ON WEATHER.COM: China's Frozen Waterfalls Freezing temperatures turn China's Taihang Mountain's waterfalls into a winter wonderland. (Xinhua/Rex/Shutterstock) 
Strong Storms Hit Florida: Roof Damage Reported in Sarasota County; Teachers Struck By Lightning in Lake City Published: Jan 15 2016 02:00 PM ESTBy Sean Breslin weather.comRounds of Severe Storms in the South Meteorologist Ari Sarsalari has the latest on rounds of storms that rolled through the South, including Florida where storms have produced heavy rain and strong wind. Damage and injuries were reported as a round of strong storms clobbered Florida on Friday.In Lake City, two staff members were hurt by a lightning strike at Westside Elementary School Friday morning, according to News4Jax.com. One was a teacher's aide, identified as Lisa Wallace, who was taken to a local hospital as a precautionary measure, the report added. She was holding an umbrella while monitoring the student drop-off area at about 7:45 a.m. EST Friday morning, but was not directly struck by lightning, News4Jax.com also said.A second staff member was also hospitalized after the lightning strike, but there was no update on that person's condition. No students were injured by the strike, the report added.(MORE: Weekend System Could Bring More Severe Storms to the South)In the Sarasota County town of Venice, strong winds ripped off the roof at the Ark Plaza Shopping Center. Pieces of the roof landed on cars nearby, but no injuries were reported, according to WPTV.com. The Sarasota County Sheriff's Department urged drivers to avoid the area Friday morning."They looked out and they saw the roof on the ground back here behind the Plaza. It literally just came off the top of the Plaza," said Jason Raven of the Sun Coast News Network, during an interview with The Weather Channel. "Many people thought it was a tornado … fire officials told me that it could either be a tornado or a straight wind occurrence."Later Friday morning, an American Airlines flight from New York to Miami encountered heavy turbulence and declared a medical emergency, WSVN.com reported. Five people were injured and a flight attendant was treated for a broken nose, the report also said, but none of the injuries were considered serious. The plane was buffeted by strong winds near the Jacksonville area as it flew south, WSVN.com added."American Airlines Flight 1410 from New York's LaGuardia Airport to Miami briefly encountered severe turbulence approximately 40 minutes prior to landing," the airline said in a statement. "The seatbelt sign was on at the time. The flight landed without incident and safely taxied to the gate. Five passengers were evaluated by paramedics on arrival and were released. One flight attendant was transported to a local hospital for further evaluation."Additional storm damage was reported Friday afternoon in southern Fort Myers.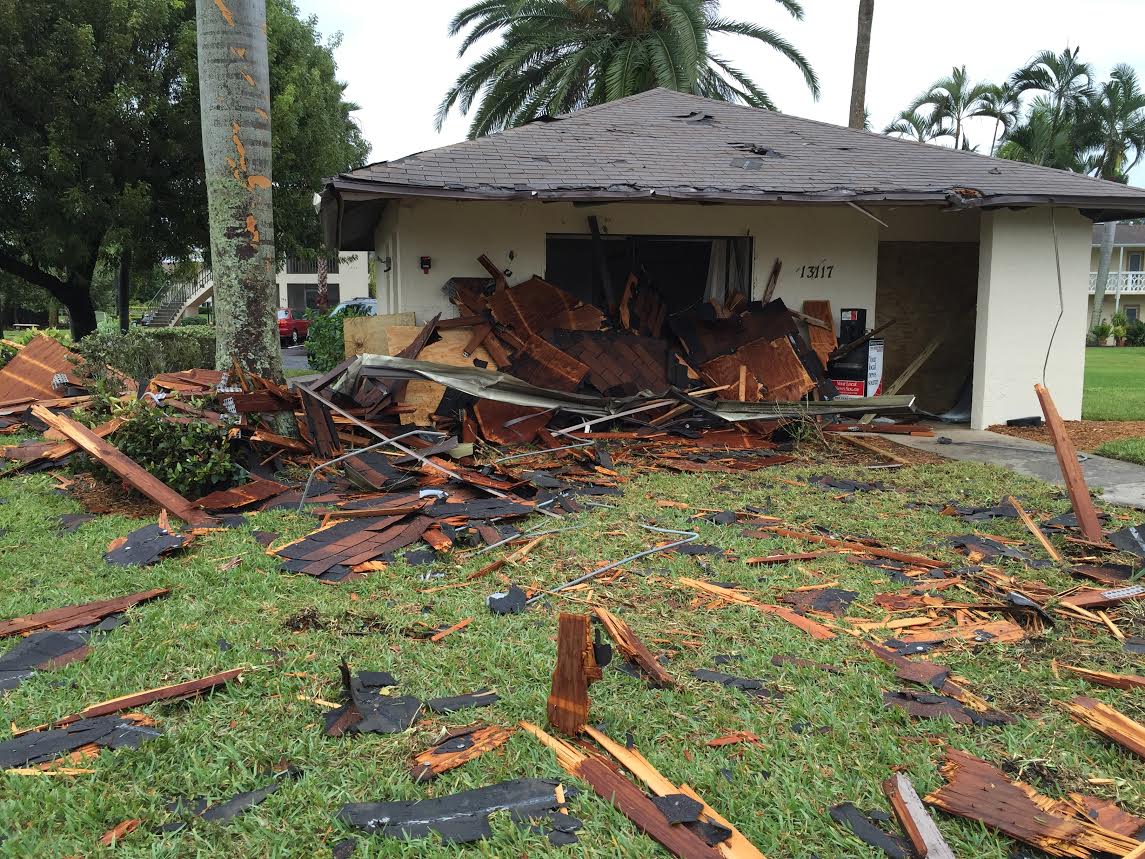 Follow 
Jim Dickey @WxDickeyStorm damage from south Fort Myers near intersection of McGregor and College–looks like a shed was leveled FLwxIn Naples, Florida Southwestern State Colege announced Friday afternoon classes would be canceled.MORE ON WEATHER.COM: From July 2015 – Flooding in the Tampa AreaFloodwaters rise in Tampa, Fla., making the commute difficult on the morning on Monday, Aug. 3, 2015. (@jshmoe/instagram) 
For The First Time Since 1938, A January Hurricane Has Formed In The AtlanticUpdated January 14, 201612:32 PM ET Published January 14, 201610:35 AM ET Eyder PeraltaDespite long odds, a subtropical system in the Atlantic was upgraded to hurricane status this morning by the National Hurricane Center.Satellite images showed Hurricane Alex, a well-defined tropical storm, churning in the open Atlantic, closer to Africa but at about the latitude of Jacksonville, N.C.
"It's rather surprising and remarkable," Richard Pasch, senior hurricane specialist for the National Hurricane Center, tells our Newscast unit. "It's a pretty rare event."In fact, since record-keeping began in 1851, only one other hurricane is known to have formed in January. That was an unnamed storm in 1938.Hurricane Alice, in 1955, was the last hurricane to be recorded in January. But Alice is a strange little hurricane because it actually formed in December of 1954 and stayed alive through Jan. 5, 1955.St. Kitts, NOAA reported in 1955, recorded a top wind speed of 75 mph.The National Hurricane Center reports that the central Azores, tiny islands almost 1,000 miles west of Lisbon, Portugal, are under a hurricane warning right now.Pasch says Alex could intensify a bit, but soon it will move into some really cold water, weaken and lose its tropical characteristics.
Lake Tahoe Was Flooded With 6.4 Billion Gallons of Water in 24 Hours Looks like it needed it, too.
Getty By Evan SernoffskyMore than 6 billion gallons of water have poured into Lake Tahoe in less than two days, helping the lake begin to recover from four years of crushing drought.Since midnight Monday, the lake has gone up 1.92 inches, the equivalent of 6.39 billion gallons of water, according to the National Weather Service. The water comes as a winter storm slams the Sierra, bringing several feet of snow to higher elevations and rain at lake level, which sits at roughly 6,223 feet.The lake—the second deepest in the United States behind Oregon's Crater Lake—was hit hard this year by the drought. Over the summer, the lake was shockingly low. Many boaters were unable to get their crafts into the lake after waters pulled back from most boat launches.
That bizarre-looking star just got a lot weirder — and yes, it could be aliens 
 By Jessica Orwig 9 hours ago
(Danielle Futselaar/SETI International) Three months ago, news broke that a giant "alien megastructure" could exist around a bizarre-looking star 1,500 light-years away.While the prospect of aliens was first launched by Penn State astronomer Jason Wright, almost everyone in the astronomy community agreed that the chances that this was the case were "very low."Now, the latest investigations into this strange star by Louisiana State University astronomer Bradley Schaefer have reignited the alien theory, New Scientist reported.What makes this star, KIC8462852, so bizarre is the drastic changes in light we see from it over time. Many stars experience temporary fluctuations in brightness, increasing and decreasing in luminosity over time, but KIC8462852's changes are severe by comparison.Between 2009 and 2013, astronomers using the Kepler space telescope discovered that it would sometimes lose up to 20% of its brightness. What's more, the changes didn't follow any obvious pattern.That would suggest something gigantic must be blocking the light at random times, meaning that it couldn't be a planet or other regular orbiting object because that would generate a distinct pattern of dimming light. It must be something that changes shape over time, thereby blocking different levels of light at random intervals.Surprise: It's probably not comets An alien megastructure, called a Dyson swarm, was suggested as one explanation for what scientists have observed, but the most likely reason astronomers came up with was comets — a giant family of them.But Shaefer says not so fast.
(CfA/Mark A. Garlick) "The comet-family idea was reasonably put forth as the best of the proposals, even while acknowledging that they all were a poor lot," Schaefer told New Scientist. "But now we have a refutation of the idea, and indeed, of all published ideas."To make his discovery, Schaefer had to dig deep down into the astronomy archives at Harvard. It turns out, astronomers have data on KIC8462852 dating back as far as 1890.By analyzing over 1,200 measurements of this star's brightness taken from 1890 through 1989, Schaefer found that the irregular dimming of KIC8462852 has been going on for over 100 years. Schaefer published his findings in the online preprint server arXiv.org.What's more, he explains in his paper that this "century-long dimming trend requires an estimated 648,000 giant comets (each with 200 km diameter) all orchestrated to pass in front of the star within the last century," which he said is "completely implausible."So what is it? By killing the comet theory, Schaefer has brought us one step closer to finding out what is really happening around KIC8462852.
(NASA/JPL-Caltech) An artist's concept of gas-giant planets in a dusty solar system, similar to how HD 95068 could look. At the same time, he's also reignited the possibility that the source could be an alien megastructure that an advanced alien civilization has been slowly building over time. One thing's certain for Schaefer: The bizarre dimmings are probably caused by a single, physical mechanism that's undergoing some type of ongoing change."The century-long dimming and the day-long dips are both just extreme ends of a spectrum of timescales for unique dimming events, so by Ockham's Razor, all this is produced by one physical mechanism," Shaefer said in his paper. "This one mechanism does not appear as any isolated catastrophic event in the last century, but rather must be some ongoing process with continuous effects."Schaefer isn't the only one interested in learning more about KIC8462852. Late last year, astronomer Doug Vakoch and his team at the new organization called SETI (Search for Extraterrestrial Intelligence) International — not to be confused with the SETI Institute — went hunting for aliens around KIC8462852.They searched for signals that an alien civilization might be beaming toward Earth either in radio or visible wavelengths, but ultimately they came up empty handed. So, if it is aliens, then they're being awfully quiet.NOW WATCH: Here's why aliens might actually existMore From Business Insider Epically awesome pictures of Saturn Here's a 3-minute animation that will completely change the way you see the universe 11 mind-melting photos will make you realize how shockingly small Earth is
Drones for Good: Superhero UAVs Compete for $1 Million Prize Glenn McDonald January 15, 2016
Despite their mushrooming popularity, drones are suffering from a bit of a PR problem of late — what with the drug smuggling and the flamethrowing and the tom peeping.So it's nice to see some news on the upside of drone utility. To wit, the finalists for the UAE Drones For Good Award were announced this week.Now in its second year, the international competition is sponsored by the government of the United Arab Emirates and challenges entrants to "improve people's lives and provide technological solutions to modern day issues," according to the mission statement. The gist: Teams from around the planet submit their "good guy" drone projects for a chance at a $1 million dollar grand prize.In other words, these are superhero drones, designed to counter the nefarious deeds of villainous drones and fight for truth, justice, and the, um, UAE way, I suppose.Related: Feds to Washington D.C. Drone Enthusiasts: You're GroundedIn any case, the concepts put forth by the 20 finalists — selected from more than 1,000 entries — are really quite empirically cool.Take for instance the Loon Copter, developed by an engineering team in Michigan. Named after the famous diving duck, the Loon is really three drones in one — it's capable of aerial flight, on-water surface operation, and underwater diving.The Loon Copter could be useful, designers say, for marine research projects, tracking oil spills, or even crime scene investigations. The Loon could fly to the middle of a lake, land on the surface, then dive and use its underwater cameras to scan for evidence.Then there's the Flare 2.0 drone, which takes the old idea of the flare gun into new territory. If you're stranded in a remote area, away from any mobile phone coverage, the Flare flies away and finds the nearest mobile network. The drone then transmits an SOS along with GPS information on your location and any other details about your emergency.The idea is to pack the drone into a kind of next-generation outdoor survival kit. The drone folds up, scissorlike, into a lightweight cylinder that can be fit into a backpack or otherwise taken on your expedition. The UAE design team behind the Flare was inspired by a recent camping-in-the-desert adventure gone sideways.The SenseLab Research Group, based in Greece, has put forth a similar idea with its SaveME project, which takes things a step further. The team's "phone-drone" concept is just that — a mobile phone outfitted with detachable rotors for situational heroics.
In a crisis scenario, your own mobile phone could take off to find help — like a 21st century Lassie — or even fly to the nearest hospital or pharmacy and fetch needed medication.If you're at all interested in the bright side of future drone technology, it's a lot of fun to poke around the Drones for Good online pavilion and see what's what. Among the categories these drone projects are competing in: Health, Environment, Economy, Education, and Humanitarian Aid.Final winners of the 2016 competition will be announced February 7, with the top International Prize winner getting a cool US$1 million. That'll help the old R&D budget along. You can check out a video compilation of last year's Drones for Good competition below.Glenn McDonald writes about the intersections of technology and culture at glenn-mcdonald.com and via Twitter @glennmcdonald1.
Inventor pitches detachable airplane cabin to save lives during crashes 
 By Olivia Niland 3 hours ago
The latest innovation in airplane safety might just be a detachable cabin, at least according to a Russian inventor who released his designs for the technology this week.Tatarenko Vladimir Nikolaevich has spent three years working on the project, which would allow for an airplane's cabin to detach at any point during mid-flight, takeoff, or landing in case of emergency, The Independent reported. In the event of detachment, parachutes would deploy to deliver the cabin to a safe landing on the ground or in the water.See also: Boeing imagines the airplane cabin as a giant LED screenNikolaevich's patented design even includes space underneath the cabin so that passengers' luggage will detach in the event of an emergency, too.The inventor claims that 95% percent of those he interviewed—although he didn't divulge how many people he talked to— would be in favor of paying more for airplane tickets if the detachable cabin were to become a standard feature.Still, not everyone is completely on-board with the idea, with some people questioning the cost-effectiveness, whether the detachable cabin would compromise the structural integrity of the rest of the plane, and what happens to the pilots after the cabin detaches.See also: Mexico's president defends $218 million Boeing 787 Dreamliner purchaseThis isn't the first time a detachable cabin has been proposed, as Airbus filed its own patent for a similar idea in February 2013, though the company's version deals more with convenience than safety, Wired reported.In an announcement released after its patent approval in November, Airbus proposed a detachable cabin that would streamline the boarding process by having passengers at the gate board the detached cabin, which would then be attached to the plane before takeoff.It may sound like science fiction, but it looks like detachable airplane cabins are indeed being seriously considered.Have something to add to this story? Share it in the comments.
Two 'mega sharks' caught from Australian beach gain worldwide attention  by David Strege
image: http://cdn.grindtv.com/wp-content/uploads/2016/01/tiger-shark-from-Rogue-Offshore.jpg Jethro Bonnichta poses with a tiger shark estimated over 770 pounds. Photo: Courtesy of Joshua Butterworth/Rogue OffshoreTwo fishermen in Western Australia spent 10 days fishing on a beach north of Carnarvon and reported catching and releasing 30 sharks, including two "mega sharks" that captured international attention, The West Australian reported.Joshua Butterworth and Jethro Bonnichta of Esperance, Australia, posed for photos of a massive hammerhead shark and an equally huge tiger shark that were estimated to weigh between 770 and 880 pounds, according to the Daily Mail.This week, Butterworth shared the photos with Rogue Offshore, a U.S.-based fishing company, and soon they gained worldwide attention by going viral on Facebook.Bonnichta, who spent an hour and a half battling the 13.5-foot hammerhead, which stripped out 2,600 feet of line three times, collapsed from exhaustion afterward. The tiger shark took 30 to 40 minutes to land, presumably by Bonnichta (it was unclear who caught it), and was also over 13-feet long.
image: http://cdn.grindtv.com/wp-content/uploads/2016/01/hammerhead-shark-rogue-offshore.jpgJoshua Butterworth, left, and Jethro Bonnichta with the 13.5-foot hammerhead shark caught from the beach. Photo: Courtesy of Joshua Butterworth/Rogue OffshoreThe pair also caught several lemon sharks and nurse sharks. All the sharks were released."We do a lot to make sure they are healthy," Butterworth told Perth Now. "We got the sharks just on the edge of the water, so the water was still going through their gills [while taking photos]. We never kill any of them and we always take a lot of care in getting them back into the water."While the anglers were lauded for catching the mega sharks and releasing them, it wasn't surprising that they received a share of criticism, too."Why can't people just leave them alone?" one commenter wrote on the Rogue Offshore Facebook post, as reported by 9 News."I've fished all my life [and] know a few great well-known fisherman who don't agree with this in WA," another wrote.Interestingly, fishing wasn't the only activity the two participated in while camping on the beach."We were fishing straight out of our camp and we were swimming where we went fishing every day," Butterworth told The Western Australian."These sharks are fine, they are well fed. It's the ones near Esperance we worry about."More from GrindTV 10 things you need to start spearfishing This week in Vimeo on Demand Big-wave surfer rides giant waves to save coralRead more at http://www.grindtv.com/fishing/two-mega-sharks-caught-from-australian-beach-gain-worldwide-attention/gqClel3HqM0l0k2C.99
Why Are Venomous Sea Snakes Washing Up on California Beaches? 
 By Taylor Kubota, Live Science Contributor 16 hours ago
A beachgoer got quite the slithery surprise when a 20-inch-long (50 centimeters) venomous sea snake washed ashore at Coronado Dog Beach near San Diego Tuesday (Jan. 12).The yellow-bellied sea snake (Pelamis platura) is very uncommon in California, but three (including this latest sighting) have washed ashore in Southern California in the past few months.The beachgoer who found the yellow-bellied sea snake Tuesday alerted lifeguards to the serpent at around 2:30 p.m. local time, according to a statement from the city of Coronado. They placed the lethargic snake in a bucket, but just like the other snakes of that species that have washed up recently on California beaches, it died soon afterward. The snake has since been turned over to the Scripps Institution of Oceanography.Usually found in the tropical parts of the Pacific and Indian Oceans, including the western coast of Central America, Hawaii, Japan, and the eastern coast of Africa, these snakes have striking yellow bellies that serve as warning signals to other animals that they are venomous, meaning they inject a toxic substance when they bite a person or other animal. No human deaths have ever been reported as a result of P. platura. [See Photos of Snakes from Around the World]Greg Pauly, assistant curator of herpetology at the Natural History Museum of Los Angeles, previously told Live Science that yellow-bellied sea snakes pose little threat to humans because their venom, fangs and small mouth size are better suited to smaller prey, such as tiny fish. Still, officials and experts advise people to keep their distance if they come across one of these snakes.In total, only six yellow-bellied sea snakes have ever been reported north of the tip of Baja California, Mexico, Pauly said. Two were found on California beaches in 2015 — one on Oct. 16 at Silver Strand Beach in Ventura County, and the other on Dec. 12 at Bolsa Chica State Beach south of Los Angeles. Prior to that, the last reported sighting occurred in 1972.
The snake the washed ashore on a Coronado beach is a yellow-bellied sea serpent, a species that is h …Although experts are surprised by the sudden surge of P. platura in this area, the cause is relatively clear: Warmer waters in the equatorial Pacific Ocean, caused by El Niño, bring many unexpected tropical species northward through a mix of rising sea-surface temperatures and altered currents, expert say. "In general, we see fish moving north that are unusual in these areas — like hammerhead sharks or mahimahi — and it's unusual to see the snakes, but not unexpected when you have these really warm waters from the El Niño event," said Karen Martin, a professor of biology at Pepperdine University in Malibu, California.What is less clear is why these snakes are washing up on beaches. Yellow-bellied sea snakes don't move well on land, so if they're on the shore, it is a sign they are unwell, Martin said. "[It] probably reflects the stress of them being far from home and maybe the travel — and possibly that they're getting out of their natural range and having difficulties as they get farther north," she said.Sea snake sightings may be rare in Southern California, but they aren't the oddest creatures spotted in the area. In 2013, an 18-foot-long (5.5 meters) dead oarfish washed up on Catalina Island, followed a few days later by a smaller oarfish landing on a beach near San Diego. That wasn't the end of the surprises: When scientists took a look inside the smaller oarfish, they found hundreds of thousands of eggs in the animal's ovaries.The Natural History Museum of Los Angeles requests that, if you do see a yellow-bellied sea snake, you report the sighting, along with a photo and a description of the location, to nature@nhm.org.Follow us @livescience, Facebook& Google+. Original article on Live Science.
Toxic Chemical Discovered in San Francisco's Fog Fog rolling in off the Pacific brings iconic beauty to San Francisco, but scientists say it also carries with it something much less pleasant: toxic mercury.​Most Popular
The Best Images of National Geographic's Photo Con…
Infrared Footage Shows Just How Terrifyingly Bad C
13 Photos of Texas' Record-Breaking Blizzard