Airlines Prepare For Delays, Cancellations Ahead of Winter Storm Jonas Published: Jan 20 2016 08:30 PM EST By Ada Carr weather.com Winter Storm Jonas Interstate
Travel Forecast Meteorologist Ari Sarsalari forecasts the travel impacts of winter storm Jonas. As Winter Storm Jonas prepares to unload a swath of snow in parts of the East throughout the weekend, travel plans have already been thrown off. Southwest Airlines released a travel advisory stating that
their scheduled services on Friday and Saturday are likely to be disrupted, meaning they could be delayed, diverted and/or cancelled. Travelers flying to, from, or through impacted areas this weekend are eligible to reschedule their flights. Delta also issued an advisory, saying people expected to travel through certain parts of the Northeast from Jan. 22 to Jan. 24 are entitled to a refund if their flight becomes canceled or significantly delayed. If the flight is not canceled, travelers may still make a one-time change to their ticket.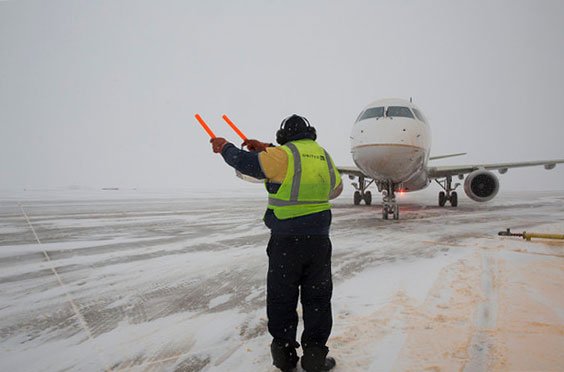 Follow
United @united In anticipation of Winter Storm Jonas, a travel waiver is in place for the U.S. Northeast: http://bit.ly/1jxS8kW .Other airlines including Frontier, United and American have also provided the option for customers to either reschedule flights or receive refunds.Impacted airports include:
Hartford, CT (BDL)

New Haven, CT (HVN)

Lexington, KY (LEX)

Allentown, PA (ABE)

Harrisburg, PA (MDT)

Scranton / Wilkes Barre, PA (AVP)

State College University Park, PA (SCE)

Philadelphia, PA (PHL)

Pittsburgh, PA (PIT)

Williamsport, PA (IPT)

Baltimore, MD (BWI)

Salisbury, MD (SBY)

Boston, MA (BOS)

Asheville / Hendersonville, NC (AVL)

Greensboro / Highpoint, NC (GSO)

Raleigh / Durham, NC (RDU)

Albany, NY (ALB)

Binghamton, NY (BGM)

Elmira / Corning, NY (ELM)

Islip / Long Island / Macarthur, NY (ISP)

Ithaca, NY (ITH)

New York LaGuardia (LGA)

New York Kennedy (JFK)

Newark, NJ (EWR)

Stewart / Newburgh, NY (SWF)

Westchester County / White Plains, NY (HPN)

Providence, RI (PVD)

Knoxville, TN (TYS)

Tri City, TN (TRI)

Manchester, NH (MHT)

Charlottesville, VA (CHO)

Lynchburg, VA (LYH)

Newport News, VA (PHF)

Norfolk, VA (ORF)

Richmond, VA (RIC)

Roanoke, VA (ROA)

Washington Dulles, VA (IAD)

Washington Reagan National, DC (DCA)

Charleston, WV (CRO)

Huntington, WV (HTS)
Interstate 95 in the Northeast megalopolis, Interstate 81 in the interior Mid-Atlantic region including the Shenandoah Valley, and Interstate 64 from Kentucky to Virginia are all expected to be impacted by Jonas. According to the Associated Press, blizzard and winter storm watches have been issued for parts of Maryland, Washington, Virginia and West Virginia.MORE ON WEATHER.COM: Winter Storm Ilias during an afternoon snowfall. The driver was able to get out the passenger side and walk to a local business to call the Sheriff's Deptartment for help. (Earl Neikirk/The Bristol Herald-Courier via AP) 
East Coast braces for major winter storm, but will the snowpocalypse actually come?
By Dylan Stableford 13 hours ago Yahoo News Yahoo News Video The East Coast braces for Winter Storm Jonas
 News The East Coast braces for Winter Storm Jonas The East Coast could be in for its first major winter storm of the season, with forecasters predicting a weekend of heavy snow, high winds and coastal flooding from Virginia to Maine.Winter storm watches have been posted in parts of the mid-Atlantic as officials in Washington, Baltimore, Philadelphia, New York and Boston are bracing for blizzardlike conditions along the I-95 corridor beginning as early as Friday. A blizzard watch has already been issued for the D.C. metro area.Up to 50 million people could be affected by the storm, which already has a name: Jonas.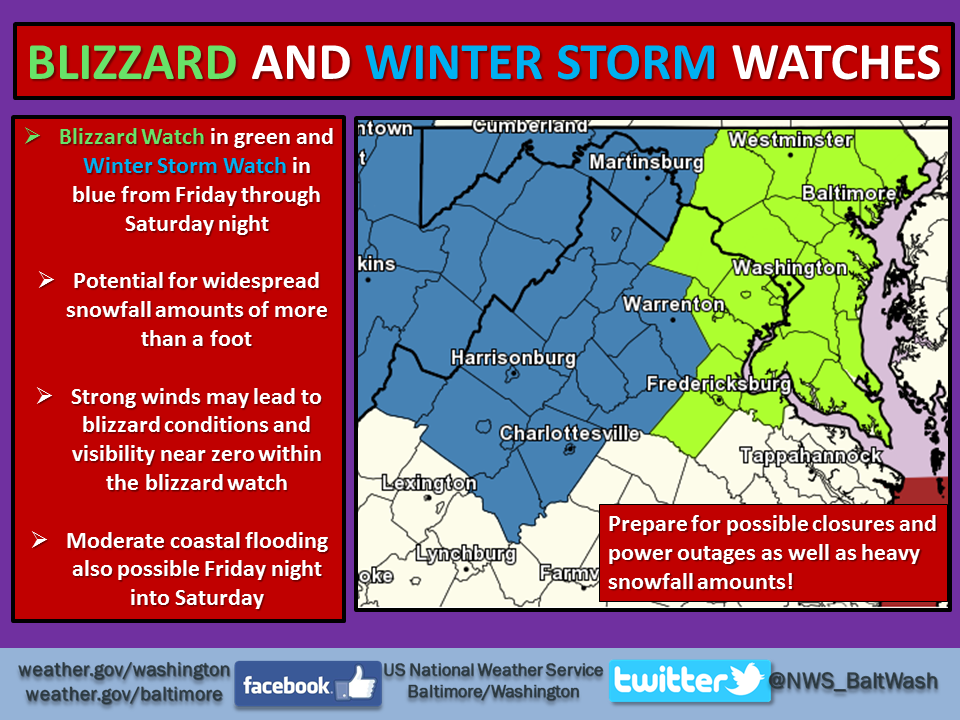 Follow
NWS DC/Baltimore @NWS_BaltWashBlizzard & Winter Storm Watches have been issued. Begin preparing now for a major winter storm. winterstorm"Forecasters are monitoring the possibility of a major winter storm affecting the Northeast later this week, including the possibility of heavy snow for the urban corridor extending from Washington, D.C., to New York and Boston Friday into Sunday," the National Weather Service said. "Based on the anticipated storm track, as much as 1 to 2 feet of snow is possible near and northwest of I-95. Coastal flooding is also likely."Those along the storm's 1,000-mile path will see at least six inches of snow, while a large swath stretching from the West Virginia mountains to southeastern Pennsylvania could see up to three feet.While a high-impact snowstorm is likely, the exact timing and snowfall totals are subject to change.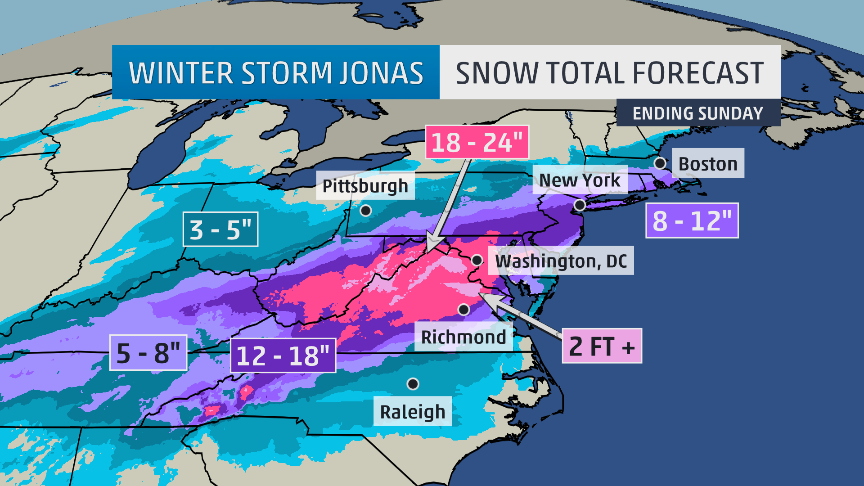 Follow
The Weather Channel@weatherchannelPotential snow totals for Winter Storm Jonas, keep in mind these numbers will likely change, latest on @AMHQ!"There remains considerable uncertainty regarding snow amounts on the northern edge of Jonas' snow shield from Pennsylvania to southern New England," Weather.com noted.Last year, a massive snowstorm that had millions along the Eastern Seaboard hunkering down pummeled Boston with more than two feet of snow. New York City and parts west, though, were spared the brunt of what "Daily Show" host Jon Stewart dubbed "Blizzapocalypsegeddon '15." (Remember CNN's "Blizzardmobile"? "Settle down, Batman," Stewart quipped. "It's a Ford Explorer.")But that hasn't stopped some forecasters from sounding the proverbial alarm, particularly in Washington."Colossal storm to unload a foot of snow from D.C. to Philadelphia, NYC," AccuWeather.com declared. 
Whatever happens, one thing is for certain: A winter storm that shares the name of a popular boy band will dump plenty of memes on the Internet.Remember this? (CNN)But that hasn't stopped some forecasters from sounding the proverbial alarm, particularly in Washington."Colossal storm to unload a foot of snow from D.C. to Philadelphia, NYC," AccuWeather.com declared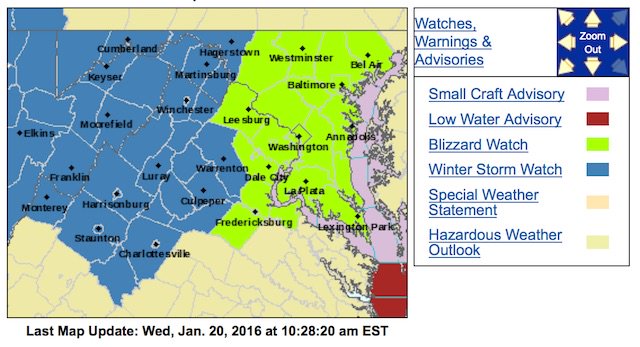 Follow
Weather Underground @wundergroundBlizzard watch just issued for DC/Baltimore area: "Potential life threatening conditions" http://forecast.weather.gov/wwamap/wwatxtget.php?cwa=lwx&wwa=blizzard%20watch …
Eldery Woman Freezes to Death While Attempting to Rescue Wheelchair-Bound Husband Published:  Jan 20 2016 12:00 AM EST By Ada Carr weather.com A 74-year-old woman in central Georgia froze to death last week while trying to help her wheelchair-bound husband outside of their home, according to authorities. CBS News reports that Maria Riffe was attempting to help her 86-year-old husband, Roy Riffe, who was in his motorized wheelchair going down a concrete walkway when he accidentally ran off and fell out of his chair. "He [Mr. Riffe] said he called out to her and it could have been that she could have heard him. She went out with her walker. He told her to go back in the house to call someone because she had on just a regular thin housecoat and when she turned with her walker to go back in the house it appears she lost her balance and she fell off the sidewalk," Putnam County Sheriff's Lieutenant Tracey Bowen told FOX 5 Atlanta.Maria Riffe only had on a house coat when she went to help her husband, which caused her to die from hypothermia, reports WMAZ. According to Mayo Clinic, hypothermia occurs when your body loses heat faster than it can produce it, causing a dangerously low body temperature. This decline makes it difficult for your heart, nervous system and other organs to function normally, and can cause complete heart and respiratory system failure. It is typically caused by exposure to cold weather or immersion in cold water. The couple was discovered around 10:30 a.m. Fridau, WMAZ also reports. According to Putnam County Sheriff Howard Sills, they were about 20 yards away from each other, with Roy Riffe turned over in his wheelchair.Roy Riffe had on a jacket and fleece pants, which helped him survive the incident. He was transported to Putnam General Hospital, and is expected to recover.MORE ON WEATHER.COM: Tips For Combating Cold Weather Cold, dark days bring their own set of health challenges, thanks in large part to the way your body reacts to cooler, drier air. Click through to find out how to weather winter healthfully. (Thinkstock/Digital) 
Thanks to El Niño, California's Folsom Lake Is Surviving the Worst Drought on Record It reached the 44-foot mark today. 
Michael Macor/ The Chronicle By Brandon Mercer California lake levels are rising as fast as the stock market is falling, with Folsom Lake east of Sacramento rising an astonishing 44 feet in just over a month and Lake Oroville, the second most expansive water storage facility in the state rising another 20 feet.Early December saw Folsom Lake dwindle to the hydrological equivalent of a mud puddle. It reached its lowest levels since they built the dam of around 349 feet above sea level to fill it up.Today, it has risen over 44 feet to just under 393 feet above sea level.
The worst year previously was 1976 to 1977. Then, in fall of 1977, Folsom Lake began filling up again, following a trajectory that looks rather similar to what is happening right now.And, to be clear, as you can see in the shaded aqua area in the graph above, the lake always rises a hundred feet or much more every winter or spring. The difference is the water level was on track to flatline, similar to 1976 to 1977, over the past years, and now it is getting a much desired rocket-like rise instead.The real answers will be found by checking back in a month to see if the chart is still going upward, toward that normal trend line.