'Snowboarding with the NYPD': YouTube filmmakers use NYC blizzard shutdown for viral video
 By Dylan Stableford 7 hours ago Yahoo News
A pair of enterprising if law-bending filmmakers used the weekend blizzard that shut down New York City to produce a soon-to-be-viral video showing them skiing and snowboarding through Manhattan's near-empty streets — and right through Times Square.Casey Neistat and Jesse Wellens, both popular YouTube video producers, and a small team set out from their studio in a Jeep Wrangler on Saturday, armed with several cameras, a GoPro and a drone to capture their blizzard adventure.The resulting two-and-a-half-minute video shows Neistat, pulled by a rope-tow, carving up the snow-covered streets alongside parked cars, plows and police cruisers as if the Big Apple was his own snowboard park — all of it set to Frank Sinatra's "New York, New York."The storm dumped a total of 26.6 inches of snow in Central Park on Saturday — a single-day record — causing Mayor Bill de Blasio to order a 2:30 p.m. shutdown of New York City's streets.Most of the footage was captured before the shutdown, though a patrol car did pull the filmmakers over at one point."Someone complained about you, so we're going to act like we're talking to you," an unidentified officer can be heard telling renegade filmmakers."You guys are awesome," Neistat replies.Neistat's "Snowboarding With the NYPD" has already been viewed more than 500,000 times on his YouTube channel. (Even the nine-minute "behind-the-scenes" footage has already racked up more than 350,000 views.)And while it will likely go down as the most viewed, the NYC snow stunt wasn't the only blizzard video to make the rounds on the Internet.In West Virginia, members of the university's swim team didn't let the snow stop them from a chance to practice.Nor did it stop this high school diver from working on her form.
(Instagram/@courtney_marie_02)In Pennsylvania, the Duquesne men's basketball team used teamwork to push their bus out of the snow after being stranded for 24 hours.In Washington, D.C., police joined in during a pickup game of snow football — and one officer got a bit aggressive with the stiff-arm.And over at the National Zoo, Tian Tian, a resident giant panda, was seen reveling in the mounds of snow.
Winter Storm Jonas's Heavy Snow Blamed for Roof Collapses in At Least 4 States Published:  Jan 24 2016 12:00 AM EST By Andrew MacFarlane weather.com Impacts Of Deadly Storm Jonas Meteorologist Danielle Banks has the latest information from Winter Storm Jonas. Winter Storm Jonas packed a powerful punch, blasting several states with up to 40 inches of snow. The weight of the heavy snowfall has taken its toll on several structures across multiple states.Here's a list of reported places that have been damaged by the massive snow totals:(More: Winter Storm Jonas Keeps Lawmakers Away) Virginia 
The Wayne Lanes Bowling Center in Waynesboro, Virginia following Winter Storm Jonas. (William Groah/Instagram)In Waynesboro, the roof on the Wayne Lanes Bowling Alley caved in from the heavy snow load. Captain Allen Saum of the Waynesboro Fire Department said that no injuries were reported and there was no evidence that anyone was in the building around the time of the incident, according to The News Virginian.The roof and some walls of the historic Donk's Theater in Mathews County collapsed due to snow and ice accumulation, in addition to old age, Friday night while Winter Storm Jonas moved through the area. The theater, which opened in 1947, is considered a total loss. No injuries were reported. "It's the house that built me and it built a lot of other people too," Lynda Smith, Talent Production Manager, told WTKR. "We're gonna miss it, it's like a death in the family."The Washington Redskins' indoor practice facility was deflated due to the amount of snow and high winds in Loudoun County. The facility is an air-filled structure and will be inflated again when conditions improve, Tony Wylie, a Redskins' spokesman, told NBC Washington.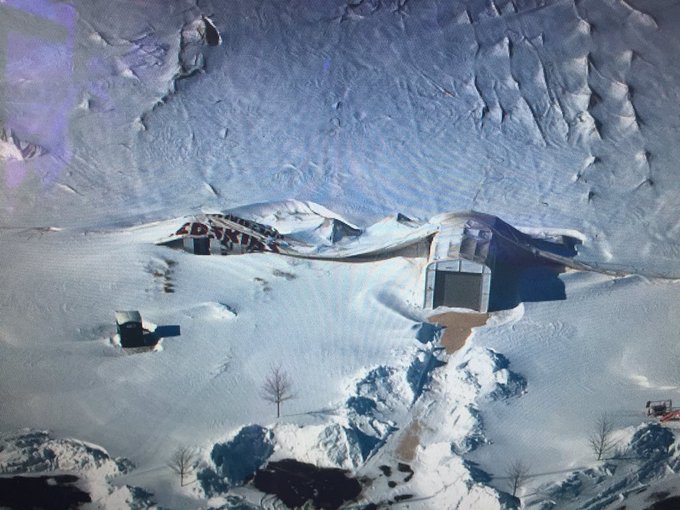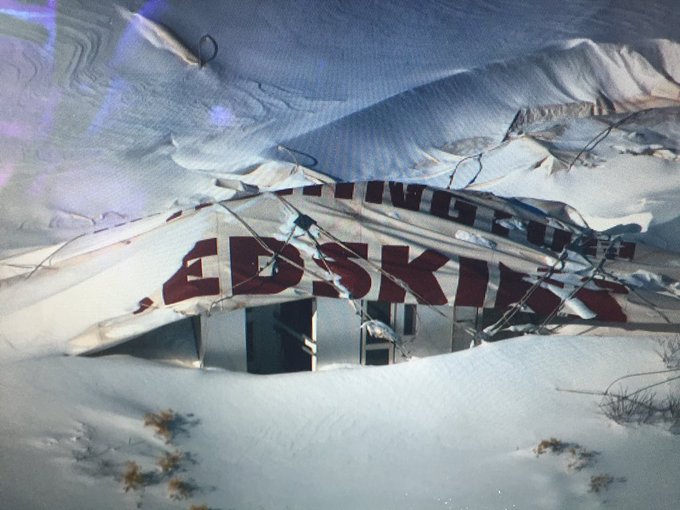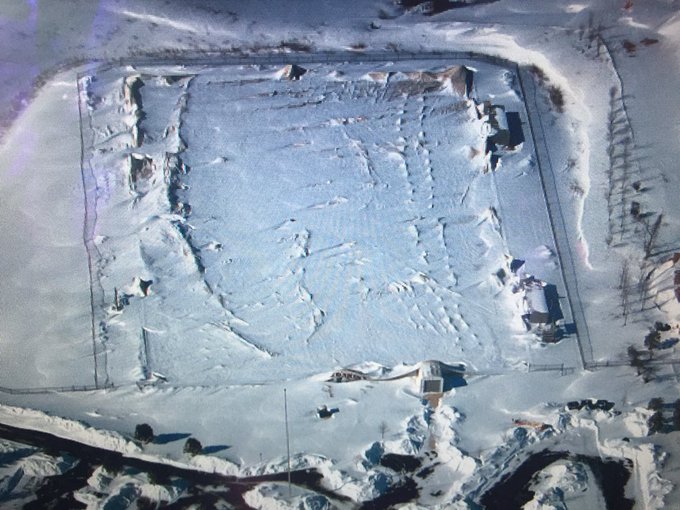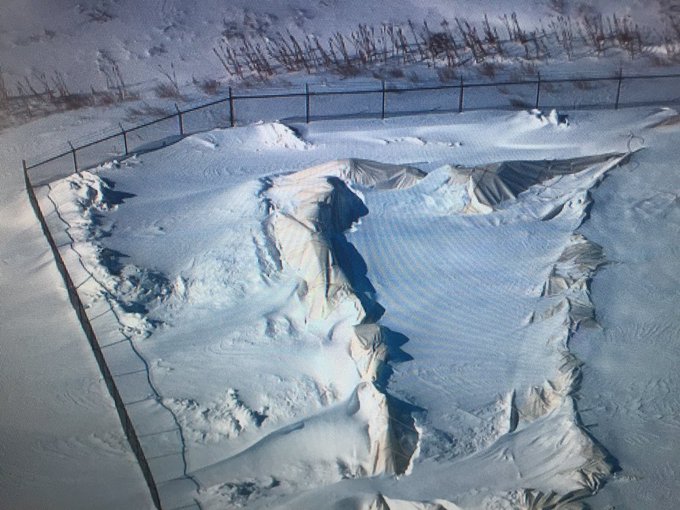 Follow 
Brad Freitas @NewsChopperBradBreakingNews @Redskins indoor practice field deflates faster than @Patriots footballs Blizzard16 There were no reports of injuries during the deflation.(More: Where Does Jonas Rank Historically?)The Coverstone Apartment complex in Prince William County relocated nearly 70 of its residents to a local firehouse after the roof partially collapsed early Sunday morning, according to a FOX 5 report.Maryland Emergency crews responded to a roof collapse of a utility building for the Potomac Oaks Condos in Gaithersburg Saturday morning. No injuries were reported and the building remains without power, says FOX 5.In Poolesville, the Montgomery County Fire Department responded to a barn collapse that housed 35 horses. No civilian injuries were reported, however, one or two of the animals required medical attention.The Calvary Fellowship Downingtown, a church outside Philadelphia, after its roof collapsed Saturday during a major snowstorm. (Noelle Wiggins/Associated Press)Pennsylvania The roof of a Downingtown church collapsed Saturday night due to heavy accumulation, says WPVI Philadelphia. The massive amounts of snow opened up a 60 square foot hole in the roof of the 30-year-old church."It was like Niagara Falls," Pastor Wiggins told NBC10 in Philadelphia. "I looked up and we could see out to the sky a third of the roof to half of the roof is gone."While no injuries were reported, over a $1 million in repairs will be needed, which may take up to at least six months, according to Philly Voice. New JerseyA Trader Joe's grocery store in Westfield saw its roof partially collapse and walls bow in from the estimated foot of snow that had fallen, reports NBC New York.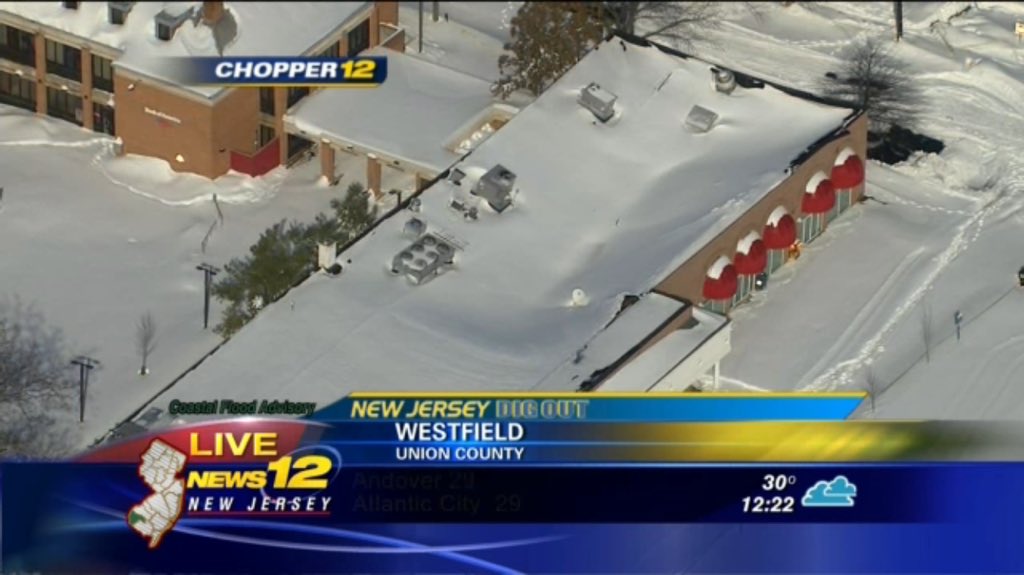 Follow
Jeremy Settle @JeremySettleThe view from above the Trader Joe's store in Westfield NJ where the roof collapsed under the weight of snow  · Edison, NJ, United States"We had a major roof collapse when we arrived on scene," Westfield Fire De partment Battalion Chief Jim Brennan said.There we no injuries reported.MORE ON WEATHER.COM: Winter Storm Jonas Buries the East Coast Roof of the Wayne Lanes bowling alley in Waynesboro, Virginia, collapsed Saturday night, January 23, 2016, likely under the weight of snow and ice in the aftermath of Winter Storm Jonas. (William Groah/Twitter) 
Strong 6.1 quake hits Mediterranean between Morocco and Spain 
 4 minutes ago
The rock of Gibraltar, seen from Algeciras in Spain (AFP Photo/Jorge Guerrero)Related Stories
Rabat (AFP) – A strong 6.1-magnitude earthquake struck early Monday in the Mediterranean between Morocco and Spain, the US Geological Survey said.The shallow quake hit at 4:22 am (0422 GMT) 62 kilometres (39 miles) north of the Moroccan city of Al Hoceima and 164 kilometres east-southeast of Gibraltar, USGS said. It was followed by a 5.3-magnitude tremor.In its initial assessment of the quake's impact, USGS said there was "a low likelihood of casualties and damage".In February 2004 a strong 6.3 earthquake that hit near Al Hoceima killed 631 people.
Major earthquake hits south Alaska, tremors felt in Anchorage 
 17 hours ago Related Stories
(Reuters) – A major earthquake hit southern Alaska early on Sunday, the U.S. Geological Survey said, setting off tremors felt more than 170 miles (280 km) away in the state's biggest city Anchorage.Twitter users reported feeling shaking, but there were no immediate reports of casualties in the region. "Long and pretty strong earthquake and power out in West Anchorage," wrote David Hulen.The magnitude 7.3 quake struck 30 miles east-southeast of Pedro Bay, on the shore of Iliamna Lake, the USGS added. It was recorded at a depth of 124.8 km at 1030 GMT (0530 ET).The Pacific Tsunami Warning Center said it was not anticipating a destructive tsunami and that there was no threat to Hawaii from the quake.(Writing by Andrew Heavens; Editing by Mark Heinrich)v
Tally no: House postpones coming votes, cites snow storm
7 hours ago
WASHINGTON (AP) — The House has postponed votes this coming week — including one on overriding President Barack Obama's health care veto — because of the snowstorm that has socked in the nation's capital.Senators plan to begin work Wednesday evening, extending a delay imposed even before the storm hit.The House already was planning on a short work week because Democrats are set to hold their annual legislative retreat beginning Wednesday in Baltimore.The office of Majority Leader Kevin McCarthy says the House won't be holding votes on Tuesday or Wednesday because of the storm and how it's affected travel.That's pushing off the override vote of Obama's veto of Republican-backed legislation to repeal his health overhaul. That vote is now expected during the week of Feb. 1.
New York rebounds after blizzard, Washington shuts down government 
 By Frank McGurty and Ian Simpson 3 hours ago
Two boys play atop a pile of snow at the end of a street in Union City, New Jersey, across the Hudson …By Frank McGurty and Ian Simpson NEW YORK/WASHINGTON (Reuters) – New York City emerged on Sunday from a massive blizzard that paralyzed much of the U.S. East Coast, while snowy gridlock gripped the nation's capital and surrounding areas, where federal, state and local offices and schools planned to remain closed on Monday.Midtown Manhattan sprang back to life on a bright and sunny Sunday as residents and tourists rejoiced in the warming sunlight, digging out buried cars, heading to Broadway shows and cavorting in massive drifts left by New York City's second-biggest snowstorm in history.In Washington, where a traffic ban was still in effect, the recovery got off to a slower start, with the entire transit system closed through Sunday. The Office of Personnel Management said federal government offices in the Washington area will be closed on Monday, along with state and local government offices and schools.Even so, many people were out in the street. Some skied and snowboarded down the steps of the Lincoln Memorial until security officials moved them on.The entire region seemed to breathe a sigh of relief after what was unofficially known as Winter Storm Jonas left at least 20 dead in several states.
Frank Courtell clears snow on his driveway after a blustery snowstorm inside the Washington DC Beltw …"For us, snow is like a normal winter," said Viola Rogacka, 21, a fashion model from Poland, walking with a friend through New York's Times Square. "It's how it should look like."Theater shows reopened on Broadway after the blizzard forced them to go dark on Saturday on the recommendation of New York Mayor Bill de Blasio."We still have some areas that we have to do a lot more work on. But we've come through it pretty well," de Blasio said on ABC's "This Week." "I think tomorrow is going to be pretty good. We think we'll be broadly up and running again at the city tomorrow."HISTORIC STORM The blizzard was the second-biggest snowstorm in New York City history, with 26.8 inches (68 cm) of snow in Central Park by midnight on Saturday, just shy of the record 26.9 inches (68.3 cm) set in 2006, the National Weather Service said.
Road crews plow Route 33 after a winter storm in Monmouth County, New Jersey, January 24, 2016. RE …Thirteen people were killed in weather-related car crashes in Arkansas, North Carolina, Kentucky, Ohio, Tennessee and Virginia on Saturday. One person died in Maryland and three in New York while shoveling snow. Two died of hypothermia in Virginia, and one from carbon monoxide poisoning in Pennsylvania, officials said.Reinsurer Munich Re said it was too early to estimate losses from the storm.New York state Governor Andrew Cuomo lifted a travel ban on New York City-area roads and on Long Island at 7 a.m. ET on Sunday. A state of emergency declared by Cuomo was still in place.Most bus and subway services operated by the Metropolitan Transportation Authority were up and running again by 9 a.m. ET, officials said. The agency was working on restoring full service on Sunday.The Metro-North rail line, which serves suburbs north and east of New York City, was restored on Sunday afternoon and was operating on a Sunday schedule. Service remained suspended on the Long Island Rail Road.
A resident stands next to his vehicle after digging it out of the snow in Union City, New Jersey, ac …Commuters who rely on the Long Island Rail Road to get to work on Monday may need to look for alternatives as the railroad works to restore service. Crews were working on Sunday to remove snow from an intersection near train tunnels to Manhattan.A spokeswoman for the New York Stock Exchange said the market planned to open as usual on Monday. City schools also were set to open on Monday.On the Upper West Side of Manhattan, grocery store shoppers picked their way through brown slush and over compressed snow and ice as they balanced their bags in their hands.Drivers tried their best to free cars that were encased in snow, but often found themselves spinning their wheels as they tried to get on the road.Outside the city, suburban New Jersey resembled Vermont.
A resident shovels snow away from the entrance to his home in Union City, New Jersey, across the Hud …"I'm not sure where I am right now because of all the snow," said Patty Orsini, 56, a marketing analyst from Maplewood, New Jersey, at the nearby South Mountain Reservation. "It's nice to be out today in the sun. Yesterday it was scary to be outside," she said as she clipped on her cross-country skis.RECORDS SET The National Weather Service said 22.4 inches (57 cm) fell in Washington at the National Zoo, and Baltimore-Washington International Airport notched a record 29.2 inches (74.2 cm). The deepest regional total was 42 inches (106.7 cm) at Glengarry, West Virginia.Washington, which has a poor track record in dealing with snow, seemed unready for a return to its Monday routine after its largest snowstorm in decades, with major airports, public buses and subways completely shut down all Sunday. Metro trains will begin limited service starting at 7 a.m. on Monday.Washington Mayor Muriel Bowser earlier issued a public apology for commuting headaches caused by the blizzard, which locals dubbed "Snowzilla." She said crews had worked all night and Sunday on plowing main roads and were just now getting to secondary roadways and neighborhoods.
A resident shovels snow away from the entrance to his home in Union City, New Jersey, across the Hud …Public schools were closed on Monday across much of the Washington and Baltimore region, with some shuttered through Tuesday. All federal government offices will be closed on Monday and the U.S. House of Representatives canceled its voting until Feb. 1 and the Pentagon canceled all its events.Nevertheless, walkers, sledders, some cars and the occasional cross-country skier ventured into the dazzling white under a bright sun.Paul Schaaf, a 49-year-old helicopter pilot for Children's Hospital in Washington, was biking 7-1/2 miles (12 km) to work for his overnight shift and planned to bike back to Arlington, Virginia, on Monday morning."I have to get into work no matter what. And the best way to do it is on my bicycle with steel-studded snow tires," he said. "Nothing stops me."One Washington food store, Broad Branch Market, opened with a handful of employees, and was trying to organize volunteers to shovel the sidewalks of the elderly and others who needed help.
A resident removes snow away from the entrance to his home in Union City, New Jersey, across the Hud …"I have a lot of people on the list but I have yet to have any kids sign up to work today," said owner Tracy Stannard.At Dupont Circle, hundreds gathered to pelt each other with snowballs. Jomel Nichols, a tourist from Kansas City, Missouri, accompanying three exchange students and her daughter, was plastered with snow."They all turned on me, as teenagers will do," she told Reuters Television.FLIGHTS CANCELED More than 3,900 flights were canceled on Sunday, and some 900 were called off for Monday, according to aviation website FlightAware.com.Among New York-area airports, John F. Kennedy International, Newark Liberty and LaGuardia were open, with limited flight activity expected on Sunday, the Port Authority of New York and New Jersey said.About 150,000 customers in North Carolina and 90,000 in New Jersey lost electricity during the storm but most service had been restored by Sunday afternoon.On Sunday, moderate coastal flooding was still a concern in the Jersey Shore's Atlantic County, said Linda Gilmore, a county public information officer.(Additional reporting by Lisa Lambert and Susan Cornwell in Washington, David Gaffen, Sam Forgione, Barbara Goldberg and Robert MacMillan in New York, Brendan O'Brien in Milwaukee; Writing by Bill Rigby and Steve Gorman; Editing by Jonathan Oatis and Sandra Maler)
B.o.B Is Doing Everything He Can to Prove the Earth Is Flat 
 Eric Diep Complex January 25, 2016
He has some interesting theories.Yes, there are still people who believe the Earth is flat. One of those people might be B.o.B.The Atlanta rapper took to Twitter and posted a photo with a pretty deep inquiry about how the distance between two cities were 16 miles apart, so he asked: "where is the curve?"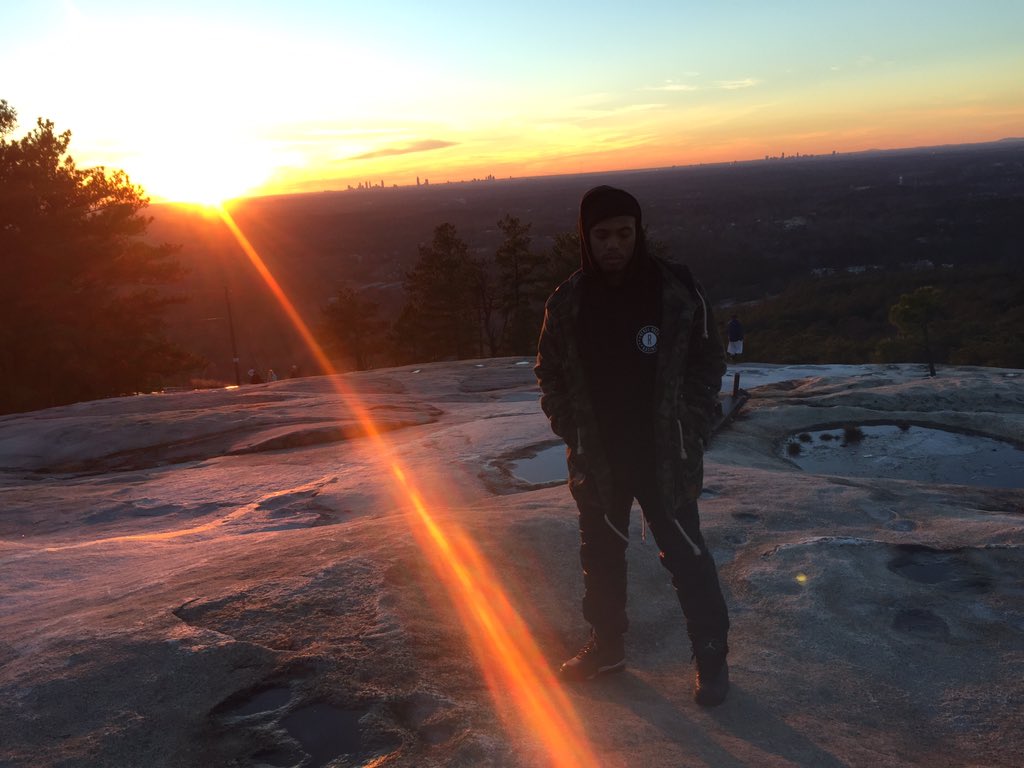 Follow
B.o.B @bobatl The cities in the background are approx. 16miles apart… where is the curve ? please explain this Relying on his savvy followers, they shared their own explanations to Bobby Ray's question. Some sound logical, others sound pretty troll-y.B.o.B isn't quite convinced, though. He's trying really hard to prove to us that the Earth is flat, bringing up all sorts of research and photos to back up his point.
Follow 
B.o.B@bobatlTime-lapse photos of stars form perfect circles… how is this possible ? 
Follow
B.o.B @bobatlThe ONE thing every country can agree on : restricted access to the poles … Here's to the UN… we believe you
Follow
B.o.B @bobatlGood Job Guys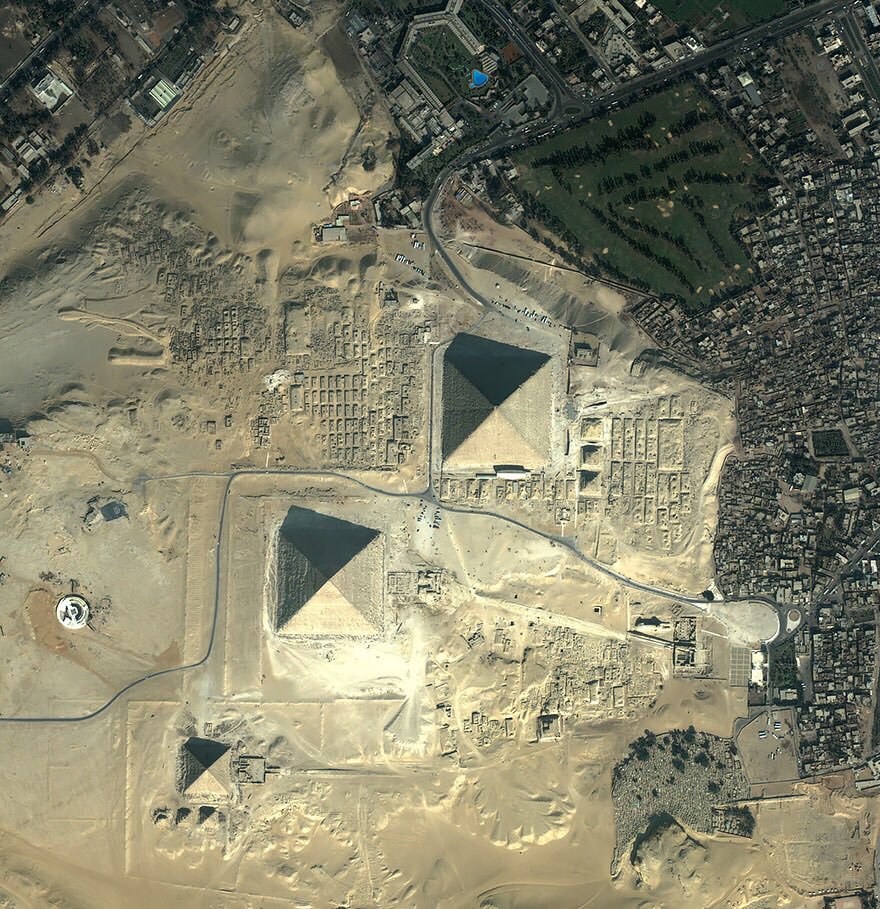 Follow
B.o.B @bobatl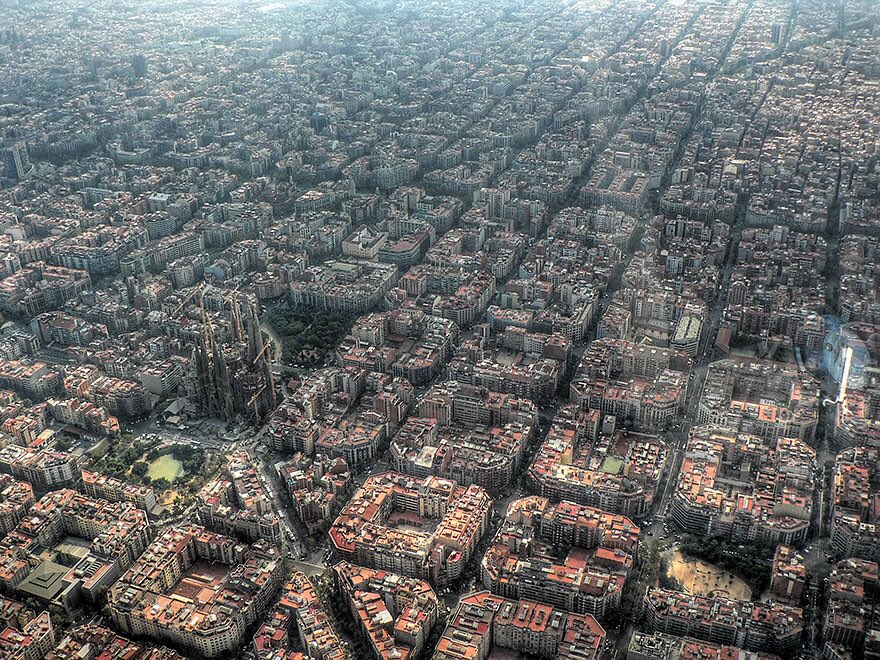 Follow
B.o.B @bobatl Are you still with him?He's still going.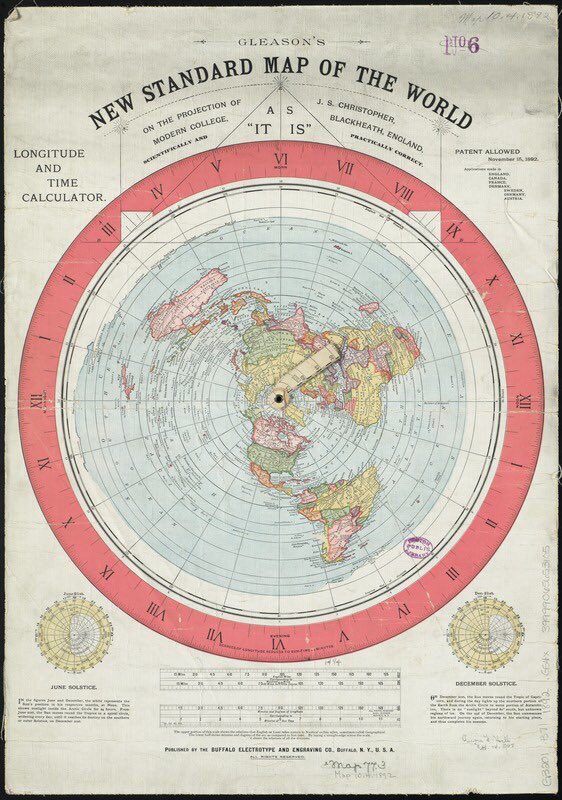 Follow
B.o.B@bobatlGleason's Projection
Follow
B.o.B @bobatlso u can see stars without light pollution , during sunset… but not from space ?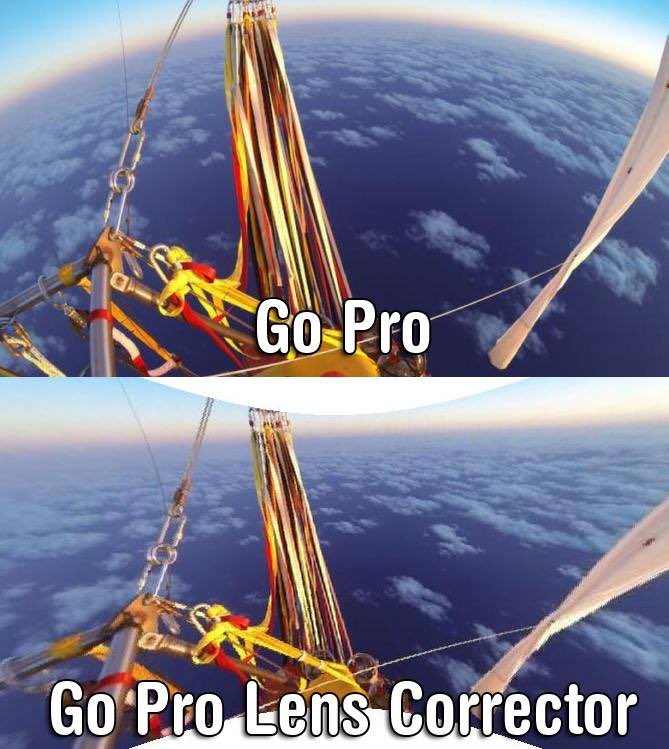 Follow
B.o.B @bobatl
Follow
B.o.B @bobatl
Follow
B.o.B@bobatly'all be like… "you're not high enough to see the curve…keep going"In these tweets, he's referring to the Red Bull Stratos in 2012, a space diving project where skydiver Felix Baumgartner jumped from a space capsule above the Earth and free-falled until he parachuted and landed on his feet. He claims while on a flight he was at the same altitude as Baumgartner.So, is B.o.B right and science is wrong? And did he just announce himself as the newest member of the Flat Earth Society?
Tech & Science Greenland Meltwater Could be Messing With Global Ocean Circulation, Scientists Find By Zoë Schlanger On 1/24/16 at 5:49 PM
A new study found that the melting Greenland ice sheet might affect a key aspect of global ocean circulation, which in turn could drive changes in Earth's climate. NASA/ReutersTake a minute to familiarize yourself with the Atlantic Meridional Overturning Circulation (AMOC). It's a massive ocean current system that's critical to the stability of our climate, as it moves a significant amount of heat from the Southern Hemisphere and the tropics up toward the North Atlantic, where that heat is released to the atmosphere.For Europe and North America, the AMOC helps regulate how seasons are experienced. But in a study published Friday in the journal Nature Communications, scientists at the University of South Florida used NASA data to conclude that Greenland's rapidly melting ice sheet could be slowing down the AMOC. And that could be a problem.
A map of the surface currents (solid curves) and deep currents (dashed curves) that form a portion of the Atlantic meridional overturning circulation (AMOC).USGCRP/R. Curry/Woods Hole Oceanographic InstitutionSubscribe now – Free phone/tablet charger worth over $60As the Greenland ice sheet melts and the meltwater runs off (and it's running off much faster than previously thought, according to the latest research), more and more cold freshwater is pushed into the Labrador Sea. The scientists used data from NASA's gravity-sensing GRACE satellite mission to determine that that freshwater is significantly "freshening" the North Atlantic Ocean. Freshwater is more buoyant than salt water, and the GRACE mission can detect that subtle difference in height—and therefore gravitational pull—of the more-buoyant water.The Greenland runoff, then, "has the potential to increase the buoyancy of surface waters and reduce formation of dense, deep water that helps drive the overturning circulation," explained Don Chambers, a professor of marine science at USF College and an author on the study, in a statement. That, in turn, could "weaken," or slow down, the AMOC. In other words, this ocean current could be knocked off-kilter."The major effect of a slowing AMOC is expected to be cooler winters and summers around the North Atlantic, and small regional increases in sea level on the North American coast," Chambers said.On a global scale, however, the effects are much harder to understand—but could be more consequential."The AMOC and Gulf Stream are part of a complex global ocean circulation system that is still not completely understood," Tom Dixon, another USF professor and author on the study, said. "If human activities are starting to impact this system, it is a worrying sign that the scale of human impacts on the climate system may be reaching a critical point."Related Stories
Greenland's Melting Ice is Running Off Faster Than We ThoughtA mechanism preventing sea level rise on the Greenland ice sheet just backfired in the face of…
The World's Largest Canyon Might Be Trapped Under Antarctic IceScientists may have found a canyon that dwarfs the Grand Canyon.
Breathtaking Photos Show 'Snowmageddon' Blizzard From Space Dramatic photos show the East Coast's wintry transformation after being hit with hurricane-force winds and several feet of snow. 01/24/2016 12:29 pm ET Nina Golgowski Trends reporter, The Huffington Post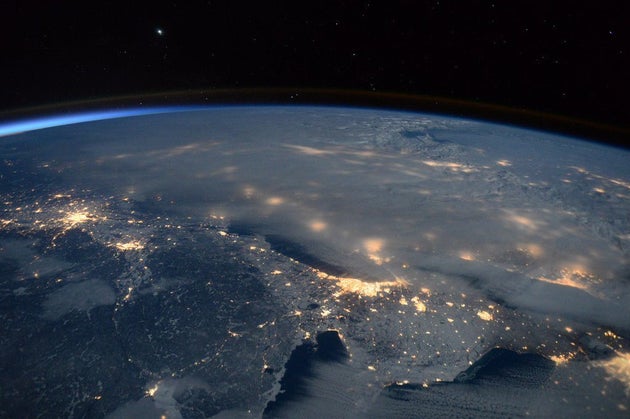 Twitter/Scott Kelly A late January blizzard which dumped several feet of snow across the East Coast is seen from the International Space Station.Stunning photos taken from outer space show the East Coast resembling a winter wonderland after a powerful blizzard unleashed hurricane-force winds and several feet of snow.The region's extreme transformation was captured in a number of photos tweeted out by International Space Station Commander Scott Kelly from his orbiting perch.He shared his marvel at major cities being completely blanketed with snow as well as the rare sighting of "thundersnow" — a winter thunderstorm that produces snow instead of rain.
Blizzard2016 gave us an impressive view below. Stay warm! #GoodNight from @space_station! #YearInSpace," he tweeted Saturday night with a photo of city lights appearing to struggle to penetrate a wash of white.The aftermath of the blizzard — which has been referred to as Winter Storm Jonas or "Snowmageddon" — was seen with Sunday morning's sunrise.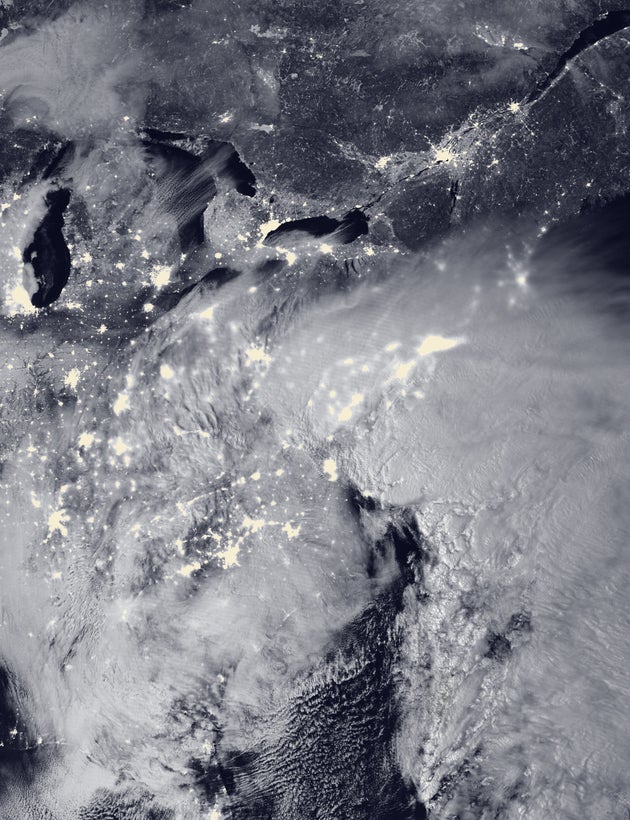 Nasa.govTwo low-pressure systems are seen merging over the East Coast around 2 a.m. Saturday in this satellite image.The storm proved to be colossal, bringing 40 mph winds, coastal flooding and several feet of snow between Washington, D.C., and New York.The Big Apple in particular saw its second-highest snowfall on record, with 26.8 inches falling by midnight Saturday. The record of 26.9 inches was set in 2006, according to the National Weather Service.The storm is being blamed for at least 19 deaths. Thirteen people died in weather-related car crashes in Arkansas, North Carolina, Kentucky, Ohio, Tennessee and Virginia; four people died while shoveling snow in Maryland and New York; and two people died of hypothermia in Virginia, officials said.Also on HuffPost:Winter Storm Jonas