Family of Frederick Douglass gives Trump a history lesson Dylan Stableford Senior Editor Yahoo NewsDescendant of former slave and abolitionist Frederick Douglass responds to President Trump's comments Descendant of former slave and abolitionist Frederick Douglass responds to President Trump's commentsYahoo News Video
Scroll back up to restore default view.The direct descendants of Frederick Douglass responded late Wednesday to President Trump's vague comments about the celebrated 19th century African-American abolitionist, writer and orator."Frederick Douglass is an example of somebody who's done an amazing job and is being recognized more and more, I notice," Trump said during what was billed as an "African-American History Month listening session" at the White House.The president's comments were "noted and appreciated by us," the Douglass family said in a statement published by the Huffington Post. "In fact, we believe, if he had more time to elaborate, the President would have mentioned the following."The family then listed 15 things Trump could have specified."Frederick Douglass has done an amazing job …* Enduring the inhumanity of slavery after being born heir to anguish and exploitation but still managing to become a force for solace and liberty when America needed it most,* Recognizing that knowledge was his pathway to freedom at such a tender age,* Teaching himself to read and write and becoming one of the country's most eloquent spokespersons,* Standing up to his overseer to say that 'I am a man!'* Risking life and limb by escaping the abhorrent institution,* Composing the Narrative of his life and helping to expose slavery for the crime against humankind that it is,* Persuading the American public and Abraham Lincoln that we are all equal and deserving of the right to live free,* Establishing the North Star newspaper when there was very little in the way of navigation or hope for the millions of enslaved persons,* Supporting the rights of women when few men of such importance endeavored to do so,* Arguing against unfair U.S. immigration restrictions,* Understanding that racism in America is part of our 'diseased imagination,'* Recruiting his sons—who were born free—to fight in the war to end the enslavement of other African Americans,* Being appointed the first black U.S. Marshal by President Rutherford B. Hayes,* Being appointed U.S. Minister to Haiti by President Benjamin Harrison,* Serving as a compelling role model for all Americans for nearly two centuries.""Like the President, we use the present tense when referencing Douglass's accomplishments," the family added, "because his spirit and legacy are still very much alive, not just during Black History Month, but every month."Kenneth Morris, the founder of the Fredrick Douglass Family Initiative and Douglass' great-great-great grandson, told Yahoo News that he was initially shocked by Trump's remarks."My first gut reaction was to go on the attack and say, 'I can't believe President Trump doesn't know who Frederick Douglass is,'" Morris said. "But as we started to think about how we could really approach this, I idea was to teach the American public about my great ancestor and the many other heroes and heroines that came before us."President Trump says Frederick Douglass is someone who has done an 'amazing job'President Trump held a meeting at the White House with African-American leaders in honor of Black History Month. Trump said, "Frederick Douglass is an example of somebody who has done an amazing job and is being recognized more and more, I notice." Frederick Douglass was a 19th-century African-American abolitionist, writer and orator who died in 1895.Morris said Trump needs to ditch the campaign rhetoric if he wants to bridge the racial divide."His campaign was very divisive and the rhetoric opened a lot of old wounds that have always been there," Morris added. "He really need to reach out and be the president and unify the country. And that unification happens with the words that you use. And so I would like to see him on Twitter and in the media begin to use language that unifies the country."During a media briefing Wednesday afternoon, Yahoo News asked White House spokesman Sean Spicer to clarify what Trump meant about Douglass' contributions becoming more recognized."I think he wants to highlight the contributions that he has made," Spicer replied. "And I think through a lot of the actions and statements that he's going to make, I think the contributions of Frederick Douglass will become more and more."Yahoo News asks White House spokesman to provide clarity about Trump's comments on Frederick DouglassDuring Wednesday's White House press briefing, Yahoo News asked spokesman Sean Spicer to clarify what President Trump meant when he said the contributions of 19th–century abolitionist Frederick Douglass are becoming more recognized.
Donald Trump Reportedly Takes a Hair Growth Drug Korin Miller 18 hours ago Trump Takes a Hair-Growth Drug, Says His Longtime Doctor
Scroll back up to restore default view.There has been a lot of focus on Donald Trump's hair over the years — and a lot of questions. Is it a wig? Does he dye it? And why does he insist on styling it that way? Now, the president's longtime doctor says that Trump's hair is real — and he takes medication for it.Harold N. Bornstein, MD, told the New York Times in a new interview that Trump, 70, takes a small dose of finasteride, a drug used to treat male-pattern baldness that's marketed under the name Propecia.Bornstein, who has shoulder-length hair himself, also takes finasteride and says it really works. "He has all his hair," Bornstein said, referring to Trump. "I have all my hair."
Photo: Getty images Gary Goldenberg, MD, medical director of the Dermatology Faculty Practice at the Icahn School of Medicine at Mount Sinai, tells Yahoo Beauty that finasteride is commonly used to prevent male pattern hair loss. "It works by blocking a specific type of testosterone known as DHT that's responsible for causing hair loss," he says. "Many patients take this medication to either regrow hair they may have lost or decrease the chance of hair loss in general."Ken L. Williams Jr., DO, FISHRS, surgeon and founder of Orange County Hair Restoration in Irvine, Calif., and author of Hair Transplant 360 — Follicular Unit Extraction, tells Yahoo Beauty that the drug was originally developed to treat prostate disease because it shrinks the prostate, but doctors discovered that it had hair benefits as well. Yet hair restoration experts typically recommend it to patients, along with other therapies. "It is essential for hair loss patients to use this medication," Williams says.Finasteride is "very effective" for male pattern hair loss, Goldenberg says, adding that most patients keep the hair they have and may regrow some of the hair they've lost. It's also easy to use — people simply take one pill a day for more luscious locks.As with most medications, there are potential side effects. Because DHT is a sex hormone, men on finasteride may experience decreased fertility, a drop in sex drive, or even erectile dysfunction, but Williams says the latter is rare. Goldenberg agrees, adding, "I have not seen these complaints in my practice."As the Times reported, the finasteride explains why Trump has a low level of prostate specific antigen, which is considered a prostate cancer marker.For men who are concerned about male-pattern baldness in their family, Williams recommends that they ask a physician about finasteride and whether it's right for them. Men can even get on the medication before they develop hair loss as a preventive measure, he says.Overall, experts say it's a great drug. "I would absolutely, without any hesitation, say that this works," Williams says.Let's keep in touch! Follow Yahoo Beauty on Facebook, Twitter, Instagram, and Pinterest.
Read President Trump's executive orders in full 
 Yahoo News Staff Yahoo NewsDonald Trump signs first executive order in Oval Office Donald Trump signs first executive order in Oval OfficeYahoo News Video
Scroll back up to restore default view.
President Trump has begun his presidency with a number of executive orders released in a whirlwind of announcements. Below you'll find the full text along with summaries of some of the more notable declarations, as provided by the White House and Federal Register websites.Jan. 30: Reducing Regulation and Controlling Regulatory Costs Summary: Major regulations are typically reviewed by the White House's Office of Management and Budget (OMB) before they are issued. That review will continue under this new measure, but agencies will also have to identify which two regulations will be repealed to offset the costs of any new rule. (Reuters)Jan. 27: Protecting the Nation from Foreign Terrorist Entry into the United States Summary: This act limited immigration from seven majority-Muslim countries. The ban has been challenged successfully by civil liberty groups, but Trump has defended the order and mocked Sen. Chuck Schumer for crying at one of the many antiban protests. As the protests sprang up across the country, former President Barack Obama released a statement saying that he was "heartened by the level of engagement taking place."Jan. 27: Rebuilding the U.S. Armed Forces Summary: President Trump's order to review and expand the military, including potential overhauls of nuclear deterrent and missile defense systems.Jan. 25: Border Security and Immigration Enforcement Improvements/Enhancing Public Safety in the Interior of the United States Summary: President Trump's order to begin construction of the wall and detention facilities along the Mexican border while limiting funding to sanctuary cities. "I believe the steps we will take starting right now will improve the safety in both our countries, going to be very, very good for Mexico," Trump said. "A nation without borders is not a nation. Beginning today, the United States of America gets back control of its borders, gets back its borders."Jan. 24: Construction of American PipelinesSummary: President Trump's orders to continue the construction of the Keystone XL and Dakota Access pipelines, and to use American-made products when doing so to the extent possible.Jan. 23: Hiring Freeze Summary: A stop on hiring of civilian employees to federal positions across the executive branch, excluding military or national security personnel.Jan. 23: Mexico City PolicySummary: The Mexico City Policy prohibits foreign aid from the U.S. to be given to any nongovernmental organization (NGO) abroad that discusses abortion as a family planning option. Currently, taxpayer dollars cannot be used to fund abortion procedures in other countries, but the order expands that oversight and also prohibits organizations from receiving U.S. family planning funding if they offer abortion counseling or advocate for abortion rights in other countries — even if the medical procedure is legal in that country. (Time)Jan. 23: Withdrawal of the United States From the Trans-Pacific Partnership Negotiations and Agreement Summary: President Trump's order to withdraw from the Trans-Pacific Partnership negotiations and agreement, which included the United States, Australia, Canada, Japan, Vietnam and seven other allies. (AFP)Jan. 20: Minimizing the Economic Burden of the Patient Protection and Affordable Care Act Pending RepealSummary: The order directs federal agencies to stop issuing regulations that would expand the law's reach. And it directs them to grant waivers, exemptions and delays of provisions in the Affordable Care Act that would impose costs on states or individuals, potentially including the law's penalties on people who remain uninsured — a key provision. The order also says federal agencies must allow states greater flexibility in carrying out the health care programs. (Associated Press)
Politics Top GOP senators play cleanup after Trump's contentious call with Australia

Pamela Engel,
Business Insider
13 hours ago
Top Republican senators have stressed the importance of the US-Australia alliance in the wake of President Donald Trump's contentious phone call
with the Australian prime minister
.Sen. John McCain of Arizona released a statement Thursday morning calling Australia "one of America's oldest friends and staunchest allies" and Sen. Bob Corker of Tennessee, the chairman of the Senate Foreign Relations Committee, tweeted in support of Australia later in the day.During Trump's call with Australian Prime Minister Malcolm Turnbull, Trump called a refugee agreement with the nation the "worst deal ever" and accused Turnbull of trying to send America the "next Boston bombers" under a deal to send refugees from Australia to the US.McCain said he called Australia's ambassador to the US, Joe Hockey, on Thursday morning to reassure him of US support."Australia is one of America's oldest friends and staunchest allies," the senator and 2008 Republican presidential nominee said in a statement. "We are united by ties of family and friendship, mutual interests and common values, and shared sacrifice in wartime."The statement continued: "In that spirit, I called Australia's ambassador to the United States this morning to express my unwavering support for the US-Australia alliance. I asked Ambassador Hockey to convey to the people of Australia that their American brothers and sisters value our historic alliance, honor the sacrifice of the Australians who have served and are serving by our side, and remain committed to the safer, freer, and better world that Australia does far more than its fair share to protect and promote."McCain also noted the long history Australia had of aligning with the US in conflicts including two world wars and conflicts in Vietnam, Afghanistan, and Iraq.Corker also said he called Hockey."Just got off the phone with Ambassador @JoeHockey," he
tweeted
. "We discussed the important and long-lasting alliance between our two countries."Sen. Lindsey Graham, another Republican, also
commented
on Trump's phone call with the Australian prime minister, saying he wished Trump "would sleep more and tweet less."Trump
tweeted
Wednesday night: "Do you believe it? The Obama Administration agreed to take thousands of illegal immigrants from Australia. Why? I will study this dumb deal!"Trump
addressed his contentious phone calls
during his remarks at the National Prayer Breakfast on Thursday morning."When you hear about the tough phone calls I'm having, don't worry about it," Trump said. "Just don't worry about it. They're tough. We have to be tough. It's time we're gonna be a little tough, folks. We're taken advantage of by every nation in the world virtually. It's not gonna happen anymore."NOW WATCH:
Trump's doctor and a hair surgeon explain what's going on with his hair
More From Business Insider
Politics May Carries Trump Message to a Malta Summit Seeking Clarity
After holding hands with Donald Trump, Prime Minister Theresa May arrived at a European Union summit in a former British colony with a special message from the U.S. president.She'll relay that Trump promised to back NATO, the military alliance he has called
"obsolete,"
but the president wants everyone to meet their financial commitments. As the first foreign leader welcomed to the White House, May had Trump's ear for an afternoon and will brief EU colleagues gathered in Malta on her impressions of a man many of them view with suspicion.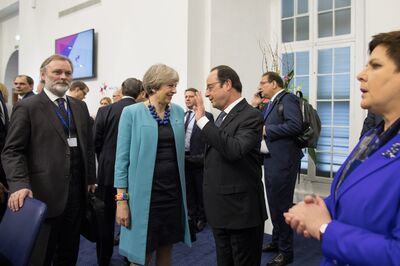 Theresa May speaks with Francois Hollande in Valletta, Feb. 3.Photographer: Jasper Juinen/Bloomberg But with Trump showing
no qualms
about defying America's closest friends, confidence in the "special relationship" between Britain and the U.S. may be misplaced, in spite of efforts to paint the May-Trump rapport as a version of the 1980s power couple, Margaret Thatcher and Ronald Reagan."The EU is the most successful example of transitional democracy and he is trying to use the U.K. as a Trojan horse," Gianni Pittella, the socialist leader in the European Parliament, told Sky News on Tuesday.May met with Trump on Jan. 27 and plans to brief her counterparts about her trip and ease any NATO concerns, her office said.
Share Burden 
"She will say that it is only by investing properly in our defense that we can ensure we are properly equipped to face our shared challenges together," her office said in a statement. She will "encourage other European leaders to deliver on their commitments to spend 2 percent of their GDP on defense, so that the burden is more fairly shared," it said.While May will bring clarity on NATO, fears over Trump's approach to the EU will be harder to calm after comments by Ted Malloch, who is tipped to be his envoy to the bloc.The EU "is an overly complex, fairly bloated bureaucratic organization," Malloch told Bloomberg TV on Friday. "Its ambitions have basically overstepped its capabilities."For May, the summit is about gaining Brexit leverage among European partners ahead of divorce talks due to start by March 31. Having an inside track with Trump could be an advantage — by helping political heavyweights such as Germany's Angela Merkel understand him better.May scheduled one-on-one meetings with Merkel, Spanish Prime Minister Mariano Rajoy and Austrian Chancellor Christian Kern. As Luxembourg Prime Minister Xavier Bettel made his way to the meeting he was asked whether May's relationship with Trump will be an asset.
'Balancing Job'
"It's too short now to make a conclusion, but I just can tell you that what happened in the last days are really the not the values that I'm fighting for in politics," he told reporters.The challenge for May, as she tries to court a free trade agreement with the U.S. while pushing for a good deal from the EU, is not lost on the other leaders meeting in Valletta. Backing the wrong side could be her downfall, Maltese prime minister Joseph Muscat warned."It is a balancing job the prime minister must make," he told Sky News. "It is pretty clear she needs to choose her priorities well."Part of the problem for May is that Trump is not only divisive but could also be an unreliable ally.May returned from Washington to an outpouring of fury over a U.S. travel ban that Trump had not given her a heads-up about. An anti-U.S. petition drew more than 1.8 million signatures, triggering a debate in Parliament.The U.K. premier stuck by Trump, insisting he should be honored with a state visit later this year even as members of her own Conservative Party said they were appalled by the travel restrictions placed on some predominantly Muslim countries. An opposition lawmaker called her "Theresa the Appeaser."Traces of the British empire, when the U.K.'s geopolitical influence was at its peak, abound in the fortress island in the Mediterranean Sea.In the Maltese capital, May will be testing the waters with some overtures on security and a few tidbits on the man only she, for now, has met in person.
World In a first, Emirati foreign minister defends Trump visa ban

ADAM SCHRECK,
Associated Press
Wed, Feb 1 7:03 AM PST
ABU DHABI, United Arab Emirates (AP) — The United Arab Emirates' top diplomat on Wednesday came out in defense of President Donald Trump's order temporarily barring citizens from seven Muslim-majority countries from entering the United States.The comments by Sheikh Abdullah bin Zayed Al Nahyan, the Gulf federation's foreign minister, could help bolster the administration's assertion that the directive was not intended as a ban against MuslimsThe UAE minister said the U.S. was within its rights to take what he said was a "sovereign decision" concerning immigration — the first such remarks in support of Trump's move from the Gulf Arab region — and he voiced faith in the American administration's assurances that the move was not based on religion.Sheikh Abdullah also noted that most of the world's Muslim-majority countries were not covered by the order, which halts entry for 90 days to citizens of Iraq, Syria, Iran, Sudan, Libya, Somalia and Yemen."This is a temporary ban and it will be revised in three months, so it is important that we put into consideration this point," he said following talks with his Russian counterpart in the Emirati capital, Abu Dhabi."Some of these countries that were on this list are countries that face structural problems," he continued. "These countries should try to solve these issues … and these circumstances before trying to solve this issue with the United States."The Emirates is one of the United States' closest Arab allies. It is part of the U.S.-led coalition fighting the Islamic State group and hosts American troops and warplanes taking part in the anti-IS campaign. It is also home to a center backed by the U.S. that aims to counter extremist propaganda online.The seven-state federation prides itself on being a tolerant, forward-looking nation that also embraces its traditional Arab and Islamic heritage. The local population is dwarfed some four-to-one by foreign residents, many of whom are not Muslim.Trump made a point of speaking with the powerful Abu Dhabi crown prince, Sheikh Mohammed bin Zayed, and Saudi King Salman in his first calls to Arab allies this week. Sheikh Mohammed is the foreign minister's brother and is likely to be the next Emirati president.America's largest Arab export market, the Emirates also has commercial connections to the new U.S. president.Trump has lent his name to a soon-to-open golf course and real-estate project being developed in the Emirati city of Dubai, the Middle East's commercial hub. The Abu Dhabi tourism office is a tenant of Trump Tower in New York.Sheikh Abdullah and Sergey Lavrov discussed a range of regional issues including the war in Syria during their meeting, which included Arab League Secretary-General Ahmed Aboul Gheit. Trump's order also includes a suspension of refugee admissions for 120 days, and bans Syrian refugees from entering indefinitely.Lavrov expressed a willingness to engage with the new U.S. administration on the establishment of safe zones in Syria, something that Trump has expressed interest in creating. But he suggested more details were needed."As I understand it, when the Americans are talking about safe zones, first of all they are interested in reducing the number of immigrants — especially through Syria — from going to the West," he said._Follow Adam Schreck on Twitter at www.twitter.com/adamschreck
Experts: UN faces test in response to Trump refugee plan
JAMEY KEATEN and EDITH M. LEDERER,
Associated Press
Wed, Feb 1 10:19 AM PST
GENEVA (AP) — The United Nations is facing a challenge over how to respond to U.S. President Donald Trump's controversial decisions to suspend entry for refugees and visitors from seven predominantly Muslim countries to the United States.Experts say the global body is wedged between its bedrock ambitions to help the world's downtrodden and persecuted, its need to maintain funding from its biggest donor, and a new effort to get other countries to take up the slack left by the United States — a traditional beacon for people fleeing war.In an executive order last week, citing security concerns, Trump suspended the U.S. refugee admission program for 120 days and imposed a 90-day ban on U.S. entry for citizens of Iran, Iraq, Libya, Somalia, Syria, Sudan and Yemen. Protests erupted at many airports across the United States, and many families were left in limbo.It took several days for the U.N. response to gel, and gradually harden.U.N. Secretary-General Antonio Guterres acknowledged a fragmented initial response while he was attending a conference in Africa when Trump's announcement landed, saying Wednesday that "what lacking was the capacity to have a comprehensive approach to the problem."Speaking to reporters in New York, he used his clearest terms yet."I think that these measures should be removed sooner rather than later," he said. "I think that those measures violate our basic principles, and I think that they are not effective if the objective is to really avoid terrorists to enter the United States."Guterres' tone has been complicated by the fact that Trump's entourage and administration have taken a tough line against the United Nations, with rumblings that Washington could even cut its generous funding or seek to pull out of crucial U.N. priorities like the Paris agreement to fight climate change.Asked how the U.N. was strategizing amid such issues, Guterres toed a fine line."All complicated things have an easy answer, and the answer is to be firm in assessing our principles and open in engaging in constructive dialogue," he said.The financial stakes are very high for the United Nations. The United States pays 22 percent of the U.N.'s regular budget and over 28 percent of the costs of its far-flung peacekeeping operations. It also sends large contributions to U.N. agencies like the World Food Program, the children's agency UNICEF and the World Health Organization, which has been at the center of the fight against the Zika virus.On the campaign trail, Trump rallied a base with strong misgivings about the U.N., and in December tweeted cryptically that "things will be different" at the U.N. after Jan. 20 — the day he took office. The U.N. had "such great potential," he wrote, but was now it's "just a club for people to get together, talk and have a good time. So sad!"The task is perhaps most delicate for the U.N. High Commissioner for Refugees, which says 65 million people are displaced worldwide by conflict and persecution — the highest number since World War II.The order "makes the job of the United Nations, and UNHCR in particular, very, very difficult," said Michael Williams, a distinguished fellow at the Chatham House think tank in London and a former U.N. undersecretary-general."Mr. Guterres will be moving with a deliberate pace, and not wishing to inflame the relationship with the U.S.," he said.Philippe Bolopion, deputy director for global advocacy at Human Rights Watch, urged Guterres to take a "clear stand.""With President Trump's scare-mongering against refugees and citizens of seven Muslim-majority countries, Guterres is now facing a major test," he said.In a statement Tuesday, Guterres said countries have the right, even the obligation, to avoid infiltration "by members of terrorist organizations." But he said they cannot discriminate on grounds of religion, ethnicity, or nationality: "Blind measures, not based on solid intelligence, tend to be ineffective as they risk being bypassed by what are today sophisticated global terrorist movements."Still, the secretary-general did not mention the United States by name, and said refugees are finding more and more borders closed around the word, in violation of the protection they are entitled to under international refugee law.The United States is UNHCR's single largest donor, contributing over $1.5 billion last year — over four times more than the No. 2 donor, the European Union. The U.S. accounts for more than one fourth of all funding for the U.N.-affiliated International Organization for Migration.UNHCR has spoken out firmly before. When Hungary was closing its borders 16 months ago to prevent the entry to thousands of refugees from Syria and beyond, it insisted the Hungarian government had "legal and moral obligations" to allow "unimpeded access" for people in need.The refugee agency is honing its response to Trump's ban as the days wear on. An initial statement Saturday praised America's "long tradition" of protection for people fleeing conflict, expressed hope for continued U.S. leadership, and pledged to work with the new administration.On Wednesday, during a tour of the bombed-out Syrian city of Aleppo, UNHCR chief Filippo Grandi said: "Look at these ruins. The ruins of this war. This is what refugees from Syria, who are now denied entry (to the United States), have fled from.""And it is not just here in Aleppo, although this is massive. Refugees from Somalia, refugees from Yemen, refugees from Iraq: they all flee from destruction like this, from devastation like this," Grandi said in a video message. "How can we turn them back? How can we not consider giving them protection?"UNHCR says the U.S. could have resettled 20,000 people over the 120-day suspension, based on the average rate over the past 15 years.While most of the world's refugees are in countries neighboring war zones, the U.S. currently takes the bulk of "resettling" refugees — a process involving about 230,000 of the most vulnerable people, IOM spokesman Leonard Doyle said.On Wednesday, five independent experts with the U.N. human rights office, which tends to speak out more vigorously than other U.N. bodies, said Trump's order against people of seven countries was "clearly discriminatory" and violates United States' international human rights obligations to not turn away people with a right to protection.Williams, of Chatham House, said Trump was trying to get more out of other countries."Particularly with UNHCR, the U.S. has punched way above its weight, and he's trying to even it out," he said. "In that regard, I'm not without sympathy."Doyle, at the IOM, urged other, farther-flung countries to show "a modicum of the same degree of openness that the U.S. has shown.""Let's have it from the Latin Americans, let's have it from the Asians. Let the Europeans show a bit more generosity," Doyle told a U.N. news conference Tuesday."Probably the most important thing is for other countries to step forward and say, 'We will take these people who have been approved and cleared,'" in the U.S. resettlement process, he added. "Why not?"_Lederer reported from New York.
French Soldier Shoots Machete-Wielding Attacker in 'Terrorist in Nature' Incident in Paris
By DAVID CAPLAN15 minutes ago
View gallery
A French soldier on duty at the Carrousel du Louvre shopping mall in Paris opened fire Friday morning on a machete-wielding man who attempted to attack a group of soldiers and police officers, according to police.French Prime Minister Bernard Cazeneuve described the attack as "terrorist in nature," and has opened a terror investigation. There is a significant presence of soldiers in the French capital since the country is in an extended state of emergency until July 2017.Paris Police Chief Michel Cadot said the man, armed with a machete and shouting "Allahu Akbar" (God is great" in Arabic), launched himself at soldiers and police officers.One of the soldiers shot the attacker five times, seriously wounding him in the stomach, Cadot said.Cadot said the attacker was also carrying two backpacks but they were later found not to contain any explosives.One soldier had a minor scalp injury, said Cadot.A spokesman for the Ministry of the Interior, speaking at the scene, said a second person had been arrested at the scene and their "possible connection" to the incident was being investigated. It was not clear if this person had a direct connection to the attacker.View gallery
The Associated PressFrance's Ministry of the Interior initially tweeted in French that a "serious" security incident occurred near the Louvre Museum.The area surrounding the Louvre was evacuated and about 250 visitors to the museum were kept in secure parts of the facility. They were to be evacuated in small groups after the necessary security checks.A photo posted to Twitter (below) illustrated how traffic on Rue de Rivoli was brought to a standstill following the attack.As of 10:22 a.m. local time, Paris transit officials tweeted that the Palais Royal Louvre Museum subway stop was closed due to a "security measure."This story is breaking. Please check back for updates.ABC News' Lena Masri and Brendan Rand contributed to this report.
Politics EU leaders say Trump worries them as rhetoric becomes policy

RAF CASERT,
Associated Press
51 minutes ago
VALLETTA, Malta (AP) — European Union leaders on Friday sought a common stand on U.S. President Donald Trump, now that they increasingly fear that campaign rhetoric will be turned into policy and further tear their troubled bloc apart.At a summit in Malta, several of the 28 leaders highlighted the fundamental gap between the EU position and how Trump wants to plug migration and refugee flows from certain mostly Muslim nations, one of many potential flashpoints undermining trans-Atlantic relations. EU Council President Donald Tusk already moved the U.S. into a "threat" category for the EU in the run-up to the summit, following several negative comments about the bloc.For France and Germany, there is only one solution to facing an unpredictable partner."Many countries have to realize that their future is first in the European Union, rather than who knows what bilateral relation with the United States," said French President Francois Hollande upon arrival at the summit.German Chancellor Angela Merkel said that "the more strongly we are clear about how we define our role in the world, the better we can tend our trans-Atlantic relations."It didn't take away any of the worries which have been increasing by the day since Trump took office on Jan. 20.Even though he has called Hollande and Tusk and hosted British Prime Minister Theresa May, Europe keeps searching for how to get a grip on Trump."Who know what the president of the United States really wants," notably when it comes to NATO, Hollande said of the military alliance uniting most EU member nations with the United States.Summit leader Tusk was hoping that the debriefings from May and others to EU leaders would not turn into another Trump-bashing session. On Tuesday though, Tusk himself said that Trump was contributing to the "highly unpredictable" outlook for the bloc with a slew of "worrying declarations."The message had seeped through the ranks of the member states. "Trump must be judged by his actions and not by his rhetoric and his election campaign. But now he has delivered enough actions that are worrying," Austrian Chancellor Christian Kern said.His Luxembourg counterpart Xavier Bettel added that "What happened the last days are really not the values I'm fighting for."
Business  Romanian president says economy good, investors not threatened

Reuters Videos
3 hours ago
 Romanian president says economy good, investors not threatened Romanian President Klaus Iohannis says nation-wide protests against a retreat on anti-corruption reforms pose no threat to investors. Rough Cut (no reporter narration)
A War Between the U.S. and China Would Be World War III (And Might Be Hard to Shut Off) 
The National Interest
Thu, Feb 2 12:00 AM PST
The window for war between the United States and China will, in all likelihood, last for a long time. Preventing war will require tremendous skill and acumen from diplomats and policymakers. Similarly, the demands of positioning either side for victory will continue to tax diplomatic, military, and technological resources for the foreseeable future. At the moment, however, we shouldn't forget that China and the United States constitute the heart of one of the most productive economic regions the world has ever seen.
Northrop Grumman bows out of the Air Force's $16 billion next-generation jet trainer contest
Jeff Daniels
Wed, Feb 1 3:17 PM PST
Northrop Grumman
(NOC)
said Wednesday it was dropping out of the U.S. Air Force's T-X trainer jet contest with partner BAE Systems
(London Stock Exchange: BA.-GB)
, making it the second team to leave the competition in the past week.The T-X, a contract valued at more than $16 billion, would replace the aging T-38 Talon pilot training aircraft manufactured by Northrop in the 1960s. Last week, Raytheon
(RTN)
exited the competition after failing to reach terms with Italian defense company Leonardo S.p.a. "The companies have decided not to submit a proposal for the T-X Trainer program, as it would not be in the best interest of the companies and their shareholders," Northrop said in a statement.Northrop said it and BAE still "remain fully committed to performing on current and future U.S. Air Force programs, to deliver critical capabilities to America's airmen."International teams from Sweden's Saab
(Stockholmsborsen:SAAB.B-SE)
and Boeing
(BA)
as well as
Lockheed Martin
and Korean Aerospace remain in the competition for the Air Force's next-generation trainer. The contract is seen as a must-win for Boeing's tactical aircraft business since the government last year rejected the company's protest of Northrop winning the long-range strike bomber.Also, Sierra Nevada is teamed with Turkish Aerospace Industries and there's been talk Textron
(TXT)
could propose its Scorpion jet as a trainer.A Textron spokesperson said Wednesday the company is "still evaluating the requirements" of the training program and does not have a decision to share at this time.The Air Force issued a final request for proposals for the T-X jet trainer program last month. The program involves the purchase of 350 aircraft with operational capability of the trainer by the end of the government's fiscal 2024. Northrop management had previously pointed out the costs of the T-X competition would vary between companies since there would be both a clean-sheet design in the contest as well as vendors with derivative airplanes. Northrop and Boeing designs fall in the clean-sheet category.Last week, Northrop CEO Wes Bush hinted the company had not made a final decision on whether to submit a bid for the T-X contract. "We're presently assessing the terms presented by that RFP to determine whether we see an appropriate business opportunity for us to submit a bid," he said.
(CORRECTION: An earlier version of this story misstated the names of the international teams competing for the Air Force's next generation trainer. The teams are Sweden's Saab and Boeing as well as Lockheed Martin and Korean Aerospace.)
More From CNBC
Russia's Next Super Weapon To Crush America in Combat Is…
Dave Majumdar
Russia has apparently conducted a successful test launch of its Nudol direct ascent anti-satellite missile. This is the second test of the new weapon, which is capable of destroying satellites in space. The weapon was apparently launched from the Plesetsk test launch facility north of Moscow.At press time no additional details are available. However, if the report is correct, that means the Russians have developed a means to attack the space-based navigation, communications and intelligence gathering tools that are the sinews of U.S. military operations.It should come as no surprise that Moscow has embarked on the development of such a weapon. Attacking America's space-based assets would be an effective means to disrupt U.S. military operations, which is a fact not lost on the Kremlin—or on the People's Republic of China. Indeed, Beijing has previously tested such weapons—most notably in 2007 when it destroyed a satellite in orbit.Washington, too, has shot down a satellite that was in a decaying orbit in 2008 using the U.S. Navy's Aegis system. However, the United States has been vocal in calling on other nations to desist from such activities. Indeed, many space experts warn that the debris from such tests pose an extreme hazard, not just to military satellites but all space activity. Even small fragments can severely damage a spacecraft given the extreme velocities involved.Given the Russians expertise in developing air and missile defense systems, it's not likely to have been a huge technological leap for Moscow to develop the Nudol. Indeed, the Russians have boasted that their developmental S-500 will also be able to engage incoming ballistic missiles in space.The S-500—which will form the upper tier of Russia's layered integrated air defense system—is expected to be able to engage targets at altitudes of about 125 miles—or 660,000 feet. That means that S-500 will be able to engage targets such as incoming ballistic missiles in space at ranges as great as 400 miles. The first regiment of S-500 will be deployed to protect Moscow and central Russia.The S-500 is expected to able to detect and simultaneously attack up to ten ballistic missile warheads flying at speeds of twenty-three thousand feet per second. It is also reportedly being designed to use hit-to-kill interceptors—a design with similarities to Lockheed Martin's Terminal High Altitude Area Defense (THAAD) system.Like all modern Russian air defense systems, the S-500 is expected to be highly mobile and will use a network of radars for targeting over vast distances. The missile system is expected to use the 91N6A(M) battle management radar, a modified 96L6-TsP acquisition radar, as well as the new 76T6 multimode engagement and 77T6 ABM engagement radars, according to Missile Threat—which is run by the George C. Marshall and Claremont Institutes.Dave Majumdar is the defense editor for The National Interest. You can follow him on Twitter: @davemajumdar.Image: Creative Commons. 
Latest violence in Ukraine could be test for Trump administration CBS News 11 hours ago
On Ukraine's frozen battlefield, government forces and separatists are fighting once again. In the town of Avdiivka, they've had no electricity and hardly any heating for days. Soviet-era rockets are killing civilians.With the U.S. backing Ukraine's government and Russia supporting the separatists, the war has claimed nearly 10,000 lives since it began in 2014. Both sides blame each other for the latest upsurge in violence. 
On Ukraine's frozen battlefield, government forces and separatists are fighting once again.CBS EVENING NEWSUkraine is trying to present itself as a victim of aggression, said Russian President Vladimir Putin today — accusing the Ukrainian government of attempting to squeeze money out of the U.S. and Europe. But the latest violence could also be Russia testing the new administration in Washington, and an American president who says he wants a better relationship with Moscow. The conflict started when protestors ousted President Viktor Yanukovych, who had close ties with Moscow — and Russia sent in troops to seize the Crimean Peninsula. We watched as eastern Ukraine lurched into chaos. Three years later, Ukrainians are still dying — fighting over whether their future lies with Russia or the West. Senator John McCain urged President Trump in a letter today to arm Ukrainian government forces, saying that Russia is testing the president and is trying to destabilize and dismember Ukraine.© 2017 CBS Interactive Inc. All Rights Reserved.
World 6 killed in Ukraine; Putin says Ukraine seeking US support
INNA VARENYTSIA,Associated Press 10 hours ago Raw: Deadly Fighting in Ukraine Continues
Scroll back up to restore default view.AVDIIVKA, Ukraine (AP) — Salvos of artillery shook eastern Ukraine on Thursday, the fifth day of escalated fighting between government troops and Russia-backed separatist rebels. Two Ukrainian troops were killed overnight and 10 others wounded, the government said, while rebels said one of their fighters was killed.Shelling appeared to intensify after nightfall and both sides reported civilian deaths — two in Avdiivka and one in Donetsk city.Reporters for The Associated Press heard Grad rocket launchers fired on both sides of the conflict during the night. In the afternoon, shelling was heard in the distance from Avdiivka, a government-held town just north of Donetsk, the largest rebel-controlled city.At least 15 people have been reported killed since the fighting around Avdiivka surged over the weekend.More than 9,700 people have been killed since the war with separatist rebels began in April 2014. An agreement reached nearly two years ago called for a cease-fire and a pullback of heavy weaponry by both sides, but skirmishes persist.Ukraine's U.N. ambassador, Volodymyr Yelchenko, told the Security Council that the Russian army and Russian-backed separatists had started the latest escalation of violence in eastern Ukraine. Russia's U.N. ambassador, in turn, said that Ukraine had provoked the fighting.Russian President Vladimir Putin accused Ukraine of starting the escalation to rally support from the new U.S. administration and other Western powers.Ukraine is concerned that President Donald Trump could roll back some sanctions imposed on Russia for its actions in Ukraine, and that European Union members could follow suit."The Ukrainian leadership needs money, and the best way to get the EU, the U.S. and international organizations to pay is by posing as a victim of aggression," Putin said in Budapest after a meeting with Hungarian Prime Minister Viktor Orban.Later Thursday, U.S. Ambassador to the U.N. Nikki Haley condemned Russia's "aggressive actions" in eastern Ukraine and warned Moscow that U.S. sanctions imposed after its annexation of Crimea will remain until the peninsula is returned to Ukraine.The new American envoy said it was "unfortunate" that she had to condemn Russia in her first appearance at the U.N. Security Council, saying "we do want to better our relations with Russia."But Haley said "the dire situation in eastern Ukraine is one that demands clear and strong condemnation of Russian actions."Shelling over the weekend damaged water, heating and electricity supplies in Avdiivka amid a strong cold snap. Residents' nerves were raw."I was born in 1941. I was in a war at birth and now I see it again," said Valentina Pasternak, as she stood on her porch clutching two loaves of bread brought by aid workers. A shell had landed in her yard.By Thursday, water and heat had been partly restored, but Avdiivka remained without electricity.In Brussels, European Union President Donald Tusk urged Moscow to pressure the separatists to make sure the flare-up of fighting ends and a cease-fire is restored."Russia should use its influence to disengage the Russia-backed separatists," Tusk said.U.N. Undersecretary-General Jeffrey Feltman called on international community to help revitalize peace negotiations between Ukraine's government and the separatists to prevent the current crisis from becoming "a catastrophe."The United Nations' political chief told the Security Council that since Jan. 7, and especially in the last few days, there has been "a dangerous intensification of the conflict" between government and rebel forces in eastern Ukraine.He said European monitors on Wednesday reported over 10,000 explosions in the eastern Donetsk region over 24 hours, the highest number ever recorded.Feltman said the monitors from the Organization for Security and Cooperation in Europe also registered frequent use of heavy weapons banned by the Minsk peace agreements.He noted damage to houses and schools in populated areas of Avdiivka, which is a government-held town just north of Donetsk, the largest rebel-controlled city. He said the damage raises "serious concerns about possible violations of international humanitarian law by all sides."Officials from both Russia and the Ukraine called for an end to the fighting and the implementation of a peace agreement._Edith M. Lederer at the United Nations, Nataliya Vasilyeva and Jim Heintz in Moscow, Raf Casert in Valletta, Malta, and Vladimir Isachenkov in Budapest contributed to this report.
U.S. productivity rises at end of 2016 but trend still weak Published: Feb 2, 2017 10:21 a.m. ETIn potential warning sign, labor costs rise at fastest clip since 2007

By JEFFRYBARTASH REPORTER
Getty Images American workers and companies were more productive in the fourth quarter, but wages are rising even faster and that could cause problems.American companies and their workers were more productive in the fourth quarter, but labor costs rose at the fastest pace in 2016 in nine years, a potential warning sign for hiring and economic growth.Productivity increased at an annual 1.3% pace in the three months covering October to December, the government said Thursday. Third-quarter productivity was also raised to 3.5% from 3.1%. Figures are seasonally adjusted.Output of goods and services—the stuff workers make or provide—advanced 2.2%. The amount of time employees worked rose 0.9%.Productivity increases when output rises faster than hours on the job Investors shrugged off the report. The Dow Jones industrial average DJIA, -0.03% was slightly lower in early trading.Despite increases in the third and fourth quarters, productivity only rose 0.2% in 2016. That's the smallest gain since 2011 and it maintains a postrecession trend of extremely weak productivity.Nor it likely that productivity will improve anytime soon.Companies are still hesitant to make the kind of investments that make workers more productive and a dwindling supply of skilled labor means companies that want to hire may have to take on employees who'll more need training to get them up to speed."If anything, the performance of productivity is getting even worse," contended Paul Ashworth, chief U.S. economist at Capital Economics.Perhaps more worrisome, labor costs are outstripping the increases in productivity, a trend that is not sustainable in the long haul.Hourly compensation climbed 2.8% in 2016, similar to the gains in 2015 and 2014. Yet since productivity gains haven't kept up, unit-labor costs rose in 2016 at the fastest clip since 2007.Unit-labor costs increased 2.6% last year.If productivity doesn't start to improve, companies eventually will have to slow increases in pay by cutting employees or hours worked.Alternatively, they could spend more in training and equipment that helps workers become more productive. Yet that kind of Investment has been unusually soft during the current 7 1/2-year-old recovery.Rising productivity is the key to a more vibrant economy: it allows companies to earn bigger profits and invest more while paying higher salaries to employees.Slower productivity, on the other hand, is the hallmark of a less efficient economy. In the U.S. productivity has risen less than 1% annually for six straight years, a big reason why the economy has been unable to match its historic growth rate. The U.S. has now gone a modern record of 11 straight years without achieving 3% growth