San Lorenzo River floods between Santa Cruz and Felton Updated: 5:16 PM PST Feb 7, 2017 Amy Larson KSBW.com Digital Media Manager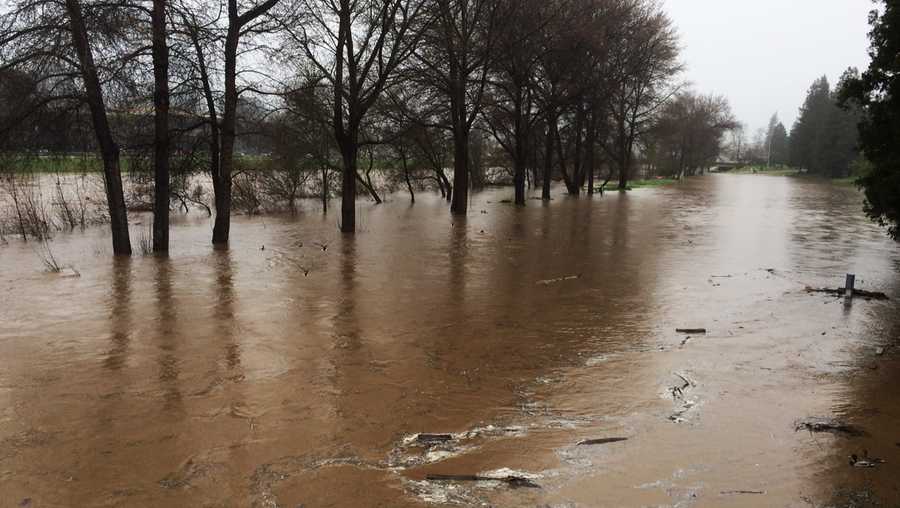 San Lorenzo Park in Santa Cruz SOURCE: KSBW SANTA CRUZ, Calif. —The San Lorenzo River overflowed its banks in several spots between Santa Cruz and Felton where the river rose to major flood stage Tuesday. RELATED CONTENTOne lane of Highway 17 reopens after two major mudslides Tuesday afternoon storm forecast In downtown Santa Cruz, the river reached moderate flood stage — 23.3 feet — just after noon, KSBW meteorologist Art Jarrett said. FORECAST: Get your KSBW Weather storm forecast Santa Cruz County officials sounded a flood warning siren Tuesday morning, notifying Felton Grove residents of impending danger. Firefighters rescued residents who were trapped inside their homes by flood waters.Reporter Phil Gomez witnessed the river overflowing onto Highway 9 at Sycamore Grove, just north of Santa Cruz. Sycamore Grove looks like a lake."Highway 9 is underwater. I've never seen the San Lorenzo River go over Highway 9," Gomez said.An atmospheric river flowing off the Pacific Ocean pounded Santa Cruz County with rain throughout Monday night and into Tuesday morning.County spokesman Jason Hoppin said, "We have several rivers at or approaching flood stage, San Lorenzo, Soquel and Corralitos."In Santa Cruz, KSBW Meteorologist Lee Solomon reported flash flooding at Paradise Park and Tannery Arts Center. More than 30 homes in Paradise Park were flooded, and San Lorenzo Park by the Santa Cruz courthouse was also under water.Solomon said, "The Santa Cruz Mountains have received a deluge. Way too much rain in a very short period of time. A flash flood is occurring in the Paradise Park area.Solomon said, "The Santa Cruz Mountains have received a deluge. Way too much rain in a very short period of time. A flash flood is occurring in the Paradise Park area."NOAA's San Lorenzo River gauge at Big Trees recorded water levels rising to 23 1/2 feet at noon. The river's major flood stage is 21.8 feet, and minor flood stage is 16.1 feet.Tuesday's atmospheric river-powered storm has so far caused as many severe problems than the first atmospheric river that blasted the Central Coast in January."The ground is already soaked, so all of this rain is running into the riverbeds," Hoppin said.He added that while the Pajaro River takes a long time to rise, the San Lorenzo River, Soquel Creek, and Corralitos Creek rise rapidly during storms.A flash flood warning remained in effect for the Central Coast through the afternoon.Soquel Creek in Soquel dropped from 14.4 feet down to 12 feet between noon and 2 p.m. Corralitos Creek in Freedom dropped from a moderate flood stage of 12 feet down to 11 feet.Highway 17 has been closed in all directions at Vinehill Road in Scotts Valley for the past six hours, and the California Highway Patrol has no estimated time for when it will reopen.A pickup truck narrowly avoided being buried in a mudslide on Highway 17 and crashed. The truck flipped from the northbound lanes into the southbound lanes and landed on its roof."The mudslide actually picked his truck up and flipped it over," the CHP said.Northbound lanes are covered in more than 20 feet of mud and rocks, and debris continues to slide down."Half the mountain is now in northbound lanes. It's still an active slide. Dirt is still spilling over into the southbound side," CHP officer Trista Sharp said.Highway 9 is also closed in multiple locations because of mudslides, flooding from the San Lorenzo River, and toppled trees.Highway 152 is expected to remain closed until at least Friday because of yet another major mudslide.January 24, 2017 Watch What a Focus Group Thinks of the LEGO® Batmobile…We think the new Chevy LEGO Batmobile is super cool… even though these LEGO mini figures said…By Chevrolet
U.S.Mudslide shuts down Hwy. 17 in Santa Cruz Mountains

San Francisco Chronicle
Tue, Feb 7 8:02 AM PST
A mudslide Tuesday closed Highway 17 in both directions through the Santa Cruz Mountains, officials said Tuesday afternoon.A mudslide Tuesday closed Highway 17 in both directions through the Santa Cruz Mountains, officials said Tuesday afternoon."Right now, it's indefinite," California Highway Patrol Officer Trista Drake of how long the major thoroughfare would be shut down.Photo: Marcio Jose Sanchez, Associated PressThe slide came down just north of Vine Hill Road on top of a vehicle, pushing it from the northbound to the southbound side of the road, but the driver was unharmed, according to the CHP."It's a pretty big slide — it's larger than the one that happened a couple weeks ago, and it's actually in the same area as that previous slide," said Drake.In January, one of the mudslides that plague commuters on Highway 17
crushed a news van
near the spot of Tuesday's slide.
"For people trying to get over the hill, they're going to have to access that through (Highway) 101. The only other option is going to be going all the way north on (Highway) 1," Drake said.The closure of Highway 17 is one of 15 closures throughout Santa Cruz County right now, according to Drake. Sections of Highway 9 and Highway 152 are also closed.Neighboring counties are attempting to divert traffic around the closure."On the San Jose side, we are not allowing traffic to travel southbound because they're going to get stuck if they go too far south," said CHP Officer Ross Lee."We're trying to set a closure southbound on 17 at Bear Creek Road," he continued.A number of smaller slides are also affecting roads off of Highway 17, including the northbound side of Bear Creek Road, Old Santa Cruz highway between Idylwild and Ogwalla, and Highway 9 from Redwood City to Highway 35, Lee said.Filipa A. Ioannou is a San Francisco Chronicle staff writer. Email: fioannou@sfchronicle.com Twitter: @obioannoukenobi
Lifestyle Roadshow: You Highway 17 whiners chose to live in Santa Cruz MercuryNews.com 23 hours ago
Q To all the Highway 17 drivers whining about traffic problems: Really? You chose to live in Santa Cruz as I did and you complain about the roadway. You can always move back to San Jose. Oh, wait, then you'll complain about beach traffic on weekends coming back.Grow up! You made a lifestyle choice. Deal with it. It could be 1989 and the road closed for a couple of weeks because the earth moved as it's wont to do in California.When the road was closed due to the bank robbery, it was publicized and you could have stayed home. If you were in the valley you could have gone to dinner, waited until 9 or 10 p.m. and then you would have Cruzed home happy.Rich FreemanSoquel A A lot of folks did that, and many agree.Q Mr. Roadshow: I can't believe that you missed the opportunity to point out to the complainers that Highway 17, as the main route to Santa Cruz, has always been subject to delays. Sometimes very lengthy delays.Anyone who lives in the Santa Cruz area moved there fully aware of the limited route. They enjoy a coastal lifestyle, less expensive housing and, in exchange, must endure Highway 17 and all of its perils and delays.Darlene Brannen San Jose A If Highway 17 was my regular commute, I would download the free QuickMap app for iPhone and iPad. The QuickMap app displays the user's location along with traffic speed, closures, CHP incidents — and bank robbers. Go to http://quickmap.dot.ca.gov/.Q On one hand, I understand the pain and anger of those folks trying to get to and from Santa Cruz with robbers and mudslides in their way. Yet on the other hand, I have difficulty. Aren't many of these the same folks opposed to a railroad or a freeway to improve the commute? For how long have we heard that Santa Cruzans don't want these improvements made because they don't want an influx of people from the valley coming to disrupt their pastoral lifestyle?If the commute has become so miserable, maybe people on both sides of the hill should give it up and get jobs closer to home.Paul Jacobs Saratoga A Only if it were that simple. Even I am taking heat …Reading this on your phone or tablet? Stay up to date on Bay Area and Silicon Valley news with our new, free mobile app. Get it from the Apple app store or the Google Play store.Q Although Caltrans seemed flippant and uncaring in its response to the recent problems on Highway 17, I have come to expect better from you. I would have thought you would have had more empathy for the many who were stuck for hours and could not get home or get to their kids at schools. This was a horrible mess all day long.Karen SchwartzFeltonA I know it was.Q Whoever was in charge of the robbery suspect search on Highway 17 should be fired. To inconvenience hundreds of motorists for eight-plus hours was absolutely insane.Frank LeoneLos GatosA No one is getting fired. Just prepare for problems. Tune in the radio and have a backup plan.Join Gary Richards for an hourlong chat noon Wednesday at www.mercurynews.com/live-chats. Contact him at mrroadshow@bayareanewsgroup.com.
Airlines issue travel alerts as passengers scramble to beat snowstorm WPVI – Philadelphia
Airlines issue travel alerts as passengers scramble to beat snowstorm Several airlines have issued travel alerts ahead of Thursday's expected snowstorm, as travelers scramble to adjust their plans.
Drone Footage Shows Extensive Tornado Damage in New Orleans Storyful
Drone Footage Shows Extensive Tornado Damage in New OrleansMultiple tornadoes tore through New Orleans and the surrounding area on Tuesday, February 7, injuring at least 25 people and causing extensive damage to several neighborhoods. This drone footage shows the tornado aftermath in New Orleans. Louisiana Governor John Bel Edwards declared a state of emergency on Tuesday and deployed the National Guard to help those affected. Credit: Benjamin Farmer via Storyful
Tab for Santa Cruz County storm damage climbs to $25 million
This serene scene of 'Life in Elkhorn Slough' created by Aptos artist Dianne Bollentini is hanging in the Santa Cruz County Governmental Center. (Jondi Gumz — Santa Cruz Sentinel)By Jondi Gumz, Santa Cruz SentinelPOSTED: | SANTA CRUZ >> Santa Cruz County's winter rainstorm damages grew to $25 million Tuesday as rain fell steadily and the San Lorenzo River overflowed its banks outside the Santa Cruz County Governmental Center."We're going to repair all these roads. It's going to take some time," said John Presleigh, county public works director. "Be patient with us."Supervisor Bruce McPherson, who represents the hard-hit Fifth District, pointed out the county's needs represent about 10 percent of the $200 million to $300 million of the statewide damages."I had to turn around on Graham Hill Road," McPherson said, referring to a slide at the county line posted at sccroadclosure.org Tuesday.Supervisor Zach Friend, who has heard from constituents detoured since the Jan. 23 closure of Valencia Road, "$25 million is damage we haven't seen since the earthquake."Gov. Jerry Brown made two disaster declarations for storm damages in December and January but the way he sought federal aid may result in a funding shortfall for road repairs, according to Presleigh.The governor requested assistance through the Federal Highway Administrations's emergency relief program, which potentially could provide up to 75 percent of funding to fix major arterials and collector streets such as Bear Creek Road in Boulder Creek, Valencia Road in Aptos and Soquel-San Jose Road.The governor did not make California Disaster Assistance Act funds available for local roads damaged in December, according to Presleigh, who said the county is asking Assemblyman Mark Stone-D-Scotts Valley for help.If that appeal is unsuccessful, Presleigh said, then the county would have to repair local roads with county money.Friend said he wanted to consider every option, including using Measure D sales tax revenue voters approved in November.Three weeks ago, McPherson proposed tapping reserves to repair Bear Creek Road and Soquel-San Jose Road because they serve as emergency routes and are used by many commuters. Each is down to one lane due to washouts. Because of geotechnical work, design requirements, bidding and construction timelines, restoring both roads could take until the end of summer or longer.However, given a list of more than 50 roads damaged, supervisors made no attempt to set priorities.Supervisor John Leopold, who chairs the board, requested regular updates on the progress of repairs to share with the community.Presleigh said the county public works website and Facebook page will be revamped "in a week or two" to provide updates on the roads worked on.He said he reassigned sanitation engineers to work on road repair design but warned the process of getting federal funds is lengthy due to environmental, design and geotechnical issues."We're going to be in line with a lot of other counties," he said.In other action, supervisors unanimously:• Approved a four-year contract through June 30, 2020 with the Deputy Sheriffs Association with a pay increase of 6.5 percent for those at the top eight steps in the law enforcement unit costing the county $1.6 million and for all those in the supervisory unit, costing $340,000.• Approved a $127,675 contract through Dec. 31 with Moore Iacofano Goltsman Inc. of Berkeley, which developed the "Your Ticket Home" public transit campaign targeting S.F. Giants fans, for a campaign to recruit Santa Cruz County families to care for foster children.• Approved a $158,870 contract for Moore Iacofano Goltsman to prepare the Pleasure Point commercial area vision and Portola streetscape plan and countywide commercial design guidelines. The firm plans a five-month process with three community meetings and up to four stakeholder input sessions; the team includes Daniel Iacofano and Mukul Malhotra, who worked on Pleasure Point's residential guidelines and the Aptos Village Project.County residents with storm damage can get a property assessment by filling out a form at sccoplanning.com or by calling 831-454-3171.
Lifestyle Residents brace for worst, hope for best in Santa Cruz Mountain storm KGO – San Francisco 7 hours ago
Now Playing2:20
0:28
0:47
2:49
1:27
3:01
2:02Residents brace for worst, hope for best in Santa Cruz Mountain storm Residents are braving high waters and trying to keep their hopes high too as rain and wind pound where they live.
Water Valve Blamed In Sauganash Flooding CBS-Chicago
Water Valve Blamed In Sauganash Flooding Some residents in the northwest side neighborhood woke up Thursday to rushing water. CBS 2's Suzanne Le Mignot has this report.
U.S. This Is What Would Happen If An Asteroid Hit New York

Forbes
Tue, Feb 7 8:03 AM PST
Early Monday morning, a giant fireball was witnessed by thousands of people across multiple states, as it plunged from outer space into Lake Michigan.Sonic booms could be heard for nearly 100 miles as houses shook. A brilliant but eerie green glow, created by the elements in the meteor heating up in the atmosphere, resulted in more than 200 calls to the American Meteor Society. And reports of people seeing it ranged as far east as New York and as far south as Kentucky. Although no fragments have been recovered, it's estimated that this meteor was between 1 and 7 tons in mass: around the size of a minivan. Moving at a speed of tens of thousands of miles per hour, the energy of this asteroid strike was equal to about 500 tons of exploding TNT.
 According to Philipp Heck, scientist at the Field Museum of Natural History in Chicago, impacts like this on Earth aren't rare at all."Such an event of this magnitude didn't occur over the Midwest/Chicagoland area since 2003 when the Park Forest meteorite produced a similar fireball. Globally such events are much more frequent, many times each year, but mostly happen over the ocean and are therefore not observed."
Asteroids a few meters in size strike Earth a few times each year on average, and only rarely impact a populated area. But when they do, the world takes note.
The 2013 impact in Chelyabinsk, Russia, was the most destructive such strike in modern times. It may have only been about ten meters across, but its impact in an urban area caused millions of dollars worth of property damage and resulted in more than 1,500 documented injuries. A century earlier, the Tunguska event leveled over a thousand square kilometers of forest, exploding with an energy of between 5 and 10 MegaTons of TNT: similar to an atomic bomb.
U.S. Hawaiian caught on video swimming next to lava flow
Fox News Tue, Feb 7 12:00 AM PST
A Hawaiian native was captured on film swimming next to a lava zone on   Hawaii's Big  Island, The San Francisco Chronicle  reported.The swimmer, identified as  Kawika Singson, a Hawaiian native, was seen the  the footage being tossed around  by  waves like piece of drift wood."It's super-heated steam laced with hydrochloric acid from the interaction with the seawater and  has shards of volcanic glass," Janet Babb,  a  geologist, told the paper. "It's something to be avoided."  Thousands of visitors from around the world have swarmed Hawaii Volcanoes National Park by land, sea and air to take in the spectacle.The billowy, bright-orange lava pops and sizzles, and reeks of sulfur and scorched earth, as it oozes across rugged terrain and eventually off a steep seaside cliff. When the hot rocks hit the water, they expel plumes of steam and gas — and sometimes explode, hurling chunks of searing debris.The park has seen an increase of about 1,000 to 1,500 visitors per day since the current lava flow reached the sea in late July, boosting attendance to about 6,000 people daily, officials said.Park spokeswoman Jessica Ferracane warns the area can be dangerous.Hikers can get close enough that the soles of their shoes get hot. Also, the area is flanked by hardened lava rock as sharp as glass. Many people have suffered lacerations while trying to cross the jagged landscape, Ferracane said."Everybody wants to see the lava flow, but not everybody should be hiking out there," she said.Additionally, when the lava touches the ocean, it reacts with the saltwater and produces harmful hydrochloric acid, which wafts into the air, Babb said.The lava then quickly solidifies and creates a new landscape. According to the U.S. Geological Survey, the Puu Oo vent alone has created about 500 acres of new land since it began erupting a few decades ago. The latest flow, which began in May, has created about 8 new acres.Most of Kilauea's activity has been nonexplosive, but a 1924 eruption spewed ash and 10-ton rocks into the sky and left a man dead.Puu Oo's 1983 eruption resulted in lava fountains soaring over 1,500 feet high. In the decades since, the lava flow has buried 48 square miles of land and destroyed many homes.In 2008, after a series of small earthquakes rattled the island, Kilauea's summit crater opened and gushed lava and rock over 75 acres of the mountain, damaging a nearby visitor overlook.It's hard to predict when the volcano will inflate or when the current flow will stop, Babb said. It could slow down any day or keep cascading into the sea for months. The Associated Press contributed to this report 
World Japanese nuclear plant just recorded an astronomical radiation level. Should we be worried?

Washington Post
10 hours ago
TOKYO — The utility company that operated the Fukushima Daiichi nuclear plant in Japan — the one that went into triple meltdown after the enormous 2011 earthquake and tsunami — has released some jaw-dropping figures.The radiation level in the containment vessel of reactor 2 has reached as high as 530 sieverts per hour, Tokyo Electric Power Co. — or Tepco, as it's known — said last week. This far exceeds the previous high of 73 sieverts per hour recorded at the reactor following the March 2011 disaster.That was the world's worst nuclear disaster since the one at Chernobyl, in Ukraine, in 1986. Almost 16,000 people were killed along Japan's northeastern coast in the tsunami, and 160,000 more lost their homes and livelihoods. The
cleanup is taking much longer
than expected.Today's WorldView What's most important from where the world meets WashingtonTepco recorded the radiation near the reactor core, suggesting that some melted fuel had escaped, using a long, remote-controlled camera and radiation measurement device. It was the first time this kind of device has been able to get into this part of the reactor. There it found a three-foot-wide hole in a metal grate in the reactor's primary containment vessel.
So, how dangerous is this?
At this level of radiation, a robot would be able to operate for less than two hours before it was destroyed, Tepco said.And Japan's National Institute of Radiological Sciences said medical professionals had never even thought about encountering this level of radiation in their work.According to the
Kyodo news agency
, the institute estimates that exposure to one sievert of radiation could lead to infertility, loss of hair and cataracts, while four sieverts would kill half the people exposed to it.This measuring device hasn't even gone into reactors 1 and 3 yet — that's still in the works.Robot explores damaged nuclear plant reactor in JapanPlay Video
So should the people who live in Japan, who live on the Pacific basin be freaking out
Not yet, some analysts say.Although the radiation level is "astoundingly high," says Azby Brown of Safecast, a citizen science organization that monitors radiation levels, it doesn't necessarily signify any alarming change in radiation levels at Fukushima. It's simply the first time they have been measured that far inside the reactor.Here's what
Brown wrote on Safecast's website
:It must be stressed that radiation in this area has not been measured before, and it was expected to be extremely high. While 530 Sv/hr is the highest measured so far at Fukushima Daiichi, it does not mean that levels there are rising, but that a previously unmeasurable high-radiation area has finally been measured. Similar remote investigations are being planned for Daiichi Units 1 and 3. We should not be surprised if even higher radiation levels are found there, but only actual measurements will tell.Hiroshi Miyano, nuclear expert and visiting professor at Hosei University, also warned against overreacting. He said the radiation reading might not be particularly reliable since it was only an estimation based on the image analysis. (Tepco said there was a margin of error of 30 percent.)"It's not something new to worry about," he said, although he added that it underscored how difficult the next steps would be.
But some think there is cause for concern.
Fumiya Tanabe, nuclear safety expert and former chief research scientist at the Japan Atomic Energy Research Institute, said while experts expected the radiation reading inside the Daiichi reactors to be high, it was still "shocking" to learn how high it was six years on."It will be very difficult to operate robots in there for a long time to come, and to remove the melted fuel. So the finding might greatly affect the decommissioning time schedule," he said.Tepco had been hoping to start taking out the fuel out in 2021.
Japan now estimates Fukushima nuclear cleanup cost at $180 billion
Play Video
0:54
Could the radiation level be even higher?
Possibly. The 530 sievert reading was recorded some distance from the melted fuel, so in reality it could be 10 times higher than recorded, said Hideyuki Ban, co-director of Citizens' Nuclear Information Center.He agreed with Tanabe, saying that the findings underscore how difficult the decommissioning process will be."It definitely shows the path towards decommissioning will be very difficult, and the time frame to start taking out the fuel in 2021 will most likely be delayed as more investigations will be necessary," Ban said.Still, he cautioned against overreacting, saying, like Brown, that Tepco had simply not been able to measure this close to the fuel before.
So what does this news portend?
Tanabe said that the level of the reading should give pause to proponents of nuclear power in Japan, including Prime Minister Shinzo Abe, who has been
pushing to restart reactors
shut down after the 2011 disaster."It's unbelievable that anyone would want to restart nuclear plants when Japan hasn't learned how and why the Fukushima Daiichi accident happened, or learned lessons from it," he said.Indeed, Ai Kashiwagi, an energy campaigner at Greenpeace Japan, said the findings showed how little the government and Tepco knew about what was happening inside the reaction."The prime minister said everything was under control and has been pushing to restart nuclear plants, but no one knew the actual state of the plant and more serious facts could come out in the future," she said. "It's important to keep an eye on radiation-monitoring data and how Tepco's investigations go."At this level of radioactivity, a person could die from the briefest of exposures.
U.S. Lake Tahoe Gained 8.7 Billion Gallons Of Water In Just 2 Days

Forbes
Tue, Feb 7 7:37 AM PST
Lake Tahoe has had a great past few months, receiving 8.7 billion gallons of water in just two days. It hasn't stopped there; the lake has been receiving tremendous amounts of water lately to fill the lake above its natural rim level.The sudden rise in lake level is a result of several winter storms that hit the lake in late 2016 and early 2017. The National Weather Service calculated that since Jan. 1 of 2017 the lake has gained over 40 billion gallons of water. The stormy weather and heavy rains don't appear to be slowing down with sequential blizzards hitting the region in almost weekly intervals.NOAA calculated that in the two-day span from Dec. 9 through 11 Lake Tahoe gained 8,690,131,707 gallons of fresh water. The natural rim of Lake Tahoe is 6,223 feet and on Dec. 11 the height got up to 6,222.97 feet.
Lake Tahoe water level from December 6th through December 13th shows rapid 8.9-billion-gallon increase (Credit: USGS)That's the equivalent of filling 13,158 Olympic size swimming pools. It is early in the winter season for Lake Tahoe to gain so much water and a good sign for
drought conditions
in Nevada and Southern California this year.
Baby Giant Anteater Loves Her Teddy Bear: ZooBorns 
Barcroft TV
Baby Giant Anteater Loves Her Teddy Bear: ZooBorns A special teddy bear has been standing in as mum for a tiny baby anteater at ZSL London Zoo. Nicknamed 'Beanie', the youngster was born on December 28th 2016, however zookeepers quickly discovered the infant was unable to be cared for by her biological mother. Videographer / director: ZooBorns Producer: Shannon Lane, Ruby Coote Editor: James Thorne