Politics All the Times Canadian Prime Minister Justin Trudeau Has Slammed President Trump
Tierney McAfee,
People
20 hours ago
Canadian Prime Minister
Justin Trudeau
 arrived to the White House on Monday to meet with President 
Donald Trump
 for the first time, in a visit that is expected to be a far cry from the
warm state dinner
former
President Barack Obama
 held for Trudeau last summer.Though their first in-person meeting 
got off to a cordial start
, with the two leaders shaking hands outside the White House and in the Oval Office, Trudeau has criticized Trump multiple times in the past.In fact, 
Canada's popular prime minster
issued a strong statement
 to Trump even before he was sworn into office on Jan. 20.Asked about the then-incoming president during a town hall in Belleville, Ontario, on Jan. 12, Trudeau lamented that "there are things that we hold dear that the Americans haven't prioritized.""And I'm never going to shy away from standing up for what I believe in," he said, "whether it's proclaiming loudly to the world that I am a feminist, whether it's understanding that immigration is a source of strength for us and Muslim Canadians are an essential part of the success of our country today and into the future."Trudeau added that he hoped to nevertheless "have a constructive working relationship with the incoming American administration," saying, "These are issues that are things we can have discussions on and respectful disagreements on with our neighbors to the south, if indeed we have to have disagreements on them."
RELATED VIDEO: Watch: Natasha Stoynoff Breaks Silence, Accuses Donald Trump of Sexual Attack 
Trudeau also spoke out last month against Trump's immigration order temporarily banning refugees and people from seven Muslim-majority countries from entering the U.S."To those fleeing persecution, terror & war, Canadians will welcome you, regardless of your faith," he tweeted. "Diversity is our strength #WelcomeToCanada."Asked about Trump's presidential candidacy at a town hall last year, Trudeau condemned fear-mongering and "hateful rhetoric.""I don't think it comes as a surprise to anyone that I stand firmly against the politics of division, the politics of fear, the politics of intolerance or hateful rhetoric," he said at the time. "If we allow politicians to succeed by scaring people, we don't actually end up any safer. Fear doesn't make us safer. It makes us weaker."He added that Muslims "are the greatest victims of terrorist acts around the world. Painting ISIS and others with a broad brush that extends to all Muslims is not just ignorant, it's irresponsible."Despite their political differences, Trudeau has said he expects to "find a lot of common ground" with the new president.
Reuters
reported that the prime minister planned to use Monday's visit to "nurture economic ties while avoiding tensions over issues such as immigration."At a news conference on Friday, Trudeau himself said he would seek to "defend and demonstrate Canadian values," but do so "respectfully and not from an ideological standpoint."For his part, Trump seems eager to foster a strong relationship with Trudeau. He took to Twitter on Monday to welcome the prime minister to the White House.
View image on Twitter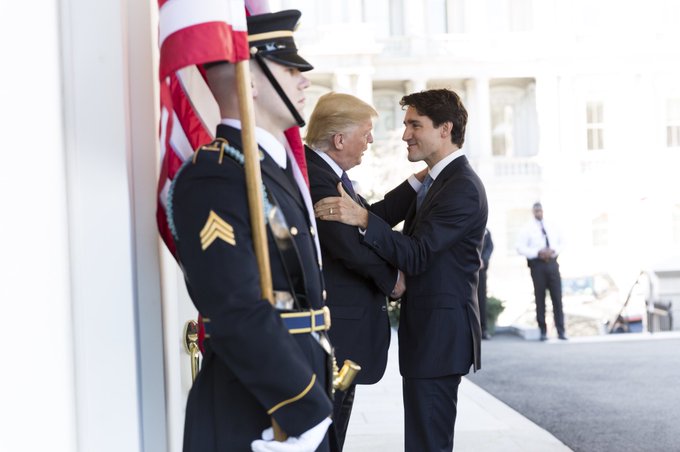 Follow
Donald J. Trump
@realDonaldTrump
Welcome to the
@
WhiteHouse
Prime Minister
@
JustinTrudeau
! The president first greeted Trudeau outside the White House's West Wing entrance, where they shook hands, gave each other a pat on the shoulder and entered the building together.
Trump, Trudeau grapple with differences on refugees, trade
For more news videos visit Yahoo View, available now on iOS and Android.
Washington (AFP) – US President Donald Trump and Canada's Prime Minister Justin Trudeau failed to paper over differences on the treatment of refugees during a joint public appearance Monday, but appeared to tone down harsh trade rhetoric.The two leaders avoided directly criticizing each other after a meeting in the White House, but made it clear they did not see eye-to-eye on Trump's efforts to ban refugees and travelers from seven majority-Muslim nations.Trump defended his controversial immigration decree as "common sense" and demurred when asked if Canada's open door policies posed a threat for the United States."You can never be totally confident," Trump said when asked about America's northern border, before vaunting his Department of Homeland Security's migrant round-ups.Recent days have seen the arrest of hundreds of undocumented migrants across the United States."We're actually taking people that are criminals — very, very hardened criminals in some cases, with a tremendous track record of abuse and problems, and we are getting them out," Trump said.Civil rights group say migrants with no criminal record are also being caught in the dragnet.Trudeau said that "Canada has always understood that keeping Canadians safe is one of the fundamental responsibilities of any government.""At the same time, we continue to pursue our policies of openness towards refugees without compromising security."The gulf between the two neighbors was always going to be difficult span: Trump has painted Syrian refugees as terrorists-in-waiting, while Trudeau has traveled to Toronto's Pearson International airport to greet them.
– Trade 'tweak' -After striking up a much-flaunted "bromance" with president Barack Obama, Canada's youthful liberal leader was in Washington to woo a septuagenarian Republican, with whom he shares little in common.Trudeau is the third foreign leader received by the Republican mogul since he took office on January 20, following meetings with Britain's Theresa May and Japan's Shinzo Abe.Trudeau visit got off to an awkward start, when he arrived at the White House early and his limousine was forced to wait on the driveway for around five minutes before Trump came out.The two men then greeted each other with a handshake and headed into the Oval Office.While there was little common ground on migration, Trudeau and Trump did appear to narrow the gap on trade.Trump had vowed to put "America first" and rip up the North America Free Trade Agreement, but significantly toned down that rhetoric after meeting Trudeau.Trump called for trade to be "reciprocal," but said he wanted to only "tweak" rather than gut the terms of trade."America is deeply fortunate to have a neighbor like Canada," Trump said, hailing the opportunity to "build even more bridges" of commerce."We understand that both of our countries are stronger when we join forces in matters of international commerce," Trump said.The economic ties between America and its northern neighbor — who share the world's longest common border — run deep.Three-quarters of Canada's exports go to the US, and Canada is the top destination for exports for many US states.Trudeau, a fervent supporter of free trade, emphasized the importance of NAFTA and issued a subtle warning about the risks of protectionism for the US states."Make no mistake, at the end of the day, Canada and the US will always remain each other's most essential partner," Trudeau said."As we know, 35 US states list Canada as their largest export market, and our economies benefit from the over $2 billion in two-way trade that takes place every single day."Millions of good, middle class jobs on both sides of the border depend on this crucial partnership."Trump had not been specific on how he wants NAFTA talks to develop, but has repeatedly trashed the 23-year-old pact, calling it a "catastrophe" for American jobs and threatening to slap tariffs on imports from Mexico.- Polar opposites -Trump and Trudeau are a study in contrasts: their path to power, their political stripes, their style — they could not be more different.Manhattan property mogul Trump won the White House in a shock November election victory over Hillary Clinton after painting a dark picture of a country in turmoil and vowing to put "America first."Trudeau, the son of a well-liked prime minister, came to power promising to "provide a positive and good government for Canadians" and enhance the country's image abroad.Family connections were deployed by both sides on Monday, with Ivanka Trump sitting in on the two leaders' meeting with female business leaders and Trudeau gifting Trump a photo of his father and the now US president together.
Kremlin, Russian lawmakers downplay Flynn's resignation
NATALIYA VASILYEVA,Associated Press 1 hour 39 minutes ago
MOSCOW (AP) — The Kremlin on Tuesday played down the resignation of U.S. National Security Adviser Michael Flynn, a sign that Russia is already looking ahead to talks with the U.S. Secretary of State Rex Tillerson to improve the two nations' strained ties.Flynn was often perceived as Donald Trump's key contact with Moscow. In 2015, he was paid to attend a gala dinner for Russia Today, a Kremlin-funded television station, and even sat next to Russian President Vladimir Putin during the event.Flynn resigned Monday night after conceding that he gave "incomplete information" about his calls with Russia's ambassador to U.S. officials.A U.S. official told The Associated Press that Flynn was in frequent contact with Russian Ambassador Sergey Kislyak on the day that the Obama administration imposed sanctions on Russia after U.S. intelligence reported that Russia had interfered with the 2016 U.S. election. The Kremlin has confirmed that Flynn has been in contact with Kislyak but denied that they talked about lifting sanctions.The Russian establishment has not harbored any illusions about the Trump administration's pro-Russia stance for some time now, said Alexei Makarkin at the Moscow-based Center for Political Technologies."This infatuation with Trump in Russia is over, and Flynn as a person who has contributed to this infatuation stopped being perceived as a figure who can have a real impact on the U.S. foreign policy," Makarkin said.The nomination of Tillerson, former chief executive at ExxonMobil, showed to the Russians that it would be him, not Flynn, who would be doing the negotiating, Makarkin said.Ties between Moscow and Washington plummeted to post-Cold War lows after Russia annexed Crimea and threw its weight behind separatist rebels in eastern Ukraine in 2014. The United States responded with economic sanctions and visa bans.Putin spokesman Dmitry Peskov refused to comment Tuesday on Flynn's resignation. Asked if Moscow still hopes for its relations with the U.S. to improve, he said it is "too early to say" since "Trump's team has not been shaped yet."The Kremlin earlier said it was not expecting a breakthrough before the two presidents meet in person. Putin has suggested, however, that could take place in Slovenia, the home nation of Trump's wife Melania.Russia's visibly muted reaction to Flynn's departure comes one day before Tillerson is holding his first meeting with Russian Foreign Minister Sergey Lavrov. Tillerson, who has sealed multiple deals in Russia and was even decorated with the Russian "Order of Friendship" award, is widely described as a tough negotiator who will not give Russia promises he cannot keep.Still, several senior Russian lawmakers took their disappointment over Flynn's resignation out on social media early Tuesday.Konstantin Kosachev, chairman of the foreign affairs committee at the Federation Council, said in a post on Facebook that firing a national security adviser for his contacts with Russia is "not just paranoia but something even worse."Kosachev also expressed frustration with the Trump administration, writing "either Trump hasn't found the necessary independence and he's been driven into a corner… or Russophobia has permeated the new administration from top to bottom."Alexei Pushkov, chairman of the information committee at the Federation Council, tweeted shortly after the resignation announcement that "it was not Flynn who was targeted but relations with Russia."By early afternoon, some lawmakers began to retract their original indignant comments.Leonid Slutsky, chairman of the foreign affairs committee at the State Duma, two hours after he described Flynn's departure as a "negative signal" for Russia-U.S. relations, switched to more moderate language, stressing that it "cannot fundamentally influence Russia-U.S. ties."Fyodor Lukyanov, chairman of the Council for Foreign and Defense Policies, a group of Russian foreign policy experts, told the RIA Novosti news agency that it's not yet clear whether Flynn's resignation could influence bilateral ties."There's nothing to influence yet, there are no relations as such. Our countries have relations shaped by the former administration, which were awful, and Trump was going to change that," he said.Yet Trump's first telephone call with Putin last month demonstrated that Trump did not really have anything to offer to Russia immediately, Makarkin said."It has led to a realization that if Flynn wanted to promote better ties with Russia, he would not have the real chance to," Makarkin said._This story corrects the title of Alexei Pushkov to chairman of the information committee at the Federation Council.
World How America Can Take Control in the South China Sea

Alexander L. Vuving,
Foreign Policy Magazine
20 hours ago
Rex Tillerson, the former ExxonMobil chief who just became the new U.S. secretary of state, might not be causing the same level of global disruption as his boss, President Donald Trump. But in his Senate confirmation
hearing
on Jan. 11, he sent shockwaves through the China-watching community, vowing: "We're going to have to send China a clear signal that, first, the island building stops and, second, your access to those islands also is not going to be allowed."These remarks instantly gave rise to a global consensus that spanned hawks in China to doves in the West. An
editorial
in the
Global Times
, a prominent mouthpiece for Chinese nationalists, warned: "Unless Washington plans to wage a large-scale war in the South China Sea, any other approaches to prevent Chinese access to the islands will be foolish."Former Australian Prime Minister Paul Keating also
reacted
angrily, saying: "When the U.S. secretary of state-designate threatens to involve Australia in war with China, the Australian people need to take note. That is the only way Rex Tillerson's testimony that a 'signal' should be sent to China that 'access to these islands is not going to be allowed' and that U.S. allies in the region should be there 'to show backup' can be read." From Beijing to Sydney, a consensus formed — Tillerson's position has
no basis in international law
, is tantamount to an
act of war
, and
does not make strategic sense
. In short, opponents argue, the posture the new U.S. secretary of state proposed is legally baseless, politically dangerous, and practically ineffectual.This consensus rests on the belief that China is both willing and able to go to war over serious provocation. But this
misreads
Tillerson's proposal and misunderstands the complex realities of the South China Sea. A naval blockade is not the only way to achieve Tillerson's objectives, and China has a large stake in avoiding war with the United States in the region.To see this, we need to use a "whole of capabilities" lens that is less U.S.-centric. From this perspective, Tillerson's suggestion would not boil down to a military blockade as most commentators assume. Instead, the United States and its partners potentially have at their disposal a full spectrum of actions including diplomatic negotiations and economic sanctions and kinetic constraints that, directly or indirectly, can prevent further island building and Chinese militarization of those islands.One such action is targeted sanctions against individuals and companies that support, facilitate, or participate in Beijing's illegitimate operations in the South China Sea. The
bill introduced
by Sen. Marco Rubio last December exemplifies this approach. It would impose asset freezes and travel bans on people and entities who "contribute to construction or development projects" in the contested areas and those who "threaten the peace, security or stability" of the South China Sea or East China Sea. It would also prohibit actions that may imply American recognition of Chinese sovereignty over the contested areas in these seas and restrict foreign assistance to countries that recognize China's sovereignty there. These primary sanctions could be augmented by secondary sanctions against those who do business with the offenders. The Rubio bill may or may not be adopted, but targeted sanctions remain an important tool to indirectly cause changes in China's behavior.
A more direct option would be for the United States and its partners to borrow a page from China's own playbook and emulate its "cabbage" tactic in denying Beijing's access to the South China Sea islands.
The cabbage tactic consists of wrapping contested islands in multiple layers of Chinese military and paramilitary power. Like the Chinese cabbage, the anti-China cabbage would also have three layers, surrounding the targeted islands with private civilian boats in the inner circle, followed by law enforcement vessels in the outer circle, all protected by warships over the horizon.The anti-China coalition couldn't match China's use of paramilitary
maritime militia
s in such operations. But it could invite civilian volunteers to man the first line of defense. Rather than shooting down Chinese aircraft and mining Chinese ports, the coalition can use drones — both unmanned aerial and underwater vehicles — launched from civilian and coast guard ships to seal off the entry to China's airstrips and harbors on the fake islands.Contrary to common belief, these actions can be fully consistent with international law. If China does not recognize your rights to freedom of the seas, you have the right to restrict China's freedom in return. The Permanent Court of Arbitration
award
from last July, which is now an integral part of international law despite Chinese rejection, has ruled as illegitimate China's "nine-dash line" claims in the South China Sea, its occupation of Mischief Reef, its denial of access to Scarborough Shoal, its island building in the Spratlys, and its harassment of others in the Philippine exclusive economic zone (EEZ).But the court does not possess the tools to enforce its rulings, so it's up to the members of the international community to act on behalf of the common interest and to induce China to comply with its obligations. Fortunately, international law allows countries to conduct countermeasures against wrongful acts. As James Kraska, a professor of international law at the U.S. Naval War College, has
argued
, challenging China's rights to access its artificial islands is consistent with international law. After all, it's fair game to do to China what China has done to others.Many are concerned that regardless of its legality, blocking China's access to its occupied islands would amount to an act of war and risk armed conflict as a response. This fear is overblown, however. When China blocked others' access to the disputed Scarborough Shoal and Second Thomas Shoal, nobody called it an act of war and no armed conflict ensued. Taking a leaf from China's own book, the cabbage tactic of access denial would mute the
casus belli
and discourage Beijing from going to war.Still, there is concern that, driven by the pressure of nationalist public opinion and in an effort to maintain national image and domestic legitimacy, Chinese leaders may escalate the conflict and engage in war with the United States. But as Jessica Weiss, a leading expert of Chinese nationalism, found in her
study
of China's nationalist protests, nationalist public opinion is more of a tool in the government's hands to signal resolve than a driving force of Beijing's assertive foreign policy. A more recent
analysis
by Alastair Iain Johnston, a professor of Chinese foreign policy at Harvard University, also comes to a similar conclusion, showing a decline of nationalism among ordinary citizens since 2009.As the weaker party and the party that depends far more on traffic in the South China Sea, China actually has a larger stake in avoiding war in this region than the United States does. Indeed, avoiding large-scale conflict is one of the
imperatives
of China's long-term strategy in the South China Sea. China has become more aggressive in recent years because of a U.S. deterrence deficit in the gray areas between war and peace. Beijing's preference for gray-zone activities is also a testament to the working of nuclear and conventional deterrence. The trick of avoiding war while getting China to comply with international law lies in a two-pronged approach that skillfully combines the strengths of sticks with those of carrots while neutralizing their weaknesses.In considering conflict over the islands, we don't have to imagine China and the U.S. military as the only parties involved; a full range of actions and players exists, including sanctions, negotiations, regional countries, and international civil society. It might be tricky in the current diplomatic climate, but in the best possible world, the combined effect of actions on this full spectrum has a good chance of persuading China to comply with international law, especially if it involves a concerted effort of the United States, major powers such as Japan and India, and regional states such as the Philippines and Vietnam.Commenting on Tillerson's remarks, Philippine Foreign Secretary Perfecto Yasay
said
: "If [the United States] wants to do that, they have the force to do so, let them do it." A cabbage approach to deny China's access to Scarborough Shoal or Mischief Reef would be more legitimate and effective if it involved the Philippine Coast Guard and civilian volunteers from the Philippines and other countries. Southeast Asian states often hedge between America and China with a tilt toward the one that is more powerful and more committed to them. If the Trump administration increases U.S. presence in the South China Sea, is committed to defending the Philippines as much as Japan and South Korea, and refrains from criticizing Manila's domestic agenda, it could sway the pragmatic President Rodrigo Duterte to back the United States.Targeted sanctions against Chinese persons and companies involved in projects in the South China Sea would also be much more effective if they were supported not only by the United States but also by other major economies and regional states. With its large state sector, China is particularly vulnerable to targeted sanctions. Its construction and development projects in the South China Sea have involved several large state-owned companies that are eager to make profit abroad. If designed cleverly, sanctions could hit hard big companies such as China National Offshore Oil Corporation, which
moved a giant oil rig
to drill in the Vietnamese EEZ in 2014; China Southern and Hainan airlines, which
fly planes
to the artificial islands; China Mobile, China Telecom, and China United Telecom, which
operate communication networks
on the disputed islands; and China Communications Construction Company, which
dredged sand
to build artificial islands in the Spratlys — thereby creating an incentive inside China to drop its illegitimate claims in the South China Sea.Signaling a readiness to prevent Chinese island building and restrict China's access to the fake islands is the logical response if the United States really wants to restore deterrence in the South China Sea. Part of the failure to put a limit on China's expansion lies in the myth of an ever-looming war with China, which makes the use of logical deterrents unthinkable. This creates a self-restraint that is not only unnecessary but also strategically disastrous.Photo Credit: TED ALJIBE/ Staff