U.S.California's punishing rain creates rare spectacle Cbsnews,CBS News Wed, Feb 22 9:06 PM PST
First the rain, now the drain. California's punishing rain this month has flooded neighborhoods and triggered evacuations. It has also pushed Lake Berryessa in Napa County way beyond capacity, pouring water into its bathtub-like drain. It's the first time that's happened in 11 years, reports CBS News correspondent Mireya Villarreal."Back in October, we were essentially half-full," said Roland Sanford, general manager of the Solano County Water Agency. "This is the first time that the lake has been so low, and filled-up and spilled in one year."
EVAN KILKAN What looks calm at the top of the "Morning Glory Spillway" looks like a raging torrent at the bottom.The spillway is located 200 feet from the Monticello Dam. It is shaped like a funnel, 72-feet wide at its lip and narrowing to 28 feet at an outlet down at the Putah Creek. When water in the lake rises to more than 440 feet above sea level, it spills over the lip of a funnel and pours into the creek 700 feet below. When the reservoir reaches capacity, this spillway can take in about 48,000 cubic feet of water per second. That's the equivalent of draining half of an Olympic sized pool in one second.The drain during California's drought was so dry that it became an unofficial skateboard park. But water started trickling in on Friday. Now it's become a bit of a tourist destination. You might say, a hole-y pilgrimage.The spillway could keep flowing for the next couple of months. © 2017 CBS Interactive Inc. All Rights Reserved.
U.S.Lake Oroville water level on the decline; Brown makes unannounced visit
MercuryNews.com 23 hours ago
Oroville  – Lake Oroville has survived its first weather challenge since the emergency spillway crisis, and is on the way back down. The lake water level peaked just under the 853-foot elevation about 4 a.m. Wednesday and had declined about half a foot by 5 p.m. Inflow at that time was about 47,000 cubic-feet per second. Inflow all day has been below the 60,000 cfs that was being released from the dam.The dam also got an unannounced visit by Gov. Jerry Brown Wednesday, even though he had earlier said he didn't see a reason to, "hover in and mug for the media."MEETING THE CHALLENGE DWR lowered the lake to under the 850-foot elevation following the emergency spillway crisis Feb. 12, with the intention of making room for runoff from the series of storms that hit the area Thursday through Wednesday.Those storms produced substantial amounts of rain in the hills above the lake, with just over 10 inches falling at Brush Creek, according to DWR.However the runoff into the lake didn't get any higher than 93,000 cfs, which happened about 10 a.m. Monday.Inflows before the Feb. 12 emergency had topped 190,000 cfs.That flow pushed the lake level above the 901-foot-elevation top of the emergency spillway weir. When the slope below the weir began to erode rapidly, potentially threatening collapse of the concrete structure, evacuation of more than 180,000 people were ordered.The evacuation orders were lifted Feb. 14, but evacuation warnings remain in effect, meaning people should be ready to leave their homes in short notice.Water continues to run down the damaged main spillway. Below the break in the concrete chute that appeared Feb. 7, most of the flow appears to be using a new channel the runoff has carved north of the structure.WHAT'S NEXTThe National Weather Service is predicting a new storm will arrive in the area Saturday night and linger into Monday.That will be a cold storm, with snow levels as low as 2,500 to 3,500 feet. In excess of 3 feet of snow is forecast in the mountains above the lake. Rainfall amounts on the valley floor are expected to be in the 1-2 inch range, with 2-3 inches in the foothills.
Lawmakers renew push for drilling in Alaska wildlife refuge Dan Joling, Associated Press,Associated Press 21 hours ago
ANCHORAGE, Alaska (AP) — Former U.S. Sen. Frank Murkowski in 2001 gave a speech urging colleagues to approve oil drilling in America's largest wildlife refuge. The Alaska Republican held up a blank sheet of paper to illustrate his point.The field of white, he said, was all you could see each winter on the coastal plain of the Arctic National Wildlife Refuge, implying that such a barren landscape would not be harmed by oil rigs.Sixteen years later, Murkowski's daughter is trying again. U.S. Sen. Lisa Murkowski is sponsoring legislation to open the refuge that takes up Alaska's northeast corner and is larger than West Virginia and Connecticut combined. With a Republican Congress and president, she's hopeful that the timing is right."If you ask me," she told The Associated Press by phone from Washington, D.C., "it's always been a good time to open it."The coastal plain is not the apex of Alaska scenery, but it's a nursery for polar bears, muskoxen and the vast Porcupine Caribou Herd. Migratory birds from all 50 states nest there. Few people visit, but the coastal plain is part of a refuge that's the very definition of wilderness: no roads, no campgrounds, not even any established trails. Environmental groups are planning strategies to keep drill rigs out."There are some places that are just too sacred to drill," said Alli Harvey, a Sierra Club campaigner in Anchorage.Legislation signed by President Dwight Eisenhower in 1960 created the Arctic National Wildlife "Range." Congress in 1980 changed the name, expanded the refuge to 30,136 square miles and declared much of it wilderness.However, recognizing the potential for oil, Congress also declared that 2,300 square miles of Beaufort Sea coastal plain were to be studied for natural resources. Another act of Congress can open it to drilling.The Arctic refuge has since been one of Alaska's great development-versus-environment issues, causing a stalemate that has lasted more than 36 years.Congress approved drilling in 1995, but President Bill Clinton vetoed it. Drilling has been a non-issue for the past eight years. President Barack Obama instead urged Congress to formally designate the coastal plain as wilderness.Members of the Gwich'in Steering Committee, an Alaska Native organization tied to U.S. and Canadian villages south and east of the refuge, were grateful. They say their subsistence lifestyle, and identity, are closely tied to a healthy Porcupine Caribou Herd, which uses the coastal plain for calving."This place is so special," said Bernadette Demientieff, executive director. "We have to keep some places as is. We don't need to be tearing into everything."Most Alaskans feel otherwise. Politicians of all stripes jeopardize their re-election chances if they don't endorse "opening ANWR."The prospect is just 60 miles from the trans-Alaska pipeline, which has plenty of space for moving more oil toward refineries. The pipeline currently operates at around one-quarter capacity because production from Alaska's major oil fields has declined since the late 1980s. Alaska state government, which runs on oil revenue, is blowing through savings, hit hard by the double-whammy of lower production and low oil prices.The U.S. Geological Survey estimates the coastal plain of the refuge holds 10.4 billion barrels of oil and possibly as much as 16 billion barrels. It's North America's greatest prospect for conventional oil production, according to Sen. Lisa Murkowski.The bill sponsored by Murkowski and other Alaska congressional delegates would limit infrastructure — drilling pads, roads and pipelines — to 2,000 acres. Drilling advocates say restrictions already in place will protect caribou. No infrastructure would be allowed in areas crucial to caribou survival, such as the ice fields and uplands where caribou retreat to escape blood-sucking insects.Alaska already has demonstrated at other North Slope oil fields that development and caribou can co-exist, Murkowski said. Extended-reach drilling, reaching oil from a pad nearly 8 miles away, is now possible."Think about how far the technologies that we have put in place have taken us, from the early days of Prudhoe and how we operated," she said. "What is coming about now on the North Slope in terms of how we access the resource — it's a world apart."But environmentalists say the 2,000-acre figure is misleading. It's akin to assessing the amount of space in a room affected by a table by measuring only the area where the legs touch the floor, said Kristen Miller, conservation director for the Alaska Wilderness League. Gravel mining, seismic testing and air pollution will take a toll, she said. Oil is spread across the entire coastal plain, she said, and infrastructure will be too."You will have a spider web of pipelines, roads and everything else it takes to support these intensive activities," Miller said.
Water roars down the damaged main Oroville Dam spillway Wednesday. Continuing releases of 60,000 cubic-feet per second are exceeding the inflow into Lake Oroville, and the water level is dropping after the current wave of storms have passed. (Florence Low / California Department of Water Resources) His press office said he visited the command center and thanked the people working there. Photos of the visit were posted on social media, including one of him standing above the main spillway with acting Department of Water Resources Director Bill Croyle.U.S. Sen. Kamala Harris is scheduled to visit the dam Thursday, but again the media is being excluded "for logistical reasons."
U.S.Water released from Shasta Dam's top gates for first time in nearly two decades

Los Angeles Times
18 hours ago
For the first time in almost two decades, water was released Wednesday from the topmost gates of
the dam
impounding Lake Shasta, California's largest reservoir, marking another milestone in what is shaping up to be the state's wettest year on record.The release lasted just 15 minutes and was only a test to confirm that the gates were functioning properly in case they need to be used at a later time, according to the U.S. Bureau of Reclamation. The gates operated as expected, bureau spokesman Louis Moore said.With the reservoir at 135% of its historical average for this time of year and nearly 93% of its capacity, dam engineers were releasing billions of gallons of water to make room for incoming flows from the surrounding foothills and Sierra Nevada, according to the bureau.High performance hair care crafted with the best natural & certified organic ingredients for gorgeous, frizz-free styles. From curly to straight… Everybody Gets Love!Shasta Dam is the linchpin of California's federal water project, which sends water down to cities and farms to the south. Oroville Dam is the heart of a separate state water project, which also moves water from the Sierra Nevada south.Oroville was at the center of a major crisis when an emergency spillway showed signs of failing, prompting the evacuation of more than 100,000 residents downstream. Since then, officials have lowered water levels at Lake Oroville and the concerns have eased.There have been no issues with the spillways at the Shasta Dam, though officials downstream have been talking about contingencies in the unlikely
event that significantly more water
 needs to be released from it.This week marked the first time the agency has used the gates at the top of the 602-foot-tall dam about 120 miles from the Oregon border in far Northern California since the state's last huge rainy season in 1997-98.
A set of valves lower down on the dam were used for the first time in six years in January, which was a precursor to Wednesday's milestone.To illustrate just how much rain has fallen on Northern California this year, Moore said, the reservoir held only 2.67 million acre-feet of water at this point last year. As of midnight Wednesday, he said, the reservoir was holding 4.21 million acre-feet.An acre-foot of water is enough to supply the needs of a family of five for a year, Moore said.In February alone, the reservoir has added 669,000 acre-feet of water, or a year's supply for more than 3.3 million people, he said."It's ridiculous," Moore said.Lake Shasta has risen 3 feet in just the last three days, he said."Think of the vast size of the reservoir," Moore said. "That's a tremendous amount of water."Even for locals, the dam has something new to offer.Daniel Botts, 21, from Redding, was in awe of just how much water the lake held after more than five years of drought. He pointed to where the lake meets the concrete dam. "It used to be you could look over the edge and it'd be a death drop," he said.Now it's more of a high dive.Alice Hightower, 91, remembers the last time Redding, downriver from the lake, flooded.It was 1940 and there was no dam to prevent an onslaught from rain or snowmelt."We lost seven cows downriver," she said Thursday, during one of her routine visits to the site.Her husband, Thomas, helped build the enormous structure."Something with sledgehammers and concrete," she chuckled.Back then, residents moved out of Redding, fearing the dam wouldn't last. Now it's a tourist attraction."They say it'll last thousands of years because it's all cement," Hightower's daughter Darla Hoeft said.The two came to gawk at the waterfall gushing from the dam, which draws regular visitors on rare sunny days."It's an amazing dam, you got to admit!" Redding resident Sally Batchelder said proudly. "We haven't had this much rain and snow since the '80s."The gates have been used only twice in more than a generation, in 1983 and 1997, bureau officials said.They might have to be used again later this year for snowmelt, Moore said.The snowpack in the Sierra Nevada is at levels never seen before, and when it melts in the spring and summer, it will likely send a massive flow of water into the lake.In Tehama, about 50 miles downstream from the dam, Mayor Robert Mitchell didn't sound too concerned about the releases from the reservoir flooding homes along the Sacramento River in his city.On Thursday morning, the river was full and moving fast, but well within its banks."In summertime it's a beautiful river with clean water. Right now it's kind of ugly, muddy and raging," the mayor said.The influx of water from the reservoir hasn't been a concern because it has been controlled, Mitchell said. But the reservoir being so full and the dam gates having to be used at all suggest bigger problems could be on the horizon.It hasn't flooded here since the 1997-98 El Niño, said Mitchell, a Tehama resident for the last 45 years."My biggest concern, and just about everyone agrees with it, is with all the snowpack in the Sierra. If we get a warm rain this spring we're going to be flooded. There's no getting around it," Mitchell said. "It'll be ugly down here, but there's nothing you can do to stop it. Nature will play its role and whatever happens happens."Water was flowing from the reservoir at up to 70,000 cubic feet per second into the Sacramento River, and communities downstream were preparing for a corresponding surge along its banks.
U.S.500 inches and counting: Snow has clobbered California ski resorts this winter

Washington Post
Wed, Feb 22 10:36 PM PST
The snow amounts in California's Sierra Nevada mountain range this winter are difficult to wrap your head around. In many cases topping 500 inches, they are some of the highest totals in memory.At the Squaw Valley Alpine Meadows resort, seven feet fell in just the past week. The snow is so high that it buried chairlifts and
ski patrol shacks
.The resort has received 565 inches (47 feet) this season, including a 45-year record of 282 inches in January. On Thursday, it announced that its ski area would remain open through July 4. Since 1962, it will mark just the fourth instance of Independence Day skiing (the other years were 1998, 1999, and 2011), according to a resort spokesperson.Other ski areas in the Sierra Nevada also have seen mind-boggling amounts of snow (
totals via SnowBrains.com
):
636 inches at the Mount Rose ski area in Nevada.
584 inches at Boreal Mountain.
556 inches at Kirkwood, including 80 inches this week.
544 inches at Heavenly, including 81 inches this week.
534 inches at Northstar, including 84 inches this week (61 inches in 48 hours).
510 inches at Mammoth.
The prolific snowfall has resulted from phenomena known as atmospheric rivers, which are essentially rivers in the sky that carry vast amounts of moisture. Like a fire hose, they have bombarded central and northern California, repeatedly."We usually see three or four atmospheric rivers in a season," Scott McGuire, a meteorologist with the National Weather Service office in Reno, told the San Francisco Chronicle. "We've already had 10. We've had so much snow to the point where it's getting hard to measure."California's Natural Resources Agency said Wednesday that the water contained in the state's snowpack is 188 percent of normal.View image on Twitter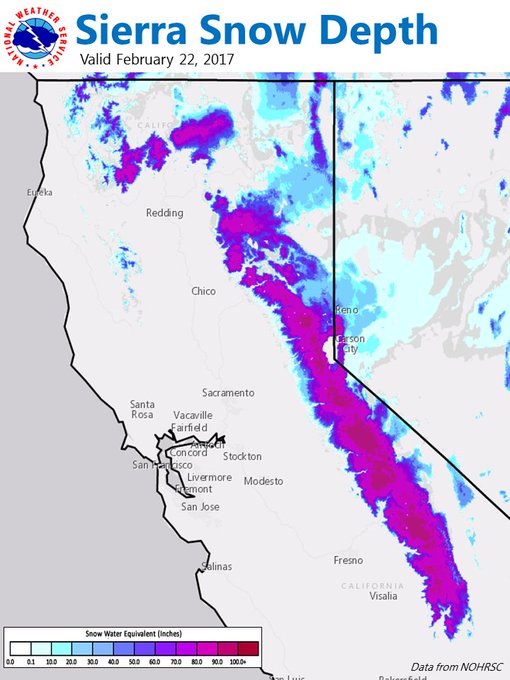 Follow
NWS Sacramento@NWSSacramento#Sierra snow pack is looking pretty healthy! Higher peaks over 100 inches. Snow water content statewide is 188% of avg for this date. #cawxThe mountain snow and low-elevation rain have ended the multiyear drought over large parts of the state. Only 17 percent of California remains in drought, according to the latest U.S. Drought Monitor data.
  (U.S. Drought Monitor)More snow and rain are on the way Sunday and Monday as the next Pacific storm system rolls ashore.Photos and videoView image on Twitter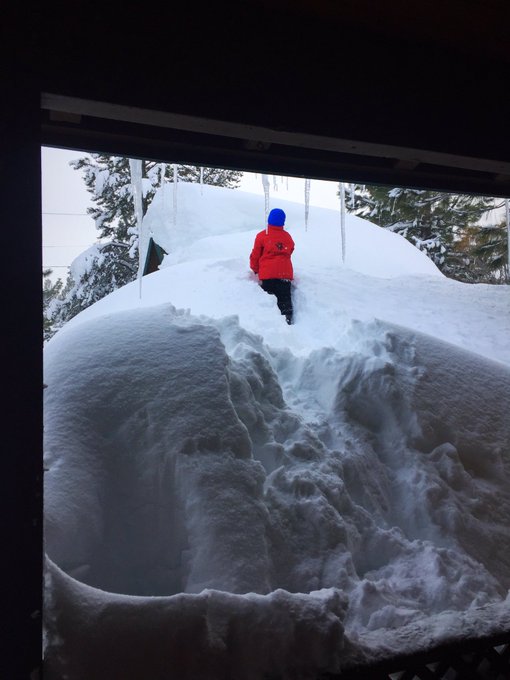 Follow
Eileen Javora @kcrajavoraFirst we measure in inches, then feet, now stories!! #truckee#sierra #snow Pic: Anne Srisuro · Sacramento, CAView image on Twitter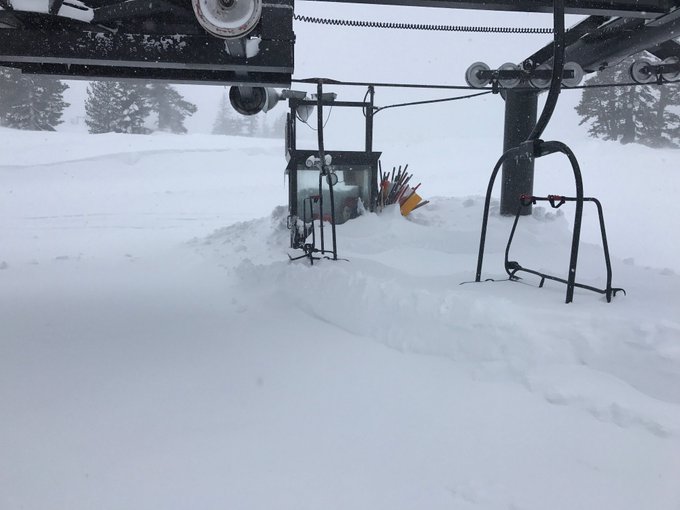 Follow
Squaw Alpine @squawalpine Bailey's Beach this morning. Buried. #squawalpinedeepView image on Twitter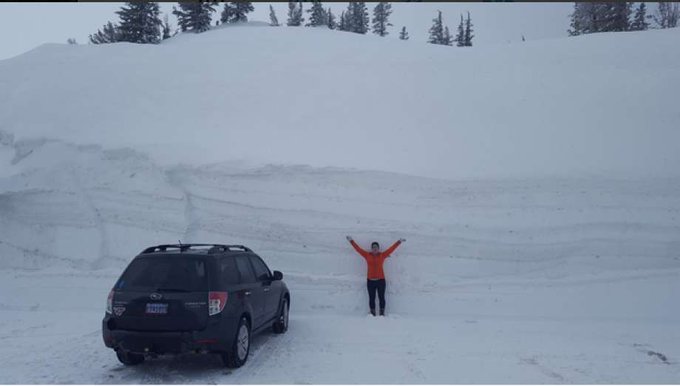 Follow
Tom Kierein@TomKiereinInsane SNOW in CA Sierras. Mount Rose, the Tahoe ski resort, recorded 636 inches, 53 feet of snow since the start of the season! #NBC4DCView image on Twitter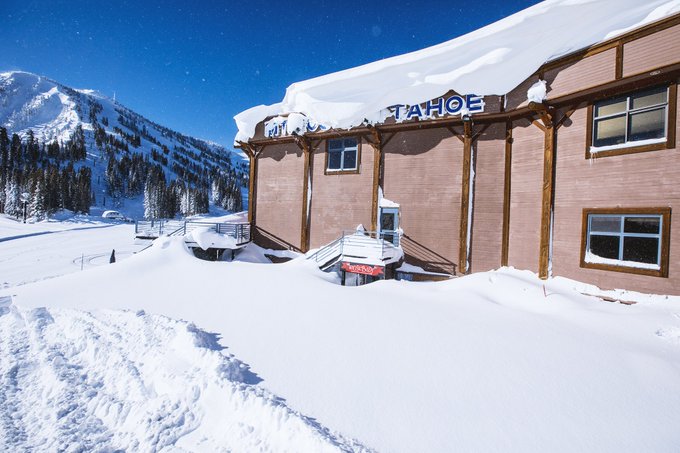 Follow
MtRoseSkiTahoe @MtRoseSkiTahoeStorm total is 72-78" of NEW SNOW and the 1st floor of Main Lodge is buried. Our season total is now 636"smashing our past record of 600".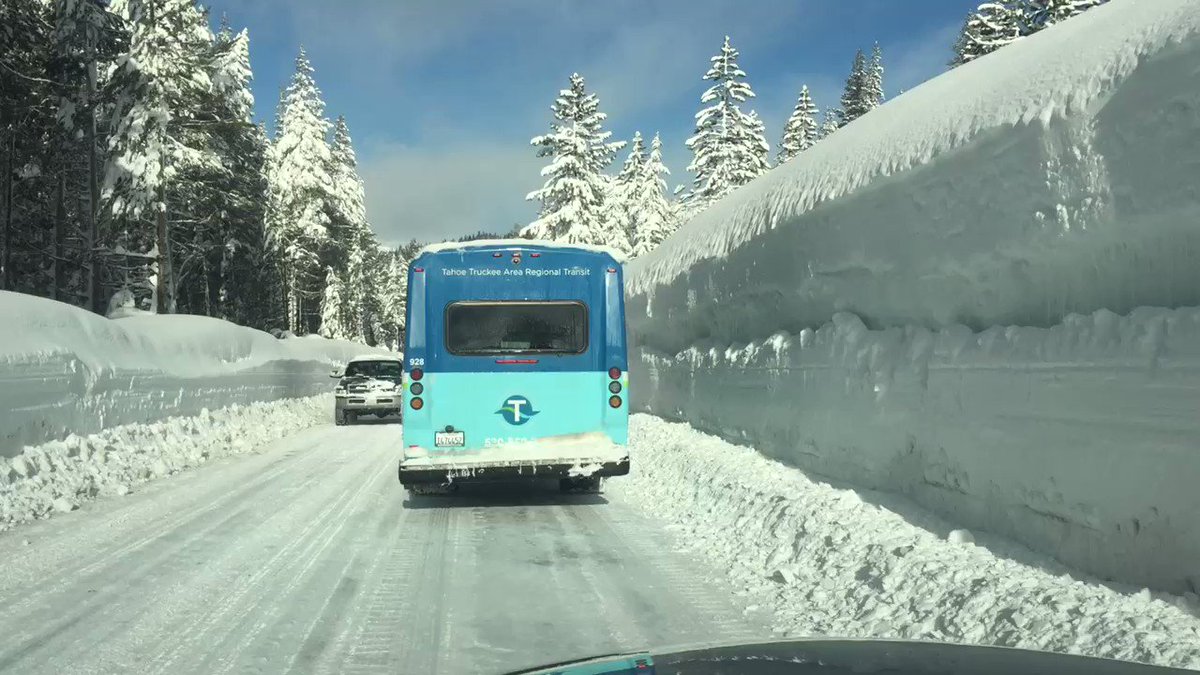 Follow
Reed Timmer
@ReedTimmerAccu
NEW: looks like a 15 to 20 foot snow bank at Donner Summit, CA just outside of Truckee at Rose Bowl!
#
cawx
@
breakingweather
@
AccuRayno
Snow blankets the Squaw Valley Alpine Meadows resort, which has been hit with 565 inches (47 feet) of the white stuff this season. (Squaw Valley Alpine Meadows Resort)
U.S.California's Wrecking The Western Electric Grid

Forbes
18 hours ago
California is an energy policy bully. Using market share and political willpower, global warming-fearing Golden State politicians are reshaping the electric market far beyond their 39 million constituents to 46 million others living in 13 states, Western Canada and portions of Mexico.As with most things connected to California's progressive politics, the bad unintended consequences of this effort to create a brave new energy market will outweigh the good intentions.The first high-profile victim of California's energy policies could well be 755 mostly Navajo workers at the large, coal-fired Navajo Generating Station in northern Arizona and the Kayenta Coal Mine 100 miles to the east that supplies it.Climate-change concerns have been the main driver of California's energy policies since 2006. That year saw then-Gov. Arnold Schwarzenegger sign two bills,
AB 32
and
SB 1368
, which radically remade California's electric markets. In turn, these policies are disrupting the power grid from British Columbia and Alberta in Canada to Baja California and Ciudad Juarez in Mexico, an area serving more than 85 million people.AB 32, known as the Global Warming Solutions Act of 2006, aims to reduce California's carbon dioxide and other greenhouse gas emissions.SB 1368, the lesser known of the two bills, packs the bigger regional punch. Its author, former California State Senator Don Perata,
explained
the purpose of his bill in March 2007 before U.S. Senate Environment and Public Works Committee and its then-Chairman, former Sen. Barbara Boxer,
"First, California can serve as a model for federal efforts to combat global warming and its impacts. Last year we passed (a law) prohibiting utilities from entering into long-term contracts for power produced by dirty coal-burning plants… California enacted SB 1368 to send a strong signal to the western energy markets. Our energy must be clean – we won't buy power from coal plants spewing greenhouse gases by the ton."
Were California self-sufficient in electrical generation, the negative effects of its policies would largely be contained within its borders. However, that is not the case, making Sen. Perata's coal power ban a very real problem.California dominates the Western Interconnection, the name for the electric grid in America's West, using about a 34% of the power consumed among the 11 states wholly or mostly (Montana and New Mexico) in the grid. More importantly, California is the biggest electric importer in the nation, with about 32% of the electricity it uses coming from eight states and Canada.The biggest Western power exporters in recent years are Arizona, Wyoming, Montana, Washington, Oregon, Utah and New Mexico. The plurality of the power exported to California comes from coal. Occasionally, as much as
half of the power consumed in Southern California comes from coal-fired plants in Arizona, New Mexico and Utah
.
U.S. This teen's warning has people looking out for shirts wrapped around their windshield wipers

Stephanie Hallett,
Hello Giggles
15 hours ago
If you were getting into your car late at night and saw a
shirt wrapped around your windshield wiper blade
, what would you do? It happened to one Flint, Michigan teenager, who immediately drove away — but
her warning to others
about the incident has quickly gone viral.Ashley Hardacre, 19, wrote on Facebook earlier this month that after leaving her mall job late one night and getting into her car, she noticed a flannel shirt
on her windshield
. She tried to get it off with her wipers, but it was wrapped tightly around one of the blades. Sensing something was wrong — and seeing two cars parked nearby, one that was running — she says she drove away with the shirt still attached to her car.
View image on Twitter