A Trump national security adviser tapped as Singapore envoy
VIVIAN SALAMA,Associated Press 9 hours ago
PALM BEACH, Fla. (AP) — A top national security adviser to President Donald Trump is the latest official heading out in an ongoing shuffle within the National Security Council.K.T. McFarland came into the White House as a deputy to Trump's first national security adviser, Michael Flynn. Flynn was asked to resign in February amid revelations that he misled senior administration officials about his contacts with Russian government officials.McFarland's impending move was confirmed Sunday by a senior administration official who spoke on condition of anonymity because the official announcement hasn't been made. The administration is still awaiting approval from Singapore and the post requires Senate confirmation.Flynn's replacement, Lt. Gen. H.R. McMaster, has freely made changes to the national security structure since assuming the role. McMaster immediately expressed a desire to run a less hierarchical organization and be more accessible to his staff.Another White House official, Dina Powell, was recently named deputy national security adviser for strategy and has been present in the recent high level meetings with delegations from Saudi Arabia, Egypt, Jordan and China. Powell joined the White House to work with Trump daughter Ivanka on women's empowerment issues. She had previously served as assistant secretary of state for educational and cultural affairs under President George W. Bush before joining Goldman Sachs.But Powell soon began attending senior-level staff meetings with the president himself. Her promotion to deputy national security adviser last month triggered early speculation that McFarland's days on the National Security Council were numbered.On Thursday, as the president huddled with top national security and Cabinet officials to trigger U.S. missile strikes on Syrian government installations from a newly built situation room at Trump's Florida resort, Powell was among the attendees. McFarland was not.McFarland had been working as a Fox News analyst before joining Trump's national security team. She previously worked for three Republican presidents — Richard Nixon, Gerald Ford and Ronald Reagan.Among the most notable changes to take place under McMaster was the removal of Trump's chief strategist, Steve Bannon, from the National Security Council, reversing an earlier, contentious decision to give Bannon access to the group's highest-level meetings.A senior White House official said Wednesday that Bannon was initially placed on the National Security Council during Flynn's tenure as a measure to ensure implementation of the president's vision, including efforts to downsize and streamline operations at the NSC, and that McMaster quickly gained the confidence of the administration, eliminating the need for additional oversight.A new memorandum about the council's composition, published Wednesday in the Federal Register, also reflected that the director of national intelligence and the chairman of the Joint Chiefs of Staff, as well as the energy secretary, had been restored as members of the principals committee.The changes come as Trump's White House faces allegations that it funneled secret intelligence reports to a Republican congressman leading an investigation into his campaign's possible ties to Russian officials as well as Moscow's interference in the 2016 election. The New York Times last month identified two NSC officials as having helped House intelligence committee Chairman Devin Nunes view secret reports that showed Trump and his associates were incidentally swept up in foreign surveillance by U.S. intelligence agencies.The senior White House official said the changes were not in response to the recent controversy linked to the NSC.
News Nikki Haley warns Putin on Assad: 'We're not going to have you cover for this regime anymore' Dylan Stableford Senior EditorYahoo NewsTop Trump administration officials are warning that Russia could be held accountable for the Syrian government's chemical attacks against its own civilians — with the U.S. ambassador to the United Nations accusing the Kremlin of "covering up" for Syrian President Bashar Assad."You saw this terrible tragedy on innocent people, a lot of them children," Nikki Haley said on CNN's "State of the Union" on Sunday. "And the first reaction from Russia wasn't, 'How horrible.' It wasn't, 'How could they do this?' It wasn't, 'How did this happen?' It was, 'Assad didn't do it, Assad didn't do it.' Why was that the reaction?"Haley's comments come three days after President Trump ordered an airstrike on a Syrian air base in response to last week's suspected chemical weapons attack that killed dozens of people, including children, in Syria.Slideshow: U.S. attacks Syrian air baseA spokesman for the Russian defense ministry denied Assad had anything to do with last week's attack and demanded that the Trump administration provide proof."First of all, it cracks me up that Russia can say those things with a straight face," Haley said. "I mean, truly, it is amazing that they continue to cover for Assad. And it's very telling and it's not putting Russia in a good light at all in the international community."Haley said the U.S. strike should have sent a signal to Moscow."This is something to let Russia know, you know what? We're not going to have you cover for this regime anymore," Haley said on NBC's "Meet the Press." "And we're not going to allow things like this to happen to innocent people."Haley added: "I think we desperately needed to send a message that, 'You know what? Russia's not going to have your back anymore. And if they do, we're going to make sure that both of you know that we're not going to settle for it.'"In his statement announcing the strike Thursday night, Trump did not mention Russia by name."Tonight, I call on all civilized nations to join us in seeking to end the slaughter and bloodshed in Syria," Trump said, "and also to end terrorism of all kinds and all types."Tillerson says he had 'no conversation' with Mexico about who pays for border wall On ABC's "This Week With George Stephanopoulos," Secretary of State Rex Tillerson said he has not seen "any hard evidence that connects the Russians directly to the planning or execution" of last week's chemical weapons attack. But Tillerson said it's clear that Moscow has failed to "fulfill the obligation it made to the international community" when it agreed to make sure Syria got rid of its chemical weapons."Why Russia has not been able to achieve that is unclear to me," he said. "I don't draw conclusions of complicity at all, but clearly, they've been incompetent, and perhaps they've just simply been outmaneuvered by the Syrians."On Friday, Haley told the U.N. Security Council that Trump was "prepared to do more in Syria." She reiterated that sentiment Sunday."I was trying to give warning and notice to the members of the Security Council and the international community that he won't stop here," Haley said on CNN. "If he needs to do more, he will do more."Haley to U.N: Airstrikes were 'fully justified' Tillerson, though, said the strike against Syria was a one-off."I think the president was very clear in his message to the American people that this strike was related solely to the most recent horrific use of chemical weapons against women, children, and as the president said, even small babies," Tillerson said. "So the strike was a message to Bashar al-Assad that your multiple violations of your agreements at the U.N., your agreements under the chemical weapons charter back in 2013 — that those would not go without a response in the future, and we are asking Russia to fulfill its commitment. And we're asking and calling on Bashar al-Assad to cease the use of these weapons. Other than that, there is no change to our military posture."And both Haley and Tillerson seemed to differ when asked whether the Trump administration is leading the push for regime change in Syria."In no way do we see peace in that area with Assad as the head of the Syrian government," Haley said on NBC. "We have to make sure that we're pushing that process."But Tillerson said regime change comes with a price."We've seen what that looks like when you undertake a violent regime change in Libya, and the situation in Libya continues to be very chaotic, and I would argue that the life of the Libyan people has, is not all that well off today," he said on ABC. "So I think we have to learn the lessons of the past and learn the lessons of what went wrong in Libya when you choose that pathway of regime change. So we know this is going to be hard work, but we think it's also a process that will lead to a durable and lasting stability inside of Syria. Any time you go in and have a violent change at the top, it is very difficult to create the conditions for stability longer term."Exclusive: General H.R. McMaster on decision to strike Syria On "Fox News Sunday," Lt. Gen. H.R. McMaster, Trump's national security adviser, was pressed to explain the seemingly differing statements from Tillerson and Haley on regime change."What Ambassador Haley pointed out was, it's very difficult to figure out how a political solution could result from the continuation of the Assad regime," McMaster said. "We're not saying that we are the ones who are going to effect that change. What we're saying is, other countries have to ask themselves some hard questions. Russia should ask themselves, 'Why are we supporting this murderous regime that is committing mass murder of its own population and using the most heinous weapons available?'"A pair of Syrian jets took off from the same air base that was hit by the U.S. airstrike on Friday, according to the Syrian Observatory for Human Rights.
  Follow
NBC News @NBCNews Sen. Graham on @MeetThePress: "Here's what I think Assad is telling Trump by flying from this base: 'F you.'"Sen. Lindsey Graham, R-S.C., said that Assad was sending Trump a defiant signal by doing so."Here's what I think Assad's telling Trump by flying from this base: 'F you,'" Graham said on "Meet The Press."Graham, one of the most hawkish members of Congress, had his own message for Trump: "Go after Russia through sanctions not only for interfering in our elections, but aiding and abetting the use of chemical weapons by a war criminal, Assad."
World China president's plane stops in Alaska after Trump visit
MARK THIESSEN and BECKY BOHRER,Associated Press Sat, Apr 8 12:05 AM PDT
ANCHORAGE, Alaska (AP) — Chinese President Xi Jinping was able to take in views Friday night of the natural beauty that Alaska has to offer. The state's governor hopes this will lead to an increased appetite in the world's most populous nation for more natural resources from Alaska.Xi requested time with Gov. Bill Walker Friday night as the Chinese delegation's plane made a refueling stop in Alaska's largest city following meetings with President Donald Trump in Florida. His wife and the Chinese delegation stepped off the Boeing 747 and were greeted by Walker, his wife and several dignitaries.Later, the two men spoke briefly to reporters before a business meeting, in which Walker touted the state's abundant natural resources: oil, fish, air cargo, mineral resources industries.Walker also took time to advocate for a natural gas pipeline he has long backed, which would take natural gas from Alaska's North Slope to the coast for shipment.Alaska could provide a generation's worth of liquefied natural gas to China, he told Xi.For Walker, even just a few hours of time with the president of China can pay dividends.China is the state's top export market, buying nearly $1.2 billion worth of goods in 2016, according to the U.S. Census Bureau. The next top international market was Japan, at nearly $820 million, followed by South Korea, at $730 million.Chris Hladick, the commissioner of the state's Commerce department, called the visit by the Chinese delegation a "once-in-a lifetime opportunity."The state's top export product to China? Fish, accounting for 58 percent. Frozen cod and flat fish, such as halibut, topped a lengthy list of fisheries products, which also included frozen salmon and pollock.Jerry McCune is president of the United Fishermen of Alaska. He said he understood the trade talk would focus mostly on oil and gas, but added: "I would say that any trade that we can boost in the fishery with any particular county, China would be one that would be huge."Jeremy Woodrow, a spokesman for the Alaska Seafood Marketing Institute, said the Chinese market is important to Alaska for two reasons: it purchases a huge amount of Alaska fish for re-exporting purposes around the world, and Chinese consumers are now buying more seafood for consumption at home."Wild, sustainable, healthy, clean, —those type of attributes that you can put on Alaska seafood are becoming much more desirable for the Chinese consumer, and we're seeing year after year, more Alaska seafood products actually staying in China for Chinese consumption" he said.A distant second on the export list are minerals and ores, accounting for 27 percent. Included in that last year was about $130 million of precious metals, which Hladick said was likely gold from the Fairbanks area.Hladick sees China as a potential market for Alaska coal and hoped to raise the issue with Chinese officials during their visit. "It's meetings like this that spark interest and then you follow up," Hladick said.The state's only operating coal mine is the Usibelli Coal Mine near Denali National Park and Preserve, and it provides 100 percent of the coal needs to Alaska's six coal-burning power plants.The company previously shipped coal to Chile, South Korea and Japan, but has no foreign export contracts this year."The only way for us to expand as a company is on the export market," said spokeswoman Lorali Simon.Xi didn't discuss trade, but did tell reporters how much he enjoyed his short sightseeing tour of Anchorage, including a stop at Beluga Point, a pullout on the scenic Seward Highway about 15 miles south of Anchorage.The pullout offers a stunning view of the snow-capped Chugach Mountains and Turnagain Arm in Alaska's Cook Inlet. The waters are home to the endangered Beluga whale.This wasn't his first trip to Alaska, he said, but it was his first opportunity to see a little bit of the state's natural beauty up close.Xi is the second major world leader to spend time in Alaska's largest city in the last few years. U.S. President Barack Obama used a three-day trip to Anchorage in 2015 to showcase the impact of climate change. King Harald V of Norway also made an official visit to Anchorage a few months before Obama.Alaska's location provides a natural stopping point for world leaders to make refueling stops, and Joint Base Elmendorf-Richardson in Anchorage has hosted many presidents over the years for these short stints.President Ronald Reagan and Pope John Paul II met in 1984 during refueling stops at the airport in Fairbanks. Their paths were crossing as one finished and one began trips to Asia._Bohrer reported from Juneau, Alaska.
In Georgia, a Democrat's 'Make Trump Furious' campaign rattles Republicans
By John Whitesides,
Reuters
15 hours ago
By John Whitesides SANDY SPRINGS, Ga. (Reuters) – After the crushing electoral losses that swept Donald Trump into the White House and sealed Republican control of the U.S. Congress, the Democrats' road to recovery winds through the leafy, well-heeled suburbs of north Atlanta.Here, Democrats are threatening a stunning special election upset that could signal how well the party can turn Trump's low approval ratings into political gains. And they appear to have an ally in the April 18 vote: Trump himself.In the first congressional election of the Trump era, a wave of grassroots anti-Trump fervor has positioned Democrat Jon Ossoff, a 30-year-old political newcomer, to possibly capture a House of Representatives seat held by Republicans for decades, one of 24 seats Democrats need nationwide to reclaim the House."The grassroots intensity here is electric, and it's because folks are concerned that what is happening in Washington doesn't represent our values," Ossoff said in an interview. "This is a chance for this community to stand up and make a statement about what we believe."
For more news videos visit Yahoo View, available now on iOS and Android.
With Democrats desperate for signs of hope after Hillary Clinton's loss to Trump, Ossoff's underdog "Make Trump Furious" campaign has endeared him to national anti-Trump activists and pushed him well ahead of 17 rivals in polls. The documentary filmmaker and former congressional aide raised a jaw-dropping $8.3 million in the first quarter, his campaign said."I've never seen the Democrats around here so engaged, and it's Donald Trump who got us so engaged," said Carolyn Hadaway, 77, a veteran party activist and retired software engineer from Marietta, a city of about 60,000 people in Georgia's central Cobb County.Georgia would seem an unlikely venue for a Democratic revival. Trump won it by about 5 percentage points in November. And its voters backed Republican nominees in eight of the last nine presidential contests, including the last six in a row.But demographic changes are brewing. Growing minority communities and transplants from other regions have made Atlanta's suburbs increasingly competitive for Democrats. Georgia's sixth congressional district, the location for April's special election, exemplifies changes common in booming southern cities like Atlanta, Charlotte and Nashville.The district is white collar, educated and doing well economically, with median household incomes of $80,000 versus $50,000 statewide, and nearly 60 percent of adults holding a college or professional degree, more than twice the statewide average. It is also increasingly diverse, and in recent years became a magnet for well-educated immigrants from India and other parts of Asia.The district was about 80 percent white at the turn of the century. But since then, the black share of the population has grown from 10 percent to 13 percent, the Hispanic share has doubled to 12.5 percent and Asian representation doubled to more than 10 percent.About a fifth of the district is now foreign born – twice the statewide average, according to census data.Though newer immigrants may not be eligible to vote, census data indicate more than 40 percent are naturalized citizens, potentially bringing a different set of views on issues like immigration to the table than the voters in this district who sent Trump adviser and former speaker of the House Newt Gingrich to Congress for 10 straight terms.April's special election fills the seat vacated by Tom Price, the new secretary of health and human services. It gives both parties a chance to test their messages for election battles next year in suburban districts where Democrats need to make inroads and where Trump's populist economic message did not sell well in November.While Price sailed to re-election with 62 percent of the vote, Trump barely beat Clinton in Georgia's sixth district by one percentage point. In 2012, Republican Mitt Romney beat Democratic President Barack Obama in the district by 23 points.
'JUMP OVER A CLIFF'
Republican candidates nationwide will closely watch the result as they calculate whether to embrace the president.The 11 Republicans in the race have split between those who portray themselves as Trump supporters and establishment candidates who keep a respectful and sometimes wary distance."I'm ready to support him," former state senator Dan Moody, who was endorsed by U.S. Senator David Perdue, said of Trump in an interview. But "I'm not going to jump over a cliff with him."Grassroots Democratic groups flood the district's tidy suburban neighborhoods on the weekends, busing in volunteers from as far away as Maryland to go door to door on Ossoff's behalf.The Ossoff momentum worries Republicans, say party officials, and outside help has arrived. A super PAC aligned with House Republican leaders put more than $2 million into ads painting Ossoff as too young and inexperienced.Ossoff played down the strategic value of a possible upset."The national implications here will be about how this affects the political calculus for folks in the Republican conference in the House, not about how Democrats are supposed to run in the midterms," he said.
'CONCERN, NOT PANIC'
In a low turnout special election, getting supporters to the polls is vital, and Democrats have voted early in greater numbers than Republicans so far."We aren't panicking, but there is concern," said Maggie Holliman, a member of the Republican state executive committee.Ossoff's best chance is to win the April 18 vote, a "jungle primary" that features all 18 candidates from both parties on the same ballot. If no one reaches 50 percent, the top two vote getters square off on June 20.Republicans are confident they can win a one-on-one race with Ossoff, as the party unites with organizational and financial help pouring into the Republican-majority district."There is a chance Ossoff can win without a runoff, but that's his only chance. He's benefiting from unified Democratic support and Republicans being highly divided," said Georgia-based Republican strategist Joel McElhannon.Polls show Ossoff hovering in the low 40s, not enough to avoid a runoff. The leading Republican, former Secretary of State Karen Handel, is well behind.Handel has been cautious in talking about Trump. She said in an interview she expected to work with him on issues such as tax reform and border security, but "first and foremost" she would be a conservative advocate for her district.By contrast Republicans Bob Gray, a local business executive, and Bruce LeVell, head of Trump's national diversity coalition, pledge undivided loyalty to the White House. Gray said he was the Republican in the race who performed the behind-the-scenes political groundwork for Trump in the district.LeVell pulled out his cellphone and showed a reporter text messages from Trump aides Kellyanne Conway, Sarah Huckabee Sanders and even Trump son-in-law Jared Kushner to prove his insider status with the White House."If people are looking for someone to help Trump, I'm their guy," he said.(Additional reporting by Howard Schneider in Washington; Editing by Jason Szep and Mary Milliken)
World US deploys warships to Korean peninsula over North Korea's missiles tests
Pavitra Dwibhashyam,International Business Times 22 hours ago
The US has sent an aircraft carrier and other warships to the Korean peninsula due to rising concerns over North Korea's missiles tests. The USS Carl Vinson – a US Navy strike group – is moving towards the western Pacific Ocean near the Korean peninsula, a US official said on Saturday (8 April).Chief of the US Pacific Command, Admiral Harry Harris, gave directions to the Carl Vinson strike group to move north to the Western Pacific after leaving Singapore on Saturday.Trending: EDL protest in Birmingham condemned by cross-party coalition of city leadersAn unidentified US official speaking about North Korea's missiles tests told Reuters, "We feel the increased presence [of the US Navy] is necessary…"The US Navy's Third Fleet said in a statement on Saturday that the strike group has been given instructions to sail north, but did not specify an exact destination. The vessels will largely operate in the Western Pacific and will not make previously planned port visits to Australia, the statement said.Don't miss: Teen shot dead in East London sees Met launch murder investigationNorth Korea recently tested a Scud missile which according to US officials exploded mid-flight. Pyongyang also carried out multiple missile engine tests as Kim Jong-un's regime is working to improve its ballistic missile technology.Top Pyongyang officials and Kim himself have indicated that an intercontinental ballistic missile test or a similar test would be conducted on 15 April, which marks the birthday of North Korea's founding president Kim Il-sung, Reuters reported.Most popular: George Michael's ex-boyfriend Fadi Fawaz in line for £1m 'tell-all' book deal about singerThe move comes after US President Donald Trump and his Chinese counterpart Xi Jinping concluded a summit in Florida, where North Korea was top on the agenda.Trump also recently warned that US would act unilaterally to curb North Korea's nuclear programme if China was hesitant to use its leverage over Pyongyang.
You may be interested in:
World Exclusive: At strategic shoal, China asserts power through control, and concessions
By Martin Petty,
Reuters
4 hours ago
By Martin Petty SCARBOROUGH SHOAL, South China Sea (Reuters) – Far out in the South China Sea, where dark blue meets bright turquoise, a miles-long row of fishing boats anchor near Scarborough Shoal, backed by a small armada of coastguard projecting China's power in Asia's most disputed waters.China still calls the shots at the prime fishing spot and has boosted its fleet there, nine months after an international panel ruled its blockade of the lagoon was illegal.Beijing rejected that ruling by the Permanent Court of Arbitration, which invalidated China's claim of sovereignty over most of the South China Sea.But the presence of Philippine boats dotted between Chinese vessels shows a degree of compliance with the ruling. Overtures from Philippine President Rodrigo Duterte, who is negotiating billions of dollars worth of loans, investments and trade deals with China, may have helped.China stopped repelling Filipino boats in October and allowed them to fish on the edges of the rocky outcrop, 200 km (124 miles) from the Philippines. Now it appears to be easing restrictions further.Reuters journalists last week entered the Scarborough Shoal itself – the first access by foreign media since China seized it in 2012 – and witnessed dozens of small boats shuttling day and night into the lagoon to capitalize on its rich fish stocks."It's good that we're now allowed inside, it helps me to support my family's needs," said Vicente Palawan, treading water inside the lagoon, a dive mask on his head and fishing spear in hand."I don't want the Chinese here, because there's so many, it's affecting the way we fish… but I'm willing to share, I don't want to be thrown out. At least I can fish."The coral outcrop is synonymous with the struggle for regional power, and a strategic tinder box. Along with China and the Philippines, Scarborough is claimed by Taiwan and Vietnam.Despite its concessions, China's presence here is growing, with a larger contingent of coastguard and fishing boats than was indicated in satellite imagery late last year.That fuels concerns by Manila that Beijing may have ambitions for the Scarborough Shoal similar to the artificial islands it built and fortified in the Spratly archipelago, inside the Philippines' exclusive economic zone.PEACEFUL COEXISTENCE For now, there is a cordial coexistence between the Filipinos and Chinese who anchor side by side less than 100 meters (yards) from the 46-km (28-mile) triangle of rock that barely pokes above the water.Chinese in straw hats zig-zag from boat to boat, using hand signals to barter with Filipinos for cigarettes, liquor and fish.Small boats hum as they move in and out of the lagoon, through a buffering line of coral that has for centuries provided fishermen with bountiful catches and haven from storms.In crowded, rickety boats, Filipinos are outnumbered about ten-to-one and complain of competition from the beefed-up Chinese contingent."We used to fish for a few days, now it's a few weeks, but at least we have something," said Ramil Rosal, a boat captain and fisherman for 20 years."China is fishing more, and Filipinos have to share with them. But they don't bother us. Some are helpful."A half-dozen vessels from the China Marine Surveillance enforce their rules in an area the arbitration court in The Hague declared a traditional fishing site for all countries. It did not rule on sovereignty of the shoal.Philippine Foreign Minister Enrique Manalo said the improved access was "certainly in line with the arbitral ruling".STRICT SURVEILLANCE Fishermen told Reuters China's coastguard prohibited larger vessels from entering the lagoon, but allowed small two-man boats to fish there freely."It applies to Chinese and Filipinos," Rosal said.Coastguard in high-powered dinghys were sometimes dispatched from large vessels to get a closer look as unfamiliar boats arrived in the area.Three coastguard ships were of the kind Manila last year said were capable of dredging. One was permanently inside the shoal, but it was unclear what it was doing.The coastguard collaborates with Chinese fishermen, shown when a Reuters team pulled up alongside a Chinese boat.A crewman dashed to fetch a hand-held radio and photographed the journalists. Moments later, a coastguard vessel changed course and moved at speed towards the area, but turned back after a brief chase.China's foreign ministry did not immediately respond to Reuters questions about Scarborough Shoal. Its most recent comments are vague, stating only that the situation at the shoal was unchanged.Filipino fishermen said Vietnamese were also fishing at Scarborough, a sign that Hanoi could be testing the new arrangement.Reuters saw no Vietnamese boats, however, and two Vietnamese fishing organizations said they were unaware any had gone to the shoal. Vietnam's government did not respond.While the situation at Scarborough is improved, tensions remain high.Reports last month that China planned to build an environmental monitoring station at Scarborough sparked consternation in the Philippines. Duterte said he could not stop China, but had been assured of no construction "out of respect for our friendship".Just last week, Duterte ordered the upgrade of facilities on the nine reefs and islands the Philippines occupies in the South China Sea, alarming both China and Vietnam.For now, Filipinos are making the best of the detente. Some stay at the shoal for months.With blackened skin and torn clothes, men jostle for space on the overloaded bamboo outriggers of boats, transferring baskets of fish to a vessel making a run back to the Philippines.Captain Renato Etac, 37, chain smokes as he weighs the fish and meticulously logs details of each delivery. Though fish stocks are declining, Scarborough is a "fiesta" for Filipinos, he says.He even takes a positive view of China's coastguard."If they're not here, Scarborough becomes open to all, including illegal fishing," he said. "It somehow acts as deterrent."(Additional reporting by Peter Blaza at Scarborough Shoal, Mai Nguyen in Hanoi, and Michael Martina in Beijing; Editing by Lincoln Feast)
World Who are Egypt's Coptic Christians?
AFP
17 hours ago
Cairo (AFP) – Egypt's Copts, targets of an apparent church bombing north of Cairo on Sunday, are the Middle East's largest Christian minority and one of the oldest.Making up about 10 percent of Egypt's population of 90 million, the Coptic Orthodox form the largest Christian denomination in the Muslim-majority country.Here is a recap of their history, their status today and recent attacks against them.- 'Dawn of Christianity' -The Copts trace their history to the dawn of Christianity, when Egypt was integrated into the Roman and later the Byzantine empire.The word "Copt" comes from the same root as the word for "Egyptian" in ancient Greek.The community's decline started with the Arab invasions of the 7th century and the progressive Islamisation of the country, which today is largely Sunni Muslim.Several churches and monasteries in Egypt are built on sites Copts believe were visited by the Holy Family.The Bible says Joseph, Mary and Jesus sought refuge in Egypt after Christ's birth to escape a massacre of newborns ordered by King Harod.- Copts today -Copts, represented in all social classes, are present across the whole country, with the strongest concentration in central and southern Egypt.Most adhere to the Coptic Orthodox Church of Alexandria, headed since 2012 by Pope Tawadros II. A minority is divided between Coptic Catholics and various Coptic Protestant branches.Tawadros, who succeeded pope Shenuda III, was chosen by a blindfolded altar boy picking his name from a chalice, according to tradition.The Catholic Copts, who form part of the Church's eastern rite, have been headed by patriarch Ibrahim Isaac Sidrak since 2013.The Vatican says some 165,000 Catholic Copts lived in Egypt in 2010.Poorly represented in government, Copts complain that they are sidelined from many posts in the justice system, universities and the police.Authorities often refuse to issue building permits for churches, arguing it would disturb the peace with their Muslim neighbours.- Deadly violence -Egypt's Copts have been the target of several deadly attacks since the 2011 uprising that toppled longtime president Hosni Mubarak.On January 1, 2011, more than 20 people died in the unclaimed bombing of a Coptic church in Egypt's second city, Alexandria.In March the same year, 13 people were killed in clashes between Muslims and Copts in Cairo's working class neighbourhood of Moqattam, where around 1,000 Christians had gathered to protest over the torching of a church.In May 2011, clashes between Muslims and Copts left 15 dead in the Cairo neighbourhood of Imbaba, where two churches were attacked.That October, almost 30 people — mostly Coptic Christians — were killed after the army charged at a protest in Cairo to denounce the torching of a church in southern Egypt.The 2013 ouster of Mubarak's elected Islamist successor Mohamed Morsi after just one year in power sparked further attacks against Christians.Pro-Morsi Islamists accused the Christian community of supporting his overthrow.They pointed to the appearance of Tawadros alongside President Abdel Fattah al-Sisi on television in July 2013 as the then army chief, also surrounded by Muslim and opposition figures, announced Morsi's removal.The next month, security forces used deadly force to break up two pro-Morsi protest camps in Cairo.The following two weeks saw attacks against more than 40 churches across the country, according to Human Rights Watch.Amnesty International later said more than 200 Christian-owned properties were attacked and 43 churches seriously damaged, with at least four people killed.In December last year, a suicide bombing claimed by the Islamic State group killed 29 worshippers during a Sunday mass in Cairo.A spate of deadly jihadist-linked attacks in Egypt's restive Sinai Peninsula in February prompted some Coptic families to flee their homes.About 250 Christians took refuge in the Suez Canal city of Ismailiya after IS released a video calling for attacks against the minority.Pope Francis is set to visit Cairo late this month for talks with the grand imam of the capital's famed Al-Azhar mosque and to show solidarity with Coptic Christians.
News Suicide bombers kill 44 at Palm Sunday services in Egypt
HAMZA HENDAWI,Associated Press 5 hours ago
Now Playing 0:46
1:25
4:18
4:49
1:28
1:08
TANTA, Egypt (AP) — Suicide bombers struck hours apart at two Coptic churches in northern Egypt, killing 44 people and turning Palm Sunday services into scenes of horror and outrage at the government that led the president to call for a three-month state of emergency.The Islamic State group claimed responsibility for the violence, adding to fears that extremists are shifting their focus to civilians, especially Egypt's Christian minority.The attacks in the northern cities of Tanta and Alexandria that also left 126 people wounded came at the start of Holy Week leading up to Easter, and just weeks before Pope Francis is due to visit.Pope Tawadros II, the leader of the Coptic church who will meet with Francis on April 28-29, was in the Alexandra cathedral at the time of the bombing but was unhurt, the Interior Ministry said.It was the single deadliest day for Christians in decades and the worst since a bombing at a Cairo church in December killed 30 people.Late Sunday night, President Abdel-Fattah el-Sissi called for a three-month state of emergency. According to Egypt's constitution, parliament must vote in favor of such a declaration — a virtual certainty since it is packed with supporters of the president. It cannot exceed six months without a referendum to extend it.The army chief-turned-president also dispatched elite troops across the country to protect key installations and accused unidentified countries of fueling instability, saying that "Egyptians have foiled plots and efforts by countries and fascist, terrorist organizations that tried to control Egypt."The attacks highlighted the difficulties facing el-Sissi's government in protecting Christians, who make up about 10 percent of Egypt's population."Where is the government?" screamed an angry Maged Saleh, who rushed to the church in the Nile Delta city of Tanta where his mother escaped the carnage. "There is no government!"The first bomb exploded inside St. George's Church in Tanta, killing at least 27 people and wounding 78, officials said, overturning pews, shattering windows and staining the whitewashed walls with blood.Video from inside the church broadcast by CBC TV showed people gathered around what appeared to be lifeless, bloody bodies covered with papers. Several doors had been blown off. Women wailed outside."After the explosion, everything became dark from the smoke," said Edmond Edward, attending Mass with his brother, Emil, who suffered head wounds and leaned on him for support at a nearby hospital."There was a clear lapse in security, which must be tightened from now on to save lives," he told The Associated Press. The blast appeared to be centered near the altar, he said.Susan Mikhail, whose apartment balcony across the street has a clear view of the church and its front yard, said the explosion violently shook her building."Deacons were the first to run out of the church. Many of them had blood on their white robes," she told the AP. The more seriously wounded then were carried out by other survivors and taken to hospitals in private cars, she said.Hundreds of residents gathered in the area, and church members blocked people from entering the church as police cordoned off the area.A few hours later, a suicide bomber rushed toward St. Mark's Cathedral in the coastal city of Alexandria, the historic seat of Christendom in Egypt, killing at least 17 people and wounding 48.CCTV images showed a man with a blue sweater tied over his shoulders approaching the main gate to St. Mark's and then being turned away by security and directed toward a metal detector. He passed a female police officer talking to another woman, and entered a metal detector before an explosion engulfed the area.The Health Ministry said six Muslims were among the dead in Alexandria.Pope Tawadros II had held Palm Sunday services at the cathedral and the timing of the attack indicated the bomber had sought to assassinate him.Pope Francis marked Palm Sunday in St. Peter's Square by expressing "deep condolences to my brother, Pope Tawadros II, the Coptic church and all of the dear Egyptian nation."Magdy George Youssef, a deacon at St. George's, said the church was almost full when the blast occurred and threw him under a pew."All I could think of was to find my wife, and all I could see was smoke, blood and completely charred bodies," the distraught 58-year-old said. Youssef, who suffered only an injured ear, later found his wife at home, with burns to her face.IS said in a statement that two Egyptian suicide bombers named Abu Ishaq al Masri and Abu al Baraa al Masri carried out the church attacks and vowed to continue attacks against Christians."What happened is a dangerous indicator that shows how easy it is to attack a large gathering of people in different places," said researcher Ishaq Ibrahim with the Egyptian Initiative for Personal Rights. "There is a complete government failure in taking the IS threat seriously."El-Sissi said in a statement that Sunday's attacks would only strengthen the resolve of Egyptians against "evil forces." He held an emergency meeting of the National Defense Council, which includes the prime minister, the defense and interior ministers, the speaker of parliament and top army commanders and security chiefs.Regional police chief Brig. Gen. Hossam Elddin Khalifa was fired over the Tanta bombing, with Maj. Gen. Tarek Hassouna replacing him, state-run newspaper al-Ahram reported.President Donald Trump tweeted that he is "so sad to hear of the terrorist attack" against the U.S. ally but added that he has "great confidence" that el-Sissi "will handle the situation properly." The two leaders met at the White House on April 3.Grand Sheikh Ahmed el-Tayeb, head of Egypt's Al-Azhar — the leading center of learning in Sunni Islam — also condemned the attacks, calling them a "despicable terrorist bombing that targeted the lives of innocents."Both Israel and the Islamic Hamas movement ruling neighboring Gaza condemned the bombings as well.An Islamic State affiliate claimed the December bombing as well as a string of killings in the northern Sinai that forced hundreds of Christians to flee to safer areas. The militants recently vowed to step up attacks against Christians, whom they regard as infidels.Egypt has struggled to combat a wave of Islamic militancy since the 2013 military overthrow of an elected Islamist president.The Sinai-based IS affiliate has mainly attacked police and soldiers, but has also claimed bombings including the downing of a Russian passenger jetliner in the Sinai in 2015, which killed all 224 people aboard and devastated Egypt's tourism industry.Egypt's Copts are one of the oldest Christian communities in the Middle East and have long complained of discrimination and that the government does not do enough to protect them. Security at churches is routinely increased around religious holidays.The Copts largely supported the military overthrow of Islamist President Mohammed Morsi, and incurred the wrath of many of his followers, who attacked churches and other Christian institutions.While the Copts have stood steadfast alongside the government, an increase in attacks on Christians has tested that support.Egyptian media had previously reported that the church in Tanta had been targeted before, with a bomb defused there in late March.As night fell, hundreds of Christians, mostly clad in black, streamed to the church to offer their condolences. Scuffles broke out between the mourners and church volunteers guarding the church's doors as many pushed and shoved to get in._Associated Press writers Maggie Michael, Brian Rohan, Menna Zaki and Maamoun Youssef in Cairo and Bassem Mroue in Beirut contributed to this report.
1 / 5Demonstrators against Nicolas Maduro's government are seen amid a tear gas cloud during clashes with riot police in Caracas on April 8, 2017Demonstrators against Nicolas Maduro's government are seen amid a tear gas cloud during clashes with riot police in Caracas on April 8, 2017 (AFP Photo/JUAN BARRETO )Caracas (AFP) – Protesters hurling rocks clashed with police firing tear gas Saturday in Venezuela's fourth demonstration in a week against President Nicolas Maduro and his government.The rally was marked by anger over a ruling from the leftist government banning opposition leader Henrique Capriles from office for 15 years. Around 4,000 people attended the demonstration.Capriles narrowly lost the 2013 presidential election that brought Maduro to power following the death of his mentor Hugo Chavez — father of Venezuela's "socialist revolution."The government move, which the 44-year-old Capriles announced on Friday, effectively prevents him from running against Maduro in next year's general election.Saturday's violence broke out when protesters who had gathered in the east of the city changed course at Capriles's request and headed downtown toward the government ombudsman's office.The district — home to many government offices — is a pro-Maduro bastion and the president's supporters were holding a "cultural, sporting and recreational rally" there.National Guard police fired tear gas, water cannon and rubber bullets to force protesters back.Masked demonstrators threw rocks and Molotov cocktails at police, said AFP reporters on the scene. At least two police officers were hit by the flaming bottles.The initial tally of injuries stood at 17, according to the mayor of one of Caracas's districts.- 'Product of tyranny' -According to Capriles, the building where he carries out his political activities was "attacked with bombs" shortly after the demonstration."What is the order of Maduro? To kill us? If something happens, you know who is responsible and what must be done!" he wrote on Twitter.Capriles was among the leaders behind mass demonstrations against Maduro earlier this week that triggered clashes with police. One protester died."This thing that they just did to Capriles is the product of tyranny," said Adel Rincones, 61, who clutched a sign that read "Venezuela is wounded in the heart with hunger, misery, corruption, dictatorship."Others at the rally held pictures of Capriles."People are tired of so much corruption, hunger and poverty," said Vanessa Garcia, 37, an optometry student.Protests also erupted in several other cities, including unrest-prone San Cristobal in the west, where masked gunmen reportedly set off explosions, causing demonstrators to flee.In Caracas, the violent clashes went on for about three hours before demonstrators dispersed.Intelligence Services chief Gustavo Gonzalez said some leaders of a "fascist terrorist cell" were taken into custody for fomenting Saturday's unrest.He said Capriles was a leader of this cell, but did not immediately comment on his status. At least 51 people were arrested nationwide in Saturday's protest clashes, 17 of whom were released, the NGO Criminal Justice Forum said.- 'Administrative irregularities' -State comptroller Manuel Galindo imposed the ban on Capriles due to his alleged "administrative irregularities" while serving as governor of the northern state of Miranda.Capriles said that he would appeal the decision and stay in his job as governor, which he has held since 2008.Venezuela's political crisis intensified last week when the Supreme Court issued rulings curbing the powers of the opposition-controlled legislature.The court has consistently ruled in Maduro's favor since the opposition majority took its seats in the National Assembly legislature in January 2016.It drew international criticism for last week's rulings, which seized the assembly's powers and revoked lawmakers' immunity from prosecution.- Opposition intensifies -The court reversed the rulings days later, but the opposition intensified its protests, prompting police to fire tear gas and water cannon.The opposition then came up with the idea of seeking the dismissal of the Supreme Court's justices. But the ombudsman's office blocked the move.Capriles can appeal against his sanction within two weeks to the comptroller and within six months to the Supreme Court.The collapse in prices for Venezuela's crucial oil exports has sapped the country's revenues.Ordinary Venezuelans are suffering from shortages of food, medicine and basic goods along with a surge in violent crime.The opposition blames Maduro for the economic crisis. He says it is due to a capitalist conspiracy backed by the United States.New protests are planned in the coming Holy Week days. Government workers will be off, on Maduro's order.One of the bigger demonstrations is expected for April 19, Venezuela's national holiday.
World Russian naval activity in Europe exceeds Cold War levels: U.S. admiral
By Andrea Shalal,Reuters 11 hours ago
By Andrea Shalal BERLIN (Reuters) – Recent Russian naval activity in Europe exceeds levels seen during the Cold War, a top U.S. and NATO military officer said, voicing concern that the distributed nature of the deployments could end up "splitting and distracting" the transatlantic alliance.Navy Admiral Michelle Howard, who heads NATO's Allied Joint Force Command in Naples and commands U.S. naval forces in Europe and Africa, said Russia had clearly stepped up its naval actions in recent years although the size of its navy was smaller now than during the Cold War era."We're seeing activity that we didn't even see when it was the Soviet Union. It's precedential activity," Howard told Reuters in an interview late on Saturday during a missile defense conference.Howard cited a wide range of activities, including Russia's deployment of its Admiral Kuznetsov aircraft carrier to the Mediterranean, increased patrols in the north Atlantic and Arctic region, significant out-of-area submarine deployments, and submarine movement in the Black Sea."They're a global navy, I understand that. But the activity in this theater has substantially moved up in the last couple of years," Howard said.She said there was a danger that members of the NATO alliance would focus on the area of interest closest to them, while losing sight of Russian activities in other areas."When … you think about what happens when they move forces around, you look at the alliance and they end up splitting and distracting the view of the alliance," she said.Howard's comments came amid a sharp escalation in tensions between Russia and the United States after Washington launched 59 cruise missiles against an air base in Syria in retaliation for a deadly toxic gas attack that killed scores of people.Howard said the Russian naval maneuvers had been matched by increased persistent cyber attacks by Moscow, and a steady number of unprofessional "fly bys" by Russian aircraft of U.S. and other allied vessels at sea.Ties between Moscow and the West have been strained since Russia's annexation of the Crimea region of Ukraine in 2014 and its support for separatists in eastern Ukraine.NATO has built up physical forces in Poland and the Baltic states to build up a deterrent and underscore the strength of the alliance, but U.S. and European officials are also increasingly concerned about what they describe as Moscow's use of propaganda and cyber attacks to influence Western elections.Russia denies Washington's claim that Moscow sought to influence the U.S. election, and views NATO's buildup of troops in Europe as a provocation.Howard said members of NATO had rallied to increase their capabilities and send a clear signal about the strength and resolve of the alliance.She hailed a recent agreement by Germany and Norway to build new submarines together as a sign of increased cooperation and said she would welcome further efforts by European partners to pool resources.(Reporting by Andrea Shalal; Editing by Susan Fenton)
News Trump's media critics praise Syria strikes
Christopher Wilson EditorYahoo News
Fareed Zakaria and Brian Williams. (Photos: Kathy Willens/AP, Mitch Gerber/AP)Longtime critics of President Trump suddenly and dramatically reversed their assessments of him after he authorized Thursday night's missile attack on a Syria airbase. CNN host Fareed Zakaria, who had called Trump a "cancer of American democracy," praised him Friday morning following the strikes."I think Donald Trump became president of the United States," said Zakaria of the man who had legally assumed the office on January 20. (In the opinion of another CNN commentator, Van Jones, Trump had actually become president of the United States on February 28, with his emotional tribute to the widow of a Navy Seal killed in action during his joint address to Congress.) Zakaria continued: "I think this was actually a big moment because candidate Trump had said that he would never get involved in the Syrian civil war, he told President Obama you cannot do this without the authorization of Congress, he seemed unconcerned with global norms. President Trump recognized that the president of the United States does have to act to enforce international norms, does have to have this broader moral and political purpose."Slideshow: U.S. attacks Syrian airbase >>>"I think what's interesting is the way in which he justified his actions," added Zakaria. "For the first time as president, he talked about international norms, international rules, America's role in enforcing justice in the world. It's the kind of rhetoric we've come to expect from American presidents since Harry Truman. There's been an interesting morphing and a kind of education of Donald Trump."
Trump orders military strike on a Syrian base in response to chemical attack President Trump ordered a military strike against a Syrian base in response to this week's chemical attack. The U.S. launched 59 Tomahawk Cruise missiles from the USS Ross and the USS Porter in the eastern Mediterranean Sea at the al-Shayrat Airfield.MSNBC host Brian Williams, who had criticized other journalists for their favorable coverage of the president, was resoundingly positive in his coverage of the military operation, being overcome by the "beauty" of the missiles.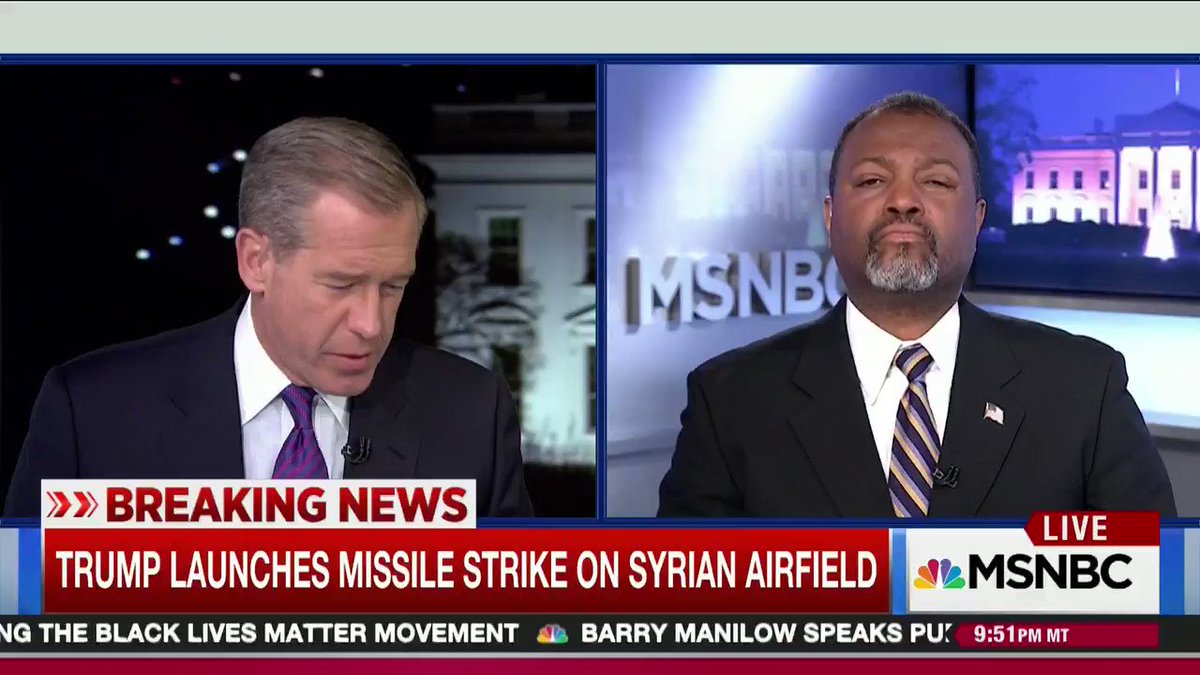 Follow

Trevor Tim@trevortimmBrian Williams refers to this Pentagon video of missiles going to kill people as "beautiful" 3 times in 30 seconds"We see these beautiful pictures at night from the decks of these two U.S. Navy vessels in the eastern Mediterranean," said Williams Thursday night. "I am tempted to quote the great Leonard Cohen: 'I am guided by the beauty of our weapons.'"New York Times columnist Nicholas Kristof — who called the Trump administration "breathtakingly incompetent" two weeks ago — has been praising the strikes, although hedging with his general mistrust of the president."Trump is right to make Syria pay a price for war crimes, and taking out airfields is the best approach," wrote Kristof. "I do worry about his execution. … I support Trump's strikes on Syria. But a challenge is that he has lied so often about so much that in a crisis he has little credibility."In an interview with CNN Friday morning, Kristof called the strikes "the right thing to do," while admitting they were legally dubious and hypocritical.MSNBC's "Morning Joe" has been a frequent critic of Trump since his inauguration, with co-host Mika Brzezinski calling his presidency "fake" and banning White House counselor Kellyanne Conway from the show.Friday morning, the show was more positive discussing the reaction to the strikes. Brzezinski mentioned the new dynamic of Trump being in a "foxhole" with his national security team, agreeing with Sen. John McCain when he said of Trump's military advisers, "I've never seen better people." Brzezinski then asked about the "psychological reset" that was happening following the strikes and how Trump had an opportunity for a reboot with the American people.Conservative columnist Matt Lewis of the Daily Beast has not been a vociferous Trump critic, but his tweet from Thursday night offered a typical reaction to the president's statement on the strike."This seemed like a very different Donald Trump," wrote Lewis. "More serious — and clearly moved emotionally. Frequently invoked the Almighty."
News New York derailment highlights US infrastructure concerns 
DAVID A. LIEB and JOAN LOWY,Associated Press 13 hours ago
When a train jumped the tracks this past week at New York's Penn Station, the seemingly minor accident led to a cascade of exasperating delays for hundreds of thousands of commuters.When a flood forced authorities to condemn a one-lane, century-old bridge in rural Ozark, Missouri, it was no less frustrating for the residents and business owners cut off from their shortest route into town.The two episodes highlight a reality about the U.S. transportation system — it is aging, congested and so vital that when things go wrong, big and costly disruptions can result for which there is no quick fix.Though President Donald Trump has promised a $1 trillion infrastructure-rebuilding program, not all of that may go toward transportation. Even then, it would fall well short of the many trillions needed to fix the country's web of roads, bridges, railways, subways and bus stations.The commuter train in New York derailed because of a weakened railroad tie. No one was seriously injured. But the incident shut down eight of the station's 21 tracks, disrupting Amtrak service in the Northeast from Boston to Washington, as well as delaying commuter trains in New York, New Jersey and Connecticut for the better part of a week.Business meetings were canceled, ballgames, dinners and doctor's appointments missed, and commuters fumed.Lawyer Dominic Boone, who travels into New York from New Jersey, complained that because he arrived late to the office and had to leave early to catch a different train, he lost 10 hours of work for which he could have billed clients."They should have been working on Penn Station forever ago," Boone said. "As a nation, we should be spending more on our crumbling infrastructure."The disruption was only a brief example of the frustration travelers could face if the region can't find a way to replace a pair of deteriorating, overcrowded, century-old rail tunnels that run under the Hudson River and connect New York and New Jersey.The tunnels, which were severely damaged in Superstorm Sandy in 2012, could cost more than $20 billion to replace. But the money has yet to be lined up. And construction, whenever it begins, may take more than a decade.The Penn Station derailment came less than two weeks after another one there, caused by a misaligned track.And it happened just days after motorists in Atlanta were forced to begin taking long, bumper-to-bumper detours because a fire collapsed an Interstate 85 overpass linking the city to some of its biggest suburbs. Arson — not aging steel and concrete — is suspected there. It could take until mid-June to repair the highway.Earlier this year, a cracked steel beam forced the closing of a major bridge between Pennsylvania and New Jersey for 1½ months.Improving the nation's roads and bridges would require $120 billion a year through 2020, according to a recent U.S. Department of Transportation estimate. But annual spending at all levels of government is just $88 billion. And the nation's mass transit systems have over a $90 billion backlog of maintenance and repair needs.The capacity of the nation's transportation system is lagging behind population growth, leading to ever greater congestion. By 2040, nearly 30,000 miles of the nation's busiest highways are expected to be clogged on a daily basis.Rural communities also face challenges, partly because they have fewer residents over whom to spread the cost of transportation improvements. Grant County, Oklahoma, for example, has more than 3,500 bridges with a population of about 4,500 and an economy based on agriculture and energy production."While this infrastructure was ideal 70 years ago for transporting livestock and crops, it is inadequate to support today's heavier trucks, increased traffic and higher operating needs," county commission chairwoman Cindy Bobbitt told U.S. senators at a recent hearing.The complexities of government can sometimes slow down improvements, as cities, counties, states, port authorities, special taxing districts and federal agencies all have a say in which projects get built, when to do the work and how to pay the bills.Plans for wider roads and new rail lines can also face opposition from the communities they pass through because of concerns about noise, pollution and diminished property values."Of course I believe there needs to be more" infrastructure investment, said Martin Wachs, a retired professor of civil and environmental engineering and urban planning at the University of California, Los Angeles. "At the same time, political decisions have to be made that weigh that against investments in education and health care and so forth."At least 20 states have raised taxes or fees for transportation over the past five years.California became the latest to do so Thursday, as legislators passed a bill to raise $5 billion annually through higher fuel taxes and vehicle fees to pay for road and bridge repairs, public transit and pedestrian trails.The plan tackles part of a $137 billion backlog of deferred maintenance on state highways and local roads. It came together after a destructive winter in which flooding caused nearly $600 million in damage to highways.Indiana and Tennessee are among other states considering raising fuel taxes and fees for transportation this year.In Ozark, a town of fewer than 20,000 people in Missouri, voters approved a transportation sales tax Tuesday of three-eighths of a cent, with some of the proceeds going toward a new, $3 million two-lane bridge to replace the narrow structure that has been closed since it was damaged by flooding in 2015.The bridge closing has forced 75-year-old Gary Jenks to drive an extra 10 minutes along a circuitous route every time he needs to go the doctor or pharmacy or visit his family on the opposite side of town."It's just been a total inconvenience and a burden," Jenks said._Associated Press reporter Karen Matthews contributed from New York. Lowy reported from Washington and Lieb from Jefferson City, Missouri._Follow David A. Lieb at: http://twitter.com/DavidALieb and Joan Lowy at: http://twitter.com/AP_Joan_Lowy
Sports Red Wings fans threw 35 octopuses on ice in Joe Louis Arena farewell
Greg Wyshynski,
Puck Daddy
3 hours ago
The Detroit Red Wings won their final game at Joe Louis Arena on Sunday, 4-1 over the burnt-out husk known as the New Jersey Devils, as the Wings bid farewell to their home since 1979 before moving to their new digs at Little Caesars Arena next season.It was a glorious day of celebration and misty-eyed nostalgia, as
former Red Wings greats acted as the ice crew to shovel
during the second period and fans were treated to memories made in that arena through the decades. Here's what the final minutes in the history of the Joe sounded like from the stands: