News The first 100 days don't matter. For Trump, they matter even less. Matt BaiNational Political ColumnistYahoo News
We still don't know what kind of president Donald Trump really wants to be, but we may be about to find out. (Photo: Pablo Martinez Monsivais/AP)
Brace yourself now for the deluge of predictable stories about Mr. Trump's Wild Ride during these first 100 days in office: the erratic tweets and tirades, the confusing shifts in policy on health care and Russia and, underlying all of it, the intensifying rivalries between aides, family members and department chiefs.Even in normal cases, the whole 100-day construct is pretty silly. Anyone who's ever started a new job — even one that doesn't involve overseeing the world's most formidable bureaucracy and its most powerful arsenal — knows that three months is barely enough time to figure out where the good vending machines are.Trump's case, though, isn't close to normal, seeing as he was the least prepared president to assume office in any of our lifetimes. I say this not because he didn't have the skill set needed to govern (that's debatable), but because he literally wasn't prepared to win. He'd given about as much thought to governing before November as I have to piloting a hot-air balloon.The reality, to paraphrase Lincoln, is that history will little note nor long remember anything about these blurry 100 days, and when we look back even a year from now, trying to remember exactly who did what in Trump's first months will be like trying to name the Marlins' opening day lineup from, well, ever.We still don't know what kind of president Trump really wants to be, but I'm betting we're about to find out.Consider for a moment how this presidency thing normally works. You're supposed to spend several months campaigning with a team of longtime advisers and new additions from the top ranks of your party, while emissaries from your campaign begin planning for a smooth handover of power.It's unheard of, historically speaking, to wake up as the president-elect without having a pretty good idea of who your main appointees and advisers will be — a list usually gleaned from years in political life.Then you've got a few months of transition time to fill out the ranks of senior management in the various agencies and cement your agenda for the legislative session. By the time you take over, it ought to feel as if the curtain is rising after a long season of rehearsals.Trump's journey was nothing like this, and that's not really his fault, or at least not entirely. Because he ran as an upstart with no political experience, Trump couldn't rely on the usual cadre of steady and loyal hands. And because no one expected him to win the general election, his campaign never attracted the kind of old-hand operatives like a James Baker or a John Podesta, who can steer you through the serpentine waterways of Washington with a blindfold on.Trump's televised transition was really more of a slow acclimation to his having won the job — for him and for the rest of us. Far from having methodically chosen his most senior aides for their intellectual depth and management skill, Trump, apparently in shock, seems to have looked around the room he was sitting in on election night and appointed whoever was standing closest.
"People seem to like you, Priebus — you're my chief of staff, OK? Bannon and Kellyanne, give yourself some fancy titles and figure all this out. I'm going to bed."This is how Steve Bannon ended up on the National Security Council, and how Trump ended up hiring and then firing a national security adviser who was secretly lobbying for Turkey. There was no plan to speak of.This is an administration that's apparently struggling with the annual Easter egg roll. You can imagine what that means for trade policy.And so you have to look at these first few months as really more of a delayed transition. Trump's been figuring out what day-to-day governing looks like, and whose judgment he can actually trust, and how enormous the bureaucracy turns out to be. He's had mere weeks to think through what most new presidents have spent a lifetime in politics considering, which is what he really wants to accomplish.Now Trump seems to be losing patience with his slapped-together and fractious senior team, and if he isn't, then he's clearly not paying attention.Priebus's sole qualification for the job, his warm relationships with Washington Republicans, proved pretty much useless when Republicans in Congress couldn't even roll back the health care law that's had them foaming at the mouth for years now.Bannon's paranoid ramblings about war with the media and deconstructing the central state have endeared him to no one, least of all Trump's son-in-law, Jared Kushner. "I like Steve, but you have to remember that he was not involved in my campaign until very late," Trump told the New York Post this week. You don't have to have watched "The Apprentice" to know what that means.Sean Spicer's months-long meltdown at the podium reached a truly bizarre level this week when he raised Adolf Hitler as an example of humanitarian restraint. Which was kind of fitting, in that Spicer is like the political equivalent of "The Producers"; he keeps trying to get the act closed down, and yet every day the show somehow goes on.You'd have to think that none of these people are likely to be in their jobs by year's end, to be generous about it. So it's pointless to spend a lot of energy divining the differences among Trump's starter team and cataloging their early failures. What's more telling — what was always going to be more telling — is whom the president turns to next.
Already you can discern the emergence of powerful voices who weren't part of the campaign or the postelection reality show. Gary Cohn, the former Goldman Sachs president, seems to have his hands on the economic tiller. H.R. McMaster, the general who took control of a flailing National Security Council, is consolidating his grasp on foreign policy.Trump seems to have figured out, after his first painful foray into Congress, that the far-right faction of his own party can't be counted as an ally. He's made noises about reaching out to Democrats, which seems unlikely to work but might burnish his standing with the independent and moderate voters he needs on his side.I've suggested before that he'll ultimately choose an experienced, mainstream Republican, perhaps a governor or Bush alumnus, as his next chief of staff. It's easier to campaign as an outsider than it is to govern as one.None of this means that Trump is suddenly going to become a more deliberate, less reckless leader than he's often shown himself to be in these first few months, especially if he grows more insular and more reliant on the counsel of his dilettante daughter and son-in-law. None of it means there aren't consequences for the decisions he's made, because there are.What it means is that, when we look back on this moment, we'll understand that everything to this point has been a kind of extended prologue, and the real first chapter of Trump's presidency is only now coming into view.It's not the first 100 days that will matter, so much as the next 100 days to come.
Politics Trump attends Easter service in Palm Beach
JILL COLVIN,Associated Press 10 hours ago
PALM BEACH, Fla. (AP) — President Donald Trump attended Easter service at the Church of Bethesda-by-the-Sea near his estate in Palm Beach, Florida on Sunday — an annual ritual that provided a break from a host of foreign policy crises, including escalating tensions with North Korea.The president attended the service with his wife, Melania, his two younger children, Barron and Tiffany, and the first lady's parents. It's the same church where he and the first lady were married in 2005.The president is expected to spend the rest of the afternoon with his family participating in annual Easter festivities at Mar-a-Lago, his private club, including brunch and an Easter egg hunt, spokeswoman Stephanie Grisham said.It will be a test run of sorts. He and the first lady are set to host the official annual Easter egg roll at the White House on Monday.The president has yet to attend a church service in the nation's capital since his inauguration weekend back in January. The church attendance of past presidents has been a topic of intense interest in Washington.Trump has been speaking more about faith in recent week, invoking God in his statements.In his weekly radio address, the president called Easter Sunday "a holy day of reverence and worship" and "a sacred time that fills the spirit of our nation with the faith of our people."He also declared, "America is a Nation of believers," adding that: "As long as we have faith in each other, and trust in God, we will succeed."Trump described himself as a "religious person" during his campaign, but often appeared to struggle to affirm his Christian credentials as he worked to woo the Evangelical voters who helped drive him into office.He often carried a copy of his childhood Bible and a photo of his confirmation to provide evidence of his Presbyterian upbringing and made what were seen as several minor missteps, including mistakenly referring to Second Corinthians as "two Corinthians" during an appearance at the Christian Liberty University.
Politics Meet the woman behind the White House Easter Egg Roll
DARLENE SUPERVILLE,Associated Press 12 hours ago
WASHINGTON (AP) — Anna Cristina Niceta Lloyd auditioned for the job of White House social secretary and may not have known it.The veteran event planner's creativity and handicraft were prominently on display at President Donald Trump's inaugural luncheon at the Capitol, the fifth one she has worked on. Maine lobster and Gulf shrimp, grilled Angus beef and chocolate souffle with cherry vanilla ice cream were on the menu. Sprays of roses in shades of pink, cream and melon spruced up Statuary Hall, the otherwise drab venue.Among the roughly 200 guests taking it all in was Melania Trump.Less than a month after the Jan. 20 luncheon, the first lady announced she had hired Niceta Lloyd to fill one of the most coveted behind-the-scenes roles at the White House: social secretary.The post makes Niceta Lloyd the creative curator behind near-daily events for the president and first lady. It meant deciding what to serve at the recent get-to-know-you dinner between a new president and his Chinese counterpart. (Pan-seared Dover sole and New York strip steak were served, and Trump praised the "beautiful" chocolate cake they ate while discussing the U.S. cruise missile strike on Syria.) And on Monday, it involves hosting no fewer than 21,000 children and adults for the annual Easter Egg Roll, a 139-year-old tradition and the Super Bowl of White House social events.For Niceta Lloyd, who goes by "Rickie," the job has the added challenge of collaborating with a first lady who is not yet living at the White House full time.In announcing the appointment, Mrs. Trump highlighted that Niceta Lloyd has more than two decades of experience in diplomatic, political and social entertaining in Washington. The first lady, who was a model, said she looked forward to "sharing my ideas and traditions of entertaining and social hospitality" with her new aide. She is mostly living at the family's Trump Tower penthouse in midtown Manhattan with the couple's 11-year-old son until school lets out.Niceta Lloyd was in her 20s when she was hired by Design Cuisine, an Arlington, Virginia-based special event caterer whose clients include the White House, State Department and several embassies. She also worked on the past five inaugurations of Republican and Democratic presidents.Now 46, the mother of two left the company after the White House made an offer she couldn't refuse.Bill Homan, a founder of Design Cuisine, praised his former employee's intelligence, creativity and organizational skill, as well as her sensitivity and discretion."These are certainly very important in our business," he said.Lea Berman, a social secretary during George W. Bush's administration who for many years relied on Niceta Lloyd to plan her private parties, said she is a "joyful person to work with" despite the stress that's built into event planning."The best never lose their cool; Rickie is like that," Berman said. "She's unflappable. Just what you'd hope for in a White House social secretary."Niceta Lloyd's appointment to a job that paid her immediate predecessor $119,000 closes the loop on a chapter in White House history, and her family's history, too.Her husband is Thomas Lloyd, a grandson of the late Rachel "Bunny" Mellon, an arts patron and political financier who was a confidante to Jacqueline Kennedy. Mellon helped Mrs. Kennedy redesign the White House Rose Garden."Having that kind of background, it just made it like things had come full circle," said Bryan Huffman, a North Carolina-based interior designer who knew Mellon and knows Niceta Lloyd.A former social secretary recommended her to Mrs. Trump. The first lady had also attended events Niceta Lloyd had organized, including the inaugural luncheon, and is said to have come away impressed."Sometimes, seeing is believing and seeing what she pulled off that day … that might have definitely contributed to the decision," said Anita McBride, who was first lady Laura Bush's chief of staff.Mrs. Trump's decision to hire Niceta Lloyd also shows that the first lady, a New Yorker who is slowly building her White House team, recognizes that she's unfamiliar with Washington's customs and needs experienced hands to help guide her. Lack of staff has already hampered some operations, such as the White House Visitors Office, which stayed closed for several weeks longer than usual following a change in presidents.Planning for the Easter Egg Roll also seemed to get off to a late start. The Trumps announced Monday's date later than usual, and some regular participants went public with their anxiety over not hearing from the White House earlier in the year.But make no mistake: The tradition will continue, just downsized from last year when 35,000 people received tickets._Follow Darlene Superville on Twitter: http://www.twitter.com/dsupervilleap
World
A dramatic moment aboard AF2 while headed to South Korea
CNN
6 hours ago
(CNN)It wasn't even an hour after we took off for South Korea on Air Force Two after a refueling stop in Alaska that a few of the vice president's aides came back to the press cabin to tell us what was probably inevitable: North Korea had just unsuccessfully tried to test a missile.The press does not have Internet access on Air Force Two (which is secretly kind of liberating), so we didn't know, but of course the VP and his team have high-tech, secure communications capability. Pence was notified right away about the test, that it failed after four or five seconds, and, most importantly, it was not believed to be a nuclear test or an ICBM.A White House foreign policy adviser on board immediately tried to downplay the significance, making clear it wasn't a matter of if, but when, the North Koreans would try to flex their military might again. Still, it was a reminder that we were 30,000 feet in the air heading toward a Korean Peninsula that is even more tense than usual.As for the vice president himself, this first trip to South Korea is not just a big responsibility at a critical time — it is also an emotional trip personally for him.We learned on his plane coming over that Pence's father, 2nd Lt. Edward J. Pence, Jr., served in the Korean War and was awarded the Bronze Star for his service. In fact, Pence has the medal framed in his White House office.This trip is coming almost exactly 64 years to the day since Pence's father was awarded that medal — a remarkable fact, especially as the war remains unresolved.Reflecting on his dad on his first day in South Korea, Pence said, "I think about what Dad would be thinking about and is thinking about as he looks down — at this third son — to return to the place he came so many years ago and the commitment that endures here that has resulted in a free and prosperous South Korea."Day one, Easter Sunday, was largely ceremonial for Pence: laying a wreath at a South Korean national cemetery, church and holiday dinner with military members and their families.After a day that only furthered the growing tension over North Korea — and the tumult of finding out about the missile launch en route — Pence's presence here on the ground in Seoul seemed to take on a stronger significance.
"Our commitment to this historic alliance to the courageous people of South Korea has never been stronger," Pence said remarks before troops at an Easter dinner.As for the small band of reporters covering the vice president, being up close and personal to see the events is quite different, as it usually is, than when traveling with the President. These trips are generally special, and this one is already shaping up to be just that.After all, how often does one land in South Korea, immediately board a military helicopter and fly over Seoul to get to a destination?
News Trump lashes out after Tax March protest: 'The election is over!'Dylan Stableford  Senior Editor Yahoo News
People participate in a tax day protest in New York City on Saturday. (Stephanie Keith/Getty Images)President Trump took to Twitter early Sunday morning to wish a "Happy Easter to everyone!" He then took swipes at the tax day marches around the country that featured thousands of protesters demanding the president release his tax returns."I did what was an almost an impossible thing to do for a Republican-easily won the Electoral College!" Trump tweeted. "Now Tax Returns are brought up again?""Someone should look into who paid for the small organized rallies yesterday," he added. "The election is over!"Throughout his young presidency, Trump has frequently rehashed campaign-related controversies that other presidents would have long let go. Earlier this month, Trump knocked his former rival for one from the Democratic primary debates. ("Did Hillary Clinton ever apologize for receiving the answers to the debate?" he tweeted. "Just asking!")Follow
Donald J. Trump @realDonaldTrumpI did what was an almost an impossible thing to do for a Republican-easily won the Electoral College! Now Tax Returns are brought up again?Learn moreTrump Tax MarchesTax Day MarchesTax Day ProtestsTrump Tax Protest SignsTax March NycThe organizers of the Tax March demonstrations said more than 120,000 protesters in nearly 200 cities participated in Saturday's rallies — including more than 25,000 in Washington, D.C., alone."Releasing your tax returns is the lowest ethical bar for a president," Sen. Ron Wyden, D-Ore., said at the D.C. protest. "And we're going to make sure he clears that hurdle."In the modern political era, Trump is the first U.S. president and first major party nominee not to release his full tax returns. During the campaign, Trump initially indicated he would release the documents, but later balked at the prospect, claiming that he has been under audit and that voters don't care about the issue.Among other things, Trump's critics argue that the tax returns could reveal potential conflicts of interest with actions he takes as commander in chief."We do care. We want to see his taxes," Ann Demerlis, one of the protesters at the Philadelphia march, told ABC News. "It's possible that he can now show his taxes, because his current taxes are not being audited."View image on Twitter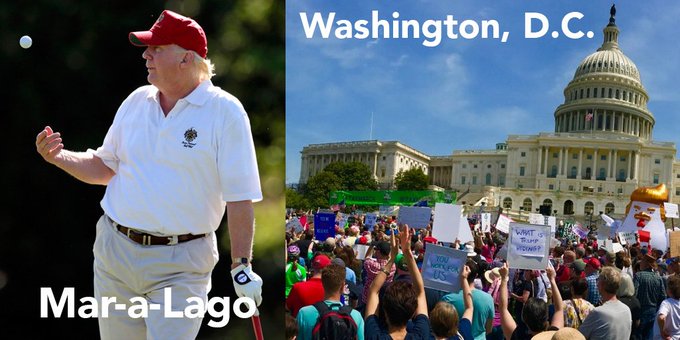 Follow
Trump Tax March @taxmarchSPLIT SCREEN FROM YESTERDAY On the right: This is what democracy looks like!On the left: Our taxpayer dollars at work

TaxMarchBut according to the organizers, the demonstrations were "not just about his tax returns.""President Trump needs to be straight with the American people," a statement on the Tax March website reads. "To whom does he owe favors? Who are his policies really intended to benefit? Who will he put first? Working families are struggling to make ends meet, but we pay our fair share in taxes — does Donald Trump pay any at all?"Trump's Tax March-taunting tweets were bookended by a pair of messages seemingly related to the U.S. military buildup in the Korean Peninsula."Why would I call China a currency manipulator when they are working with us on the North Korean problem? We will see what happens!" the president tweeted."Our military is building and is rapidly becoming stronger than ever before," he added. "Frankly, we have no choice!"Follow
Donald J. Trump@realDonaldTrumpWhy would I call China a currency manipulator when they are working with us on the North Korean problem? We will see what happens!Last week, Trump boasted of the U.S. Navy strike group he deployed to the region as a show of force against North Korean leader Kim Jong Un's nuclear provocations."We are sending an armada, very powerful," Trump said in an interview with Fox Business.On Sunday, a North Korean missile exploded during launch, U.S. and South Korean officials said. It wasn't immediately clear what kind of missile it was, the Associated Press reported. But the failed launch came the same day Vice President Mike Pence was scheduled to arrive in Seoul for talks on North Korea.Trump on North Korea: 'We are sending an armada'
News Jeffrey Lord: 'Think of President Trump as the Martin Luther King of health care' Dylan Stableford Senior Editor Yahoo News Jeffrey Lord, the conservative political commentator, shocked a fellow CNN panelist on Thursday morning by comparing the commander in chief to America's late civil rights icon on the issue of health care."I want to say something here that I know will probably drive Symone crazy," Lord said during a discussion with liberal commentator Symone Sanders. "But think of President Trump as the Martin Luther King of health care."Learn moreJeffrey Lord TrumpMartin Luther KingMartin Luther King Day 2017Who Killed Martin Luther KingSanders, the former national press secretary for Vermont Sen. Bernie Sanders, was aghast."Oh, Jeffrey! Jeffrey! Jeffrey!" she exclaimed, as Lord tried to explain the comparison."When I was a kid, President Kennedy did not want to introduce the civil rights bill. He didn't have the votes for it," Lord said. "Dr. King kept putting people in the streets in harm's way to put the pressure on so that the bill would be introduced. That's what finally worked."The Trump administration has been sending mixed signals on the next phase of its plan for healthcare as it struggles to rebound from last month's failure to secure enough Republican support for the GOP plan to repeal and replace Obamacare.
Photo: CNNIn an interview with the Wall Street Journal published Wednesday, Trump said his administration is undecided on whether it will continue to reimburse health insurers for covering low-income people. Earlier this month, the White House said there was no change in the policy of paying the cost-sharing subsidies."I don't want people to get hurt," Trump said. "What I think should happen — and will happen — is the Democrats will start calling me and [start] negotiating."Lord said Trump is simply doing for health care what King did for civil rights."You do understand that Dr. King was marching for civil rights because people that look like me were being beaten," Sanders said. "Dogs were being sicced on them. Basic human rights were being violated for these people merely because of the color of their skin."Sanders added: "So let's not equate Dr. Martin Luther King Jr., humanitarian and Nobel Peace Prize winner, to the vagina-grabbing President Donald Trump."
World China, Russia send ships after U.S. aircraft carrier The Salt Lake Tribune 10 hours ago
China and Russia, which prioritize stability in the Korean Peninsula, showed concern over the tough U.S. stance, with Russian Foreign Minister Sergey Lavrov saying the issue should be resolved peacefully through political and diplomatic efforts. The dispatch of the intelligence-gathering vessels appears to be partly aimed at sending a warning signal to the United States.It appears that both countries aim to probe the movements of the United States, which is showing a stance of not excluding military action against North Korea. The Self-Defense Forces are strengthening warning and surveillance activities in the waters and airspace around the area, according to the sources.The aircraft carrier strike group, composed of the Carl Vinson at its core with guided-missile destroyers and other vessels, is understood to be around the East China Sea and heading north toward waters near the Korean Peninsula.China and Russia, which prioritize stability in the Korean Peninsula, showed concern over the tough U.S. stance, with Russian Foreign Minister Sergey Lavrov saying the issue should be resolved peacefully through political and diplomatic efforts.The dispatch of the intelligence-gathering vessels appears to be partly aimed at sending a warning signal to the United States.Following the 105th anniversary of the birth of Kim Il Sung, North Korea's founding father, on April 15, North Korea will celebrate the 85th anniversary of the foundation of its military on April 25. It maintains the stance that it intends to conduct its first nuclear test since September last year, which would be its sixth test, and test-launch intercontinental ballistic missiles.By conducting joint exercises with the Maritime Self-Defense Force and through other means, the U.S. aircraft carrier strike group is poised to increase military pressure on North Korea and urge Pyongyang to engage in restraint.
Erdogan wins Turkey referendum as opposition cries foul
Stuart WILLIAMS with Raziye AKKOC in Ankara,AFP 6 hours ago
Istanbul (AFP) – Turkish President Recep Tayyip Erdogan narrowly won a historic referendum on Sunday that will tighten his grip on power, but the knife-edge result left the country bitterly divided and the opposition crying foul.The sweeping constitutional changes approved in the vote create a presidential system that will grant Erdogan more power than any leader since modern Turkey's founder Mustafa Kemal Ataturk and his successor Ismet Inonu.The result could also have even wider implications for Turkey which joined NATO in 1952 and for the last half-century has set its sights on joining the European Union.The 'Yes' campaign won 51.4 percent of the vote against 48.6 percent for 'No', the election commission said in figures quoted by state news agency Anadolu, in a count based on 99.5 percent of the ballot boxes. Turnout was a high 85 percent.As huge crowds of flag-waving supporters celebrated on the streets, Erdogan praised Turkey for taking a "historic decision"."With the people, we have realised the most important reform in our history," he added.But opposition supporters in anti-Erdogan districts of Istanbul showed their dissatisfaction by bashing pots and pans with kitchen utensils to create a noisy protest. Hundreds also took to the streets in the areas of Besiktas and Kadikoy.Supreme Election Board chief Sadi Guven confirmed that the 'Yes' camp had emerged victorious, but the opposition has vowed to challenge the outcome.- 'New page opened' -The referendum was held under a state of emergency that has seen 47,000 people arrested in an unprecedented crackdown after a failed military putsch against Erdogan in July last year.In a nail-biting end to a frenetic campaign, the 'No' share of the vote climbed as more ballots were counted, after lagging well behind in the early count, but failed to overtake the 'Yes' votes."This is a decision made by the people. In our democracy's history, a new page has opened," said Prime Minister Binali Yildirim, whose job will disappear under the constitutional changes.In a television interview on Friday Erdogan had predicted a far clearer victory saying polls showed a 55-60 percent share of the vote.But voting patterns showed Turkey deeply divided over the changes, with the 'No' vote victorious in the country's three biggest cities.The 'Yes' vote held up strongly in Erdogan's Anatolian heartland but the Aegean and Mediterranean coastal regions and Kurdish-dominated southeast backed the 'No' camp.In a major disappointment for the president, the 'No' vote was just ahead in his hometown of Istanbul and in the capital Ankara and clearly ahead in the third city of Izmir.A statement issued by European Commission head Jean-Claude Juncker and EU foreign affairs chief Federica Mogherini said that in view of the closeness of the result, the Turkish authorities need to seek the "broadest possible national consensus" for the changes.Erdogan made relations with the EU a key issue in his referendum campaign, lambasting Brussels for failing to make progress on Ankara's stalled accession talks and he accused Germany and the Netherlands of acting like the Nazis when they barred pro-government rallies.- 'Totally invalid' -Turkey's two main opposition parties said they would challenge the results over alleged violations.The pro-Kurdish Peoples' Democratic Party (HDP) said it would challenge two-thirds of the votes, saying: "There is an indication of a 3-4 percentage point manipulation of the vote."Republican People's Party (CHP) chief Kemal Kilicdaroglu said the actions of the election authorities "caused the referendum's legitimacy to be questioned" insisting that the 'No' side had won at least 50 percent of votes cast."Believe me, this election is not over," deputy CHP leader Erdal Aksunger told CNN Turk, quoted by the Dogan news agency. "This is totally invalid. We are declaring this here."The opposition had already complained that the referendum was conducted on unfair terms, with 'Yes' posters ubiquitous on the streets and opposition voices squeezed from the media.Closely watched on Monday will be the initial assessment of the international observer mission of the OSCE Office for Democratic Institutions and Human Rights (ODIHR) and the Parliamentary Assembly of the Council of Europe (PACE).- 'Robust and muscular' -Erdogan again warned Brussels he would sign any bill agreed by parliament to reinstate capital punishment, a move that would automatically end Turkey's EU bid.If the opposition failed to support the bill, Erdogan said another referendum could be held on reinstating the death penalty.Western reactions to the referendum will be crucial after Erdogan accused Turkey's allies of failing to show sufficient solidarity in the wake of the failed coup."We would like other countries and institutions to show respect to the decision of the nation," Erdogan said.The new system would dispense with the office of prime minister and centralise the entire executive bureaucracy under the president, giving Erdogan the direct power to appoint ministers.It is due to come into force after elections in November 2019. Erdogan, who became president in 2014 after serving as premier from 2003, could then seek two more five-year terms."I don't think he (Erdogan) will reverse course. I don't think Erdogan will change the robust and muscular approach to politics that he has adopted so far," said Fadi Hakura, Turkey expert at London-based Chatham House think tank.
World Exiled Russian opposition figure supports Putin foe for presidency
AFP
Sat, Apr 15 1:58 PM PDT
Moscow (AFP) – Kremlin critic and former oil baron Mikhail Khodorkovsky on Saturday threw his support behind Russian President Vladimir Putin's foe Alexei Navalny for Russia's 2018 presidential election.Khodorkovsky, who was released by Russia in December 2013 after a decade in jail and now lives in exile in Western Europe, also announced his desire to quit the leadership of his Open Russia foundation."Today in Russia, there are no legal structures other than Open Russia and the FBK (the Anti-Corruption Fund created by Navalny) proposing a policy different from the one followed by the authorities," Khodorkovsky told a conference in Tallinn, according to Open Russia's website.Navalny is the Kremlin's main opponent.The anti-corruption blogger intends to challenge Russian President Vladimir Putin at the next presidential election, but his candidacy could be hampered by his five-year suspended prison sentence for embezzlement.Khodorkovsky, former head of oil giant Yukos, who served his lengthy jail sentence for tax evasion, announced last September that he would not run for the Russian presidency in 2018 but that he would finance a campaign that offered an alternative to Putin if the president decided to run for a fourth term.Turning to the leadership of his pro-European Open Russia movement, he added that he intended to step down as its president."I think that Russian society is ripe for a model without a figurehead, which is why our organisation is founded on a model in which the president changes each year," he said.
Mass evacuation in Syria to proceed after blast kill 68 kids
BASSEM MROUE,Associated Press 12 hours ago
BEIRUT (AP) — More than 3,000 Syrians were expected to be evacuated Sunday from four areas as part of a population transfer that was briefly stalled a day earlier by a deadly blast that killed more than 120 people, many of them government supporters.As the evacuations were expected to begin Sunday, shells fired by the Islamic State group on government-held parts of the eastern city of Deir el-Zour wounded two members of a Russian media delegation visiting the area, according to state-run Syrian news agency SANA. Russia is a main backer of Syrian President Bashar Assad and Russian journalists enjoy wide access in government-held parts of the country.The United Nations is not overseeing the transfer deal, which involves residents of the pro-government villages of Foua and Kfarya and the opposition-held towns of Madaya and Zabadani. All four have been under siege for years, their fate linked through a series of reciprocal agreements that the U.N. says have hindered aid deliveries.Rami Abdurrahman, who heads the Britain-based Syrian Observatory for Human Rights, and Hezbollah's Al-Manar TV said 3,000 people will be evacuated from Foua and Kfarya, while 200, the vast majority of them fighters, will be evacuated from Zabadani and Madaya.Abdurrahman said Saturday's blast —which hit an area where thousands of pro-government evacuees had been waiting for hours — killed 126. He said the dead included 109 people from Foua and Kfarya, among them 80 children and 13 women.No one has claimed the attack, but both the Islamic State group and the al-Qaida-affiliated Fatah al-Sham Front have targeted civilians in government areas in the past.A wounded girl, who said she lost her siblings in the blast, told Al-Manar TV from her hospital bed that children who had been deprived of food for years in the two villages were approached by a man in the car who told them to come and eat potato chips. She said once many had gathered, there was an explosion that tore some of the children to pieces.After the blast, some 60 buses carrying 2,200 people, including 400 opposition fighters, entered areas held by rebels in the northern province of Aleppo, Abdurrahman said. More than 50 buses and 20 ambulances carrying some 5,000 Foua and Kfarya residents entered the government-held city of Aleppo, Syrian state TV said, with some of them later reaching a shelter in the village of Jibreen to the south.U.N. relief coordinator Stephen O'Brien said he was "horrified" by the deadly bombing, and that while the U.N. was not involved in the transfer it was ready to "scale up our support to evacuees."He called on all parties to uphold their obligations under international humanitarian and human rights law, and to "facilitate safe and unimpeded access for the U.N. and its partners to bring life-saving help to those in need."Residents of Madaya and Zabadani, formerly summer resorts, joined the 2011 uprising against President Bashar Assad. Both came under government siege in the ensuing civil war. Residents of Foua and Kfraya, besieged by the rebels, have lived under a steady hail of rockets and mortars for years, but were supplied with food and medicine through military airdrops.Critics say the string of evacuations, which could see some 30,000 people moved across battle lines over the next 60 days, amounts to forced displacement along political and sectarian lines.In eastern Syria, an airstrike by the U.S.-led coalition on the village of Sukkarieh near the border with Iraq killed eight civilians who had earlier fled violence in the northern province of Aleppo, according to Deir Ezzor 24, an activist collective, and Sound and Picture Organization, which documents IS violations.Airstrikes by the U.S.-led coalition had killed dozens of civilians over the past several weeks as the battle against the extremists intensifies in Syria and Iraq.
World North Korea is not Syria: Why the US cannot attack Pyongyang
Rachel Middleton,
International Business Times
2 hours 15 minutes ago
US President Donald Trump is unlikely to launch an attack against North Korea, despite the rogue nation doing its best to provoke its neighbours with missile tests – even failed ones.The South China Morning Post has listed five reasons why the US cannot attack North Korea, and one of them goes as far back as 1955.
Trending:
Killings at Turkish polls as Erdoğan bids for new sweeping powers
The newspaper notes that the situation in North Korea is not the same as Syria, where Trump launched an attack against an airbase after accusing Syrian President Bashar al-Assad of bombing his own people with chemical weapons.Any military action in North Korea "carries far greater risks".
Don't miss:
Mike Pence pledges support to South Korea after failed North Korea missile launch
Technically, the Korean peninsula remains in a state of war although fighting stopped on 27 July 1955 with an armistice signed by Washington and Beijing and endorsed by the UN. If the US made good on its threat and attacked North Korea it would breach the treaty.Unlike Syria, North Korea's nuclear weapons capabilities have matured in recent years, added the newspaper. The rogue nation has conducted five nuclear tests and has claimed to have successfully "miniaturised" nuclear warheads, although that has not been independently verified.
Most popular:
UK Coptic bishop plays down 'fear' despite global persecution rise
Despite some tests failing, military experts believe that Pyongyang has learned from the setbacks and might be able to develop a nuclear-tipped, intercontinental ballistic missile that can reach the US within the next four years- during Trump's presidency.Another problem the US would face if it attacked North Korea is China. China and North Korea have signed the Sino-North Korean Mutual Aid and Cooperation Friendship Treaty under which both parties are obliged to offer immediate military and other assistance in the event of an outside attack. The treaty has been extended twice and is valid until 2021.China is insisting on a peaceful resolution for fear that its border would be pierced by hundreds of thousands of refugees from North Korea if the Kim Jung-un regime collapsed.
"From a geopolitical point of view, Beijing views North Korea as a buffer zone from the potential encroachment by powers aligned with the US, including Japan and South Korea," the SCMP said.Neither South Korea nor Japan want a military provocation. Seoul, the capital of South Korea, is only 40km from the border and hence "particularly vulnerable to a North Korean attack..Sam Gardiner, a former US Air Force colonel told The Atlantic magazine that the US "cannot protect Seoul, at least for the first 24 hours of a war and maybe for the first 48".Even former US president Bill Clinton was put off from bombing the Yongbyon reactor in 1994 after defence officials told him that the intensity of combat with Pyongyang "would be greater than any the world has witnessed since the last Korean War".