New details emerge on Moscow real estate deal that led to the Trump-Kremlin alliance  Michael Isikoff Chief Investigative Correspondent Yahoo News•
Donald Trump, Aras Agalarov and Rob Goldstone. (Photos: Sean Gallup/Getty Images; Sergei SavostyanovTASS via Getty Images; Adriel Reboh/Patrick McMullan via Getty Images)While in Moscow for the Miss Universe pageant in November 2013, Donald Trump entered into a formal business deal with Aras Agalarov, a Russian oligarch close to Vladimir Putin, to construct a Trump Tower in the Russian capital. He later assigned his son, Donald Trump Jr., to oversee the project, according to Rob Goldstone, the British publicist who arranged the controversial 2016 meeting between the younger Trump and a Kremlin-linked lawyer.Trump has dismissed the idea he had any business deals in Russia, saying at one point last October, "I have nothing to do with Russia."But Goldstone's account, provided in an extensive interview in March in New York, offers new details of the proposed Trump project that appears to have been further along than most previous reports have suggested, and even included a trip by Ivanka Trump to Moscow to identify potential sites.According to the publicist, the project — structured as a licensing deal in which Agalarov would build the tower with Trump's name on it — was only abandoned after the Russian economy floundered. The economic downturn resulted in part from sanctions imposed by the U.S. and the European Union following Russia's intervention in Ukraine.Goldstone's version of events implies a possible explanation for Trump's interest in lifting sanctions on Russia — a policy move his administration quietly pursued in its first few weeks until it ran into strong opposition from members of Congress and officials within the State Department.Goldstone placed Donald Trump Jr. at the center of the Trump Tower deal, saying that his father assigned his eldest son the job of moving the project to fruition after the signing of a "letter of intent" between the Trump Organization and Agalarov's company, the Crocus Group. It is not clear if the future president personally signed the "letter of intent," but Michael Cohen, a longtime lawyer for Trump, told Yahoo News Tuesday that it would have been standard practice for Trump, as president of the Trump Organization, to do so.
Donald Trump Jr. at the Republican National Convention in Cleveland, July 18, 2016. (Photo: Jonathan Ernst/Reuters)Goldstone also said that Ivanka Trump flew to Moscow in 2014 and met with Emin Agalarov, the oligarch's son, a pop singer and a vice president of the Crocus Group, to identify sites for the project. Confirming Goldstone's account, Mother Jones late Tuesday published a photo of Ivanka Trump and Emin Agalarov in Moscow in Feb. 2014.Trump "put Donald Jr. in charge and then Ivanka went to Moscow to look around for what the location would be," Goldstone said. But the plans for a Trump Tower fell apart because "the economy tanked in Russia'' after the imposition of Western sanctions, he said.Goldstone, a British-born publicist who once did worked for Michael Jackson, represents Emin Agalarov in his music career and was present in Moscow during the Miss Universe pageant when the Trump Tower project was discussed by Trump and Aras Agalarov. His role has gotten new attention this week after the New York Times disclosed that Goldstone emailed Donald Trump Jr. in June 2016 urging him to meet with a Russian lawyer to receive damaging information from the Russian government about Hillary Clinton.Trump Jr. released his email exchange with Goldstone on Tuesday, confirming the key role of the publicist and, more significantly, the Agalarovs, in offering negative information about Clinton on behalf of the Kremlin. "Emin just called and asked me to contact you with something very interesting," Goldstone wrote Trump Jr. on June 3, 2016.A chief prosecutor in Russia "offered to provide the Trump campaign some official documents and information that would incriminate Hillary and would be very useful to your father. This is very high-level and sensitive information but is part of Russia and its government's support of Mr. Trump — helped along by Aras and Emin."Alan Garten, the chief lawyer for the Trump Organization, did not respond to requests for comment. In a telephone interview, Cohen, who is Trump's personal lawyer, did not dispute any specific details of Goldstone's account but offered to check them. He did not later respond. But Cohen adamantly rejected the idea there was anything improper about meeting with the Russian lawyer, Natalia Veselnitskaya, given that Trump Jr. was told she might have information helpful to Trump's campaign. "The purpose of the election is to win," said Cohen, adding, "Why is this any different?" than the unverified "dossier" on Trump's ties to Russia prepared by a former British spy working for a Washington research firm hired by his political opponents.Trump Jr., accompanied by then campaign manager Paul Manafort and senior adviser Jared Kushner, met with the Russian lawyer at Goldstone's request to review the information she purported to have. "He met with her face-to-face to determine" the validity of the advertised documents and "no information was provided."Goldstone had played a key role in helping to broker the initial decision by the Miss Universe pageant — then owned by the Trump Organization and NBC — to hold its 2013 contest in Moscow.
According to Goldstone, he pitched the idea to Paula Schugart, then chief executive of Miss Universe, as a way to promote the music career of Emin Agalarov. Schugart was initially hesitant because of concerns about red tape in Moscow. "What if you had a  partner who owns the biggest venue in Moscow?" Emin Agalarov responded, according to Goldstone's account. "Between myself and my father, we can cut through the red tape. You have a new partner."The plans to bring Miss Universe to Moscow was announced by Trump in Las Vegas in June 2013 during the Miss USA contest. Trump at the time quickly expressed hope that it would lead to a meeting with Putin. "Do you think Putin will be going to the Miss Universe pageant in November in Moscow — if so, will he become my new best friend?" Trump had tweeted at the time.A meeting with Putin never came off during Trump's Moscow trip; the Kremlin expressed regret that the Russian president wouldn't be able to fit it into his schedule on the day in question because he had a meeting with the King of Holland. But the trip gave Trump an opportunity to discuss the plans for the Trump Tower in Moscow with Agalarov, a billionaire who has been called "the Trump of Russia" and "Putin's builder" because of massive construction projects he has done on behalf of the Kremlin. Just 10 days before the Miss Universe pageant, Putin had given Agalarov a prestigious award at a ceremony at the Kremlin: Order of Honor of the Russian Federation.In an interview with Forbes this March, Emin Agalarov confirmed the plans for Trump Tower in Moscow. "We thought that building a Trump Tower next to an Agalarov tower — having the two big names — could be a really cool project to execute," Emin Agalarov told the magazine. Agalarov blamed the abandonment of the project on Trump's decision to run for president, rather than the imposition of sanctions. "He ran for president, so we dropped the idea," Agalarov said. "But if he hadn't run, we would probably be in the construction phase today."But Emin Agalarov said he and the now president have continued to stay in touch, saying that Trump sent a handwritten note to the Agalaovs in November after they congratulated him on his victory. "Now that he ran and was elected, he does not forget his friends."
Long his father's attack dog, Trump Jr. now in eye of storm
JONATHAN LEMIRE Associated Press•
Donald Trump Jr. is interviewed by host Sean Hannity on his Fox News Channel television program, in New York Tuesday, July 11, 2017. Donald Trump Jr. has long been his father's id, the brawler who has helped fuel the president's pugilistic instincts and stood firm as one of his fiercest defenders. Now the president's eldest son is at the center of the firestorm over Russian connections swirling around his father's administration and trying to fight off charges that he was open to colluding with Moscow to defeat Hillary Clinton. (AP Photo/Richard Drew)NEW YORK (AP) — Donald Trump Jr. has long been his father's id, the brawler who has helped fuel the president's pugilistic instincts and stood firm as one of his fiercest defenders. Now the president's eldest son is at the center of the firestorm over Russian connections swirling around his father's administration and trying to fight off charges that he was open to colluding with Moscow to defeat Hillary Clinton.Offered Russian help in defeating Hillary Clinton last year, Don Jr. jumped at the offer: "I love it," he emailed.That was in an email chain the younger Trump released Tuesday in which an associate arranging a June 2016 meeting between the president's son and a Kremlin-linked lawyer promised damaging information about Clinton.Earlier this week, when news about the meeting first surfaced, Trump Jr. tweeted that he just "had to listen" when he was offered information about his father's Democratic opponent.Trump Jr., 39, was one of his father's loudest defenders throughout the campaign, his role ascendant at the time of the meeting last summer.But when his father was elected, Trump Jr. stayed in New York to run the family's sprawling business along with his brother, Eric. And from that vantage point, he has been a loud and constant defender of his father, firing off broadsides on Twitter and never shying away from a fight against the "fake news" media. Just Monday, he retweeted a video of a doctored clip in which the president's face is superimposed over a character shooting a Russian jet bearing a CNN logo."One of the best I've seen," Trump Jr. tweeted of the video.In the email chain released Tuesday, Trump Jr. seemed receptive to receiving damaging information from a foreign government. He released a statement in which he denied any wrongdoing.His father, conspicuously quiet as details of the meeting have rolled out over the last few days, issued a terse a statement Tuesday in which he said: "My son is a high quality person and I applaud his transparency." Deputy White Press Secretary Sarah Huckabee Sanders said she did not know when the president last spoke to his eldest son.Trump Jr. has vowed to push back against the charges of collusion, believing that an anti-Trump media is trumping up accusations against him as a way to damage his father and is willfully ignoring his claim that he did not receive any information from the Russian lawyer, according to several of the real estate heir's confidants.He has settled on a strategy out of his father's playbook: a strong counter-attack. He released the emails himself — although just minutes before they were set to be published by The New York Times — and appeared on Sean Hannity's program late Tuesday to defend himself in a typically Trump-friendly space.Trump Jr. and his father were not always close: The younger Trump, who admits to a wild post-college period before he cut back on his drinking, didn't speak to his father for a year after Trump divorced his mother, Ivana. But he grew into an executive role at the Trump Organization, was a co-star on "The Apprentice" and during his father's campaign was an active campaign presence, criss-crossing the country to speak in small towns and delivering a well-received speech at the national convention in Cleveland.An avid big game hunter, he also was seen as the campaign's emissary to Trump's most conservative followers, particularly those online, due to his aggressive pushbacks against Democrats and the media, as well as an embrace of the conservative fringe ethos of the alt-right.Last fall, Trump Jr. tweeted images of Pepe the Frog, a cartoon character whose image has been used by white supremacists, as well as imagery which likened Syrian refugees to poisonous Skittles candy.And while he and his brother say they have instituted a firewall that separates his father's business from the White House, Trump Jr. has eagerly defended his father's presidency, live-tweeting attacks on ex-FBI Director James Comey's Senate testimony and amplifying his father's war on unfavorable news coverage."Don was an asset to the campaign, a sportsman, an entrepreneur, a guy's guy," said Sam Nunberg, a former Trump campaign adviser. "And Don is a true conservative who really understood the movement his father started and its messages."The sprawling Russia investigation can only be a distraction to Trump Jr. as the Trump Organization is rolling out two new hotel chains in the U.S. that are a break from the opulent high-priced hotels the company now owns. With both new chains, the Trump Organization is neither building nor financing the hotels and so will need to partner with real estate developers and investors. That has drawn criticism from government ethics experts who worry these partners may be hoping to gain favor with the new administration on policy or regulation in cutting deals with the president's company._Associated Press Business Writer Bernard Condon contributed reporting._Follow Lemire on Twitter at http://twitter.com/@JonLemire
Politics Russian Lawyer Who Met With Trump Jr.: I Didn't Have Clinton Info They Wanted
Russian Government Sought to Aid Trump's Candidacy, According to Email  —  WASHINGTON — Before arranging a meeting with a Kremlin-connected Russian lawyer he believed would offer him compromising information about Hillary Clinton, Donald Trump Jr. was informed in an email that the material … …by KEIR SIMMONS, RACHEL ELBAUM and ANDREW RAFFERTYMOSCOW — The Russian lawyer who met with Donald Trump Jr. during the presidential campaign denied in an exclusive interview with NBC News that she had any connection to the Kremlin and insisted she met with President Donald Trump's son in 2016 to discuss sanctions between Russia and the U.S., not to hand over information about Hillary Clinton's campaign."I never had any damaging or sensitive information about Hillary Clinton. It was never my intention to have that," Natalia Veselnitskaya said.
Joe Scarborough Announces On Stephen Colbert's 'Late Show' That He's Done With GOP  
Lisa de Moraes Deadline•'Morning Joe' Ratings Surge Following Trump's Twitter Attack Against Hosts | THR News
Former Republican Congressman Joe Scarborough tells Stephen Colbert that he's leaving the GOP because he can't take any more of the thousand excuses the party has come up with for "overlooking" the things Donald Trump has said and done.Noting that Scarborough used to be pals with Trump, Colbert wonders why others in the GOP haven't changed their attitude, as they learned more about Trump since he announced he was running for the White House."Inexplicable," the "Morning Joe" host agreed, adding it was "well before Donald Trump was elected president that my party has betrayed their core values. Back in December of 2015, when Donald Trump supported a Muslim ban." "In February, when he pretended he did not know who David Duke was, and what the KKK did, you didn't have Republcans saying 'I can never support Donald trump because he's racist,'" Scarborough scoffed.And they've come up with a thousand other excuses to overlook things Trump has said and done, Scarborough continued, like saying a judge could not be fair to him in a lawsuit because the judge is Hispanic."Time and time again, they look the other way. And they're doing the same now. It's disgusting, and you have to ask yourself, 'What exactly is the Republican Party willing to do? How far are they willing to go? How much of this country and our values are they willing to sell out?'""I am a Republican but I'm not going to be a Republican any more; I've got to become an Independent," said Scarborough, who represented Florida in the House from '95 to 2001.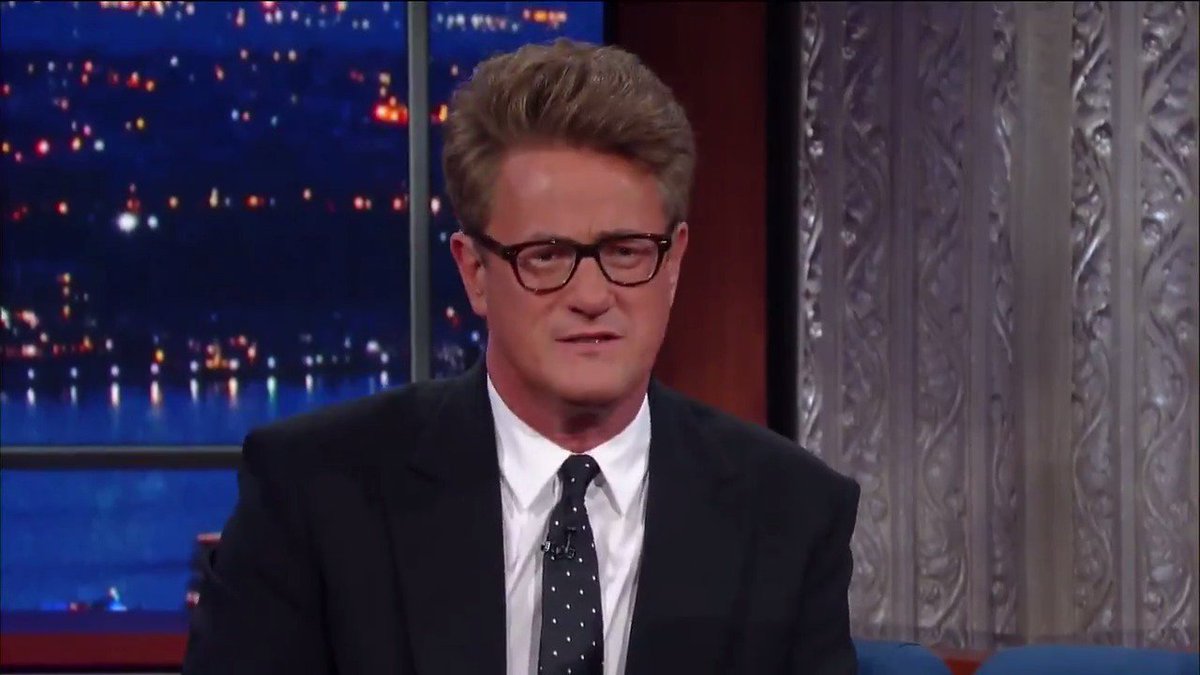 Follow
The Late Show @colbertlateshow.@JoeNBC announced that he's leaving #GOP to become an Independent. @StephenAtHome's full interview with Joe and @morningmika airs tonight!