U.S.Wildfire forces evacuation of California town near Yosemite
 By Al Golub,Reuters 21 hours ago
By Al Golub MARIPOSA, Calif. (Reuters) – The 2,000 residents of a small California town in the foothills flanking Yosemite National Park were ordered to evacuate on Tuesday as crews battled an out-of-control wildfire that has already destroyed eight structures.Residents of tiny Mariposa, in the Sierra Nevada mountains southwest of Yosemite in central California, were ordered to flee after flames from the so-called Detwiler Fire jumped over Highway 140 and marched toward the community, threatening 1,500 structures."Fire activity continued to grow throughout the night due to ample fuel, and steep terrain," the California Department of Forestry and Fire Protection (Cal Fire) said on its tracking website. "Today firefighters expect unfavorable weather conditions and aggressive fire behavior."A photograph posted on social media showed empty downtown streets as an orange and pink glow from the fire hovered on the horizon. Downtown Mariposa had its power cut off, according to one reporter on a Fox affiliate.Cal Fire said utility lines supplying power to the national park were also in the path of the flames.The Detwiler Fire, which broke out on Sunday afternoon and has since blackened 25,000 acres of forest land, was only about five percent contained as of Tuesday afternoon, according to Cal Fire, and posed a threat to several other small foothill communities."The fire encroaches on culturally and historically sensitive areas," Cal Fire said in a status report on Tuesday night.The fire has forced the evacuation of about 5,000 residents in the area, the California Interagency Incident Management Team said in a tweet."I haven't seen these conditions in a long time, it's a wind-driven, slope-driven, fuel-driven fire," Jerry Fernandez with Cal Fire told an ABC affiliate in Fresno.Governor Jerry Brown declared a state of emergency for Mariposa County on Tuesday as the fire was approaching. The proclamation sends resources to the area.The Detwiler was among more than three dozen major, out-of-control wildfires burning across the U.S. West as windy, dry conditions prompted authorities to issue evacuation orders and red flag warnings in California, Oregon and Nevada.Flames have charred more than twice as much land in California so far in 2017 compared with the same time last year, according to Cal Fire.(Reporting by Al Golub; Additional reporting and writing by Brendan O'Brien in Milwaukee and Dan Whitcomb in Los Angeles; Editing by Richard Balmforth, Sandra Maler and Michael Perry)
California wildfire explodes in size as blazes scorch U.S. West
By Stephen LamReuters
California wildfire explodes in size as blazes scorch U.S. WestBy Stephen Lam MARIPOSA, Calif. (Reuters) – A wildfire that has forced thousands of Californians to flee their homes exploded in size on Wednesday, threatening a picturesque gold rush town outside Yosemite National Park as dozens of blazes scorched the U.S. West.More than 2,000 firefighters have contained just 7 percent of the Detwiler Fire, which is approaching the town of Mariposa and tiny communities in the foothills of the Sierra Nevada mountains, the Cal Fire state agency said on its website.The blaze has mushroomed to 48,000 acres (19,424 hectares), an increase of about 23,000 acres (9,307 hectares) compared with the day before. The fire has destroyed 29 structures and is threatening some 1,500 more structures, local media reported.Firefighters are facing "extreme and aggressive fire behavior" with solid walls of flame and sparks from the main blaze setting spot fires in grasslands, the California Department of Forestry and Fire Protection (Cal Fire) said.Flames have destroyed eight structures southwest of Yosemite National Park and the fire is threatening power lines to the park, but no one has been injured, Cal Fire said.The small communities of Coulterville and Greeley Hill were ordered evacuated on Wednesday.Mariposa's 2,000 residents were told to leave town on Tuesday after its power and water links were damaged. In total, nearly 5,000 people are under orders to vacate their homes, officials said.Many summer vacationers visit Mariposa, which is largely dependent on tourism.The town, taking its name from the Spanish word for butterfly, was founded during the California gold rush in the 19th century and is surrounded by pine-covered hillsides. It boasts the state's oldest law court, built in 1854 in a Greek Revival style and topped with a clock tower.The town's hospital, called the John C. Fremont Healthcare District, and its 14 patients did not evacuate, at the advice of fire officials, said the facility's interim CEO Matthew Matthiessen.Moving the mostly elderly patients could endanger their health, he added. "If we can keep them here and limit that stress and they're safe, then that's what we're going to do."The California blaze was among 37 active large fires spread across 12 western states as of Wednesday, according to the National Interagency Fire Center's website.Governor Jerry Brown declared a state of emergency for Mariposa County on Tuesday, dispatching resources to the area.(Additional reporting by Al Golub in Mariposa, Alex Dobuzinskis in Los Angeles, Brendan O'Brien in Milwaukee and Ian Simpson in Washington; Editing by Tom Brown, Andrew Hay and Himani Sarkar)
California wildfire explodes in size as blazes scorch U.S. West
By Stephen Lam Reuters
California wildfire explodes in size as blazes scorch U.S. WestBy Stephen Lam MARIPOSA, Calif. (Reuters) – A wildfire that has forced thousands of Californians to flee their homes exploded in size on Wednesday, threatening a picturesque gold rush town outside Yosemite National Park as dozens of blazes scorched the U.S. West.More than 2,000 firefighters have contained just 7 percent of the Detwiler Fire, which is approaching the town of Mariposa and tiny communities in the foothills of the Sierra Nevada mountains, the Cal Fire state agency said on its website.The blaze has mushroomed to 46,000 acres (18,000 hectares), an increase of about 20,000 acres (8,094 hectares) compared with the day before, and is threatening some 1,500 structures.Firefighters are facing "extreme and aggressive fire behavior" with solid walls of flame and sparks from the main blaze setting spot fires in grasslands, the California Department of Forestry and Fire Protection (Cal Fire) said.Flames have destroyed eight structures southwest of Yosemite National Park and the fire is threatening power lines to the park, but no one has been injured, Cal Fire said.The small communities of Coulterville and Greeley Hill were ordered evacuated on Wednesday.Mariposa's 2,000 residents were told to leave town on Tuesday after its power and water links were damaged. In total, nearly 5,000 people are under orders to vacate their homes, officials said.Many summer vacationers visit Mariposa, which is largely dependent on tourism.The town, taking its name from the Spanish word for butterfly, was founded during the California gold rush in the 19th century and is surrounded by pine-covered hillsides. It boasts the state's oldest law court, built in 1854 in a Greek Revival style and topped with a clock tower.The town's hospital, called the John C. Fremont Healthcare District, and its 14 patients did not evacuate, at the advice of fire officials, said the facility's interim CEO Matthew Matthiessen.Moving the mostly elderly patients could endanger their health, he added. "If we can keep them here and limit that stress and they're safe, then that's what we're going to do."The California blaze was among 37 active large fires spread across 12 western states as of Wednesday, according to the National Interagency Fire Center's website.Governor Jerry Brown declared a state of emergency for Mariposa County on Tuesday, dispatching resources to the area.(Additional reporting by Al Golub in Mariposa, Alex Dobuzinskis in Los Angeles, Brendan O'Brien in Milwaukee and Ian Simpson in Washington; Editing by Tom Brown and Andrew Hay)
U.S.Lightning strike in Yosemite lights California town on fire New York Post 6 hours ago
The Detwiler Fire burns in the hills above Mariposa, California. More than 1,400 firefighters battled the blaze that burned more than 25,000 acres, forced hundreds to evacuate and destroyed at least eight structures. California has suffered widespread fires in recent days, with a lightning strike near Yosemite National Park sparking a blaze that destroyed more than 10 square miles of forest. …Lightning strike in Yosemite lights California town on fireJuly 19, 2017The Detwiler Fire burns in the hills above Mariposa, California. More than 1,400 firefighters battled the blaze that burned more than 25,000 acres, forced hundreds to evacuate and destroyed at least eight structures. California has suffered widespread fires in recent days, with a lightning strike near Yosemite National Park sparking a blaze that destroyed more than 10 square miles of forest.
Wildfire forces evacuation of 2,000 from California town
KARMA ALLEN,
Good Morning America
14 hours ago
Unfortunately, this video is not available in your region.SS-100-202An entire California town was evacuated on Tuesday evening due to a 25,000-acre wildfire that had already destroyed eight structures, officials said.California fire officials issued an evacuation order for the town of Mariposa, which has a population of about 2,000, on Tuesday as the wildfire threatened to burn some 1,500 homes and structures, according to fire officials.The wildfire, dubbed the Detwiler Fire by authorities, ignited on Sunday. It was 5 percent contained as of late Tuesday evening, according to fire officials.Officials said the fire also threatens to damage power lines that feed to the Yosemite National Park, located in the state's Sierra Nevada mountains.California Governor 
Jerry Brown
 declared a state of emergency in Mariposa County on Tuesday due to the fire, which he said had damaged power, water and communication infrastructure and forced the closure of major highways and local roads in the area."I don't think we can emphasize enough how erratic and active this fire activity is — especially with this fire," Mariposa County Sheriff Doug Binnewies told ABC affiliate KFSN on Tuesday. "It's done stuff that we've never seen before."More than 1,400 fire personnel from multiple agencies were dispatched to fight the "extreme and aggressive fire" via air and ground, but the battle was complicated by severe temperatures and humidity, fire officials said."When you add the challenge that we're in the foothills– when you add the slopes and grades and the temperatures we're dealing with, the humidity we're dealing with– it's a full on the challenge," Cal Fire PIO Isaac Sanchez told KFSN.Officials said the fire threatened several communities surrounding Mariposa, located about 160 miles east of San Francisco, as well as some "culturally and historically sensitive areas."
World Social media 'erupts' with images of active volcano CNN Tue, Jul 18 8:09 PM PDT "The lava was shooting up to 300 meters (about 980 feet) into the air, and was spilling down the side of the volcano," Guay said. "The volcano would also throw hot boulders that were probably about the size of a car through the air, which was pretty incredible to see." It was an amazing sight, Guay said. "I assumed it might show a little bit of lava for a few minutes if we we're lucky and that would be that. (I) totally didn't expect it to be exploding for hours on end." Fernando de Dios, a 24-year-old from Guatemala, said he posted a video of the volcano after he and a group of friends hiked it on Sunday. Coordinadora Nacional para la Reducción de Desastres, the government agency tasked with …By Jessica Suerth, CNNUpdated 2032 GMT (0432 HKT) July 19, 2017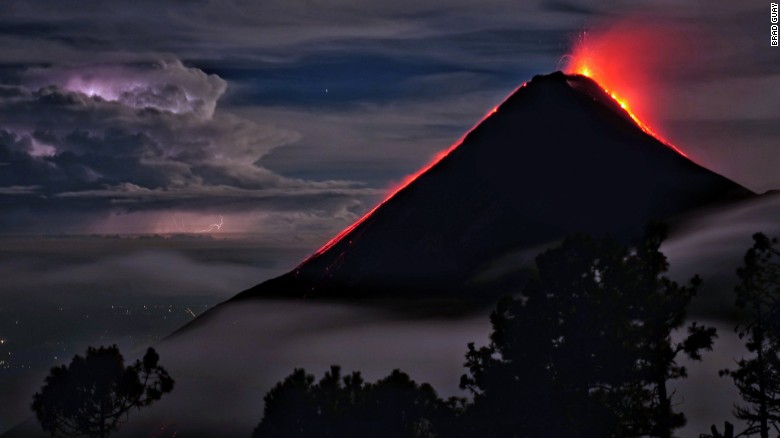 Now PlayingIt's lit! These drones film…
(CNN)Guatemala's Volcán de Fuego rumbled to life earlier this month — and social media has been "erupting" with close-up photos andvideos of the active volcano.The volcano spewed ash and lava and made the ground shake for days before it finally erupted on July 11, the sixth time it's done so in 2017.'Exploding for hours on end'Brad Guay, 22, was visiting Guatemala from Hoboken, New Jersey, on July 9, when he woke up to "the ground under my tent shaking and a series of low rumbles, punctuated by occasional louder explosions."
Guay was camping on another volcano called Acatenango, which is about a mile and a half away, when the Volcán de Fuego began erupting. He captured a photo of the eruption, showing the volcano piercing the cloudy sky with lava.
Esquire Editors
Esquire
From Esquire
The newest potentially dangerous swirl of hot air is a tropical storm in the Atlantic named Don and, according to the National Hurricane Center, is forecast to be "small," "not particularly well organized," and likely to dissipate in 72 hours. People on Twitter couldn't help but notice that this sounds a lot like someone else with the name Don.
Follow
Jon Passantino
Follow
Richard Hine
@richardhine
National Weather Service releases first picture of Tropical Storm Don
Follow
The storm's full name is not Donald-it goes only by Don-and it's serendipitous naming is a total coincidence. Tropical storms and hurricanes are named several years in advance in a non-political way by an international committee of meteorologists. This is the second time there's been a Tropical Storm Don in the Atlantic-2011's Don fizzled out before it hit land.Storm watches and warnings have been issued for Grenada, St. Vincent and the Grenadines and St. Lucia. Don is expected to drop three to six inches of rain across Barbados and the southern Windward Islands through Wednesday morning, according to the St. Lucia Times.Tropical Storm Don is not expected to reach Hurricane status.The Associated Press contributed to this report.
'Don' and 'Hilary' storm near US
AFP
There have been no hurricanes yet this year in the Atlantic, but three already in the Pacific (AFP Photo/JOE RAEDLE)Washington (AFP) – Off the Atlantic coast, Tropical Storm Don is thundering away. Meantime in the Pacific, a roaring tropical depression will be named Hilary if it grows into a tropical storm, according to the National Hurricane Center (NHC).To have dueling storms with the names Don and Hilary so soon after the bruising presidential election of 2016 might leave some Americans muttering "too soon." But government forecasters insist their joint appearance has nothing to do with politics.Since 1953, the NHC has kept six different lists of storm names, used over and over in rotation. Thus, the 2017 name list will be back in 2023. And different series are used in different regions, resulting in Don roiling Atlantic waters while Hilary whips things up in the Pacific.American news media and internet commentators have not missed the chance to make the most of stormy references to former presidential rivals Donald Trump and Hillary Clinton.The NHC describes Don as "small," with "well-defined surface circulation" but "not particularly well-organized."Since first appearing Monday, Don has led to weather alerts in Barbados as well as Trinidad and Tobago.But it dissipated rapidly overnight Tuesday without ever reaching hurricane status. Its maximum sustained winds of 50 miles (80 kilometers) per hour have fallen short of the 74 miles per hour needed for that classification.Meanwhile, a tropical depression was developing in the Pacific. Designated as storm Eight-E, it will become Tropical Storm Hilary only if it reaches wind strengths of at least 39 miles per hour.A 1500 GMT NHC bulletin said the storm is carrying wind speeds of 34 miles per hour — with little change expected in the coming hours — and poses no immediate threat to land. Its circulation was dubbed "irregular."There have been no hurricanes yet this year in the Atlantic, but three already in the Pacific.
Flash floods force evacuations from British coastal town
Reuters
A helicopter crew rescue a stranded couple from a flooded house in Coverack in Cornwall, Britain July 17, 2017, in this image obtained from social media. Picture taken July 17, 2017. Maritime and Coastguard Agency/Handout via REUTERS ATTENTION EDITORS – THIS IMAGE WAS PROVIDED BY A THIRD PARTY. MANDATORY CREDIT. NO RESALES. NO ARCHIVE(Reuters) – A person trapped in their home by rising flood waters was lifted to safety by a Coast Guard helicopter crew after flash floods caused chaos in the Cornish town of Coverack on England's south west coast.The rescue was shown in a video released by Britain's Maritime and Coast Guard agency. It showed a rescuer winch down and pick up an unidentified individual from the roof of a house, surrounded by flood waters, and carry them to safety.Dozens of residences were evacuated and people have been told to avoid the area due to "major flooding", local media reported.The UK Met Office said the flooding followed heavy thunderstorms and rain in the south western counties of Cornwall and Devon on Tuesday afternoon.Britain's Environment Agency said 4 inches (10 cm) of rain fell over two to three hours, and residents told local media that large hail stones peppered the area.(Writing by Mark Hanrahan in London; Editing by Keith Weir)
Deaths of 9 in Arizona raise questions about flood warnings
ANITA SNOW and ANGIE WANG Associated Press9 Dead, 1 Still Missing in Arizona Flash Flood Associated Press Videos
Scroll back up to restore default view.TONTO NATIONAL FOREST, Ariz. (AP) — The search for a man who was swept away in a flash flood that killed nine others at a swimming hole in central Arizona heads into its third day Wednesday.Meanwhile, there are questions about whether the government should have done more to warn the public about the dangers of floodwaters in wilderness areas.The nine people who died and a man who remains missing were swept away Saturday after a torrent of water from a thunderstorm upstream roared through the Tonto National Forest. Officials say members of an extended family who died in the flood had no warning about the approaching surge of water.The storm dumped up to 1.5 inches (3.8 centimeters) of rain in an hour, prompting a flash flood warning from the National Weather Service. Though the service sent out a flash-flood warning over cellphone networks, service in the remote area is patchy at best. Unless they had a weather radio, the swimmers would have been unaware.Officials have said people headed to wilderness areas should check weather alerts ahead of time to determine whether it's safe. They note that it's hard to predict where rain will fall in the desert Southwest, and people should know that heavy downpours can cause flash flooding.That hasn't stopped people from saying more should be done to protect the public from flash floods.Steve Stevens, a volunteer firefighter with the nearby Water Wheel Fire and Medical District, said there needs to be a way for visitors to get flash flood alerts on their phones.Stevens, who has lived in the area for 20 years, said the fire station and local church have extenders that provide cell service to the area around those two locations, but it needs to cover the whole forest.There is no system currently in place to specifically warn people about the potential dangers of flash floods at the Tonto National Forest, said Forest Service spokeswoman Carrie Templin."If our employees happen to be out in the forest at the time, and they hear a weather warning, they share that with members of the public they may cross," she said. There are also signs posted around the forest that warn of hazardous conditions, including potential flash floods.Templin said there isn't a more comprehensive system in place to alert people because the forest is more than 3 million acres and there are over 5,000 roads.Because there is a potential for a flash flood at any time, it would be "incredibly difficult, if not impossible" to close parts of the forest when flash flood warnings are issued, Templin said.Detective Sgt. David Hornung of the Gila County Sheriff's Office said his agency has no plans to add warning signs or close the forest during monsoon season."I'm not trying to be negative, but you could put up all the signs you want, and people are going to still want to come in here and recreate. We have a hard time, when they close the forest due to fire restrictions, of keeping people out," Hornung said.Crews spent four hours Tuesday searching for 27-year-old Hector Miguel Garnica, whose wife, three young children and extended family members were killed in the flood. His family gathered at the mountain swimming hole about 100 miles (160 kilometers) northeast of Phoenix to celebrate his wife's birthday.The search intensified Tuesday as more than 75 personnel with specially trained dogs and a drone combed through huge clumps of muddy tree branches and other debris along a 2-mile stream bed.Crews were facing difficult conditions in their search at the Tonto National Forest, where the stream bed was coated with thick mud and searchers made slow progress in past days trying to move through muck up to their knees. The debris is up to 6 feet deep in some spots.For the second consecutive day, the search was suspended over concerns that afternoon thunderstorms moving through the area Tuesday would cause more flooding. It's scheduled to resume Wednesday morning.Crews had hoped that Garnica would still be alive. But Arizona Department of Forestry and Fire Management spokeswoman Tiffany Davila said crews who have searched for Garnica for three days now believe they are working a recovery effort."Our goal is to recover Mr. Garnica and bring closure to his family as soon as possible," said Incident Commander trainee Brannon Eager._AP reporters Clarice Silber and Paul Davenport in Phoenix and Michael Balsamo in Los Angeles also contributed to this report.
Northwest utility Avista sold to Canadian company for $5.3 billion  
The Upper Falls and Lower Falls dams on the Spokane River are operated by Avista, which supplies power to Eastern Washington, Oregon, Idaho and Juneau, Alaska. (Amy Sinistrerra / The Associated Press, 2006)  The deal is expected to close in the second half of 2018, and is still subject to approval from common shareholders and various regulatorBy Seattle Times business reporter Avista, a major energy provider in the Northwest, is being sold for $5.3 billion to a Canadian energy company.Hydro One, a public company based in Toronto, announced Wednesday it is paying cash for Avista, which provides natural gas and electric service to about 350,000 homes, businesses and other customers across Eastern Washington, northern Idaho, south and eastern Oregon and Juneau, Alaska.The companies said the sale will create North America's 20th-largest investor-owned utility, with $25.4 billion in combined assets and about 7,500 employees. Hydro One already powers 1.3 million customers in Ontario.Fast facts: Avista and Hydro One Employees — Avista: 2,000; Hydro One: 5,500; Headquarters — Avista: Spokane; Hydro One: Toronto;-Customers — Avista: 342,000 (natural gas), 379,000 (electricity); Hydro One: 1.3 million;-Rate base — Avista: $3.1 billion USD; Hydro One: $14.1 billion USDSources: the Unlimited Digital Access. $1 for 4 weeks.A joint announcement from the two utilities says they plan to save money through "non-headcount efficiencies" — like supply-chain purchasing and IT — adding that no layoffs are planned as part of the deal. Avista is keeping its Spokane headquarters.Avista and Hydro One said they don't anticipate rate changes as part of the deal, or reductions to service.The transaction is expected to close in the latter half of 2018, but is subject to approval from common shareholders and regulators in the various states Avista operates in, as well as the federal government. Here, the Washington Utilities and Transportation Commission must sign off on the deal.A spokeswoman for the Washington Utilities and Transportation Commission said says the utilities have not yet filed for approval in the state, but they will need to prove a net benefit for customers. That means consumers could see a credit on their bill or some other financial protection.After the acquisition closes, Avista (which trades under AVA) will be delisted from the New York Stock Exchange. In after-hours trading, Avista's stock shot up about 19 percent soon after the deal was unveiled.Sign up for the Morning BriefDelivered bright and early weekday mornings, this email provides a quick overview of top stories and need-to-know news.At its pre-announcement share price, Avista was the 21st most valuable public company in the state.It's the second major utility acquisition in Washington state by Canadian funds. Western Washington's Puget Energy was acquired for $7.4 billion in 2009 by infrastructure investors, including the Canadian Pension Plan Investment Board and Australia's Macquarie Group funds.
'Rainless in Seattle': Could we break a record?
It's been 30 days since measurable rain was felt in Seattle. Another week, and we might need to break out the record book.
Boy finds 1.2 million-year-old fossil while playing outside
 NICOLE PELLETIERE,Good Morning America 5 hours ago
Unfortunately, this video is not available in your region.SS-100-202 A piece of history has been found thanks to a boy stumbling upon a rare, 1.2 million-year-old animal fossil.In November 2016, Jude Sparks, now 10, was on an outing with his family near their New Mexico home when he tripped over what he thought was a cow skull.Now, researchers at New Mexico State University are preserving the discovery, which was identified as a Stegomastodon — a mastodon-like or elephant-like animal."I imagined through my own mind of being 9 years old and finding something like that and how incredible it would be," dad Kyle Sparks. "Like most kids, he had this really strong phase, maybe 5 or 6 years old, where he'd be reading every dinosaur and fossil book you can imagine. He's ectastic about it."Woman reunited with wedding gown months after tornado destroys homeCouple finds 1963 wedding album in ceiling while renovating homeSparks, a father of three, said he left what to do with the fossil up to Jude, who decided he wanted to call an expert.Sparks reached to Peter Houde, a professor at New Mexico State University, who had experience with the same type of fossil in the past.The next day, Houde came out to see the remains for himself.
"I was real excited," Houde told ABC News. "I really like to encourage people to be aware. It was really fortuitous that this particular family did what they did. Had they tried to dig up something themselves, it really takes a great deal of technical know-how without destroying the specimen in the process. They were really responsible to try to get in touch with somebody."It is great for the community because now everybody can appreciate it," he added.Houde said the university was granted permission from the landowner where the fossil was found to perform an extrication in late May.Prior, Houde confirmed the fossil to be that of a Stegomastodon.
Houde extricated the remains of the species with his fellow faculty members and a geologist.Houde said one of the tusks is missing from the animal, suggesting that there could be more skeleton near the site where Jude found the skull. He hopes to return to the site with geologists for an additional search, he added.Jude and his family have been invited to visit the fossil as researchers preserve it at the university, his father said.
Brad Pitt Reports on 'Flooding' in Venice, Italy, on 'The Jim Jefferies Show'Brad Pitt Reports On Canal Flooding in Venice, Italy, on 'The Jim Jefferies Show'
Brad Pitt Reports On Canal Flooding in Venice, Italy, on 'The Jim Jefferies Show'Superfan TV1:34
Sarah Chalke Remembers Auditioning to Play 'Second Becky' on 'Roseanne'Superfan TV1:37
Bernie Sanders Asserts on 'The View' That the Investigation of His Wife Is Politically MotivatedSuperfan TV1:28
A Tribute to Comedy Central's Recently Canceled '@midnight'Superfan TV1:59
Jimmy Fallon Freaks Out on Jada Pinkett Smith Playing CatchphraseSuperfan TV1:24
Adorable Dog Sneaks Onto America's Got Talent Finals, Thanks Simon CowellSuperfan TV1:29
5 Little-Known Facts About the 'Mad Men' PilotSuperfan TV1:23
10 Amazing Gender-Bending Cosplayers From Previous Comic-ConsSuperfan TV1:22
'The Walking Dead' Meltdowns: 100 Seconds of People Losing Their Sh*tSuperfan TV1:49
Singing Trump's Backstreet Boys Medley Is Exactly What the World NeedsSuperfan TV1:32
Stephen Colbert Finds Common Ground With Russian PeopleSuperfan TV1:51
Obama's Anger Translator Luther (Keegan-Michael Key) Is Back and Angrier Than EverSuperfan TV1:38
Everyone Freaks Out When Death-Defying Stunts Seemingly Go Wrong on 'AGT'Superfan TV1:52Caitlin George ParkerSuperfan TV•This weather is the Pitts Weatherman Brad Pitt made another appearance on The Jim Jefferies Show. Weather Brad is known for his grim reports on global warming, and this time he did his apocalyptic weather report in the field.I'm on a boat!On a boat in a canal in Venice, Italy, he said to Jefferies, "Yes, it's a state of emergency here. It's complete and utter chaos. The roads are gone. I repeat, the roads are gone. The rising water levels have consumed the streets. Behind me you'll see terrified tourists evacuating the city to what I can only assume is a large ark of some kind."So, you're doing the weather?If you think it's odd that A-List celebrity Brad Pitt is doing the weather on Comedy Central you're not alone. Jim Jefferies explained on Conan that Pitt is a fan of Jim Jefferies's standup and actually asked him if he could be on the show. Jefferies said, "So we gave him this brown suit and he said, 'Hey can I take that with me?' And I said yeah, and now he carries the suit around with him in case he wants to do some field work weather reporting."The Jim Jefferies Show airs Tuesdays at 10:30 p.m. on Comedy Central.  Check out The Jim Jefferies Show: Brad Pitt gets rehired as hilarious weatherman:
Science Congressman Asks NASA if There's an Ancient Civilization on Mars. For Real
Michele Gorman,
Newsweek
13 hours ago
Updated
 | A Republican congressman from California on Tuesday asked members of a NASA panel if there had been ancient civilizations on Mars.
Related: Bill Nye on how, when, where and why to watch the total solar eclipse
Addressing a NASA scientist testifying before the House Committee on Science, Space and Technology, U.S. Representative Dana Rohrabacher said, "You have indicated that Mars was totally different thousands of years ago," according to a 
video posted to YouTube
. "Is it possible that there was a civilization on Mars thousands of years ago?"
Trending: 
Abortion Has Been Banned in Chile for 30 Years, but Lawmakers are Having a Change of Heart
In his answer, Ken Farley, a project scientist on NASA's Mars 2020 Rover mission team, corrected Rohrabacher by saying the evidence shows that Mars was different billions—not thousands—of years ago. He added, "There is no evidence that I'm aware of."Rohrabacher, who is vice chairman of the Committee on Science, Space and Technology and has also served as a member of the Space and Aeronautics subcommittee, pressed Farley about his inquiry, asking him if he would "rule that out."
Don't miss: 
Why Donald Trump and the Republicans Can't Get Anything Done
Farley responded, "I would say that is extremely unlikely."Ken Grubbs, communications director for Rohrabacher, tells 
Newsweek
 that the congressman was trying to reach a definitive answer on a question "he gets from far and wide, presumably because he sits on the space committee." He added, "It's apparent that many of those covering it didn't hear the wink in his voice."Farley was one of a few space experts testifying before the House committee about missions to other planets. Rohrabacher's inquiry came after Farley's testimony that the fourth planet from the sun had lakes and rivers, and perhaps even a huge northern ocean, until about 3.6 billion years ago, 
Space.com reported
.
Most popular: 
Why is Jared Kushner By Far the Least Popular Trump Family Member?
In a 
study published in June in the journal Science
,
 researchers concluded that Mars would have had the right conditions for life to survive for around 700 million years, between 3.8 billion and 3.1 billion years ago. Scientists analyzed rocks from the Gale crater to discover how the planet's climate changed from a cold one to a warm, temperate one in which life may have thrived. Their research showed that the climate underwent two major transitions.NASA has 
made landing humans on Mars
 a high priority of its exploration programs. Under bipartisan legislation in 2010, the U.S. space agency pledged to develop the capabilities to make that goal a reality by the 2030s.
Correction: An earlier version of his story misstated the number of years when Mars had the right conditions for life to survive, according to researchers. That period was about 700 million years.