U.S.Massive California fire sends smoke all the way to Idaho while choking Yosemite and Lake Tahoe Los Angeles Times Fri, Jul 21 2:20 PM PDT
Churning columns of smoke from a massive Central Valley fire are creating a haunting landscape from Yosemite National Park to Lake Tahoe.The smoke plume extends north from Mariposa County into the Sierra and neighboring Nevada, according to the National Weather Service. It has traveled as far as Idaho, some 500 miles away.The Detwiler fire, which has forced more than 4,000 residents to flee, swelled to more than 70,000 acres Thursday and was 10% contained, according to Cal Fire. Officials said the fire was burning in an area littered with dead trees, killed by bark beetles and years of drought.Update: After an anxious four-day wait, wildfire evacuees return to Mariposa »The blaze has destroyed 99 structures, 50 of which were homes, according to Cal Fire spokesman Scott McLean. Flames damaged an additional 11 houses, and about 1,500 structures were threatened. Evacuation orders were still in effect for Mariposa and the town of Coulterville.More than 3,700 firefighters tackled 2- to 4-foot flames and observed some flares up to 25 feet high, authorities said.
View image on Twitter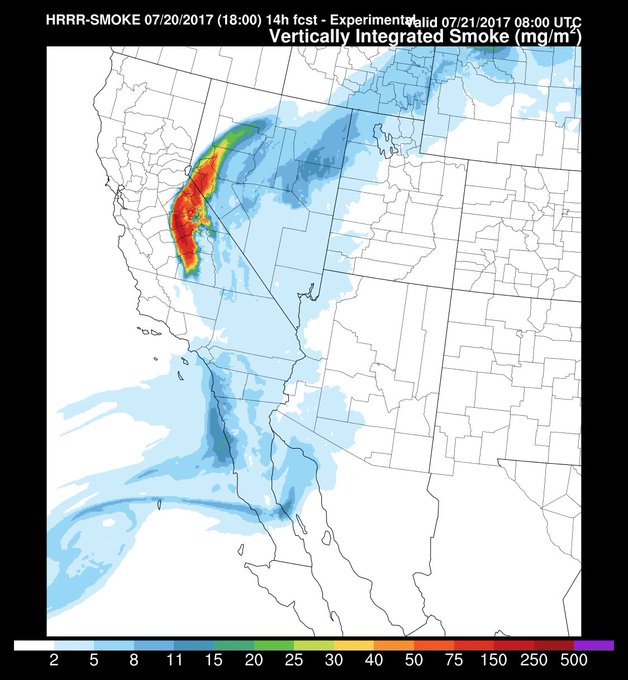 Follow

NWS Hanford @NWSHanfordExperimental HRRR Smoke model indicating more smoke spreading southeast overnight into Tulare county. #DetwilerFire2:30 AM – 21 Jul 2017 Lake TahoeSmoke from the fire has reduced visibility and caused some dramatic sunsets that have been posted on soci
 Follow
Nate Helton @NateHeltonAll 5 cities in 'Highest 5' (worst air quality index) are in the Reno/Tahoe area. Smoke, go away! https://airnow.gov/ 9:52 PM – 19 Jul 2017Yosemite National ParkThe fire is burning on the western edge of Yosemite, and smoke is choking the surrounding valley."It's been putting off quite a bit of smoke; there's a lot of stuff burning," said James Andersen, a meteorologist with the National Weather Service in Hanford, Calif."It was very, very tiny pieces of ash," photographer Paul Adams said. "I want to call it almost like hair dandruff. Then, when I went to Mariposa, the ash that was falling was about the size of a snowflake, more pronounced."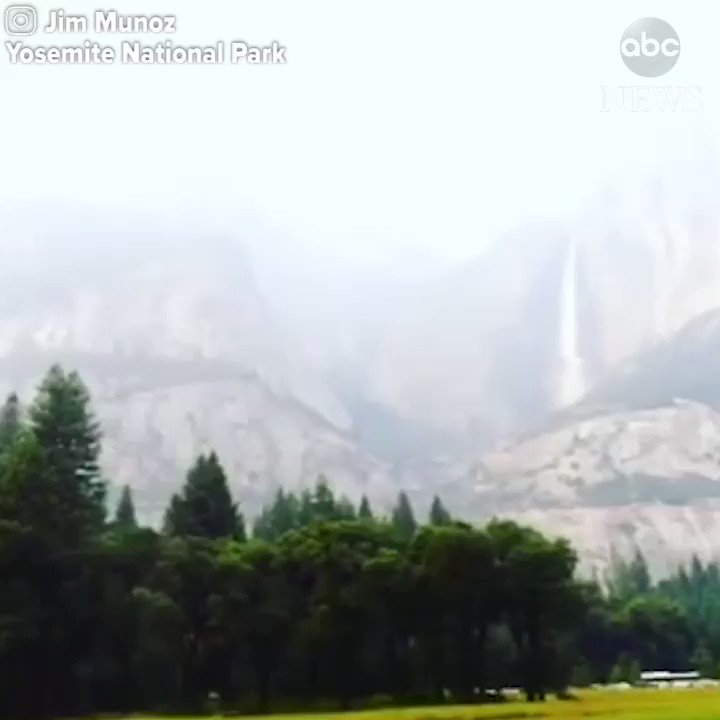 Follow
ABC News @ABCTime-lapse video shows some of Yosemite National Park's iconic landmarks shrouded in smoke from massive wildfire. http://abcn.ws/2vp4jtE View image on Twitter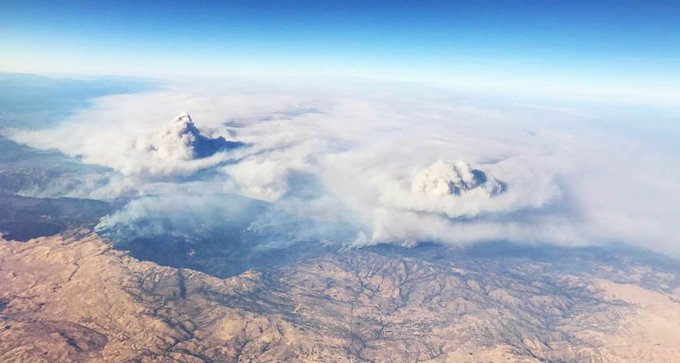 Follow
Mark Grossi @markgrossiView of smoke from Detwiler #wildfire near #Yosemite.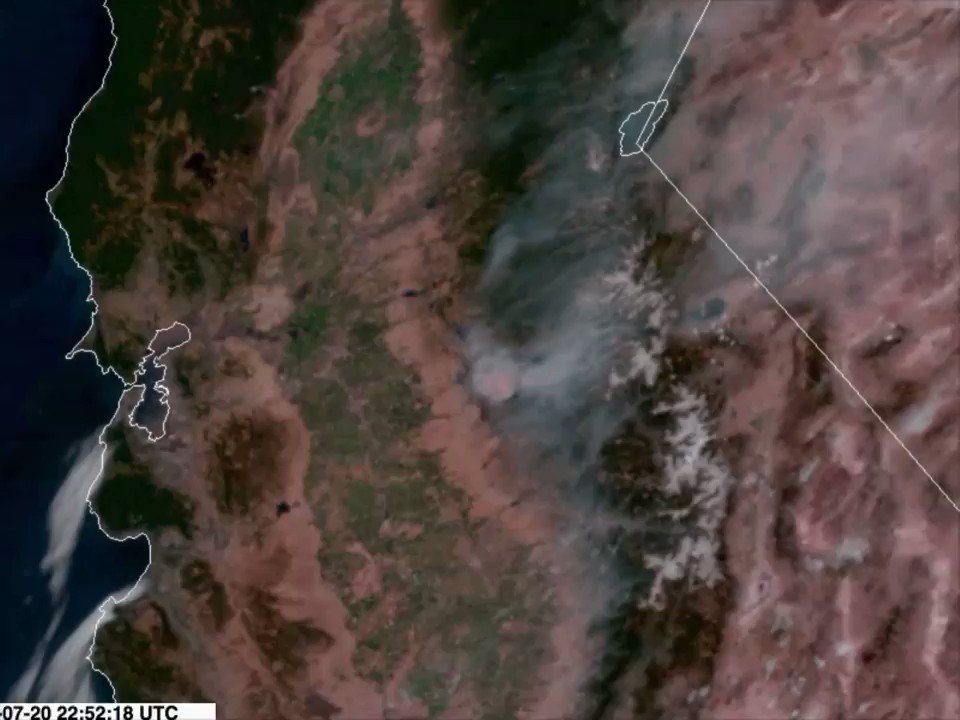 Follow
Rob Mayeda @RobMayedaLate day surge of smoke from the #DetwilerFire into Yosemite 7/20/2017 captured on #GOES16 and local webcameras #CAwx#CAFireMariposa County wildfire guts nearly five dozen homes as flames scorch thousands of acres
Evacuation orders lifted but California wildfire rages on
Major California wildfire slows as residents try to recover
 ROBERT JABLON,Associated Press 3 hours ago
Now Playing1:06
2:15
1:51
1:29
3:16
2:11
Raw: Over 3,000 Firefighters Battle Calif. Blaze LOS ANGELES (AP) — Steve Valdez was back at work Saturday at a hardware store, days after his home and those of his neighbors were incinerated in a gigantic wildfire that swept through a rural area of California near Yosemite National Park."This is a hardware store in a small town. There are people out there who depend upon us to get power, to get water, to get their equipment fixed," said Valdez, a clerk at Coast Hardware Do It Best in Mariposa. "They're getting stuff to get by."The aggressive wildfire sweeping through the Sierra Nevada foothills covered with dense brush and dead trees has destroyed 60 homes and 64 other buildings. It spared Mariposa, a historic Gold Rush-era town but burned homes nearby.The blaze that erupted on July 16 scorched nearly 118 square miles (305 sq. kilometers) of trees and grass and continued to threaten about 1,500 homes, but its spread had slowed drastically."They are still out in front of an uncontrolled fire but the fire isn't moving at 30 mph, the fire is crawling along," fire spokesman Brandon Vaccaro said.Nearly 4,500 firefighters, air tankers and fleets of helicopters and bulldozers fought the blaze by chopping firebreaks and dumping rivers of water and fire retardant.The blaze fed on long grass that sprouted from a wet winter along with brush that had been stricken by five years of drought and trees killed off by a beetle infestation.In some places, the flames were so fierce that "every bit of vegetation is gone and you're down to the scorched earth," Vaccaro said.The fire grew by up to 30,000 acres a day at its peak, but by the weekend the growth rate was down to about 1,000 acres a day despite dry, blistering weather, he said.The blaze, moving northeast, was 40 percent contained but it could take another two weeks for firefighters to fully surround it, Vaccaro said.The smoke blurred the scenic vistas of Yosemite National Park, about 35 miles west of the fire. Tourists expecting the grandeur of falls and granite peaks instead saw hazy gray silhouettes.Ken Welsh, 60, of New Zealand said he had been prepared to be "blown away by a Technicolor dream" at Yosemite.He shrugged his shoulders and headed back to the car."It leaves a lot to the imagination, doesn't it?" he told the Los Angeles Times (http://lat.ms/2tQ3Crt).At its peak, the blaze forced about 5,000 people to evacuate. Some roads remained closed but Mariposa, with a population of about 2,000, was coming back to life.People were coming into the hardware store for plumbing parts and electrical cords a day after evacuations were lifted.Valdez said he decided to work even though his 4,400-square-foot home was among those destroyed."Older people know that everything heals," said Valdez, 60. "Everything gets better if you just keep plugging away."Valdez and his wife had 20 minutes to grab a few photographs, bills and some family Bibles before they fled the encroaching flames. For a couple of days, they lived in their car and truck with the windows rolled up because ash was falling like snow, he said.Valdez finally managed to return briefly to his neighborhood to find — nothing. His home of 17 years was gone, except for the fireplace. Five other houses also were destroyed."There's nothing that's going to be left," he said. His cat is missing but may have just run off, he said.Valdez was philosophical. The insurance company quickly stepped in and he plans to rebuild. Senior citizens on limited incomes and those without insurance are far worse off, he said.At his age, Valdez added, he has learned to cope with hardship."There are young people who are … mentally destroyed," he said. "Those people are the people to feel sorry for."The fire was one of more than a dozen that have ravaged California in recent weeks
U.S.3,500-acre forest fire fully contained in New Jersey
The Washingtion Times
14 hours ago
WASHINGTON TOWNSHIP, N.J. (AP) – A fire in a remote part of New Jersey's Wharton State Forest continues to burn, but officials say it is now fully contained.The 3,500-acre fire near the historic Batsto Village continued to burn Saturday, but the state Department of Environmental Protection said it was 100 percent contained.Robert Geist, a spokesman for the New Jersey Forest Fire Service, says no homes or buildings are threatened by the fire.The village was open to visitors on Saturday, but some trails remain closed.
Smoke drifted through parts of southern New Jersey on Friday while the fire burned. The Ocean County sheriff's office said it could be smelled 30 miles (48 km) away in Long Beach Island and people reported seeing smoke in Atlantic County as well
Severe storms on the move in the Midwest
 ABC News Videos 3 hours ago
Now Playing2:24
2:57
1:51
2:55
2:36
3:49
2:05 Possible dangerous storms and flash flooding to hit the Midwest while the East Coast continues to suffer through a heat wave.
Hong Kong raises alert as Typhoon Roke approaches
Reuters
View photos People gather at a waterfront as Typhoon Roke approaches Hong Kong, China July 23, 2017. REUTERS/Bobby YipHONG KONG (Reuters) – Hong Kong was bracing on Sunday for Typhoon Roke with winds reaching 73 kmh (45 mph), forcing authorities to shut some services and events in the Asian financial hub, though the city's international airport continued operating as usual.The Hong Kong Observatory on Sunday morning raised its typhoon signal to 8, one of its highest warnings which rate typhoons up to 10, as Roke was expected to make landfall over the eastern part of the city.When a typhoon 8 signal is in place businesses, government offices and schools stay closed, including banks, port operations and the Hong Kong stock exchange.A spokesman for Hong Kong international airport, one of the busiest airports in the world, said that the flights in and out of the city were operating normally for now, and authorities were keeping an eye on the situation.The local trains were also operating normally, but some bus and ferry services have been canceled, as per the announcements on the government websites. The annual book fair was temporarily closed due to the typhoon.(Reporting by Sumeet Chatterjee; Editing by Michael Perry)
Flood-hit New Zealand braces for more rain
AFP
Huge waves lash Lyall Bay in the New Zealand capital Wellington on July 23, 2017 (AFP Photo/Neil Sands)Wellington (AFP) – Flood-hit regions of New Zealand were warned to expect more wild weather Sunday after a deluge forced evacuations and emergency declarations in parts of South Island.The military was called in to help as some towns experienced three times their average monthly rainfall in just two days, topping 250 millimetres (10 inches) near Dunedin.Rivers burst their banks and landslides closed major roads, with icy conditions creating treacherous conditions for clean-up crews.A state of emergency was in force for both Christchurch and Dunedin, with people in affected areas advised to avoid non-essential travel."We don't need rubberneckers… it's not going to help anybody and it's just going to upset people," Dunedin mayor David Cull said.Around 200 homes were evacuated around Dunedin, with Cull saying it would be days before some residents could return home.In Christchurch, authorities warned more flooding was possible at high tide late Sunday afternoon.The New Zealand Defence Force deployed about 140 troops to help relief efforts, sandbagging vulnerable areas and using trucks to reach stranded motorists.The official MetService forecasting bureau said more severe weather was set to lash the South Island this week, with heavy rains on the west coast from Monday.It said flood-stricken regions would be hit again later in the week."All eyes will be on the forecasts for Thursday, when another cold southerly rain event looks likely to affect Canterbury and much of the South Island," it said.
Robot finds likely melted fuel heap inside Fukushima reactor
 ABC News 3 hours agoBy MARI YAMAGUCHI, ASSOCIATED PRESSTOKYO — Jul 22, 2017, 8:32 PM ET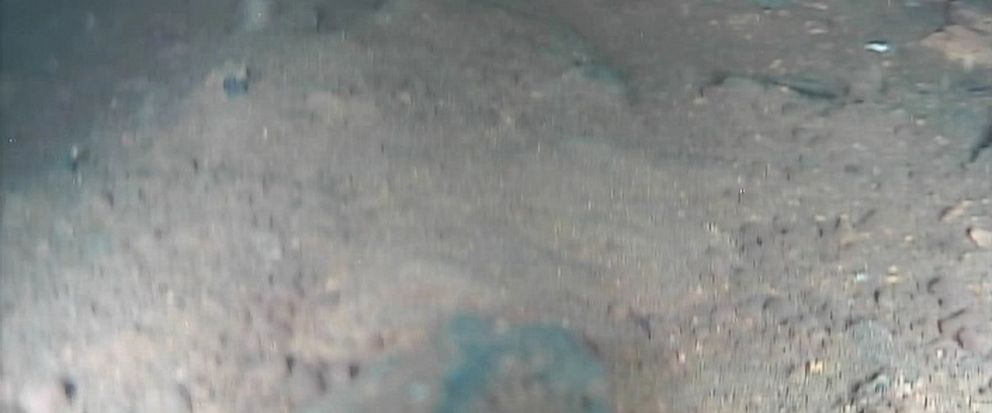 The Associated PressThis image captured by an underwater robot provided by International Research Institute for Nuclear Decommissioning on Saturday, July 22, 2017 shows massive deposits believed to be melted nuclear fuel covering the floor of a damaged reactor at Japan's crippled Fukushima nuclear plant in Okuma town, northeastern Japan. The robot found large amounts of solidified lava-like rocks and lumps in layers as thick as 1 meter (3 feet) on the bottom inside of a main structure called the pedestal that sits underneath the core inside the primary containment vessel of Fukushima's Unit 3 reactor, said the plant's operator, Tokyo Electric Power Co. (International Research Institute for Nuclear Decommissioning via AP)more +Images captured by an underwater robot showed massive deposits believed to be melted nuclear fuel covering the floor of a damaged reactor at Japan's crippled Fukushima nuclear plant.The robot found large amounts of solidified lava-like rocks and lumps in layers as thick as 1 meter (3 feet) on the bottom inside of a main structure called the pedestal that sits underneath the core inside the primary containment vessel of Fukushima's Unit 3 reactor, said the plant's operator, Tokyo Electric Power Co.On Friday, the robot spotted suspected debris of melted fuel for the first time since the 2011 earthquake and tsunami caused multiple meltdowns and destroyed the plant. The three-day probe of Unit 3 ended Saturday.Locating and analyzing the fuel debris and damage in each of the plant's three wrecked reactors is crucial for decommissioning the plant. The search for melted fuel in the two other reactors has so far been unsuccessful because of damage and extremely high radiation levels.During this week's probe, cameras mounted on the robot showed extensive damage caused by the core meltdown, with fuel debris mixed with broken reactor parts, suggesting the difficult challenges ahead in the decades-long decommissioning of the destroyed plant.TEPCO spokesman Takahiro Kimoto said it would take time to analyze the debris in the images to figure out debris removal methods.-Follow Mari Yamaguchi on Twitter at twitter.com/mariyamaguchi Her work can be found at https://www.apnews.com/search/mari%20yamaguchi .
Science The Mars Rover 'Opportunity' Beamed Back a New Look at the Red Planet
Jeffrey Kluger,
Time
Fri, Jul 21 1:19 PM PDT
With all the buzz the SUV-sized Curiosity rover has generated since it landed on Mars in 2012, it's easy to forget that the rover has a little sister, named Opportunity. The smaller, golf-cart size rover has been exploring the Martian rilles and plains since January of 2004, and rarely gets much of a rest. Even when it does, it makes good use of its downtime.In June, mission controllers parked Opportunity for two weeks while they worked to resolve a problem in the rover's front left wheel, which was stuck at an outward-pointing 30 degrees. As it happened, the parking spot the controllers chose was on the western rim of what Martian cartographers have dubbed Endeavour Crater, looking down over Perseverance Valley. The heroic names live up to the stark beauty of the scene, as images the rover beamed home attest.In the foreground, Opportunity's wheel tracks vanish over a notch in the crater's rim, which may have been carved by water or ice, back in the long-ago era when Mars fairly sloshed with seas, rivers and oceans. The crater itself may have thus been a great body of water.The pictures were taken by the rover's two-eyed Pancam and were captured in three kinds of light. The first image shows the crater as it would look to a human being standing with Opportunity; the second combines the views of the two Pancam perspectives to create a 3D effect. In the third image, artificial color has been added to designate different types of surface material.Opportunity also threw in a couple of black-and-white selfies — one of its own shadow cast on the ground, and the other shot by its navigation camera, as the rover descended the crater's rim and the camera looked backward at where it had been. Even after 13 years on the Martian surface, however, Opportunity itself is still looking ahead.
World Hundreds of sheep killed after bear chases them over cliff
Rory Mulholland,
The Telegraph
13 hours ago
More than 200 sheep have died after they hurtled over the edge of a cliff in the Pyrenees mountains while being chased by a bear.Their deaths have reignited the bitter debate over the presence of bears in the mountain range that straddles the French-Spanish border, where they were reintroduced 20 years ago after disappearing in the early 1990s.The sheep belonged to a farmer in the Couflens area on the French side of the border, but their bodies were found last Sunday at the foot of a cliff just over the border in Spain.The rest of the large flock was missing after dispersing over the mountains while fleeing the attack.Local authorities sent experts to examine the scene during the week and they concluded that the sheep had been running away from a bear.The sheep's owner will be compensated for each of the 209 animals found dead,  which is standard practice in such cases as part of the deal made between the government and farmers when brown bears from Slovenia were introduced in the late 1990s.But the deaths provoked an angry statement from the militant Confédération Paysanne (Farmers' Federation) which demanded immediate action to stop deadly attacks by bears on livestock."Pastoralism, which is a guarantor of biodiversity and of a living and welcoming mountain region, is not compatible with the reintroduction of large predators," it said in a statement."The state, which is responsible for the reintroduction of the bears, should remove the ones that are causing problems and should not reintroduce any more bears," it said.The verbal protest was the latest battle in the long-running war between livestock farmers and animal conservationists who believe bears have their rightful pace in the mountain range.A similar battle is going on over the growing presence of wolves in France.On Thursday the government gave the green light for the cull of dozens of wolves in mountain areas, mostly in the southeast, where they have killed around 8,000 farm animals, mostly sheep, over the past year.The cull of up to 40 wolves by July next year represents a little over 10 percent of France's total wolf population.Wolves 
were eradicated in France in the 1930s but began to arrive back from Italy in the 1990s.
World 'You would have to be a lunatic': Tourists to North Korea describe risks and rewards
 Justin McCurry in Tokyo and Amanda Holpuch in New York,The Guardian Fri, Jul 21 6:26 PM PDT  Some visitors to the country have dismissed claims that travellers are exposing themselves to danger while others say threats are obvious
A guide wearing a traditional dress speaks to visitors at the Arch of Triumph in Pyongyang. Photograph: Damir Sagolj/ReutersJames left North Korea this year with smuggled currency, stamps and a poster of "the great leader," Kim Il Sung, that he bought on the black market.Months later, James's fellow American, Otto Warmbier, died after suffering from a mysterious brain injury while in detention in North Korea, accused of stealing a propaganda poster from a hotel.The US State Department has long recommended against travel to North Korea, but Warmbier's death prompted Secretary of State Rex Tillerson to authorize his department to block Americans from traveling to the country. The ban was announced on Friday and could go into effect as soon as late August.Recent visitors to the country and tourist agencies have dismissed claims that travellers are exposing themselves to danger, though James, who bypassed the state's security apparatus with smuggled goods in hand, cautioned Americans against such travel."I wouldn't mind seeing more of North Korea but honestly with the saber-rattling going on right now I think you'd almost have to be a lunatic to be an American and to roll out there," James told the Guardian. "Unless you were a proselytizing Christian and you really felt it was your God's duty, I can't imagine why you would go out there right now".The Guardian is not identifying James by his real name to protect the North Koreans he encountered on his trip.An estimated 5,000 Westerners – including about 800 Americans – visit North Korea every year through tourism agencies.Last month Young Pioneer Tours – the same agency that arranged Warmbier's visit – said it would no longer take Americans into the country having deemed the risk "too high," while other agencies are reviewing whether to accept US visitors in the wake of his death.A source in the North Korean tourist industry challenged the idea that Americans are deliberately targeted."The problem isn't nationality, but the arbitrary nature of the justice system if you break the law. The idea that if you're American and go to North Korea you're at risk of being taken as a political hostage just isn't true," the source, who did not wish to be named, told the Guardian.'It's not Cornwall' "I'm not suggesting that it's risk free – it's not Cornwall. But people who go to North Korea already know that."While foreign detainees are generally treated better than the tens of thousands of North Koreans held in the country's network of political prison camps, Warmbier's death has moved the US to declare the country a no-go zone for its citizens.State department spokesperson, Heather Nauret, said in a statement that Tillerson implemented a Geographical Travel Restriction (GTR), "due to mounting concerns over the serious risk of arrest and long-term detention under North Korea's system of law enforcement".The GTR law allows the secretary of state to unilaterally implement a travel ban and has been used in the last fifty years to stop Americans from visiting Iran, Lebanon, Iraq, Cuba and Libya.Drew Binksy, an American who visited North Korea in April as part of his attempt to visit every country in the world, challenged the notion that Americans should not visit the country.He can speak Korean and was able to chat with a few locals during his trip."I told them I was American and they were pretty interested and were asking me questions," Binsky said. "They didn't seem to be intimidated by America or have any hatred towards America, which was reassuring".Binsky was in a tour group with mostly Australians and Europeans and said he was treated the same way they were.Though, there was one striking difference: how prominent the US was in propaganda. Binsky said he expected to see these images, which included depictions of people burning down the White House and dropping bombs on New York City.The imagery also stood out to James, who saw posters that characterized Americans as "terrorist criminals" and said they sent diseases like the plague and cholera to North Korea. "It was so anti-American in places, I felt uncomfortable," he said.But in conversations with North Koreans, James did not experience that hostility."What I saw all over North Korea was Koreans," James said. "I didn't see weirdos, aliens and monsters".'Don't go with your eyes closed' Scott MacPherson and Ross King visited North Korea in April with Young Pioneer Tours, and said they did not feel like they were at risk, in part because they are Scottish."I wouldn't go if I were an American, but as a Brit I never felt I was at risk of being arrested and being used as a political pawn," MacPherson said. "But you certainly shouldn't go there with your eyes closed."Some have argued that all leisure travel to North Korea is morally questionable, claiming that that the estimated $30m to $40m the regime earns from tourism helps fund its nuclear weapons programmes and gulags. At the very least, they say, it lends legitimacy to a regime guilty of human rights abuses the UN has described as "without parallel in the contemporary world".In a recent online commentary, Suki Kim, a Korean American writer who spent six months in North Korea posing as a university teacher, described tourism to the country as "torture porn"."Casually touring North Korea is akin to hiking at Auschwitz under the Nazis," Kim wrote.King said he and his friends were aware that North Korea is a "terrible, oppressive regime", but disputed that by visiting the country they were tacitly approving of the regime's treatment of its people."I think people need to go to North Korea so that people there can have firsthand contact with Westerners," he said. "Unlike apartheid South Africa, North Korea is already cut off from the rest of the world, so nothing is going to change by isolating it further. I'm not suggesting that we're going to effect regime change, but our visit was a chance to engage in cultural exchange, and we all learned a lot from it".TRAVEL ADVICE The US state department "strongly warns" US citizens not to travel to North Korea, and notes that at least 16 Americans have been detained there in the past decade.The Australian government advises people "to reconsider your need to travel to (North Korea) due to restrictions placed on foreigners and very different laws and regulations applying to behaviour, as well as intermittent (North Korean) threats against international interests".New Zealand identifies the country as "high risk" and advises against "all tourist and other non-essential travel".The British government does not advise against visiting North Korea, but urges travellers to "follow the political and security situation very closely and stay in touch with your host organisation or tour operator".
World
Top 10 Fascinating Facts About Turkey
Turkey—a land where Europe meets Asia, secularism butts heads with Islamism, and controversy meets more controversy. This continent-bridging nation has a tumultuous past and an equally dramatic present. Let's take a look Turkey today. 10 The Armenian Genocide Is Denied, And The US Plays Along On a state level, Turkey ignores the genocide of 1.5 million people perpetrated in 1915, going so far to expunge any mention of the events from school textbooks.[1] The US consul at the time wrote, "That which took place around beautiful Lake Goeljuk in the summer of 1915 is almost inconceivable. Thousands and thousands of Armenians, mostly innocent and helpless women and children, were butchered on its