Battle intensifies to contain Montana wildfire, largest in U.S.
Reuters
View photosCattle are seen near the flames of the Lodgepole Complex fire in Garfield County, Montana, U.S. July 21, 2017. Picture taken July 21, 2017. BLM/Pete McFadden/Handout via REUTERS(Reuters) – More than 600 firefighters in Montana battled on Tuesday to halt the spread of the biggest wildfire in the United States after it torched buildings, seared grasslands and drove scores of people from their homes.The Lodgepole Complex fire was 20 percent contained after laying waste to 250,000 acres (101,171 hectares) of timber, brush and range land near the Missouri River, according to the National Interagency Coordination Center, which provides logistical support for wild land firefighting.The fire has forced 50 people from their homes and destroyed 22 structures, it said.The Lodgepole fire is the biggest of 45 active large fires burning across the United States, the National Interagency Fire Center said on its website.Residents of sparsely populated Garfield County in eastern Montana, where the fire is burning, collected and transported relief supplies to people whose property has been damaged or destroyed.Garfield County spokeswoman Anne Miller said in a telephone interview that donations of groceries, hay and money were pouring in to the tiny town of Jordan, Montana. Volunteers were mending fences, preparing food and gathering livestock."A house is considered a major loss, but the livelihood of most people here is the livestock, the pasture and grazing land," Miller said."The majority of these people would have rather lost their homes than their grassland."The Bureau of Land Management Montana/Dakotas said on Twitter that 611 firefighters from 34 states were striving to establish containment lines and protect structures from the Lodgepole fire.Firefighters used bulldozers and harrows to plow fire breaks.High temperatures, lack of rain and gusty winds have helped the fire spread."If conditions are right and the lines hold, crews will take the opportunity to start working from the fire's edge to cool more of the interior," an interagency statement on the fire information website InciWeb said.The Lodgepole Complex started on July 19 as four fires after a lightning storm. The fires converged on July 21.
Wildfires lay waste to hillsides along French Riviera
Reuters
View photos A Canadair firefighting plane drops water to extinguish a forest fire on La Croix-Valmer from Cavalaire-sur-Mer, near Saint-Tropez, France, July 25, 2017. REUTERS/Jean-Paul PelissieNICE/MARSEILLE, France (Reuters) – Firefighters battled wind-whipped infernos along the French Riviera coast on Tuesday as the flames torched vegetation on hills overlooking glitzy Mediterranean resorts thronged by summer holidaymakers.Local authorities said several firefighters were injured and one hospitalized but there were no immediate reports of deaths, unlike with similar wildfires that have killed dozens elsewhere in southern Europe, notably Portugal.One blaze that erupted late on Monday, near the Croix Valmer resort and the yacht-filled marinas of Saint-Tropez, sent clouds of thick smoke into azure skies within view of busy beaches.Authorities said that blaze had engulfed 650 hectares of land in one of several spots where fires prompted closure of parts of the local road network, a rail line and at one stage part of the A51 motorway in the southeastern corner of France.Weather forecasters said strong winds would persist for another day or two days at least, heightening the risk that even spots where firefighters were close to containing the flames could fall prey to another flare-up.One of the blazes was thought to have been started by a bolt of lightning, but carelessly discarded cigarette butts are often blamed for setting tinderbox areas of the midsummer southern coast alight.Another fire that scorched at least 800 hectares of land in the picturesque Vaucluse region further inland was believed to be under control on Tuesday morning, local firefighters said.But a further blaze was meanwhile ripping through swathes of hillside on the island of Corsica that lies off the French coast in a corner of the Mediterranean near Italy.Upwards of 1,400 hectares of forest and woodland had already been destroyed by fire by Monday night, when a small number of people in the village of Mirabeau and a dozen horses were evacuated to safety, authorities said.(Reporting by Marc Leras and Matthias Galante; Writing by Brian Love; Editing by Sudip Kar-Gupta and Mark Heinrich)
Storm causes damage through Philadelphia region, sparks fire
WPVI – Philadelphia
Storm causes damage through Philadelphia region, sparks fireA storm raced through the Philadelphia area Monday night creating damage and even causing a fire.
Cars swept away in rushing water as flash floods play havoc in Kentucky
 MICHAEL EDISON HAYDEN,Good Morning America Sun, Jul 23 7:33 PM PDT
Video Not AvailableUnfortunately, this video is not available in your region.SS-100-202Cars and a home were swept away in floodwaters after a bout of heavy rains pummeled parts of Northern Kentucky early Sunday.The flood waters were so powerful that they sent cars smashing into one another in a cluster against a tree, according to one photo posted on Instagram by user Sara Celi.The image shows the cars lying abandoned in a pool of tan, muddy water.
Another photo, posted by Kristen Swilley of ABC affiliate WCPO-TV in Cincinnati, shows a home that was torn apart in the storm that preceded the flooding. The homeowner was indoors at the time the destruction started to occur, the affiliate reported.Deadly Arizona flash flooding was exacerbated by environmental factorsThe Ledger Independent, a local paper, reported that a man from Bracken County, Kentucky, Delmar Nickoson, went missing after flooding may have caused the mobile home he was living in to wash away. Meanwhile, drone video made available from Youtube user Galena Guide, shows the extent of flooding that occurred in Galena, Illinois, on Saturday.The video shows the Midwestern town completely submerged after water from the Galena River spilled over following storms that took place there over the weekend.The flooding this weekend follows a deadly flash flooding incident that occurred last weekend in Arizona, when rising waters killed nine people from a single family who were visiting a swimming hole in the northern part of the state.
Lifestyle Watch This Scientist Literally Outrun A Deadly Volcanic Eruption
Pyroclastic flows are the most infamously deadly feature of volcanic eruptions. Lava may melt you, geothermal lakes may broil you, ash may choke you, and bombs may shoot through you, but pyroclastic flows are particularly nasty. In fact, they can literally make your head explode.As I've outlined in a previous article, these mixtures of ash, lava blebs and broiling gas exceed temperatures of 1,000°C (1,832°F) and move at speeds of up to 700 kilometres per hour (about 450 miles per hour). Even the air in the environment directly surrounding a flow or surge will be around 300°C (570°F).Surges are even worse. These form when the ratio of superheated gas to ash is far higher, which makes them far less dense. Both desktop laboratory experiments and real-life observations have shown that these "lighter" but no less deadly pyroclastic clouds can not just run up slopes and up from valley floors, but they can bounce over lakes and sections of the sea for a few minutes, carrying their flaming hearts along for the ride.Pyroclastic flows are impossible to outrun…unless you're far away enough to begin with, that is. (Ulet Ifansasti/Getty Images)As you might expect, unlike a T. rex, you can't outrun something like that. Nevertheless, this is exactly what a volcanologist tried to do back during an eruption of Japan's Mount Unzen back in 1991.This eruption took a gathered group of 43 journalists and volcanologists by surprise – including the famous French pair, Katia and Maurice Krafft – and killed them instantly. However, some were fortunate enough to be down the side of the mountain, and watched as the pyroclastic flow careened towards them.This Is How A Volcano's Pyroclastic Flow Will Kill You In what has to be one of my favourite volcano-related videos of all time – perhaps with one exception – you can clearly see a fire truck speeding away from the flow, which ultimately reached a distance of around 4.5 kilometres (2.8 miles) from the source vent. You can also see a sole individual, adorned in his white raincoat, sprinting away from the flow as fast as he possibly can.Something struck me when I first saw this video clip – why didn't the fire truck stop to pick him up? Although we'll never know for sure, it's almost certain that it's because they were worried that if they did, they'd never be able to escape to flow – and that's not an unreasonable argument.The top speed of an average fire truck today is around 120 kilometres per hour (75 miles per hour), which makes them 5.8 times slower that the ravage pyroclastic flow. Most flows are also going downhill, which means that gravity is also on their side.Generally speaking, if you are within a kilometre or two of a volcano that's dumping pyroclastic flows on your head, there's almost nothing you can do to survive. My advice would be to strike as ridiculous a pose as possible. That way, when you're excavated later, at least you'll resemble a ludicrous statue.
No further injuries found after tornado hits Eastern Shore
Associated PressSTEVENSVILLE, Md. (AP) — Officials say they've completed house-to-house searches after a tornado touched down on Maryland's Eastern Shore and didn't find anyone trapped or in danger.Queen Anne's County spokeswoman Elizabeth Malasky said by telephone Tuesday morning that officials didn't find anyone in trouble. Only one minor injury was reported Monday after a storm roared through communities east of the Chesapeake Bay Bridge.The National Weather Service says a tornado with winds that reached 125 mph (201 kph) touched down around 1:30 a.m. Monday near Stevensville. The storm downed trees, collapsed buildings and knocked out power about 9,000 customers. Power has been restored to all but about 75 customers by Tuesday morning as the cleanup effort continues.The county has a shelter open and Maryland officials are also helping residents displaced because of the storm.
Hikers in Arizona floodwaters form human chain to help pull one another to safety
 KATIE KINDELAN,Good Morning America 2 hours 38 minutes ago
Video Not AvailableUnfortunately, this video is not available in your region.SS-100-202A large group of hikers were caught on video forming a chain to help one another after monsoon rain on Sunday resulted in flash flooding in Arizona's Sabino Canyon.The video, obtained by ABC News affiliate KGUN-TV, shows several male hikers struggling to stay afloat in waist-high water.Arizona rescue agencies airlift stranded hikers from floodwaters; 2 remain trappedBel'laca'talina D'vignon, 40, a nurse from Chicago, said she was napping on a rock during a hike Sunday when her roommate warned her of the raging water."My roommate was like, 'Wake up. We've got to go. We've got to go," she told ABC News. "I became disoriented because our surroundings weren't the same anymore."D'vignon and her roommate quickly hiked to higher ground, where they eventually spotted a group of what D'vignon estimates was 20 stranded hikers, including young children.In a video posted by D'vignon on Facebook, the stranded hikers, all mostly strangers, can be seen standing on rocks while the other members of the group positioned themselves across the river. The rescuers clung to trees and branches with one arm as they reached out with their other arm to help others cross the river."The current of the water was so strong that we had to form the chain so if one of us slipped we had the chain [holding us] tight," D'vignon said. "We had to do it three times crossing over the [tram] bridges, which were covered in water."D'vignon said the rescue effort, which she described as "a very intense, epic moment" continued for nearly four hours. Everyone in the group made it safely, according to D'vignon.She added that the hikers decided to get themselves across the water because dusk was approaching and they had no fresh water and little food."It was fight or flight and we decided we wanted to survive," she said.Deputy Cody Gress, a spokesperson for the Pima County Sheriff's Department, said the stranded hikers were cut off from crossing bridges used by sightseeing trams due to the water levels but were "not in immediate danger." Sheriff officials later used a vehicle "to cross the bridges and systematically load people to get them across the bridges. All were taken across safely.""People need to plan ahead when they go hiking. Unfortunately we get too many hikers who don't plan ahead, don't bring enough water, food, or equipment for inclement weather conditions," Gress said in a statement. "Another issue we are seeing right now with our monsoon rain is that people are assuming that the water levels they are seeing are going to remain constant. The problem is they do not take into account the fact that Sabino Canyon, Bear Canyon, Tanque Verde Falls, etc. are all directly downstream from the mountain and are the most likely to receive flash flooding following mountain rains."Nearly 20 hikers were also rescued in the neighboring Bear Canyon trailhead on Sunday evening, according to Rural Metro Fire Department Special Operations Battalion Chief John Walka.A team of 30 rescuers from the Rural Metro Fire Department, Pima County Sheriff's Department and Southern Arizona Rescue Association used a raft attached to a high line they constructed over the river to ferry the stranded hikers to safety."The water came down very fast," said Walka, who added that many of the stranded hikers had recently exited a sightseeing tram. "There is already a river there and that river overflowed and the bridges overflowed so people were stuck on the wrong side of the mountain."The raging floodwaters in the region forced a separate dramatic rescue Sunday in the Tanque Verde Falls, about 10 miles away from Sabino Canyon. Two hikers were pulled to safety by a Pima County Sheriff's Department helicopter in a spot known as Redington Pass, a high mountain area of Tanque Verde Canyon.None of the hikers rescued on Sunday suffered life-threatening injuries, Walka said.Hikers should be aware of the weather forecast, including both rain and heat, before hitting the trails, according to Walka."Hikers need to know that the weather can change very quickly when they're out there in the wilderness," he said. "Even six to 12 inches of fast-moving water can sweep you off your feet instantly."He added, "The best strategy is to stay put. Even strong swimmers can't out-swim or out-muscle it because the water is relentless. It keeps on moving."Flash floods have hit cities across the nation, including in Birmingham, Alabama, where at least 10 drivers had to be rescued after storm drains on local roads were overhauled by rain.In Syracuse, New York, fierce winds and heavy rain on Monday tore the roof off a store. The Knoebels Amusement Resort near Elysburg, Pennsylvania, closed early when water from a creek in the park spilled over, according to local ABC affiliate WNEP-TV.
'Sharks and the City': Why Great Whites Are Headed to L.A. — and N.Y.
 Mandi Bierly 10 hours ago
Now Playing2:07
2:59
1:38
1:03
2:27
1:14
  'Sharks and the City: LA': Parallel Swimming Tuesday on Discovery's Shark Week is all about sharks and the city: At 9 p.m., Sharks and the City: Los Angeles sets out to uncover why a record number of great whites are being sighted in Southern California, while Sharks and the City: New York (10 p.m.), narrated by Chris Noth, explores the reasons the New York Bight could one day become a new great white hot spot. Here's a preview.Sharks and the City: Los Angeles For 30 years, Chris Lowe, director of the CSULB Shark Lab Right, has lived and worked in California. He never thought he'd see the day when he'd be able to go out and tag baby white sharks in his front yard. But he knows the increased numbers that have been amazing for him have also been startling to the public. Sharing the information his team is learning, he hopes, will help change perspectives. "I think it's a good thing," he says, "and people always look at you odd when you say that. … This is something that I don't think many people expected because we hear bad news all the time about the environment, overfishing, and things like that. They're not used to somebody coming and saying, 'Guess what. These things are coming back.' So I think that's an important part for people to see that conservation can work."It's also important, he believes, for people to see how the science is done and why answers take time. In this hour, the investigation leads him to Guadalupe, Mexico, where a growing seal population is bringing in more great whites. "They're seeing more and more juveniles than they've ever seen before, and that's an interesting part of the puzzle. Historically, they only have seen big animals out there, that's typically what you see at these aggregation sites. And when smaller animals start showing up, things are getting a little crowded," Lowe says. "It's kind of like going to a barbecue and having it open and seeing who shows up. You start to see people competing for ribs that may be coming out. You see how sharks react around each other in that case. The reality of it is that's kind of a dangerous place for those younger animals to be, because if you get in some big white shark's way, there's a good chance you're going to get scolded. And a scolding from a big white shark could really be the end."As you see in the video above, the team observed how larger, older sharks intimidate the smaller, younger ones with parallel swimming (after sizing one another up, the smaller shark gives way) and gaping (the larger shark repeatedly opens and closes its mouth as a warning). It's Lowe's hypothesis that the smaller sharks that can't compete for food at Guadalupe are the ones heading up to L.A."Those 9- and 10-foot size sharks are the ones that they see occasionally out at Guadalupe, and they're the ones being pushed out. Everybody's gonna defend their plate full of ribs, and they don't want these youngsters coming in and trying to steal their food. So those youngsters have to find new places to hunt, and Southern California may be the best place because our marine mammal populations, especially on the offshore islands, have just shot up," Lowe says. "So if I was a white shark and I was looking for a new barbecue place, Southern California would be it for me."
  'Sharks and the City: LA': Diving in GuadalupeDiving in Mexico with great whites tells us something about why sharks are coming to Southern California in the Shark Week special airing July 25.While he still needs to tag sharks around the Channel Islands to help confirm his theory, he wants to reiterate this message: "Just because there are more sharks, that doesn't mean people are at greater risk. What it does remind us is that it's their home. We've spent a lot of time and money bringing them back. We pretty much got rid of all the big predators 50 years ago. And we're now just starting to get used to how to act around them, whether it be seals, sea lions, dolphins, whales, or sharks, it doesn't matter — they're all wild animals. They can all be potentially dangerous. But we have to recognize that we're kind of guests in their home, and we have to learn how to behave that way."His best advice: The safest place to be is at the most popular beach. "The reason why I say that is because it's rare for people to be bitten at really popular beaches. My best guess is that sharks avoid those places. People are loud or smelly; we chase away all their favorite food," he says. "If you're not at a popular beach, the next safest thing to do is stay in a group. Surfers that are bitten are most often by themselves, and if you're in a small group, that reduces your chances. It you're an ocean swimmer, swim in a group, swim with friends. Statistically, that's what the numbers are telling us."
'Sharks and the City: New York' Sneak Peek Chris Noth narrates the Shark Week special premiering July 25.Sharks and the City: New YorkYou've never seen anyone more excited on Shark Week than marine biologist Craig O'Connell when his camera traps capture footage of a great white taking bait off Montauk, Long Island. "The goal was just to see a white shark, but I knew from doing about five years of research prior to that, that seeing a white shark was a very tough task. I caught one white shark over the span of five years, and so I knew that having to do it while a camera was there would be near impossible," he says. "The way it works is you look at all the footage at the end of the day. We saw that silhouette of a white shark, and we just lost our mind because of the amount of work that we put in just to get that moment. It was part of something much bigger. To me, that is what the exciting part was —  we proved at last that they're there, and that they're there quite frequently. The next step is to continue doing the work and find out why they're here, what they're feeding on. We need to learn as much about these animals as possible so we can continue to protect them."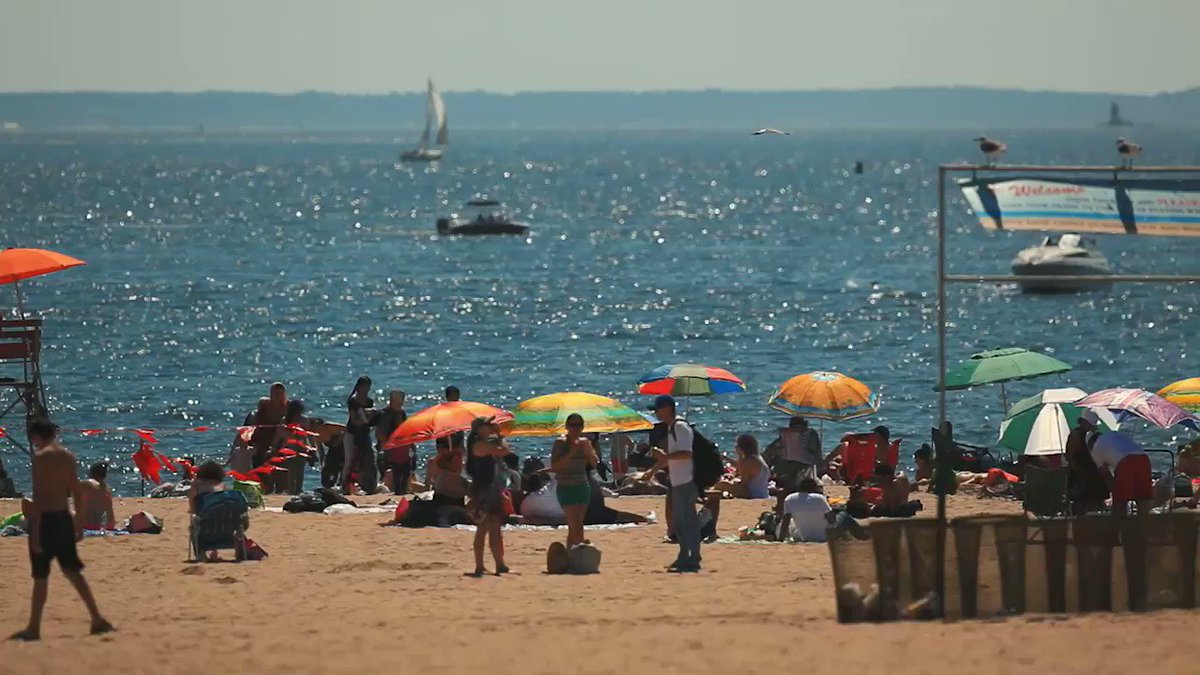 It's another conservation success story: the water of the New York Bight, which runs from Montauk to Cape May, N.J., is cleaner, which leads to the presence of more prey, like seals, which have been protected since the '70s. "I've actually lived in New York my whole life, and I've never seen a seal until we were filming this episode and we go to this one site and see 20 of them just hanging out. That's a direct correlation with the fact that we're protecting these animals," O'Connell says. He looks at what's happening in Cape Cod, where a colony of 20,000 seals has brought big white sharks into the area, or in Cape Town, South Africa, which has a famous population of 60,000 around Dyer Island. "I've spoke to a lot of seal researchers who've said that it's quite possible that some of the seals can start residing in New York waters over the summer," he says. "If that's the case, we could potentially see some of the larger white sharks here too, because that's what these large white sharks are feeding on. New York isn't quite at the point where South Africa is at, but it could be one day if we continue to do all the right things."For now, it's white pups that are frequenting the waters. O'Connell identified nine in Montauk, catching one and bringing it on board to tag it (another enthusiastic sequence). What he learned: these young whites are swimming down to Coney Island. "That's the thing that I think is very intriguing about the whole episode, is that we reveal where these animals are going. They're going to places where there's a lot of people going into the water every day, and they're not bothering the people," he says. "It's important that people recognize that if they did go in the water in Montauk, or Coney Island, or Jones Beach, they've most likely already been in the water with these animals. And the fact that they came out unscathed should be a direct indication to them that we're not on these sharks' menu. We need to respect the fact that it's the shark's environment and the fact that the sharks are there is a sign that the environment is getting healthier. So it's a very good thing. If you get to see one, embrace the sighting. You should feel privileged that you got to see it. Be happy and consider yourself lucky."Shark Week continues through July 30 on Discovery.
All of the Jackets You Need for Summer in San Francisco 
Sulagna Misra Racked
How to dress for the most confusing weather in the country.I like to be prepared. Maybe it's because uncertainty makes me anxious in a way that even a crisis does not. A crisis I can perhaps prepare for, or even expect — and when a crisis occurs, there's nothing to do but deal with it. Uncertainty, the simple not knowing, drives me mad.So of course I moved to the Bay Area, which objectively has the most confusing weather in the entire country. It's not that the Bay Area's weather is more unpredictable; it's just that changes of even the smallest degree (pun intended) are deeply felt and immediately noticeable.When I lived in New York, there were a few weather permutations I could rely on, based on season. In the summer, the only option is to wear as little as possible outside but alsowear seven layers of cardigans inside in the extremely high air conditioning until you can escape the city for the weekend.
An illustration of jacketsIn Los Angeles, the weather was incredibly reliable except for the few days it wasn't. Any East Coaster who's experienced rain in LA has rolled their eyes at the alarm experienced by Southern California residents at water falling from the sky. But even then, you were likely to be in a car anyway — as long as you had an umbrella and water-repellent shoes, you were fine.But damnit, the Bay Area is something else. 30 Rock's Jenna Maroney once summed up the weather thusly while taunting a career opportunist: "Poor baby. Can't hack it in the big city? Gonna move to the Bay Area now, pretend that that was your dream the whole time? Have fun always carrying a light sweater."An illustration of fleece jacketsWhen it comes to clothes and accessories, I'm incredibly exacting. And even though I used to be satisfied with one reliable winter coat and one lighter coat for breezier spring and summer days, the Bay's weather fluctuates throughout the week — hell, the day! — in such particular ways that one jacket simply can't cut it.I suppose one possible solution would be to buy a fleece from some place like North Faceor Patagonia; water-resistant, wind-resistant, and style-resistant. Yes, there's always a fleece — there are fleeces everywhere.But I refuse to go down this path. In fact, I didn't even consider it. Instead, in my first month or so living in San Francisco, I began hoarding spring-weight jackets. But spring seems to last only moments in New York, so it took me a while to build up an arsenal of appropriate outerwear.