Oregon wildfire ravages picturesque gorge, ash chokes communities
 By Alex Dobuzinskis,Reuters 2 hours 59 minutes ago
Now Playing0:33
0:16
0:30
6:42
2:16
0:46
By Alex Dobuzinskis(Reuters) – A wildfire outside Portland, Oregon, forced hundreds of local residents to evacuate on Tuesday as it ravaged the picturesque Columbia River Gorge and sent burning embers raining on communities miles away.The so-called Eagle Creek Fire, which has burned 10,000 acres (4,000 hectares) since it broke out on Saturday, has torn through timber in the gorge, destroying landmarks in one of the Pacific Northwest's most prized natural areas, officials said."Our hearts are breaking," Multnomah County Chair Deborah Kafoury said at a news conference. "The Gorge is Oregon's crown jewel."The blaze was one of 81 large fires burning in the United States on Tuesday, with more than 28 burning in Montana and nearly 20 in Oregon, according to the National Interagency Fire Center. The blazes over the last several days have created unhealthy air conditions in some areas.Winds sent ash raining down on Portland about 30 miles (48 km) to the west of the fire on Tuesday, said Joanie Schmidgall, a spokeswoman for the team fighting the fire. Lieutenant Damon Simmons, a spokesman for the Oregon state Fire Marshal's Office, told reporters that in his 18 years experience in the area he had never seen a wildfire propel ash as intensely as the Eagle Creek Fire.Flying embers, aside from reaching Portland, also sparked spot fires north across the Columbia River in Washington state. The fire led authorities to order 400 households in Multnomah County, Oregon, to evacuate, county sheriff's spokesman Bryan White said at a news conference.A lesser number of households were also evacuated across the border in Washington state, Schmidgall said. The fire has destroyed an unknown number of structures. In western Montana, where a statewide fire disaster was declared last week, the Rice Ridge Fire near Sealey Lake has grown into one of the largest blazes in the state, charring more than 108,000 acres (43,700 hectares) since lightning sparked it on July 24, officials said.The blaze, which is only 2 percent contained, forced about 2,000 people out of their homes on Aug. 28 and they remain under evacuation orders, said fire information officer Mike Cole. The air in parts of Montana has been declared unhealthy due to smoke from the blazes."It's not the worst we've seen but it's getting there," said Kristi Ponozzo, policy director for the Montana Department of Environmental Quality.(Reporting by Alex Dobuzinskis in Los Angeles; Editing by James Dalgleish)
U.S.Wind-driven wildfire erupts in mouth of Weber Canyon, 1,000-plus evacuated, 6 structures burnedThe Salt Lake Tribune 19 hours ago
The fire, first reported at 7:30 a.m., forced the evacuations of more than 1,000 residents and closed down nearby U.S. 89 in both directions in Weber County, along with a large portion of Interstate 84, as heavy smoke cut visibility, officials said. …
(Trent Nelson | The Salt Lake Tribune) A structure burns in South Weber, Tuesday September 5, 2017
By Jessica Miller
By Bob Mims
By Kelly Gifford· 12 hours ago South Weber • At least six structures had burned by Tuesday evening as a 600-acre wildfire, driven by 40 mph winds, raced through dry brush at the mouth of Weber Canyon.The Uintah Fire, first reported at 7:30 a.m., forced the evacuations of about 1,000 residents and closed down nearby U.S. 89 in both directions in Weber County, along with a large portion of Interstate 84, as heavy smoke cut visibility, officials said.Gusty downslope winds coincided with the blaze, and prevented tankers and other aircraft from fighting the fire for several hours. Flames quickly spread through the town of Uintah and pockets of South Weber, as well as the unincorporated subdivision of Uintah Highlands. Among the six structures that had burned were two homes, a garage and a mobile home. There have been no injuries or fatalities as a result of the fire.In more than 20 years as a firefighter in the Weber County area, Weber Fire District Fire Marshal Brandon Thueson said he has never seen a blaze quite like this one."This is kind of our worst-case scenario," he said at a news conference at the Dee Events Center on Tuesday afternoon. "This is something we have dreaded."By late morning, firefighters were finally caught the "leading edge" of the blaze, Thueson said. "Our fingers are crossed that we're getting a handle on it."Thueson called the firefighting situation "amazingly dynamic," noting that in some areas, crews had to withdraw for their own safety, then move back in after the danger passed. By early afternoon, the fire had shifted to the northwest, away from homes.(Trent Nelson | The Salt Lake Tribune) A plane makes a drop on a fire at the mouth of Weber Canyon, Tuesday September 5, 2017.Meanwhile, fire officials began focusing on the evening, when canyon winds could once again wreak havoc by pushing the flames west again. Residents of Uintah Highlands were asked to be prepared for nighttime evacuations. Thueson said he hoped cooler evening temperatures would work in crews' favor, however.A Type 1 incident management team — a firefighting squad with the highest level of experience — had been ordered for Wednesday, fire officials said.It was a chaotic scene Tuesday morning as officials went door to door in the affected areas, asking people to leave. Residents north of South Weber Drive were evacuated for several hours as the fire grew along Interstate 84, but that restriction was lifted by the afternoon.The main evacuation affected homeowners in the Uintah Highlands subdivision just northeast of the town of Uintah, and residents along Bybee Road and east of Highway 89.One resident, Carolyn Jacobson, said after she realized they needed to evacuate from their Woodland Drive home in the Uintah Highlands, she worried about what they should do to keep their home safe. Should they water their roof? Dampen the lawn? They opted instead to grab what they couldn't live without and left.
(Trent Nelson | The Salt Lake Tribune) Don Jacobson packs up photos and blankets while evacuating his home as a fire burns at the mouth of Weber Canyon, Tuesday September 5, 2017.As a helicopter carrying water flew overhead, Jacobson and her husband hurried mementos and old photographs into their minivan. She held the topper on their wedding cake — they were just married last year — as she explained with a laugh that their plan was to head into Ogden and get lunch and maybe watch a movie in the afternoon."My stomach is upset," she said. "I am nervous."Her nearby neighbors also expressed fear of the fast-moving blaze as they stood outside their home. They were among the few still there at about 12:30 p.m. Most of the neighborhood had already left.In Uintah, just west of Highway 89, Jake and Maryann Wayman watched crews battle flames across the highway as they donned ski goggles to protect their eyes from the smoky air. The fire had crept dangerously close to their home earlier that morning, they said, but firefighters stopped the blaze before it reached their homes.
(Trent Nelson | The Salt Lake Tribune) Jake and Maryann Wayman wear goggles to deal with the smoke after a fire nearly made it to their Uintah home, Tuesday September 5, 2017.Evacuees were being sent to the Dee Events Center on the Weber State University campus in Ogden, where volunteers checked people in and offered them food and water as residents waited to hear if they could return to their homes.Officials estimated about 900 residents would use the Dee Events Center for resources. The center did not house anyone overnight, but the Red Cross planned to give some families stipends to stay in hotels, or find additional space if the need arose. The Dee Events Center was scheduled to reopen at 9:30 a.m. Wednesday."This is one [of those days] that will make us look back on the things that are really important to us," Gibson said.Samantha Tobin arrived at the center around 11:30 a.m. with a car packed with extra clothes, toiletries and toys for her 9- and 6-year-old daughters. Tobin received a call from the county Tuesday morning alerting her to the fire, and she decided to evacuate even though it wasn't mandatory for her neighborhood."We are going to wait here to see if they will let us go home or if the situation changes," Tobin said. "My husband left early this morning for a work trip to Canada so he doesn't even know what's happened yet."Tobin lives just west of Uintah Elementary School, which was evacuated along with South Weber Elementary, as a precaution, though classes remained in session at nearby High Mark Charter School. Tobin picked up her girls just before Uintah Elementary decided to evacuate its students and staff. The students were brought by bus to the event center and gathered in the arena's seats.South Ogden resident Casey New gave a sigh of relief as her four children ran to her in the lobby. The kids squealed and hugged their mother and one another before diving into the day's events in unison."It was a little nerve-wracking this morning," New said. "We live a little farther away [from the fire] but if it moves close enough, we could be evacuated."The fire indirectly affected three other schools in the Uintah-Highlands area. H. Guy Child Elementary School, South Ogden Junior High School and Bonneville High School all had students living in the evacuated area who weren't able to be bused home.Tuesday evening, Weber and Davis school district officials reported classes would be held as usual at all schools Wednesday.Layton Fire Marshal Doug Bitton noted Tuesday that more than 100 firefighters and law enforcement from across the Wasatch Front had responded to fight the blaze. South Weber has a part-time fire department, while Uintah has a volunteer agency.Federal officials with the Bureau of Alcohol, Tobacco, Firearms and Explosives were also on scene Tuesday. Bitton said the ATF will help determine the cause of the fire, noting that workers in the area noticed sparks near a power substation on the hillside earlier that morning.It was too windy earlier in the morning to drop fire retardant on the blaze from the air, according to officials, but crews began dropping retardant and water on the hillside by about noon. Helicopters joined the effort later in the afternoon.The U.S. Department of Homeland Security's Federal Emergency Management Agency (FEMA) announced Tuesday afternoon that it had authorized federal funds to help with the firefighting costs. FEMA funding is available to pay 75 percent of the state's eligible firefighting costs, but do not provide assistance to individual home or business owners, according to a news release.
A wind-whipped brush fire threatened homes and businesses in the mouth of Weber Canyon Tuesday. (Photo courtesy KUTV News)
U.S. Rush Limbaugh on Hurricane Irma: Powerful Storm or Liberal Conspiracy?
 Alexander Nazaryan,Newsweek 5 hours ago Hurricane Irma is gathering strength over the Atlantic Ocean as it heads towards the Caribbean. Already rated Category 5, it is expected to make landfall in Florida by the end of the week, with many worried about a repeat of the havoc caused in Texas and Louisiana by Hurricane Harvey.None of that seems to worry Rush Limbaugh.On Monday, the right-wing radio personality delivered a customarily freewheeling monologue in which he seemed to suggest that hurricanes were a liberal conspiracy intended to convince the public that climate change is real.Trending: Can Democrats Save DACA? Why Lawsuits From States Won't Make a DifferenceLimbaugh is not a meteorologist, as he acknowledges at the opening of the monologue, before proceeding to muse on meteorology. He did not immediately respond to a request for comment.Limbaugh is a resident of Palm Beach, Florida, and the hurricane-themed monologue appeared to be driven by his observation that bottled water had already been sold out in local stores, in preparation for Irma's imminent landfall."The reason that I am leery of forecasts this far out, folks, is because I see how the system works," Limbaugh said, alluding to alleged conspiracies against President Donald J. Trump. "Hurricane Harvey and the TV pictures that accompany that go a long way to helping further and create the panic."Don't miss: Ann Coulter Slams President Trump Over DACA and Border WallRelated: Limbaugh is making the GOP the party of wimpsHurricane Harvey flooded 50 counties, killed 63 people and displaced more than a million. Limbaugh did not offer evidence of how any of this was a conspiracy by the "Deep State," environmentalists or other groups that might presumably want to exaggerate the storm's devastation.The crux of Limbaugh's argument was that "in the official meteorological circles, you have an abundance of people who believe that man-made climate change is real. And they believe that Al Gore is correct when he has written—and he couldn't be more wrong—that climate change is creating more hurricanes and stronger hurricanes."It is not clear what Limbaugh meant by "official meteorological circles." Perhaps this is a reference to people who have studied meteorology and are experts in the field. Recently,the Geophysical Fluid Dynamics Laboratory published an extensive review that said it was "premature" to declare a causal link between human activity and hurricane strength. However, that same review said that "it is likely that climate warming will cause hurricanes in the coming century to be more intense globally and to have higher rainfall rates than present-day hurricanes."Most popular: North Korea's Latest Nuclear Bomb Is Stronger Than All Its Previous Combined
A map shows a forecast and potential path of Hurricane Irma. ReutersThe journalist John K. Wilson has called Limbaugh "the country's leading denier of global climate change." That mantle has been proudly claimed by President Trump, who does not appear to believe that global warming is real. Nor do most national Republican politicians. A recent Gallup poll found that only 18 percent of Republicans "worry a great deal" about climate change; conversely, 66 percent of Democrats evinced a heightened level of concern about it.On Monday's program, Limbaugh said that "there is a desire to advance this climate change agenda, and hurricanes are one of the fastest and best ways to do it. You can accomplish a lot just by creating fear and panic. You don't need a hurricane to hit anywhere. All you need is to create the fear and panic accompanied by talk that climate change is causing hurricanes to become more frequent and bigger and more dangerous, and you create the panic, and it's mission accomplished, agenda advanced."The National Hurricane Center did not respond to a request for comment on Limbaugh's assertions about hurricanes.Near the end of the segment, Limbaugh suggested that hurricane coverage was a means for local media outlets to increase ratings and local retailers to increase sales, returning to the observation with which he'd begun."You cannot find a case of bottled water here in Palm Beach," he said. "You can't. Miami, probably even worse."
U.S. Hurricane Irma: Disney, Universal rescheduling policies for Orlando visitors Orlando Sentinel 7 hours ago
For those who have travel plans to Orlando's theme parks, here's what you should know as Hurricane Irma is under officials' watch.At Universal Orlando Resort, the parks' hours are operating as normal as they monitor the weather but visitors can reschedule or seek refunds, according to spokesman Tom Schroder."We have an affirmative, no-questions-asked policy for guests who tell us they want to change plans or seek a refund because of a named storm involving the Orlando area or where they are traveling from," Schroder said in an email.Walt Disney World Resort policy allows people to reschedule or cancel their vacation packages and most room-only reservations without any fees if a hurricane warning is issued by National Hurricane Center for the Orlando area or a visitor's residence within seven days of the traveler's scheduled arrival, according to Disney's website. "The policy does not apply to certain special events or dining experiences," the company said, adding the Walt Disney Travel Company Magic Your Way vacation package and hotel rooms must be booked directly with Disney.It's a similar policy as Legoland, which tells visitors it allows people to change or cancel tickets and vacation packages when a hurricane warning has been issued in Polk County or where tourists are traveling from.SeaWorld Orlando also has a "peace of mind" hurricane policy and will reschedule or refund vacation packages or park tickets without any fees, according to its website.Theme parks can take a financial hit during hurricane season."During this time of the year, particularly with the Halloween events going on, literally millions of dollars can be lost," Dennis Speigel, president of the International Theme Park Services consulting firm, told the Sentinel last year about the threat of hurricanes.Disney is in festival mode with Mickey's Not-So-Scary-Halloween at Magic Kingdom and the Food and Wine Festival at Epcot. The Halloween events at Universal Studios' Halloween Horror Nights and at SeaWorld begin later this month.In 2016, Hurricane Matthew temporarily shut down the theme parks.Disney and Universal Studios both closed early on a Thursday and did not reopen the next day, while SeaWorld shut down for a full day and two partial ones.Central Florida Hotel and Lodging Association was not yet aware of any plans for reduced-rate hotel rooms for evacuees, as often is initiated when storms hit the area, but is monitoring.Airbnb used a disaster-relief program after Harvey hit the Houston area last month and Matthew passed close to Florida's Atlantic coast last year, a spokesman said. If used, the homesharing app sends notifications to active hosts about the program and gives them the option to participate.Airlines and airport officials are on standby, watching the latest updates.At Allegiant Air, for instance, no flights have been canceled as of Tuesday evening but the airline was allowing people to change their travel plans at no cost if they were flying out of Orlando Sanford International Airport Tuesday through Saturday, a spokeswoman said.Got a news tip? grusson@orlandosentinel.com or 407-420-5470; Twitter, @GabrielleRusson
U.S.Local residents worried about relatives in Puerto Rico as Hurricane Irma nearsWWLP Springfield 23 hours ago
SPRINGFIELD, Mass. (WWLP) – The Governor of Puerto Rico has declared a state of emergency due to Hurricane Irma.People told 22News they are thinking of their loved ones as the storm's intensity increases.Hurricane Irma strengthened to a Category 4 storm Monday. Trackers say the storm could hit Puerto Rico as early as Wednesday.Schools have already closed, and 456 shelters are ready for as many as 62,000 people.Local residents told 22News they're worried about their relatives who are still on the Island."If it hits, I want to make sure they're okay, before, during, and after just to have that reassurance that everything is okay," Gretchen Ramirez of Springfield told 22News.Hurricane Irma strengthens to a Category 4 stormAfter seeing Hurricane Harvey's destruction, Hurricane Irma is causing concern here."I thought oh it won't be that bad but after Harvey, now we're getting this right after it so it's a scary thing," said Raymond Guerra of Springfield.Even those without family in Puerto Rico are showing their support."Coming off one tragedy and then having another that's upcoming, that's unfortunate," said Elijah Burston. "My prayers go out to all the families in Texas as well as Puerto Rico."The U.S. Hurricane Center said as of Monday afternoon, Irma had winds of 130 mph. The speed of those winds is expected to increase over the next two days.Top News
Gas prices high for busy Labor Day weekend travelGas prices could continue to rise over the next two weeks. Powered By 

WWLP.com > Share this:
ScienceIceland: Massive Holes Caused by Violent Volcanic Eruption Open up in Glacier
 C.paton,Newsweek 9 hours ago
Giant holes, some as much as 1,300 feet wide, have opened up in Iceland's largest glacier, the result of geothermal heat waves caused by volcanic eruptions.Following fierce activity near the Vatnajökull glacier between 2014 and 2015, seismic eruptions have changed the landscape of the region in its entirety, leading to increased temperatures from the earth.Related: Yellowstone supervolcano earthquake swarm now one of biggest on record, with over 2,300 tremorsTrending: America is Not Ready for Another Attack on ElectionsGeologist Magnús Tumi Gudmundsson told the Icelandic news agency RUV that the waves of heat energy emanating from the volcanic rock below had melted through ice hundreds of feet thick, forming the remarkable holes known as calderas.The creation of the giant holes means that the ground beneath the glacier has been left exposed for the first time in hundreds or thousands of years, since the glacier itself was formed.
The Vatnajökull glacier in southeast Iceland, one of the largest glaciers in Europe, is shown on July 8, 2014. JOEL SAGET/AFP/GettyDon't miss: How Artificial Intelligence May be Tennis's Ace for Serving Grand Slam FansIn the wake of the recent volcanic eruptions in the area, known as Bárdarbunga, Gudmundsson has warned authorities and researchers of the need to be vigilant against the creation of any more calderas, which raise the likelihood of a glacial flood.These floods, known by their Icelandic name (jökulhlaup), occur when the dam that contains a glacial lake fails. They can occur simply as the result of a buildup in pressure but are more likely to be caused by a volcanic eruption or earthquake.In 2010, the second eruption of the Icelandic volcano Eyjafjallajökull from a glacier-covered vent caused the emergency evacuation of 800 people living in the flood zone. The glacial melt raised local river levels by as much as 10 feet and caused the closure of major roads.Most popular: War-torn Syria's World Cup Dreams Alive After Dramatic Tie With IranThe Vatnajökull icecap is the second largest glacier in Europe. It covers some 8 percent of Iceland, running over the top of several volcanos. Over the years, seismic activity has led to a series of glacial floods in the area.Calderas, when they do not appear through melted glacial ice, form from collapsed volcanoes. The massive craters are created when huge volcanic explosions blow out the sides of the volcano, or the surface rock falls into an empty magma chamber.The eruption of a supervolcano in Yellowstone National Park formed a caldera about 50 miles across that lies beneath most of the park itself. Yellowstone is a hot spot for geothermal and seismic activity. The geysers and hot springs in the park are formed by the same kind of heat energy that formed the holes in the Vatnajökull glacier.On average, Yellowstone sees around 1,500 to 2,000 earthquakes per year. Of those, 40 to 50 percent occur as part of earthquake swarms.
Woman Goes Swimming With Bloodthirsty Dolphin & Gets Savagely Attacked, Does She Survive? Swimming with dolphins is on almost everyone's bucket list, but it seems that the playful mammals are tired of being just another prop in human holiday selfies and attack when provoked…
Source: Getty ImagesWhen a group of people in Ireland visited an animal reservoir to fulfill their lifelong dreams, of swimming amongst the playful mammal, things went horribly (horribly) wrong. It seemed that one particular dolphin was tired of playing nice, and would instead focus all her attention on one unlucky human. Here's what happened when a loveable dolphin turned savage and attacked a human for no reason at all! Would either of them make it out of the ordeal alive?Next: Dusty was a happy dolphin, but it would take ONE person to make her angrier than EVER before…
Science America's longest-orbiting female astronaut has safely returned home
 Andrew Tarantola,Engadget 22 hours ago
Now Playing1:00
7:08
1:29
1:47
3:34
5:15
America's longest-orbiting female astronaut has safely returned home After spending 665 days whizzing 254 miles above the surface of Earth aboard the International Space Station, Astronaut Peggy Whitson has successfully reentered the atmosphere and set down safely in Kazakhstan. That's the longest time spent on the ISS for any woman astronaut in history — or any American astronaut for that matter.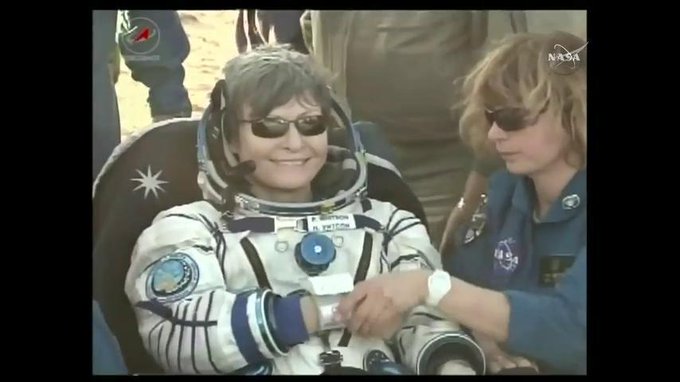 Follow
NASA @NASAAfter the 9:21pm ET landing, @AstroPeggy has a total of 665 days in space, the U.S. record and places 8th on all-time space endurance listWhitson arrived on the ISS on November 18th, 2016, her third time aboard the ISS since her initial stay during Expedition 5 in 2002. She had racked up more than 375 days in space during her two previous missions and had already set the record for longest time in orbit during a single flight, spending 288 consecutive days at LEO. Amazingly, Whitson broke the duration record back in April. But she stayed on for an extra three months just because she felt like it."This is great news," Whitson said in a statement. "I love being up here. Living and working aboard the space station is where I feel like I make the greatest contribution, so I am constantly trying to squeeze every drop out of my time here. Having three more months to squeeze is just what I would wish for."While she was in orbit this last time, at age 56, Whitson became the oldest woman astronaut to complete a spacewalk. It was also her tenth extra-vehicular activity, marking another astronautical record to go along with her other record for most time spent outside the ISS: 60-plus hours of space-walkabouts.But she did more than just spend time in zero-G, Whitson commanded the ISS during her second mission in 2008. And, when she returned to command for a second time in 2016, she became the only woman to do so more than once.What's more, her scientific contributions can't be overlooked. During the 4,623 orbits she completed around the planet, Whitson helped investigate everything from the effects of microgravity on the human eye to antibody experiments "that could increase the effectiveness of chemotherapy drugs for cancer treatment, and the study of plant physiology and growth in space using an advanced plant habitat." You know, just in case anybody was still looking for alternative statue subjects.NASA