UN unanimously backs new sanctions on North Korea
Carole LANDRY AFP
The Security Council is set to vote Monday on the US-led effort to impose harsher new sanctions against North Korea, which has defied multiple measures to rein in its weapons program (AFP Photo/KENA BETANCUR)United Nations (United States) (AFP) – The UN Security Council on Monday unanimously imposed new sanctions on North Korea, slapping a ban on textile exports and restricting shipments of oil products to punish Pyongyang for its sixth and largest nuclear test.With backing from China and Russia, the council adopted a US-drafted sanctions resolution just one month after banning exports of coal, lead and seafood in response to North Korea's launch of an intercontinental ballistic missile (ICBM).Related SearchesNorth Korean Leader Kim Jong UNTrump North Korea Kim Jong UNNorth Korea Kim Jong UN WikipediaLeader Of North Korea Kim Jong UNNorth Korea President Kim Jong UN AgeUS Ambassador Nikki Haley said the tough new measures were a message to Pyongyang that "the world will never accept a nuclear-armed North Korea," but she also held out the prospect of a peaceful resolution to the crisis."We don't take pleasure in further strengthening sanctions today," Haley told the council."We are not looking for war. The North Korean regime has not yet passed the point of no-return."If it agrees to stop its nuclear program, it can reclaim its future. If it proves it can live in peace, the world will live in peace with it," Haley added."If North Korea continues its dangerous path, we will continue with further pressure. The choice is theirs."During tough negotiations, the United States dropped initial demands for a full oil embargo and a freeze on the foreign assets of North Korean leader Kim Jong-Un in a bid to win support from China and Russia.The resolution instead bans textile exports, cuts off natural gas shipments to North Korea, places a ceiling on deliveries of refined oil products and caps crude oil shipments at their current level.It bars countries from issuing new work permits to North Korean laborers sent abroad and seeks to phase out the practice by asking countries to report on the date for ending existing contracts.Some 93,000 North Koreans work abroad, providing Kim's regime with a source of revenue to develop its missile and nuclear programs, according to a US official familiar with the negotiations.Under the measure, countries are authorized to inspect ships suspected of carrying banned North Korean cargo but must first seek the consent of the flag-state.Joint ventures will be banned and the names of senior North Korean official and three entities were added to a UN sanctions blacklist that provides for an assets freeze and a global travel ban.It was the eighth series of sanctions imposed on North Korea since it first tested a nuclear device in 2006.- 'Big mistake' to avoid talks -The United States and its allies argue that tougher sanctions will pile pressure on Kim's regime to come to the negotiation table to discuss an end to its nuclear and missile tests.Russia and China are pushing for talks with North Korea, but their proposal for a freeze on Pyongyang's missile and nuclear tests in exchange for suspending US-South Korean military drills has been rejected by the United States.Addressing Russian and Chinese concerns, the resolution expressed support for dialogue and the need "to resolve the situation through peaceful, diplomatic and political means."Russian Ambassador Vassily Nebenzia told the council it would be a "big mistake to under-estimate this Russia-China initiative" for a so-called freeze-for freeze, adding that Moscow would "insist on it being considered."Chinese Ambassador Liu Jieyi again called for talks "sooner rather than later".China, North Korea's sole ally and main trading partner, had strongly objected to an oil embargo initially sought by the United States out of fear that it would bring the North's economy to its knees.Some four million barrels per year of crude oil will continue to flow from China through a pipeline, but the resolution would cap those deliveries at the current level, according to the US official.The resolution limits deliveries of refined oil products to 500,000 barrels for three months from October 1 and to two million barrels from January 1 for a period of 12 months.That would amount to a 10 percent cut in oil products, according to the US Energy Information Administration, which estimates annual exports to North Korea at nearly 2.2 million barrels.North Korea imports mostly gasoline and diesel fuel from China vital to the country's agriculture, transportation and military sectors, according to the EIA.The US official said the ban on textile exports would deprive North Korea of some $726 million in annual revenue.Washington has said military action remains an option in dealing with North Korea and threatened to cut economic ties with countries that continue to trade with the it. Around 90 percent of the North's external commerce is with China.Earlier, North Korea said it would not accept any chastisement over its nuclear and missile program, which it says is vital to stave off the threat of an American invasion."The DPRK shall make absolutely sure that the US pays due price," its foreign ministry said, in a statement published by the official KCNA news agency."The forthcoming measures to be taken by the DPRK will cause the US the greatest pain and suffering it had ever gone through in its entire history."Pyongyang has staged a series of missile tests in recent months, culminating in an intercontinental ballistic missile that appeared to bring much of the US mainland into range.It followed up with a sixth nuclear test on September 3, its largest to date, which North Korea said was a hydrogen bomb small enough to fit onto a missile.
Not sitting pretty: Study links workers' prolonged chair time to early death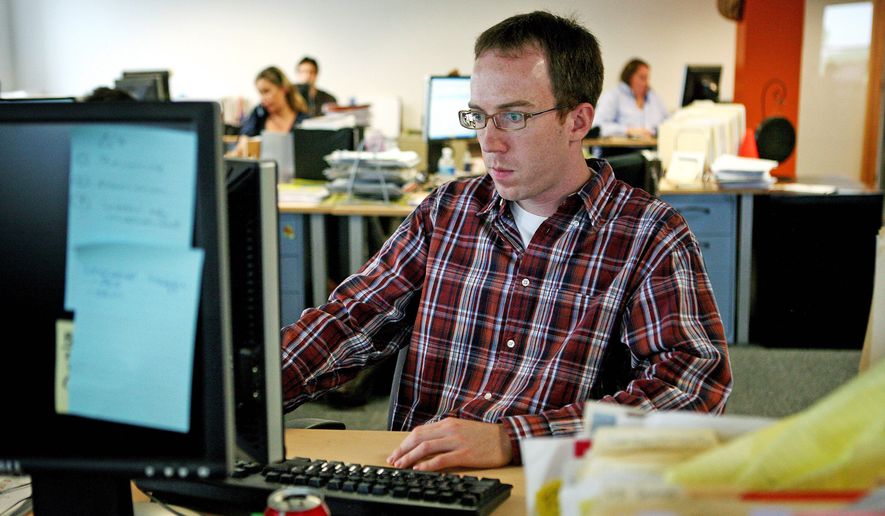 It's not just the total number of hours of sitting accumulated over the day, but uninterrupted sitting over long periods such as 60 to 90 minutes increase the risk for early death, researchers said. (Associated Press/File) more >By Laura Kelly – The Washington Times – Monday, September 11, 2017 If you're sitting down, you might want to stand up while reading this.Building on a growing body of evidence about the dangers of the modern sedentary workplace and lifestyle, a team of researchers has found that long periods of uninterrupted sitting can lead to earlier death — regardless of how much a person exercises and even when accounting for age, gender and other factors. The survey, considered one of the largest of its kind, was published Monday in a scholarly medical journal.Dr. Keith Diaz, the lead author of the study and the director of the Exercise Testing Laboratory at Columbia University, said the most surprising findings were that it wasn't just the total number of hours of sitting accumulated over the day, but that uninterrupted sitting over long periods such as 60 to 90 minutes, increased the risk for early death."This finding I think will help shift our understanding about the risks of sitting by showing that to reduce the harmful consequences of sitting one needs to both decrease the overall time they spend sitting and take frequent movement breaks when they do sit," Dr. Diaz told The Washington Times in an email.The study was published in the Annals of Internal Medicine and followed a national representative population of 8,000 individuals older than 45 for an average of four years.The researchers employed the use of hip-mounted accelerometers to monitor how long people sat and their movement. Previous studies evaluating sedentary time and health had participants self-report their sitting and movement periods.
News Macron's labour reforms face protests across France
By Caroline Pailliez Reuters•
French President Emmanuel Macron speaks during a meeting on "Housing First" in Toulouse French President Emmanuel Macron speaks during a meeting on "Housing First" in Toulouse, southern France, September 11, 2017. REUTERS/Pascal Pavani/Pool By Caroline PailliezPARIS (Reuters) – President Emmanuel Macron faces the first challenge on the streets to his business-friendly reform agenda on Tuesday, when workers from the hard-left CGT union will march through French cities to protest a loosening of labour regulations.Sounding a call to the working class, Philippe Martinez, the head of the Communist Party-linked CGT, branded the reforms a "social coup d'etat", but Macron will take comfort from divisions among France's three main unions over the issue.After weeks of negotiations, the government last month revealed measures including a cap on payouts for dismissals adjudged unfair and greater freedom for companies to hire and fire and to set pay and working conditions. It plans to adopt the new decrees on Sept. 22."I am fully determined and I won't cede any ground, not to slackers, nor cynics, nor hardliners," Macron told French business leaders on Friday during a trip to Athens.French workers have long cherished a strict labour code protecting their rights. But companies complain it has deterred investment and job creation and stymied economic growth.The reforms are being closely watched in Germany, where they are seen as a test of the French leader's resolve to re-shape the euro zone's second-biggest economy, a must if he is to win Berlin's backing for broader reforms to the currency union.CGT workers from the rail, oil and power sectors have said they will heed his call for strike action on Tuesday. CGT boss Martinez called Macron's talk of slackers "scandalous" and said public discontent was rising.Macron, asked on Monday if he regretted his choice of words, fired back: "We cannot move forwards if we don't say things as they are."UNIONS DIVIDED For decades, governments on the political left and right have tried to overhaul the 3,000-page labour code, but ended up watering down their plans in the face of street demonstrations.Macron was economy minister in the socialist government of former president Francois Hollande, whose attempt at labour reform – dubbed the El Khomri law – led to weeks of protests and stoked a damaging rebellion within his own ruling party.An opinion poll published on Sept. 1 showed voters have mixed views on the reform. Nearly six in every 10 people oppose Macron's labour decrees overall, but when they look at specific measures they approve most of them.With economic growth accelerating, unemployment on a downward trend and the country's leading unions divided in their response to the reforms, it is not clear whether the protests will gain momentum.French voters "chose Macron to carry out the reforms which France have shrunk away from for 30 years," Finance Minister Bruno Le Maire told the newspaper Les Echos.While the largest union, the moderate CFDT, described Macron's labour decrees as a "deep disappointment" it has said it will not join the CGT demonstrations.So has the smaller Force Ouvriere (FO), usually an ally of the CGT, a decision that has led to discord within the FO's ranks with some factions saying they would join the protests."We took part in the protests against the El Khomri law. These decrees are El Khomri plus plus," Patrice Clos, head of one federation within the FO told Reuters. "We can't accept something that we were against a year ago."
(Writing by Richard Lough, editing by Larry King)