Dam Failure, Escalating Crisis Stymie Recovery in Puerto Rico

NBC News Suzanne Gamboa and Gabe Gutierrez and Sandra Lilley WASHINGTON — After almost a year of working to pull itself from what was considered a fiscal death spiral, Puerto Rico finds itself in a vortex of a humanitarian crisis wrought by Hurricane Maria.The island is grappling with massive destruction and near total loss of power, flooded towns and reports of fatalities. And though the storm had long departed, the tragedy and hardship continued Friday when the National Weather Service warned that a key dam northwest of San Juan had failed.The National Weather Service in San Juan said the northwestern communities of Isabela, Quebradillas and the surrounding areas were in danger. The approximately 70,000 people who live in the area were warned to seek higher ground immediately, as the failure of the 345-yard dam threatened to create flash flooding downstream on the Rio Guajataca.
Image: Puerto Rico In The Aftermath Of Hurricane Maria1/5 SLIDES © SAN JUAN, PUERTO RICO – SEPTEMBER 21: Gabriel Ortega, 29, surveys the damage on his property after H…Image: Puerto Rico In The Aftermath Of Hurricane MariaIn the town of Toa Baja alone, eight people have drowned, the town's mayor Benardo "Betito" Marzquez told NBC News. The mayor confirmed that some 4,000 people have been rescued from flood waters, but the town 30 miles west of San Juan remains without power and cell phone communication and had yet to receive adequate amounts of relief supplies of food or potable water.Residents appear to be in a state of shock, even as waters have begun to recede. The National Guard is in the town, along with search and rescue teams from Virginia and Florida.On Friday the island's main newspaper, El Nuevo Día was reporting bridge collapses, overflowing rivers, evacuations and some landslides in parts of the island.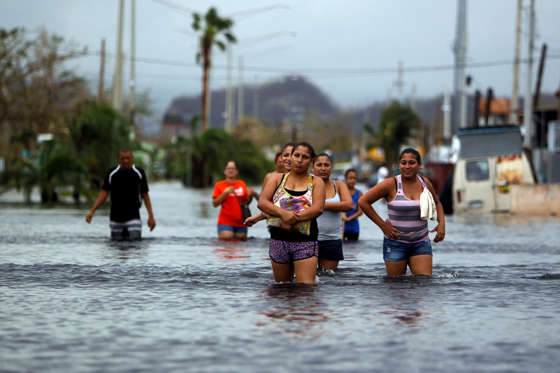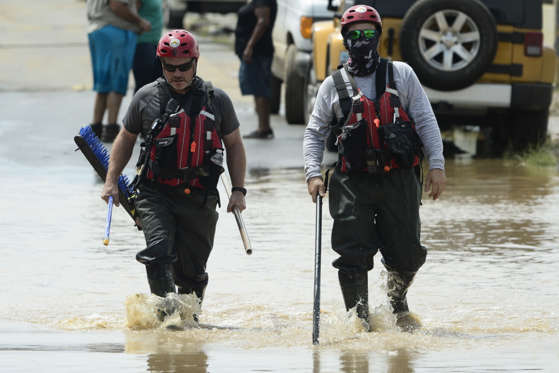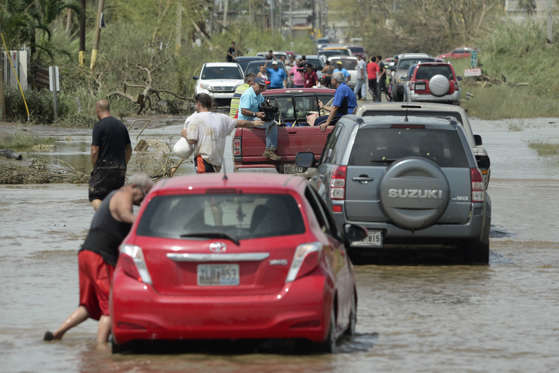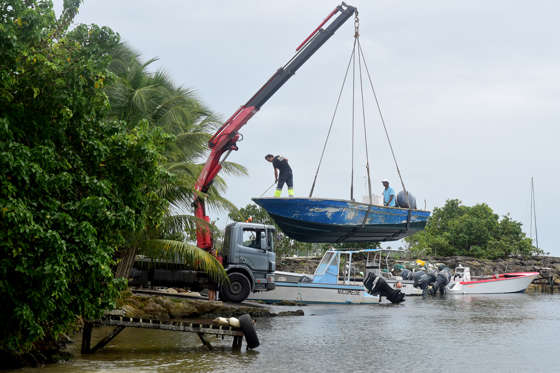 Slide 1 of 82: National Guard personnel offer evacuation to a Toa Ville resident after the passing of Hurricane Maria, in Puerto Rico, Friday, September 22, 2017. Because of the heavy rains brought by Maria, thousands of people were evacuated from Toa Baja after the municipal government opened the gates of the Rio La Plata Dam.1/82 SLIDES © Carlos Giusti/AP PhotoNational Guard personnel offer evacuation to a Toa Ville resident after the passing of Hurricane Maria, in Puerto Rico on Sept. 22. Because of the heavy rains brought by Maria, thousands of people were evacuated from Toa Baja after the municipal government opened the gates of the Rio La Plata Dam.Slideshow by photo services.Before Maria hit, Puerto Rico already was considered in crisis, hanging on by the fingertips to a cliff, but getting some gripping. Now some fear the hurricane has sent the island into free fall and they are wondering if there's an adequate safety net to stop it."This is a particularly devastating hurricane at a particularly weak moment," Rep. Luis Gutiérrez said Thursday in a Chicago meeting with the city's Puerto Rican community, organized to help.Health and safety are always concerns after such a disaster, but Puerto Rico must try to address those with the island largely devoid of electrical power and with a severely damaged communication system.RELATED: Mainland Families Desperately Await Word from Puerto Rico "The infrastructure of Puerto Rico is so weak that it's going to take a really long time (to recover). This is not like the electricity going out in the city of Chicago. The infrastructure has already been so debilitated and there have been so many years of lack of continuing support for that infrastructure," Gutiérrez said.There are immediate needs of making sure hospitals can continue to run on generators, which require fuel that is in demand. It's unknown how many people are trapped in homes that can't get to a hospital or need some kind of health aid, such as a nebulizer, medication or assistance with getting around."My mother-in-law is being taken care of at home. She needs care 24/7, including air conditioning. She's bed-ridden and on oxygen. How long can you support gasoline generators? They have one, but they have to fill it every day," said Edwin Melendez, the director of Center for Puerto Rican Studies, Hunter College, City University of New York. "It's not like these things are gas free. How do you get the gas?"Jaime Pla, president of the Puerto Rico Hospital Association, told NBC News that hospitals have been able to operate normally for the past 48 hours because they have been on generator power."The issue we're going to have is accessibility to diesel," said Pla, adding that most generators operate on diesel tanks that last between three to five days.Pla said that islanders who use medical equipment on a daily basis, but have no power, should first try to go to a nearby shelter that has electricity, noting that hospitals have been at capacity since before the storm. He added however that anyone who has a medical emergency should not hesitate to go to a hospital.Pla said he was still concerned about islanders who were having trouble getting around. Downed trees and power lines have made roads impassable in places and there are concerns about rural regions and what effect the relentless rains had on dirt roads."The hurricane has been nothing short of a major disaster," Puerto Rico Gov. Ricardo Rosselló told MSNBC Friday.All of this comes after Puerto Rico's medical system already was strained as doctors have been leaving the island because of the economic crisis, as NBC News reported last month.RELATED: Puerto Ricans Venture Out to Face Hurricane Maria's Devastation Gutiérrez also noted that the island has a largely older population because many of its young people have left find work on the mainland.Caribbean News reported that the Federal Emergency Management Agency, FEMA, is flying in cargo planes loaded with water, food, generators and temporary shelters.Mike Hyland, senior vice president of engineering services at the American Public Power Association based in Arlington, Va. said his organization was preparing to send a team into Puerto Rico when New York Gov. Andrew Cuomo offered to bring them in on the plane he'd chartered into New York.They accepted the offer, which allowed them to get the team in sooner than they thought they would.The team includes helicopters and drone pilots. The drones will be used to scan the countryside to help assess the damage. Hyland spoke more optimistically about prospects for restoring Puerto Rico's electricity."I would point to (Hurricane) Irma, how well Puerto Rico did … they were serving 96 percent in five or six days. To me that seems okay," he said. But nothing will be certain until a damage assessment is complete. As soon as the team arrives, their task will be similar to surveying every electric system structure in the state of Connecticut, Hyland said."Our job is to get the lights back on," he said.Follow NBC Latino on Facebook, Twitter and Instagram.
Hurricane Maria skirts Turks and Caicos as Puerto Rico endures fresh flooding
By Dave Graham and Robin Respaut Reuters
Hurricane Maria skirts Turks and Caicos as Puerto Rico endures fresh floodingBy Dave Graham and Robin Respaut SAN JUAN, Puerto Rico (Reuters) – Hurricane Maria, the second major storm to ravage the Caribbean in a month, skirted past the Turks and Caicos Islands on Friday, leaving devastation in its wake that included fresh flooding on Puerto Rico two days after pummeling the U.S. island territory.Maria, which ranked as the most powerful hurricane to strike Puerto Rico in nearly a century, has killed at least six people there and claimed 19 lives on several other Caribbean islands, according to government officials and local news media accounts.But even as Puerto Ricans struggled without electricity to clean up and dig out from tangles of rubble, uprooted trees and fallen power lines, another potential disaster was unfolding in northwestern corner of the island, where a dam was on the verge of collapse.The U.S. National Weather Service warned in a series of bulletins that the dam on the rain-engorged Guajataca River, was failing, causing flash flooding in the area and prompting an evacuation of communities below the reservoir by way of buses.Roughly 70,000 people live in the area downstream from the earthen dam that was under evacuation, the island's governor, Ricardo Rossello, said in a late-afternoon news conference.Christina Villalba, an official for the island's emergency management agency, said there was little doubt the dam would give way."It could be tonight, it could be tomorrow, it could be in the next few days, but it's very likely it will be soon," she said, adding that authorities were aiming to complete evacuations Friday night.Maria struck Puerto Rico as a Category 4 storm on the five-step Saffir-Simpson scale and cut a path of destruction through the center of the island on Wednesday, ripping roofs from buildings and triggering widespread flooding. Torrential downpours from the storm sent several rivers to record levels.Officials in Puerto Rico, an island of 3.4 million inhabitants, confirmed six storm-related fatalities: three from landslides in Utuado, in the island's mountainous center; two from drowning in Toa Baja, west of San Juan, and a person near San Juan who was struck by a piece of wind-blown lumber.Earlier news media reports had put the island's death toll as high as 15."We know of other potential fatalities through unofficial channels that we haven't been able to confirm," said Hector Pesquera, the government's secretary of public safety.In and around San Juan, the capital, people worked to clear debris from the streets on Friday, some working with machetes, while others began to reopen businesses, though they wondered how long they could operate without power and limited inventory."There's no water, no power, nothing," said Rogelio Jimenez, a 34-year-old pizzeria worker.Motorists lined up for hours outside the few gasoline stations that were open. "I've been here for three and a bit hours," said Angel Serra, sitting in a blocks-long line hoping to fill up his tank.Long lines also formed at the handful of automated teller machines that appeared to be working in the region.DAMAGE ESTIMATED AT $45 BLN Puerto Rico was already facing the largest municipal debt crisis in U.S. history. A team of judges overseeing its bankruptcy has advised involved parties to put legal proceedings on hold indefinitely as the island recovers, said a source familiar with the proceedings.The storm was expected to tally $45 billion in damage and lost economic activity across the Caribbean, with at least $30 billion of that in Puerto Rico, said Chuck Watson, a disaster modeler at Enki Research in Savannah, Georgia.Elsewhere in the Caribbean, 14 deaths were reported on Dominica, an island nation of 71,000 inhabitants. Two people were killed in the French territory of Guadeloupe and one in the U.S. Virgin Islands. Two people died when the storm roared past the Dominican Republic on Thursday, according to local media outlet El Jaya.Maria churned past Turks and Caicos and was 295 miles (480 km) east of the Bahamas by 8 p.m. EDT (midnight GMT) on Friday, the NHC said. It was packing sustained winds of up to 125 miles per hour (205 km per hour), making it a Category 3 hurricane, but was expected to gradually weaken over the next two days as it turned more sharply to the north.Officials on Turks and Caicos, a British overseas territory, had ordered residents to remain indoors and businesses to close on Friday as the hurricane neared, bringing a storm surge of as much as 12 feet (3.7 meters) above normal tide levels. But hurricane warnings were later canceled as Maria passed.Storm swells driven by Maria were expected to reach the southeastern coast of the U.S mainland on Friday, the NHC said, adding that it was too soon to determine what, if any, other direct effects it would have.In the Dominican Republic, Maria damaged nearly 3,000 homes and sent more than 9,300 to shelters, local emergency response agencies reported.Maria passed close by the U.S. Virgin Island of St. Croix, home to about 55,000 people, early Wednesday, knocking out electricity and most mobile phone service.Maria hit about two weeks after Hurricane Irma pounded two other U.S. Virgin Islands: St. Thomas and St. John. The islands' governor, Kenneth Mapp, said it was possible that St. Thomas and St. Croix might reopen to some cruise liner traffic in a month.Irma, one of the most powerful Atlantic storms on record, killed more than 80 people in the Caribbean and the United States. It followed Harvey, which also killed more than 80 people when it struck Texas in late August and caused flooding in Houston.More than two months remain in the Atlantic hurricane season, which runs from June 1 to Nov. 30, although the busiest period is generally from mid-August to mid-October.(Reporting by Dave Graham and Robin Respaut in San Juan; Additional reporting by Jorge Pineda in Santo Domingo, Nick Brown in Houston, Devika Krishna Kumar and Daniel Wallis and Jennifer Ablan in New York and Alex Dobuzinskis in Los Angeles; Writing by Scott Malone and Steve Gorman; Editing by Lisa Shumaker and Mary Milliken)
10 Numbers That Explain Hurricane Maria's Devastating Toll On Puerto Rico
Ryan Grenoble HuffPostAuthorities are still assessing the toll exacted by Hurricane Maria on Puerto Rico this week, but it's certain that the damage inflicted has been both massive and is likely to grow. "We still don't have a lot of information," Puerto Rico's Gov. Ricardo Rosselló told CNNWednesday night. "We're virtually disconnected in terms of communications with the southeast part of the island."President Donald Trumpsigned off on a disaster declaration for the island on Thursday, but addressing the needs of the devastated island has only just begun.
Cars drive through a flooded road in the aftermath of Hurricane Maria in San Juan on Sept. 21, 2017. (RICARDO ARDUENGO via Getty Images)Related SearchesHurricane Maria Puerto Rico DamagePuerto Rico Hurricane DamagePuerto Rico Damage From Hurricane MariaPuerto Rico Maria DamageHurricane Maria En Puerto Rico Here's a breakdown of the impact (so far) by the numbers:15At least 15 deaths have been reported so far as a result of Maria. That number is expected to grow as recovery efforts proceed.3.4 million That's both the population of Puerto Rico and the number of people currently without power. Maria devastated Puerto Rico's already fragile electrical grid, cutting off power to 100 percent of the island.6 It could take up to six months for Puerto Rico Electric Power Authority, the island's sole energy service provider, to restore power. (Complicating matters, the power authority is around $9 billion in debt.) 80 ― 90 Percent Carlos Mercader, a spokesman for Puerto Rico's governor, told PBS that in the hardest hit communities on the island, almost all of the houses have been destroyed. "80 or 90 percent of the homes are a complete disaster," he said. "They are totally lost."12,500 Some 12,500 people fled their homes to ride out the storm in one of Puerto Rico's 500 shelters. Given the extent of the damage to homes, Mercader said he expects many people will be forced to live out of the shelters for weeks to come.155 mph That was Maria's sustained windspeed when it made landfall as a Category 4 storm Wednesday morning, just shy of being considered a Category 5 storm, the strongest on the Saffir-Simpson hurricane wind scale.1928 Hurricane Maria was the first Category 4 storm to hit the island since 1932, and the strongest since a Category 5 storm hit Puerto Rico in 1928. $74 billion The amount of debt the economically troubled U.S. territory had before the storm, not including an additional $50 billion in pension liabilities.$1 billion The amount of damage already inflicted on Puerto Rico by Hurricane Irma, which skirted the island just two weeks ago. $15 million The woefully small size of Puerto Rico's emergency fund.This article originally appeared on HuffPost.
Science NASA reveals what will happen when 'Planet X hits Earth' on September 23
Yahoo7
7 hours ago
  It's Doomsday – September 23, the day when the so-called "Planet X" is predicted to collide with Earth.With the fabled Armageddon planet Nibiru apparently about to crash into our home, NASA has revealed what we should do as the predicted end of the world unfolds.Its advice: Nothing.