In meeting with military, Trump talks of 'calm before the storm'
 By Jeff Mason,Reuters 2 hours 46 minutes ago
By Jeff Mason WASHINGTON (Reuters) – After discussing Iran and North Korea with U.S. military leaders on Thursday, President Donald Trump posed for a photo with them before dinner and declared the moment "the calm before the storm.""You guys know what this represents?" Trump said after journalists gathered in the White House state dining room to photograph him and first lady Melania Trump with the uniformed military leaders and their spouses."Maybe it's the calm before the storm," he said.What storm?"You'll find out," Trump told questioning reporters.Classical music played in the background and tables were set in the nearby Blue Room for a fancy meal.The White House did not immediately reply to a request to clarify Trump's remark.Earlier in the evening, while seated with the top defense officials in the cabinet room, Trump talked about the threat from North Korea and preventing Iran from getting a nuclear weapon."In North Korea, our goal is denuclearization," he said. "We cannot allow this dictatorship to threaten our nation or our allies with unimaginable loss of life. We will do what we must do to prevent that from happening. And it will be done, if necessary, believe me."During his speech to the United Nations General Assembly last month, Trump said the United States would "totally destroy" North Korea if needed to defend itself or U.S. allies.The president on Thursday also had tough words for Iran, saying the country had not lived up to the spirit of an agreement forged with world powers to curb its nuclear program.A senior administration official said on Thursdaythat Trump was expected to announce soon he would decertify the landmark agreement.Trump has filled top posts within his administration with military generals, including his chief of staff, retired General John Kelly, and national security adviser, Lieutenant General H.R. McMaster. McMaster, who normally dresses in civilian clothes at the White House, wore his uniform for the meeting.Without being specific, Trump pressed the leaders to be faster at providing him with "military options" when needed."Moving forward, I also expect you to provide me with a broad range of military options, when needed, at a much faster pace. I know that government bureaucracy is slow, but I am depending on you to overcome the obstacles of bureaucracy," he said during their cabinet room meeting.(Reporting by Jeff Mason; Editing by Peter Cooney)
Trump, during photo shoot, talks of 'calm before the storm'

Associated Press
'White Lives Matter' rally planned for Tennessee
© The Associated Press President Donald Trump and first lady Melania Trump, center, poses for a group photo with senior military leaders and spouses in the State Dining Room of the White House in…WASHINGTON — President Donald Trump delivered a foreboding message Thursday night, telling reporters as he posed for photos with his senior military leaders that this might be "the calm before the storm." White House reporters were summoned suddenly Thursday evening and told the president had decided he wanted the press to document a dinner he was holding with the military leaders and their wives.Reporters were led hastily to the grand State Dining Room, where they walked into a scene of the president, his highest-ranking military aides and their wives posing for a group photo. The cameras clicked and they smiled. A joke was made about someone's face being tired. Live classical music played.Then, Trump gestured to the reporters in the room."You guys know what this represents?" Trump asked. "Maybe it's the calm before the storm. Could be the calm, the calm before the storm.""What storm Mr. President?" one reporter shouted. ISIS? North Korea? Iran?"You'll find out," the president said.He also praised those assembled for the photo, saying: "We have the world's great military people in this room, I will tell you that."Earlier in the evening, the president had lauded the group, including his defense secretary and chairman of the Joint Chiefs of Staff, and said they would be discussing the most pressing military issues facing the country, including North Korea and Iran.Trump said "tremendous progress" had been made with respect to the Islamic State group, adding, "I guess the media's going to be finding out about that over the next short period of time."He also denounced Iran, saying the country should not be allowed to obtain nuclear weapons, and offered another stark warning to North Korea's Kim Jong Un."We cannot allow this dictatorship to threaten our nation or allies with unimaginable loss of life," he said, vowing to "do what we must do to prevent that from happening and it will be done, if necessary. Believe me."He also said that, moving forward, he expects those in the room to provide him with "a broad range of military options, when needed, at a much faster pace."__Follow Colvin on Twitter at https://twitter.com/colvinj
© The Associated Press President Donald Trump, right, speaks during a briefing with senior military leaders in the Cabinet Room of the White House in Washington, Thursday, Oct. 5, 2017, with National Security…
White House Tries To Dial Back Trump's Call For Senate To Investigate Media

Talking Points Memo Nicole Lafond
Rep. Murphy resigns after pressure mounts following texts on abortion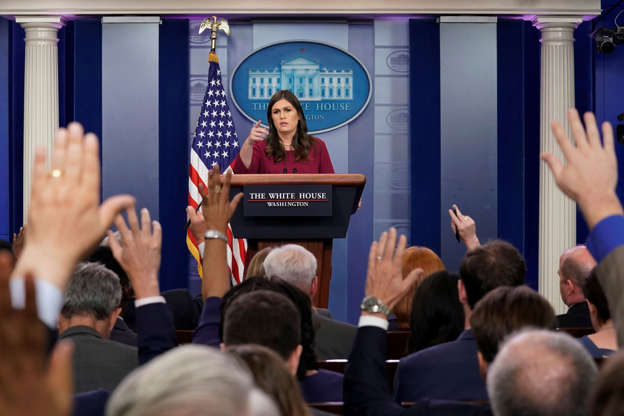 © REUTERS/Yuri Gripas White House Press Secretary Sarah Huckabee Sanders speaks during a news briefing at the White House in Washington, U.S., October 5, 2017.White House Press Secretary Sarah Huckabee Sanders said Thursday that she doesn't think President Donald Trump necessarily wants to see the Senate Intelligence Committee investigate American media outlets, despite Trump tweets to the contrary.On Thursday morning Trump lashed out on Twitter at the media and the Senate Intelligence Committee, which is probing Russian meddling in the 2016 election, asking why the committee isn't looking into "Fake News Networks in OUR country."When asked whether Trump believes that the Senate Intelligence Committee should investigate American media organizations Thursday during a White House press briefing, Sanders dialed back from Trump's remarks."I don't know that that's the case," she said. "But I do think that we should call on all media to a higher standard. … I think you have a lot of responsibility and a lot of times false narratives create a bad environment, certainly aren't helpful to the American people and you have a responsibility to provide and report fair and accurate details. When we don't, that's I think, troubling for all of us."When asked if Trump values the First Amendment, she said the President is an "incredible advocate" of the freedom of the press, but said "with those freedoms also come responsibilities."She then went on to complain about the lack of positive news coverage of the administration and listed all the positive moves Trump has made since entering the White House, claiming those are the things Americans want to hear about."Not a lot of the things you cover, not a lot of the petty palace intrigue that you spend your time on. I think we need to move towards a certainly more fair, more accurate and frankly a more responsible news media for the American people," she said.Trump's tweets were apparently in response to a Wednesday NBC report that said Secretary of State Rex Tillerson called Trump a "moron" and that he wanted to resign this summer. Both Tillerson and Trump said the report wasn't true. NBC has stood by its reporting.This article was written by Nicole Lafond from Talking Points Memo and was legally licensed through the NewsCred publisher network. Please direct all licensing questions to legal@newscred.com.
Trump visits Las Vegas after deadly mass shooting Yahoo News Photo Staff Wed, Oct 4 8:21 PM GMT+3  Air Force One departs Las Vegas past the broken windows on the Mandalay Bay hotel, where shooter Stephen Paddock conducted his mass shooting along the Las Vegas Strip in Las Vegas, Nev., Oct. 4, 2017. (Photo: Kevin Lamarque/Reuters)President Donald Trump met privately with victims of the Las Vegas shooting at a hospital Wednesday after he touched down in a city still reeling from the worst gun massacre in modern U.S. history.Air Force One landed at the airport near the famed Las Vegas strip on a bright, sunny morning just days after a gunman on the 32nd floor of a hotel and casino opened fire on people at an outdoor country music festival below. The Sunday night rampage killed at least 58 people and injured 489, some from gunfire and some from a chaotic escape."It's a very sad thing. We are going to pay our respects and to see the police who have done really a fantastic job in a very short time," Trump told reporters before departing the White House. He said that authorities were "learning a lot more" about the shooter, Stephen Craig Paddock, and that more details would be "announced at an appropriate time.""It's a very, very sad day for me personally," he said.Trump's first stop was the University Medical Center, where he was speaking privately with victims of the Sunday night shooting rampage, their families, and medical professionals. On his trip from the airport, the president's motorcade drove past the Mandalay Bay hotel where the gunman fired down into the concert crowd. The president also drove past his own Trump hotel. (AP)
World What Is North Korea up To? Kim Jong Un Planning Provocative Act for Columbus Day, Top CIA Official Warns
North Korea is likely planning something very provocative around Columbus Day next week, which happens to fall the day before the anniversary of the founding of the North Korean communist party, a top CIA official warned on Wednesday."We are concerned…that risk exists at any time on the Korean Peninsula," said Yong Suk Lee, deputy assistant director of the CIA's Korea Mission Center, while speaking at a conference at the George Washington University in Washington, D.C. "I told my own staff, October 10 is the Korean Workers Party founding day. That's Tuesday in North Korea, but that's Monday — Columbus Day holiday in the U.S. — so stand by your phones.""North Korea is a political organism that thrives on confrontation," Lee added.Trending: Placebo Effect: Expensive Sham Medical Treatments Cause Worse Side Effects Than Cheap Ones But Lee also said Kim Jong Un is a "very rational actor," adding that the North Korean leader "wants to rule for a long time and die peacefully in his own bed." Starting a war with a country as powerful as the U.S., which has many allies in the region, is "not conducive" to this goal, Lee said.
North Korea has conducted nuclear tests and missile launches on important national holidays in the past, including its first ever nuclear test on October 9, 2006. A decade later, on September 9, 2016, North Korea conducted a nuclear test to mark its founding — this was it's fifth nuclear test, it's conducted six in total. Both South Korean and Japanese officials have also issued warnings about the potential for provocative acts from North Korea on or around October 10. Don't miss: 'Automatic for the People' at 25: Why R.E.M.'s Masterpiece Is Still So SpecialNorth Korea has ramped up its missile tests in 2017, which has led to heightened tensions with the U.S. and an ongoing war of words between President Donald Trump and Kim Jong Un.