Nate Takes Aim as US Still Reels From Earlier Storms VOA News Fri, Oct 6 8:00 AM GMT+3
Tropical Storm Nate is being blamed for more than 20 deaths across Central America even as it tracks toward a likely U.S. landfall this weekend as a hurricane. "The system is forecast to strengthen over the Gulf of Mexico, and could affect portions of the northern Gulf Coast as a hurricane this weekend, with direct impacts from wind, storm surge, and heavy rainfall," the National Hurricane Center said Thursday. "However, it is too early to specify the timing, location or magnitude of these impacts." Nate is expected to reach the northern Gulf Coast at hurricane strength this weekend before making landfall early Sunday somewhere between southeast Louisiana and the Florida Panhandle. Residents …At least 11 people died in Nicaragua and seven others were reported missing as thousands evacuated homes due to flooding, Vice President Rosario Murillo said.At least eight people, including two children, were killed in Costa Rica because of heavy rains, according to emergency officials.In Honduras, emergency officials said two youths drowned due to the sudden swell of a river and a man was killed in a mudslide in El Salvador."The system is forecast to strengthen over the Gulf of Mexico, and could affect portions of the northern Gulf Coast as a hurricane this weekend, with direct impacts from wind, storm surge, and heavy rainfall," the National Hurricane Center said Thursday. "However, it is too early to specify the timing, location or magnitude of these impacts."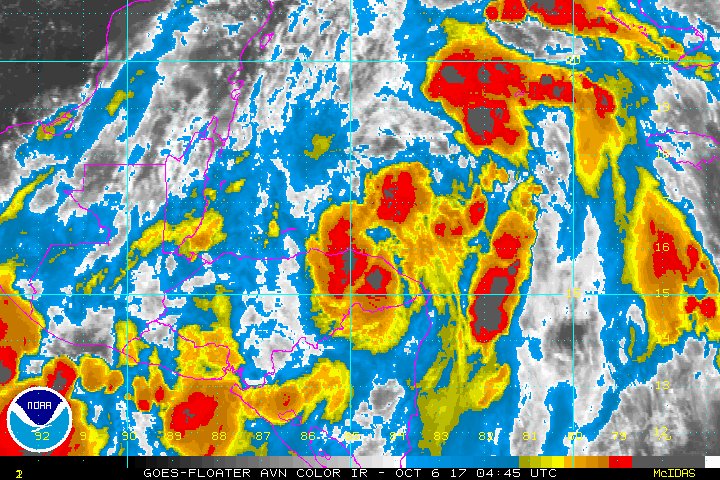 Follow

NHC Atlantic Ops @NHC_AtlanticFor more on #Nate US local impacts, follow @NWSNewOrleans@NWSMobile @NWSJacksonMS @NWSBirmingham@NWSLakeCharles @NWSAtlanta @NWSHuntsvilleCould reach US early Sunday Nate is expected to reach the northern Gulf Coast at hurricane strength before making landfall early Sunday somewhere between southeast Louisiana and the Florida Panhandle.Residents in parts of Louisiana's coastal St. Bernard Parish, east of New Orleans, have been ordered to evacuate as the state prepares for Nate. The evacuation for areas outside of the parish levee system was set to begin Thursday evening.A state of emergency was declared for 29 Florida counties and New Orleans.Even as the threat of Nate draws near, parts of the U.S. and its territories are struggling to recover from previous storms.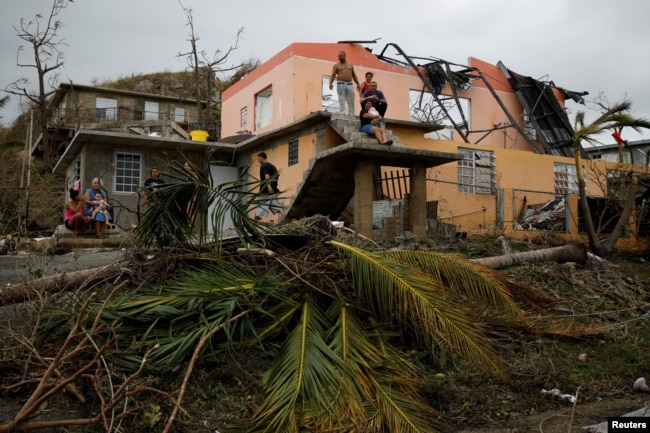 People rest outside a damaged house after the area was hit by Hurricane Maria in Yabucoa, Puerto Rico, Sept. 22, 2017.Hurricane Maria  Vice President Mike Pence will travel Friday to St. Croix, U.S. Virgin Islands, which was devastated by Hurricanes Maria and Irma. Pence will survey the damage from an aircraft and meet with citizens whose lives were upended by the severe weather.Pence will then visit Puerto Rico, where he will survey the extensive damage caused by Maria. He will receive a briefing from federal officials on rebuilding efforts, meet with members of the community and participate in a prayer service.
On Thursday, a group of Puerto Ricans who arrived in Florida on Thursday met with Pence. Everlinda Burgos, who flew into Orlando from her home in Naranjito, told Pence, "Don't go to San Juan. Go inside the country like where I live." Burgos told Pence that President Donald Trump went to "another part" earlier this week. But she said the vice president should "go to the center" on Friday "because that's where the disaster is."
Some two weeks after the catastrophic Category 5 Hurricane Maria hit Puerto Rico, the U.S. territory is still reeling from its devastating effects.
The government's hope is to have the power back on for a quarter of the island within a month's time, and for the entire territory of 3.4 million people by March.
While 63.3 percent of the San Juan metropolitan region has safe drinking water, just 14 percent in the northern part of the island and 30 percent in the west region have such access.
As part of his daily news briefing on recovery efforts, the governor reported that 76 percent of island gas stations were open and 70 percent of the supermarkets reported open.
Hurricane Irma
The Florida Keys, devastated by Hurricane Irma last month, have reopened just in time for prime tourist season. The keys, which stretch about 200 kilometers off Florida's southern tip, were closed after Irma made landfall Sept. 10 as a Category 4 hurricane.
Tourism-related jobs account for about 50 percent of the workforce in the area.
Meanwhile, the last shelter used for Hurricane Irma evacuees closed in Miami-Dade County Wednesday.
As Irma approached Florida, Miami-Dade Mayor Carlos Gimenez issued evacuation orders covering 600,000 residents. The county opened 43 shelters capable of housing about 100,000 people. Some 32,000 people ended up taking shelter in county facilities.
Hurricane Harvey
Texas lawmakers, including Governor Greg Abbott, urged Congress to approve an additional $18.7 billion in funding for relief and recovery efforts from Hurricane Harvey, which damaged or destroyed thousands of homes after coming ashore as a Category 4 storm.
The request came a day after the Trump administration sent Congress a proposal for $29 billion in disaster aid to Puerto Rico, Florida, Texas and Louisiana in the aftermath of the recent storms.
U.S.
Decision on whether New Orleans public schools will close set to occur Sunday
New Orleans Times-Picayune
Fri, Oct 6 8:00 AM GMT+3
Determinations for whether New Orleans public schools will close Monday will be made at 2 p.m. Sunday (Oct. 6), as officials expect Tropical Storm Nate to hit Louisiana as a hurricane this weekend.Orleans Parish School spokeswoman Dominique Ellis stated by email Friday the district will issue alerts to the media as needed, as school officials continue to watch Nate.Among colleges and universities in the New Orleans area, the University of Holy Cross Friday announced it would cancel all classes and events for Saturday because of Nate. Determinations for other colleges in the city have not been announced as of 11:35 a.m.
Tropical Storm Nate: Live updates as the storm heads for Louisiana, Gulf CoastLatest updates, warnings, closures and images related to Tropical Storm Nate.
Tropical Storm Nate: the latest on event cancellations, postponements
Tropical Storm Nate seen in a satellite image Friday morning.(NOAA)