World NATO launches Black Sea force as latest counter to Russia
 By Robin Emmott,Reuters 11 hours ago
By Robin Emmott CRAIOVA, Romania (Reuters) – NATO launched a new multinational force in Romania on Monday to counter Russia along its eastern flank and to check a growing Russian presence in the Black Sea following the Kremlin's 2014 seizure of Crimea.The force will initially be built around a Romanian brigade of up to 4,000 soldiers, supported by troops from nine other NATO countries, and complementing a separate deployment of 900 U.S. troops who are already in place. The plans are to include additional air and sea assets to give the force greater capabilities."Our purpose is peace, not war," Romanian President Klaus Iohannis told the NATO Parliamentary Assembly of alliance lawmakers, which is meeting this year in Bucharest."We are not a threat for Russia. But we need dialogue from a strong position of defense and discouragement," he said, before flying to the Craiova military base in south-eastern Romania.At the base, as military bands played, NATO Secretary-General Jens Stoltenberg stood alongside Iohannis, addressed some of the troops in green face paint and inspected vehicles and weapons."We are sending a very clear message: NATO is here, NATO is strong and NATO is united," Stoltenberg told assembled Polish, Romanian, Spanish and Portuguese soldiers.Russia accuses NATO of trying to encircle it and threatening stability in Eastern Europe, which NATO denies. Around the Black Sea, Romania, Bulgaria and Turkey are NATO members while Georgia and Ukraine aspire to join.The NATO force aims to develop its presence in the Black Sea region, rich in oil and gas, without escalating tensions as it seeks to counter Russia's own plans to create what military analysts say is a "buffer zone".The 2008 Russian operation to put troops in Georgia's South Ossetia region, its support for separatists in eastern Ukraine since 2014 and its annexation of Crimea have raised the stakes, with all sides warning of a new, Cold-War style scenario.Apart from Romania, Poland is the biggest troop contributor. Bulgaria, Italy and Portugal will train regularly with the force in Craiova, and Germany is also expected to contribute.In additional to existing NATO Black Sea naval patrols, a maritime presence will include more allied visits to Romanian and Bulgarian ports, training and exercises.Britain is deploying fighter planes to Romania. Canada is already helping to patrol Romanian air space, and Italian planes are helping patrol over Bulgaria.'WEST BERLIN' MODEL Some Eastern Europeans want NATO's new ballistic missile defense shield, which includes a site in Romania, to be part of NATO's eastern posture vis-a-vis Russia."The Aegis Ashore system would add another level of deterrence," said Maciej Kowalski, an analyst at the Polish Casimir Pulaski Foundation, referring to the U.S.-built system.NATO says the system is to intercept any Iranian rockets.As in the Baltics and Poland, where the U.S.-led alliance has some 4,000 troops, NATO says the relatively light multinational model recalls allied support for West Berlin in the 1950s, when the presence of British, French and U.S. forces ensured the Soviet Union could not control all of Berlin.Under NATO's founding treaty, an attack on one ally is an attack on all, meaning all 28 NATO nations would be required to respond in the case of any potential Russian aggression.While months in planning, the establishment of the force comes as Russia winds down its biggest war games since 2013. The Zapad, or West, games showed off Moscow's latest weaponry and its ability to quickly mass forces on NATO's borders.The enhanced NATO presence in Romania and Bulgaria marks a diplomatic success for Bucharest, which gained greater persuasive power because it is set to reach a NATO goal of spending 2 percent of economic output on defense this year, a priority for U.S. President Donald Trump.Romania pushed for bigger NATO naval presence on the Black Sea for more than a year, but found its neighbor Bulgaria wary of provoking Russia.Turkey supports only limited NATO reinforcements, concerned about breaking international rules limiting the scale of patrols in the Black Sea. Turkey has played down the extent of Russia's militarization of Crimea, which NATO says involves deploying surface-to-air missiles and communications jamming equipment.(Reporting by Robin Emmott Additional reporting by Luiza Ilie and Radu-Sorin Marinas; Editing by Jeremy Gaunt, Angus MacSwan and Peter Graff)
Pentagon budget divides Republican defense and deficit hawks, giving Democrat 'parity' an edge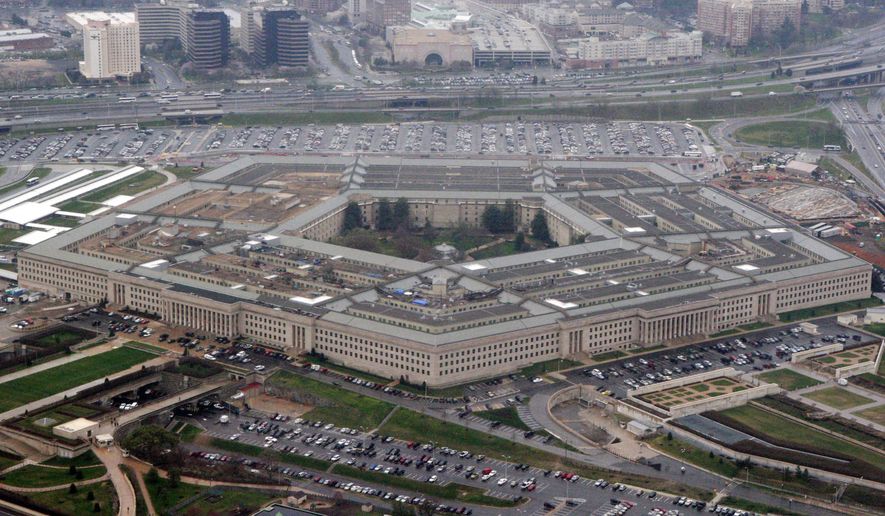 President Trump appears to have aligned with defense hawks, demanding a level of Pentagon spending that would breach the 2011 Budget Control Act. (Associated Press/File) more >By David Sherfinski – The Washington Times – Monday, October 9, 2017Republicans are going to have to decide just how badly they want more defense spending.With the House and Senate on track to finalize a budget later this month, they are facing another round in the long-running fight between defense hawks, who say the Pentagon needs more funding no matter the cost, and fiscal hawks, who say deficits must be constrained.President Trump appears to have aligned with the defense folks, demanding a level of Pentagon spending that would breach the 2011 Budget Control Act, which created the budget caps and "sequesters" intended to get debt under control.SEE ALSO: Russia develops Iron Man-style armored suitDemocrats say any defense hike must be met with "parity" — meaning a dollar-for-dollar increase on domestic spending, further deepening deficits."You have to come up with a solution that meets all of their needs," said Mark Cancian, a senior adviser at the Center for Strategic and International Studies. "The Democrats are not against an increase to defense. Where they draw the line is on domestic decreases."That creates a three-way standoff, with Democrats, as the biggest bloc, having a strong negotiating position.
U.S.Columbus Day vs. Indigenous Peoples Day Yahoo News Photo Staff 7 hours agoParticipants ride a float along a rain-soaked Fifth Ave. during the annual Columbus Day Parade in New York, Monday, Oct. 9, 2017. (Photo: Craig Ruttle/AP)A movement to abolish Columbus Day and replace it with Indigenous Peoples Day has gained momentum in some parts of the U.S., with Los Angeles in August becoming the biggest city yet to decide to stop honoring the Italian explorer and instead recognize victims of colonialism.Austin, Texas, followed suit Thursday. It joined cities including San Francisco, Seattle and Denver, which had previously booted Columbus in favor of Indigenous Peoples Day.But the gesture to recognize indigenous people rather than the man who opened the Americas to European domination also has prompted howls of outrage from some Italian-Americans, who say eliminating their festival of ethnic pride is culturally insensitive, too."We had a very difficult time in this country for well over a hundred years," said Basil Russo, president of the Order Italian Sons and Daughters of America. "Columbus Day is a day that we've chosen to celebrate who we are. And we're entitled to do that just as they are entitled to celebrate who they are."It's not about taking anything away from Italian-Americans, said Cliff Matias, cultural director of the Redhawk Native American Arts Council, which hosted a Re-Thinking Columbus Day event Sunday and Monday in New York."The conversation is Columbus," he said. "If they're going to celebrate Columbus, we need to celebrate the fact that we survived Columbus."The debate over Columbus' historical legacy is an old one, but it became emotionally charged after a similar debate in the South over monuments to Confederate generals flared into deadly violence in August at a rally in Charlottesville, Virginia.In Akron, Ohio, a September vote over whether to dump Columbus opened a racial rift on the city council that was so heated conflict mediators were brought in to sooth tensions.In New York, where 35,000 people marched in Monday's Columbus Day parade, vandals last month doused the hands of a Christopher Columbus statue in blood-red paint and scrawled the words "hate will not be tolerated." Activists calling for the city to change the parade's name also are expected to hold a demonstration.On Sunday, three demonstrators briefly interrupted a wreath-laying ceremony at the Columbus statue in Columbus Circle. Two dressed in fake chains. One wore a hooded white sheet. Police said one person was arrested.Mayor Bill de Blasio, a Democrat, appointed a committee to evaluate whether monuments to certain historical figures should be removed, prompting a backlash from fellow Italian-Americans who vowed to defend the Columbus statue, which has stood over Columbus Circle for more than a century. But the mayor still marched in Monday's parade."You can debate the historical figure of Christopher Columbus, but you can't debate the contribution of Italian-Americans to this country," de Blasio said at the start of the march. (AP)
How Berkeley became the first city to ditch Columbus Day for Indigenous Peoples Day Tiffany Camhi, KQED Published 4:33 pm, Monday, October 9, 2017Each year, millions of Americans celebrate Columbus Day on October 9th. But as the years go on, a lot of cities, states and universities are instead celebrating Indigenous Peoples Day. Veuer's Nick Cardona (@nickcardona93) has that story.Indigenous Peoples Day, the holiday that celebrates Native American culture and its people, is celebrating its 25th anniversary in Berkeley this week. It's also the holiday that began as a Bay Area counterprotest to Columbus Day.Here's how it happened: In the 1980s, then-U.S. President Ronald Reagan created the Christopher Columbus Quincentenary Jubilee Commission. Its job was to come up with a grand celebration to commemorate the 500th anniversary of the arrival of Columbus in the Americas.The plan was for replicas of Columbus' three ships to sail along the East Coast and then over to California."They were going to go into the Panama Canal, and sail into the San Francisco Bay as part of this national hoopla," says John Curl, Berkeley resident and one of the organizers of the first Indigenous Peoples Day.Curl says this idea of having the Bay Area as the centerpiece of Columbus Day celebrations did not sit well with him and a lot of native people. So they formed a group to counterprotest the jubilee. They called themselves Resistance 500."The Bay Area is a pretty progressive place and we did not want to be the center of a national celebration of imperialism and colonialism and genocide," Curl says. "We tried to turn it into something different, something positive."That's exactly what they did. In 1992, just weeks before the 500th anniversary of Columbus' arrival, Curl and other native leaders convinced Berkeley's City Council to get rid of Columbus Day and instead celebrate Indigenous Peoples Day. On Oct. 12, 1992, Berkeley became the first official city in the U.S. to celebrate the holiday.
Photo: Paul Sakuma/ASSOCIATED PRESSThe All Nation Singers chant in appreciation to the city of Berkeley, Calif., during the first Indigenous Peoples Day, Oct. 10, 1992. The Indigenous Peoples Day is an alternative celebration of the anniversary… moreNow, 25 years later, several other cities have followed suit, including Seattle, Austin and Los Angeles. "All we did was plant the seeds for this, and we've just tended to it for over 20 years," Curl says. And if you're wondering what happened to the grand Columbus Day celebration that was planned to end in San Francisco Bay, that ship never sailed.Berkeley will celebrate its 25th annual Indigenous Peoples Day Pow Wow on Saturday, Oct. 14.This article originally appeared on KQED.
Trump Using Columbus Day And NFL Kneeling Controversy to Raise Support And Campaign Cash  G.lanktree,Newsweek 14 hours ago President Donald Trump is using controversies around Columbus Day and NFL players kneeling in protest of police brutality to raise money and support for his 2020 re-election campaign.An email sent to Trump supporters by the Trump-Pence 2020 campaign Sunday offered a discount on official merchandise in a Columbus Day sale, prefaced by a message condemning a perceived threat to American history. The email reads: "America's past is being vilified and stripped away by liberals in the media and our schools—but we won't stand for it."Trending: Exclusive: Judi Dench, Who Has Harvey Weinstein Tattoo on Her Butt, Says Sexual Harassment Reports Are 'Horrifying'It continues: "That's why we're celebrating Christopher Columbus's legendary voyage to America with an EXCLUSIVE Columbus Day Sale!" It encouraged Trump voters to "save 25% on all Official Trump merchandise" in the campaign's online store.
Vice President Mike Pence and Second Lady Karen Pence stand during the national anthem prior to the start of an NFL football game between the Indiana Colts and the San Francisco 49ers at the Lucas Oil Stadium in Indianapolis, Indiana, U.S., October 8, 2017. Myles Cullen/White HouseIn Trump's Columbus Day message released last Friday, he encouraged Americans to "honor the skilled navigator and man of faith, whose courageous feat brought together continents and has inspired countless others to pursue their dreams and convictions."Columbus's 1492 voyage from Europe, which landed in the Bahamas, opened up Central, South and North America to Europeans who colonized the region and killed millions of people from indigenous populations.Controversy and debate about whether to honor Columbus has led San Francisco, Seattle, Denver and other U.S. cities to adopt Indigenous Peoples Day. Last Thursday Austin, Texas, became the latest American city to change its celebration of the national holiday.Read more: Did Donald Trump send Mike Pence to the NFL just to walk out as a PR stunt?Don't miss: Stephen Paddock Wanted To 'Make People Happy' Friend Says of Suspected Las Vegas ShooterTrump made no mention of the suffering endured by Native Americans in his Columbus Day message as President Barack Obama did in previous years.The president's campaign email about the Columbus Day sale said that "Leftists" are pushing "harder and harder to erase our nation's past" before calling on them to buy something at a discount to support the president's campaign.The Redhawk Native American Arts Council is hosting a Re-Thinking Columbus Day event in New York City Monday. Activists are calling on the city to change the name of the parade."If they're going to celebrate Columbus, we need to celebrate the fact that we survived Columbus," the group's cultural director Cliff Matias told the Associated Press. About 35,000 people are expected to march in New York's Columbus Day parade.The Columbus Day sale email is the Trump-Pence campaign's latest effort to fight an offensive against what members of the American hard-right see as a culture war against political correctness and movements calling for equality between the sexes, LGBTQ, and ethnic and religious groups.Most popular: After Las Vegas, Gun Modification Videos Banned By YouTubeOn September 25 another Trump-Pence 2020 campaign email with the subject line "Stand or kneel?" took aim at NFL football players who have begun kneeling at games during the national anthem to protest a string of deaths of black men at the hands of police. The practice was started by former San Francisco 49ers quarterback Colin Kaepernick."When the national anthem plays, President Trump proudly stands and places his hand over his heart out of respect for our flag, our country, and our heroes," the email reads, directing Trump supporters "to show you stand with the President, take our Where Do You Stand: Approval Poll today."Trump weighed in on the protest by NFL players September 30 after as many as 200players knelt for the anthem the weekend before."Very important that NFL players STAND tomorrow, and always, for the playing of our National Anthem. Respect our Flag and our Country!" Trump tweeted.On Sunday Vice President Mike Pence walked out of a 49ers-Colts football game in Indianapolis after about a dozen San Francisco players knelt for the national anthem."I asked @VP Pence to leave stadium if any players kneeled, disrespecting our country," Trump wrote on Twitter afterward. During a rally in Alabama September 22 Trump called on NFL team owners to fire any player who doesn't stand for the anthem. Since then several teams have ordered their players to stand when the anthem plays."Just so we're clear: Mike Pence tweeted a 3yr old photo & showed up to an NFL game knowing he'd leave to make his base angry at blck players," tweeted Clint Smith, a PhD candidate at Harvard studying incarceration, education, and inequality after the vice president's walk out."I left today's Colts game because @POTUS and I will not dignify any event that disrespects our soldiers, our Flag, or our National Anthem," Pence wrote on Twitter, using an acronym for the president of the United States.
World South Korea 'Blackout Bombs' Can Take Down Pyongyang Without Firing a Shot
 Sofia Lotto Persio,Newsweek 16 hours ago
The South Korean military is developing a new weapon to fight North Korea's growing nuclear capabilities.Seoul's Agency for Defense Development (ADD) has acquired the technology to build graphite bombs, non-lethal weapons that can take down North Korea's power system in case of a war, according to military sources who spoke to South Korea's news agency Yonhap on Sunday."All technologies for the development of a graphite bomb led by the ADD have been secured," a military official said. "It is in the stage where we can build the bombs anytime."Trending: A War Between Iran and Israel. It's Only a Matter of TimeKnown as "blackout bombs," the warheads can be dropped by a plane over power stations. A form of cluster bombs, they split into several canister-like "sub-munitions," which in turn release carbon graphite filaments that short-circuit the electricity supplies.The bombs were first used by the U.S. Navy in 1991 to black out power supply in Iraq during the first Gulf War. They were later also deployed against Serbia during the Balkan conflict in 1999.After their use in Kosovo, NATO spokesperson Jamie Shea said that the bomb's impact is mostly psychological, as the targeted country feels literally and figuratively powerless. "We can turn the power off whenever we need to and whenever we want to," Shea told the BBC at the time.Don't miss: Trump Searched the NFL Rule Book to Stop Players Taking a Knee, and It WorkedSouth Korea is adding the weapons to its arsenal as part of one of its recently-developed military programs, the so-called "Kill Chain," which aims to detect an imminent missile attack from the North and react with a pre-emptive strike.Read more: Donald Trump agrees South Korea should have bigger warheads to face North KoreaAs reported by the Korea Times in 2016, the arms build-up also includes the Korea Air and Missile Defense Program, tasked with tracking and shooting down nuclear missiles heading for South Korea, and an initiative known as the Korean Massive Punishment and Retaliation system, which would first strike back against a North Korean attack.Most popular: NATO is Sending More Troops To Counter Russia As New Cold War Threats LoomOriginally due for completion in the mid-2020s, South Korea has sped up the program's timeline to face North Korea's rapidly advancing nuclear weapons development program.Monitoring groups such as the Nuclear Threat Initiative recorded Pyongyang conducting 19 missile tests this year alone, including two intercontinental ballistic missiles capable of reaching the U.S. mainland. North Korea also tested a hydrogen bomb in its sixth—and most powerful—nuclear test to date.The South Korean military says there are no signs of an imminent threat."We have yet to detect any signs of immediate provocations from North Korea," a South Korean military source said on Monday, quoted in Yonhap, adding: "We are maintaining an upgraded monitoring effort to guard against any developments."More from Newsweek