California wildfires rage as record death toll climbs to 35
By Noel Randewich Reuters
View photos Urban Search and Rescue teams search for two missing people amongst ruins at Journey's End Mobile Home Park destroyed by the Tubbs Fire in Santa Rosa, California, U.S. October 13, 2017. REUTERS/Stephen LamBy Noel RandewichSONOMA, Calif. (Reuters) – Fire officials in Northern California reported further headway on Friday against the most lethal outbreak of wildfires in state history, as the death toll rose to 35 and teams with cadaver dogs combed charred ruins for human remains.The wind-driven blazes, which erupted on Sunday night in the heart of California's renowned wine country, north of San Francisco, have destroyed an estimated 5,700 homes and businesses and forced the evacuation of at least 25,000 people.With more than 200 people still missing on Friday in Sonoma County alone, and rubble from thousands of incinerated dwellings yet to be searched, authorities have said the number fatalities from the so-called North Bay fires would likely climb higher.Even as firefighters gained more ground during a second day of better weather, they braced for a return of higher temperatures, lower humidity and strong, gusty winds that could increase the threat to communities still in harm's way.Ground crews raced to clear drought-parched vegetation along the southern flanks of fires, removing highly combustible fuels adjacent to populated areas before extreme heat and winds were forecast to revive over the weekend."We've challenged the troops to get out there and secure mainly the south parts of these fires in preparation for those strong north winds," Bret Gouvea, deputy chief of the California Department of Forestry and Fire Protection (Cal Fire), told a news conference.As of Friday afternoon, 17 major wildfires – some encompassing several smaller blazes merged together – had consumed nearly 222,000 acres of dry brush, grasslands and trees across eight counties.Governor Jerry Brown planned to visit the area with California's two U.S. senators on Saturday.Officials have said power lines toppled by gale-force winds the first night may have sparked the conflagration, though the official cause remained under investigation.Much of the devastation centered in and around the Sonoma County town of Santa Rosa, where whole neighborhoods were reduced to landscapes of gray ash, smoldering debris and burned-out vehicles.Some victims were asleep when flames engulfed their homes, and many survivors had only minutes to flee.RESORT IN DANGER The picturesque town of Calistoga, at the northern end of Napa Valley, faced one of the biggest remaining hazards. Its 5,000-plus residents were ordered from their homes on Wednesday night as a fierce blaze dubbed the Tubbs fire crept to within 2 miles (3.2 km) of city limits.On Friday evening, fires raged along mountain ridges overlooking Calistoga, threatening to rain embers onto the town if strong winds blow out of the north as predicted, Cal Fire spokesman Dennis Rein said.A resort and spa destination dating from the mid-1800s, Calistoga is famed for its mud baths, hot springs, geysers and a historic Western-style downtown.The enclave is surrounded by vineyards and wineries, upscale hotels and even a replica of a medieval Italian castle, Castello di Amorosa, one of its best known attractions.The 35 confirmed fatalities – 19 in Sonoma County – mark the greatest loss of life from a single fire event on record in California, surpassing the 29 deaths from the Griffith Park fire of 1933 in Los Angeles.Sonoma County Sheriff Robert Giordano said his office had investigated nearly 1,500 missing-persons reports stemming from the fires, and all but 235 had since turned up safe as of Friday evening.Disruptions in communications and the failure of many evacuees to promptly check in with authorities or loved ones accounted for the overwhelming majority of individuals initially reported missing, authorities said.Still, Giordano said 45 search-and-rescue teams and 18 detectives had been deployed to scour obliterated neighborhoods for more victims.FINDING SHELTER At a fairground converted to a shelter in the nearby city of Petaluma, about 250 cots were full by Friday, and people slept in tents in the parking lot as volunteers served porridge and eggs for breakfast.Yasmin Gonzalez, 28, her four children and husband, a grape picker, were anxious to leave the shelter and return to their apartment in Sonoma."It's horrible to leave your home, and your things and not know what's going to happen," Gonzalez said.The region's health system has also been weakened by the fires. Kaiser Permanente was forced to close its Santa Rosa medical center and pharmacy, and many doctors and small practices evacuated.Kaiser said on Friday that it was rerouting patients, some of whom complained of respiratory ailments as a result of smoke, to nearby medical centers.At least 40 Sonoma County physicians have lost their homes in the fires, leaving the county medical association to seek alternative accommodations for them, agency director Wendy Young said.The year's wildfire season is one of the worst in history in the United States, with nearly 8.6 million acres (3.5 million hectares) burned, just behind 2012, according to the National Interagency Fire Center.In the worst year, 2015, about 9.3 million acres burned.The fires have thrown California's wine-producing industry, and related tourism, into disarray at the end of the region's annual grape harvest, damaging or destroying at least a dozen Napa Valley wineries.The state's newly legalized marijuana industry was also hit hard, with at least 20 pot farms in Sonoma, Mendocino and Napa counties ravaged, a growers' association said.(Additional reporting by Stephen Lam, Dan Whitcomb, Steve Gorman and Alex Dobuzinskis in Los Angeles, Sharon Bernstein in Sacramento, Calif.,; Gina Cherelus in New York, Brendan O'Brien in Milwaukee, Heather Somerville in San Francisco.; Writing by Dan Whitcomb and Steve Gorman; Editing by Jonathan Oatis, Cynthia Osterman, Toni Reinhold)
Hurricane Ophelia reaches Category 2 intensity, to make rare run at Ireland and UK Andrew Freedman Mashable•
View photos The 2017 hurricane season appears likely to make its mark on both sides of the Atlantic Ocean, as Category 2 Hurricane Ophelia takes aim at … wait for it … Ireland and the UK. The storm, which had sustained winds of 100 miles per hour as of 5 p.m. ET, is a rarity for being so intense, and so far to the north and east in the Atlantic. In fact, it's the most intense hurricane ever observed so far east during the month of October, according to meteorologist Philip Klotzbach of Colorado State University.  SEE ALSO: How California's firestorm spread so mind-bogglingly fast: From 'Diablo' winds to climate trendsTypically, hurricanes develop well to the south of Ophelia's position, and get swept westward with the trade winds just north of the equator. During October, when ocean temperatures begin to drop and upper level winds increase the further north one goes in the North Atlantic, storms tend to form in the Gulf of Mexico or the Caribbean.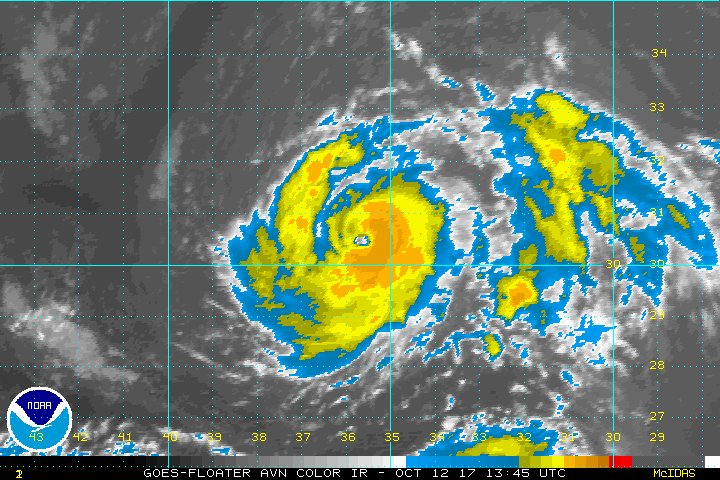 Follow

Philip Klotzbach @philklotzbach#Ophelia now has 100 mph winds – the strongest an Atlantic hurricane has been this far east (35.5°W) this late in calendar year on record.In other words, Ophelia is an outlier. This storm will get picked up by a different river of air: the midlatitude jet stream, which blows from west to east across the Northern Hemisphere. The National Hurricane Center expects the storm to meander slowly through the next few days, before encountering stronger upper level winds that will start drawing it eastward, and then to the north. Sometime on Monday, Hurricane Ophelia is likely to become an ex-hurricane, by transitioning into a storm that feeds off the differences between air masses, known as a "baroclinic system," rather than a tropical cyclone that derives its energy from the heat and moisture flux off the ocean. 
View photosTrack forecast for Hurricane Ophelia.Image: noaa/nhc.This transformation will not weaken the storm's winds much, though, so Ireland and the U.K. are preparing for a potentially strong storm to start the week, with some areas likely to see hurricane-force winds from this system. Hurricanes that undergo transitions from tropical to extratropical systems tend to feature greatly expanded wind fields, compared to the tight core of winds near the center, or eye, of a hurricane. Computer model projections disagree on exactly how close the storm — in whatever form it is at that time — will pass to the UK and Ireland on Monday, but are in general agreement on its direction and evolution. 
View photos Computer model projection from the European model showing Hurricane Ophelia approaching Ireland on Oct. 16, 2017, as an extratropical storm.Image: weatherbellHere's how the Hurricane Center summarized the uncertainty involved in the forecast, and what it means for Great Britain and Ireland: Computer model projections show what is now Hurricane Ophelia approaching Great Britain and Ireland as a hurricane-force low pressure area by late in the weekend and early next week. Such a storm would pose multiple hazards, including strong winds, high waves, and heavy rain. WATCH: A police officer recorded this dash footage as he drove through the California wildfire
View photo
Thousands evacuated in Vietnam as floods, landslides kill 46
By Mai Nguyen Reuters
View photos People watch as Hoa Binh hydroelectric power plant opens the flood gates after a heavy rainfall caused by a tropical depression in Hoa Binh province, outside Hanoi, Vietnam October 12, 2017. REUTERS/KhamBy Mai NguyenHANOI (Reuters) – Heavy rain in northern and central Vietnam triggered floods and landslides that killed 46 people and 33 people were missing in the worst such disaster in years, the search and rescue committee said on Thursday.Vietnam often suffers destructive storms and floods due to its long coastline. More than 200 people were killed in storms last year."In the past 10 years, we haven't suffered from such severe and intense floods," state-run Vietnam Television quoted agriculture minister Nguyen Xuan Cuong as saying.A typhoon tore a destructive path across central Vietnam just last month, flooding and damaging homes and knocking out power lines.The latest floods hit Vietnam on Monday."Our entire village has had sleepless nights…it's impossible to fight against this water, it's the strongest in years," a resident in northwestern Hoa Binh province was quoted by VTV as saying.Vietnam's Central Steering Committee for Natural Disaster Prevention and Control said authorities were discharging water from dams to control water levels.Some 317 homes had collapsed, while more than 34,000 other houses were submerged or had been damaged.Earlier reports said more than 8,000 hectares (19,800 acres) of rice had been damaged and around 40,000 animals were killed or washed away.Hoa Binh province in the northwest declared a state of emergency and opened eight gates to discharge water at Hoa Binh dam, Vietnam's largest hydroelectric dam, the first time it has done so in years, VTV reported.Prime Minister Nguyen Xuan Phuc visited northern Ninh Binh province where water levels in the Hoang Long river are their highest since 1985.Rising sea levels are also threatening Vietnam's more than 3,260 km (2,000 mile) coastline, resulting in increased flooding of low lying coastal regions, erosion and salt water intrusion.Floods have also affected seven of 77 provinces in Thailand, Vietnam's neighbor to the west, the Department of Disaster Prevention and Mitigation said on Thursday. More than 480,000 hectares (1.2 million acres) of agricultural land have been hit, the department said.Thailand is the world's second-biggest exporter of rice."It is still too soon to tell whether there will be damage to rice crops because most of the rice has already been harvested," Charoen Laothamatas, president of the Thai Rice Exporters Association, told Reuters.In 2011, Thailand was hit by its worst flooding in half a century. The floods killed hundreds and crippled industry, including the country's key automotive sector.(Additional reporting by Mi Nguyen in HANOI and; Suphanida Thakral in BANGKOK; Editing by Amy Sawitta Lefevre, Neil Fullick and Nick Macfie)
Haunting Video Shows Postal Worker Delivering Mail To Scorched Homes
 Nina Golgowski,HuffPost Thu, Oct 12 11:40 PM GMT+3As wildfires continue to ravage parts of northern California, evacuees have begun returning to recover whatever belongings they have left. For some, that may be only their mail.A stirring video taken by a drone over a Santa Rosa neighborhood on Tuesday shows a lone U.S. Postal Service truck making its rounds past razed homes and burned-out vehicles. When it comes upon a mailbox that's still standing, the postal worker stops and dispenses the mail.Professional drone pilot and cinematographer Douglas Thron told HuffPost he was out filming the devastation in hopes of raising public awareness when he caught sight of the USPS driver, piquing his curiosity.
"At first, I thought he was taking pictures with his cell phone but then I saw that he was actually delivering mail," he said on Thursday. "It was just so surreal looking, like he was the only form of normalcy in this whole aftermath, so it kind of stuck out."He uploaded the video to YouTube on Wednesday, and it became one of the site's top trending videos. The video includes a link to the Santa Rosa Fire Department's website, which lists volunteer and donation information.On Tuesday, the Federal Aviation Administration prohibited aircraft from flying over Santa Rosa "to provide a safe environment for fire fighting." The ban lasts until November 10. Thron told HuffPost he is aware of the restriction, but flew his drone before it was issued.Noemi Luna, the district manager for USPS San Francisco, confirmed the worker's unusual mail route to Mercury News, saying the employee was fulfilling a request made by some of the evacuees.
"This is an example of the long standing relationship that has been established between our carriers and their customers based on trust," she told Mercury News in a statement. "The carrier in question was honoring a request by a few customers who were being let back in the fire zone to retrieve personal items. A few customers asked the carrier to leave their mail if the mailbox was still standing because they could not get to the [mail distribution center] to retrieve it."The fact that some mailboxes were left standing at all could be a surprise to some people viewing Thron's video. The majority of the footage resembles a war zone, with smoke continually rising from piles of ash and charred debris. There are some areas that appear completely unscathed, however."It was kind of like an all or nothing — either your house was left or it was gone," Thron said of the fire's unpredictable destruction.
Thron said he's worked as a cinematographer since the early 90s, and has filmed "quite a few wildfires but I've never seen anything like this.""You saw cars that had exploded and flipped over on its side and the fires are still going now," he said.Thron said the experience gave him "a whole different outlook on things" as the neighborhood seemed like it was in a safe location, with it located next to a major highway and a Hilton Hotel ― which was also destroyed."It's like a regular mom and pop neighborhood," he said. "I would probably not have evacuated, I would have been like, 'whatever.'"
As he flew his drone over the smoldering wreckage, he said he spoke with some people on the ground who had returned to search for belongings. Two people, a father and daughter, were there looking for items belonging to the man's late wife."He was looking for a safe deposit box that was under the house. But he said it was so hot it probably melted," Thron said.Thron said he showed the pair footage taken by his drone, allowing them to see the full magnitude of the devastation."I think him and his daughter were in shock," he said.This story has been updated to include the FAA's no-fly restriction.This article originally appeared on HuffPost.
California woman rescues horses, yaks and cows from deadly wildfires
By Sharon Bernstein Reuters
FILE PHOTO: A horse is seen along Highway 12 during the Nuns Fire in Sonoma, California, U.S., October 10, 2017. REUTERS/Stephen Lam/File PhotoBy Sharon Bernstein(Reuters) – The acrid smell of smoke borne on hurricane-strength winds greeted horse trainer Rebecca Cushman before dawn, her phone ringing repeatedly as people frantically sought help saving their animals from California's deadly wildfires.It was still dark on Monday morning when Cushman, 41, set out from her farm west of the conflagration, towing a four-horse trailer behind her white Dodge pickup truck.She worked all day and into the night, loading four horses at a time from fire-ravaged farms and ranches in Sonoma and Napa counties, taking the animals back to her farm in West Petaluma before going out for more.By Thursday, she had helped rescue 48 horses, several cows and even some yaks in the bucolic vineyard and farm country north of San Francisco hit by the state's deadliest wildfires in nearly a century."We have dogs, goats, guinea fowl, chickens, ducks, donkeys, miniature horses and horses at our farm right now," Cushman said on Thursday. "I just finished helping load yaks and cows."Firefighters began to gain ground on Thursday against blazes that have killed at least 31 people in Northern California and left hundreds missing amid mass evacuations in the heart of the state's wine country. [nL2N1MO007][nL2N1MN1LB][nL2N1MN00H]Animals are difficult to rescue in disasters like California's fast-moving wildfires, as their owners must often choose between staying behind to care for them or fleeing to protect their own lives and those of their family members.Some animals, including many rescued by Cushman, found refuge at privately owned farms outside the fire zone. Others were sheltered at the Sonoma County Fairgrounds in Santa Rosa.The first calls there for help came in at about 12:30 a.m. on Monday, as winds of up to 75 miles per hour (121 km per hour) whipped fires throughout the state into dangerous conflagrations, said fairgrounds spokeswoman Leasha LaBruzzi.By Thursday, the fairgrounds housed more than 300 horses, LaBruzzi said. It had also become a temporary home to 200 people who fled the fires with their pets.POLICE ESCORT Santa Rosa resident Christy Gentry, 43, who was staying at the fairgrounds, spent Monday morning helping round up and rescue horses at Mark West Stables, where she works, near her home.She and her husband, Jeff, have no cellular service at their home, and their landline was knocked out by high winds on Sunday night, so they were fast asleep when the fires began.They were awakened at midnight by the stable's assistant trainer pounding on their bedroom window.They ran to help evacuate the 26 horses that board at the stable. Christy Gentry's job was to race out to the pastures, the sky black except for flames licking over the top of the mountain, bearing carrots to persuade anxious horses to come to the barn.One, a dun-colored draft horse named Duncan, never liked getting into horse trailers, and he was particularly resistant that night.As trainers and horse-haulers moved the animals, volunteers brought feed and hay. Cushman asked for contributions to her account at a local feed store, and quickly raised $8,000.Exhausted, with a headache from the smoke, Cushman said on Thursday the size and unpredictability of the fires made rescues more chaotic than in past blazes.She rushed to get to one property only to find the roads blocked. "We were later able to get a police escort to get those three horses out," she said.(Reporting by Sharon Bernstein in Sacramento, California; Editing by Peter Cooney and Lisa Shumaker)
Hundreds missing, 29 dead in California wildfires as crews gain ground
By Noel RandewichReuters
Hundreds missing, 29 dead in California wildfires as crews gain groundBy Noel RandewichSONOMA, Calif. (Reuters) – Firefighters began to gain ground on Thursday against wildfires that have killed at least 29 people in Northern California and left hundreds missing in the chaos of mass evacuations in the heart of the state's wine country.The latest casualty figures, revised upward by six fatalities on Thursday, marked the greatest loss life from a single California wildfire event in 84 years. With 3,500 homes and businesses incinerated, the so-called North Bay fires also rank among the most destructive in state history.The fires have scorched more than 190,000 acres (77,000 hectares), an area nearly the size of New York City, reducing whole neighborhoods in the city of Santa Rosa to gray ash and smoldering ruins dotted with charred trees and burned-out cars.The official cause of the disaster was under investigation, but officials said power lines toppled by gale-force winds on Sunday night may have sparked the conflagration.A resurgence of extreme wind conditions that had been forecast for Wednesday night and early Thursday failed to materialize, giving fire crews a chance to start carving containment lines around the perimeter of some of the blazes.But fierce winds were expected to return across much of the state as early as Friday night, and a force of 8,000 firefighters in Northern California were racing to reinforce and extend buffer lines before then, officials said.Despite progress, fire crews remained "a long way from being out of the woods," Ken Pimlot, director of the California Department of Forestry and Fire Protection (Cal Fire), told reporters in Sacramento, the state capital.Mark Ghilarducci, state director of emergency services, added that: "We are not even close to being out of this emergency."Authorities have warned that the death toll from the spate of more than 20 fires raging across eight counties for a fourth day could climb higher, with more than 400 people in Sonoma County alone still listed as missing.'YOU ARE ON YOUR OWN' One of greatest immediate threats to population centers continued to be in the Napa Valley town of Calistoga, whose 5,000-plus residents were ordered from their homes on Wednesday night as winds picked up and fire crept closer.Calistoga Mayor Chris Canning said anyone refusing to heed the mandatory evacuation would be left to fend for themselves if fire approached, warning on Thursday: "You are on your own."Twenty-nine people, all civilians, were confirmed dead in four counties, tying the record for California's most lethal wildfire, the 1933 Griffith Park fire in Los Angeles.Fire officials have said some victims from the latest fires were asleep when flames engulfed their homes. Others had only minutes to escape as winds of over 60 mph fanned fast moving blazes. Ghilarducci said the loss of cellular communications towers likely contributed to difficulties in warning residents by mobile phone alerts."We have found bodies that were completely intact, and we have found bodies that were no more than ash and bone," Sonoma County Sheriff Rob Giordano told reporters. He added that recovery teams would begin searching ruins with cadaver dogs.As many as 900 missing-persons reports had been filed in Sonoma County, although 437 have since turned up safe, Giordano said.It remained unclear how many of the 463 still listed as unaccounted for are actual fire victims rather than evacuees who failed to alert authorities after fleeing their homes, he said."The best we can pray for is that they haven't checked in," emergency operations spokeswoman Jennifer Larocque told Reuters.Sonoma County accounted for 15 of the North Bay fatalities, all from the so-called Tubbs fire, which now ranks as the deadliest single California wildfire since 2003, according to state data.SMOKE, ASH IN BAY AREA About 25,000 people remained displaced on Wednesday as the fires belched smoke that drifted over the San Francisco Bay area, about 50 miles to the south, where visibility was shrouded in haze and automobiles were coated with ash.The fires struck the heart of the state's world-renowned wine-producing region, wreaking havoc on its tourist industry while damaging or demolishing at least 13 Napa Valley wineries.The Tubbs fire on Thursday was within 2 miles (3 km) of Calistoga, which had appeared to be in the path of advancing flames but was spared on the first night of the fires.Whether the town burns "is going to depend on the wind," Calistoga's Fire Chief Steve Campbell told Reuters early on Thursday. "High winds are predicted but we have not received them yet."New evacuations also were issued in Sonoma County late on Wednesday for parts of Santa Rosa, the largest city in the wine-producing region, and Geyserville, an unincorporated town of 800 people.In addition to high winds, the fires have been stoked by an abundance of thick brush left ready to burn by a dry, hot summer.(Additional reporting by Stephen Lam, Dan Whitcomb, Steve Gorman and Alex Dobuzinskis in Los Angeles, Sharon Bernstein in Sacramento, Jonathan Allen in New York, Brendan O'Brien in Milwaukee and Jeffrey Dastin in San Francisco; Writing and additional reporting by Steve Gorman in Los Angeles; Editing by Bill Trott and Andrew Hay)