Southern California Is On High Alert For Wildfires. Don't Mow Your Lawn
Sarah Ruiz-Grossman,
HuffPost
Tue, Oct 24 4:20 AM GMT+3
On the heels of devastating wildfires that killed more than 40 people in Northern California earlier this month, Southern California is now on high alert for fire danger.On the heels of 
devastating wildfires that killed more than 40 people
 in Northern California earlier this month, Southern California is now on high alert for fire danger.Nearly all of Southern California has been placed on a 
red flag warning
 through Wednesday, as weather conditions ― including high winds, low humidity and record-breaking heat ― make the region particularly susceptible to wildfires.As temperatures reached 
record highs above 100 degrees
 in Los Angeles and nearby counties on Monday, and were expected to 
rise even further
 in the coming days, the National Weather Service warned of the "
most dangerous fire weather conditions
 seen in the past few years."Cal Fire has 
increased staffing in the area
, bracing for any fires that might come. The agency has also been 
pushing out an important message
 to the public: You can help prevent a wildfire, too."About 
95 percent of wildfires have a human cause
," Cal Fire Battalion Chief Mike Mohler told HuffPost. "Our releases remind the public to be vigilant. Prevention and education is half the battle."Both 
Cal Fire
 and the 
National Weather Service
 tweeted a list of activities people should avoid during high risk weather.  Some actions people should not take are fairly obvious: Avoid campfires and burning yard debris. But some high-risk activities may be more surprising, particularly to folks who don't live in traditionally high-risk fire areas. For example, people shouldn't 
mow lawns after 10 a.m
, Cal Fire said.Equipment use is 
one of the top causes
 of wildland fires, Mohler told HuffPost. Sparks can come from activities as seemingly innocuous as towing a trailer through brush, since any chains dragging could throw sparks, or driving a vehicle over dry grass, as hot exhaust pipes can start fires.Some other common activities dangerous in red flag conditions include shooting firearms and 
discarding cigarette butts
, a spokeswoman for San Diego County warned. Cal Fire's website also told families to have an 
action plan
 in case of a wildfire, including knowing where to evacuate to and what to take out of a house."We want to send the message home that now is not a good day to be mowing your weeds," Cal Fire public information officer Kendall Bortisser told HuffPost. "You should start thinking about evacuation planning: How are you going to get out? What are you gonna take with you? How are you going to reach family? We've learned over the years that fire is prone to burn anywhere."The fire warnings in Southern California come just after the 
deadliest wildfires
 in the state's history hit Northern California, killing dozens of people, 
destroying thousands of homes
 and causing 
more than 100,000 residents to evacuate
.This article originally appeared on 
HuffPost
.
U.S.Brush Fires Pop Up As Peak Heat Hits SoCal CBS 2 Los Angeles Mon, Oct 23 4:39 PM GMT+3
RANCHO CUCAMONGA (CBSLA) — Strong Santa Ana winds and triple-digit heat have prompted Red Flag warnings across Southern California, where brush fires have already broken out in the relatively cooler overnight hours.A brush fire broke out in Rancho Cucamonga near the 15 Freeway, just before 4:30 a.m. The fire was first reported to have scorched just an acre of brush, but gusty winds out in the area whipped it up before firefighters were able to get it under control.In the Tujunga-Sunland area, another brush fire was reported at 9:05 p.m. in the 11000 block of Oro Vista Avenue, near Big Tujunga Canyon Road. More than 50 firefighters quickly put it out after it scorched at least a half-acre of brush in the wash.Triple-digit temperatures and winds of up to 65 miles per hour are forecast for the canyons and mountains. Red Flag Warnings were up Monday in all the windiest locations, including the inland valleys and Santa Monica Mountains east and west of Malibu.View image on Twitter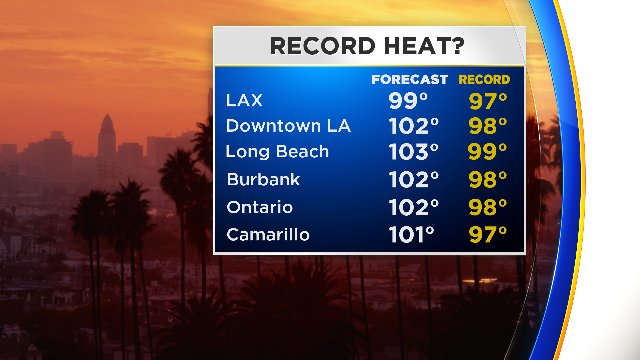 Follow
Danielle Gersh @DanielleGershWe'll set records across the southland this afternoon… stay cool! Excessive Heat Warnings in effect #cbslaStrong winds are even expected to hit Dodger Stadium during Game One of the World Series on Tuesday, with Santa Ana winds possibly blowing over the outfield pavilion and directly toward home plate.The Mountains Recreation and Conservation Authority have enacted 24-hour patrols of the 72,000 acres of public parkland it manages in the Mulholland Corridor from Griffith Park west to Calabasas because of the high heat and strong winds.This year's patrols were especially important, due to the record rainfall from the past season. The rain gave way to an abundance of grass that is now dry and a volatile fire risk.Anyone who sees suspicious activity in any of these public park areas can report it by calling (310) 456-7049 or 911.
Spanish league pushes match back to avoid high temperatures
The Associated PressMADRID (AP) — The Spanish league says it has decided to move Saturday's match between Sevilla and Leganes until the evening to avoid high temperatures. The match that was originally scheduled for 4.15 p.m. (1415 GMT) local time in Seville will now be played at 10.30 p.m. (2030 GMT).Spain's weather service says temperatures could reach 30 degrees Celsius (86 degrees Fahrenheit) Saturday.
Science France and China will study ocean-based climate change next year
France and China, both key leaders of the Paris Climate Accord now that the US is leaving, have unveiled a new satellite to better predict storms and model climate change. The China-France Oceanography Satellite (CFOSAT) includes two radars that can study both wind strength and direction as well as the direction and wavelength of ocean waves. The latter can help scientists predict heat waves and other important climate data, according to recent studies.CFOSAT will be used primarily to improve forecasting accuracy, particularly for hurricanes and other ocean-spawned storm events. "In practical terms, it will be used to improve forecasts of strong storms, cyclones or waves for all coastal activities," France's research lead on the project, Daniele Hauser, told the AFP.Data from the satellite will also help scientists improve climate models by better understanding how oceans affect the atmosphere. "We think that if we can improve climate change predictions, we can better prevent it," Hauser said.
The satellite was originally supposed to be a partnership between the French and European space agencies. However, France and China have been working closely on space technology over the past decade, prompting the change. Both parties acknowledged the political element, while saying there were technical reasons, too. "We partnered with France because we were certain of the support of both states, but also because of France's expertise in wave analysis," said China's CFOSAT project manager Lili Wang.The 650 kg (1,450 pound) satellite is set to be launched next year from a rocket in China's "Long March" program. Given the spate of hurricanes in 2017, made unusually powerful by global warming, any extra forecasting accuracy can't come soon enough.
Frequency of excessive summertime heat seen rising across U.S.
By Laura Zuckerman Reuters
View photosFamilies cool off at sunset in Solana Beach following a record setting day of temperatures according to local media, in Southern California, U.S., October 23, 2017. REUTERS/Mike BlakeBy Laura Zuckerman(Reuters) – Nearly two-thirds of Americans, mostly in Western states and on the Eastern seaboard, have endured more days of extreme summer heat over the past 10 years than in previous decades, a leading environmental group said in a study unveiled on Tuesday.Related SearchesHeat PumpsHeat WaveHeat MiserHeat ExhaustionThe analysis compared daily summertime high temperatures recorded at thousands of U.S. government weather stations across the country from 2007 through 2016 with the same data in the years 1961 to 1990, and showed a pattern of more frequent extreme heat nationally.The study, issued by the Natural Resources Defense Council, identified 21 states and the District of Columbia as being the hardest hit. In each one, at least 75 percent of residents now face more than nine summer days in which temperatures are higher than the top 10 percent hottest days of June through August during the 1960s, '70s and '80s, according to the report.The group said its findings add to a growing body of evidence that climate change attributed to emissions of heat-trapping "greenhouse" gases, caused by fossil fuel combustion and other human activities, is having direct consequences that are being felt today.The NRDC also cited government data showing 65,000 people end up in U.S. hospital emergency rooms each summer from heat-related illnesses and that summer heat waves were to blame for at least 1,300 deaths across 40 major U.S. cities from 1975 to 2004."This analysis gives a sense of the degree to which the present is really not like the past," said Kim Knowlton, a senior NRDC scientist. "Climate change is fueling more extremely hot days and poses a clear and present threat to public health."Release of the NRDC study coincided with an October heat wave in Southern California that has led forecasters to predict record highs for Tuesday's World Series opener at Dodger Stadium in Los Angeles. Authorities also have warned of elevated risks of wildfires and heat-induced ailments across the region.California is one of 11 Western states ranked by the NRDC report as the most affected by extreme summer heat. But the current bout of blistering triple-digit temperatures came as an early fall phenomenon linked to the region's seasonal hot, dry Santa Ana winds.The NRDC report was accompanied by an interactive U.S. map showing the growing extent of extremely hot summers – affecting nearly 210 million people – and projections for more of the same across much of the country (https://www.nrdc.org/climate-change-and-health-extreme-heat#/map).The trend poses the greatest risk to children, the elderly and others vulnerable to respiratory distress and dehydration, said Dr. Samantha Ahdoot, a pediatrics professor at the Virginia Commonwealth University School of Medicine.(Reporting by Laura Zuckerman in Pinedale, Wyo.; Editing by Steve Gorman)