At least 2 dead after truck drives onto bike path in New York City
EMILY SHAPIRO and AARON KATERSKY
Good Morning America
Video Not Available Unfortunately, this video is not available in your region. SS-100-202 At least two people have been struck and killed and several others injured in lower Manhattan in New York City.The sprawling crime scene runs several blocks along the West Side Highway.A suspect, who may have been shot by police, is in custody. The New York City Police Department said no others are outstanding.A truck hit multiple people on the bike path on the West Side Highway, a witness told ABC's New York station WABC. The truck crashed into a school bus at Chambers and West streets, near Stuyvesant High School, the witness added.
View image on Twitter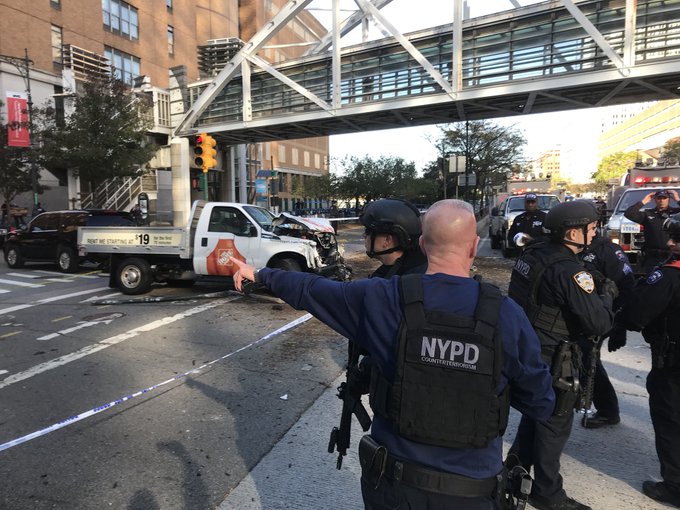 All media responding to the incident in Lower Manhattan are asked to meet DCPI reps at Chambers Street and Greenwich Street.
There is no active threat, according to the mayor's press secretary.
New York Gov. Andrew Cuomo and New York City Mayor Bill de Blasio are heading to the scene.
Police warned that New Yorkers should expect many emergency personnel in the area.
This story is developing. Please check back for more updates.
Atac armat la New York, în Manhattan. Bilanțul victimelor crește. Un suspect a fost reținut – VIDEO
DE M.Z.   •   31 OCT 2017   •   22:00
UPDATE 22.00 – Cel puţin patru persoane au fost ucise într-un atac armat produs marţi după-amiază în apropierea unui liceu din zona Manhattan, în oraşul american New York, potrivit unor surse citate de presa locală.
Martorii spune că două camionete au intrat în coliziune, iar unul dintre şoferi a coborât şi a deschis focul.
De asemenea, poliția a precizat că în zonă sunt aşteptate echipaje de intervenţie.
———-
Știrea inițială 21.44
Mai multe împușcături s-au auzit la New York, în Manhattan.
Două persoane este posibil să fi fost ucise, iar altele cinci, rănite.
Poliția spune că a făcut o reținere în acest caz.
Imagini de locul incidentului au fost difuzate marți, la emisiunea Sinteza zilei, de la Antena 3.