New Russia sanctions kick in, but US opts to punish nobody
JOSH LEDERMAN Associated Press•
In this Jan. 26, 2018, photo, Russian President Vladimir Putin chairs a Security Council meeting in Moscow, Russia. The State Department has notified Congress that it will not impose new sanctions on Russia at this time. The State Department says it is confident that new legislation enacted last year is significantly deterring Russian defense sales. (Mikhail Klimentyev, Sputnik, Kremlin Pool Photo via AP)WASHINGTON (AP) — The Trump administration has decided not to punish anybody for now under new sanctions retaliating for Russia's election-meddling, the State Department said Monday, in a surprising move that fueled further questions about whether President Donald Trump is too soft on Moscow.The government had until Monday to take two steps under a law passed by Congress last year in the wake of the 2016 presidential campaign. The first required the U.S. to slap sanctions on anyone doing "significant" business with people linked to Russia's defense and intelligence agencies, using a blacklist the U.S. released in October. The second required the administration to publish a list of Russian "political figures and oligarchs" who have grown rich under President Vladimir Putin.On the first item, the administration decided it didn't need to penalize anyone, even though several countries have had multibillion-dollar arms deals with Russia in the works. State Department officials said the threat of sanctions had been deterrent enough, and that "sanctions on specific entities or individuals will not need to be imposed.""We estimate that foreign governments have abandoned planned or announced purchases of several billion dollars in Russian defense acquisitions," said State Department spokeswoman Heather Nauert. She did not provide evidence or cite any examples.On the second item — the "Putin list" — the day came and went with no sign of if or when it would be released. The Treasury Department did not respond to several inquiries. In the past, the administration has breezed past several such deadlines, including the October deadline to produce a blacklist, only to follow through later after pressure from Congress mounted.By itself, being on the Putin list doesn't trigger U.S. sanctions. Yet the list, being developed by the Treasury Department, has induced fear among rich Russians who are concerned that it could lead later to U.S. sanctions or to being informally blacklisted in the global financial system. It has triggered a fierce lobbying campaign, with Russia hawks in Congress pushing the administration to include certain names and lobbyists hired by Russian businessmen urging the administration to keep their clients off.Companies or foreign governments that had been doing business with blacklisted Russian entities had been given a three-month grace period to extricate themselves from transactions, starting in October when the blacklist was published and ending Monday. But only those engaged in "significant transactions" are to be punished, and the United States has never defined that term or given a dollar figure. That ambiguity has made it impossible for the public to know exactly what is and isn't permissible.Late last year, Secretary of State Rex Tillerson said one reason the U.S. was proceeding cautiously was that major U.S. allies have much at stake. Turkey, a NATO ally, has a deal to buy the S-400, Russia's most advanced air defense missile system. And key security partner Saudi Arabia recently struck an array of deals with Moscow, including contracts for weapons. It was unclear whether either country had since abandoned those deals to avoid running afoul of the U.S. sanctions.New York Rep. Eliot Engel, the top Democrat on the House Foreign Affairs Committee, lambasted the move to punish no one, saying he was "fed up" and that Trump's administration had chosen to "let Russia off the hook yet again." He dismissed the State Department's claim that "the mere threat of sanctions" would stop Moscow from further meddling in America's elections."How do you deter an attack that happened two years ago, and another that's already underway?" Engel said. "It just doesn't make sense."_Associated Press writer Jill Colvin contributed to this report._Reach Josh Lederman on Twitter at http://twitter.com/joshledermanAP
Trump condemns Taliban role in Afghan attacks, says no talks
KEN THOMAS Associated Press•Trump condemns Taliban role in Afghan attacks, says no talks Trump condemns Taliban role in Afghan attacks, says no talks Yahoo News Video
Scroll back up to restore default view. WASHINGTON (AP) — President Donald Trump told visiting members of the U.N. Security Council on Monday the U.S. would no longer talk with the Taliban following a recent string of deadly attacks in Afghanistan.Trump railed against a series of "atrocities" in Afghanistan and said as a result the U.S. would not engage in any future talks with the Taliban as the administration seeks to end a stalemate in America's longest war."Innocent people are being killed left and right. Bombing, in the middle of children, in the middle of families, bombing, killing all over Afghanistan," Trump said. "So we don't want to talk with the Taliban. There may be a time but it's going to be a long time."The president's comments followed a deadly car bombing attack in Kabul, the Afghan capital, that killed at least 95 people and wounded 158 more. Earlier this month, Americans were killed and injured in the Taliban's 13-hour siege of a hotel in Kabul.Trump's remarks at the diplomatic luncheon marked a shift in tone on Afghanistan. The U.S. has said previously that any peace talks with the Taliban need to be part of an Afghan-led process, but the U.S. has never precluded talking to the Taliban.Secretary of State Rex Tillerson, who sat next to the president at the luncheon, has said previously that after an effective military effort, a political settlement including some Taliban might be possible, echoing language from former President Barack Obama's administration. Tillerson had said the U.S. would support peace talks with the Taliban "without preconditions."Earlier in the month, U.N. Ambassador Nikki Haley, who helped organize Monday's luncheon, said the U.S. policy on Afghanistan was working and the parties were "closer to talks with the Taliban and the peace process than we've seen before."Several attempts to hold peace talks between the Afghan government and the Taliban have failed. In 2013, hopes were raised when the Taliban opened an office in Qatar aimed at facilitating those talks, but a controversy over the Taliban's move to hoist the flag it used in Afghanistan during its five-year rule ultimately derailed the talks. Since then, efforts to lure the Taliban into talks have yielded little progress.Trump has sought to change the course of the long-running conflict, sending thousands more U.S. troops to Afghanistan and moving away from a "time-based" approach to one that more explicitly links U.S. assistance to concrete results from the Afghan government.There are now about 14,000 U.S. forces there, and more trainers and advisers are scheduled to deploy in the coming months.Defense Secretary Jim Mattis earlier this month said this will make it possible for U.S. advisers to serve with more of the Afghan units, strengthening them in the fight against the insurgents. The U.S.-led coalition has also increased targeting of Taliban opium operations, including narcotic processing facilities in Helmand Province in the south.In more recent briefings, military leaders have said they believe the momentum is shifting. As the military operations escalate, Mattis said the next step would be to "really come on strong at the reconciliation effort because that's the way this is going to end."The White House lunch was attended by representatives from the 15-member U.N. Security Council, including ambassadors from China, France, Russia and Britain. The discussions were expected to also focus on international hotspots such as Iran, North Korea and terrorism.France's U.N. ambassador Francois Delattre called the discussion "very cordial" and told The Associated Press that a broad range of issues were discussed, including North Korea, Iran, Yemen, Syria and a new 5,000-troop African force to fight extremists in western Africa's vast Sahel region.Earlier, attendees viewed missile remnants the U.S. says are proof that Iran has been arming rebels in Yemen. The Trump administration has pushed to punish Iran for funneling weapons to Houthi Shiite rebels in Yemen, which Tehran has emphatically denied.The itinerary also included a trip to the U.S. Holocaust Memorial Museum with national security adviser H.R. McMaster._Associated Press writers Josh Lederman and Lolita Baldor in Washington and Edith M. Lederer at the United Nations contributed to this report.
On Flight to Davos, Trump Erupted Over DOJ Role in Russia Probe

Bloomberg Jennifer Jacobs erg) — President Donald Trump's frustrations with the Russia investigation boiled over on Air Force One last week when he learned that a top Justice Department official had warned against releasing a memo that could undercut the probe, according to four people with knowledge of the matter.Trump erupted in anger while traveling to Davos after learning that Associate Attorney General Stephen Boyd warned that it would be "extraordinarily reckless" to release a classified memo written by House Republican staffers. The memo outlines alleged misdeeds at the FBI and Justice Department related to the Russia investigation.For Trump, the letter was yet another example of the Justice Department undermining him and stymieing Republican efforts to expose what the president sees as the politically motivated agenda behind Special Counsel Robert Mueller's probe.Trump's outburst capped a week where Trump and senior White House officials personally reproached Attorney General Jeff Sessions and asked White House Chief of Staff John Kelly to speak to others — episodes that illustrate Trump's preoccupation with the Justice Department, according to two of the people.Trump warned Sessions and others they need to excel at their jobs or go down as the worst in history, the two people said.The incidents — and the extraordinary level of Trump's personal involvement with Justice Department officials on the matter — are the latest signs of the growing pressure on Trump as a federal investigation into him, his campaign and his administration stretches into its second year.Text Messages
President Donald Trump steps off Air Force One after arriving at Zurich International Airport for the World Economic Forum, Thursday, Jan. 25, 2018, in Zurich, Switzerland.1/3 SLIDES © AP Photo/Evan VucciPresident Donald Trump steps off Air Force One after arriving at Zurich International Airport for the World Economic Forum, Thursday, Jan. 25, 2018, in Zurich, Switzerland.Trump met with Sessions and FBI Director Christopher Wray at the White House last Monday to discuss missing text messages sent between two FBI agents who had expressed anti-Trump views. One of the agents later left his investigation and Mueller removed the other after learning of the texts.Kelly held separate meetings or phone calls with senior Justice Department officials last Monday, Tuesday and Wednesday to convey Trump's displeasure and lecture them on the White House's expectations, according to the people. Kelly has taken to ending such conversations with a disclaimer that the White House isn't expecting officials to do anything illegal or unethical.After Trump's strong reaction on Air Force One over the Boyd letter, White House officials, including Kelly, sprang into action again, lashing Justice Department officials Thursday over the decision to send the letter, according to the people. Sarah Isgur Flores, director of public affairs at the Department of Justice, declined to comment.Despite the president's frustrations over the probe, Trump's lawyers have been cooperating with Mueller and plan to continue working with him, but they are starting to push for him to wrap things up, according to a person familiar with the matter.Mueller is getting close to wrapping up a portion of his probe that is focusing on whether the president or his associates obstructed justice, although other parts of the investigation are expected to last at least several months longer, according to current and former U.S. officials.McCabe ResignationSeveral people close to Trump insist he isn't preparing to fire Wray, Sessions or other senior officials. But the Justice Department's decision to send the Boyd letter to the House Intelligence Committee last week has intensified Trump's concern that his own department is undercutting him, several people familiar with the matter said.The president is frustrated that Justice Department officials keep getting involved in issues related to the probe when they don't need to, leading him to wonder if anyone was trying to protect people implicated in the Nunes memo, according to one person familiar with the matter.Kelly called Sessions directly to complain about the letter, and several other White House officials chided officials at Justice as well. Sessions was also at the White House Monday for an immigration meeting and for a discussion Tuesday of the department's goals for the coming months.On Monday, FBI Deputy Director Andrew McCabe, who has been blasted by Trump and other Republicans, stepped down and will be on leave until he retires sometime in the spring, a person familiar with the matter said. Republicans had criticized McCabe's involvement in aspects of the Trump probe and the investigation into Hillary Clinton's email practices, even though his wife had accepted donations from Democratic political organizations for an unsuccessful election bid in 2015.Trump's anger was exacerbated by reports last week that the president had wanted to fire Mueller last June. The New York Times reported Thursday that the pressure to fire Mueller was averted after White House counsel Don McGahn made clear he would resign before carrying out such an order.Business Dispute Two people familiar with the matter said the actual events were more complicated and that Trump never issued a formal order to fire Mueller. Trump was surprised by Mueller's appointment, saying that he had previously had a business dispute with the special counsel, and reacted angrily until McGahn calmed him down.The emergence of the Mueller firing story troubled White House aides, who said Trump had been showing more restraint in recent months at not making pronouncements or threats that would cross dangerous political lines in dealing with Mueller's probe.It also comes at a time when conservative media and Fox News have been doing blanket coverage of a Republican push to question the motives of FBI and Justice officials as part of a campaign to undermine the Mueller probe.The House Intelligence Committee plans to vote Monday evening on whether to release its classified memo, which contains allegations of counterintelligence surveillance abuses against at least one Trump campaign aide. If the panel votes to release it, it would fall to the White House, perhaps with the advice of intelligence agencies, to decide whether some of the contents are too sensitive and need to be redacted.Three House lawmakers who have read it said the memo claims FBI officials didn't provide a complete set of facts in requests made to a Foreign Intelligence Surveillance Act court to obtain a warrant or warrants on Carter Page, a Trump campaign associate.The memo claims important details were left out that might have kept a judge from issuing a surveillance warrant, or possibly two, targeting Page, according to the lawmakers, who asked for anonymity to describe the sensitive document. Those include its claims that investigators were relying partly on an unverified dossier put together by an opposition research firm that hired a former British spy, Christopher Steele — work that was funded by Trump's opponent, Hillary Clinton, and Democrats.House Intelligence Chairman Devin Nunes and other Republicans have also blasted the FBI over thousands of text messages sent between the two anti-Trump FBI officials, Peter Strzok and Lisa Page, who criticized Trump in their exchanges. Some Republicans were angered when the bureau said it had lost some of the texts before the Justice Department's inspector general announced Thursday that the missing texts had been recovered with forensic tools.–With assistance from Shannon Pettypiece Chris Strohm and Billy HouseTo contact the reporter on this story: Jennifer Jacobs in Washington at jjacobs68@bloomberg.net.To contact the editors responsible for this story: Kevin Whitelaw at kwhitelaw@bloomberg.net, Joshua Gallu©2018 Bloomberg L.P.
19 U.S. Travelers To Cuba Reported Symptoms Similar To Those Of Diplomats
Josh Butler HuffPost•
The U.S. Embassy in Havana. (Alexandre Meneghini / Reuters)The U.S. State Department says 19 U.S. travelers to Cuba have reported health issues and symptoms similar to those U.S. diplomats said they experienced in Havana in 2016.In September, the State Department and the U.S. Embassy in Cuba issued travel warnings stating that "numerous U.S. Embassy Havana employees have been targeted in specific attacks" and were experiencing symptoms including ear complaints, hearing loss, dizziness, headache, fatigue, cognitive issues and difficulty sleeping. Officials said they had been "unable to identify the source of the attacks" and advised Americans to avoid visiting Cuba.Some have speculated that the symptoms were the result of acoustic attacks, or the use of sound-based weapons. The State Department asked Cuban diplomats to leave the U.S. Embassy, and withdrew nonessential American staff in Cuba.On Monday, a State Department spokesperson told the Miami Herald that "Since September 29, the Department of State has been contacted by 19 U.S. citizens who reported experiencing symptoms similar to those listed in the Travel Warning after visiting Cuba." "We continue to urge U.S. citizens to reconsider travel to Cuba."The latest State Department advisory on Cuba, issued Jan. 10, places the country at a Level 3 advisory, urging Americans to reconsider travel."On September 29, 2017, the Department ordered the departure of non-emergency U.S. government employees and their family members to protect the safety of our personnel. Due to the drawdown in staff, the U.S. Embassy in Havana has limited ability to assist U.S. citizens," the advisory warned.The advisory said travelers to Cuba should avoid Hotel Nacional and Hotel Capri, where diplomats were staying when they reported symptoms, and to report similar symptoms to a medical professional.
Spicer: I Regret Embarrassing 'Myself, My Family, Friends' As Press Secretary

Talking Points Memo
Kerr won't address Ball's 'Milli Vanilli' comments
  Video player from: YouTube (
Privacy Policy
)Former White House press secretary Sean Spicer on Monday said he regrets doing things during his time as part of President Donald Trump's administration that "brought embarrassment" to himself, his family, his friends and the White House."You made some mistakes," MSNBC's Craig Melvin said to Spicer, after playing a tape of Spicer's "greatest hits," including his
inflation
of attendance numbers at Trump's inauguration, his
dismissal
of the roles that Michael Flynn and Paul Manafort played in Trump's campaign and his
claim
that Adolf Hitler did not use chemical weapons."Yes," Spicer responded."Do you regret taking the job?" Melvin asked."No," Spicer said. "I think in terms of net-net, I enjoyed having a front row seat to history, was an opportunity of a lifetime. Did I make mistakes? Thank you for taking me down memory lane. Absolutely. Do I hope I grow as a person, as a friend, as a stranger to do better? Absolutely."
"But you're giving me a diplomatic answer," Melvin pressed. "Do you regret at all taking the job?""No, no, no," Spicer said. "I regret things that I did that brought embarrassment to myself, my family, friends of mine who have been very big supporters, where I said, hey, that was a self-inflicted wound."Spicer said that part of being White House press secretary was "going in and having to tell the President of the United States, 'Hey, I embarrassed myself, your administration, and in some cases I think, you know, did something the American people are probably not pleased with.'""It's not just a mistake," he said, and later added of his successor White House press secretary Sarah Huckabee Sanders, "It's much better being a viewer than a briefer."
This article was written by Esme Cribb from
Talking Points Memo
and was legally licensed through the
NewsCred
publisher network. Please direct all licensing questions to
legal@newscred.com
.
Trump supports release of FBI intelligence memo, White House aide saysPOLITICO•
Trump supports release of FBI intelligence memo, White House aide saysPresident Donald Trump supports the release of a classified memo that allegedly reveals misconduct by senior FBI officials involved in investigating his campaign, a White House official said Sunday. Speaking on "Fox News Sunday," White House legislative affairs director Marc Short said he does not know what's in the memo. The Justice Department has warned that releasing it without first consulting the agency would be "extraordinarily reckless." Story Continued Below "Those are rational concerns," Short said. "But at the same time, I think the president is more inclined for transparency in this investigation. To the extent that the House, I think, has advocated that it's publicly released, I think
Russian fighter jet 'passes 5ft in front of US surveillance plane' over Black Sea
The Telegraph•
A Russian Su-27 seen near Estonia in 2016 when it was intercepted by the RAF – MODA Russian Su-27 fighter jet intercepted a US surveillance plane over the Black Sea on Monday, prompting the American government to protest the manoeuvre as "an unsafe interaction".Related SearchesFighter JetsF52 Fighter JetsMe 262 Jet FighterThe US State Department said the Russian jet closed to within five feet and crossed directly in front of the EP-3 Aries II plane.The encounter, first reported by Russia's RIA news agency, cited the defence ministry as saying the US Navy aircraft, did not violate Russian air space."This is but the latest example of Russian military activities disregarding international norms and agreements," said the State Department."We call on Russia to cease these unsafe actions that increase the risk of miscalculation, danger to aircrew on both sides, and midair collisions."View image on Twitter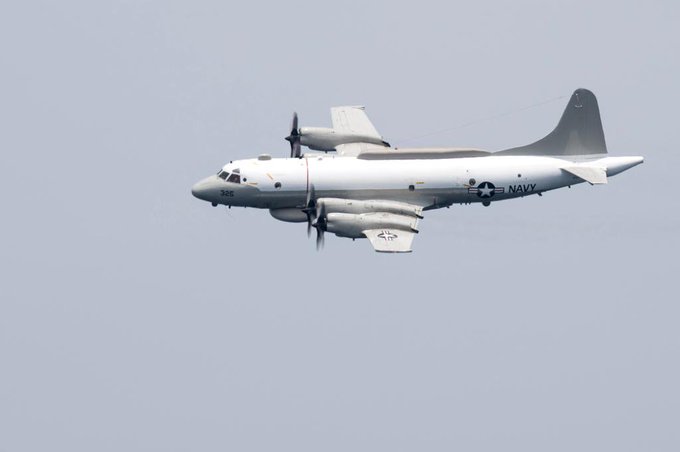 U.S. Navy@USNavyMT @USNavyEurope : #USNavy EP-3 Aries flying in international airspace over #BlackSea was intercepted by Russian Su-27. Interaction determined unsafe: Su-27 came within 5 feet & crossed thru EP-3's flight path, causing EP-3 to fly thru Su-27 jet wash. [File Photo]Moscow said that "all security precautions" had been observed during the encounter."After the surveillance plane of the US Navy had changed its course to move away from the border, the Su-27 returned to its base," RIA quoted the Russian defence ministry as saying. Russian jets and Nato aircraft have frequently come close together over the Black Sea, the Baltic region, Syria and elsewhere.The Pentagon has warned of the dangers of such close encounters in the sky.
A Russian Su-27 gets up and close and personal  Credit: US European CommandImages released by US European Command last yearshow a Russian SU-27 flying close to the wing of a US RC-135U. The planes are so close that the Russian pilot can be seen in the cockpit.
Raytheon Could Be the Bigger Winner in America's Big Military Buildup
Security,
Meaning selling lots of high-tech weapons to America–and around the world. Raytheon Could Be the Bigger Winner in America's Big Military Buildup The Pentagon's new National Defense Strategy looks like a winner to defense giant Raytheon, which foresees a bright future in the years to come as defense spending grows. The rise of a new era of great power competition means that high-end weapons that Raytheon builds will be in high demand."Last week, Secretary of Defense [James] Mattis released a national defense strategy. The strategy is subtitled, sharpening the American militaries competitive edge summarizes his intent clearly," Tom Kennedy, Raytheon's chairman and chief executive officer told investors. "Secretary Mattis calls for urgent change, a significant scale to content with the high end threats that are directly characterized as essential challenge to U.S. prosperity and security."For Raytheon, not only does that mean increased domestic sales but also growing export sales—particularly for its missile defense products. "Investment priorities are clearly articulated as is the need for accelerating defense exports to improve interoperability between U.S. and allied forces," Kennedy said. "Providing sophisticated capabilities to our customers is essential to the growth strategy Raytheon has been executing. Our current capabilities and investments are aligned with secretary Mattis' modernization priorities and we look forward to helping the defense department execute its strategy at the speed of relevance as secretary Mattis says."Recommended: America Has Military Options for North Korea (but They're All Bad)Recommended: 1,700 Planes Ready for War: Everything You Need To Know About China's Air ForceRecommended: Stealth vs. North Korea's Air Defenses: Who Wins?Meanwhile, from Raytheon's perspective, it expects to see strong Congressional support for increased investment in major weapons programs. "For the U.S. defense budget, we continue to see strong congregational backing for missile defense, cyber and other areas where Raytheon has a leadership position," Kennedy said. "And we remain optimistic that congress will pass a fiscal year '18 budget that provides our military the resources, technology and training necessary to protect United States and support our allies."Increased defense spending and a better business climate will also have a positive impact on the U.S. economy as companies like Raytheon embark on a hiring spree. "This strong growth environment creates the benefit of a strong jobs environment," Kennedy said. "And in 2017, we added over 1,000 new jobs to our payroll. These are noble jobs, rewarding, good paying jobs that allow our employees to buy homes, raise families and save for retirement, all while serving a lager purpose of helping to make the world a safer place."Overall, Raytheon sees a bright future. "The demand signals we see in our key growth areas, combined with the implementation of tax reform making us more globally competitive, creates a positive environment for continued business and jobs growth, going forward," Kennedy said.Dave Majumdar is the defense editor for The National Interest. You can follow him on Twitter: @davemajumdar.
Russia doing 'absolutely nothing' to end Ukraine conflict: US envoy
AFP•
A US envoy says the Kremlin has done "nothing" to progress towards a peace deal with Ukraine (AFP Photo/Mladen ANTONOV)Kiev (AFP) – Russia has done "absolutely nothing" to end the conflict in Ukraine and Washington is deeply disappointed with Moscow's lack of progress towards a peace deal, the US special envoy to Ukraine said Monday.Following a meeting with Kremlin aide Vladislav Surkov in Dubai on Friday, special envoy Kurt Volker said he had conveyed to his Russian counterpart "a very strong sense of disappointment and frustration"."Related SearchesUkraine WomenUkraine RussiaUkraine AirlinesUkraine MapUkraine News"Russia has done absolutely nothing to end the conflict" between Ukraine government forces and Kremlin-backed rebels in the east of the country, Volker said.The fighting has already cost more than 10,000 lives since April 2014″This is something that has been noticed and is source of frustration in Washington," Volker underlined during a press briefing via conference call from New York.Friday's meeting with Surkiv was the fourth between the two men about the conflict in Ukraine since Volker was appointed as the State Department's special representative in July 2017.US President Donald Trump's envoy noted that Moscow has finally demonstrated "more openness in thinking about a wider mandate" and "wider geographic area" for the United Nations peacekeeping mission, an issue widely discussed in recent months.Earlier Russian President Vladimir Putin had only backed establishing an armed mission along the front line splitting the insurgent-controlled territories from the rest of Ukraine.The Kremlin categorically opposed positioning armed UN peacekeepers along the uncontrolled part of its border with Ukraine, which is not under Kiev's control."The Russian side is going to come back to us with a revised proposal," Volker told the media.Early this month, German Foreign Minister Sigmar Gabriel said he wanted to establish a mandate for an armed UN peacekeeping mission in eastern Ukraine before Russia's March presidential election.Kiev and the West accuse Russia of orchestrating the conflict in eastern Ukraine and of smuggling weapons and troops across the border. Moscow denies all the allegations.
World
Voting to survive: Romanians elect mayors despite graft record
By Radu-Sorin Marinas and Luiza Ilie
Reuters
•
Horse-drawn carriage is pictured on a street in Dragomiresti
A horse-drawn carriage is pictured on a street in Dragomiresti, Dambovita county, Romania, January 23, 2018. Picture taken January 23, 2018. Inquam Photos/Octav Ganea via REUTERS By Radu-Sorin Marinas and Luiza Ilie DRAGOMIRESTI, Romania (Reuters) – Romanian mayor Dragos Vladulescu has a criminal conviction in a country with one of the EU's worst corruption records, and yet local voters keep re-electing him and many think he's doing a great job.For Vladulescu's admirers, what matters is that their mayor has upgraded or built new schools, clinics and even churches during his 14 years at the town hall.On top of that, the Social Democrat has installed street lighting, mains gas and water supplies, as well as paving muddy roads in their community of Dragomiresti, which lies in lush hill country about 90 km (45 miles) northwest of Bucharest.Voters in the wealthier European Union states to the west would take such services for granted, but not in Romania, which is still catching up after enduring a particularly brutal form of communism under Nicolae Ceausescu.So when a court found Vladulescu guilty of conflict of interest in 2014 for granting public works contracts to a company owned by his son-in-law, people shrugged it off and two years later re-elected him for a fourth term."Things are going well, he has done many good things here," said 64-year-old pensioner Gheorghe Baicoianu, while municipal workers shoveled away snow from bus stops in the village center. "I certainly voted for him, he deserved it."The fact that the mayor was handed a six-month suspended jail sentence seemed not to trouble Baicoianu. "I am not interested in other issues, only what I can see with my eyes in the locality," he told Reuters.Dragomiresti is by no means unusual in Romania, which came fourth from bottom of the 28 EU nations in a 2016 corruption perceptions index compiled by the anti-graft group Transparency International.That year Vladulescu's Social Democrat Party (PSD) was re-elected nationally even though its leader Liviu Dragnea has also got a suspended jail sentence: two years in a vote-rigging case.Dragnea is now on trial for abuse of office and prosecutors have opened a separate inquiry on suspicions that he formed a "criminal group" to siphon off cash from state projects, some of them EU-funded. This involves a company once controlled by a county council that Dragnea headed until 2012. He denies all the charges.SYMBIOTIC RELATIONSHIP Sociologist Daniel Sandu says part of the PSD's success is a close relationship between its national leadership and its mayors. This involves how government money to build infrastructure and pay social benefits is channeled to a local level, funding the kind of public works that have made Vladulescu and other mayors so popular."One way or another, the ruling party needs to control these mayors because they are the ones who bring votes, and mayors need the party because it helps them get funds," Sandu, a researcher at the European University Institute, told Reuters. "There is a symbiotic relationship."All parties that have governed Romania since the 1989 fall of communism have been accused of favoring their own mayors and county administrations in allotting funds.Dragnea created a multi-billion euro state-funded program in 2013 when he was regional development minister. Under this, money for rural and municipal infrastructure projects is now distributed to the counties by a deputy prime minister, without the need for overall government oversight.Reuters calculations show that Social Democrat mayors have generally done well out of this National Programme for Local Development (PNDL).For 2017-2020 PSD-controlled county councils have been earmarked, on average, 17 percent more than those controlled by the opposition Liberal party, and about 40 percent more on average than counties run by leaders from Romania's ethnic Hungarian minority.Dragnea's successor as regional development minister, Sevil Shhaideh, has denied preferential distributions. "The poorest counties, with the largest populations and areas and with the most administrative units, will get the largest allotments," said Shhaideh, whose ministry drafted the PNDL allocations.Shhaideh lost her ministerial post in a government reshuffle last October after prosecutors opened a corruption inquiry into her. She denies the allegations.
ALMOST FEUDAL
The European Commission has the Romanian judicial system under special monitoring, and the country's prosecutors are vigorously pursuing corruption cases, sending to trial hundreds of mayors, county councillors and lawmakers from across party lines.The bulk of investigations involve public contracts awarded to firms in return for bribes, fraud with EU funds, rigged auctions and conflicts of interest. Jail sentences are, however, frequently suspended with relatively few officials behind bars.Attempts by the PSD government to decriminalize several corruption offences last year triggered the country's largest street protests in decades. And yet the party, which won both the national and local elections, retains strong support.Romania is booming, with the economy growing at annual rates of almost nine percent in 2017, but it remains poor. Per capita GDP was just 58 percent of the EU average in 2016, while 2011 data put Romanians' average annual earnings at less than 6,000 euros ($7,500) compared with almost 18,000 euros in Portugal, one of western Europe's poorest countries.Another problem is a disparity between cities such as Bucharest, which have largely benefited from Romania's transition to a market economy, and rural areas."There are two very different Romanias," said Sandu. "One feels like any prosperous and dynamic capital city in Europe. "The other is served almost exclusively by a set of politicians who have developed an institutional power structure that is almost feudal."Outside the major cities, many small towns and villages lack basic services. A study by World Vision showed more than 200,000 children, particularly in rural areas, went to bed hungry.The country has the highest rate of household deprivation in the EU, Eurostat data showed, with one in two Romanians struggling to keep their home warm or pay their bills on time.For such people, spending by the local mayor is often a lifeline, so they vote for the candidate they think will produce the cash for their community."They are literally voting to survive," Sandu said. "These people feel forgotten, abandoned, the losers of the transition and they believe their closest form of survival is the leader or party closest to them."
AGING RAPIDLY
Dragomiresti, a group of six villages with a total population of under 9,000, is far from the poorest municipality.But the community, which lies in Dambovita county, is aging rapidly. Most passersby in the center had family members working abroad, chiefly on farms in Spain and Italy.Vladulescu, who won 58 percent of the vote in 2016, said he understood local concerns. "Many mayors in Dambovita county have been re-elected for their second, third or fourth terms, and the key to their success is that they prioritize solving the problems of their citizens," he told Reuters."I have done one thing or another every year in each village," he added. "People understood very well how things stood; the fact they re-elected me is proof."In 2016, many Romanians elected mayors who were under investigation or on trial, regardless of their party, including in cities such as Baia Mare and Brasov.Local administrations have an overall annual budget of just under 70 billion lei ($19 billion), a third of the country's consolidated budget revenue, and access to EU development funds. This includes funds from the PNDL, which the government has increased nearly fivefold to 30 billion lei for 2017-2020.Expert Forum (EFOR), an independent think tank which has analysed public contracts related to the PNDL in several counties, found that about half were awarded to only 5-6 private firms even though up to 50 compete for them."Connections are in most cases party-based and tend to be built around local power relations," an EFOR report said. "Some companies are managed by unknown owners on paper but in reality they are controlled by politicians or other influential persons."($1 = 3.7562 lei)($1 = 0.8043 euros)
World Israel PM visits Russia for talks on Iran's actions in Syria
VLADIMIR ISACHENKOV Associated Press•
Israeli Prime Minister Benjamin Netanyahu and Russian President Vladimir Putin, right, attend a meeting marking 75th anniversary of the Sobibor uprising, the only successful uprising that took place in a death camp during World War II at the Jewish Museum and Tolerance Center in Moscow in Moscow, Russia, Monday, Jan. 29, 2018. (Maxim Shemetov/Pool Photo via AP)MOSCOW (AP) — Israeli Prime Minister Benjamin Netanyahu visited Russia on Monday for talks focused on Syria, warning that Israel will not accept Iran's growing military presence there and in neighboring Lebanon.Before departure for talks with Russian President Vladimir Putin, Netanyahu said that Iran is trying to turn Lebanon into "one giant missile site, a site for precision missiles against the state of Israel, which we will not tolerate."Related SearchesSyria IsraelIsrael Capital The Israeli leader also pointed at what he described as "Iran's relentless efforts to establish a military presence in Syria, which we strongly oppose and are also taking action against."Russia and Iran have joined forces to back President Bashar Assad throughout the Syrian conflict. Russia has waged a military campaign in Syria since September 2015, helping Assad's forces score a series of victories and win back key ground.At the same time, Russia has sought to maintain friendly ties with Israel, and the two countries' militaries have established close communications to avoid collisions in Syria.Speaking in a video statement after his talks with Putin, Netanyahu hailed what he described as a "good and in-depth" meeting."I told him that Israel views with severity two developments," Netanyahu said. "One, the attempts by Iran to base itself militarily in Syria and the second, Iran's attempt to produce in Lebanon accurate weapons against the state of Israel. I made it clear to him that we will not agree to any of those developments and we will act accordingly."Israel's chief military spokesman, Brig. Gen. Ronen Manelis, posted a rare op-ed on Sunday on several Arabic-language websites, warning Lebanon of Iran's entrenchment and saying Israel is "prepared for all the scenarios."Putin and Netanyahu also jointly visited Moscow's Jewish Museum and Tolerance Center to see an exhibition about a 1943 uprising at the Nazis' Sobibor camp in occupied Poland. Netanyahu noted that the uprising was led by a Jewish Red Army officer and praised the heroism of the Red Army in defeating the Nazis.The Russian president expressed his appreciation, saying that the Israeli attitude contrasts with the removal of monuments to Red Army heroes in some European nations.Putin noted that Russia and Israel are "cooperating closely in resisting attempts to falsify history and revise the results of WWII, deny Holocaust and downplay a decisive role the Soviet Union played in defeating the Nazis.""The main lesson from the rise of the Nazis and later the defeat of the Nazis is the need to stand up powerfully to murderous ideology in time," Netanyahu said. "That is our mission today as well."_Ian Deitch in Jerusalem contributed to this report.
World
Iran cites change in U.S. navy behavior in Gulf
World President says Poland did not take part in the Holocaust
Associated Press•
Israeli Ambassador to Poland, Anna Azari, speaks during a ceremony marking the 13th International Day of Commemoration in Memory of the victims of the Holocaust, at the Monument to the Heroes of the Warsaw Ghetto in Warsaw, Poland, Monday, Jan. 29, 2018. (AP Photo/Czarek Sokolowski)WARSAW, Poland (AP) — Poland's president said Monday there was no institutionalized participation by Poland or its people in the Holocaust but acknowledged that individual Poles took "wicked" actions against Jewish neighbors.President Andrzej Duda said he would never allow Poland and Poles in general to be "vilified" though "false accusations."Duda seemed to be reacting to anger in Israel over a Polish bill that would outlaw public statements assigning to "the Polish nation" responsibility for crimes committed by Nazi Germany during its World War II occupation of Poland.Violations of the proposed law would be punishable by fines or prison terms of up to three years. A section of the bill exempts prohibited statements made "within artistic or scientific activity."Some 6 million Polish citizens, half of them Jews, died under the Nazi occupation of Poland. In Israel, the legislation has been interpreted as an attempt to undermine scholarly research and deny facts about the Holocaust.Duda's top aide, Krzysztof Szczerski, met Monday with Israeli Ambassador Anna Azari to discuss the bill's wording, which critics say is unclear.Szczerski characterized the talk as "difficult and frank" and said he was critical of the reaction in Israel to the legislation approved by the lower house of Poland's parliament Friday.Speaking during a visit to the southern town of Zory on Monday, Duda said that referring to the camps built and operated by the Germans in occupied Poland as "Polish death camps" is an example of the kind of statements the law is meant to address.The president said he condemned anti-Semitism and other forms of hatred.The prime ministers of Poland and Israel agreed after speaking by phone Sunday night to try to resolve differences over the legislation by convening a group of history experts.
Turkey detains 300 for social media posts criticising Syrian offensiveMail Online•
Turkey detains 300 for social media posts criticising Syrian offensiveMore than 300 people have been arrested in Turkey for making negative comments about the government's military offensive in Syria on social media.   Turkey launched its operation 'Olive Branch' against the Kurdish militia in Syria's northwestern region of Afrin ten days ago. The incursion sees Erdogan's army providing air and ground support to Syrian opposition fighters to drive out the Kurdish People's Protection Units (YPG), which it deems a 'terror' group. The YPG played a key role in defeating ISIS across swathes of Syria and received support from the United States. Some 55 civilians, including several children, have so far been killed in air strikes and artillery fire in the area near the
Will U.S. Fight Turkey? American Soldiers Will Not Leave City About to Be Attacked, Says Top General
Tom O'Connor Newsweek•The U.S. military intends to remain in the northern Syrian city of Manbij despite an incoming offensive backed by Turkey, which, along with Ankara's rebel allies, has launched an assault on nearby Kurdish forces sponsored by the Pentagon.With the Islamic State militant group (ISIS) mostly defeated in the east, the focus of Syria's nearly seven-year war has shifted west, particularly to the northwestern district of Afrin, where Turkey and the insurgent Free Syrian Army have begun attacking a Kurdish militia known as the People's Protection Units (YPG). The YPG was the primary faction behind the Syrian Democratic Forces that led U.S. efforts to destroy ISIS on the ground, but it also was considered a terrorist organization by Turkey because of its alleged links to a Kurdish nationalist insurgency at home.Related: CNN Turkey Reports "American Sniper" Bradley Cooper Killed in Syria, U.S. Military DeniesTrending: Sean Spicer Regrets That He 'Brought Embarrassment to Myself and My Family' During Time as Trump's Press SecretaryAs the complex politics of northern Syria's battlefield erupted into bloodshed between two U.S. allies, Central Command Commander General Joseph Vogel told CNN Monday that withdrawing his troops from nearby Manbij was "not something we are looking into," even as Turkey threatened to advance into the Kurd-controlled city.
GettyImages-648338982A convoy of U.S. armored vehicles drives on the outskirts of Manbij, Syria, on March 5, 2017. Since ousting ISIS from the mixed Kurdish and Arab city, Manbij has been a flashpoint for intersecting and opposing interests of the U.S.-backed Syrian Democratic Forces, the Turkey-backed Free Syrian Army and the Russia-backed Syrian military. DELIL SOULEIMAN/AFP/Getty ImagesThe U.S. has so far stood aside as the Pentagon-backed Syrian Democratic Forces attempted to defend the northwestern district of Afrin from Turkey, a member of the U.S.-led NATO alliance, and the formerly CIA-backed Free Syrian Army that has regularly targeted U.S. forces in the area. In November, the Pentagon revealed it had deployed more than 1,700 U.S. personnel to support the Syrian Democratic Forces battling ISIS in Syria.Don't miss: The 2018 State of the Union Guests Include DACA Recipients, Sexual Assault Survivors And San Juan Mayor Carmen Yulin CruzWhile the Pentagon reiterated its support for Kurdish members of the Syrian Democratic Forces still battling ISIS in rapidly shrinking pockets of territory in the east, U.S. military leadership warned that the U.S.-led coalition would not support Kurdish efforts to reallocate resources to battle Turkey in the northwest. The U.S. has also warned Turkey that its operation was "impeding the task to eliminate ISIS," and President Donald Trump reportedly urged his Turkish counterpart, Recep Tayyip Erdoğan, to "exercise caution" in a phone call Wednesday.Turkish officials, however, denied that Trump made that request, and their forces pressed on with the bombardment of Kurd-controlled towns and villages. Turkey has likened the YPG to ISIS in the danger it posed, as the Kurdish militia was thought to have direct connections to the Kurdistan Workers' Party (PKK), a Kurdish militant organization that has waged a bloody campaign of guerrilla warfare against Turkish security forces for more than three decades.Erdoğan vowed Friday that his forces would "clean up" Manbij and demanded that U.S. forces leave. Analysts described the city as a red line for the U.S.'s tolerance of the Turkish incursion.Most popular: Trump's Pick For Chile Ambassador Tied To Jared Kushner Family Handshake DealsTurkish soldiers on Mount Bersaya, north of the Syrian town of Azaz, near the border with Turkey, on January 29. Turkey's so-called Operation Olive Branch threatened to put its forces on a collision course with NATO partner the U.S., which backed Kurdish militias fighting ISIS in Syria. NAZEER AL-KHATIB/AFP/Getty ImageThe city of Manbij first fell out of the hands of the Syrian government in 2012, when it was seized by rebels fighting to unseat Syrian President Bashar al-Assad with the support of the U.S., Turkey and Gulf Arab states, especially Saudi Arabia and Qatar. In 2014, local insurgents were dislodged by ISIS, which had spread across half of Iraq and Syria and either defeated or absorbed much of the armed opposition in the latter.The U.S. formed an international coalition to bomb ISIS that year and, as it scaled back support to beleaguered rebel groups such as the Free Syrian Army, invested in Kurdish fighters which comprised the Syrian Democratic Forces in October 2015, a month after Russia intervened to assist Assad. The following summer, U.S.-backed rebels ousted ISIS from Manbij as Syrian troops, backed by Russia and Iran, cleared the rest of Aleppo of rebels.Turkey, outraged at the U.S.'s support for Kurdish militias, launched Operation Euphrates Shield, invading northern Syria to shore up the Free Syrian Army against ISIS, the Syrian Democratic Forces and the Syrian military. In the first major test of overlapping U.S. and Russian interests in Syria, both countries deployed troops to assist their respective allies in holding parts of Manbij in the face of the Turkish offensive, which ultimately backed down.Like the U.S., Russia has largely stayed out of the fight between Turkey and the Kurds, seeking to maintain relations with both. The assault on Afrin, however, led Kurdish groups to decline their invitation to the upcoming Syrian National Congress hosted by Russia, which hoped it would serve as a platform for peace in the devastated country. Moscow's main ally, Assad, also has called for international action against the Turkish invasion.This article was first written by Newsweek