Trump calls for unity, but pushes GOP agenda in State of the Union speech

The Washington Post David A. Fahrenthold
Kate and Will's Kensington Palace décor includes furniture from this budget store Video by Reuters President Trump used his first State of the Union Address to send two conflicting messages at once — to celebrate the results of his combative and deeply partisan first year, and to call upon Democrats to join him to work together in his second."I call upon all of us to set aside our differences, to seek out common ground, and to summon the unity we need to deliver for the people we were elected to serve," Trump said at the start of the speech, made to a joint session of Congress.[Latest updates from the State of the Union coverage]But Trump's nearly 90-minute long speech also lingered on a subject that is at the heart of Washington's divisions: immigration. Trump cast the issue as one of safety, saying that "open borders" allowed by past administrations had allowed street gangs to thrive and cost Americans their lives. He offered a plan to let "Dreamers" — undocumented immigrants brought to the U.S. as children — stay and become citizens, but also rejected the idea that their needs should take priority. "Americans are dreamers, too," he said.The speech did not mention the ongoing Special Counsel investigation into Trump's 2016 campaign, nor the effort by Republicans in Congress to attack Trump's investigators with a secret memo alleging misdeeds at the Justice Department. Trump only mentioned Russia — whose interference in the 2016 campaign set off the probe — once.Subscribe to the Post Most newsletter: Today's most popular stories on The Washington Post There were few disruptions in the chamber. Some Democrats hissed or groaned during Trump's comments about immigration, and members of the Congressional Black Caucus — some of Trump's most ardent critics on the Hill — sat stone-faced while Trump talked about historically low rates African American unemployment.Some of the most enthusiastic Democrats in the crowd were senators from states where Trump won in 2016, including Joe Manchin III (W.Va.), Joe Donnelly (Ind.) and Doug Jones (Ala.).Touting success Trump opened his speech by making the case that his first year in office has been an enormous success, noting continuing declines in the unemployment rate, a large tax cut, and cutbacks in federal regulations. He touted his nationalist agenda on trade — which has produced little tangible results so far — as setting a tone that the world had noticed."Our nation has lost it's wealth," Trump said. "But we're getting it back so fast."[Latest updates from the State of the Union coverage]Trump touted the GOP's huge new tax-cut bill, saying that many Americans would start seeing more tax-home pay soon."Our massive tax cuts provide tremendous relief for the middle class and small businesses," Trump said, speaking about a bill passed with only Republican votes. He celebrated the end of a provision from President Obama's health-care law, which required many Americans to obtain health insurance or pay a tax. "The individual mandate is now gone. Thank heavens."Trump pointed out small business owners from Ohio, who he said had just had the best year in the 20-year history of their business. Because of tax reform, he said, their business is expanding its space and hiring new workers."This, in fact, is our new American moment. There has never been a better time to start living the American Dream," he said. Speaking to viewers at home: "This is your time …. Together, we can achieve absolutely anything."Republicans in the House chambers cheered Trump's remarks, while many Democrat sat silent and motionless.Trump's celebration of the GOP's tax bill came just after a section of his speech in which he implored Democrats to work together with him, saying that America's needs required bipartisan cooperation.Trump began his speech with an appeal to unity, lauding heroes from the biggest calamities of 2017 — hurricanes, forest fires and mass shootings — as an example that a divided nation might come together."It is not enough to come together only in times of tragedy," said Trump. "Tonight, I call upon all of us to set aside our differences, to seek out common ground, and to summon the unity we need to deliver for the people we were elected to serve."Immigration reform Trump also used his speech to lay out details of an immigration reform deal he had offered several days earlier, which offered citizenship for "dreamers" — undocumented immigrants brought to the U.S. as children — in return for increased spending on border security and large cuts in legal immigration levels.But he sought to repurpose the term "dreamer," saying that it shouldn't be an excuse to shortchange Americans' economic prospects or safety.Trump also used his speech to frame the fight over immigration as largely a fight over safety — saying that previous administrations' policies have "caused the loss of many innocent lives.""My duty, and the sacred duty of every elected official in this chamber, is to defend Americans — to protect their safety, their families, their communities, and their right to the American Dream. Because Americans are dreamers too," Trump said.He pointed to guests in his box as examples of the threat posed by MS-13, a criminal gang active in both the United States and Central America. Trump's guests will include a federal immigration agent who has investigated the gang, and two sets of parents whose children were killed by MS-13 members.More than 50 Democratic lawmakers have invited "dreamers" to attend as guests to dramatize their demand for legal status. In response, Republican Rep. Paul A. Gosar (Ariz.) tweeted that he had asked the Capitol Police to check all guests' IDs, and arrest "any illegal aliens in attendance."[How Democrats will use guests, boycott to make statement at Trump speech]The president continued to make the national security argument, touting the efforts to keep the nation safe from terrorism, while calling for more military spending.Trump announced he had formally canceled plans to close the U.S. detention facility at Guantanamo Bay, Cuba, during his first State of the Union address Tuesday night."We must be clear. Terrorists are not merely criminals. They are unlawful enemy combatants," Trump said, in explaining the decision. The facility, first established in 2002, holds 41 remaining terrorism suspects. "And when captured overseas, they should be treated like the terrorists they are."President Obama had signed an order to close the facility in 2009, but he had failed to do so because of political opposition to trying detainees in the United States. Trump had long promised to keep the facility open.He also called on Congress to remove the limit on military spending enacted under the budget sequestration of 2013.The president also addressed the threat posed by North Korea, saying his administration was waging a "campaign of maximum pressure" to prevent North from arming itself with nuclear missiles that could threaten the United States. But he said little about what options he was considering, in his first State of the Union address Tuesday."North Korea's reckless pursuit of nuclear missiles could very soon threaten our homeland," Trump said. "Past experience has taught us that complacency and concessions only invite aggression and provocation. I will not repeat the mistakes of past administrations that got us into this very dangerous position."Earlier in the day, The Washington Post reported that Trump's choice for ambassador to South Korea — Georgetown University Professor Victor Cha — was no longer under consideration, in part because Cha opposed a plan for military strikes under consideration by Trump's advisers. That plan, known as a "bloody nose" strike, envisions a limited U.S. attack on North Korean sites, which in theory would deter North Korea from future provocations but not trigger an all-out war.In an op-ed written in The Washington Post on Tuesday, Cha himself wrotethat the risks of escalation from such a strike were too high — either for South Korea or for the U.S., which has more than 200,000 citizens in South Korea."The president would be putting at risk an American population the size of a medium-size U.S. city — Pittsburgh, say, or Cincinnati — on the assumption that a crazy and undeterrable dictator will be rationally cowed by a demonstration of U.S. kinetic power," Cha wrote.The issue of Russian meddling in the 2016 election — and a special counsel investigation into the Trump campaign's possible contacts with Russian — have dominated Washington's discourse in the last few days. The only mention of Russia in Trump's address so far was in a line that called the country a "rival," along with China."Around the world, we face rogue regimes, terrorist groups, and rivals like China and Russia that challenge our interests, our economy, and our values," Trump said. "In confronting these dangers, we know that weakness is the surest path to conflict, and unmatched power is the surest means of our defense."Democratic response There will be two official Democratic responses , one in English and one in Spanish. The English response, given by Rep. Joe Kennedy III (D-Mass.), will say that Trump is "targeting the very idea that we are all worthy of protection," and call attention to growing income inequality, according to excerpts released Tuesday evening. A Democratic America, Kennedy will say, would be "brave enough to admit that top CEOs making 300 times the average worker is not right."The Spanish response, given by Virginia state Del. Elizabeth Guzman, will attack Trump for ending the deferred-action program and putting hundreds of thousands in danger of deportation. "These people have acted in accordance with the law, they have paid taxes," Guzman will say, according to excerpts. "The President has also failed in his duty to protect our families in Puerto Rico who were affected by hurricane Maria. This is unjust. This is unacceptable."Sen. Bernie Sanders (Vt.), an independent who ran as a Democrat in 2016, will also give his own rebuttal.Sean Sullivan contributed to this report.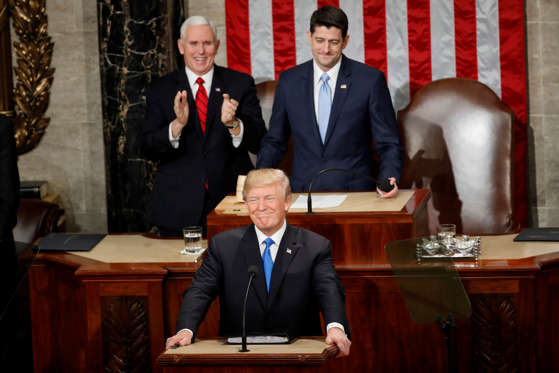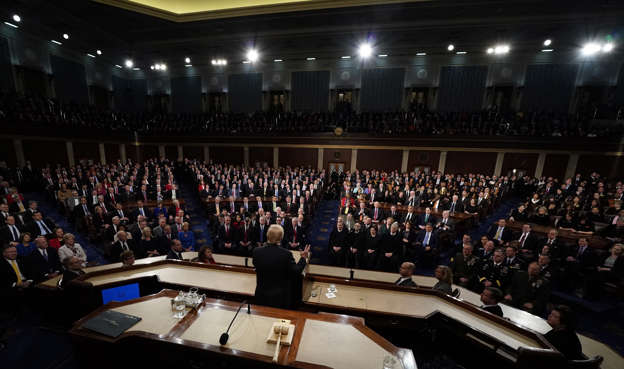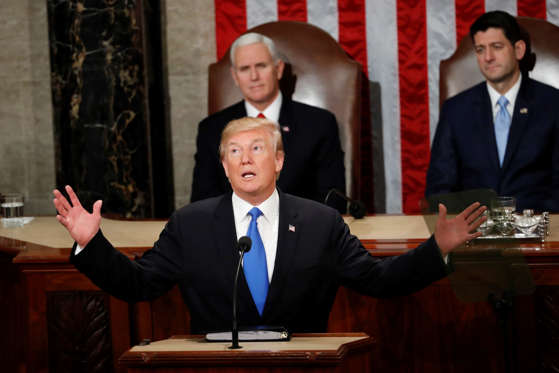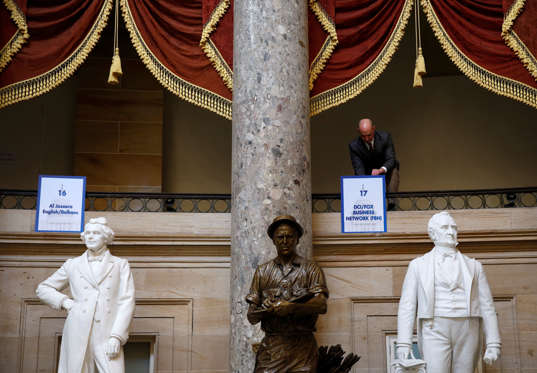 Slide 1 of 31: President Donald Trump steps to the podium to begin his State of the Union address to a joint session of Congress on Capitol Hill in Washington, Tuesday, Jan. 30, 2018. Behind President Trump are Vice President Mike Pence and House Speaker Paul Ryan of Wisconsin. (AP Photo/Pablo Martinez Monsivais)1/31 SLIDES © Pablo Martinez Monsivais/AP President Donald Trump steps to the podium to begin his State of the Union address to a joint session of Congress on Capitol Hill in Washington, D.C. on Jan. 30, 2018. Behind President Trump are Vice President Mike Pence and House Speaker Paul Ryan of Wisconsin. Slideshow by photo services
Donald Trump booed in his first State of the Union after hitting out at 'chain migration'
Emily Shugerman The Independent• President Donald Trump faced boos from Democrats during his first State of the Union address, after criticising "chain migration" – a practice in which family members come to join immigrants who have settled in America.Mr Trump has long bemoaned the practice as a means for terrorists and "truly evil people" to enter the country. He used his address to lay out his own immigration plan, which he claimed would "protect the nuclear family by ending chain migration"."Under the current broken system, a single immigrant can bring in virtually unlimited numbers of distant relatives," Mr Trump claimed. "Under our plan, we focus on the immediate family by limiting sponsorships to spouses and minor children. This vital reform is necessary, not just for our economy, but for our security, and our future."The comments earned grumbles and boos from Democrats in the audience, many of whom had brought immigrants with them as their guests to the event.House Minority Leader Nancy Pelosi even tweeted abut the comment, writing: "Reminder: when @realDonaldTrump says we need to end 'chain migration,' he means we need to stop making it a priority to keep families together."Chain migration is the most common form of immigration to the US, making up 60 to 70 per cent of all legal immigration in the last decade. Democrats and advocates argue that the more accurate term is "family reunification," as the purpose of the policy is to bring families separated by immigration back together. More than 50,000 children of immigrants, and 85,000 parents, entered the US this way last year.Mr Trump has attempted to tie chain migration to increased crime and terrorism in the US. In his speech on Tuesday, he pointed to the suspect in an attempted Times Square bombing, who entered the country on a visa for family members in 2011."In the age of terrorism, these programmes present risks we can no longer afford," Mr Trump said. "It is time to reform these outdated immigration rules, and finally bring our immigration system into the 21st century."Multiple studies have shown that immigrants are significantly less likely to commit crimes than people born in the United States.Mr Trump rolled out his proposed immigration policy last week. The plan would make a massive cut to the number of family members allowed to immigrate to the US each year. It would also require $25b for a border wall with Mexico and other border security measures.In exchange, it would create a path to citizenship for some 1.8m residents who arrived in the US illegally as children.
Politics Joe Kennedy III carries the Kennedy legacy into the fight against Trump
Jon Ward Senior Political Correspondent
Yahoo News
•
Rep. Joseph P. Kennedy III, D-Mass. (Photo: Michael Dwyer/AP)When Republicans 
called
 Joe Kennedy III "rich" and "boring" the day before he was to deliver the Democratic response to President Trump's first State of the Union address, they were really saying something else."There's no there there," they were saying. "He's an empty suit. He is coasting on his family name and money."
Related Searches
Joseph Patrick Kennedy III
Joe Kennedy III
Joe Kennedy II
Congressman Joe Kennedy
Joseph P. Kennedy III
If you're a Kennedy, it's a familiar charge. Joe's great-uncle Ted Kennedy, the former U.S. senator who died in 2009, was treated as "a joke" when he first ran for the Senate as a 30-year old assistant district attorney.Sure enough, when Joe III first ran for Congress in 2012 — also on the basis of a résumé that mostly amounted to three years as an assistant DA — someone at a debate leveled the same epithet at him. "If your name were Joseph Patrick … and not Joseph Patrick Kennedy, based on your life experiences, would not your campaign be a joke?" a debate audience member 
asked
.As late as 1980, after 18 years in the Senate, Ted Kennedy had to confront the accusation that he was presuming to inherit the presidency from his late brother John, and his quest for the Democratic nomination fell short.Joe III's own father, Joe Kennedy II, abandoned a 1997 gubernatorial bid in Massachusetts because of a personal scandal, another recurring theme in Ted's life and in the Kennedy family as a whole. But Joe II was 
also bedeviled
 by an overreliance on his last name and the lack of a compelling vision for his candidacy.That background, and the Kennedy penchant for bad behavior, may explain why Joe III was such a straight arrow in college — Stanford, not Harvard, although he went to Harvard Law School — abstaining from alcohol and gaining a reputation as a highly conscientious student. It sheds some light on why he spent two years with the Peace Corps in the Dominican Republic.On his office wall, there is a quote from his grandfather Robert F. Kennedy, the former attorney general who was assassinated in 1968 while running for president. "You can use your enormous privilege and opportunity to seek purely private pleasure and gain, but history will judge you," the RFK quote reads.Unlike his great-uncle Ted, Joe III seems to wear the weight of expectations well. He understands the power of the Kennedy name, springing from John F. Kennedy's charismatic presidency and his martyrdom in 1963.But he has been in no rush to become a political star. Kennedy, 37, has been a member of Congress for five years now and has remained relatively unknown beyond his district. He missed the December House vote on the Republican tax bill to be with his wife — whom he met at Harvard Law in Sen. Elizabeth Warren's class — for the birth of the couple's second child."I don't think he gets out ahead of himself," said Paul Watanabe, a professor of political science at the University of Massachusetts Boston. "He has been somebody who focuses on being what young congresspeople do, which is focus on their district, focus on constituent services."Joe Kennedy III officially launches his campaign for Congress on Thursday in Newton, Mass. (Photo: Suzanne Kreiter/Boston Globe via Getty Images)Chosen by House Minority Leader Nancy Pelosi to speak Tuesday night after Trump, Kennedy will now have much more visibility — and scrutiny. Already he has faced questions about his wealth, which 
was estimated
 at around $18 million in 2015. The Boston Globe 
reported
 in 2016 that Kennedy owned as much as half a million dollars' worth of stock in a drug company called Gilead Sciences, which makes a hepatitis C drug that costs patients $1,000 a pill.Even if many younger voters don't know much about the Kennedy history, this new phase for Kennedy will bring more intense pressures on him."For people who may have loathed the Kennedys and saw them as representative of all that's bad in the country — and there's many of them — they may shift that to Joe," Watanabe said. "On the other hand, many loved the Kennedys and thought everything they did was gold. On both sides it's a little unfair and too much responsibility to bear.""The important thing is whether he comes out of this as his own person, and as a politician of the future and not of the past," Watanabe said.Kennedy family allies like Robert Shrum, a former adviser to Ted Kennedy, seem most anxious for Joe III to create some separation from the family heritage conveyed by his last name."I think he should be judged on his own, not as part of the family, or not as some kind of heir to Kennedy politics," Shrum said.Kennedy has gained some attention this past year. His 
remarks
 in a committee hearing challenging House Speaker Paul Ryan's characterization of efforts to repeal Obamacare as an "act of mercy" went viral. A few other speeches have also drawn attention on social media.But one of Kennedy's more notable speeches came a year before he ran for Congress, when he 
addressed the Massachusetts legislature
 during a 2011 ceremony to commemorate the 50th anniversary of JFK's inauguration.
Joseph Kennedy III at the 50th anniversary of JFK's inauguration at the State House in Boston. (Photo: David L Ryan/Boston Globe via Getty Images)Kennedy stood at the lectern with Ted's widow, Vicki, seated on the dais behind him and began his remarks with a joke about JFK and former House Speaker Tip O'Neill, who also was a Massachusetts Democrat and a close Kennedy family ally.Near the end of his 10-minute speech, Kennedy turned emotional as he spoke about the death of his grandfather, and connected it to the most recent violence in American politics. Rep. Gabby Giffords, an Arizona Democrat, had been shot in the head just a few days before.Kennedy traced the roots of political violence back to extreme language, and he blamed both Republicans and Democrats for creating "an atmosphere of hate."For too long the rhetoric in Washington has been toxic: antiwar protesters holding up signs saying 'Death to terrorist pig Bush'; tea party protesters shouting out racist and antigay slurs to members of Congress; protesters shouting out 'Death to Cheney'; radio talk show hosts calling President Obama and Democrats communists and traitors; images of both political parties showing opponents in the crosshairs of a rifle scope," Kennedy said."This isn't what President Kennedy stood for. It isn't what [Martin Luther] King or Robert Kennedy stood for. They took on the big problems of our world. They looked to those common threads that unite us rather than diving into the identity politics to find those that divide us," he said.Kennedy's willingness to call out both political parties could position him to speak to the whole nation Tuesday night. His speeches, Shrum said, include "the kind of thing that Democrats need to be saying if we're going to reconnect with some of the people we lost in 2016, while keeping the people we had."Kennedy speaks in support of transgender members of the military, July 26, 2017. (Photo: Jacquelyn Martin/AP)And Kennedy's condemnation of "identity politics" presaged a debate among Democrats now in the wake of Hillary Clinton's loss to Trump. Liberals like Mark Lilla and others have blamed Clinton's loss 
on a "fixation on diversity"
 that "has produced a generation of liberals and progressives narcissistically unaware of conditions outside their self-defined groups, and indifferent to the task of reaching out to Americans in every walk of life."Kennedy is certainly no cultural conservative. His guest at the State of the Union speech will be a transgender member of the U.S. Army, Staff Sgt. Patricia King. And he has been an outspoken advocate for gay rights.But as he speaks to the entire country following Trump, whose first year as president has been defined by divisiveness, Kennedy may sound notes like the ones he closed with in 2011, which called on themes made into mantras by JFK and generations of Democrats after him."In times such as these, our commitment to each other and to our country cannot dip but is more critical than ever, drawing once again to something greater than ourselves, to lives of service and sacrifice, courage and judgment, integrity and dedication," Kennedy said. "These are the ideals that ought to endure, rather than partisan rancor, naked self-interest, and other corrosive effects of promoting social divisions, a kind of moral gerrymandering that saps our spirit and degrades our collective will."
Kennedy SOTU response: 'Bullies may land a punch,' don't win
MATTHEW DALY Associated Press•WASHINGTON (AP) — Soaring stock prices under President Donald Trump have boosted investor portfolios and corporate profits but have not eased the economic anxieties of middle-class families, Massachusetts Rep. Joe Kennedy III said Tuesday night in the Democratic response to Trump's first State of the Union address.In calling on Americans to reject the "chaos" of the Trump era, Kennedy also outlined a Democratic vision that promises a "better deal for all who call this country home."Democrats support a higher minimum wage, paid leave for employees and affordable child care, among other priorities, Kennedy said."We choose pensions that are solvent, trade pacts that are fair, roads and bridges that won't rust away, and good education you can afford," he said in a speech from a vocational high school in Fall River, Massachusetts, a onetime manufacturing hub now struggling with high unemployment and other problems.Kennedy, 37, a three-term congressman and grandson of former Attorney General Robert F. Kennedy, has argued that Democrats should focus on the economic concerns of working-class voters who bolted the party in the 2016 elections.Fall River, home to many blue-collar workers, "has faced its share of storms," Kennedy said. "But people here are tough. They fight for each other. They pull for their city."In an apparent reference to Trump, Kennedy said that "bullies may land a punch" and leave a mark but that they have "never managed to match the strength and spirit of a people united in defense of their future."In a hard-hitting speech for a political newcomer, Kennedy decried a rollback of civil rights protections, noting proposals that target Muslims, transgender people and others.The Trump administration "isn't just targeting the laws that protect us — they are targeting the very idea that we are all worthy of protection," Kennedy said.Trump's record is "a rebuke of our highest American ideal: the belief that we are all worthy, we are all equal and we all count — in the eyes of our law and our leaders, our God and our government," Kennedy said.The red-haired Kennedy was elected to the House in 2012, returning the family to Congress two years after the retirement of Rhode Island Rep. Patrick Kennedy, the son of Joe Kennedy III's great-uncle Ted.Known mostly for his famous last name, Kennedy's selection has been criticized by some as tone-deaf at a time when sexual harassment of women and the Black Lives Matter movement are at the forefront of American politics. Speaking without a suit coat in front of a rebuilt car and an enthusiastic audience, Kennedy tried to defuse that Tuesday by citing the #MeToo movement and declaring, "Black lives matter."In a nod to "Dreamers," the 700,000 young immigrants brought here as children and now here illegally, Kennedy spoke in Spanish as he said Dreamers are a part of America's story and promised that Democrats will not walk away from them.Kennedy said Trump and his administration were breaking a core promise of America — that everyone will be treated equally under the law. He accused the administration of "callously" appraising Americans' worth and deciding "who makes the cut and who can be bargained away."Under the leadership of Trump and congressional Republicans, Americans are "bombarded with one false choice after another," Kennedy said. "Coal miners or single moms. Rural communities or inner cities. The coast or the heartland."Democrats "choose both," Kennedy said.A former Peace Corps volunteer, Kennedy was an assistant district attorney in two Massachusetts districts before being elected to Congress. He has focused on economic and social justice in Congress and has advocated on behalf of vocational schools and community colleges and championed issues such as transgender rights and marriage equality.To illustrate that message, Kennedy invited U.S. Army Staff Sgt. Patricia King, a transgender woman, as his guest to the State of the Union. King, an infantry squad leader at Fort Lewis, Washington, was the first person to have gender reassignment surgery paid for by the military.Kennedy's speech was one of several Democratic responses. Elizabeth Guzman, one of the first Latinas elected to the Virginia House of Delegates, delivered a Spanish-language response, while former Democratic presidential candidate Bernie Sanders spoke on Facebook Live and Rep. Maxine Waters, D-Calif., spoke on BET.
Hillary Clinton Says She Should Have Fired Adviser Accused of Sexual-Harassment