News 2 deaths blamed on winter snow storm in Midwest
Associated Press•
Vehicles rest along the snowbound shoulder along Interstate 94, Friday, Feb. 9, 2018, near Galesburg, Mich., after scores of vehicles were involved in an accident. (Mark Bugnaski/Kalamazoo Gazette-MLive Media Group via AP)CHICAGO (AP) — A winter storm that pounded the Midwest caused at least two deaths Friday, authorities said, while closing schools and forcing the cancellation of hundreds of flights.Snow-related crashed snarled highways across southern Michigan, with one person killed when a semitrailer struck the rear of a car stopped in traffic on U.S. 23 near Flint, police said.A Michigan State Police trooper was hospitalized after a pickup truck lost control and slammed into his stopped squad on Interstate 94 northeast of Detroit. A pileup on the same highway just east of Kalamazoo in southwestern Michigan collected 38 vehicles, including 16 semitrailers, in the eastbound lanes Friday afternoon, causing only minor injuries.In Naperville, Illinois, just west of Chicago, a man in his 60s died after suffering a heart attack while shoveling snow Friday morning, Edward Hospital spokesman Keith Hartenberger told the Chicago Tribune.The National Weather Service at least reported 10 inches (25 centimeters) of snow on the ground Friday afternoon in suburban Chicago and 11 inches (28 centimeters) near South Bend, Indiana. Chicago was forecast to receive as much as 14 inches (35 centimeters) of snow with Detroit expecting up to 9 inches (23 centimeters).Chicago Mayor Rahm Emanuel said the city was gearing up for three more rounds of snow through the weekend.More than 1,000 flights were canceled at Chicago's O'Hare International Airport and more than 300 were canceled at Midway, the Chicago Department of Aviation reported Friday afternoon. More than 260 flights were canceled at Detroit Metropolitan Airport in Romulus, Michigan.Three northern Indiana counties posted travel watches, recommending only essential travelThousands of children got a snow day after school districts in Chicago, Detroit and Milwaukee canceled classes. Schools across Nebraska and Iowa also closed or delayed the start of classes.It made for a great day for kids to go sledding, make snow angels and play with pets outside instead of reading, writing and arithmetic. Angela Lekkas took her children sledding in Chicago's Lincoln Park neighborhood."The kids couldn't wait to get out today," she said. "This is the first true snowfall of the season."The Indiana Department of Transportation resorted to sending teams of as many as four plows simultaneously to clear some highways. Chicago Department of Streets and Sanitation Commissioner John Tully said 300 salt-spreading plows hit the streets late Thursday and would continue their work through the weekend.
Two dead as winter snowstorm sweeps across U.S. Midwest
By Suzannah Gonzales Reuters•
Two dead as winter snowstorm sweeps across U.S. MidwestBy Suzannah Gonzales CHICAGO (Reuters) – A winter storm swept across the northern U.S. Midwest on Friday, dumping up to nine inches (23 cm) of snow on Chicago, killing at least two people and snarling hundreds of flights as it rolled east to threaten New York state and New England.Chicago's metropolitan area was blanketed with its heaviest snowfall since at least late 2016 as the storm put an icy grip on much of Wisconsin, northern Illinois and Michigan.A man in his 60s died of a heart attack on Friday after he shoveled show, Keith Hartenberger, spokesman for Edward Hospital in Naperville, Illinois, said in a phone interview. A 33-year-old woman also died after a multi-vehicle crash on Friday near Fenton, Michigan, located south of Flint, Fenton police said.The snow caused dozens of crashes on icy Chicago expressways as residents of the third-biggest U.S. city struggled to get to work and to dig out from a storm system that had stretched from Montana to Michigan."I hate you, Chicago!" Ieva Urbietyte, a 25-year-old customer service representative, said while cleaning snow off her car in the Windy City. "Thankfully we don't have to do this all the time."Weather forecasters in Detroit warned that snowfall there could surpass one inch (2.5 cm) an hour as the system headed east.At the Argus Farm Stop in nearby Ann Arbor, Michigan, several customers arrived on skis, and store manager Laura Barch said she was eager to get into her snowshoes."I feel like this is going to be the one day out of the year" to use them, said Barch. "This is the first real winter we've had in several years."Wind chill temperatures were expected to drop below 0 Fahrenheit (minus 18 C) in many areas across the upper Midwest. The central and northern Rockies also will see heavy snow, the National Weather Service said.City officials announced school closures in Chicago, Detroit and Milwaukee.National Weather Service meteorologist Brian Hurley said on Friday that the system was likely to drop another four or five inches (10 or 12.5 cm) of snow on the Midwest as it headed east toward New England.The storm could dump up to a foot (30 cm) of snow in New York state as it picks up moisture off the Great Lakes, he added.About 1,600 U.S. flights were canceled, with about a third of flights into or out of Chicago and Detroit airports called off, according to FlightAware.com, which tracks airline traffic.Winter weather this week killed people in accidents in the Midwest, including six in Iowa, two in Missouri and one in Montana, local media in those states reported.(Additional reporting by Ian Simpson in Washington, Letitia Stein in Ann Arbor, and Frank McGurty and Jonathan Allen in New York; Editing by Cynthia Osterman and Lisa Shumaker)
News Photos: Late-week snowstorm blankets midwestern US, prompts widespread school closures, flight delays
brian.lada
AccuWeather
•
Heavy snow buried parts of the midwestern United States Thursday night into Friday, leading to widespread travel disruptions from Iowa through Michigan to close out the week.The heaviest snow fell along a narrow area from central Iowa to southern Michigan, including Chicago and Detroit. Accumulations in this area generally ranged from 6-12 inches with a few spots picking up over a foot of fresh powder.Snow contributed to widespread travel disruptions with over 1,500 flights being canceled at airports across the region, a majority of which occurring at Chicago's O'Hare International Airport.Multiple pileups were reported across Michigan on Friday with one on US-23, leading to one fatality.Hundreds of schools were closed across the region on Friday due to the wintry weather, including all public schools in the city of Chicago.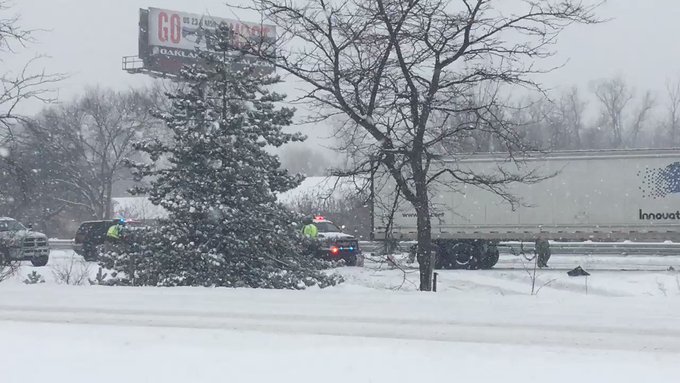 Drew Moore@drewmooreNBC25BREAKING: NB US 23 CLOSED. One person killed during pile up accident involving multiple cars and semis. TRAFFIC BEING DIVERTED. AVOID AREA. @nbc25fox66 @GenCoScanners @GeneseeFireOps #Fenton #MIWXAdditional snow is forecast to fall across the region this weekend, leading to more disruptions to travel and daily routines."The snowfall will keep roads and sidewalks slippery and may require occasional shoveling and plowing operations with 1-6 inches of snow forecast, on top of Friday's snowfall," AccuWeather Senior Meteorologist Alex Sosnowski said.
AP snow trainSnow is blown onto commuters while an arriving Chicago Transit Authority train arrives as a winter storm makes its way through several Midwest states Friday, Feb. 9, 2018, in Chicago. The upper Midwest is preparing for a wintry blast as a winter storm is expected across the region, with forecasters saying up to a foot of snow is expected in some areas. (AP Photo/Charles Rex Arbogast)
Heavy snow in Chicago – 2/9/2018A commuter train pulls into the LaSalle Street station under a heavy snowfall early Friday, Feb. 9, 2018, in Chicago. (AP Photo/Charles Rex Arbogast)View image on Twitter

Ingham County HSEM@InghamHSEMWestbound I-96 is being closed at Webberville due to an accident west of Williamston. @MDOT_LanJxn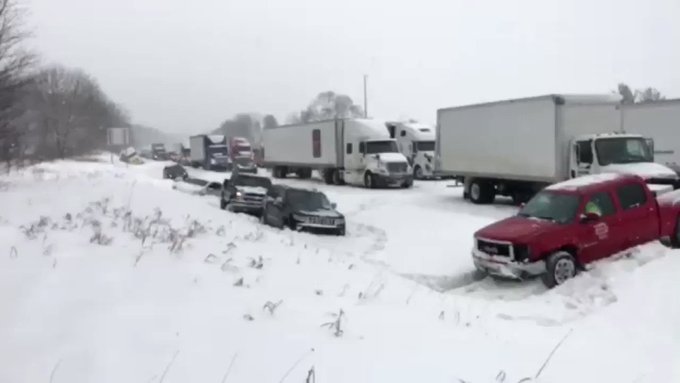 See Dave Bondy's other TweetsTwitter Ads info and privacy
IA DOTRoads conditions on Interstate 80 near Iowa City, Iowa, early Friday morning (Image/Iowa Department of Transportation)
World Earthquake-hit Taiwan city still on edge as rescuers hunt survivors
By Yimou Lee Reuters•
Earthquake-hit Taiwan city still on edge as rescuers hunt survivorsBy Yimou Lee HUALIEN, Taiwan (Reuters) – Scores of aftershocks hampered rescue efforts on Thursday as emergency personnel combed through collapsed buildings in search of survivors after a powerful earthquake killed at least 10 people near Taiwan's tourist city of Hualien.The coastal city was hit on Tuesday by a magnitude 6.4 quake just before midnight (1600 GMT) that injured 270 people. Four buildings collapsed, officials said, and seven people were still missing.Rescuers stepped up efforts at one of the worst-hit structures, a 12-storey building that housed apartments and a small hotel, where authorities believe most of those still missing to have been, including several foreigners.Thick steel girders propped up the heavily leaning structure to keep it from collapsing further, with the lower floors having already caved in."Everyone was surprised," said Huang Chang Po, the 58-year-old owner of a unit in the building, built in 1994."We have strong earthquakes all the time in Hualien and it's really bizarre that our building collapsed," he told Reuters.Up to 100 soldiers, rescuers, police, aid workers and volunteers scrambled in the cold and rain outside to find survivors, as excavators cleared away debris.At an emergency meeting on Thursday, other residents and owners raised concerns about possible recent modifications and demanded a structural check by engineers to determine the cause of the collapse.It was too early to ascertain the cause, however, said Chang Cheng Chen, an engineer from a regional architects' association."It requires a thorough technical inspection, which may take two to three months," he said, adding that factors such as the nature of the soil and how quake waves passed through the building could have played a part.More than 220 aftershocks followed the main quake, including a 5.7 quake late on Wednesday. A Reuters witness said people rushed out of a residential building and rescue workers looked up from piles of debris after one such quiver.Authorities "would not give up" on disaster relief efforts, Taiwan's President Tsai Ing-wen said during her second visit to the quake-hit area on Thursday."I didn't really dare stay at home," said Hualien resident Yang Yantin. "The area around my house is actually not that bad, the houses are all OK but, because of the aftershocks, I don't really want to stay there."Lin Tzu Wei, an official at the Central Weather Bureau, said continued vigilance of seismic activity was needed."We have not seen a sign of a slowdown yet," he told Reuters by telephone. "We need to continue to monitor the situation for one to two days…this is quite a rare event."As many as 150 people were initially feared missing in the rubble. [nL4N1PX2CS]More than 600 soldiers and 1,300 police spread out to help the rescue effort, along with a team from Japan. The government said three mainland Chinese were among the dead.Chen Deming, president of China's Association for Relations Across the Taiwan Strait, said the mainland was willing to help with relief efforts, such as sending teams to the island. Taiwan authorities declined, however.More than 800 people sought refuge in shelters overnight, many too scared to stay home as aftershocks fueled panic.Hualien, whose rugged Pacific coastline and picturesque Taroko Gorge National Park are a major tourist draw, is home to about 100,000 people. Its streets were buckled by the quake, leaving large cracks in major roads."I've never experienced an earthquake but I'd heard people say there were often earthquakes here, so at first I didn't react," said tourist Zhang Hongcong."But later when all the lights started smashing – the floor was covered in glass – that is when I realised it was serious."Taiwan, a self-ruled island that China considers its own, lies near the junction of two tectonic plates and is prone to earthquakes. An earthquake with a magnitude of 6.1struck nearby on Sunday.More than 100 people were killed in a quake in southern Taiwan in 2016, and in 1999, a quake of magnitude 7.6 killed more than 2,000 people.(For graphic on Taiwan earthquake img, click http://tmsnrt.rs/2BJCdQ2)(Additional reporting by Jess Macy Yu in TAIPEI, and Natalie Thomas in HUALIEN; John Ruwitch in SHANGHAI; Writing by Anne Marie Roantree; Editing by James Pomfret and Clarence Fernandez)
News
Quake-hit Taiwan city winds down rescue efforts, five still missing
By Fabian Hamacher and Natalie Thomas Reuters•
A body of a Hong Kong Canadian is carried out from a collapsed building after an earthquake hit Hualien A body of a Hong Kong Canadian is carried out from a collapsed building after an earthquake hit Hualien, Taiwan February 9, 2018. REUTERS/Tyrone SiuBy Fabian Hamacher and Natalie Thomas HUALIEN, Taiwan (Reuters) – Rescue operations in Taiwan started to wind down on Friday after a devastating 6.4-magnitude earthquake rocked the tourist area of Hualien this week, taking a toll of 12 dead and five missing.More than 270 people were injured when Tuesday's quake hit the eastern coastal city just before midnight, toppling four buildings, ripping large fissures in roads and unleashing panic among the roughly 100,000 residents.More than 200 aftershocks followed, hampering a round-the-clock rescue effort in which emergency personnel battled rain and cold to comb rubble in a search for survivors.Efforts on Friday narrowed to finding five Chinese nationals still missing after rescuers pulled two bodies, identified as Canadian citizens from Hong Kong, out of a 12-storey residential building that had been left tilting at a 45-degree angle.Authorities said they would focus their search on the single building where the five missing were believed to be."The military will continue to prioritize today rescuing the missing people in the Yun Men Tsui Ti residential building," it said in a statement.The building's extreme displacement made the search tough, the government said in a statement, adding, "The space for our operations is small, so the progress of search and rescue can be slow."Power was restored to all affected areas in Hualien, although 8,500 homes are still without water.The military will work with local government officials to develop a plan to demolish a hotel, a residential building and other dangerous buildings, it said in its statement.The government vowed to redouble efforts to revise building regulations, aiming to limit damage in any future episodes.Taiwan revised its building act on Jan. 30 to strengthen investigations of the structures of existing buildings and inspection of completed projects, the interior ministry said on Friday.The revision, expected to be discussed by a cabinet meeting at the end of February, would also seek third-party views in building assessments, it said.The government added that it would hasten reconstruction of old buildings to make them earthquake-resistant and work to boost the safety of other structures in affected areas."At every stage, the central government will fully assist local governments," it added.Graphic: The earthquake in Taiwan's tourist area of Hualien – http://tmsnrt.rs/2BJCdQ2(Additional reporting by Tyrone Siu; Writing by Jess Macy Yu; Editing by Anne Marie Roantree and Clarence Fernandez)
Chernobyl revisited – in infrared
Yahoo News Photo Staff•Infrared Chernobyl The monumental trail lined with the names of the evacuated villages. (Photo: Vladimir Mitgutin/Caters News)Related SearchesInfrared SaunaInfrared ThermometerChernobyl DisasterChernobyl TodayThis fascinating photo series looks at the bleak isolation of Chernobyl as never before. Employing infrared filters, photographer Vladimir Mitgutin is able to bring out details of decay — an abandoned bus, a radar system, an amusement park, a doll, a sports hall, a piano — frozen in time. The filtered red hues make them pop out against icy backdrops. Mitgutin, 32, recently released the series to the public after visiting the site in July 2017. It was a spontaneous trip, the photographer said, with the sole intention of telling a different story about the site of the 1986 catastrophe. (Caters News)See more news-related photo galleries and follow us on Yahoo News Photo Twitter and Tumblr.